10 Best Baby Projectors Reviewed in 2019
last updated
Jul 04, 2019
Little ones might still be afraid of the dark. Understandably, it can feel isolating to them and their senses when they can't hear or see their family. Sometimes, a little night light is all that's needed to help wee ones get a good night's sleep. Projectors are the perfect solution for infants, as they can project up onto the ceiling where babies can see the beautiful colors and images. It's tough to narrow down your options with so many great products out there, but we're confident you'll find what you're looking for in our top ten.
In a Hurry? The test winner after 15 hrs of research
Cloud b Twilight Turtle Plush
Why is it better?
45-minute timer
It is plush and soft
The shell illuminates
Projects real constellations
In a
Hurry? Editors choice:
Test Winner: Cloud b Twilight Turtle Plush
19
Researched Sources
15
Hours Researching
16
Products Evaluated
Design
Effectiveness
Ease of Use
By Default
10 Best Baby Projectors Reviewed
1

. Cloud b Twilight Turtle Plush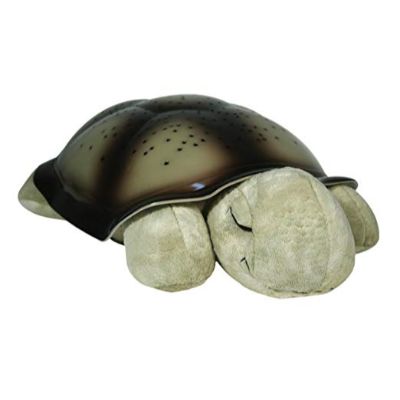 45-minute timer
It is plush and soft
The shell illuminates
Projects real constellations
It does not play any music
This light is the definition of adorable, even just as a bed buddy. The sleepy turtle comes in brown, blue or purple so baby can enjoy snuggling with their favorite. Then when nighttime comes, it projects a complete starry night on the walls and ceiling to help comfort and calm your child as they settle down to sleep.
Read more
Design
The turtle shell also illuminates to be a soothing, soft night light. The projection includes eight actual constellations which you can help your kids identify using the Twilight Turtle Star Guide. It illuminates in your choice of blue, green, or amber. This can help with a child's fear of the dark and make bedtime fun.
Effectiveness
This sleepy Cloud B turtle makes a room truly tranquil. Children may not acclimate well to total darkness, but having a room that is too bright or the wrong colors can be stimulating and make it difficult for infants to fall asleep. This projector offers serene blue, green, and amber options as it projects a starry sky onto the ceiling. After 45 minutes it will automatically shut off so baby can sleep soundly.
Ease of Use
The turtle comes with batteries included so it would make a great gift, ready to use as soon as the recipient gets it.
2

. Summer Infant Slumber Buddies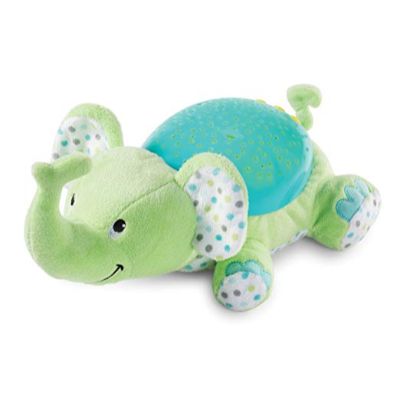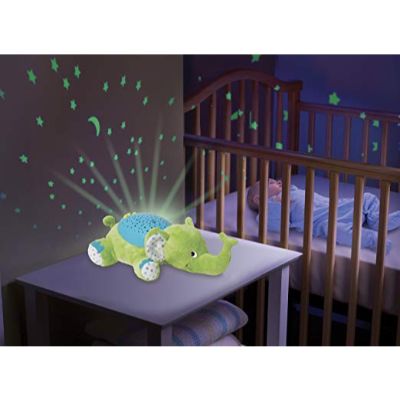 Comes in 5 choices
3 timer settings
3 volume settings
5 meditative songs
Projector is not as strong as others
The Slumber Buddies come in five different choices of happy friends. Your child can enjoy sleeping with their choice of elephant, butterfly, bee, hippo or lamb. Each plays five different meditative songs or nature sounds while projecting a calming starry sky on the ceiling and walls.
Read more
Design
These little critters play rhythmic light shows or relaxing individual colors of blue, green or amber. Each model has a timer to shut off after 15, 30 or 45 minutes and also has three volume levels. Choose between Brahm's Lullaby, Hush Little Baby, Frolic Rhodes, Babbling Brook, and Heart Beats. These little friends are great for kids of all ages and will help them to relax at bedtime.
Effectiveness
The Summer Infant Slumber Buddies don't just feature soothing projections, but soothing sounds too. This little guy has five different lullabies to choose from, or an assortment of nature sounds to help calm baby and lull them into sleep. Simultaneously, it will project a starry night sky in blue, green, or amber. You can even set the lights to a rhythmic pace to help encourage sleepy babies to doze off.
Ease of Use
We love that these slumber buddies come with a timer that will shut off after 15, 30 or 45 minutes. Only a parent would know what the perfect amount of time would be for their baby.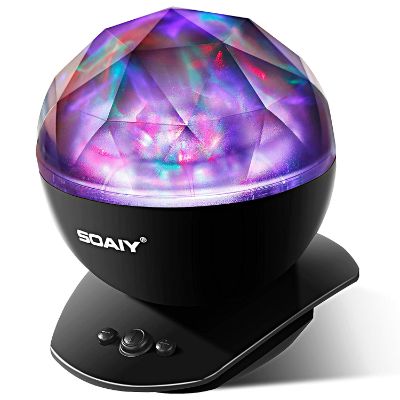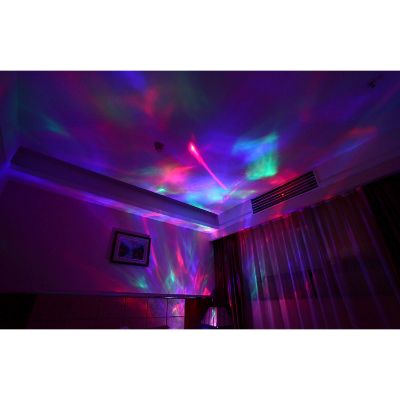 2 ways to use light
8 light projection modes
Projects nice and bright
Very colorful
The Sleep Soother is handy because it gently lights your baby's room in your choice of ways. If you leave the dome cover on, it is a night light. If you take the dome cover off, it becomes a light show projecting the aurora borealis.
Read more
Design
Your child can enjoy this relaxing experience in red, blue, green or multicolor. The light tilts at a 45-degree angle and has a built-in speaker, and don't worry about forgetting to turn it off. This lamp has an auto shut off in one hour. This model is FDA approved safe and comes with the lamp, audio cable, USB cable, and AC adapter.
Effectiveness
The SOIAY soother can be projected straight onto the ceiling or at an angle. With eight light projection modes in four color options (red, green, blue, and multicolor), you can also customize the lights to your mood. With the included audio cable, plug into your MP3 player or computer and loop a lullaby for baby. After an hour, the soother will shut off so baby's rest doesn't become fitful in the middle of the night.
Ease of Use
This is a nice, soothing light which will keep baby engaged until they fall to sleep.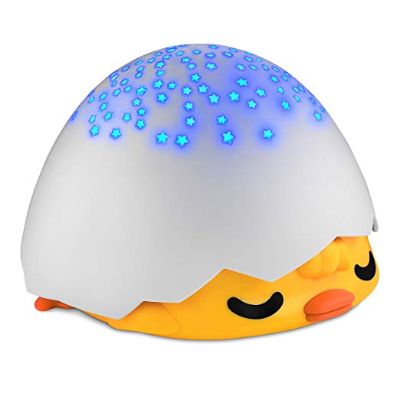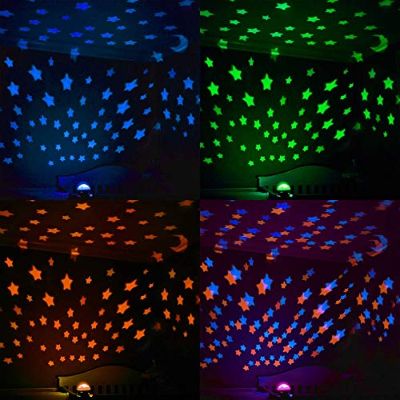 Ten different sound options
Can loop through sounds of play one on repeat
Different color projections to choose from
Shuts off automatically after 30 minutes
Adorable baby chick design
The auto-shut-off happens at 30 minutes; there are no adjustable options
Project stars in one color, or rotate through many with SleepyMe! This adorable nighttime projector is meant to make bedtime fun and soothing for little ones. Not only does this projector shoot stars up onto the nursery ceiling, but it also has ten different soothing sound options.
Read more
Design
Choose between lullabies, nature sounds, a heartbeat, and white noise. Play one sound on repeat, or cycle through all your options. After 30 minutes, SleepyMe will automatically shut off and leave your baby to rest. Developed with BPA-free materials, this soother is also cordless and therefore completely baby-safe. It runs on four AA batteries and lasts for two months of daily use before you'll need to change them out.
Effectiveness
Between the pretty, soothing stars and all of the calming music, your baby is likely to fall asleep in no time at all. The soother will turn off automatically after 30 minutes, allowing light sleepers to stay asleep throughout the night, and the baby chick design makes this a cuddly classic for many infants.
Ease of Use
It plays classic lullaby tunes (such as "Somewhere Over the Rainbow") and white noise sound effects. We love that you can choose whether you want one noise on or a cycle of the library. Plus, since this adorable soother is cordless, baby can sleep with it near or in their crib if that helps to calm them.
5

. Moredig Baby Projector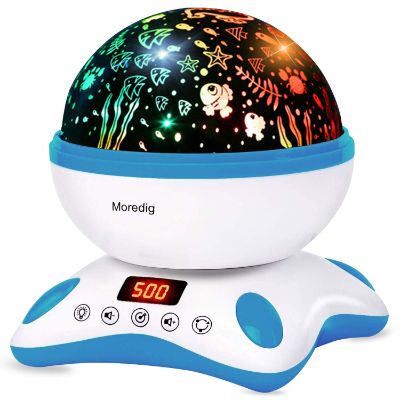 Includes a space and a sea cover
LED's provide clear images
Includes remote
Volume can be controlled
Moredig's baby projector will put your child's restless mind at ease and allow them to get a peaceful nights sleep.
Read more
Design
This colorful nightlight will display the stars, moon, fish, and sea on the walls of your child's bedroom. Along with the fun images, this projector also contains 12 different relaxing tunes. Amongst the tunes are classics like Twinkle Twinkle Little Star, My Bonnie, and even Let it go. The projector can be used with batteries or by plugging it into an outlet.
Effectiveness
Composed of 4 LED beads, this projector provides crystal clear images on the walls or ceiling. If you don't want the light to be on all night while your child sleeps, you can set the timer and have it turn off after an hour or three.
Ease of Use
Controlling the projector is easy. On the front there are buttons to manage the volume, color light, and songs being played. A remote is also included to make using the device even easier. Especially if your child is not directly next to it. In addition to being able to control the volume, you can set the next song or the last song. You can also have one song on repeat or have the songs shuffled.
6

. Lumitusi Le Petit Prince
Four different light settings
Simple to set up
Great for smaller rooms
Touch-activated
The projection pattern isn't very detailed or varied
Simple projectors are great because they don't offer too much of a distraction when your baby is ready to go to sleep. The Le Petit Prince Galaxy Projector will soothe your baby with the serene night sky above and features four color options that are good for both daytime naps and nighttime bedtimes.
Read more
Design
The setup of this projector couldn't be easier -- Simply place on the floor and watch as your child's bedroom comes alive with hundreds of tiny stars.
Effectiveness
The stars are the limit! Watching the night sky is one of the most calming things you can do and it's something that your baby will begin to love doing before bedtime. Not only will it give them a good distraction, but the slow motion and steady light from each tiny star will help comfort them into sleepiness.
Ease of Use
This is a good, simple way to help your baby fall asleep without all the distractions some other projection machines can cause. This can also be used as your child gets older since it's fun to watch the stars at any age.
7

. Star Projector Night Light
Wood design matches any decor
Equipped with five different light modes
Timer can be set from 5 - 995 minutes
Works with batteries or USB cable
Sling allows the lamp to be hung
Batteries are not included
Controls are only labeled A-D
With the Star Projector Night Light you can bring the night's sky to your child's bedroom.
Read more
Design
The wood design adds a touch of elegance to any room and can easily match any decor. The included sling gives you the option to hang the projector. Equipped with five different modes, your child can choose the most relaxing light setting for them.
Effectiveness
The timer can be set anywhere from 5 to 995 minutes, so your child can sleep through the night with it on or off. To use the projector in lamp mode, simply remove the starry cover and you will be provided with a single glow. Whether your child uses the light in lamp or projection mode it is sure to provide them with the feeling of security as they drift off to sleep.
Ease of Use
The included USB cable can be used to power the projector. However, if you are taking it on the go you can use four AAA batteries instead. Your child can use the A-D buttons on the front of the device to control the light and timer.
8

. Cloub B Twinkles Nighlight Projector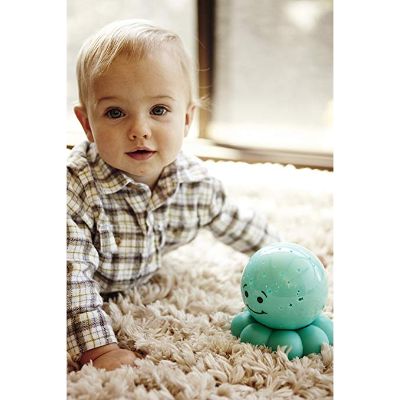 Portable and durable
Kid Friendly design provides your child with a companion
Easy for young children to operate
Images project clearly
Not equipped with a timer
Elimanate your baby's fear of the dark with the Cloub B Twinkles nightlight
Read more
Design
Designed in the shape of an adorable Octopus, your child can feel comforted by the lights and their new friend. This blue octopus will cast a starry scene in a blue or green light onto your child's walls and ceiling. Composed of plastic, this light is durable and can survive being transported.
Effectiveness
With the Octopus only running on batteries, your child can easily tote their nightlight from place to place. The light will stay on for up to 45 minutes which is plenty of time for your little one to fall asleep. The images project clearly, thus your little one won't have to strain their eyes to make out the designs.
Ease of Use
If your child happens to wake up and the light is off they can easily switch it back on themselves. They device is only equipped with two buttons making it easy to operate by younger children. One button acts as the on/off switch and the other button controls the color. The buttons are sized perfectly for little fingers to push.
9

. Bubzi Co White Noise Owl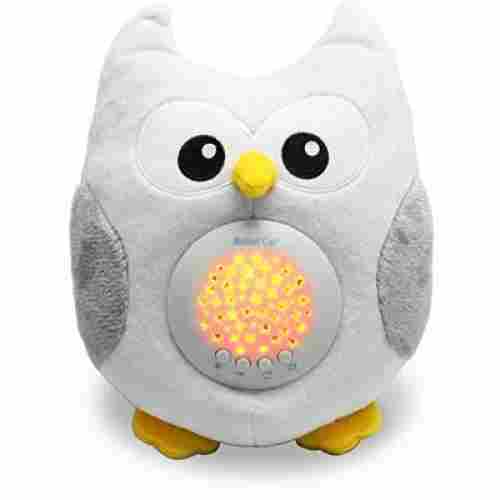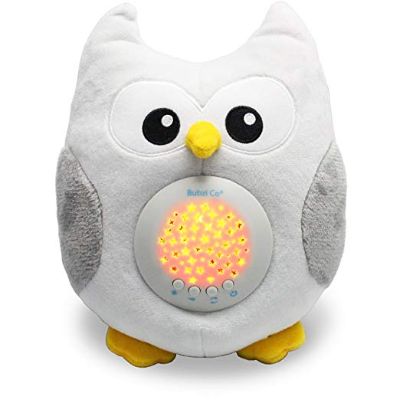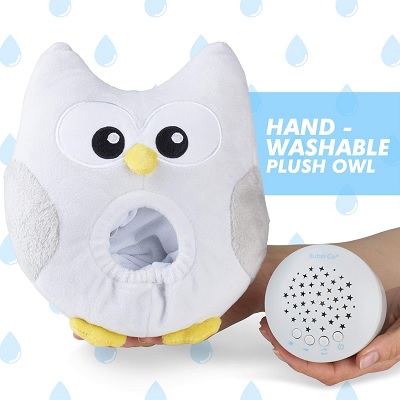 Small enough to travel with
Can be strapped to the side of the crib
Color changes are gradual and soothing
Ten different melodies to choose from
Not good to light up the entire room
This owl projector is adorable and can be easily strapped to your baby's crib. It'll project various light patterns on the wall that gradually change colors to soothe your baby into a sound sleep.
Read more
Design
You have the option to play different melodies as well and since it shuts off automatically after 30 minutes, you won't have to worry about the sounds waking your baby up after they've fallen asleep. This can easily be used in the car and on long trips as well; anywhere your baby needs to be comforted, this owl can go along for the ride.
Effectiveness
It's small and portable, which can be really convenient when going on vacation or visiting family and friends. It can be especially challenging to help your baby fall asleep when you're sleeping someplace new, and this projector might be exactly what you need.
Ease of Use
This projector won't turn the entire room into a light theater, which can occasionally be overwhelming to a baby. Instead, it's focused on one wall within close proximity so that your baby doesn't feel like they're surrounded by light on all sides.
10

. Munchkin Shhh Portable
3 different sounds
Automatic shut off
Very portable
Compact design
It is hard to see the buttons in the dark
The Munchkin Shhh machine is battery operated, portable and perfect to take on the road to help baby relax. The lamp gives off a soft, light glow which can be solid or is able to pulse with your choice of shushing, heartbeat or white noise.
Read more
Design
Newborn babies grew used to sleeping in a noisy womb so they enjoy a little noise to calm down and sleep. The shushing comforts an upset baby, a heartbeat can lull baby to sleep and white noise will help baby keep sleeping. An auto-timer will shut it off after 10, 20 or 30 minutes. This is the perfect companion for babies on the go.
Effectiveness
White noise can be a big help when it comes to soothing sleepless babies. This machine can play just that, or two other useful variations: shushing, and a heartbeat. With something rhythmic and familiar, baby will be much likelier to quiet down and get some shut eye. Additionally, the projector features a soft night glow that can be set to steady or can pulse in time with the sounds playing.
Ease of Use
We love the nice, clean look of this night lamp and how easy it is to take with you. This is nice if you are planning to travel, are in a motel or if you want to take baby to grandma's house for the night.
Criteria Used for Evaluation
Design
A projector for your child's room is almost a necessity and at the least, it can be a helpful tool for new parents. This special item helps soothe and calm a fussy baby or child who's can't fall asleep. They even encourage consistent sleeping habits. While babies have a shorter sleep cycle than children or adults, this projector can help keep them engaged when they first wake up. While some of these items help give off a starry illusion of the night sky, they also can serve as a night light to help guide sleepy parents who are trying to maneuver around the shadows of their rooms without waking a sleeping child.

Effectiveness
Now you have to start thinking, what kind of projector do I want? While shopping for the perfect one can be a tedious task since there are so many factors to consider like the age of your child or the features you need. Do you want a projector that can act as a sound machine? Do you want one with an automatic timer? Do you want to be able to set the timer yourself? These are the questions that many parents often ask themselves when it comes to getting the right projector for baby.
Ease of Use
One thing that's important: be sure to check power outlets. Is there one where you can put your projector on a table, so it can reflect onto the ceiling and walls? Finding the right brightness for the size of your child's room is going to play a key part. If your projector plays music, you're going to want to place it in the perfect space between the crib or bed. Too close to the bed and it may cause disruption in sleep. If it's too far away, they won't be able to hear it.
Most Important Criteria
(According to our experts opinion)
Experts Opinion
Editors Opinion
Users Opinion
By Default

Parents, Did you Know?
When you select a sound machine studies have found that a slow and steady sound is the most effective sound to create a great sleep time routine.
Parents, Did you Know?
Always keep in mind that always using the sound machine can make your baby dependent on the sounds of the machine to sleep. Just like if you lived by a traffic light the sounds of the cars would be the sound they are accustomed too. It is good to also use the natural sounds of the house to calm a baby.
Other Factors to Consider

Style
Now here's a question you probably haven't asked yourself yet. Does your child have a favorite color, or do they react to a color? Some colors can affect babies in different ways. Some researchers have said that white and blue are both stimulating and can boost attention, cause peace, and help with reaction times. Red or orange colors are said to help bring on sleep, maybe because it reminds the brain of a nice sunset. Either way, you're going to want to create a peaceful environment where your baby will be able to get a good night's sleep.
Capacity
Some research also suggests that it's good to have a soft light, or music to lull your child to sleep, and later, darkness for that nice deep sleep for the rest of the night. Due to this, it's very helpful to have a timer on your night light so that it will automatically turn off once your baby and even you are asleep. It's also helpful to have a soft, low light in your child's room so that you can take care of the baby without shocking them when turning on the overhead light.

Logic
So, of course, there are a few features you'll want to consider when choosing the perfect infant projector for your child. A couple of them are plush toys. Some of them are a bit sturdier or geared toward younger children. Some are portable. Some can even be used after your child grows older for parties or decorations and can even help teens or adults. Take note of brightness, the type of projection, whether or not they play music or sound if they can be used as a night light, if a timer is included. If you consider any of these features or which features work best for your lifestyle, you will gift your child with the perfect, peaceful, comfy bedtime and you might even get a little sleep yourself.
Frequently Asked Questions
q:

What is a TF card?

a:

It used to be called a T-Flash or a TransFlash, but it is much more commonly known as an SD card and is used for storage or to hold data.
q:

What color is best for infant night lights or projectors?

a:

Believe it or not, red or orange is the best for sleep. It is reminiscent of the evening sunset.
q:

How many decibels would be too loud for a baby?

a:

It has been recommended that noise is kept below 50 decibels.
q:

Is it safe to have one of the Summer Infant Slumber Buddies in the crib with an infant?

a:

Yes, they are baby-safe.
q:

Does the SCOPOW Constellation Night Light come with a cord to be plugged into the wall?

a:

Yes, it does come with a cord or it can be powered by a battery.