One day it's just a few stuffed animals, some teethers, and a push-toy. Then you blink, and suddenly there are LEGOs and action figures and dolls. Blink again and there are science kits and remote-control cars, Hatchimals and Polly Pocket sets. Before you know it, you've acquired something of a small empire of children's toys. We know you love watching them play, and we know you also go a little crazy when they leave their things everywhere. When you're looking at the best storage method for your kids' toys, consider how special a personally picked toy chest might feel. Kids love bright colors, fun patterns, and seeing their favorite characters on the furniture in their rooms, so brighten up the cleanup process with one of these fantastic toy boxes.
Our Top 3 Picks
Tot Tutors Toy Storage

Our rating
Multiple Color Options
Price:

See Here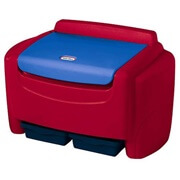 Little Tikes Toy Chest

Our rating
Ideal for Big Toys
Price:

See Here
3 Sprouts Toy Chest

Our rating
100% Polyester
Price:

See Here
[/vc_column_text]
Our Picks of the Best Toy Boxes for Kids
[/vc_column][/vc_row]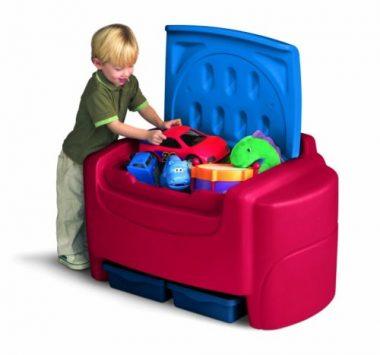 3 Sprouts Whale Toy Chest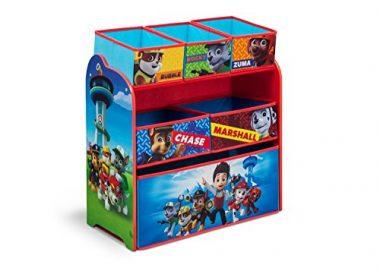 Kid's Construction Dump Truck Collapsible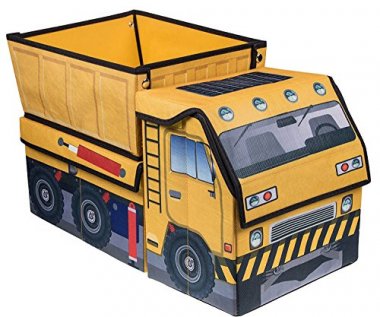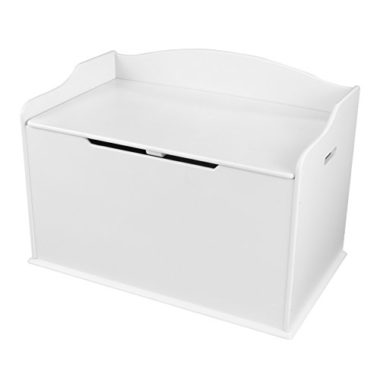 Delta Children Multi-Color Deluxe Toy Organizer with Storage Bins
Gimars Easy Carrying 22×15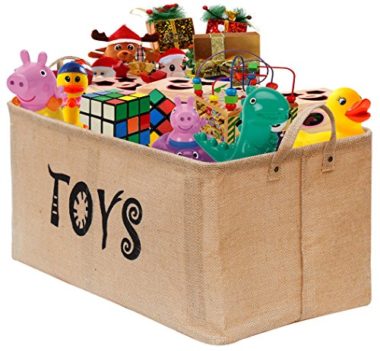 Toy Organizer and Storage Bins
Criteria Used in Evaluation of the Best Toy Boxes & Chests for Kids
It is well-known that many kids and kid-friendly products aren't just for the kids themselves to use in solitude! Often, they are objects that parents have to share. Part of our search had to do with finding things that parents would never get tired of interacting with, either! We know how tough it can be as a parent…the hours and the days wear on, and it becomes harder to maintain enthusiasm for one more game, to hear that one song for the 1,000th time, to see that toy on the floor–heaven help us if we step on LEGO!–and, that one eyesore of a toy box that clashes with all the decorative style you might have had before you became a parent!
This is why we've added in a few options for toy boxes and accessories that can blend in with the natural decor of the home. This is equally beneficial to the child because it gives them something to grow into, while subconsciously flowing into the world and value system of their parents. What comes to mind are the easily blended 3 Sprouts box and the Delta Children's furniture box. Both are optimal for greater socialization within a condensed period. These are all ways of strengthening the parent-child bonding relationship on another plane.
Basic Research
We know the life of a child, and his or her parents can be messy! By its very nature, chaotic….but, that's not what makes this world of ours go 'round. The history of human development, by means of civilization, is built upon the principle of organization! While it might be said that a messy desk or workstation is a sign of genius–by the way, that genius probably has a few managers and assistants working for him–it wasn't a gang of rocket scientists and mathematicians who laid the foundation of making sure everything was where it's supposed to be.
The most basic organizing tool, after the written list, is the storage space–the box, the bag, the sack, or the case. It's been used to hold valued possessions, from papers and documents in other mediums to ornaments, trinkets, and jewelry, even the bodies of our loved ones after they have departed. It is an indication of value through preservation.
Not only do we want to instill the principles of organization in our children as building blocks for greater achievement and acquisition, but we also want them to preserve what they create. It can start with something as simple as caring enough to pick up a toy.
Why We Love Toys
Toys are very important instruments in your child's growth and development. They learn a lot about themselves and about their surroundings including the people caring for them. They need toys to help them reach their full growth potentials including mastery of both their fine-motor abilities and their gross-motor skills.
They also help them learn and expand on their language and vocabulary, numbers and mathematics, and knowledge of common everyday objects, persons, and activities. They learn to play with other children and help them communicate a lot better while at the same time fostering social and emotional development. Toys encourage exploration, creativity, problem-solving, imagination, experimentation, and appreciation and understanding of everything that is occurring around the child.
The Need for Proper Storage
Unfortunately, if you have several kids or if your kid has a vast array of different playthings, then you know that organization and storage can be a real issue–and incredibly frustrating.
You simply cannot dump everything inside a big box or even an improvised toy storage made of an inflatable kiddie swimming pool. You will need a dedicated toy box that you can also use to teach your kids about sorting, classification, matching, organization, orderliness, and cleanliness.
You can also use colorful toy boxes to help them recognize and reinforce their mastery of different colors and shapes. Now, some boxes come with a variety of features that can all be used to augment the things they learn from playing. That is why it is very important to choose the most functional box you can find for your kids.
How Our List Can Help You
It is for this reason that we have conducted a very thorough and extensive search for the most functional and safest toy boxes for your kids. We understand that you want a toy box that your kids will also love and learn to care for it as if it was more than just a toy box.
We want your kids to feel that their toy boxes are indeed their treasure and dream boxes. It is where they can keep their most prized possessions for playtime and make-believe activities. We made sure that all products listed in our best toy boxes are safe and that they are backed by positive feedback from parents like you.
Of course, we also had to consider other factors like safety and the manufacturer's reputation including the guarantees they provide for each of their products. We believe these are very important considerations for choosing any product for your kids.
FAQs
Frequently Asked Questions
Q: Isn't it a waste of money to buy a matching set of accessories to go with my child's toy box?
A: This how you see your investment and where it could possibly lead. With companies like Delta and Disney that offer entire bedroom sets and accessories, you're buying more into a lifestyle for your child. This can be beneficial for factoring in socialization, and also in creating a stronger sense of identity and ownership when it comes to their living space.
Q: Aren't some these storage racks too tall for young children–what if they can't reach or it tips over?
A: This is a good concern to have. First, take into consideration the age of the child you are purchasing this for. Second, understand that they will be under the supervision and that in some ways the organizer is just as much for you as them. If your child is very young, consider a more traditional, single, open bin. As for the tiered organizers, many parents have opted to purchase hardware separately in order to create a mounted safety feature.
Q: Is it impossible to buy a toy box with a lid that closes completely?
A: Some products just might have a manufacturing error. With others, it may simply be a design feature for safety. As a parent, you can always get creative and find some way of developing latch to keep it closed. The other option is to shop around and take companies to task if you find a design flaw. Or, simply have a toy box custom built to your specifications.
Q: How easy it to keep these bins clean for when kids get really messy?!
A: It's fairly easy! With any mild soap and warm water, pretty much marker and crayon can come off. These can also be hosed down in the backyard with a regular hose or power washer. For anything stickier or more permanent, there is the product that should be every parent's best friend, Goo-Gone!