10 Best Toy Boxes & Toy Chests for Your Kids 2019
last updated
May 27, 2019
One day it's just a few stuffed animals, some teethers, and a push-toy. Then you blink, and suddenly there are LEGOs and action figures and dolls. Blink again and there are science kits and remote-control cars, Hatchimals and Polly Pocket sets. Before you know it, you've acquired something of a small empire of children's toys. We know you love watching them play, and we know you also go a little crazy when they leave their things everywhere. When you're looking at the best depository method for your kids' toys, consider how special a personally picked toy chest might feel. Kids love bright colors, fun patterns, and seeing their favorite characters on the furniture in their rooms, so brighten up the cleanup process with one of these fantastic toy boxes.
In a Hurry? The test winner after 37 hrs of research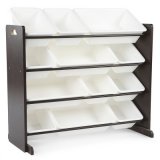 Toy Depot Organizer
Why is it better?
Larger bins for easy access and viewing
Easy 10 minute assembly
High-quality wood construction keeps it stable
Steel stabilization bars lessen the danger of tipping
Variety of colors make it easy to find the right fit
In a
Hurry? Editors choice: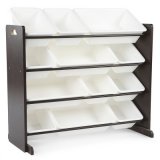 Test Winner: Toy Depot Organizer
35
Researched Sources
289
Reviews Considered
37
Hours Researching
15
Products Evaluated
Design
Educational Value
Materials
By Default
10 Best Toy Boxes & Chests Reviewed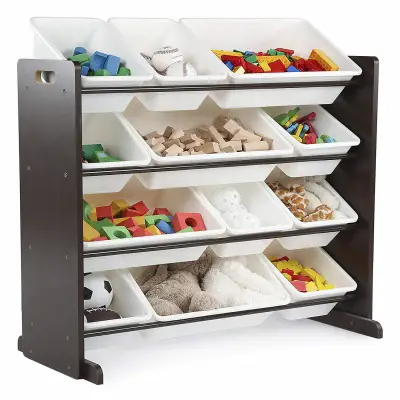 Larger bins for easy access and viewing
Easy 10 minute assembly
High-quality wood construction keeps it stable
Steel stabilization bars lessen the danger of tipping
Variety of colors make it easy to find the right fit
Plastic bins sometimes get stuck together
Could use wall mounts for extra safety and stabilization
No need to worry about this organizer being an eyesore. Its sleek design is available in four different colors, thus making it easy for you to place it in any room of your house.
Read more
Design
Tired of stepping on legos and tripping over balls? The Tot Tutors Kids' Toy Depot Organizer is perfect for your family. This depot organizer holds three plastic bins on each of the four shelves. When purchasing you can choose from a variety of color schemes to fit your household. The bins are easy to remove which will help keep your house clean and organized. Your child can simply remove the bin holding the activity of their choice, play with that activity, and then put it back when they are done. Assembly is required but it is also very easy. This shelf is made for toddlers and preschool children as it is their height.
Educational Value
They will build their independence as all the toys are in reach and they can get everything themselves. You can get creative and decide how you want the toys organized. Whether you organize their toys by colors, shapes, or activity their recognition and problem- solving skills will improve.
Materials
Made of wood and plastic, both the shelf and bins are durable. The materials of this product also make it easy to clean. Your child will learn responsibility as they work to keep the household clean.
2

. Primary Colors Toy Chest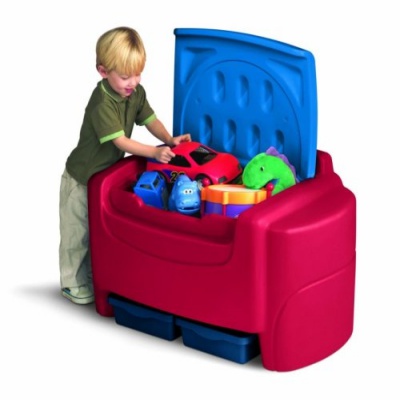 Top lid easily detaches to fit extra toys to maximum capacity
Two pull-out bottom drawers that can double as toy carriers or trays
High-quality durable plastic for easy transportation and wear 'n tear
Easy to clean, with mild soap and water or wipe-down
Little-to-no assembly required, just snap on top lid
Plastic can get warped over time if toys are too heavy
Not suitable for outdoor depot, can accumulate mold and mildew
With the main storage space and two removable bins, the Primary Colors Toy Chest will provide you with plenty of space for your child's toys.
Read more
Design
Measuring in at six cubic feet this  Little Tikes Primary Colors Toy Chest is designed to store large bulky toys. The chest comes with two smaller toy bins that are designed to slide underneath the chest so you can even store smaller toys. For an added safety measure the lid has the ability to detach from the toy chest. Made in the USA, this red and blue toy chest will brighten up any child's play area.
Educational Value
This chest is the perfect tool to introduce your child to the importance of organization. Using the removable bins you can teach your child how to sort toys. Furthermore, the bins are perfect for children because it allows them to put the toys they want to play within the bin and carry it to another location. Teaching your child to take out only the toys they will currently place with will keep their play area from becoming a mess.
Materials
Made of durable plastic,  it's small size can save space in just about any room, and it's light, durable construction makes it easy to transport.
3

. Sprouts Whale Toy Chest
Discreet design makes it compatible with all rooms in house
Polyester lid closes gently for quiet and safety
Minimalist construction makes it a very affordable option
Durable cardboard construction holds the shape well
Can easily double as a place for book and paper depository
The polyester can be hard to clean
The cardboard frame will lose its shape with extended use
Get ready for your child's play area to get a whole lot cuter. Sprouts' line of toy chest comes in a variety of adorable animal designs.
Read more
Design
This is a great inexpensive toy chest for the minimalist parent!  Who says you need all the bells and whistles?!  This 15x24x14.5 keeps it simple!  The design is tasteful and blends in with the decor of any room….so, there's no worry about walking into bright pink or red as soon as you open the door!  The cardboard sides keep it erect and are deceptively sturdy, while the polyester lid remains at a whisper when being open and shut!
Educational Value
This toy bin is very easy to open and close, making it simple for teaching little ones how to clean up after themselves!
Materials
Made of 100 percent polyester, the Whale Toy Chest by 3 Sprouts may not look sturdy at first glance but it sure can hold quite a lot of your kids' playthings. With 3 cubic feet of depository space, you can get 2 of these toy chests to make toy organization a lot more efficient, especially if your kid has plenty of toys.
4

. Multi-Bin Toy Organizer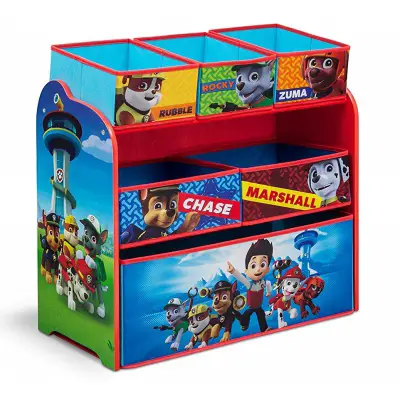 Themed characters keep children interested and engaged
Convenient size that only takes up 3ft of space
Quick and easy assembly
A good depot space for small toys and accessories
Open depot drawers for easy viewing and access
Non-durable cardboard construction
Not all Paw Patrol characters are featured
Paw Patrol fans everywhere will love organizing their toys in this multi-bin organizer.
Read more
Design
If your kids love PAW Patrol on Nick Jr., then they will surely love Nick Jr. PAW Patrol Multi-Bin Toy Organizer. Made of both solid and engineered wood and durable fabric, this very colorful toy organizer is very useful. It comes with 3 small bins, 2 medium-sized ones, and a large bin at the bottom.
Educational Value
If your child is between the ages of 3-6, they may not have to do much reaching at all as this designed to be their height. Whatever character themed toy bin your child chooses, the bright graphics will stimulate their sensory skills and increases their color recognition. The different textures of the shelf and bins will also appeal to your child's sensory skills. With small, medium, and large bins your little one can learn about spatial recognition as they place their toys of varying sizes in the correct bins.
Materials
Along with Paw Patrol, there are fourteen other character themes you can choose from when purchasing this toy organizer. Whichever character theme you choose, the colorful graphics will stimulate your child's sensory development while also getting them excited to use their bins. The bins are made of cloth and can easily be wiped with a wet rag to clean. The shelf is made of wood and proves to be very sturdy. You won't have to worry about it tipping over on your child when they reach to get a toy.
5

. Kid's Construction Dump Truck Collapsible
Folds down easily
Three separate depository bins
Strong, kid-friendly material
Cute construction dump truck design
Padded lid acts as ottoman
Held together by velcro; deconstructs easily so watch out for rough players
It's a creative design and can serve multiple purposes. It's nice that toys can be organized into the three separate bins, and one of the bins can be removed to use the chest as an ottoman if you need less depository space but another seat.
Read more
Design
Three separate bins mean you can organize and categorize toys if your family is at that stage of tidying skills, or you can mix and match whatever combinations fit the most toys in the dump truck! This dump truck is multi-functional and perfect for any construction enthusiast whose materials have wound up all over the bedroom or living room floor.
Educational Value
What better place to dump all of those stuffed animals and dolls than an actual dump truck? Clever Creations has found a way to make clean up fun and efficient. This truck is not only darling but practical. The three separate depository bins allow you the chance to help children work on sorting and categorical skills while cleaning up after themselves.
Materials
This product is made out of sturdy, kid-proof material. If you have no need for it temporarily, simply remove the bottom (fabric covered) cardboard piece and fold the panels in to make it nice and compact. Remove the top bin and utilize the padded lid as a seat or ottoman for children.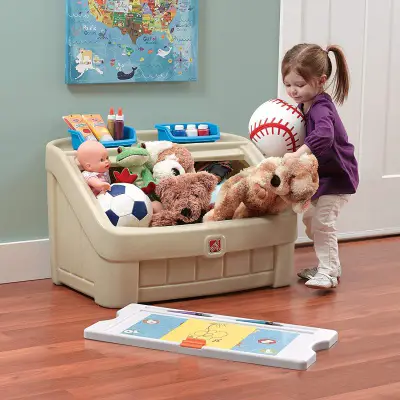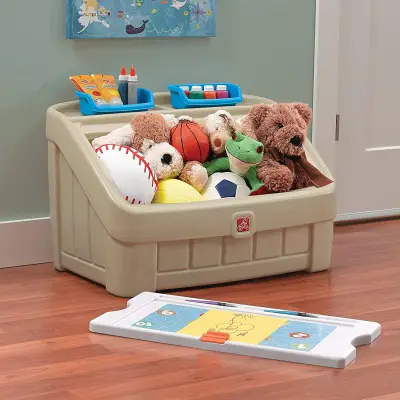 The detachable art lid is durably made with a grooved, easel-like, tray at the base
Dual supply containers for art supplies, crayons, or odds and ends
Handy clip on the lid/table enables artwork to be easily displayed
Encourages ownership of space
Activities with detachable lid/table develops fine motor skills
We love the fact that kids can use the lid for other purposes and they have two supply containers within easy reach. This can make for a very fun and exciting activity.
Read more
Design
If you need a multi-purpose toy box, you would want to get the 2-in-1 Toy Box and Art Lid from Step2. This toy box with an interior depot space of 4.5 cubic feet can double as an art table for your kid. He or she can use the art lid to draw, paint, or put puzzle pieces together. The topmost portion contains 2 bins which can accommodate art materials like pens, crayons, and other items. It comes as one solid block of toy box so there's no need for complicated assembly.
Educational Value
Most toy boxes and chests are pretty utilitarian -- one thing, but not the other!  It might take some serious creativity on the part of child and parent to change this!  But, with this toy that creativity can be directed into its proper outlet!  All children tend to be born artists….well, why separate the activities of art and play?!  With the depot component, all of your child's toys and accessories can easily fit, while the detachable lid can act as a table/board they can place next to the box and draw on!
Materials
 Even better, the lid has a grooved tray to hold pieces or crayons in place at an angle when it's still attached.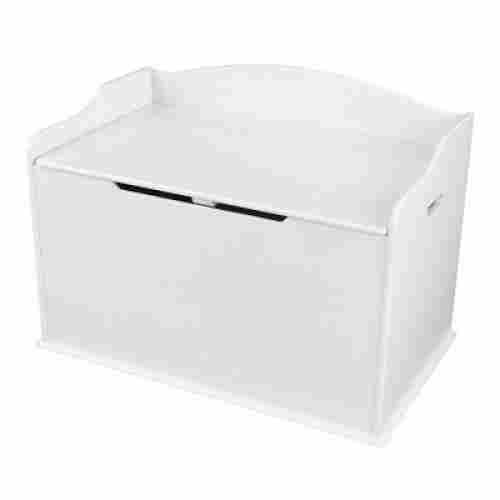 Seven different colors to choose from
Doubles as a bench
Easy assembly
Sturdy construction
Won't pinch or crush little fingers
It's easy to ruin the pre-drilled holes; don't screw pieces in too tightly
The lid is heavy and the safety hinge can break, so be mindful
This combination bench and toybox is classy, simple, and safe. It's made from wood composites and is highly durable. It isn't much of a statement piece, but it blends nicely with different styles, depending on the color you pick.
Read more
Design
This combination bench and toybox serves as both a depository facility for all of Juniors' favorite playthings and a sturdy, kid-sized place to sit. A safety hinge prevents the lid from dropping down and crushing tiny fingers. The variety in colors available means it's an easy piece to match, whatever your home's aesthetic. If kids outgrow it eventually, it's timeless enough that you could move it into most any room and use it to store any number of things: towels, extra linens, shoes, you name it!
Educational Value
Toy chests give kids somewhere designated to put their playthings when they're not using them. It helps parents teach organizational and sorting skills, as well as responsibility and cleanliness. This toy chest is simple, sturdy, and serves as a bench as well.
Materials
Sturdy wooden construction can hold toys inside and support little bottoms on top, no problem. It's available in seven different colors, including three different wood finishes. Assembly is fairly easy and there aren't too many pieces to put together during setup. It's compact but has enough depth to fit a decent amount inside. A hydraulic arm keeps the lid (which is heavy) from closing too quickly and saves fingers from getting pinched.
8

. Delta Children Multi-Color Deluxe Toy Organizer with Depot Bins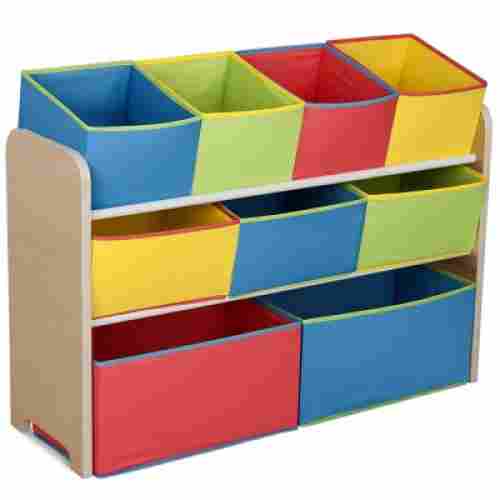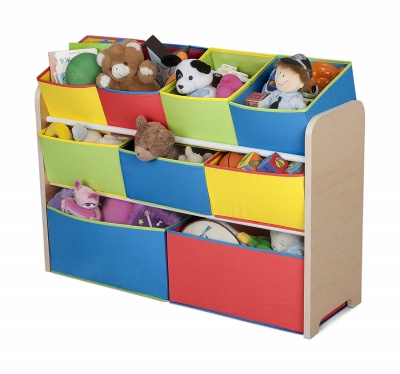 Easy assembly for two side panels with 8 screws included
9 bins of differing symmetry to categorize items from large to small
Bins made of durable and cost-effective canvas material
Natural wood finish blends in well
Perfect height for depot without fear of tipping
Does not have base only side panels
Can fall easily if bumped or nudged
With the Delta Children Deluxe organizer, your child will be encouraged to keep their room clean every day and the removable bins make it easy for them to succeed in doing that.
Read more
Design
This 3-tier toy organizer from Delta is composed of 4 small, 3 medium, and 2 large bins in different colors. The top and middle levels are positioned at an angle to allow for easier identification of the toys required by your kids.
Educational Value
This is a great tool not only for organizing but in triggering innate pattern recognition in your child.  Intuitively, they will begin to understand what things go on the "top" and what goes on the "bottom".  The bins are conveniently removable for those times when you just need to pull out the drawer and dig down deep in it to find what you're looking for!
Material
This toy organizer is made of wood with a classic natural finish. This product requires minimal adult assembly and is designed with perfect geometric symmetry in the number and placement of the bins.
9

. Gimars Easy Carrying 22x15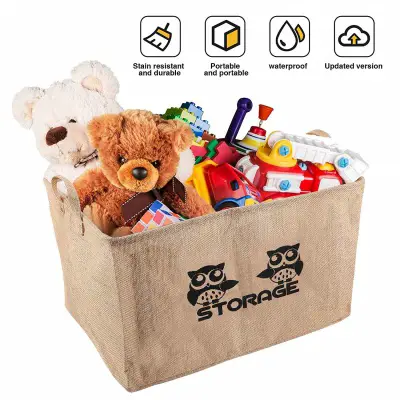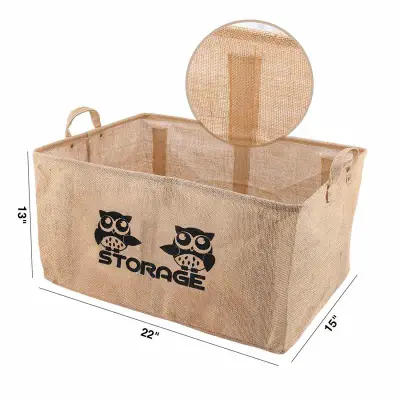 Lightweight
Durable construction
Handles for easy carrying
Waterproof material
Folds down to one inch for depository
Not meant to be weight-bearing; if you have climbers, they might warp the shape of this
It's one of the more portable options. This is great if you have a large house and kids leave their stuff spread throughout, as it allows them to carry the toy box around with them while they clean up. It folds down when it's not in use, so you don't have to leave it standing around eating up space if kids are using all of the toys that usually occupy it.
Read more
Design
Cute little owls keep watch over the kids' toys, and you can choose between four sizes, based on your particular needs. Users have all raved about the quality of service, so if your product is in any way unsatisfactory, reach out to the company and they'll make things right.
Educational Value
This toy box is portable and easy for kids to carry. They can grab toys along their own parade route, rather than dragging everything one by one to a big, clunky chest. Kids will learn the importance of tidiness and can do the majority of the clean up all by themselves.
Materials
Gimar's Basket Bin series features four baskets in varying sizes, all lightweight and easy to carry, but made to be sturdy and free-standing. A wireframe provides the stability, making it firm enough to hold your little one's collections, and solid handles on both sides mean your child can take this from room to room gathering their things if their latest adventures left toys strewn everywhere. With just six plastic inserts, assembly and breakdown are a snap. A waterproof coating means even bath toys can find a home here, and the box is easy to clean. Natural jute fabric is meant for durability and won't easily rip or puncture. The basket is collapsible, so it can be stored even more compactly when it's not in use, folding down to a single inch in height.
10

. Toy Organizer and Depository Bins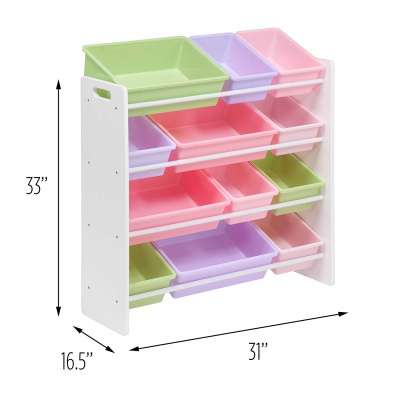 Durable plastic bins make for easy clean-up
May be appropriate for classroom use and depository of art supplies
Wood paneling and metal dowels give stability and safety for storing heavier objects
Bargain intermediate priced item
Aids in developing organizational skills through color-coding
Product does not stand flush against walls for safety and security
Larger bins may begin to warp over time
Make organizing fun with the multicolor toy organizer and depository bins.
Read more
Design
This four tier toy shelf includes twelve multi-colored toy bins that are five inches deep. While each bin as the same depth their width varies in sizes, thus allowing your child to store large and small toys. This organizer was built to stand freely or be mounted to the wall. The open bins provide your child with easy access to their toys. Both the shelf and the bins have been designed with rounded corners, thus making safe for kids. When purchasing you can choose between three different color schemes to best suit your child's taste and play area.
Educational Value
Your child can improve their sorting and color recognition skills by places categorizing their toys and placing them in certain colored bins. You can stimulate your child's learning by having them "grab all of the toys in the blue bin" or "put their stuffed animals in the pink bins". Develop fun color based games to enhance their learning experience.
Materials
The ends of the shelf are composed of wood while the middle is equipped with metal rods. Both the wood and metal has been finished with a white color making the whole design cohesive. While the organizer and the bins are composed of different materials both are highly durable. With each bin being composed of plastic you can easily wipe them clean. The entire organizer is lightweight making it easy for you to move it from room to room if need be. While assembly is required the bars easily slide into the wooden bases making it a stress-free process.
Criteria Used for Evaluation
Design
It is well-known that many kids and kid-friendly products aren't just for the kids themselves to use in solitude! Often, they are objects that parents have to share. Part of our search had to do with finding things that parents would never get tired of interacting with, either! We know how tough it can be as a parent...the hours and the days wear on, and it becomes harder to maintain enthusiasm for one more game, to hear that one song for the 1,000th time, to see that toy on the floor--heaven help us if we step on LEGO!--and, that one eyesore of a toy box that clashes with all the decorative style you might have had before you became a parent!
This is why we've added in a few options for toy boxes and accessories that can blend in with the natural decor of the home. This is equally beneficial to the child because it gives them something to grow into, while subconsciously flowing into the world and value system of their parents. What comes to mind are the easily blended 3 Sprouts box and the Delta Children's furniture box. Both are optimal for greater socialization within a condensed period. These are all ways of strengthening the parent-child bonding relationship on another plane.
Educational Value
We know the life of a child, and his or her parents can be messy! By its very nature, chaotic….but, that's not what makes this world of ours go 'round. The history of human development, by means of civilization, is built upon the principle of organization! While it might be said that a messy desk or workstation is a sign of genius--by the way, that genius probably has a few managers and assistants working for him--it wasn't a gang of rocket scientists and mathematicians who laid the foundation of making sure everything was where it's supposed to be.
The most basic organizing tool, after the written list, is the depository space--the box, the bag, the sack, or the case. It's been used to hold valued possessions, from papers and documents in other mediums to ornaments, trinkets, and jewelry, even the bodies of our loved ones after they have departed. It is an indication of value through preservation.
Not only do we want to instill the principles of organization in our children as building blocks for greater achievement and acquisition, but we also want them to preserve what they create. It can start with something as simple as caring enough to pick up a toy.
Materials
We want your kids to feel that their toy boxes are indeed their treasure and dream boxes. It is where they can keep their most prized possessions for playtime and make-believe activities. We made sure that all products listed in our best toy boxes are safe and that they are backed by positive feedback from parents like you.
Of course, we also had to consider other factors like safety and the manufacturer's reputation including the guarantees they provide for each of their products. We believe these are very important considerations for choosing any product for your kids.
Most Important Criteria
(According to our experts opinion)
Experts Opinion
Editors Opinion
Users Opinion
By Default

Parents, Did You Know?
Toys are very important instruments in your child's growth and development. They learn a lot about themselves and about their surroundings including the people caring for them. They need toys to help them reach their full growth potentials including mastery of both their fine-motor abilities and their gross-motor skills.
Parents, Did You Know?
They also help them learn and expand on their language and vocabulary, numbers and mathematics, and knowledge of common everyday objects, persons, and activities. They learn to play with other children and help them communicate a lot better while at the same time fostering social and emotional development. Toys encourage exploration, creativity, problem-solving, imagination, experimentation, and appreciation and understanding of everything that is occurring around the child.
Parents, Did You Know?
You simply cannot dump everything inside a big box or even an improvised toy depository made of an inflatable kiddie swimming pool. You will need a dedicated toy box that you can also use to teach your kids about sorting, classification, matching, organization, orderliness, and cleanliness.
Parents, Did You Know?
You can also use colorful toy boxes to help them recognize and reinforce their mastery of different colors and shapes. Now, some boxes come with a variety of features that can all be used to augment the things they learn from playing. That is why it is very important to choose the most functional box you can find for your kids.
Other Factors to Consider
Safety
Of course, we also had to consider other factors like safety and the manufacturer's reputation including the guarantees they provide for each of their products. We believe these are very important considerations for choosing any product for your kids.
Frequently Asked Questions
q:

Aren't some these depository racks too tall for young children--what if they can't reach or it tips over?

a:

This is a good concern to have. First, take into consideration the age of the child you are purchasing this for. Second, understand that they will be under the supervision and that in some ways the organizer is just as much for you as them. If your child is very young, consider a more traditional, single, open bin.  As for the tiered organizers, many parents have opted to purchase hardware separately in order to create a mounted safety feature.
q:

Is it impossible to buy a toy box with a lid that closes completely?

a:

Some products just might have a manufacturing error. With others, it may simply be a design feature for safety. As a parent, you can always get creative and find some way of developing latch to keep it closed. The other option is to shop around and take companies to task if you find a design flaw. Or, simply have a toy box custom built to your specifications.
q:

How easy it to keep these bins clean for when kids get really messy?!

a:

It's fairly easy! With any mild soap and warm water, pretty much marker and crayon can come off. These can also be hosed down in the backyard with a regular hose or power washer. For anything stickier or more permanent, there is the product that should be every parent's best friend, Goo-Gone!