10 Best Lunch Boxes & Bags for Kids in 2023
last updated
Sep 19, 2019
Give your child something to show off when they sit down to eat. We've compiled a list of lunch boxes and bags that are both well-made and well-rated, in addition to being fun and stylish. Kids love showing off their own personal passions, hobbies, and favorites, be they animal or television character. The selection below spans options for all genders and ages, in addition to considering the necessary size and protection a parent looks for when shopping for lunch pails. Whether you need something roomy, insulated, colorful, or lightweight, we've got you and your family covered. We did the easy part--you still have to pack it.
This is the best product on our list that is currently in stock: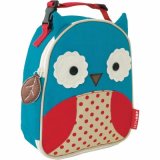 Skip Hop Zoo Otis Owl
Why is it better?
Large inner pocket fits an entire lunch with room to spare
Delightful character face and matching zipper pull details
BPA- and phthalate-free materials
Top buckle handle allows the lunch bag to clip onto a backpack for easy portability
In a
Hurry? Editors choice: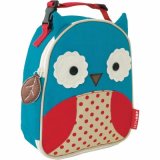 Test Winner: Skip Hop Zoo Otis Owl
25
Researched Sources
35
Hours Researching
15
Products Evaluated
Safety
Accuracy
Design
By Default
10 Best Lunch Boxes and Bags Reviewed
Criteria Used for Evaluation
Safety
As always, we considered safety to be of the highest priority. We go more in-depth on safety in the criteria below, but a general overview of the safety features we look for is kid-friendly plastics, nontoxic materials, and recyclable materials. For insulation and temperature control, we carefully judged and compared how well each and every lunch box maintained the temperature of the food. And, finally, we judged the materials of the lunch boxes for strength and resistance in the durability section of our criteria. Though each product scores highly in all of these aspects, some score much higher than others. This method is how we determined our list order, but please carefully read each list entry to identify which lunch box is best for you and your family.
We mainly looked for safe plastics and non-BPA materials in the lunch boxes. BPA is not inherently dangerous in small doses, but prolonged exposure can lead to certain health risks. We also looked for companies that produced lunch boxes from either recycled or environmentally conscious materials.
Accuracy
A lunch box isn't really a good lunch box if it can't keep your food fresh all day. Insulation and temperature control is super-important to the safety and practicality of lunch boxes, so only lunch boxes that scored highly in these areas made into onto this list. Some lunch boxes on this list are better suited for cold food while others are better suited for hot food. This, of course, leaves the decision up to the consumer for what they truly need.
Design
We then tasked our research team to evaluate the design of each of the plastic lunch boxes for kids that have initially passed our "safety" parameters. First and foremost, the product must have a built-in mechanism which will help keep the temperature of the food stable. Also, if the product comes with a variety of pockets or smaller storage compartments for eating utensils and other small stuff, then these will be factored in.
While we don't expect insulated lunch bags to be similar to those from Prada or Louis Vuitton in terms of fashion styling, they should nevertheless look like ordinary lunch boxes for kids. We want our kids to feel proud of their bags so they will be more motivated to bring it to school. Besides, we believe we can also use these lunch containers for kids especially when we go out for a walk or even to the park or maybe even hit the gym. At least, we'll have a ready supply of truly refreshing drinks and highly proteinaceous food to help burn our calories.
Most Important Criteria
(According to our experts opinion)
Experts Opinion
Editors Opinion
Users Opinion
By Default

Parents, Did You Know?
Optimum nutrition is necessary for optimum child growth and development. However, one of the most common complaints by parents is having kids who are very picky eaters. This can undermine his or her nutritional status leading to growth and developmental issues such as stunted growth, decreased physical energy, metabolic abnormalities, and cognitive impairments.But how do we ensure optimum nutrition for our kids if they are quite choosy?
Parents, Did You Know?
Don't force or bribe your child to eat his or her meal or snack. This will only lead to a power struggle. A better approach is to give your kids smaller yet more frequent feedings.
Parents, Did You Know?
Always serve snacks and meals at roughly the same time of the day to establish a routine. You can provide fruit juices or even milk during these times but make sure to give them water in between.
Parents, Did You Know?
Make your child's meals and snacks appetizing to look at. Learn from Japanese moms who really make it a habit to decorate the food they give to their children. Let them eat with their eyes. In time, they will be devouring the whole plate.
Parents, Did You Know?
Be very patient when introducing something new. You can start by talking about the different colors, shapes, textures, and aromas of food.
Parents, Did You Know?
Enlist your child's assistance in preparing his or her food. This way, he or she will be more than willing to try out his or her own creations. This is applicable when going to the grocery, too.
Other Factors to Consider
Materials
We also have to make sure that the product we're choosing for our children is made of the safest materials available. We don't want chemicals to be leaching into the food of our loved ones because that would simply be unsafe. That is why we tasked our researchers to search for food containers specially designed for kids that are made of only the safest materials possible. Generally, what we were looking for were portable food carriers and storage units that are free from phthalates, BPA, PVC, lead, and formaldehyde as well as other chemicals that can undermine the safety of the food that we prepare for our loved ones and put our kids at risk for the development of certain health conditions associated with these harmful substances.
Durability
What good is a lunch box if it only lasts you a few months? To protect your wallet, we looked for lunch boxes that scored high in durability. For this, we looked specifically at the materials used in the lunch boxes and the relative strength of those materials. Though some lunch boxes score higher in durability than others, all the lunch boxes on this list will last you for years with proper care.
Frequently Asked Questions
q:

How practical are lunch boxes?

a:

Lunch boxes are extremely practical, especially in today's society. To ensure your children are getting healthy lunches that they'll love, most parents pack their child's lunches. Lunch boxes are also very practical for adults. To avoid the temptation of fast food, working individuals can pack their own, healthy lunches.
q:

How can I get my child to start using lunch boxes?

a:

Children are very good with habits, so good in fact that it's challenging to break them out of their routines. If you can just get your child to incorporate lunch boxes and packing lunches into their everyday life, then they will keep to that habit forever.
q:

What technology keeps lunch boxes at the perfect temperature?

a:

Lunch boxes that have temperature regulation typically use insulated plastics and fabrics to keep food at the right temperature. Some lunch boxes even have designated compartments for hot and cold foods to keep them separate and at the appropriate temperature.
q:

What materials are lunch boxes typically made from?

a:

Typically, children's lunch boxes are made with compound plastics and vinyl. These aren't as sturdy as the tin or aluminum variety typical of adult lunch boxes but are still extremely sturdy.
q:

What are some safety concerns with lunch boxes?

a:

Lunch boxes, overall, are very safe products for both children and adults. If you can, look for lunch boxes that are BPA-free and made from recyclable materials. This supports environmentally conscious companies.
q:

Besides storing food, what else can a lunch box be used for?

a:

If you want to get creative with your lunch boxes, here are a few suggestions. Plastic lunch boxes with multiple compartments can be used as craft kits on the go for your little ones. Pack them up with colored pencils, markers, and paper for a portable art studio. Fabric lunch boxes that can be frozen work as a mini cooler on the go, great for small camping trips or field trips
q:

How can I properly clean a lunch box?

a:

Plastic lunch boxes, unless otherwise stated, should be cleaned with warm water and dish soap. Some can be cleaned in a dishwasher, but the packaging or website in which that lunch box comes from must explicitly state that. Fabric lunch boxes are a bit trickier. Typically, the interior of fabric lunch boxes is a cleanable plastic, but it's the exterior that needs special attention. To avoid staining, follow the special instructions given with the lunch box. If you cannot find special cleaning instructions, check the manufacturer's website.
q:

How large should a lunch box typically be?

a:

Lunchbox sizes depend on those using them and for what purpose. Typically, children between the ages of 2 and 5 don't need a huge lunch box. And the largeness of a lunch box can actually divert from the lunch boxes overall convenience.  So, as far as lunch boxes are concerned, smaller is typically better.
q:

How long should I expect a lunch box to last?

a:

Ultimately, the life of a lunch box rests on two factors: treatment and materials. If a lunch box isn't properly cared for, it won't last more than six months. But, if a lunch box is properly cared for, it can last for years and years. Typically, hard plastic lunch boxes don't last as long as fabric lunch boxes due to wear and tear in dishwashers. But, if you know the proper way to clean your hard-plastic lunch boxes, then those too can last for years.
q:

Will my child ever outgrow a lunch box, or is there an appropriate age for lunch boxes?

a:

Lunch boxes are for everyone. Whether someone is 5 or 50, they could always use a lunch box. Now, a child might outgrow a certain style of a lunch box, but overall lunch boxes are a great way to control and maintain a healthy diet.