Diaper bags have been around pretty much as long as diapers have and have become synonymous with expectant and new parents. It's one of the first things you might think to buy but strangely one of the last things most people research. Many people assume that all diapers bags are the same or simply choose to go with a cute style that may or may not have the best functionality. There is a way to balance form and function when it comes to the number one most-essential baby product! Your baby's diaper bag is going to be with you for at least the next one to two years if you're lucky. Chances are you probably still going to be toting some form of the large bag around well into elementary school age. Kids require a lot of stuff and stuff requires a lot of space to store it all! That fact isn't really going to change as your child grows, only the stuff changes. That is why it is important to pick a diaper bag that is going to last for more than just the first year or two.
There are several types of diaper bags on the market today. From traditional side sling bags to backpacks, the sheer amount of options can be overwhelming. There are a couple of essential factors to keep in mind when choosing the right bag for your family. The first thing to consider, and probably the biggest thing to keep in mind, is the comfort. You are going to be toting this bag along with a 10-pound infant carrier and an eight to 10 pound (and growing!) baby for a long time. Finding a bag that is going to give you proper back support and cushion your shoulders is essential in avoiding pain.
Once you've determined that the straps of the bag are properly cushioned and that the weight distribution isn't going to throw your back out, the next things to look at are the number of pockets. So many pockets! Remember we talked about the fact that kids need stuff and you need a way to keep all that stuff organized, clean, and easy to find. When your little one is screaming inconsolably in the middle of the grocery store, you are going to grateful for that attachable pacifier or bottle pocket for a quick calm. If you've ever been the victim of a mid-car ride poop blowout then you know that having all of your diaper-changing and child-distracting tools easily accessible and within reach can be a lifesaver!
The final aspect to consider in your purchase of the ideal diaper bag is style. This is a bag that you or your partner are going to carry around for a long time. While the bright pink polka dot giraffe that perfectly matches your nursery may seem adorable now, its a little less appropriate at a work meeting. Or on a hike. Or at your kiddo's first day of kindergarten. By choosing a durable, neutrally colored bag, you are preventing the need from having to purchase another down the road. But of course, to each their own. If the frilly pink diaper bag makes you happy, who are we to judge? You do you!
To make sure that you have the best-informed choices of the diaper or nappy bags, we have gathered a selection of bags from across the internet. These bags feature a variety of styles, forms, and functions to fit many different lifestyles and needs. We hope that one of our 10 Best Diaper Nappy Bags & Backpacks will be the satchel that carries your baby's very first outfits to and home from the hospital on their very first birthday!
The Best Diaper Nappy Bags & Backpacks Reviewed in 2018
Bag Nation with Stroller Straps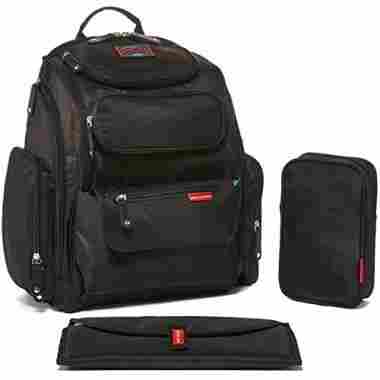 HaloVa Multi-Function Waterproof
HYBLOM with Stroller Straps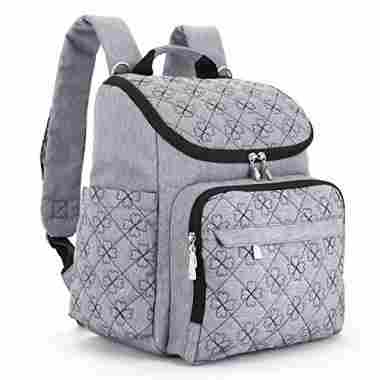 7Senses Large Capacity Grey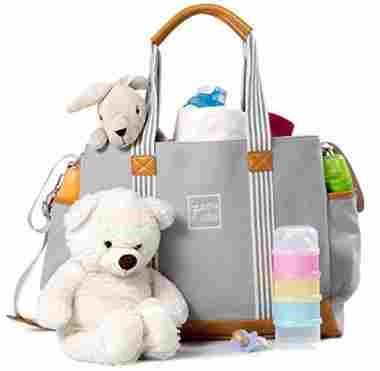 Itzy Ritzy Boss Coffee and Cream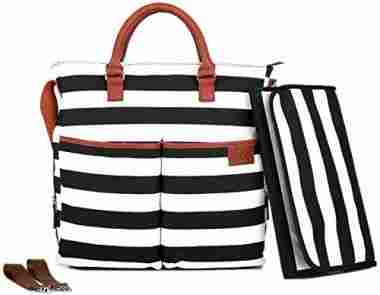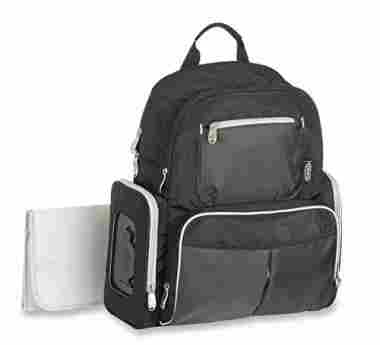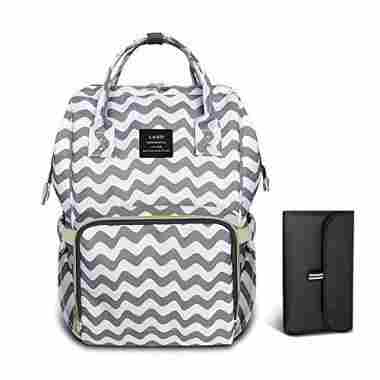 JuJuBe B.F.F Multi-Functional
Criteria Used in Evaluation of the Best Diaper Nappy Bags and Backpacks
Material
Diaper bags come in all sorts of forms, some are more structured with stiff material and others are softer. Some are cloth, others are made with the water-resistant material. Some materials are going to be more lightweight and others are thicker. When selecting a diaper bag, it's smart to focus on how you want to keep up with cleaning the bag over time. You never know what to expect with a baby or toddler…but you do know messes, leaks, and spills are inevitable.
Size
Although there are necessities to bring on the go with a baby, there are always variations for each parent on how much space they take up. For example, reusable cloth diapers tend to take up more space than regular diapers. Additionally, some parents will use their diaper bag for supplies for multiple children at once, in which case a big spacious bag is going to be essential. Some diaper bags are huge, with space for not only all your baby necessities, but also for your laptop, magazines, and other personal items. Other diaper bags have the perfect amount of space for baby supplies but aren't going to be too bulky.
Backpack or Bag
Sometimes soon-to-be parents don't realize how bulky and heavy a diaper bag can be until it's fully packed up. Every time you leave the house with your baby, you're going to need to lug around that diaper bag to tend to any and all of your baby's needs. Backpacks are great in that they distribute the weight of the bag across your back and shoulders and they free up both your arms and hands to hold your baby or stroller, for example. A one-shoulder bag can be worn across your body if the strap is long enough or can be worn hanging off the side of your body. Some parents might think is a more stylish look. Choosing a backpack or a bag is totally a point of personal preference, so we included excellent options for both types on our list.
Style
Some diaper bags are obviously diaper bags and others are designed to look more like a handbag or weekender tote. There are more simple diaper bags and backpacks that come in black or other neutral solid tones. There are also super colorful options or bags with fun patterns and designs. Just like any accessory, it's totally up to the individual whether they may want a more flashy look, an incognito diaper bag, or if they are just fine with toting an obvious diaper bag for their baby.
Compartments
There are some incredibly "intelligent" diaper bags and backpacks out there that have been designed with the intention to address all possible concerns for a parent. Some diaper bags have upwards of 15 separate pockets while others focus on a big main compartment with an additional compartment or two. Having specialized compartments for certain baby supplies like a baby bottle pocket and a changing pad pocket can help keep things organized and easily accessible without needing to dig around.
Special Features
All diaper bags are designed to hold the typical baby gear essentials such as diapers, wipes, bottles, a change of clothes, baby powder and other diaper-changing supplies, and a blanket. A lot of diaper bags will come with a fold-up changing pad so you can perform diaper changes on nearly any flat surfaces. Many modern diaper bags will feature at least one insulated pocket, which will keep baby bottles temperature-controlled and fresh. Diaper bags also often come with attachable stroller straps which allow you to hang it off your stroller's handles.
FAQ
Frequently Asked Questions
Q: Can I use one diaper bag for my two babies in diapers?
A: Absolutely. As long as you select a bag that is roomy enough to carry supplies for both babies, you'll be all set carrying one diaper bag or backpack.
Q: Can I wash a diaper bag or backpack in the washing machine?
A: You'll have to check your specific diaper bag to see whether it is machine washable or not. Some are, but others are designed to be hand-washed or just wiped down. If this is an important point for you, definitely make sure to check this before making a purchase.
Q: Is it sanitary for me to use a diaper bag if I use reusable cloth diapers for my baby?
A: Some diaper bags are going to be more sanitary than others for bringing home the used cloth diapers to wash. We suggest finding a diaper bag that has a separate waterproof pocket that keeps used cloth diapers separate from the rest of the bag's contents. Having such a waterproof pocket will also help you keep it hygienic without ruining the materials.
Q: How long do insulated pockets keep beverages in baby bottles temperature controlled?
A: Most baby bottles can last a few hours in the insulated bag before starting to change temperature.
Q: What are stroller straps?
A: Stroller straps are short straps with clips on the ends that allow you to hang a diaper bag or backpack from most stroller handles.
Q: Can I fit a laptop in a diaper bag?
A: Some diaper bags have ample space that can hold a laptop on top of all your baby supplies, but some are more compact and cater specifically to baby gear.
Q: Can a diaper bag be worn by either parent?
A: Absolutely! Almost all diaper bags have some type of adjustable strap that can conform to fit a variety of body types and sizes. If your partner feels a little strange carrying around a bright pink backpack, there are many diaper bag styles available that are more professional and gender-neutral if that's more their speed.
Q: Okay I've got my diaper bag backpack…but what do I put in it?
A: Your diaper bag is a lot like your baby, unique and amazing. What you put in it is really up to you, however, there are some essentials that we can recommend that may make those first few months a little easier. You should always include diapers, of course, but more than you would think. Blowouts are a real thing and always tend happen at the most inconvenient times so be prepared and bring extras. In that same vein, you will want to pack at least one entire outfit change including socks. Wipes will finish off any potty issues that you may encounter and the rest of the space will get filled up depending on your needs. Tissues, baby bottles, spare pacifiers, small toys, even a portable breast pump might find its way in there over time. Do what's best for you and your little one!