It can seem impossible to find time to stay active and work out when you're trying to manage a family. Mornings are spent rousing sleepyheads, preparing breakfast, packing bags, picking out clothes, brushing hair…the list goes on and on. Afternoons require lunches, school pick-ups, activities, and cleaning. Evenings are a rush to prepare dinner, get homework done, endure bath time, and tuck everyone in. Add in pet responsibilities, a day job, and trying to balance an outside social life, and the calendar is FULL.
If you have an infant or toddler, it can feel all-consuming. They require near-constant attention so finding two minutes to yourself becomes an Olympic event. But there are ways to carve out time in the day for your personal needs. If you're someone who finds peace or health benefits from routine jogs or runs, consider looking for a jogging or running stroller. Jogging strollers are typically equipped with larger wheels, better shock absorption (to handle higher speeds), and a front-lock wheel for stability. Most running strollers are lightweight as well, and plenty come equipped to transition between a standard stroller and infant model, so you can head out any time, even if your precious cargo can't quite hold their own head up yet.
These strollers are well-reviewed and built to last. Slip into those sneakers, turn on your favorite tunes, and hit the trails!
The Best Jogging & Running Strollers for Parents Reviewed in 2018
Baby Trend Expedition Phantom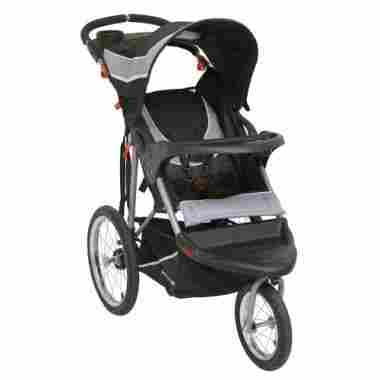 BOB Revolution Flex Duallie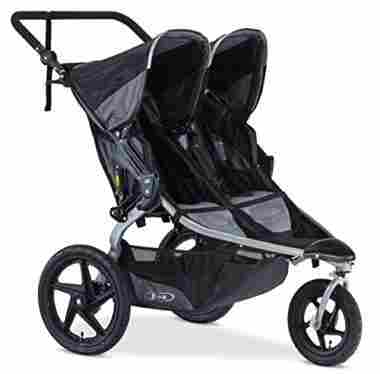 Joovy Zoom 360 Ultralight
Baby Jogger 2016 City Mini GT
Baby Jogger 2016 City Mini 3W
BOB Revolution Pro Duallie
Graco FastAction Fold Gotham
BOB Revolution Flex Black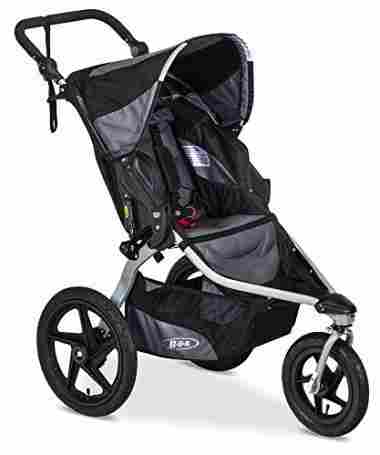 Baby Jogger City Select LUX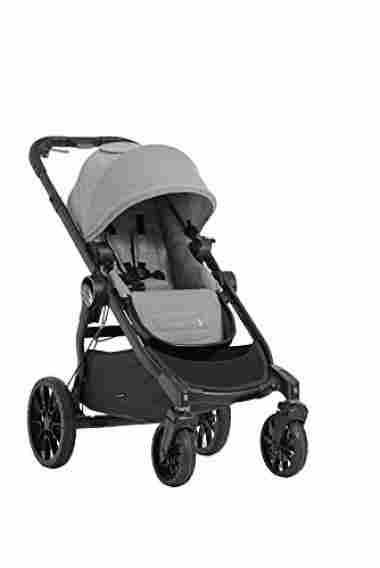 Criteria Used in Evaluation of the Best Jogging and Running Strollers
To rank all of these jogging strollers from best to worst, we used special criteria. When buying a jogging stroller, you want a durable and lightweight frame so you can continue jogging for years to come. You also want a stroller that stores compactly and easily with no hassle, along with the right tires for all terrain. Using these parameters and other factors, following are the criteria we used to rank the best jogging strollers.
Weight Limit
If you want to buy a jogging stroller, then you probably don't want your child outgrowing it in a year. That is why we chose the heaviest weight limit as the top strollers rather than the lightest weight limits.
Total Weight
Nobody wants to jog with a heavy hunk of a stroller, that's why we decided the lighter the weight of the stroller, the better.
Features
Overall fancy features and gadgets are added accessories and, in our opinion, makes a stroller even better. Did you see the one with built-in speakers?
Weather-Resistance
When it comes to children, they do not like cold weather. That is why we ranked weather-resistant strollers at a higher level than those that weren't.
Storage
After you use a stroller you need to store it, right? The strollers with the easiest folding/storage methods and flattest size were the winners in this section.
Growability
The fact that a stroller can grow with your child is a must, and if you can't get a stroller like that, it isn't worth it. Strollers that will serve your purposes for a number of years were held high on this criteria.
FAQ
Frequently Asked Questions
Q: At what age can a child start to ride in a jogging stroller?
A: This depends on the stroller itself and your child's development thus far. If your child just learned to hold their head up, maybe a few more months of waiting won't hurt, but if your child is walking strongly, they are probably ready to go for a ride. If you are unsure, consult your child's doctor and ask for their opinion.
Q: Are jogging strollers safe for my newborn?
A: As long as your newborn is strapped in and the stroller is the correct compatible model with the car seat, then yes your newborn is very safe. Always make sure your child is strapped in securely and their car seat isn't loose or falling off and that they are dressed appropriately for the weather.
Q: Do you have to jog with these?
A: Not at all! You do not have to jog when using these strollers, and a lot of people only buy them as a regular stroller just because of the increased luxury and smoothness in the ride. You can use these just for walking in the park, for example, and they will probably last you even longer.
Q: Do they tip over easy?
A: The only time strollers like these tip is when a turn is taken too sharply, too fast. The same thing will happen in a regular stroller, so just watch your speed and turning radius.
Q: Is maintenance expensive?
A: Most issues that will arise from one of these jogging strollers would be as easy as changing a tire. But if it's a serious problem it will cost as much as an average bike repair.
Q: How long should one last?
A: One of these strollers should last a minimum of two years, but depending on the durability and the condition it is kept in, they could honestly last a lifetime!