Double, double, toil and trouble…
Growing your family means more fun, warmth, and love–but also more responsibility and stress. Hitting the town with multiple children can occasionally feel like standing in the eye of a storm. If there's a large age gap, you have to consider how different their needs, dependencies, and focuses are. If they're close in age and young, you have two precious bundles that require constant supervision and attention. And no matter their usual energy levels, if they're still infants, toddlers, or in early childhood, long trips are going to be exhausting. Children who often bounce around and cartwheel through their days may find themselves cranky and in need of a seat when forced to endure long shopping trips, extended travel, or big vacation days.
Make sure you're never caught without a stroller if you intend to leave the house for very long. And regardless of how many hands you have on deck, choose a stroller that will make life easier for everyone involved. Double and tandem strollers are a great way to keep your family contained, but mobile. When referencing double strollers, companies and consumers usually mean side-by-side seats, while tandem strollers are stacked, so one child will sit behind/in front of the other. There are lots of options to help ease age differences, active needs, and the desire for easy travel. Designs and technology have come a long way, so you won't have to pick between safety and convenience.
Here are our Top 10 Double Strollers, meant to ease the growing pains of expanding families. You'll find various options for storage spaces, weight limits, mobility, travel options, and more. Convertible strollers give you the luxury of longevity, as they can be adapted to suit the needs of infants, toddlers, and young children alike. These brands are top-rated for their quality and innovation. Pack the bags, check the to-do list and get out there to enjoy your day. Your family can be right at your side through it all.
The Best Double and Tandem Strollers Reviewed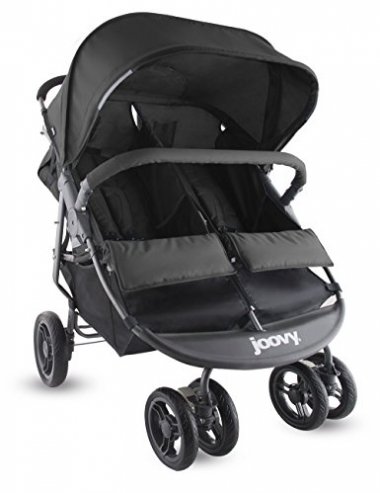 Delta Children City Street LX
Baby Trend Universal Snap-N-Go
BOB Revolution Flex Duallie
Evenflo Minno Twin Glenbarr
Kolcraft Cloud Side-by-Side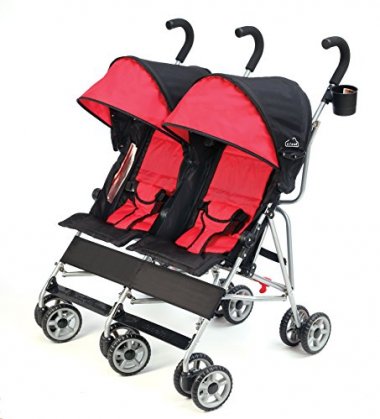 Baby Trend Sit N Stand Ultra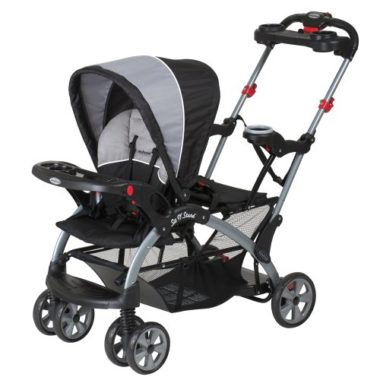 Graco Ready2grow Click Connect
Criteria Used in Evaluation of the Best Double and Tandem Strollers
Buying a double stroller can be a big decision for your family. You have to consider your children's needs, your lifestyle needs, and what you need the stroller to do. Most of the models are a bit of an investment, so we want to help you find exactly what you need. There are two basic types of double strollers, the standard side-by-side and the tandem. The side-by-side models are good for suburbs or country living. They are easy to maneuver and then stash in the trunk at the end of the trail. Tandem strollers can be better for the city or small town walks since they can fit easily in elevators, hallways, and crowds.
You will want to consider the ages and age difference between your children. If you have a toddler and an infant, you will want a stroller that is compatible with a car seat or a bassinet which can carry the baby. If you have an older child, you might want to consider a model that has a platform on which your young one can stand if they need to rest from walking. If you have twins, maybe you will want to focus on the side-by-side models or ones that can be positioned so they face each other. Kids can share traveling together.
Double strollers can be a challenge. Side-by-side strollers can pull to one side when the weight is uneven. If you have two children who are quite different in age, you might want to focus on the tandem designs. Tandems might have a small disadvantage because the front seat is nice and roomy, but the back seat is more cramped if you try to seat older kids back there. Some models accept compatible car seats, but they have to be placed in front so the older child is cramped in the back. The best models offer the ability to change the seating around as your children grow. Some of them even have options for which the kids can face each other which makes for fun travel.
Be sure to consider the space needs in your life when choosing a double stroller. The side-by-side models are more challenging in small doorways, hallways or elevators. The tandem ones are more challenging for curbs and thresholds. All double strollers are heavier and harder to fold into the car trunk. We also recommend you purchase a double stroller model with safety features like a five-point harness. Look for the JPMA logo. This means they have been tested and comply with ASTM safety standards for pinch points, brakes, and harnesses.
Strollers started out in the 1700s as a small carriage which was designed to be pulled by a dog, goat or small horse. They were used only by rich people who wanted to pamper their children. In our day and age, these double strollers are more for pampering parents of growing families. Even with the slight inconvenience of size or awkwardness, these double strollers can be a true treasure when it comes to keeping track of your little ones. It helps to keep them safe, comfortable and strapped down so they can kick back and enjoy the ride.
What to Look For
When buying a double stroller, you'll want to keep in mind some of the attributes you looked for in single strollers. Shade canopies are important if you'll be out in the sun frequently, and it's especially useful if those canopies are adjustable. Given children's frequent growth spurts, it can quickly make a hefty, expensive stroller obsolete because of how uncomfortable an older child feels in it. You also want to consider breathability. Is the stroller designed for proper ventilation? Is there mesh fabric? If not, will your child still be able to receive airflow? You'll want to consider storage space, as some double strollers haven't taken into account the fact that double the cargo means additional accessories–more diapers, increased snacks, multiple toys and changes of clothes. Finally, if your family is going to be utilizing the double stroller frequently, will it need to travel well? How easily does it pack up and fit into the car? Can it fly with you for longer trips? Do you have alternative options to use if it won't meet those requirements? You never want to be stranded without a stroller, and we get that. So make sure your checklist is thorough before you invest.
FAQ
Frequently Asked Questions
Q: How wide is a common doorway?
A: Most doorways are 36 inches wide, but 30 or 32 inches are also fairly common.
Q: Is the Britax 2017 model compatible with car seats?
A: No, this model is a better choice for parents of children who are able to sit up on their own.
Q: Will the Joovy double stroller work in ice or snow?
A: This model has large front and back wheels to help go through any conditions, including light snow or slush. It also turns easily.
Q: What is the difference between the 2015 and the 2016 models of the Baby Jogger?
A: The only difference between the two is that one color choice was added.
Q: Does the Mountain Buggy Duet come with a bassinet?
A: No, it does not but you can purchase a carrycot separately to carry an infant.
Q: What are the benefits of using a double stroller instead of carrying one baby or having one older child walk?
A: Having a double stroller is so much more convenient in keeping track of two children while exercising, shopping or traveling. These days they have many features and options.
Q: Can double strollers be taken on air flights as carry-ons?
A: Not all of them, but there are many models which are made light enough and fold up easily enough that they can be taken on trips.