If no one's let you in on the secret yet, here's the scoop: most families don't just own one stroller. Sure, they have their regular, heavy-duty stroller packed with baby's accessories and stationed in the garage or by the door, ready to peel out and onto the sidewalk. But sometimes clunky, heavy strollers aren't really a feasible option. Parents traveling long distances or constantly loading it in and out of the car aren't going to be keen on builds that don't fold up or travel easily.
Lightweight umbrella strollers are usually the solution. This is your family's #2 (or maybe the #1, depending on how old your little one is and what your lifestyle entails). Umbrella strollers are aptly named because they fold up compactly and travel light, just like your go-to umbrella on a rainy day. These strollers are geared toward toddlers and young children, but a few do recline all the way, making them safe for newborns as well. Some of them have little canopies to provide relief from the sun and elements, some come equipped with abundant storage room, and others are fast-and-dirty, no-frills-added seats with wheels, to get your kid to and from where they need to go as safely as possible while still being fuss-free.
Here are our Top 10 Umbrella Strollers, all rated for safety, efficiency, and functional design. We know you're busy, so pop baby in, get out there, and pack it on up when you're ready to move onto the next thing.
The Best Umbrella Strollers Reviewed
Summer Infant 3D Lite Convenience
Chicco Bravo Trio Travel System
Baby Jogger 2016 City Mini
Delta Children City Street LX
Delta Children City Street Orange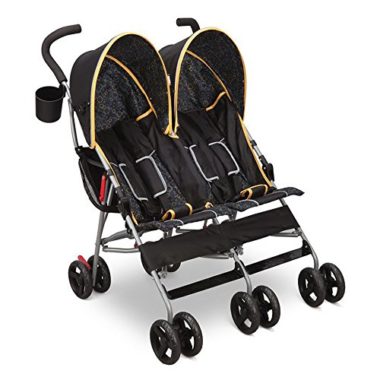 J is for Jeep Lunar Burgundy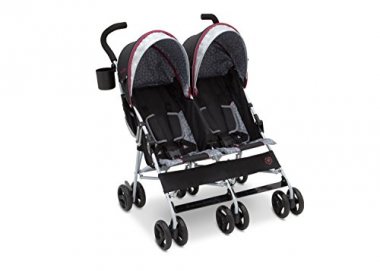 Kolcraft Cloud Plus 5-Point
Baby Jogger City Select Single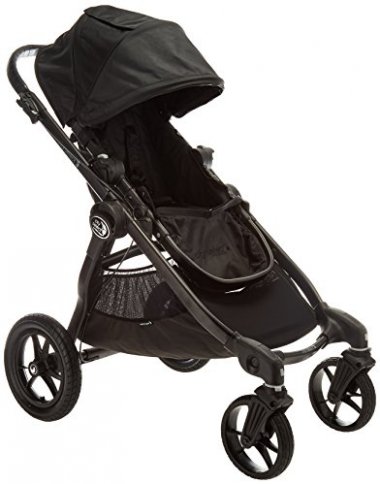 Criteria Used in Evaluation of the Best Umbrella Strollers
Safety
When it comes to anything we write about on our site, we always prioritize safety as the most important concern to consider when selecting products to feature. Your child's safety is precious, so we embark on extensive research in order to make sure we feel confident in recommending our selected products for parents. Safe strollers should absolutely have brakes that work well and are easy to operate. Some strollers even have parking brakes that will lock two wheels, providing additional safety. All of the strollers we selected have no issues with tipping over. We consider strollers to be safe if they have a secure seat belt and harness to keep a child in the seat safely. Although some strollers have a step for an older child to sit or stand in the rear while another child sits in the stroller, it is always important to consider weight guidelines for the particular stroller in question. All of the strollers on this list have canopies meant to protect the little rider from sun exposure and other elements, which is especially important for young children with highly sensitive skin. Ultimately, all 10 strollers we featured are safe for your child as long as your child falls into the weight or age recommendations.
Functionality
The primary goal with strollers is to be able to push a child around wherever you choose to go. Many strollers have different functions and purposes depending on what you want to primarily use your stroller for. Many of the strollers we featured are lightweight strollers, making them excellent options for city-dwellers or families that use stairs often. Double strollers are obviously an ideal choice for families with two children small enough to use a stroller. Some strollers won't last a family long if used regularly, others will last years. Some of the strollers on our list are great for tackling all terrain, while others are more suited to smooth sidewalks and indoor use. Some strollers don't have any suspension, making them better-suited for smooth surfaces. However, the suspension on some or all wheels makes it so strollers can handle a variety of terrain with more ease.
Storage
Strollers often have a storage basket or other way to store parents' and child's' belongings in a safe way. Nearly all of the strollers on our list have a basket that hangs below the stroller seat which can easily be accessed from the rear of the stroller. We find this an important point to consider in choosing a stroller for convenience. After all, parents often must bring a diaper bag and other supplies in addition to a purse or backpack for belongings. Considering parents' hands are generally busy with pushing the stroller, it's quite convenient to have storage space for these necessary belongings. Many strollers also feature a beverage cup holder for parents so they can use two hands for pushing, save those moments when they actually take a sip of their water, coffee, or tea.
Durability
We believe strollers should be durable such that they can withstand time holding a growing baby or toddler, and can handle different weather conditions or situations if need be. There's no reason a family should have to buy three strollers before their child turns 4 years old. We made sure to research strollers that are durable and can hold up with regular use. Some families will use their stroller on a daily basis, others might not use it as much, but we still think it's important to buy a high-quality product…especially when it comes to your child. Like many things, durability is closely related to safety when it comes to strollers.
Comfort
There are many different features that make each stroller slightly different from the next. We did our best to review the strollers we selected to help give parents a clear picture of these features so they can be informed in making a decision that will best benefit their child. A stroller for a newborn or young baby is going to need to recline because they won't be able to sit up, for example. A toddler will most likely benefit from a stroller with a footrest and adjustable harness so they can ride comfortably. Many of the strollers we selected have reclining seats and adjustable features so that a wide range of sizes and dispositions can be happy riding in them. We think it is important to have a comfortable stroller so your child can be content and feel supported no matter where you bring them.
FAQ
Frequently Asked Questions
Q: Are strollers safe for newborns?
A: Some strollers are safe for newborns, whereas other strollers recommend infants 6 months old and above for use. It is important to check the specific stroller to properly decide whether it is safe for newborn use.
Q: Can my 5-year-old stand behind the stroller and in front of me as I push it?
A: It totally depends on the stroller. There are many models that can accommodate a standing older child, but others will caution against it. Again, this is an important thing to double check when considering allowing your child to stand up on the back of your moving stroller.
Q: Will my stroller be able to handle a dirt path such as on a hike?
A: Some strollers can handle dirt paths without any issues. Other strollers are better-suited for indoor use. If you want a stroller that can function with various terrain, there are many options available for you.
Q: Is my 5-year-old too old to use a stroller?
A: Most strollers set weight capacities rather than age capacities. If your child falls into the recommended weight range, they can technically ride safely.
Q: My toddler spilled orange juice all over the stroller seat. How can I clean it?
A: Some stroller seats have a lining or pad that can be removed and machine washed. Otherwise, it's best to use natural cleaning products, vinegar, or wipes to remove the juice.
Q: Should I get a side-by-side or front-and-behind double stroller?
A: There are pros and cons associated with both. We included side-by-side double strollers on our list, and thankfully they can fit through standard 30-inch doorways.
Q: Is it ok for me to hang my purse on the stroller handle?
A: We highly recommend against hanging anything from the stroller handles as it can be a tripping/tipping hazard.