10 Best Travel Systems Reviewed & Rated in 2019
last updated
Sep 08, 2019
Cross two items off that list in one stroke: a travel system saves you time, hassle, and money when it comes to keeping baby with you while you're on the go. A travel system is a set that includes a coordinating stroller and car seat. The car seat unclips from the car and buckles straight into the stroller's frame, allowing you to move baby without having to unclasp them from a harness and risk waking them. Travel systems are truly handy for parents running errands with their little ones. We recommend taking a look at our ten favorites below!
In a Hurry? The test winner after 49 hrs of research
Graco FastAction Jogger
Why is it better?
Audible Click Lock system
One-handed stroller folding
All terrain wheels
Reclining stroller seat
Cargo area
Parent cup holder
In a
Hurry? Editors choice:
Test Winner: Graco FastAction Jogger
26
Researched Sources
49
Hours Researching
23
Products Evaluated
Design
Comfort
Ease of Use
Price Range
By Default
10 Best Travel Systems Reviewed
1

. Graco FastAction Jogger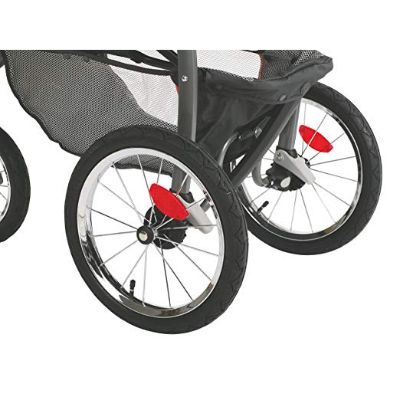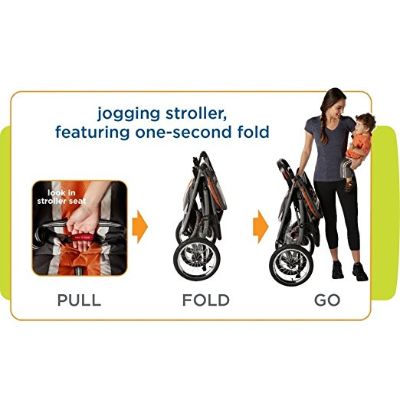 Audible Click Lock system
One-handed stroller folding
All terrain wheels
Reclining stroller seat
Cargo area
Parent cup holder
Can be difficult to maneuver when the wheel is locked
Phone holder is not universal
When it comes to an awesome crossover stroller and infant seat combination this set has nailed it. It is able to combine all the conveniences and comfort for the baby that traditional stroller's offer plus gives the maneuverability and the big performance that an all terrain strollers have to offer. Plus the stroller comes with awesome features. The stroller combination also includes the infant car seat making it the perfect paired set.
Read more
Design
The tires on this stroller are great for any terrain you come across while out and about. This travel system includes the Graco Snug Ride Click Connect 35 infant car seat. This car seat is safe and comfortable for your baby. This is a great jogging stroller for the active family.
Comfort
The audible click connect feature lets you know that the infant seat is securely in place before you run off or drive away. The stroller has a locking front wheel that is perfect when running. It can be unlocked for increased maneuverability when you are walking with your baby. This stroller system is perfect for a trip to the mall or a run on a dirt trail with you little baby.
Ease of Use
The stroller has one-handed folding! This is a great feature, you can use your free hand to hold your baby or a diaper bag. The stroller has a large cargo pocket underneath that will hold all of your essential items. The handle of this stroller has convenient parent-friendly features like a large cup holder and smartphone shelf.
Price Range
This travel system is near just above the middle price point for our list. It is a great value for an active family that wants to take your baby for hikes or out jogging in the stroller. The car seat is easy to set in place and has safety features that will make you comfortable.
2

. Safety 1st Smooth Ride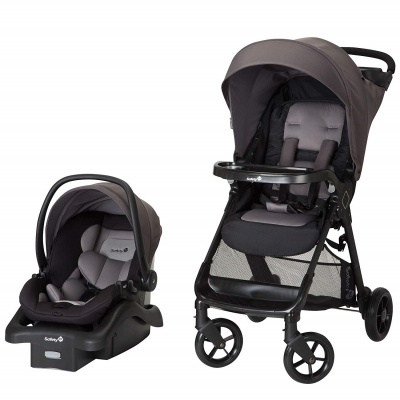 Lightweight
Airplane ready
One-click securing system between car and stroller
Side Impact protection
Stroller is easy to maneuver and brake
Car seat is on the narrow side
Car seat is reclined when attached to the stroller base
Complete stroller and infant seat travel systems that make traveling easier and safer are really appreciated when it comes to getting out and about with your little one. This is a set that you will truly enjoy using. It features a car seat with a built in safety that far exceeds others in its class and the stroller was designed to remove all the hassles that the other strollers give. It is easy to maneuver and is easy to put into park allowing you to get to the baby that much faster and easier.
Read more
Design
The brakes are easy to use, allowing you to park your haul quickly and efficiently when you need. The stroller comes accompanied by a rear-facing car seat equipped to hold between 4-35 pounds. Side Impact Protection means your baby will be safe in the event of a collision, and quick-click is a one-stop shop for transfer, securing your car seat to your stroller with one simple click. Let baby keep napping; you have your hands full as it is. Four harness heights allow your baby some growing room with this set and the ultra plush fabric makes for a comfy ride. The car seat's safety measures meet or exceed all Federal and ASTM standards. Lock 'em and load 'em; you're ready to go with this travel set by your side.
Comfort
Life on the go can be stressful. Make it as easy as possible on yourself with this travel system. Buckle your baby into the car seat and let them sleep or play, knowing you can easily transfer them from the backseat to the stroller as you go about your day.
Ease of Use
The brakes are so efficient, you can easily trigger them in your flip flops. It's nice that it's plane ready as well, and that the transfer between car and stroller can be so smooth and simple.
Price Range
This travel system is moderately priced. Given its quality and durability, it's a worthwhile investment and it's about middle-of-the-road so far as price comparison with its competition goes.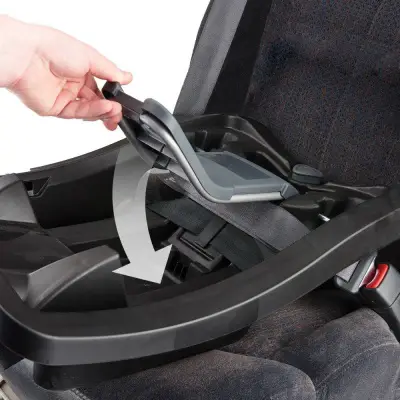 Includes the Evenflo SafeMax rollover tested car seat
6 modes of use
Curser tires on the stroller
Lightweight car seat
Ergonomic stroller handle
Wide frame
Cup holders fall off
This is a complete travel system that provides safe and effective car seat and stroller that will grow with your children. The system features many modes of travel that allow infants 4 to 35 pounds the ability to stay in an infant seat and be placed in a stroller. The stroller has installation guides with latches that secure the infant seat in seconds. It also provides several different options when it comes time to actually ride in the stroller. With a maximum weight of 50 pounds for the stroller it will provide many years of use for your little one.
Read more
Design
It will grow with your little one from infancy through toddlerhood. You will be pleased with the multiple uses and storage space of this stroller. It has a sturdy frame and will give your little peanut a smooth ride. This is a great choice if safety is your number one concern because it comes with the Evenflo SafetyMax rollover tested infant car seat.
Comfort
There are six possible modes of transport with this travel system. Your little one can travel in the stroller while buckled into their car seat and be facing you or facing away from you. They can go into the infant carriage facing you or facing away. The final mode is the toddler mode and they can again face you or face away from you. This is a convenient system for taking your child out and about all day. You can easily check on them while napping if they are facing you. This is a great choice for new parents who always want to look at their little one.
Ease of Use
We love the fact that you can choose to have your child facing you at all stages in this stroller. The rollover tested car seat is a huge bonus with this travel system. Another bonus is the convenient cruiser tires that will give a smooth ride on almost any terrain.
Price Range
The cost of this convenient travel system is just above our median price point. It a great value considering the many modes of transport and the fact that you get a super safe car seat with this system. You can feel safe with this pick.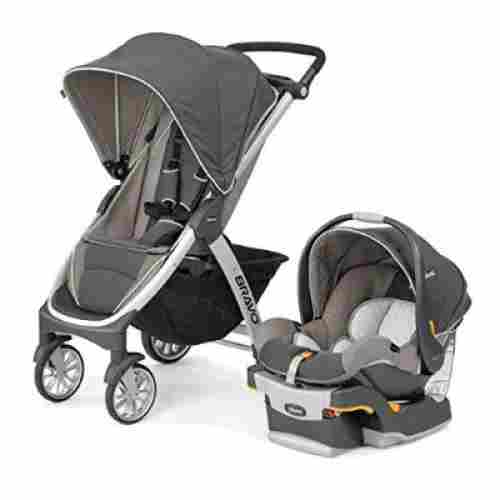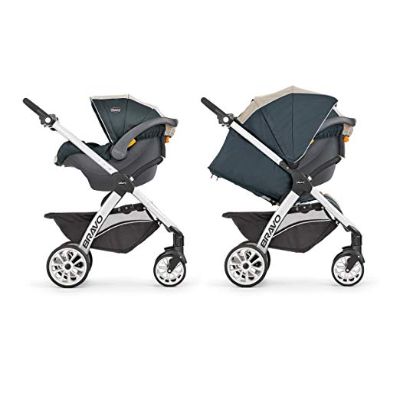 Self-standing folding position
Sturdy metal frame
Removable seat
Extra large canopy to keep out the sun and bad weather
One handed folding
Height adjustable handle
There is no mechanism to keep the stroller locked when folded
Getting your little one out of the house and traveling safely is what every parent needs. This system is designed to provide an on the go travel system that includes both a stroller and an infant seat with a stay in the car base. The infant seat can go from the car directly into the stroller without ever having to move the little one out of the seat. With an innovative design that the infant seat has it allows the seat to be installed on the stroller base securely each time. It is also simple and accurate to the fit.
Read more
Design
It starts out as a lightweight infant car seat carrier on wheels and easily transitions into a toddler stroller. This travel system will meet all of your infant car seat and stroller combination needs.
Comfort
The wheels on this stroller are auto-positioning meaning that they will conveniently move where you need them to when cruising about with your little one. The frame folds easily with one hand and stands up when folded for easy maneuverability.
Ease of Use
This system has a super big canopy on both the car seat and the stroller so you can keep your baby covered. It is perfect for times when you are stuck in bad weather or when you are at the mall and want to keep prying eyes away from your sleeping little one.
Price Range
This system is at the top of our price list. It has the features you need to keep your baby traveling in safety. The sturdy metal frame and standing fold feature make this well worth the extra cost.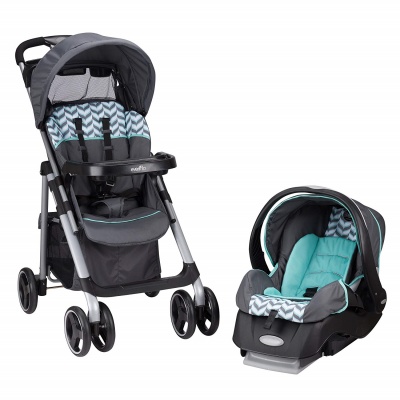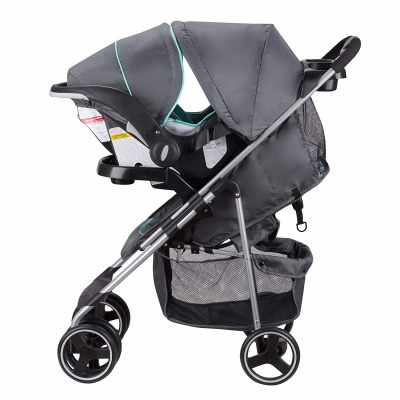 Adjustable reclining positions
Safety tested
Canopy and visor
Storage area for the parents
Safety tested
This unit makes a locking sound before it actually clicks all the way in so please test thoroughly to avoid the stroller collapsing
Looking for that seamless transition when it comes to going from car to on foot. This system has been designed to make that transition easy, sooth, and simple for both baby and caregiver. The advantage of this travel system provides over other system is the stroller itself is a full size stroller when unfolded, but once the stroller has been folded down it offers a slim and compact size. This makes placing it in the trunk of a car or in any smaller vehicle easy and convenient.
Read more
Design
A peek-a-boo window allows you to check in on them when you please. You can recline your little one at multiple angles for their ultimate comfort and the 3-to-5 point harness will keep them in place, safe and sound. The stroller portion features two cup holders, a storage basket, and a phone compartment, so you have a little time and space to yourself as well. The car seat is rear-facing and capable of supporting between four and thirty-five pounds while the stroller can safely hold up to 50 pounds. All facets are tested at two times the standard safety measures to ensure your precious cargo is always protected.
Comfort
This stroller and car seat combo is ready to weather the elements with you and baby. It features a canopy and visor to help protect from wind or sun. Your little one can enjoy the fresh air without all the discomfort that often accompanies a nice morning or afternoon stroll.
Ease of Use
It's nice when companies think to add a little something extra just for you, isn't it? This stroller features some space for you to store your own belongings so you can keep your hands free and your attention on the road ahead.
Price Range
The Evenflo Vive is in a slightly higher price range than some other products in this field, but the difference is minimal and Evenflo is a pretty reliable company. Most users seem very pleased with this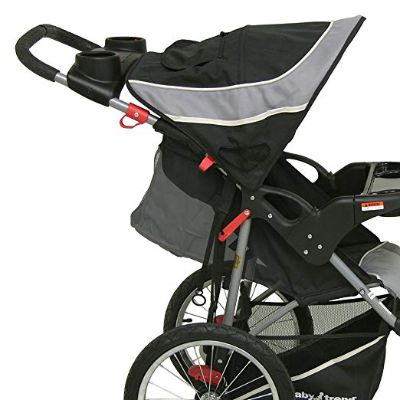 Pros
Jogging wheel locks as needed
Seat reclines for nap time
Caro space for all of your gear
Easy trigger fold
Wind and sun canopy
The stroller latches are hard to unlock
THe car seat latches are difficult to maneuver
Strollers are not always the best for traveling on all terrain surfaces, but this stroller is changing the game. It is able to provide a smooth and comfortable ride for your little one over rugged surfaces. All of the wheels on this stroller are a large bicycle tire that rolls effortlessly over all different types of surfaces. The front wheel also swivels making it even easier to get around obstacles.
Read more
Design
The air filled wheels offer great suspension for a comfortable ride on all types of terrain. The sturdy frame will withstand all types of use and be around for years to tote your little ones.
Comfort
The front wheel locks in place when you are running and can be unlocked for increased maneuverability when you are just wandering around the neighborhood or a mall. The sun shade is highly adjustable and will block sun and wind from your little one to keep them comfortable in all types of weather. The tires are bicycle grade and can be inflated as needed for an easier ride.
Ease of Use
This unit folds with the pull of a trigger for one-handed folding. It has a super sturdy steel frame that is easy to clean. The extra wide handle makes maneuvering the stroller while jogging easy. You will enjoy going out in nature with your little one in this jogging stroller.
Price Range
This stroller and infant seat combo is at the low end of our price list. You will get all of the features of a jogging stroller and the included infant seat for a very affordable price. This is a great buy for a growing family.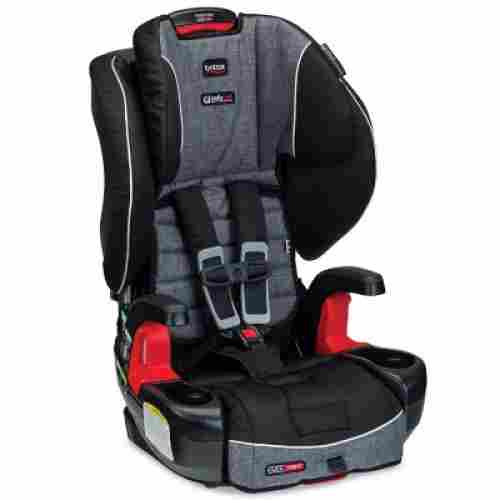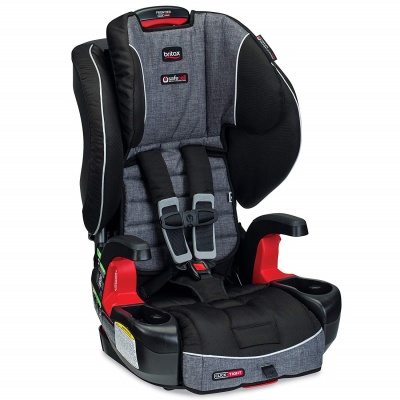 Slim three-wheel stroller
Highly safety rated car seat
Cargo space
One handed fold
Click and lock design
The wheels are difficult to push through anything not perfectly flat and clean
Removing the car seat from the stroller can be difficult
As your little one grows their car seat needs to as well. Does that mean that you have to go out and buy a new seat for every stage of their childhood? Not with this car seat. It is able to provide your little one with a secure place to seat from 2 years old and up. That means in the forward facing position when the little one is 25 pounds to 90 pounds they can use the harness system, once they have reached 40 pounds and 45 inches the option to go to a car belt and booster can be provided with this seat.
Read more
Design
It is a three-wheel design for convenient maneuverability. This stroller is lightweight and easy to fold down or up when you are leaving or arriving at your destination. You will feel at ease when your baby is riding in this super safe stroller and car seat.
Comfort
The canopy is very large and easy to use to keep the sun, wind and mild rain from disturbing your baby. The stroller fold down easily with one hand. It has three wheels so it can fit easily through tight spaces. The included cargo space is perfect for putting items in when you are running errands.
Ease of Use
We love the click and go system that lets you know the car seat is securely attached. The safety features of the infant seat are unparalleled. The lightweight aluminum frame is easy to move around and easy to clean.
Price Range
The cost of this stroller car seat combination is near the top of our price list. It is a fantastic value because you get one of the safest car seats on the market and an easy to maneuver the stroller.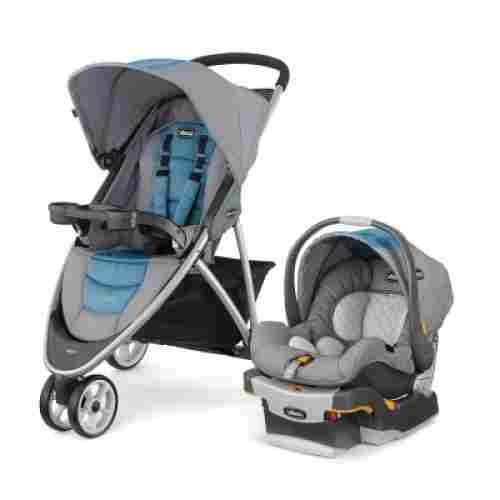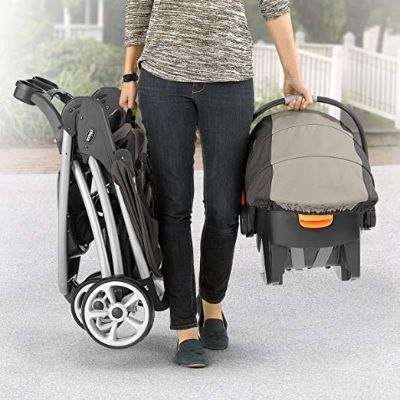 Easy to install car seat base
One handed folding
Sturdy frame
Lightweight
Three wheel design
This is another travel system that includes both the stroller and the infant car seat with a base. The thing that will stand out with this system is the three wheeled strollers with the streamlined design. It has been designed with all the key features that make traveling with a little one just that much easier. From the one hand fold to the oversized storage basket, you will enjoy traveling when you have this system by your side.
Read more
Design
The stroller is easy to fold and easy to unfold. The car seat conveniently clicks into place in the car base or the stroller as needed. The car seat is highly rated for its superior safety features. You can feel comfortable that your baby is safe if you choose to use this travel system.
Comfort
The highly rated safety seat is comfortable for your baby and easy to move around for caregivers and parents. You will enjoy using the stroller. It is easy to fold, with one-handed folding. The stroller and car seat canopy combine to cover your little love bug in yucky or super sunny weather. The three-wheel design makes this stroller easy to maneuver.
Ease of Use
The wheels are sturdy and will stand up to use on a variety of terrains. The car seat base has easy to install safety features such as a level to ensure that it is in the correct position for your baby's maximum safety.
Price Range
The cost of this system is near the top of our list. It is a great value that will be with your family for years to come. The stroller will hold up to thirty pounds so your toddler can use it until they can walk right beside you on outings.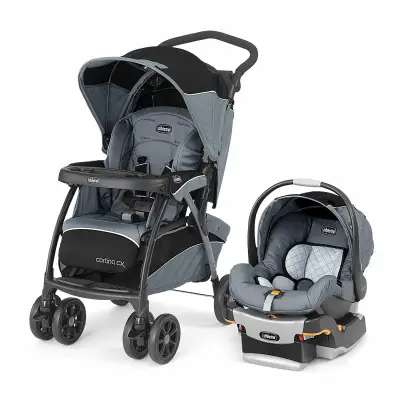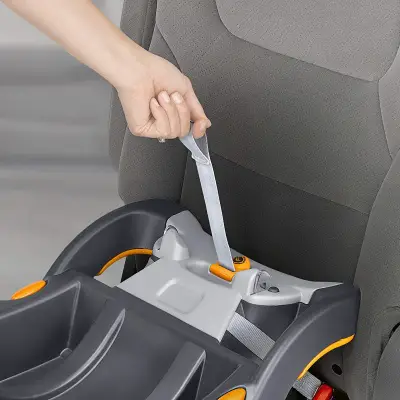 Height adjustable handle
Self-standing when folded
Easy one-handed folding
Locking front wheels
Toe tap parking breaks
Stroller straps are loose on smaller children
Wheels are only good for smooth terrain
Finding a stroller that includes an infant car seat that also the stroller actually accommodates a newborn without having to be in the infant seat can be hard to find. This travel has been made for just that. The stroller features a five position seating option that includes a flat reclining position that is perfect for a newborn. It also has a footrest that can prop up creating a little enclosure to keep the little one comfortable and secure.
Read more
Design
It has an easily adjustable stroller handle so people of all heights can use it easily. This stroller is super easy to fold and unfold as needed. The seat fully reclines for nap time. It is a fantastic choice for the on the go family.
Comfort
The stroller can convert into an infant bassinet with convenient lay flat recline feature and pop up footrest. The stroller stands on its own when folded with the convenient one-handed folding feature. The front swivel wheels have a convenient toe-tap locking feature to make tracks through grass or over carpet easier. This is an excellent choice for your traveling needs.
Ease of Use
We love the parent and toddler cup holders and the cargo storage under the stroller. It also comes equipped with toe tap parking breaks, so you don't have to worry about it rolling away as you open your car door.
Price Range
The price of this stroller is near the middle of our price point. The height adjustable parent handle makes this a great purchase if multiple people will be using the stroller.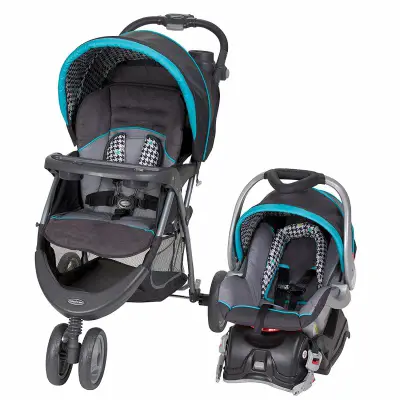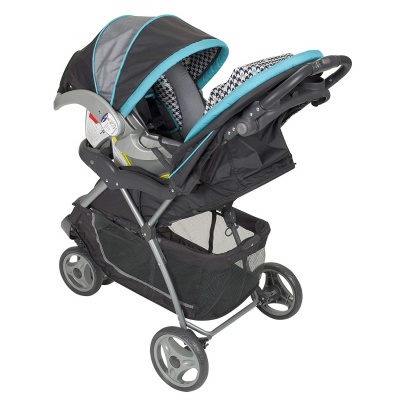 Three wheel design
Adjustable height handle
One handed folding
Cargo space
Affordable price
The car seat is hard to adjust properly
Cup holders fall off
Becoming new parents can be very overwhelming with a little one, so don't let your travel system add to that list. This is a simple travel system that includes the stroller and infant seat with a stay in base. The stroller features three wheels and is easy to handle. Infant car can be placed directly into the stroller and features a locking system to safely secure the car seat in. The infant seat is rated for little ones up to 30 pounds and the stroller up to 50 pounds.
Read more
Design
It has a compact design and plenty of cargo space to hold all of your gear. This system will work for you from infant to toddler. It is a great choice for your travel system needs.
Comfort
The compact three wheel design makes it easy to maneuver in tight spaces. The stroller is good to fifty pounds so your toddler will be able to take naps on the go as needed. The seat can be reclined for your baby's comfort and the included car seat is easy to use.
Ease of Use
We love the height adjustable handle. The stroller easily folds down with one hand. There are included parent and child snack trays for your convenience.
Price Range
This system has the lowest price on our list it is a great buy. The adjustable handle and convenient three-wheel design make this stroller a great choice for your busy family.
Criteria Used for Evaluation
Design
Each stroller we have highlighted has one-handed folding. Some of them have a strap to pull in the seat. Others have a handle under the seat to instantly fold the stroller. Some of the strollers have a trigger in the handle that will make the stroller fold easily. We want to make your job as a parent easier.
Comfort
A travel system is used to make transporting your newest addition easy. It should be safe. Each company that we have chosen to highlight on our list has strict safety standards, and they all comply with federal safety standards for both infant car seats and strollers. Each travel system has locking mechanisms to keep your infant seat securely in place while in the stroller. All of the travel systems include a car seat base to be installed in your car for safe, consistent car seat installation. You will be at ease when you use one of these safety tested travel systems.
Ease of Use
All of the car seat bases included in these travel systems can be installed using either the LATCH system or a car seat belt. They all come with very precise directions on how to properly install the car seat base. Most of the bases have a clearly defined line that you can use to ensure that it is at the proper angle in your back seat. Some of the bases have a level installed in an easy to view location, so you do not have to search for a line. Once you have installed your car seat base, you can contact your local fire department and have a certified car seat inspector check to ensure it is installed properly.  
Price Range
Traveling with your baby can be difficult. You have to live your daily life with a little person in tow. A baby travel system will save you from worrying about how you will get your baby from point A to point B. The perfect travel system will be easy to use, affordable, durable, and safe. The systems we have chosen for our list fit the bill if you want something safe and simple to use. You will not be disappointed if you choose a travel system found on this list. You will be able to spend time out and about with your baby knowing they will be safe and you will be able to relax. These strollers and car seats will make your parenting life easier. The right baby gear will always make your life more simply because it will be easy to use and fit the needs of your family.
Most Important Criteria
(According to our experts opinion)
Experts Opinion
Editors Opinion
Users Opinion
By Default

Parents, Did You Know?
When buying a travel system you should look at the car seat first and choose the one that fits your vehicle tightly.
Parents, Did You Know?
For added convenience, look for a stroller that you can use after your little one outgrows his infant car seat.
Other Factors to Consider
Durability
All of the products we have chosen for this list are durable. The infant seats will stand up to being carried all over and placed securely in a variety of locations. The strollers all have sturdy frames and hard working wheels that will last through your baby turning into a toddler. They will make transporting your child comfortable and carefree.
Safety
If your child is not able to sit up unassisted, they should not be placed in a stroller that is in a sitting position. They can safely use their car seat in the stroller, or you can have the stroller seat reclined. You should not place your infant in the stroller seat; they should always go in the car seat carrier until they have reached the weight and height requirement for stroller use. Check your manufacture instructions to find out what your specific stroller weighs, and height limits are.
Age Range
All of the car seats and strollers that we have chosen have adjustable chest straps so you can get the best fit for your growing baby. The strollers all have a reclining feature so you can put a little one inside without worrying about them flopping over to the side. Also, all of the snack and drink treys on the strollers can be moved to accommodate putting a larger child into the stroller.
Frequently Asked Questions
q:

Which travel system is best for me?

a:

Choosing a stroller is very personal. You need to take a lot of things into account. How much space do you have to store a stroller and where will you be using the stroller are the top questions you should ask. If you like to spend a lot of time exercising outdoors or hiking, you should get a jogging stroller because it is made specifically for high-speed use. If you are using your stroller to shop in department stores, then you will probably want one with a three-wheel design so it can fit into tighter spaces. If your stroller is used to walk around the neighborhood or just on the sidewalk to the park, then a regular four-wheel stroller will be a great choice. You also need to check the dimensions of the stroller to ensure that it will easily fit into your vehicle and home.
q:

How do I clean my stroller?

a:

The frame of your stroller can be cleaned with a rag and mild soap solution. Do not spray a stroller down with a water hose or immerse it in water for cleaning. An excess amount of water can cause parts of the stroller to rust or become otherwise deteriorated. The cloth of your stroller should be spot cleaned and air dried. Check your manufacturer directions for further cleaning instructions.
q:

How do I clean my infant car seat?

a:

An infant car seat can become very dirty quickly. You should always spot clean any mess as soon as it is discovered. Use a damp cloth and mild soap to spot clean. Ensure that the seat is fully dry before placing it back into your car. You can use a sponge to clean the straps. Some manufacturers have product-specific cleaning directions so make sure to check your directions when cleaning your infant car seat.  
q:

How do I properly install a car seat base?

a:

These are basic directions that are generally universal, you need to read your product directions when installing an infant or child car seat. Also, have your car seat checked by a certified car seat inspector. Check with your local fire department to find a certified inspector.**If your car seat base has the LATCH system, you will need to find the two connectors at the base of your back seat and attach the LATCH clips to the connectors.

Once the clips are attached, tighten the straps until the base is snug and at the proper angle. If you are using a seat belt to attach your base place the base in the back seat of your car. The base should have a clearly defined path to put the seatbelt through. You will thread your seat belt through the defined path and click the belt into the car's latch. Now you need to tighten the seat belt and ensure that the base is at the proper angle.  
q:

How do I safely secure my baby in a car seat?

a:

Read your car seat instructions and see a car seat inspector ensure that you are using this safety device correctly.** You will place your baby into the car seat and pull the side straps over their arms and clip the chest clip. Once this is done, clip the base of each strap to the crotch clip, and then you can tighten the straps. Ensure that you can fit only a finger between baby and the straps near their shoulders to make sure that it is not to tight or too loose. Make sure that the top of the straps are positioned below your little one's shoulders behind their back. Make sure that the chest clip is across their breastbone just under their shoulders.
q:

How do I safely secure my toddler in a stroller?

a:

You will need to ensure that the security straps of the stroller are correctly adjusted to fit your child. You want them to be tight enough to keep your little guy or girl from escaping but loose enough for them to be comfortable. The two finger rule is usually a good measure. If you can fit only two fingers between the strap and your child's shoulder they should be comfortable and safe. Always buckle your toddler into the stroller each time you use it to keep them safe.