One of the most popular and most famous toys for babies is the baby bouncer. All over the world, Moms and Dads are happy looking at their precious little ones jumping up and down their bouncer toys. Unfortunately, there have been some issues concerning its use. It would seem that some Moms are not really aware of the correct usage of these toys. It doesn't necessarily mean that since it is popular among Moms it should already be considered excellent for babies, too. It is equally important to look at what the baby bouncer can really do for your baby.
This is the reason why we came up with the top 10 baby bouncers so you will be more empowered to choose the right one for your baby. We have also included in our article some of the reasons why leading child safety advocacy groups and child development experts are not really appreciative of these kinds of toys. Baby bouncers are helpful in developing the muscles of the lower extremities of babies, but only when used properly and at the correct period in their young lives.
Here are the top 10 baby bouncers that we are positive you will find appealing and highly beneficial.
Rainforest Jumperoo by Fisher-Price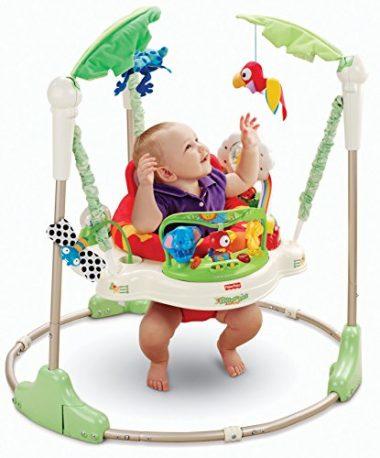 Playful Pinwheels Bouncer by Bright Starts
Zoo Friends Exersaucer Bounce & Learn
Little Jungle Bumper Jumper by Graco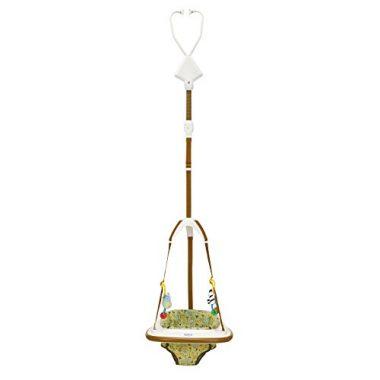 Luv u Zoo Jumperoo by Fisher-Price
Bouncer Balance by BabyBjorn
My Little Snugabunny Deluxe Bouncer by Fisher-Price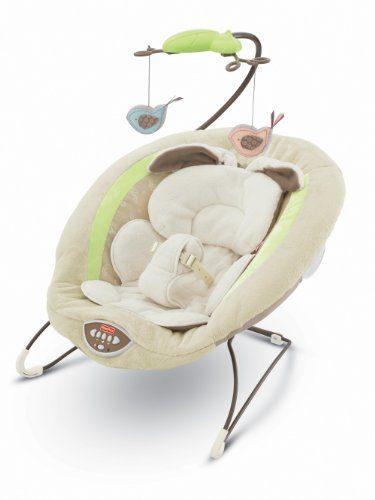 Woodland Friends Space Saver Jumperoo by Fisher-Price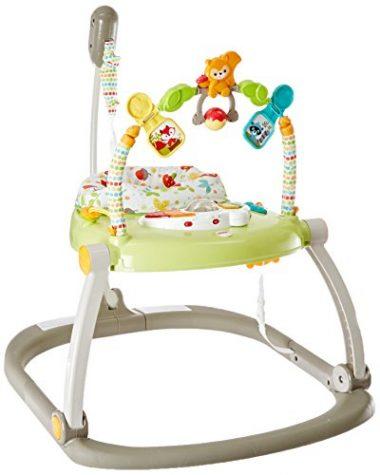 Life in the Amazon Exersaucer
Musical Friends Jumperoo by Fisher-Price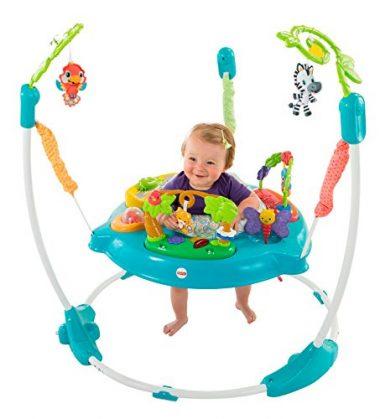 Criteria Used in Evaluation of The Top Baby Bouncers
Compared to many other products, bouncers for babies are among the few less complicated. A parent or caregiver will not have much time used or stress a lot in finding the best suiting baby bouncer because all it that is required is having to understand your child and your schedule. In fact, these bouncers are only categorized into two. This even makes is simpler for a buyer to make a good decision on what seems suitable for the child. But still, even with the simplified options, your child still needs to use the best baby bouncer, which is best for him or her. Only one way to analyze what is best for them. Smile, because this guide is here for you.
Baby Bouncers Types and Varieties
On our way to know what is the best baby bouncer for our children, having a look at the types of bouncers is part of the knowledge a guardian, parent or caregiver should equip him/herself with. The two varieties of baby bouncers include:
Simple Baby Bouncer
Talk of simplicity at its most with no whistles, bells or any added detailed accessory. That is not all, this simple baby bouncer gives your child allowance to bounce. Most parents and caregivers who do not like over-stimulating the child would definitely consider having this kind of baby bouncer.
This kind of baby bouncers in general are designed to be extra bounce than the features packed sibling with them. Your baby will enjoy to bounce on it with the most minimum effort.
The simple baby bouncer's lack of extensive features gives it an allowance to be easily folded, hence easing mobility when travelling or even storage in the house.
Some people might not consider having the simplest baby bouncer because it comes in styles that are bland in general. It is also a downside for some people that the child's bouncer consists of nothing more than two basic colors. In most cases, they do not come in fun themes or patterns.
Baby Activities Bouncers
Having the thought of having your baby bouncer is definitely a good idea and good for the child. But then, won't the child get bored of the bouncing? Baby activity bouncers are designed with a wide variety of features and accessories from mobiles, musical melodies, and toy rails to seats that vibrate and keep the baby happy and entertained.
The cost of keeping the baby amused and entertained for longer duration with all these features in it makes the baby activity bouncer slightly bulky and less bouncy compared to the simple baby bouncer.
Its portability option is what some people consider as a downside, as compared to the simple baby bouncer that can be carried easily to wherever the caregiver wants to. Some of the activity baby bouncers have a lot of features and accessories that make them unable to fold downwards.
Factors to Consider while Buying the Best Baby Bouncer for Your Baby
After knowing what variety of bouncers in the market that you can get your baby, you realize that the important factors to be considered when deciding the best baby bouncer for your baby ultimately narrows down to what you personally intend the bouncer to be of use to the baby. If you want your baby bouncer, which is well fitting when it comes to transportation and storage, then you definitely need a kind of simple baby bouncer. And if it is a complete pack of entertainment that you want for your child when there is no more bouncing, then a kind of activity baby bouncer is what you need.
Comparing other available features of the bouncer is also very important because it will save your time and effort to easily narrow down to what you will conclude to be the ideal bouncer you will buy for your young one.
Below are the vital features of an ideal baby bouncer one must look at.
The Seat
The seat is the only thing on baby bouncers that the child spends his or her whole time, making it the most important feature to have a closer and wider eye on while selecting the bouncer.
To make sure that the seat is of good quality and suiting your need, there are some considerations one has to consider too. The seat material of your child's bouncer should be that which is comfortable and should not contain coarse material that may seem to irritate the skin of your baby. The seat material should be which is soft when touched and at the same time good quality that cannot tear up easily.
The seat of the bouncer should be which gives the caregiver an easy time while cleaning. Babies can do literally anything and that includes leaking their diapers while you are not looking at them. This means that you should choose baby bouncers that save your time and energy by considering the seat material that does not catch dirt easily. Other baby bouncer brands manufacture baby bouncers that have covers that are removable and be both machine or hand washed at some of the brands produce those that are waterproof fabric, which can just be wiped down and just like that it is clean.
Some baby bouncers have seats that have the fabric on the frame stretched out a little more while other bouncers are padded heavily. While the kid is bouncing on the seat, if it padded, it is comfortable for the baby to bounce away. Excess padding on the bouncer seats is not recommended because the child does not get proper support.
The head support is important for the newborn babies to offer support to their neck and head. A removable cushioned head and neck support is safe for the baby while is at the bouncer. A good head support should enable the child to steal it while he or she is still growing.
The seat incline is contained in some baby bouncers. It is used to adjust the several reclining positions. Some babies prefer to be in a reclining position while others are more comfortable to be in an upright position.
The Frame of the Bouncer
The frame is what keeps the bouncer seat from touching the ground. The frame too has a couple of features to which can you can look at when choosing the best baby bouncer for your baby.
The bounce is what basically defines the bouncer. It is though one of the features that many people may seem to overlook. It is the bouncer of your baby. How well is the bouncer at hand bounce? Baby bouncers, bounce differently depending on what design the frame has. They can be super bouncy or just slightly bouncy.
A wide base of the frame prevents the baby from toppling inside the bouncer. If the base-support is wider, it is hard enough to knock over the bouncer. Frames that stick out too much far can be a hectic trip hazard for the caregiver.
The portability of the bouncer is a factor to look out for. Some brands of bouncers are foldable into smaller sizes and be stored for later use or to be transported elsewhere where the family or the baby could be travelling to.
The material used to make the frames of the bouncers should be of good quality to avoid quicker breaking apart of the parts of the bouncer or accidents that may occur while the baby is on it. Some manufactures use metal on the frame while others, especially from china use plastic. Metals are though proven to be sturdy and safe.
Non-slip
Smooth floors like tiles or wood often have an occurrence of slipping. It is no parents wish to see the baby turn from one moment of being happy while bouncing on the bouncer to another moment of crying after slowly creeping across your floor with every bounce he or she makes. To avoid these instances, it is important to choose baby bouncers that come with non-slipping pads, which are on the bouncer's underside section on the base.
Entertainment Features
Bouncers for babies are mainly designed to provide comfortable bouncing motion to the baby. Apart from that, the modernly designed type of bouncers are created to only offer the bouncing to the baby, but also entertainment as the child is bouncing.
The additional entertainment features keep the baby busy and well soothed to even think about crying, unless when hungry. The toy bar come in most, if not all, bouncers. It is an arch, which is situated over the baby where the toys are hanging off. Some toy bars have their specific toys while others come giving you a chance to put your preferred toys. Some toy bars too are attached permanently to the frame as others are removable.
Sounds and music machines on the bouncer vary from some playing soothing songs while other play simple white noise, sounds and music. Some babies can be driven crazy when hearing one type of song or music over and over again. It is recommended to choose a bouncer with wide variety as much as sound and music features are concerned.
Light is a feature that is only reserved for the premium bouncers. It keeps the baby entertained by flashing in a variety of patterns. Since their position in the bouncer is in the front of where the baby seats, lights that are extra stimulating rather than the soothing can be unsuitable for the baby especially if it is before or after nap time. You should consider buying a bouncer, which has lights, which can be switched on and off without affecting the rest of the other features.
Some premium bouncers have vibration seats that provide extra comforting motion to the baby. The gently vibrating seats are though recommended for the newborns who are not able to bounce on the bouncer on their own.
Safety Features
Safety and security for the baby is the main issue for the bouncer. But it order to ensure your baby is safe in it, some features should be considered. The strap that holds the baby in place as he or she is bouncing should be secure, durable, firm, strong and comfortable. You would not want to see your baby reject the bouncer because of being uncomfortable after only using the bouncer for just a few weeks.
Each and every baby bouncer comes maximum weight capacity to wish they limit babies above the specified age and weight from using it. Keeping a heavier baby to a bouncer that only allows a single or two lighter babies will not only lead to the breaking down of the bouncer but also an insecurity to your beloved child. Having bouncers that can accommodate growing children will instead be of help because they tend to have capacity for heavier and older babies.
Harness helps in the protecting of the baby from falling down to the floor. 3 point harness is perfect for the standard safety of the kid. No harm will occur in having a 5 point harness. In fact, it is safer and preferred.
What Determined the Top Baby Bouncers in Our List
Choosing the top baby bouncers in our list is never easy simply because we had to take into consideration what child health experts, pediatricians, and chiropractic professionals are saying about these toys. You see, these baby bouncers are very popular among Moms but not so with child care experts. And this is where the difficulty in choosing the best baby bouncer lies.
Nevertheless, in our effort to provide you with the top 10 baby bouncers, we had to carefully examine each one primarily for their additional features which can benefit babies and not only their "bouncer" functionality. We then scrutinized each of these features to determine whether they are appropriate to the development of babies for a particular age. Of course, we also had to consider safety and product quality as well as compliance of the toy manufacturer to strict quality control standards set by the federal government as well as other third party organizations.
We hope that our list of the top 10 baby bouncers will help you identify the best one for your baby. However, we do strongly encourage you to read the succeeding section so you will have an understanding of the reasons why experts don't necessarily recommend these types of toys.
Mother-Approved Baby Bouncers, But is It Safe for Babies?
Baby jumpers are a joy to behold especially when you see your baby giggling as he or she bounces up and down his or her seat that is suspended either on the ceiling or on the supporting structure of a walker. For many of us, seeing our young babies smile every time they bounce is like little joys in our hearts. But the question we have to ask is – "Is the baby bouncer designed to entertain us or to develop the full potential of our young babies?" Because, if the answer is the former then we have clearly made the correct choice. But if the decision to buy a baby bouncer is to help our babies grow healthier and stronger, then we are doing them more harm than good.
Child development experts, chiropractors, and pediatricians all over the world strongly advise against the use of baby bouncers simply because these do not help the baby at all or that they have very minimal use. In recent years, there have also been a lot of product recalls because of faulty manufacturing practices. The American Academy of Pediatrics does not totally ban baby bouncers per se but it does caution parents not to use it until the baby has fully developed his or her torso, usually by the time the baby reaches 6 months of age. Consumer Reports already has discontinued the updating of this particular product category because of its developmental inappropriateness.
You see, babies develop in a cephalocaudal manner. This means that the very first parts of the body that will be developed first is the head and moving towards the feet. That is why babies will learn to lift and control his or her head first before he or she can attempt to control his or her arms, torso, legs, and feet. When we give them baby bouncers long before they have fully developed control of their back and torso, we are essentially skipping this natural development pattern and go on directly to the development of the feet.
Additionally, if you are going to look closely at the pictures on these so-called baby bouncers and you will notice that the baby is actually tip-toeing, especially if the height of the seat is not high enough to allow the feet to dangle. According to chiropractors this can lead to serious feet deformities if not corrected at once or if left as is. This can also affect babies' stability and in severe cases, can significantly undermine the developing nervous system.
Looking at babies on their baby bouncers again and you will quickly notice that their bodies are rather thrust awkwardly forward in the bouncer seat. This position does not favor the use of the baby's hip and gluteal muscles. Some pediatricians even think that this particular position can put a heavy strain in the ligaments of the torso and lower extremities. The forward leaning posture also elicits a reflex reaction to draw the head back to help attain balance. Unfortunately, doing so will also pull the baby's shoulder blades too far back. Given this very unusual position, the body loses its sense of proprioception such that it can no longer determine if the body is in the correct upright position or not. If this is not corrected immediately, you are looking at a baby who has a strong likelihood that he or she will not learn how to balance his or her body standing on his or her feet.
Ok, so baby bouncers are bad, right?
Well, not necessarily so. If you intend to give your kid a baby bouncer, child health experts strongly recommend getting a baby bouncer-rocker instead. This is like a bouncer but it cradles the whole body of the baby. Imagine a bassinet or even a rocker where baby can conveniently lay down and then rocked up and down. This can address some of the musculoskeletal issues about baby bouncers.
You may also have to heed the advice of professionals regarding when to provide the baby bouncer. It should only be used once the baby has already established excellent control of his or her spinal column or back. This will help him or her to focus on developing his or her feet as he or she has already developed his or her torso.
More than that however, you may have to use the baby bouncer sparingly. Instead let your baby roll on his or her tummy as this can help strengthen his or her core muscles. The development of these muscles is crucial to the development of extensor muscles which can help integrate the different flexor muscles and reflexes of babies. These will, in turn, help babies learn to walk in a more upright position while ensuring optimum balance and coordination.
Our list of the top 10 baby bouncers should be used with caution and should be used sparingly until your baby has achieved full control of his or her back or spinal column. These are useful toys but only when used correctly.
FAQ
Frequently Asked Questions
Q: What are Baby Bouncers?
A: bouncer for babies, basically consists of a metallic frame that is covered with a soft piece of padded fabric. The baby is supposed to lay on the padded piece of fabric. A comfortable bouncer seat will bounce the baby up and down.
Many people commonly know these Baby Bouncers as baby bouncer chairs or just baby bouncer seats.
Q: Why does my baby need a bouncer?
A: Talk of easy ways for you to properly entertain and sooth your baby, then your baby's bouncer comes in mind. Apart from your baby getting comfortable soothing from the bounces and entertainment from the features on his/her bouncer, you also get some time to do some random house chores or just anything with both of your hands free. It actually saves you time, money and energy.
Q: What are the differences between Jumpers, swings and baby bouncers?
A: There is not much difference between baby bouncers, baby swings and baby jumpers. They all relate to their names. The baby jumpers bounce the baby up and down when the baby kicks off the floor while the baby swings, swinging the baby back and forth with the baby having no need to move. On the other hand, baby bouncers bounce the baby accordingly to his or her wiggly movements on the seat.
Q: What are the most safety precautions I should consider when my child plays with the bouncer?
A: There are several precautions you should take while the baby is using the bouncer, but handy to them it is really important to have your child close to you as he or she is using the bouncer. To ensure your baby is safe in it, some features should be considered. The strap that holds the baby in place as he or she is bouncing should be secure, durable, firm, strong and comfortable. You would not want to see your baby reject the bouncer because of being uncomfortable after only using the bouncer for just a few weeks.
Each and every baby bouncer comes maximum weight capacity to wish they limit babies above the specified age and weight from using it. Keeping a heavier baby to a bouncer that only allows a single or two lighter babies will not only lead to the breaking down of the bouncer but also an insecurity to your beloved child. Having bouncers that can accommodate growing children will instead be of help because they tend to have capacity for heavier and older babies.
The bouncer should also be set in a safe area that is on a good flat floor and not near objects that dangerous to the baby.
Q: What is the age limit for using a bouncer?
A: Your baby bouncer is designed for babies that are old enough to be able to support their own head and feet with no help from anyone. Different bouncers have different age ranges, but most of them created for babies above five months and up to 18 months old children. Most of the bouncers can take up to 11Kg of weight.
Q: My baby often sleeps better in his baby bouncer that on his bed. How safe is it to let him sleep on the bouncer?
A: It is expected for the child to find the bouncer more comfortable to sleep on than the bed because of the soothing music, the entertainment and the bouncing motions and vibrations. The child definitely gets a happy sleeping time. But, the bouncer is not designed for longer usage of the child like sleeping the whole night. It is hence not recommended for the baby to have the whole night sleeping on the bouncer. As soon as the child falls asleep, transfer him to his bed.
You May Also Like