Teaching your child to ride a bike is one of the parenting milestones that you're probably looking forward to. Having your child start out on a balance bike will make the process a lot quicker and easier. A balance bike is a two-wheeled bike that does not have pedals and mainly teaches your child how to balance. Children as young as eighteen months can enjoy using a balance bike. In fact, once they master balancing they should have the skills to skip over training wheels and go straight to a regular bike. Check out our list of the ten best balance bikes to officially begin your child's bike riding journey.
Our Top 3 Picks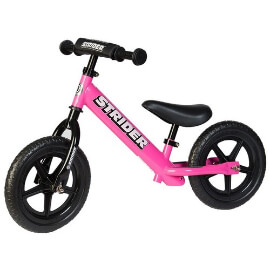 Strider-12 Sport

Our rating
Perfect First Bike
Price:

See Here
Strider-12 Classic

Our rating
Motor Skills Development
Price:

See Here
Critical Cycles Cub

Our rating
Beautiful Vintage Design
Price:

See Here
Age Range: 18 months to 5 years old
Age Range: 2 to 5 years old
Age Range: 20 months to 5 years old
Fox Air Beds Bixe Extreme Light
Age Range: At least 3 years old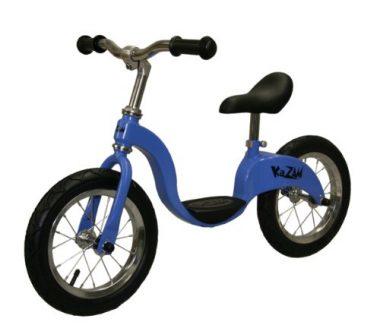 Age Range: 3 to 6 years old
Enkeeo Carbon Steel Frame
Age Range: 2 to 4 years old
Age Range: 2 to 5 years old
Age Range: 18 months to 5 years old
Criteria Used in Evaluation of the Best Balance Bikes
Safety
These balance bikes are very safe as they are made from durable materials that will not break down over time. Balance bikes for kids are low to the ground and easily adjustable to suit the individual needs of your kid. Because they don't contain chain links or bulky pedals, which could result in injury, you can rest easy knowing that your kid will be safe as they operate this bike. However, it is important to remember that no bike will protect your kid 100 percent of the time no matter how well built it is, so always equip your kid with a helmet and other protective gear.
Promotes and Builds Confidence
Learning how to properly balance a bike can be a major accomplishment for any person, especially young kids. In view of the fact that kids can easily navigate and operate the specific balance bikes on our list, they will be confident as they are able to master the mechanical aspects of riding a bike such as steering and balancing. With the new-found confidence that kids may be able to obtain from balancing a bike, they may be able to transition to a bike with pedals with ease.
Encourages Imaginative and Social Play
Kids are creative beings by nature. With these balance bikes, your kids will be able to pretend play that they are on a speed bike or motorcycle as they learn how to navigate the bike. Additionally, having an awesome balance bike will encourage your kid to interact with other kids in the neighborhood or at the local playground so that they can ride bikes together, creating many fun memories.
Fosters independence
Young kids love being able to do things on their own without the help of their parents for the fact that it makes them feel grown up if you will. As kids are able to pick the lightweight balance bike up on their own and easily get on and off of it without help, they will feel more independent as well as confident when it comes to balancing and operating a bike properly. This feeling of independence will go a long way as your kid grows older and transitions to a bike with pedals.
What Determined the Best and Most Amazing Bikes on Our List
In picking a product to include in our list of the most amazing balance bikes, we had to look at the safety first. This is because these ride-on toys are technically replacements for training wheels and tricycles that many young kids use. However, since they don't have pedals or any mechanism other than a frame, a steering handle, and two wheels, their safety is one of the utmost concerns. In ensuring the safety of these kinds of bicycles, we looked at their overall construction. It must be highly durable, otherwise, you'd be expecting a lot of wipeouts from your young rider. The safety features can come in different forms, though.
It was also crucial for us to look at the different features integrated into the design and construction of the pedal-less bike. These can include the braking system, a turning limiter, the height of the seat, and any available footrests. The latter is actually for practical purposes especially if your kid is already cruising along pretty well with his or her glider bike. It would be awkward having his or her feet dangling on either side of the bicycle simply because he or she doesn't have a structure with which to rest his or her feet. The weight of the balance bicycle had also been factored into the equation. Too heavy and the risk of falling because of poor balance and control is also great. Too light and one wrong move can send the bicycle up into the air like E.T.
All of these features were cross-referenced with the developmental needs of children at a specific age. We had to make sure that the recommended age matches the developmental level of the child riding it. Otherwise, any mismatch can have implications to the young rider's overall development. In general, balance bicycles serve to develop or train a kid's sense of balance which should be the springboard for improving the kid's coordination and confidence. If the ride-on toy cannot guarantee this basic developmental need, then we had to scrap it off our list.
The bicycle maker's reputation was also scrutinized. As much as possible, we only included those with an excellent reputation as it somehow speaks of the quality workmanship and safety that they put in every product that they manufacture. If we can establish their credibility, then we can be sure it's a high-quality product.
Should You Ditch the Tricycle for the Balance Bike?
Learning to ride a bicycle is a rite of passage for every kid. The scrapes, the wobbly training wheels, and the nervous moms and dads running after their kid as he or she attempts to balance the bicycle are all part of the learning process. That's why many parents give their younger children a kiddie tricycle to help them make the successful transition into a two-wheeled ride-on toy. Unfortunately, evidence suggests that doing so does not really prepare the child to one very fundamental requirement of riding a bike: balancing.
Riding a bicycle requires excellent proprioceptive senses as well as superb coordination of the different body parts to achieve balance. Regrettably, giving young children a tricycle with which to train to transition into bicycle riding does not help them learn the very basics of balancing simply because a trike has three wheels which make it a lot more stable than a two-wheeled ride-on toy. As such, when a tricycle-trained child moves onto a bicycle, the only thing he or she has learned is how to pedal and how to hold to the handlebar. Clearly, the most important element of all is missing-–balancing.
It is for this reason that a balance bike is now regarded as a much better approach to teaching kids how to ride a bike without necessarily pedaling first. They are essentially taught how to achieve and maintain balance especially while the pedal-less bike is already moving. So, when these kids do get to ride a bicycle complete with a drivetrain, they are able to make the transition a lot more successfully without bruises, cuts, and scrapes. This leads to better confidence among kids and greater peace of mind for their parents.
If you're still wondering whether to ditch the trike for a balance bike, just ask yourself if you want your kid to learn how to ride a real bike a lot faster and safer. If your answer is yes, then you'd have to ditch the trike.
The Bottom Line
Balance bikes serve a purpose: to prepare your kids for the real thing. With the top 10 balance bikes we've listed here, we're confident you'll be in the right track helping your child learn how to balance riding a bike.
You May Also Like
10 Of Our Favourite Electric Scooters For Kids
15 Best Roller Skates For Kids
12 Cool Wagons
10 Best Kids Scooters
FAQ
Frequently Asked Questions
Q: Are the tires of the 12 Sports Balance Bike by Strider made of rubber or plastic?
A: The tires on all Strider bikes are made of high-quality industrial foam. Unlike plastic, this particular type of foam tire provides amazing traction, possibly much better traction than plastic tires. In view of the fact that the tires are filled with foam rather than air, they are 100 percent maintenance-free and you will never have to worry about your kid's tire ever going flat.
Q: What are the benefits of bikes without pedals?
A: Pedal-less bikes provide a variety of benefits for inexperienced kids. Kids can learn to operate bikes without pedals at a very young age, unlike traditional pedal bikes, giving them the advantage to learn sooner. Pedal-less bikes are very lightweight making it easy for little ones to navigate and handle. Pedal-less bikes also teach kids everything they need to know in order to ride a bike with pedals such as steering, balance and how to stop, all without bulky obstructing pedals or chains.
Q: Can I attach pedals to balance bikes?
A: No, you cannot attach pedals to balance bikes as there is no way to efficiently do that because you would also need to integrate a chain-link system. Balance bikes are specifically designed without pedals so that your child may learn how to properly establish balance without the use of training wheels or pedals. Furthermore, the location of pedals could hinder your little one from learning how to properly balance a bike.
Q: Balance bikes seem very easy to navigate, does my kid still need a helmet?
A: Yes, whether it's a balance bike or a bike with pedals, your kid still needs to wear a helmet. No matter what type of bike your kid is operating, they will still be prone to minor accidents as all kids are and will need a helmet to protect them. In addition to a helmet, elbow and knee pads will be helpful as your kid learns how to balance and operate a bike.