Ah, gone are the days where kids used to take rapid laps around their block on their brand new Schwinn bikes, and in are the days when safety is very, very important. We all want our kids to be safe, whether it be during their walk to and from school, playing with their friends, or, more predominantly, while riding anything with wheels. The first step to ensuring that your child is safe is by doing the most simple of things: finding a properly fitted and highly-rated kids helmet.
While the human body's first instinct in a fall is to automatically extend hands and bend knees to brace for impact, a child's head is singularly the most important thing to protect in the case of an accident.
Our Top 3 Picks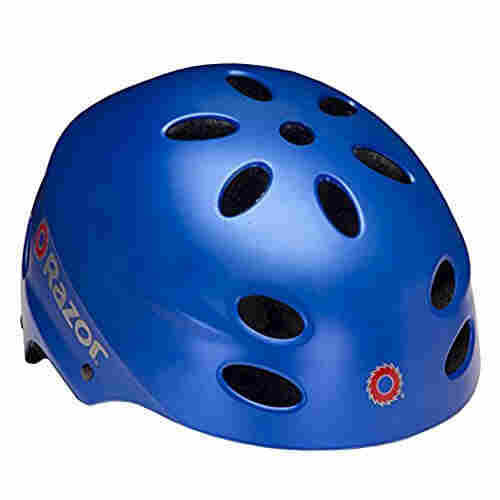 Razor V-17 Multi-sport Helmet

Our rating
Egonomic & Breathable
Price:

See Here

Raskullz Dinosaur Helmet

Our rating
Super-protective & Cool
Price:

See Here

Star Wars R2-D2 Helmet

Our rating
Perfect for Star Wars Fans
Price:

See Here

At the mention of a helmet, you can almost imagine the groans and sighs that will come from a pre-teen aged child when they think of how "uncool" they'll look riding around with a helmet on their heads. Rather than explain to them in gory detail what can happen to them without a helmet, there's a much easier and far less scarring route that you can take to ensure that they won't just deal with wearing a helmet, but will actually want to wear one as well.
We've come up with a list of the top ten rated helmets available today, and the best part? They're all stylish, fun, and totally, completely, utterly "cool". No complaints from any kids with these helmets, and you may even want one yourself!
The Best Kids Helmets Reviewed in 2018
Razor V-17 Child Multi-Sport Helmet
Raskullz T-Rex Bonez Mohawk Helmet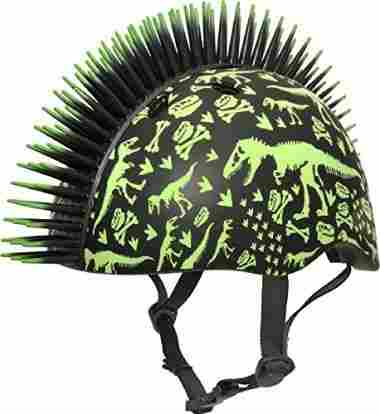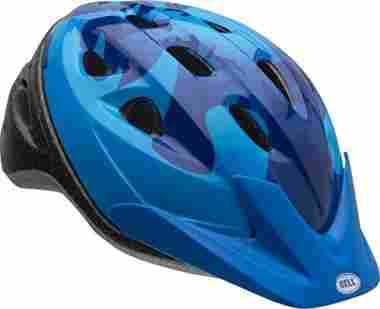 Schwinn Child Thrasher Microshell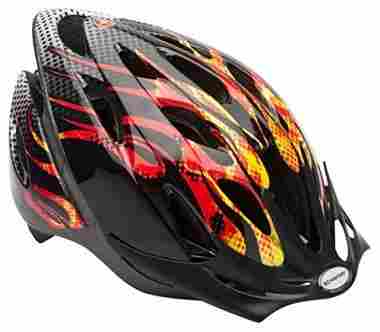 Raskullz Super Rainbow Corn Hair Helmet
JBM Helmet for Multi-sports
Marvel Spiderman Hero Helmet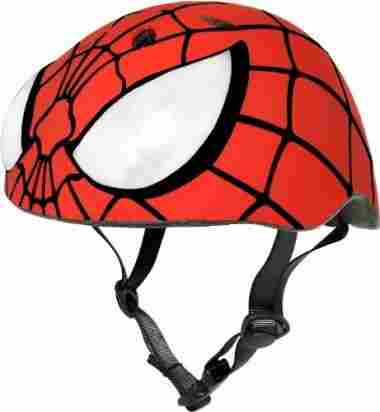 Team Obsidian Kids Bike Helmet
Razor Full Face Youth Helmet
Criteria Used in Evaluation of the best Kids Helmets on Our List
Our main concern in evaluating anything for the use of kids is, of course, safety. When reviewing options for head protection, if a helmet doesn't do the essential and that one extra step further, is it really worth strapping to your child's head? In the most simple of terms, we refuse to sacrifice safety for style. However as you can see from our list, we did manage to find ten helmets that offer both — and make your child look really awesome while sporting a great safety asset!
Safety
Most, if not all, of these helmets, offer a unique blend of safety features. They include but are not limited to: EPS (expanded polystyrene shell) shock absorption, which is essential in the event of a fall, ventilation, which is considerably more comfortable in the summer months than helmets without, and adjustable straps, which serve your child in more ways than one: both to help fit the helmet securely and correctly to your child's head, and to leave room for them to grow into the helmet later on.
Design
If a helmet doesn't at least look cool, will a kid wear it? That was another question we had to ask ourselves when coming up with a list of the Top Ten best helmets, and it's because of that, that we made sure to present to you a list of safe yet stylish options. Whether it be a crazy, spiky mohawk helmet, or a subtle pink helmet with a tiny octopus, your child will be as safe as possible regardless of what look they're sporting that day.
Understanding Basic Head Safety
There is no way around it: in order to ensure that your child is as safe as they can possibly be, they need to wear a helmet. Past research shows that by simply wearing a helmet, children can avoid most head injuries, and in return, avoid a lifetime of potentially debilitating and limiting effects.
Fitting a Helmet
The size of a helmet depends on the size of your child's head. Initial fitting can be done with the help of an adjusting dial as well as extra sizing pads that may come with your helmet of choice. The front of the helmet, or the visor, should sit fairly low on your child's head; a helpful tip is that if your child can see the edge of the helmet and there are at least one or two finger spaces between that and your child's eyebrow, you're good to go! Straps should also fit snugly in the shape of a "Y", but not be tight enough to cause a choking sensation — if you can fit a finger under the strap but no more, it's tight enough. The helmet should not shake, move, or slide when a child moves their head, and when they open their mouth wide, it should stay in place. If all these things are checked yes, then your child is ready to hit the sidewalk!
FAQ
Frequently Asked Questions
Q: What size does this helmet fit? Most places tell you to measure your kid's head and not just go by age.
A: This is accurate. Age is a good starting point when initially finding a helmet, but to ensure a proper fit, always take the time to measure your child's head and make correct adjustments to the helmet before use.
Q: How do I tighten the chin strap without making the Y shape straps on the sides cover my child's ears?
A: Unfortunately, there is no way to prevent Y straps from overlapping with a child's ears; the fact that they are so close mean that the straps are in the correct position and holding tightly.
Q: Description says it has side buckle but does it really help avoid the risk of pinching while fastening it under the neck/chin?
A: As with any buckle around or near your child's face, you should always take care to avoid the risk of pinching skin. A good way to avoid this is to slightly pull away from your child's face when fastening, and then adjust slightly if needed to re-tighten the helmet.
Q: Can this helmet be used for snowboarding?
A: As with any helmet listed as specifically being for biking or other wheel-based sport, you are better off finding a helmet specifically made for the sport that you are engaging in. Children have much smaller, still developing heads, therefore it is important that they are equipped with the proper safety gear for each sport they are participating in. Since snowboarding is a much different sport, on different terrain and with different injuries, we suggest finding a specific snowboard helmet instead.
Q: Does this helmet absorb water?
A: While anything that is outdoors is most likely waterproof, the foam inserts on some of these helmets may temporarily absorb water — but will very quickly dry out when laid out in the sun or a dry space.
Q: Is this helmet adjustable other than the pads?
A: All modern helmets come equipped with adjustable side or chin straps, and for most, the pads are secondary protection/sizing options.