10 Best Bike Locks & Chains for Kids Reviewed in 2019
last updated
Jun 27, 2019
Cycling is a great way to get around while also luxuriating in some awesome health benefits! Riding your bicycle as a mode of transport helps to build leg and glute muscles, improve your cardiovascular endurance, and also boost your mood. It's a far more environmentally sound way to travel than a car, but much faster than walking. It's also a low-impact activity, meaning it's not as harsh on your body as running or athletics that require a lot of jumping. But once you get to your destination you'll want to make sure your bike is secure. Keep your bicycle safe with these ten fantastic locks and chains!
In a Hurry? The test winner after 10 hrs of research
Schwinn SW77862-3 Coil Combo
Why is it better?
Beautiful color
Made of braided steel for reinforcement
Self Coiling for ease of travel
Five feet long to wrap around the whole bike
Lightweight Combo lock
In a
Hurry? Editors choice:
Test Winner: Schwinn SW77862-3 Coil Combo
14
Researched Sources
10
Hours Researching
13
Products Evaluated
Design
Materials
Weight
By Default
10 Best Bike Locks for Kids Reviewed
1

. Schwinn SW77862-3 Coil Combo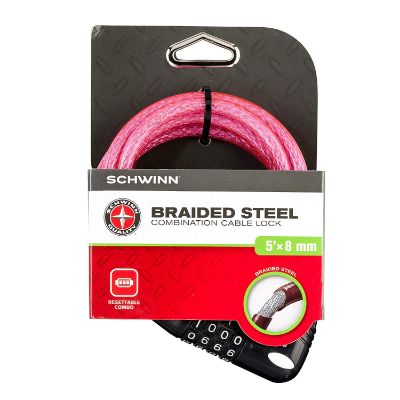 Beautiful color
Made of braided steel for reinforcement
Self Coiling for ease of travel
Five feet long to wrap around the whole bike
Lightweight Combo lock
Only available in pink so it may not be appealing to all boys.
The Schwinn SW77862 is designed to be both aesthetically pleasing and functional. At five feet in length, you can easily wrap it around your whole bike leaving nothing vulnerable to theft.
Read more
Design
If you want to show your little girl she can be just active as her male counterparts this is a soft pink and beautiful lock guaranteed to appeal to your little princess.
Materials
With an 8mm thick braided steel coil, the lock is designed to discourage tampering. It is a well priced and reliable lock wrapped in a gorgeous, soft pink cover that is made of vinyl. The cover helps to protect from weather damage and reinforce the locks' integrity and lengthen its use.
Weight
When we're on the go, especially on the bike, we want quick and convenient. The lightweight lock is hardly noticeable and its ability to self-coil takes ease of travel to a whole new level. Additionally, there are no keys to keep track of or to fumble with. The quick release lock can easily be set with your own personalized combination.
2

. Wordlock WLX Hex MatchKey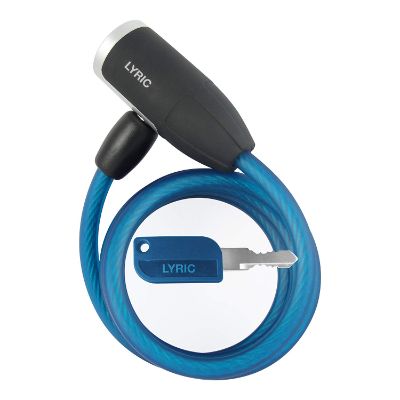 Durable cable
Simple, uniquely shaped key and lock system
Key and lock share matching laser-etched word and color
Lightweight, not too clunky or long
Keys are not as sturdy; break at the junction of the metal and base
At 8 or 12 mm thick, this heavy duty five foot cable is going to lock your bike up tight and hold onto it until you're good and ready to go. The cable is hexagonal with a matte finish, making it more difficult to cut through.
Read more
Design
The Wordlock is a simple, straightforward bike lock. The cable is long enough to loop through the front wheel and frame, and customers reported that though the first layer gave way when someone tried to cut through it, the cable itself held and prevented the theft. It's chic as well as functional if being trendy is at all important to you or your child. The option of different colors and the laser-etched word allows kids to feel that their equipment is personalized.
Materials
The WordLock MatchKey Security System features three distinctly easy facets to identify your lock and key. A unique key shape means no one will have anything quite like yours. The color of the padlock matches the key so you'll know exactly to which mechanism this key on your ring belongs. Lastly, the word on your key matches the word on your lock, both of which are laser etched. It arrives tightly coiled to help protect your bike.
Weight
This is a lightweight option so if you do a lot of commuting and need to take a lock with you, a WordLock Hex Lock Cable isn't a bad pick by any means.
3

. Kryptonite Keeper 785 Integrated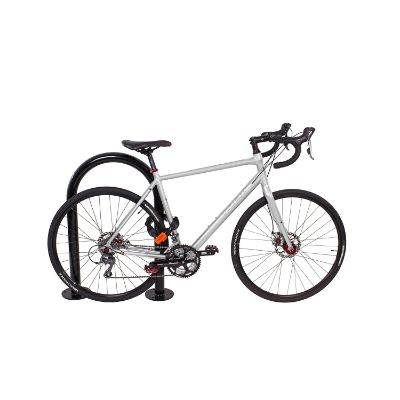 Available in four different color selections
Design features four-sided chain links
Backed by a one year warranty
Durable product
Designed to be drill and pick resistant
This lock, while incredibly tamper proof it is still not cut proof
Although many other locks come without the headache of a key to keep track of, this lock comes with two ergonomic keys. Uniquely shaped they are easy to locate and will not cause painful or damaging effects to the hands and wrists.
Read more
Design
Kryptonite is a highly reputable brand in the bike industry. The company well known for products that are durable and effective has brought forth another great locking mechanism. It is available in black red gray or purple. The color schemes present a touch of sophistication and provide a comforting level of security.
Materials
The lock stretches to be three feet in length making it the perfect size for bikes meant for children between the ages of roughly five to around ten. Keep in mind this is dependent upon where they rank in the height and weight bracket for their age group.
Weight
This lock comes layered multiple times for added protection and reinforcement against tampering. It's topped with a weather resistant layer making it durable, lightweight, and drill resistant.
4

. Kryptonite KryptoLok Series 2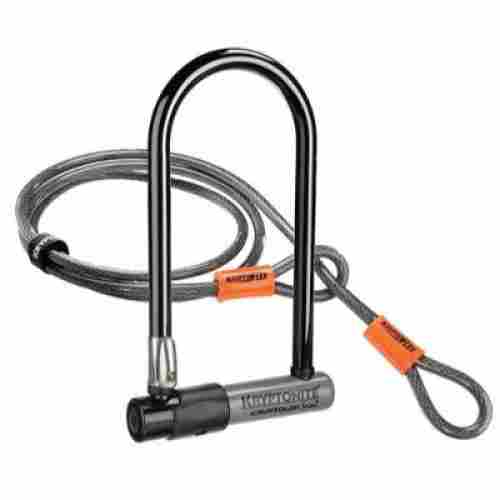 Features a double loop cable to reinforce security
Made of durable and reliable metals
The product comes with a lifetime warranty
There are anti-rattle bumpers for a quieter ride
Not recommended for use in high-crime areas
A more mature style that may be less appealing to younger children
Whether you are biking in an area with little security or a park with tons of foot traffic, the Kryptonite Kryptolok Series two lock is sure to protect your bike from being stolen.
Read more
Design
The 13mm-steel shackle, the disc-style cylinder lock, and the extra 4 inches of cable allow this lock to provide a high level of security for your bike. You can chain your bike up without worrying about the lock being picked, the cable being cut, or having parts stolen off of your bike.
Materials
The U-shape of the lock is designed with a 13mm-steel shackle, thus making it resistant to cutting and leverage attacks. You won't have to worry about someone picking the lock, as the disc-style cylinder protects the lock from being drilled or picked. Once you receive your lock, be sure to write down the serial number as Kryptonite will send you extra keys if needed. The anti-rattle bumpers reduce the noise during transport, thus allowing your child to enjoy a quiet ride.
Weight
Carrying the lock with you as you bike is super easy, as the lock also comes with the transit flexframe. The frame makes it easy for you to mount the bike lock anywhere. The 4-inch double loop cable provides an extra layer of protection as it will secure your wheels, accessories, or other bike parts you don't want to be stolen.
5

. Winner International The Club UTL810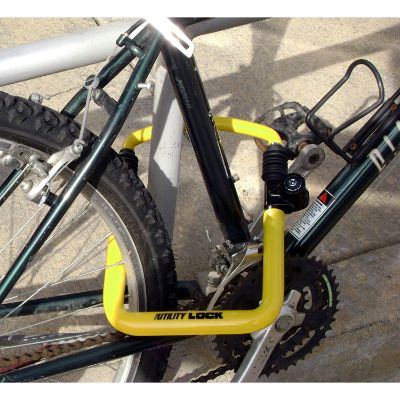 Strong (can withstand 1,500 pounds of pressure)
Meant to lock many different things; can be used in a variety of ways
Sturdy tempered steel with vinyl-coating; scratchproof
Easy lock-and-key system
Thick steel frame; will not pass through smaller spaces
The Utility Club is designed to serve as a multipurpose lock and will safely secure ATVs, tools, bikes, and so much more.
Read more
Design
The Club Utility Lock can also be used to secure gates, golf carts, ATVS, ladders, power tools, and a myriad of other things. This lock can serve a host of purposes for the whole family, so long as everyone is willing to share. (Or, just grab a few to have handy.)
Materials
The vinyl-coated tempered steel helps to protect objects from scratching and a keyless locking feature makes this incredibly handy and hassle-free. Thanks to the U-lock design and adaptable reach, this lock is perfect for awkward angles and positions. It's a heavy duty lock in all senses, so it'll add a little weight to your bag if you're carrying it along your commute, but that just goes to show it's not easy to wrestle your bike free from these jaws.
Weight
The heavy-duty construction allows this lock to withstand the weather and more than 1,5000 pounds of pressure. The length can be adjusted from 8.5 to 11.5 inches, which allows your child to lock their bike up practically anywhere.
6

. Titanker 6-Feet Mounting Bracket
Light, less than two pounds
Self-coiling cable
Resettable four digits numerical password
Braided steel with PVC lining
Mounting Bracket included
Pungent smell
Customers have reported thieves cutting through the cable
No one likes carrying around an extra set of keys. If you prefer a combination-based lock, check out Titanker's latest product.
Read more
Design
The included lock bracket makes transporting the lock stress-free. For instance, you can easily mount the lock to the bike's tubing or the seat post. The self-coiling feature also enhances its level of portability and makes it easy to store. Your child can spend more time biking and less time trying to fold the lock back up. The instructions are easy to read and understand.
Materials
The self-coiling, six-foot steel cable is attached to a numerically coded locking mechanism. PVC lines the piping to help guard against scratches and the elements. The lock can be used on a multitude of other things, as well, and the numerical combination is personalized rather than assigned.
Weight
Go keyless--or at least give yourself one less key to worry about. The numerical code is a nice touch, and the fact that it's personalized means no memorizing weird number combinations.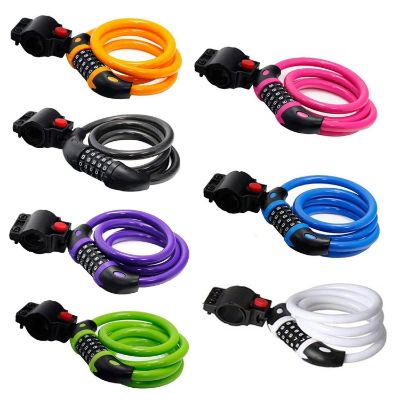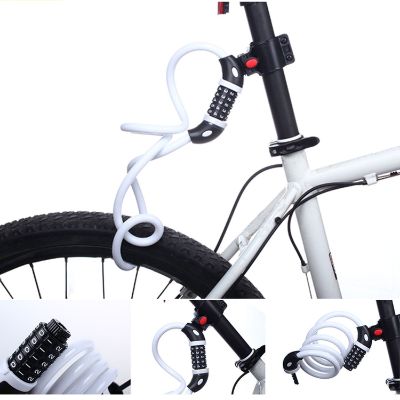 Lightweight
Steel inner core provides a high level of protection
Designed with a 5 combination code
Will not scratch bike when being used
Instructions may be in a language other than english
Providing your child with a high level of security, they can enjoy their time away from their bike without fear of it being stolen.
Read more
Design
Five digits are much harder to guess than four. This 5 digit combination lock will keep your bike secure and the combination can easily be reset as often as your child wants. This bike lock is available in seven different colors. Keeping up with the lock when it is not in use is easy as it stays attached to the bike.
Materials
The outer shell of the cord is composed of a PVC coating which will keep the lock from scratching your child's bike.The strong inner steel core of the cable will make it practically impossible for theives to cut the lock. Furthermore, the materials make this lock resistant to the elements, cracking, and deformation. With such a superior level of durability, we find this lock to be very affordable.
Weight
Weighting in at 1.06 pounds, children will be able to carry this lock with ease. In fact, it's lightweight design will allow your child to ride their bike without feeling weighed down.
8

. Via Velo Heavy Duty 14mm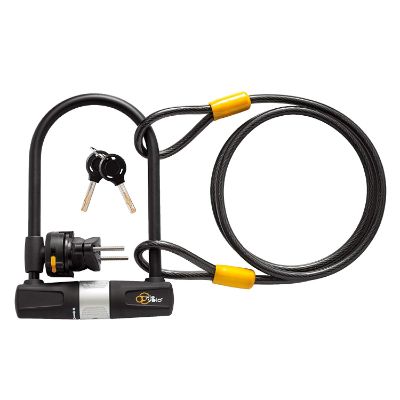 All-weather performance
Mounting Bracket included
90-day money-back guarantee; 3-year warranty
360-degree lock, allowing you to get at it from any angle
Theft-protected design
Lock is heavy
The mounting bracket isn't as durable
Via Velo is all about getting the population out of their homes and comfort zones and sending them off into the great, big world. They provide quality locks to ensure that wherever you go, the equipment that got you there will stay safe and be waiting upon your return.
Read more
Design
Anyone looking to snatch your bike away will face double-trouble with the dual-mechanisms of this lock. The flexible 360 lock design and the three year warranty are nice perks as well. The cable is capable of securing front wheels, back wheels, and helmets to standing bike racks, and the cylindrical locking system protects against picking and drilling. The lock is also less noisy than competitors, with an anti-rattle bumper built in. Riders will appreciate the slick look of the black and yellow color scheme.
Materials
The U Lock is water-resistant, thanks to PVC coating, and features a cylindrical locking mechanism, with a reinforced sleeve and crossbar to prevent theft. The cables are steel, and the lock is drill resistant. With 360-degree maneuverability for easy locking and two sets of keys, Via Velo provides both quality and convenience.
Weight
The entire lock weighs 3.2 pounds. With a higher weight than most locks, we recommend it be used by older children as younger children may have trouble toting it. Not to mention riding with it may also be more of a challenge for a younger audience.
9

. SIGTUNA 16mm Heavy Duty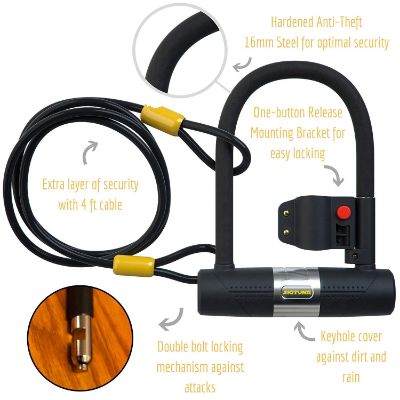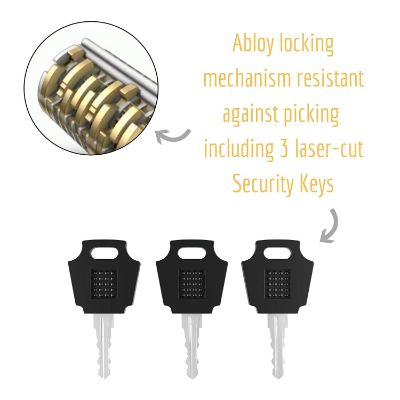 Three different security systems in place
Three keys supplied for the lock
Keyhole cover guards against corrosion and dirt
Mounting bracket included
Double-looped cable for deterrence
Jamming issues with lock
Heavier model
Thevies won't stand a chance against the "Viking" steel material Sigtune used to make their 16mm Heavy Duty bike locks.
Read more
Design
The mounting bracket is a one-button release design, and the company offers a money-back guarantee if you're dissatisfied. Sigtuna tests its own products in the lab, and on the field, allowing them full confidence in their line. With a 16 MM steel cable, disc-style cylinder, and double-deadbolt locking mechanism the Sigtuna lock is meant to protect against cutting and leverage attacks.
Materials
A double bolt secures both sides to the crossbar, leaving little room for leverage. The braided steel flex cable is thick and durable. The solid U-shackle offers yet a third layer of security. We really don't see your bike going anywhere you don't want it to.
Weight
The double-bolt mechanism increases this lock's level of security as it secures both sides to the crossbar, thus making it resistant to pulling and prying. The 1200mm flex cable makes it possible to secure more than one bicycle at a time. The U-shape is designed to fit on a variety of poles and fences.
10

. Sanwo Security Bike Lock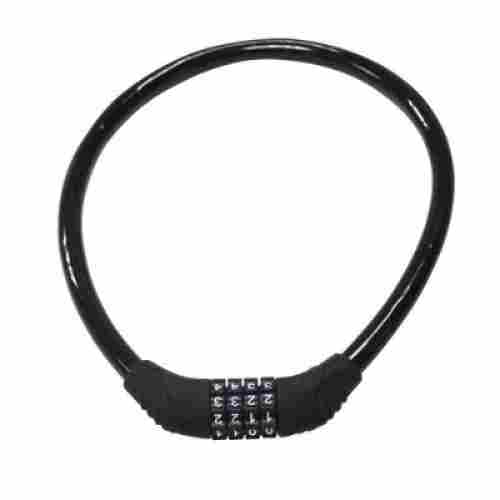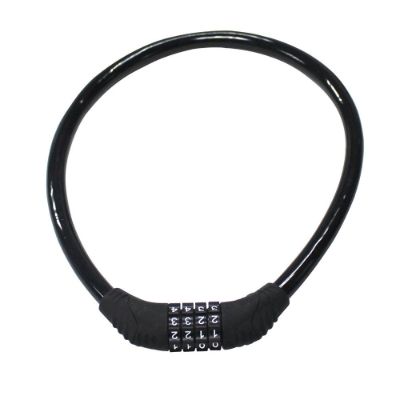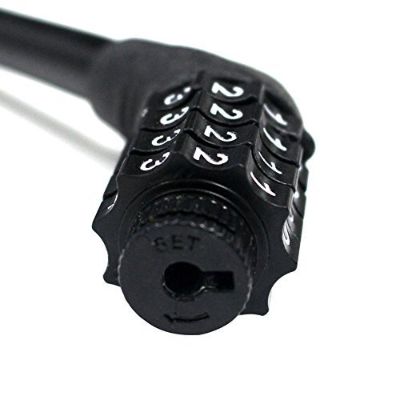 Lightweight and affordable
Available in five different colors
Repels theives and resistant to elements
Designed with a keyless 4 digit combination
Some reviewers experienced the lock having an odor upon arrival
Available in five different fun colors, your child can choose the Sanwo Security Bike Lock that best suits their taste
Read more
Design
Designed with a 4 digit-combination, your little one won't have to be responsible for keeping track of a key. With two feet of cord, you will be able to lock the bike up in practically any location.
Materials
Composed of steel and PVC, this lock is made to be cut-resistant. It is strong and durable thus your child will be able to use for several years. Especially since it has the ability to withstand the sun, wind, rain, and snow. Whether this lock is used for a bicycle, skateboard, or something else the materials will keep it from scratching your possessions.
Weight
At 4.8 ounces, this lock doesn't even weigh a full pound. Being so lightweight, children of all ages can easily tote this lock whether they are on their bike or not.
Criteria Used for Evaluation
Design
We are all drawn to different aesthetics. For example, there are some people who may fully appreciate bright patterns and colors. Meanwhile, others may prefer sleek and monotone colors that are dark and bold. Some children could care less about such minor details as the color of a bike lock. However, during the early years, colors and aesthetics are an important part of helping children learn color recognition and strengthen brain development.
These locks cover a range of colors to help you find the lock that best suits your child and their bike. Not only can these locks offer a mild introduction to the color recognition, but they also allow children to develop their number and letter recognition skills. With four- and five-digit personalized lock combinations, children can be exposed to simple number combinations and basic four-letter words. You can use these locks to teach them to spell words like bike or ride, or use the number locks to teach them that 30 minus 3 is equal to 27 or that 9 plus 9 is equal to 18.
Materials
For someone who lives in a very wet and cold region, peace of mind comes from knowing, not only are these locks durable and secure they are also designed to be resistant to water damage. Some are protected by thick vinyl coverings while others are engineered with metals that are highly resistant to water and extreme weather conditions. There is always a chance for things to go wrong even if that chance is slight. Statistics teach that no matter how unlikely the outcome, from time to time there is an unavoidable negative to counteract the positive.

Weight
We do all we can to lighten their load and these locks, while not capable of lightening the load per se, are made of lightweight materials that will not add much extra weight to their backpack or extra strain on your teens' already-strained backs. Additionally, some locks come with a mounting bracket that will secure them into place on the bike thereby eliminating to the back, any strain at all.
Most Important Criteria
(According to our experts opinion)
Experts Opinion
Editors Opinion
Users Opinion
By Default

Parents, Did You Know?
Although we would love to live in a world in which we can all co-exist together in harmony, that is not always the most realistic notion. This is partially due to the fact that we all have our own opinions on how the world should operate.
More importantly, however, there are people whose natural instincts lead them to feel entitled to nice things they weren't themselves willing to work to attain. Children get wrapped up in whatever the next exciting moment may be and have a hard time keeping track of their things. This can lead to confusion and often, in turn, loss. Bikes are a pretty hot commodity and in high-crime areas, they provide a quick and easy escape route so they are highly desired. These locks are some of the most highly rated in security and durability.
Parents, Did You Know?
The peace of mind that comes from knowing your child's bike is safe is an irreplaceable feeling that can go a long way to ensure your children and teens keep their possessions safe. When children enter middle school, their backpacks seem to, at the very least, double in size. And the size of the backpacks and strain to the back can increase when they get to high school.
Other Factors to Consider
Protection
Some locks come with a lifetime warranty while others protect for the first year. These warranties are put in place to ensure your satisfaction and offer you an alternative should you encounter any type of malfunction.
Frequently Asked Questions
q:

Are these locks resettable?

a:

Yes, the locks that require a combination allow you to set your own personal code. They come equipped with instructions that should help clarify how to do so.
q:

Can these locks be cut?

a:

Unfortunately, yes. All metal can be cut or damaged at the proper temperature or with the correct amount of force. The goal provided by these locks is to reduce the risk of theft and tampering.
q:

If they can be cut, why invest the money?

a:

The locks on this list are all designed with reinforced security methods. These methods are meant to decrease motivation and slow the process of tampering, picking or cutting.
q:

Do they come in color options?

a:

Almost all of these have a variety of color choices. To appeal to children of all ages, there are bright and fun colors as well as sleek and sophisticated bold colors.
q:

What style of a lock will provide my child with the most security?

a:

There are a number of factors to consider, for example, the age of your child will determine their ability to use the lock. Some other factors to account for are the weight of the product and its convenience. In terms of security, the style is dependant upon your goal. For example, considering removable tires, you may want a chain/coil lock. These locks allow your child to lock up their whole bike. And consider each lock's susceptibility to tampering. U locks, for example, have more vulnerability to the use of tools such as a crowbar.
q:

Are these locks difficult to program?

a:

Not for most circumstances unless you experience a malfunction in the product. Most companies offer a satisfaction guarantee or a warranty to cover any mishaps you may experience. There is a simple step-by-step explanation included in each package.