Winter coats have become more and more stylish over the years. The different types of synthetic materials with natural materials have developed into less bulk. This has made the winter coat industry something of the future and kids coats are not falling short in this department. When the temperatures start to drop and winter is on the way it is time to start thinking about purchasing winter coats for the upcoming season. Kids grow so very quickly so it is doubtful that their coat from last year will fit.
Our Top 3 Picks
Columbia Boys' Powder Lite Jacket

Our rating
Water-resistant Outer
Price:

See Here
Columbia Boys' Lightning Lift Jacket

Our rating
Machine Washable
Price:

See Here
Columbia Katelyn Crest Jacket

Our rating
Faux Fur Hood
Price:

See Here
Now the big question is – What is the best kind of winter coat for the kid in your life? One thing is to make sure that they have plenty of room to move freely about when they have the coat on and fully zipped up. This makes sure that they are not constricted in any way and will be able to maintain an active lifestyle when wearing the coat.
Many experts also suggest picking a coat that is constructed from the same materials that adult ski jackets are made from. They typically are very lightweight which helps kids to enjoy wearing the coat, those types of coats also help protect kids from the cold wintery elements, and are super durable. It is also suggested to stay away from wool. It is usually very heavy, stiff, and can absorb a lot of moisture. It is not a great material for a child's winter coat.
Selecting the perfect winter coat for a child can be hard, but we are here to help with suggestions and make the job a little easier. We have selected many different styles and made sure to include coats on a variety of budgets. Whether you are picking up a girls coat or boy these coats are perfect.
The Best Winter Coats for Kids Reviewed in 2018
Columbia Little Toddler Powder Lite Puffer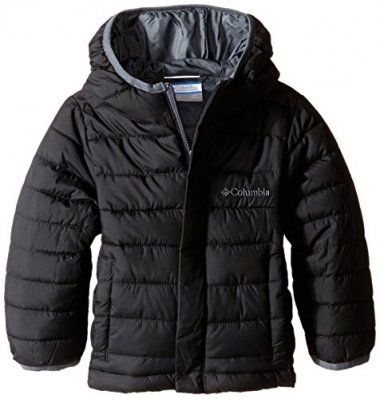 Columbia Little Lightning Lift Jacket
Steve Madden Little Girls' Bubble Jacket
US Polo Association Bubble Jacket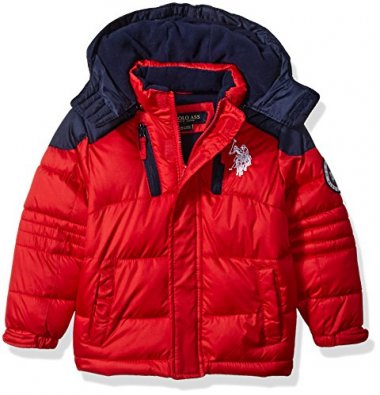 U.S. Polo Assn. Big Boys' Outerwear Jacket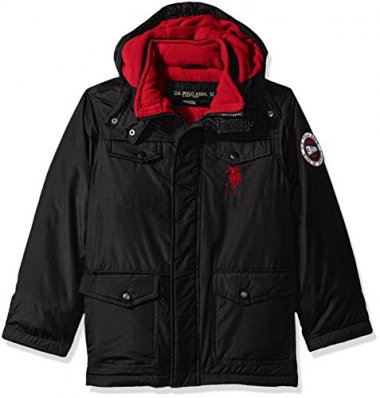 Nautica Signature Bubble Storm Cuffs
Pink Platinum Long Belted Puffer Jacket
Columbia Boys' Steens II Fleece Hoodie
F.O.G. by London Fog Technical Heavyweight Coat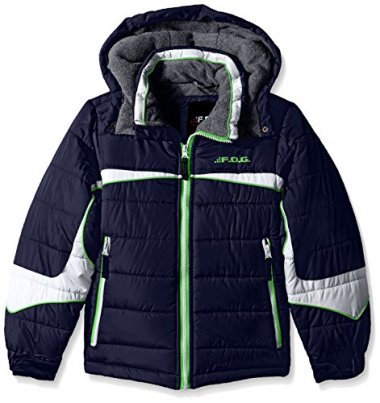 EGELEXY Baby Girl's Hooded Wool Cotton Trench Coat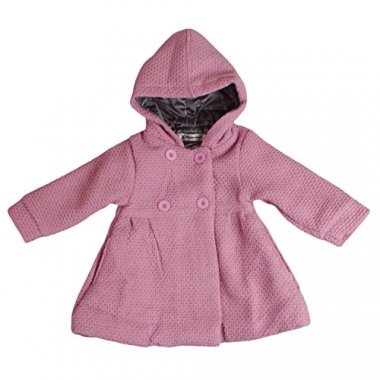 Sportoli Girls Hooded Warm Winter Bubble Coat
iXtreme Little Cut and Sew Colorblock Puffer
Criteria Used in Evaluation of the Best Kids Winter Coats
The criteria for the Best Winter Coats for Kids was something that was simple yet had some complexity when reviewing all the different styles. For this list, we focused on design, warmth, and price. We wanted to make sure that the coats suggested offered the designs that kids are favoring this season while still keeping them warm. It is important that our expert's make suggestions that fit every that can fit every household's needs.
The design of a winter coat has to feature a durable shell, a warm lining, and features that add to the coat to keep kids warm like elastic cuffs, lined pockets, or lined hoods. Each of the coats suggested has all of these features and more to keep kids warm. The next feature reviewed was style. We would not want to make a suggestion of a coat that was not what kids looking for or was not functional. The function and style of the coat play hand in hand. Once we selected the warmest coats with the best functional styles our experts reviewed the coats for price. We only wanted to suggest coats that offered great quality and super prices. This list displays the 12 Best Winter Coats for Kids that our experts could find.
Key Features that every winter coat for a kid should have
The key features of a winter coat for a child you want to make sure that the coat has the best fit for that child. The coat should fit well while also offering room to move. It is important that they are not constricted and they are able to move freely in the coat. Kids live a very active lifestyle and you don't want their winter coat to be holding them back from moving freely in it or you take the chances that they will just remove the coat and decide not to wear it. That totally defeats the purpose of the coat and the reason why you are buying it.
After you have selected the best fit and size for the child it is important to select a material that keeps them warm and dry without the weight. This is mostly found in ski style coats. They are designed to be lightweight and durable without any constrictions plus are water resistant or waterproof. These designs are great for active kids. It is suggested to stay away from materials like wool. They typically are heavy, absorb moisture, and constrict body movement.
Selecting the best winter coat for a kid
Selecting a winter coat for a kid can be hard. A few things to remember when buying a coat is to make sure that you are buying a coat that best fits that child and think about what they will be doing when wearing the coat. You want to make sure that the materials and style are considered when making a selection. A shorter coat with a hood and lightweight fill is best for active kids that will be performing physically outside while kids that will be standing or watching an event may need a longer coat that offers more protection from the elements.
Coats that offer the best protection from the elements are the best kinds of coats to select for kids. Some key aspects of the features that should be focused on are coats that offer a waterproof or water-resistant outer layer, a coat that fits just right (not too small or too the large,) and easy to zip. The first two are often focused on the most without the thought of how difficult it is zipper up the coat. This is a key aspect of selecting the best coat for kids.
Materials and styles of winter coats for kids
The material that a winter coat is constructed with is something that is very important along with a style that best fits what the child will be wearing the coat for. Together these are two of the most important things to think about before purchasing a coat. When buying a winter coat you want to make sure that the coat is warm. The materials that it is constructed from ensuring that it will be warm and remain dry during the cool damp months of winter activities. Materials like polyester are ideal for winter coats. They are super durable, lightweight, and can be treated to be waterproof or water resistant. This is a great material to look for in a winter coat.
Styles vary on kids winter coats. They each offer a different level of protection for the child. You want to select the warmest option for the child by still allowing them to be able to move freely when needed. It would not be ideal to select a long winter coat for sledding with friends or a short waist length coat for a walk in the park after a winter storm. You want to make sure the style fits the kid, best fits the activity level, and does not overheat them.
FAQ
Frequently Asked Questions
Q: Where can I buy a coat that is listed on the 15 Best Winter Coats for Kids?
A: You can buy the coats listed on the 15 Best Winter Coats for Kids on from the link below the products. The link takes you to Amazon where the coat can be directly purchased from them.
Q: Are all winter coats made from the same materials on the outside?
A: No, not all winter coats are made from the same materials. Each manufacturer designs the coat and the materials differently. When selecting a coat it is important to make sure that the outside shell material repels water and moisture.
Q: Why would a child need a long winter coat?
A: Kids often need longer winter coats when they are outside and are less active. The length of a long winter coat protects them from the elements more and can offer a warmer place to sit on.
Q: Are detachable hood for coats a good idea?
A: Detachable hoods are ideal for active children that may want to wear a hat of their choice. If the hood can be detached it makes it easy to be removed and out of the way.
Q: At what age should toddlers start wearing coats and stay away from body suites?
A: Toddlers should start wearing coats when they are able to move and regulate their body temperatures more. Bodysuits are best for children in strollers that are not moving a lot. This keeps them warm. Coats are better when they become more active and are able to move more freely about.
Q: Are all winter coats waterproof?
A: Not all winter coats are waterproof or even water resistant. You want to make sure when selecting a winter coat that the coat does offer some type of protection from water. The cold damp winter months come with a lot of moisture and you want to protect little ones from this.