10 Best Baby Mittens Rated for Warmth in 2019
last updated
Sep 23, 2019
For parents to be one accessory that is a must have especially when it comes to newborns is mittens. Mittens are a wonderful item to have because they prevent your baby from scratching against their face and any other part of your baby that they might not fully be aware of yet. Babies love to explore. When having mittens on until they can fully work their hands properly, they make exploring the world just a little bit safer. Parents can't go wrong when it comes to purchasing a set of mittens for their newborn, plus, it'll keep their hands nice and toasty on those cold morning walks.
In a Hurry? The test winner after 16 hrs of research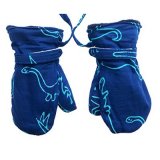 Back From Bali Boys Micro Fleece
Why is it better?
Lined with fleece for warmth
Hand-crafted in Bali
Adjustable Velcro
String included prevents losing either glove
Eight unique designs
In a
Hurry? Editors choice: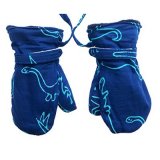 Test Winner: Back From Bali Boys Micro Fleece
18
Researched Sources
16
Hours Researching
10
Products Evaluated
Design
Comfort
Ease of Use
By Default
10 Best Baby Mittens Reviewed
1

. Back From Bali Boys Micro Fleece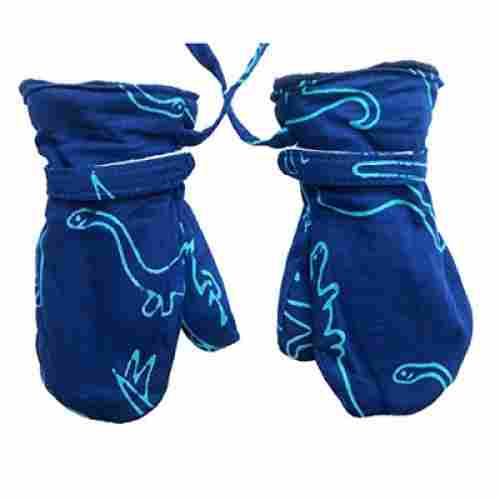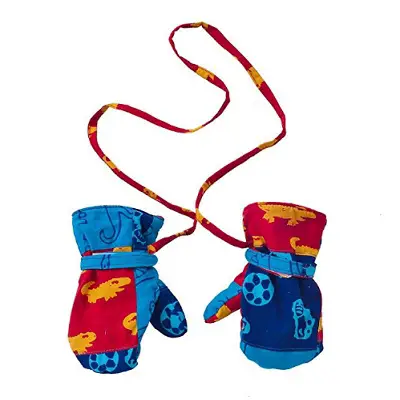 Lined with fleece for warmth
Hand-crafted in Bali
Adjustable Velcro
String included prevents losing either glove
Eight unique designs
The sizing runs a bit large
All of these mittens are made by artisans in Bali and with eight themes to choose from, your little one will love them just as much as we do.
Read more
Design
For the sake of variety and to ensure that we've included options for everyone, these mittens by Back From Bali are a great go-to for toddlers and children who are almost toddlers. They'd make the perfect pair of starter mittens for kids who might not need scratch-proof gloves but are in need of winter weather gloves that will keep their hands warm and toasty in any type of climate. These gloves come in eight different designs that all feature kid-friendly themes that toddlers will love and enjoy. Each color scheme allows parents to mix and match gloves in accordance with their child's winter wardrobe, turning these mittens into a fun experience rather than just a chore.
Comfort
They're lined with fleece for optimal comfort as well as the utmost in warmth and also come with a string that can be attached to both gloves in order to prevent them from going missing. Mittens such as this are perfect for toddlers because they're able to easily retain heat while allowing room to grow for your little one. These gloves also come in various sizes from small to extra, extra large so that your child has options for a pair of mittens that fit them properly without being restrictive or too loose.
Ease of Use
Caring for them is just as easy as wearing them since they're machine-washable and also feature an adjustable velcro closure to provide a sure fit, every time.
2

. Nuby Soothing Teething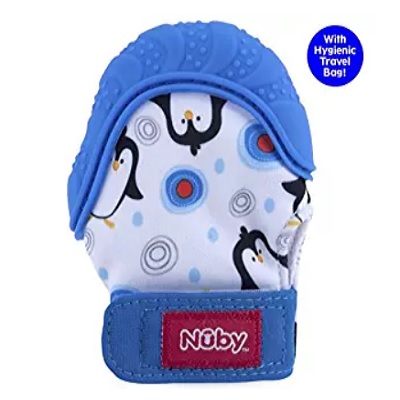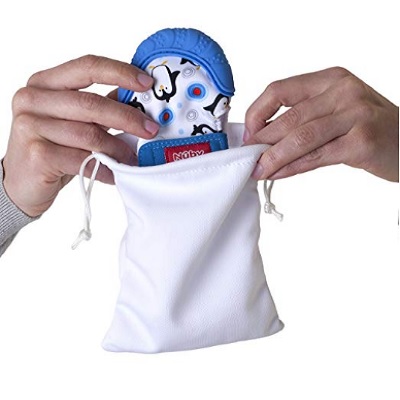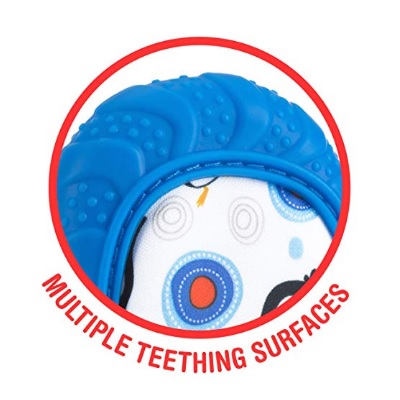 Helpful for teething babies
Completely safe with a silicone exterior
Comfortable and easily adjusted
They come in four colors
Includes a hygienic bag
Parents found that their babies had a hard time keeping these gloves on
In order to combat teething and accidental scratching at the same time, look no further than the Teething Mitten by Nuby. They already have a reputation for excellence for their teething products and this two-in-one mitten is pure genius.
Read more
Design
You'll likely recognize the brand Nuby from their popular line of teething products for growing babies. These mittens pull double duty as far as both teething and scratching go -- Nuby has designed them to protect your baby's hands while also providing relief from the growth stage that many parents despise. Teething is tough and in order to combat it, you'll need something that stands up to the task while also being safe for your child. The silicone exterior of these mittens helps to provide a safe and useful spot for babies to chew on while waiting for their first teeth to come in, but it also prevents them from scratching at such a young age. It's the perfect way to soothe fussy babies while also making sure that they're not scratching their delicate skin in the process of self-exploration.
Comfort
Scratch prevention is an additional perk that parents will love because babies won't mind wearing these mittens as long as they can chew on them!
Ease of Use
Equipped with a velcro strap, these gloves are easy to keep on your baby. Not only do these mittens come in several different colors, but Nuby has also thought to include a carrying bag along with the purchase. This bag provides a hygienic way of transporting gloves so that you never need to worry about them floating around in your diaper bag or ending up dirty.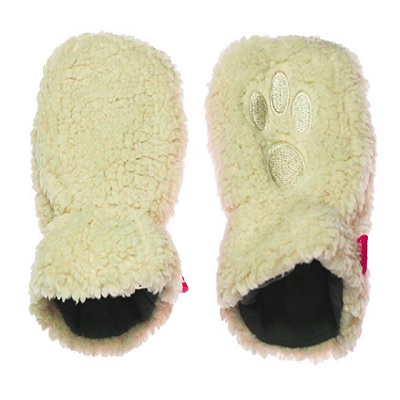 Unbelievably soft and warm
Comforting to wear
Protects your baby while keeping them from getting cold
Practical for winter use
Magnetic to prevent losing either glove
The sizing runs a bit small
These mittens come with so many features that we don't even know where to begin. For starters, they're extraordinarily comfortable and have a tiny secret to help you keep from every losing just one mitten.
Read more
Design
These mittens are truly one of a kind. They have several unique features which are worth noting and which are definitely helpful in the way of a newborn. These mittens come with a magnetic design that allows them to stick together, meaning -- are you ready? -- they won't get lost! Inevitably, one mitten will always be attached to the other due to the magnetic pull which is great news for parents who are worried about losing one or the other. The design that these gloves feature is probably one of the cutest on this list and makes each glove look like a little puppy or kitten paw. It's so cute, we almost want a pair for ourselves.
Comfort
The exterior of these gloves is fleece which means they're as soft as can be while also retaining warmth and keeping your baby's hands toasty and cozy inside their mittens. This makes them a perfect choice for snowy days and chilly winter weather. Fleece is known for holding in warmth and is a natural material when it comes to providing comfort in the form of softness. Your baby won't mind wearing these mittens at all because they'll be so captivated by their fluffy design.
Ease of Use
The gloves are easy to slide on your baby's hands. The mitten shape provides plenty of room to allow them to easily move their fingers inside the gloves.
4

. Rative Cotton No Scratch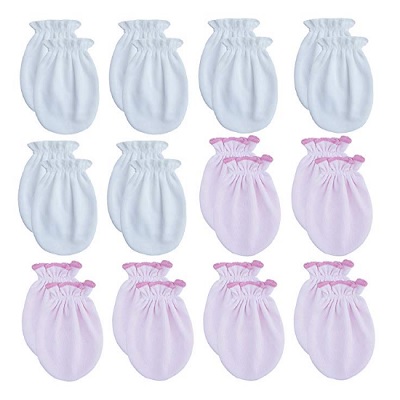 They come in three different style options
Padded elastic to keep them in place
100% organic cotton
Comfortable and lightweight
Easily washed by hand or in a machine accessory bag
They're slightly bigger than average mittens
If you're looking for a good organic alternative, Rative has a surprise for you. This is a large collection of no-scratch mittens so that you'll have multiple backups of what are soon to be your baby's favorite.
Read more
Design
You'll have the option to purchase a set of nine mittens with SRative, in blue, pink, or even plain white. These mittens are intended to allow for a bit of extra room so that your baby doesn't feel like their hands are so restricted and they're simple, yet very high-quality.
Comfort
What sets these gloves apart from the others is the use of organic cotton, making them perfect for parents who value an eco-friendly lifestyle. They're comfortable, breathable, lightweight, and feature a padded elastic design. Due to the extra room inside these mittens, your baby should have minimal issues keeping them on their hands without feeling like they can't move or stretch out their fingers. The organic cotton provides all the comfort needed while still providing a material that's incredibly easy to wash and keep clean.
Ease of Use
These gloves will fit babies up to six months old which makes them unique in the sense that they can be used in the long-term if necessary. Alternately, they're so durable that they can be used with a growing family as well, and passed in between siblings.
5

. Crummy Bunny No Scratch 3 Pairs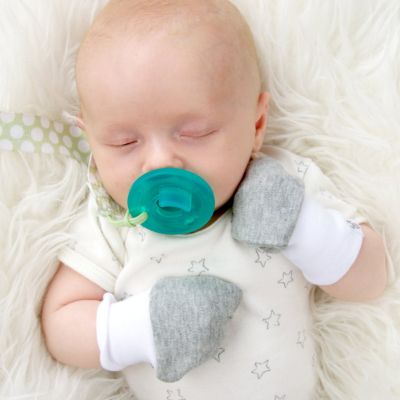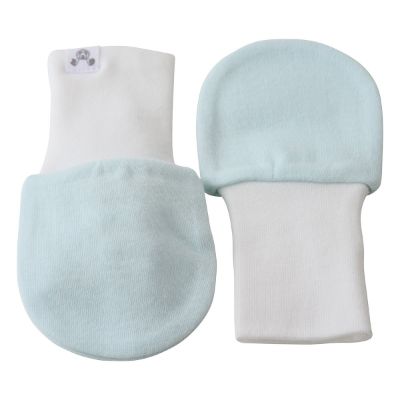 Set includes three complete pairs of newborn mittens
Provides lots of wiggle room in the mitten for fingers
Grows with baby for extended wear time
Does not feature a Velcro securing system
Features lifetime replacement warranty
Does not come is a retail package, placed in a plastic bag for shipment
Extended size is often too large for smaller newborns
Putting mittens on your little one when they are born is a great way to keep their little fingers and hands warm while also keeping them from scratching themselves. Because they don't quite have full control of their hands they can really scratch their face and neck up. Mittens are also ideal for little ones that have eczema. During the night and sometimes even during the day they get to scratching and can really do some damage. This set of 3 pairs of mittens is great for newborns and up.
Read more
Design
Many parents love wearing mittens on their little one's hands but find them super constricting. The mitten designs of these ones are very roomy allowing them to be able to move their fingers. Newborns are often enough in the fist position as it is, so allowing them to be able to move their fingers more freely it ideal.
Comfort
Allowing your baby to grow and still be able to fit into this set of mittens is exactly what this company was planning when they created these mittens. This is just the right size for a newborn, but also offer enough room that they will be able to wear them throughout their growing process. Another comfortable feature of these mittens is that they do not have any Velcro on them. Other styles like these on the market have Velcro to secure them making them super comfortable and heavy for newborns.
Ease of Use
As we all know, mittens can be hard to keep track of and once you lose one it seems like you can never find a matching pair. A great thing about this company is that they offer a lifetime warranty with their product. If the mitten is damaged or lost they will replace it with there. Just register for their extended lifetime warranty when you receive the set of mittens and you will be ready to go.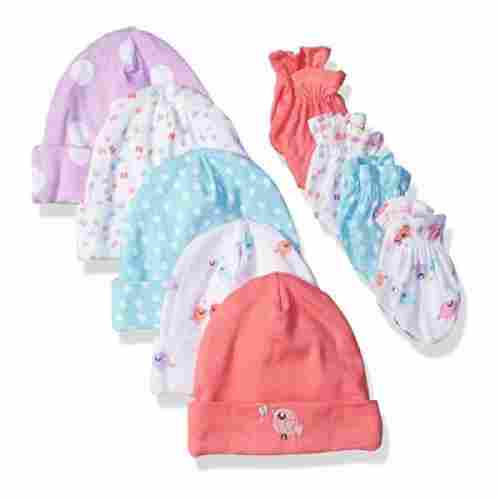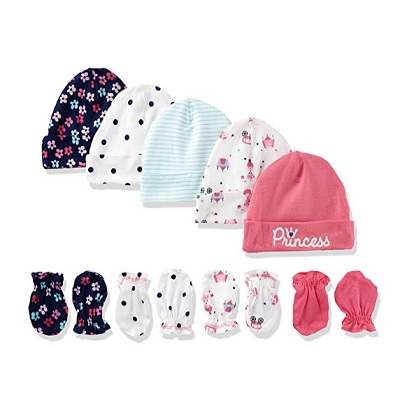 Cotton
Elastic fit
Machine wash
soft
Some found the gloves for older infants to be a little bit on the shorter side, but, they were perfect size as they were a newborn.
Gerber is one of the most popular brands for baby products out there in today's market. This cute little mitten set comes with matching hats as well so that your baby can stay nice and warm on those cold days.
Read more
Design
With every pair of adorable mittens, there is a matching hat. Each set is designed with cute patterns and colors.
Comfort
These mittens and caps are also all 100% made with cotton. They are nothing but the highest quality materials. The mittens have elastic on them so that they can fit nicely on your baby's little hands without mama having to worry about them falling off. The cap sizes included range from 0-6 months and the mittens range from 0-3 months. Mittens are a wonderful thing for babies to have because they prevent your baby from scratching their faces when they're sleeping.
Ease of Use
Everything included in this set is machine washable making cleaning these products a little bit easier for new mamas to be.
7

. N'Ice Caps Sherpa Lined Fleece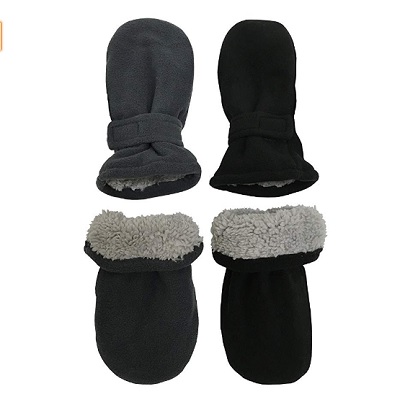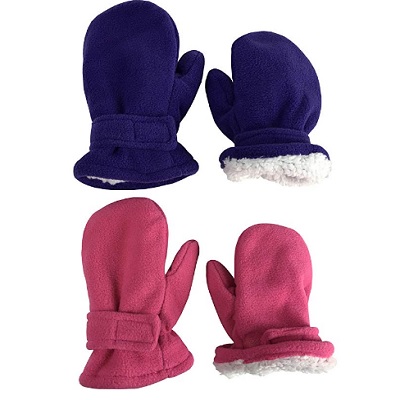 Easy on and off
Sherpa lining
Secure fit
Machine washable
Does not come in a newborn size
These mittens will keep your little one extra toasty. This set are sherpa lined fleece and comes in a set of 2. While these mittens are a bit on the larger side meant for 6-18-month old's they also come with a set for toddlers as well.
Read more
Design
These mittens come in a variety of solid colors, thus you can pick out the perfect pair to match your child's style and outfits.
Comfort
The sherpa-lined fleece will keep your child's hands warm and comfortable during the winter months.
Ease of Use
These mittens come with an elastic so that they are easy on and off for your little one. They also come with a wrist strap so that parents don't have to worry about their toddler's mittens falling off. They will hold a nice secure fit.
8

. Rative 100% Cotton Gloves
Baby mittens for boys or girls
Set includes 12 different colored mittens
Spaciously designed for little hands to move inside
Elastic band at wrist for keeping on their tiny hands
Easy care with hand wash or machine washes in laundry bag
If placed in the drier they will shrink
Fabric is very thin and lightweight
Mittens are amazing to be able to keep those scratches away from the face of your beautiful newborn. The last thing that you want to see is them covering their little face and neck with scratches that will cause them pain when they don't know what they are doing with their hands yet. These mittens are the perfect answer. They are lightweight and easy to put on plus the set comes with 12 pairs so you will always be able to find a set.
Read more
Design
The mittens have been designed to be able to accommodate newborns to six months of age. The design of the mitten has been created with an elastic band at the wrist to secure the mitten on the hand. Another great feature of the design is the extra space in the mitten area. This is great for allowing them to have some wiggle.
Comfort
Each of the mittens has been constructed from 100 % cotton and is super soft to the touch. Protecting them from scratching themselves is very important at this stage in life. Not only is it painful, but it also puts them at risk for infection and other issues along the way. So keeping them in mittens is not only a comfort to them, but it protects them as well.
Ease of Use
To put the mittens on the baby's hand just simply stretch open the elastic band. Once the band is fully extended side the mitten over their fist and slowly let go of the elastic band. The band will then secure itself around the wrist of the baby and stay there securely. When the day is over just reverse the order to remove the mittens. When washing it is best to either hand wash the mittens or place in a laundry bag to keep from extending the elastic too much and leaving them stretched out.
9

. Nurse's Choice No Scratch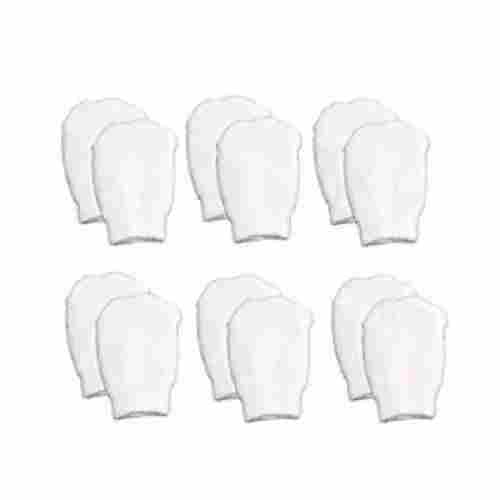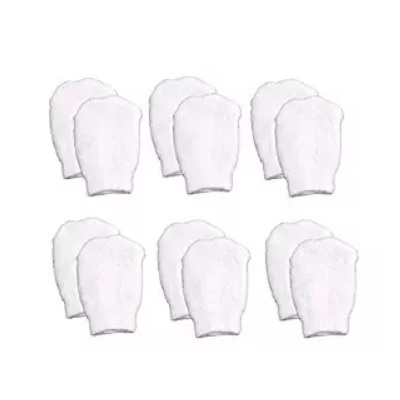 Soft
Unisex
100% cotton
Made in USA
some customers noticed that these left lint in between their babies' fingers
Not machine washable
These white mittens are unisex. They can be found in most hospitals today making it easier for parents to get used to them with their little one when they arrive.
Read more
Design
This set of mittens is one size only. It is gender neutral but only meant for newborns.
Comfort
These mittens are made of cotton, thus making them super soft.
Ease of Use
Mittens are a great accessory to have for your newborn because they will prevent your bundle of joy from scratching their face.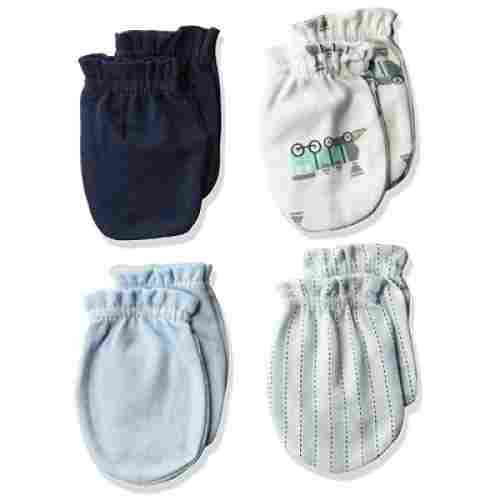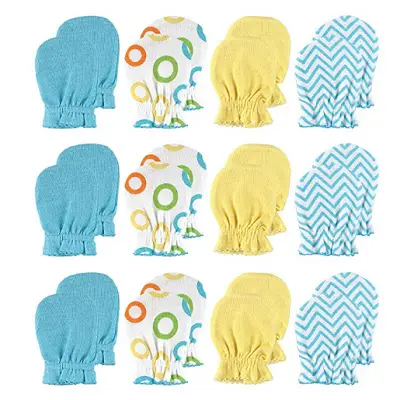 100% cotton material
22 different designs
Thicker for added warmth
Soft elastic band to prevent them from moving
Spacious and lightweight
They can shrink in the dryer
These mittens not only look elegant, but they're also designed to keep your baby from scratching with a thicker material that also adds to their comfort.
Read more
Design
How adorable are these mittens? We know that they're intended for a practical use but they're just too adorable to not admire in all of their vintage-floral glory. These gloves come in 22 spectacular designs, each varying between a pack of four and a pack of two.
Comfort
The cotton material is a bit thicker than traditional mittens to allow for warmth as well as protection and comfort. Each mitten is created with an elastic band that's padded to prevent discomfort.
Ease of Use
The use of soft elastic helps mittens to stay on as well. In fact, the band also makes it easy for you to put them on your child and take them off.
Criteria Used for Evaluation
Design
The importance of baby mittens is highly debated but the facts still remain -- Newborn babies aren't the most graceful of humans. While they're still getting used to their body parts and figuring out what they can and can't do, a common result will be the occasional scratch when they don't realize that their nails can do damage. Additionally, they'll be itching to put their hands and fingers in their mouth and mittens are an optional way of protecting your child's hands while protecting their exposed skin from themselves. Many parents don't like to use mittens and that's perfectly okay because there is no right or wrong way to take care of your child, it all depends on what they need and what their habits are. Parenting will always vary but if you are interested in scratch mittens, you're in the right place! The only other way to avoid having your newborn scratch themselves is by trimming their nails which can often be a harrowing process. It's usually sometime around when parents attempt to cut their baby's nails and when they find it's much more challenging than it seems, that they take a step back and begin evaluating other options. This is where we step in and finish the work for you. Finding the best mittens for scratch-prone babies wasn't necessarily an easy process, because there are so many options out there and so many brands that present great-quality products. With something like this, it was best to keep things simple -- We sought out products that had a high-quality design. There are plenty of mittens out there that are boring, one-note, and not very interesting to look at. When it comes to a newborn, everything is interesting and you always want to seek out things that will catch their attention and help their sensory skills. We included gloves that were interesting to look at and wouldn't just look like boring blobs on a baby's hands. With the use of interesting designs and/or colors, babies are more apt to be enamored by their gloves rather than bored, which might lead to them immediately tossing them off.
Comfort
It's bad enough that babies are still getting used to the world around them and don't realize their own body parts initially, and we didn't want to add to that discomfort. Therefore, we looked for mittens that would slide on and feel like soft, comfy pillows on their tiny hands rather than a foreign glove. As adults, it's often difficult for us to imagine what things feel like from a baby's perspective. This is why comfort was such an intricate part of our research process. We found products that were mostly cotton-based, which provides other benefits that we'll address further on.
Ease of Use
In addition to comfort, these gloves had to stay put once they've been placed on your baby. It's no secret that babies are highly active and that's something many parents notice right off the bat about their newborns -- They're a bit clumsy in the most adorable way possible! This restlessness is just a result of simply learning about their world. They'll continuously feel the need to stretch out, reach, pull, tug, twist, and squeeze things, and tossing their mittens off will not be a one-time occurrence. So in order to allay that, we thought it best to seek out mittens that have a reputation for being snug without being uncomfortable -- Which is why our first criteria were so important as the first step. As long as the mittens had a solid reputation for comfort, we could successfully move onto evaluating which mittens provided a snug fit without feeling tight or restrictive.
Most Important Criteria
(According to our experts opinion)
Experts Opinion
Editors Opinion
Users Opinion
By Default

Parents Did You Know
When trimming your child's nails you should press the finger pad away from the nail to avoid accidentally nicking your child's skin.
Parents Did You Know
While mittens are a great way to keep your little one from scratching themselves, you should still trim their nails at least once a week.
Other Factors to Consider
Materials
Babies put everything in their mouths, are we right? That's why it's so crucial to have mittens that are safe as well as comfortable and functional. We made sure to only include products here that fit that criteria, however, this is a great excuse for investing in more than one pair of mittens — If only to avoid soggy hands!
Frequently Asked Questions
q:

How do you know if you'll need scratch mittens?

a:

There's no way to tell if your child will, indeed, require mittens all the time. The best advice that we can give is to have at least a few pairs on-hand in the event that you do need them. Better safe than scratched!
q:

Will these materials irritate my baby's skin?

a:

Unless your baby has an allergy or is extra sensitive, no. All of these materials are common for products intended for babies and should not cause any type of irritation or scratchy feeling. You might notice, however, that your baby experiences irritation if the material is damp due to them sticking their mittens in their mouth -- This is why it's good to have more than one pair available.
q:

How long should my baby wear these for?

a:

It's recommended for the first two weeks after your child is born. After that, it's best to use them sparingly or only during the times you know your baby is prone to scratching.
q:

Are these adequate for using when it's snowing out?

a:

Yes! These mittens are perfectly acceptable for the winter and are actually a great addition to a winter wardrobe. A mitten will cover your baby's entire hand and prevent them from feeling cold while outdoors.
q:

Can these be worn at night too?

a:

There are plenty of sources claiming that mittens are perfectly safe for babies to wear to bed, however, some parents are not comfortable with it. This is a personal choice and if you know that your baby is a scratcher, it's ideal to speak to your pediatrician and get their personal opinion. All in all, safety mittens are a good option for bedtime once it has been cleared by a professional.
q:

Are any of these made with organic materials?

a:

Yes! There are two options here that make use of organic cotton. Their criteria have been listed in the summary section, one of which is by the brand Songbai.