As a parent, your main priority is to keep your child safe and healthy. While trimming your little one's nails may be slightly scary at first, it is highly important that you do so. At first, you may be able to avoid trimming your child's nails by covering their hands with mittens and their feet with socks, but don't put it off for too long. Babies lack muscle control, thus long nails make it easier for them to accidentally cut and scratch themselves while waving their hands or feet. Untrimmed nails makes your baby for susceptible to skin infections as well. Trimming your baby's nails with a partner may be easier, however it is totally possible for you to trim them by yourself. Don't try to tear or bite your child's nails off. Tearing can cause their nail to be too short and biting can introduce you both to germs. We recommend choosing baby nail clippers or baby scissors. Both are designed for smaller hands, thus reducing the chance of nicking your baby's skin. Electric and regular nail files are also good options. If you're worried about your baby squirming, you can try to trim their nails while they're sleeping or distract them while they're awake. We've compiled a list of the 10 best baby nail clippers to help make the process seem less intimidating. You will be a pro at trimming infant's nails in no time.
.
Our Top 3 Picks
AUMIO Electric Baby Nail Clippers

Our rating
Trimmer Kit
Price:

See Here

Asunnyhome Baby Nail Clippers

Our rating
Safe Quiet Motor
Price:

See Here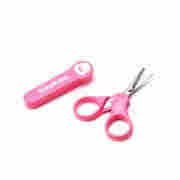 Piyo Piyo Baby Nail Scissors

Our rating
Rounded Tip
Price:

See Here

Our Picks Of The Best Baby Nail Clippers and Cutters
Tweezerman Baby Manicure Kit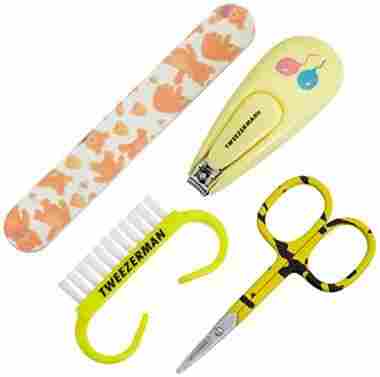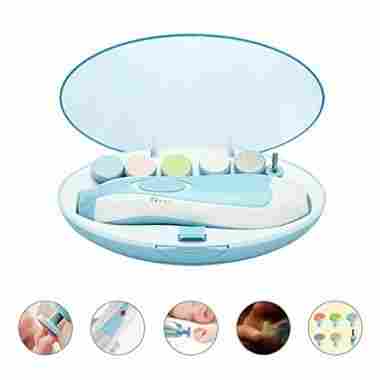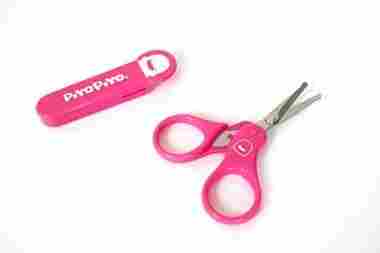 Little Martin's Drawer Baby Nail File
Consevisen Baby Manicure Set
The First Years Red Cross Deluxe with Magnifier
Fridababy NailFrida the SnipperClipper Set
Safety 1st Sleepy Baby Clipper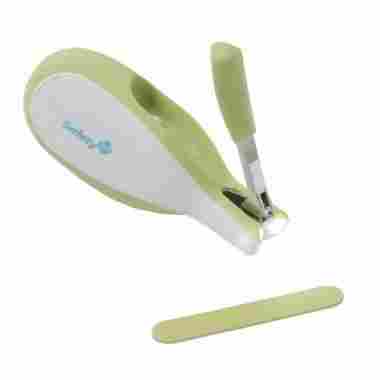 Pigeon Nail Scissor (Newborn Baby)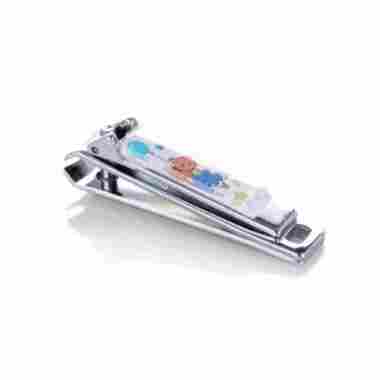 Criteria Used in Evaluation of the Best Baby Nail Clippers & Cutters
Safety
A baby's skin is extremely delicate and prone to injury at this early stage in life. Parents have unfortunately underestimated how easily their baby's skin can be scratched, which has resulted in many accidents when trying to clip their baby's nails. We felt that it was important to find baby nail clippers that were safe for both the baby and the parent in order to ensure the best possible results. Being a parent is stressful enough without having to always worry about nicking your baby's fingers. Our list features cutting-edge safety features like ergonomic handles, safety holes, magnifiers, and curved blades.
Ease Of Use
Your baby's fingers and nails are so small that it can be terrifying to try and clip them; it almost seems impossible not to make a mistake! But that's where our awesome list comes in. We searched high and low for clippers that take the stress out of nail clipping. The electric baby nail clippers on our list are a new leading trend in baby nail care that are literally designed to do the work for you, making them a hot commodity among parents nationwide. Even the manual baby nail cutters on our list have a reputation for being some of the best on the market because of their simplicity and uncomplicated construction. We've come up with the best selection of baby nail clippers that are easy to use and hassle-free.
Extra Features
Why go with an old clunky pair of nail clippers when you can buy a better pair that will end up making the whole process easier? The baby nail clippers on our list aren't your ordinary clippers. Every single one has unique details that turn it into a multi-functional tool you can't live without. From illuminating LED lights, various speeds and rotation levels to rounded clippers that hug the nail bed, these nail clippers offer special extra features that enhance their productivity and performance. An ordinary nail clipper just doesn't cut it when it comes to trimming your baby's nails, so we wanted to find ones that had a little something extra to offer today's busy parents.
Modern Design
Modern families require modern tools, and your baby's nail clipper should be up to today's newest standards. A modernized baby nail clipper is safer and more reliable than older styles, and their innovative details even make it possible for you to be more creative in your approach. Today's baby nail clippers are made to give you, the parent, more options and control over your baby's nail care. The baby nail clippers on our list were selected for their modern methods and techniques that make a world of difference. Prevent accidents and ease the anxiety for both you and your baby by getting one of these trusted models.
FAQs
Frequently Asked Questions
Q: My baby hates getting her nails trimmed, what are the best clippers for a non-cooperative baby?
A: You're not alone; it seems to be the majority of babies hate getting their nails clipped, and it's easy to understand why. If the wrong type of nail clipper is used, an ordinary routine can suddenly turn into a traumatic experience for the baby. You can avoid all this by purchasing a nail clipper especially suited to babies with a higher sensitivity to nail care. In this situation, most parents prefer to use an electric baby nail clipper because they allow you to quickly file your baby's nails when they are fast asleep. Our list features several electric baby nail clippers for you to choose from.
Q: Which is better, using a nail file or a traditional clipper?
A: This really depends on what your baby prefers, and whether they are overly sensitive to the nail care routine. A baby nail file is great for babies who become anxious or nervous because it is much more gentle than a regular nail clipper. Scared babies seem to handle a nail file better because there is no actual "clipping" going on and no possibility of nicks. However, many parents have had luck finding a traditional nail clipper that is designed to be extremely gentle and non-threatening to the baby, and we feature some of these on our list. A traditional nail clipper is able to remove sharp hangnails much easier than a nail file, and also does a better job of trimming straight across the nail bed.
Q: Can these baby nail clippers be used on older children?
A: They certainly can! Several of the baby nail clippers on our list have all been used successfully on both older children and adults. Many parents have mentioned in Amazon reviews that they bought one of these clippers specifically for their 8 or 10 year old, and have been using it regularly with great success. The electric baby nail files on our list are suitable for the whole family and even come with extra filing grits that are meant only for adult use.
Q: Are the filing grits included with the electric clippers too rough for a baby's nails?
A: No; the wonderful thing about these electric nail clippers is that they all come with a handy guide that tells you exactly which filing grits should and should not be used on your baby. Most of them come with up to six different types, so being able to distinguish between them is crucial. The filing grits that are clearly labeled as being suitable for your baby are designed to be super-soft and gentle to minimize any discomfort or irritation. The older the baby is, a corresponding filing grit may be used according to the product guidelines.
Q: Is the whisper-motor on the Little Martin's Drawer file completely silent?
A: Although it is not completely silent, the whisper-motor is as close as it gets to a noiseless motor. Hundreds of happy parents have found this to be the only way they are able to safely clip their baby's nails, and because babies are naturally such deep sleepers, the whisper-motor isn't even noticed. The other electric baby nail clippers on our list have a very similar quiet motor that is designed to be barely audible to your sleeping baby. This innovative feature is considered to be a lifesaver by many parents who would otherwise have to resort to constantly wrestling with their screaming baby. Try it for yourself and you'll be glad you did!
Q: Is an electric nail clipper easier to use than a manual one?
A: To answer this question, one would need to observe the temperament of their baby and how well they respond to getting their nails clipped. To make the nail care routine easy and stress-free for everyone involved, it's important to choose the appropriate nail clipper for your unique situation. Does your baby start to cry everytime they see you get out the nail clippers? Then you may have better luck using an electric baby nail clipper because of its many time-saving features and its ability to be used when your baby is asleep. If your little one has no problem with getting their nails clipped, then you can probably stick to the less expensive manual nail clipper, and we feature several great options on our list.