10 Best Baby Eczema Creams Reviewed in 2019
last updated
Sep 07, 2019
Eczema is no fun for anyone, but it can be especially brutal for babies. Infants are already sensitive and constantly exposed to discomfort. Dry, flaky skin can cause them to be extra fussy. Eczema is typically characterized by patches of thickened, scaly skin. Tiny red, pus-filled or oozing bumps may also be symptomatic of Atopic Dermatitis. Babies with eczema usually don't show symptoms until they are six weeks or older, and the rashes tend to appear in short spurts of a few days. Though they do disappear, they are liable to come back. Soothing baby's discomfort and treating the dry skin is the best course of action as soon as you see symptoms appearing. Try one of our top ten baby eczema creams for quick relief!
In a Hurry? The test winner after 22 hrs of research
Burt's Bees Baby 100% Natural
Why is it better?
Made just for babies tender skin
Contains beeswax and coconut oil
Is an all-purpose skin lotion for infants
Free from SLS, petroleum, parabens, and phthalates
Is pediatrician-tested and proven effective
In a
Hurry? Editors choice:
Test Winner: Burt's Bees Baby 100% Natural
19
Researched Sources
22
Hours Researching
16
Products Evaluated
Effectiveness
Ingredients
Price Range
By Default
10 Best Baby Eczema Creams Reviewed
1

. Burt's Bees Baby 100% Natural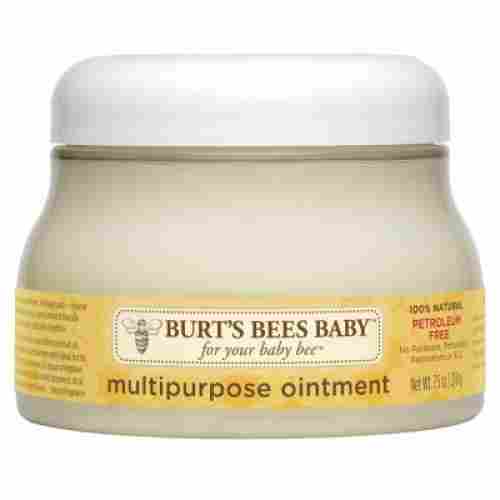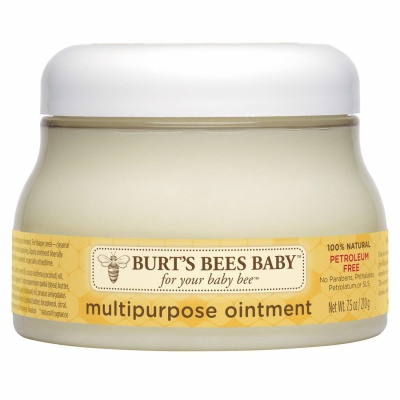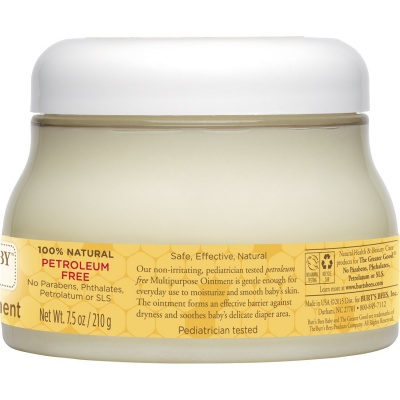 Made just for babies tender skin
Contains beeswax and coconut oil
Is an all-purpose skin lotion for infants
Free from SLS, petroleum, parabens, and phthalates
Is pediatrician-tested and proven effective
May absorb too quickly
Becomes grainy after time
Burt's Bees Ointment is perfect for the eczema problem of babies. It is made just for babies' tender skin because it soothes and protects it from dryness and rashes. Burt's Bees is known for their quality, all-natural products. Their baby line continues the tradition of using recognizable and effective ingredients to help soothe everyday woes. This multipurpose ointment contains a mixture of several different kinds of hydrating oils, shea butter, jojoba butter, and beeswax. It's moisturizing and pediatrician-approved.
Read more
Effectiveness
This is an all-purpose skin lotion for infants to heal many issues from cuts, scratches, eczema, and diaper rash. It is 100% natural, plus pediatrician-tested and proven to be effective and safe for soothing relief every day. Pediatricians have tested this product and recommend it for skin irritations, such as eczema, for the infant's skin. It is mild and gentle enough to use every day.
Ingredients
This outstanding ointment can be purchased as one tub or three and is free from SLS, petroleum, parabens, and phthalates. It contains beeswax and coconut oil that provides a barrier to dryness and traps essential moisture. Containing beeswax and coconut oil, this lovely ointment will prevent dry skin and keep it from being itchy. These ingredients are very soothing to the skin and moisturizing.
Price Range
Of all the items for eczema on this page, this is the least in price. It has the wonderful qualities of being 100% natural and not containing harmful added ingredients.
2

. Eucerin Relief Body 5.0 Ounce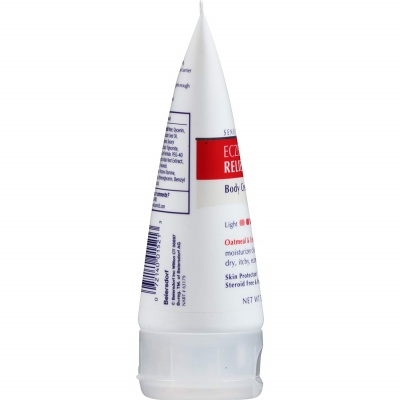 Contains natural oatmeal
Skin improves in appearance and barrier strength
Contains licochalcone and ceramide
Free from steroids, dyes, and fragrances
Relieves itchiness and improves hydration
Did not work for some infants with bad eczema
The scent bothered a few people
Eucerin's Baby Body Cream is targeted at eczema outbreaks. Infused with natural oatmeal to calm the skin as well as a lichococane-enriched formula to moisturize and treat irritated patches, it's clinically proven to be effective. Four out of five children who used it also stayed flare-up-free for roughly six months.
Read more
Effectiveness
This wonderful cream can be used all over the body and face of infants to relieve the signs of eczema. It will add moisture to decrease the problems of dryness from this condition.
Ingredients
It contains natural oatmeal that soothes irritated, dry, itchy skin of eczema and is free from steroids, dyes, and fragrances. The skin improves in appearance and barrier strength with the use of this marvelous crème from the licochalcone and ceramide ingredients. Oatmeal is one of the natural ingredients in this product that will soothe the skin. Oatmeal is used in many health and beauty products for its skin calming properties.
Price Range
One of the more economically-priced eczema creams, this item has wonderful natural ingredients and is free from harmful colors and scents.
3

. Aveeno Natural Colloidal Oatmeal
Makes a strong barrier against eczema and dryness
Includes dimethicone and colloidal oatmeal
Recommended by pediatricians
Proven to decrease irritation and itching from eczema
Can be used on the face and body safely
Some users experienced no changes using this product
Was chunky or not thick enough for a few buyers
The Aveeno Baby Eczema Therapy Cream moisturizes dry, itchy skin, and fortifies the skin's moisture barrier to help stop future episodes. Oatmeal and dimethicone simultaneously treats, soothes, and strengthens skin. It comes pediatrician-recommended and is developed by top dermatologists.
Read more
Effectiveness
This cream soothes irritated, itchy, dry skin and is recommended by pediatricians. It will make the moisture barrier stronger against eczema and dryness because it includes dimethicone and colloidal oatmeal. It is proven to decrease irritation and itching from eczema and is very gentle to the skin. Increasing and strengthening the barrier of moisture loss in the skin is important. This great cream for eczema will help prevent this loss of moisture that the skin needs to be healthy.
Ingredients
Free from phthalates, toxins, dyes, formaldehyde, drying alcohol, parabens, fragrances, nuts, dairy, PEG, and steroids, this terrific cream is offered in three container sizes. It has received the Seal of Approval from NEA and can be used on the face and body of infants safely. This wonderful cream is free from so many harmful ingredients that can be sometimes found in health and beauty products. You can use this item and know you are getting the best.
Price Range
Priced below the average for such products, this is a wonderful item because of the soothing ingredients and the dryness protection it offers for the skin of infants.
4

. Aquaphor Baby Healing Ointment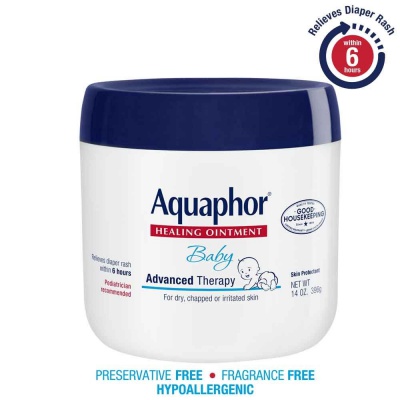 Recommended by pediatricians
Free from fragrances, dyes, and parabens
Heals the tender skin of babies and protects it
Contains petroleum that works as a protectant
Can be used for almost any skin problem of babies
Did not absorb evenly for some buyers
Did not help with the rashes of a few babies
The Aquaphor Healing Ointment is a multi-purpose cream. This advanced therapy treatment aims to target dry, cracked, or irritated skin (such as from diaper rash or eczema), and treat the problem at the source by moisturizing and hydrating with Panthenol and Glycerin. Petrolatum increases oxygen flow and together these ingredients soothe and heal.
Read more
Effectiveness
This product contains petroleum that works as a protectant for the skin, as it prevents moisture from evaporating and gives it a protective coating. The panthenol ingredient supplies vitamin B to the skin hydrating it, and the glycerin keeps the infant's skin soft and hydrated, too. Not only can this great cream be used for the infant's eczema, but it works well for almost any type of skin ailment from cuts, scrapes, and diaper rash.
Ingredients
This wonderful ointment is hypoallergenic and free from fragrances, dyes, and parabens. It will prevent further problems and protect skin that is irritated, red, or raw and can be used for almost any type of skin problem on babies. With no added fragrances, dyes, or parabens, this ointment is a pure wonder at helping the skin of babies. You will not have any worries of added allergy problems with his product.
Price Range
This average-priced item gets its great value from its usefulness as an all-purpose skin tonic for babies and its pureness of not having added colors and scents.
5

. Aveeno Baby Nighttime Balm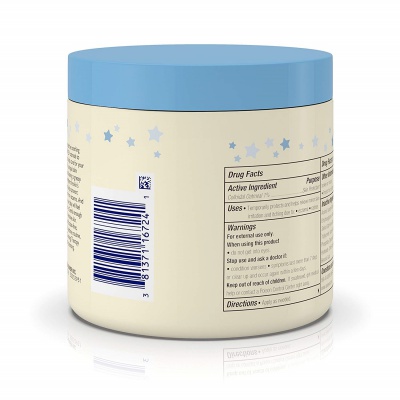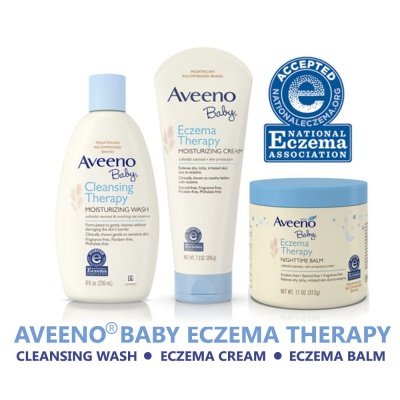 Made just for infants and hypoallergenic
Gentle enough to use every day
Will strengthen the natural barrier of the skin
Is pediatrician recommended
Is the only offered nighttime cream with oats
May be too thick for use in summer
Could leave skin feeling sticky
This additional highlighted Aveeno baby product for eczema is the second-highest for fantastic ratings and reviews and is particularly for the nighttime and sensitive skin. It is available in a one-ounce or an eleven-ounce size container and made just for infants. It will soothe the skin affected by this condition that is itchy, dry, and irritated.
Read more
Effectiveness
This fantastic cream contains oatmeal that is known to be in health and beauty products to soothe the skin and treat rashes and blemishes well. It is quite effective against eczema too. The National Eczema Association has approved of this product to aid in the treatment of eczema for babies. You know you can trust it for your child with this recommendation.
Ingredients
This excellent cream is hypoallergenic and free from added fragrances, phthalates, steroids, and parabens. It contains oats to calm the skin irritations and will not leave a greasy coating on the skin. This product has been given the seal of approval from the National Eczema Association, and it is gentle enough to use every day and even on sensitive skin. It will strengthen the natural barrier of the skin to hold in moisture and is pediatrician-recommended. This is the only offered nighttime cream with natural oats. Oatmeal naturally restores the pH level of the skin.
Price Range
Costing above the average of these eczema products, this remarkable cream can be used every day, is hypoallergenic, and can be used particularly at night.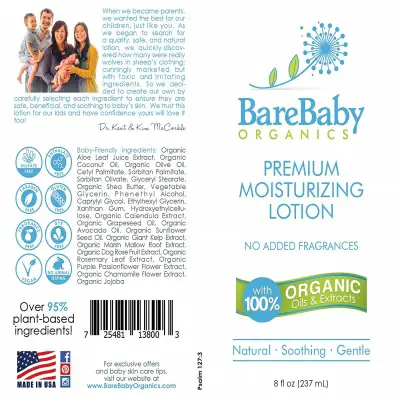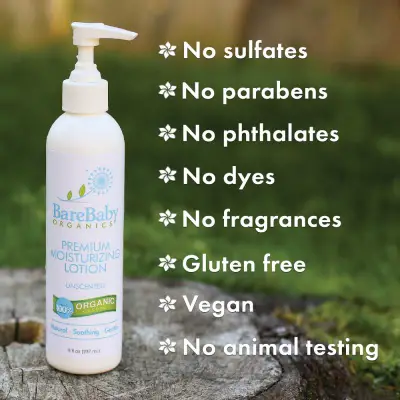 All natural, organic ingredients
Coconut oil and aloe vera soothe and soften baby's skin
Ingredients all scored a 1 on the Skin Deep Database
Vegan and cruelty-free
Paraben, dye, and phthalate free
It does have a faint rose scent to it
BareBaby Organics is a company founded by a set of parents who wanted natural products for their children. The husband's background in chemistry lead him to be concerned with some of the ratings of the individual ingredients, so together they started BareBaby Organics, pledging to sell transparent, high-quality products. Each ingredient in BareBaby Organics scored a 1 on the Skin Deep Database, meaning it's as nontoxic as can be. This eczema cream is no different.
Read more
Effectiveness
This cream will help moisturize the skin and reduce rough, dry patches. It's vegan, gluten-free, and cruelty-free, and contains a healthy array of healing, soothing, all-natural ingredients. BareBaby Organics is literally and colloquially-speaking, a "Mom and Pop's" kind of company. The founders are both parents, and they use a mixture of scientific knowledge and personal experience to bring their customers some of the best and safest baby care out there.
Ingredients
It's free of sulfates, parabens, synthetic fragrances, phthalates, and dyes. It contains nourishing aloe vera, coconut oil, chamomile, jojoba, and calendula, among other healthy ingredients. It's lightweight, spreads easily, and absorbs quickly into baby's skin for 24/7 moisture. It comes with a satisfaction guarantee. This company truly believes in the value of its products and the ways in which their work can help to benefit your happy, healthy family.
Price Range
This lotion is just slightly more expensive than some of its competition, but the cost difference really isn't much. And given how carefully constructed and organic this formula is, we think it's worth a little extra.
7

. Ora's Amazing Herbal Baby Salve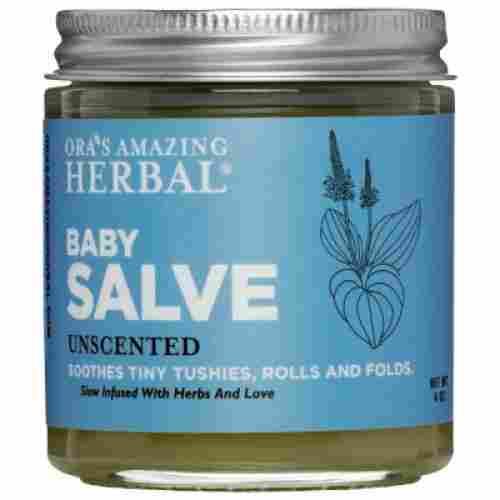 Crafted with care for an effective balm
Made with organic plant-based ingredients
Created and produced by a family-owned company
Has the scent of the botanical substances
Great to use on all areas of the body of babies
Did not work well for some babies
Caused a rash on a few infants but cleared up the eczema
Ora's Amazing Herbal Baby Salve is an unscented natural cream. Any fragrances you smell are from the botanical ingredients. Coconut oil, grapeseed oil, and a mixture of other natural/organic ingredients help to soothe sensitive skin. If your little one has a coconut allergy, Ora's also makes coconut-free newborn products!
Read more
Effectiveness
This product was created and is produced by a family-owned company out of the need for a product for their child. You can trust an item that was created with care in this way. The terrific list of ingredients that are plant-based and all-natural is wonderful to see. Infants will not be agitated by these substances unless they have allergies to some of the plants.
Ingredients
It was developed out of the need for a product to treat the child of the owner, as plenty of products on the market are started. It is made with organic plant-based ingredients such as coconut oil, grapeseed oil, beeswax, vitamin E, castor oil, burdock, and calendula. This balm has the wonderful scent of the botanical substances it contains and is great to use in all areas of the baby's body.
Price Range
This is the second-highest-priced product here, and it gets its fabulous value from the amazing list of ingredients it contains and its all-purpose usefulness.
Faint, pleasant scent
Manuka honey is also an antibacterial ingredient
Thick and moisturizing
Multi-purpose cream; can treat other conditions
Simple, all natural ingredients.
Some users found the product highly moisturizing but didn't feel it treated eczema during flare-ups
Manuka honey is used in all kinds of topical treatments as well as often mixed with a good cup of tea! YoRo Naturals' organic skin-soothing cream is gentle and a-topical. The company boasts it as being ten times more potent than tea tree oil and capable of reducing wounds by up to 30%.
Read more
Effectiveness
Some people like lightweight lotions and some prefer something with a little more weight to it. This lotion is extra creamy and heavy with moisturizing features, with a pretty simple ingredients mix. It also is a great treatment for rosacea, skin inflammation, and reducing spider veins. It features the healing powers of manuka honey, which recent studies show is effective in treating wounds, skin ulcers, and overall.
Ingredients
The natural healing properties of Manuka also provide antibacterial protection. Other soothing ingredients include organic olive oil, grape seed oil, organic beeswax, and filtered water. All of the ingredients are simple, safe, recognizable, and easy to pronounce. It's chemical-free and won't burn or sting even the most sensitive of skins. Other users have referred to this is a "topical godsend." We think that's pretty high praise.
Price Range
YORO is definitely one of the more significantly expensive brands on this list. If you have a cheaper cream that works for you, stick with it. But if you haven't found anything effective yet and have some extra room in your budget, it might be worth the splurge; most users were pleased with the results.
9

. CeraVe Moisturizing Ceramides
Made for the delicate skin of infants
Contains essential vitamins and ceramides
Gives hydration to the skin for 24 hours
Has no fragrances, sulfates, phthalates, or parabens
Created with dermatologists
Might be too mild to help the skin
Was not very moisturizing for some infants
CeraVe is one of the leading brands when it comes to taking care of your skin. Their Baby line features products that are safe and designed to perfectly suit infants. This moisturizing cream is paraben- and fragrance-free and it guarantees hydrated skin for up to 24 hours after application. Essential ceramides work to restore and maintain your baby's moisture barrier, bringing them relief and stopping future episodes.
Read more
Effectiveness
This is a long-lasting hydration treatment for the skin. It will give protection from dryness for up to twenty-four hours will just one good application. Vitamins and ceramides are two of the essential ingredients in this wonderful cream. These keep the skin in top condition to hold in moisture and fight dryness.
Ingredients
This great product gives hydration to the skin for twenty-four hours and will maintain, protect, and moisturize the skin of babies. It contains essential vitamins and ceramides and is made for the delicate skin of infants. The skin's natural barrier will be restored with the three included ceramides.
Price Range
This is an average-priced eczema product and derives its value from the omission of harmful ingredients and the inclusion of helpful vitamins and ceramides.
10

. Mustela Stelatopia Emollient Cream
Will restore, soothe, and replenish the skin
Has been clinically tested
Is recognized by the National Eczema Association
Is hypoallergenic and fragrance-free
Free from parabens, Phenoxyethanol, and phthalates
May burn some skin types
Did not work well for a few infants
Mustela's Stelatopia Cream is clinically-tested, hypoallergenic, and made with natural ingredients. It's also eco-friendly! It absorbs quickly and will relieve itching and pain thanks to the avocado and sunflower oil blend. It's also tested under pediatric and dermatological control so you know it's safe for your little one to enjoy.
Read more
Effectiveness
This great treatment has been clinically tested under the control of dermatologists and pediatricians, plus is recognized by the National Eczema Association. It is also free of parabens, Phenoxyethanol, and phthalates to make it one of the best products for treating eczema in babies.
Ingredients
Two fabulous natural ingredients in this product are avocado and sunflower oil. Skin will be protected and aided in retaining moisture with these two plant-based substances. This wonderful cream is free from harmful additives and is hypoallergenic. Those with sensitive skin will really appreciate this formula of skin protectant and moisturizer.
Price Range
This is the most expensive item listed. It is valued for being fragrance-free, hypoallergenic, and containing powerful natural ingredients to soothe the skin inflamed with eczema.
Criteria Used for Evaluation

Effectiveness
With the soothing ingredients contained in these creams, the symptoms and signs of eczema will be relieved and calmed. The redness, itching, dryness, and irritation should be diminished after using these items that are so common with eczema. Several applications may be needed for a difference to be noticed, but the pain and discomfort should be relieved right away with the first few applications. Other skin problems can also be treated with many of these creams and balms. Babies often suffer from diaper rash, scrapes, burns, small cuts, or bad dry skin. These products will add the moisture content needed back into the skin and provide a barrier to keep the skin moist.
Manufacturers created these products just for babies, but they can be used by adults. Those with sensitive skin will enjoy using these because of their milder properties. Newborns can have eczema, so the need is there for mild skin conditioners that will not harm an infant's delicate skin. All of these can be used safely on the body and in some cases, the face of the baby. A few products are just for night use, while others can be used either day or night. whether they are creams or balms, all of these are effective in treating the many signs of eczema.
Ingredients
All of these creams contain at least one natural ingredient to help relieve the symptoms of this condition. Some have oatmeal, avocado, ceramides, beeswax, and/or coconut oil to help with the skin irritations. None of these have harmful substances such as added fragrances, parabens, phthalates, steroids, or dyes. You can feel confident in putting these on the tender or sensitive skin of your child.
Price Range
Having to splurge once in a while on big-ticket items can be stressful but usually, you at least know when to plan and can aim to buy a product that will last you a long while. When you're buying everyday essentials, those can add up slowly and sneakily. That's why we've made the price points of these lotions easily comparable. If you can find one that's budget-friendly and works just as well as the more expensive brands, why not save a few dollars here and there? It adds up!
Most Important Criteria
(According to our experts opinion)
Experts Opinion
Editors Opinion
Users Opinion
By Default

Parents, Did You Know?
Eczema is a very common condition of infants, children, and adults. More than thirty million Americans have a type of eczema in some form or another. It often shows up on the backs of knees in children but can also appear in any place on the body. Eczema can be an ongoing challenge to live with on a daily basis, but with proper management of the symptoms, relief can be accomplished. The symptoms are not the same for everyone and can pop up in any place on the body. There are treatments but no cures for eczema currently, so creams, salves, and balms such as these products are the main way of treating the condition. It is not contagious to others or catching or known to be hereditary. Eczema is a Latin word meaning to boil over, which is exactly what it looks like – boils. It can be severe, moderate, or mild in form, varying from person to person. Babies usually develop it on their faces mostly, but it can be in other spots too.
Parents, Did You Know?
Adults can get this even if they did not get it in childhood, and eczema can reoccur. For the most part, it goes away as a child grows, but not all the time. Eczema is usually characterized by skin that is swelling, oozing, crusty, red, leathery, rough, patchy, scaly, dark in color, itchy, inflamed, sensitive, and/or dry. It can be very painful, especially for babies, as they will try to scratch the skin and possibly make it worse. A doctor can determine if you or your child has eczema. The signs are the above characterizations of the skin and can be just seen as red blotches. One characteristic that is always common for this condition is the itching. Everyone who has it always has an issue with the itching caused by the dry skin that needs plenty of moisture.
Other Factors to Consider

Brand
The brand might seem like just another ploy to mark up the price on some items but there are companies out there with reputations for a reason. When you're shopping for your child, you want to look for trusted names. Small businesses are aplenty and often produce great products as well. If you're ever unsure, we suggest checking out a company's Amazon page as well as their website. You can usually find information regarding their mission statement and history there. We strive to form a collection of largely-known companies as well as smaller businesses on our guides. Above all, we want to make sure you're buying from Brands that you trust so we research the people designing and manufacturing the products we suggest.
Approved by Pediatricians
You'll find that a decent number of these eczema creams come recommended by Pediatricians. Not every brand advertises this fact so we wouldn't include it as a core criterion but there are plenty on the guide that doctors approve of and even encourage! Read through the expanded summaries of each product if this is an important factor to you.
Frequently Asked Questions
q:

At what age can children get eczema?

a:

Newborns can have this skin condition and it can carry on until adulthood. Many adults suffer from this problem, and it must be treated with creams to keep the skin conditioned and as problem-free as possible.
q:

Is it always in the same places on the body?

a:

No, eczema can occur on any place of the face and body and may reappear in different spots anywhere on the same person. There is no set place that it occurs on anyone. Babies usually get it on their faces, while children usually have eczema start behind their knees. Adults can be afflicted with it anywhere on their bodies or face.
q:

Are there any cures for this condition?

a:

No cures are known at this time for eczema. There are creams and treatments such as these that can only help relieve the signs and symptoms of the sufferer. The condition can go away completely depending on the individual person. It is also not known what causes this condition or what makes it finally go away in time.
q:

If you have it, does it ever completely go away, or can it come back?

a:

This is an individual thing as it does go away with some people as they age, and it can also come back years later. If it appears on children, then they will probably have it come and go throughout their life. This is highly varied according to each person though
q:

Can these creams be used on newborns?

a:

Yes, newborns are safe to use these creams because they were created with infants in mind. It is usually in the early stages of life that this skin condition develops, so manufacturers produced creams to treat it for the very young. A few of them even specify that they can be used on the face as well as the body.
q:

Can adults use these products too?

a:

Yes, most certainly these can be used by anyone with skin conditions of dryness, itching, and irritation to the skin. Plenty of reviewers who are adults used these baby products on themselves because they are mild and contain natural ingredients. Those with sensitive skin may prefer to use these products as well.
q:

What is the difference between a cream and a balm?

a:

Some of these products are balms, which means that they contain natural ingredients that are mostly plant-based. Balms are usually gel-like and clear, where creams are mostly white and creamy. They act the same for effectiveness, but balms tend to be stickier to the skin and leave a slight filmy residue on the skin. Creams, in general, can be rubbed in more and will not show as much. Balms are known to be old-time remedies from long ago made of all-natural substances that could be produced at home.
q:

What exactly is eczema?

a:

Eczema is basically a fancy name for cracked, irritated skin. It's more severe than just the occasional dehydrated spot though, and is a condition that can be recurring for those afflicted. Symptoms can include itchy, flaky, and red skin. The exact cause is unknown but current theory suggests that it has to do with your body's overactive response to an irritant or allergen. It's associated with families that bear other notable allergies or a history of asthma. It can appear anywhere but is most commonly found behind the knees and on the arms. Some foods may cause eczema flare-ups, as well. Consult your physician and look into testing if you think dietary changes may help you or your child's condition. Eczema is often self-diagnosable and can easily be treated so don't worry if this is something your family is learning to navigate.