Parents know how hard it is taking care of a baby – new parents especially know how overwhelming this can be because it can feel like your whole world has been turned upside down and now you have this new little bundle of responsibility to take care of. Not only do you have to worry about your own needs, but you have to think of your little ones as well. Taking care of your babies grooming habits are extremely important for a little one. Sometimes as parents we know how the little things can be easy to forget and we forget the importance of: brushing your babies' hair, trimming their feet and finger nails and so on. If you check out our top ten list, you will find the top ten grooming kits for your little ones in today's market. We're sure you will find something suitable for all your baby's grooming needs in these kits below!
10 Best Baby Grooming Kits Reviewed
1. Summer Infant Complete
The Summer Infant Complete Care Nursery Kit is our number one pick. This baby grooming kit comes with everything you need to keep your baby groomed and well.
Expand to see more
It has hair and nail care items that will keep your little one looking nice. It also includes much needed
medical items
to help keep your baby feeling well.
Benefits
This grooming kit comes in a convenient bag to hold everything in one place. It includes a hairbrush, a comb, emery boards, and nail clippers to keep baby's hair and nails nice and neat. There are medical items such as a nasal aspirator, medicine syringe, pacifier medicine dispenser, a forehead thermometer, and a digital thermometer.
What We Like About It
This is not just a medical and grooming kit. It also has items to help with teething. There is a teether, a finger toothbrush, and a gum massager. There is also an emergency information card included that keeps all of your important info in one place.
Cost and Value
The price for this grooming kit is just below our average price. It is an excellent value because you get a lot of very helpful baby items in addition to the baby grooming basics.
Pros
Has a carrying case
Teething assistance items
Hair and nail care items
Medicine dosing items
Emergency information card
Cons
Several of the items are not high quality
2. The First Years American Red Cross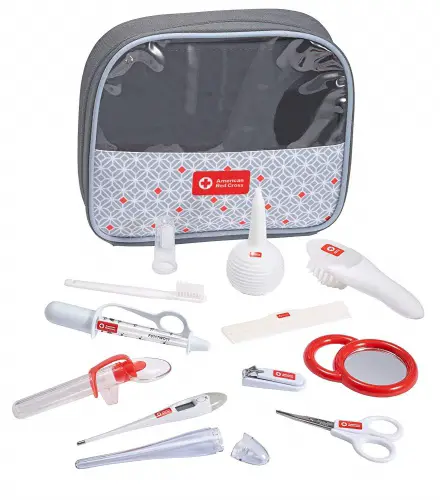 The First Years-American Red Cross Deluxe Baby Healthcare and Grooming Kit is our number two pick. This grooming kit is also a healthcare kit.
Expand to see more
It has the Red Cross name so you know the
healthcare items
are quality. It includes items for your baby's hair, nails, and teeth. It is a great choice for all-around baby care.
Benefits
This kit comes in a carrying case and includes many useful baby items. It has two medicine dispensers, one is a dropper and the other is a spoon style dispenser. The nail clippers are high quality and this kit has emery boards to file off the sharp edges. This is a great kit for baby grooming.
What We Like About It
This kit includes a rattle for your little one to hold. This rattle is a great distraction for when you are clipping tiny nails or trying to give medicine. The nail scissors are a great addition to this kit, many times it is easier to cut nails with scissors when your baby is small.
Cost and Value
The cost for this grooming kit is right in the middle of our price point. It is a great value because it comes with grooming and medical items. This is a great value because you get all of the essentials in a nice little carrying case.
Pros
Baby Rattle
Red Cross seal
Spoon and dropper medicine dispenser
Nail scissors
Carrying case
3. Royal Infant Wooden Baby Brush Set
The Royal Infant Wooden Baby Brush Set is our number three pick. This set comes with three brushes. Each brush has a specific purpose for your
baby's hair care
.
Expand to see more
This baby brush set is made with fine hair and sensitive scalps in mind. It is eco-friendly and the company donates a portion of each sale to the Make A Wish Foundation.

Benefits
The bristles of this brush are made from goat hair. The goat hair is irritant free and completely natural. The wooden brush is specifically for massage. This brush is great to help relax your little one with a gentle head massage.

What We Like About It
Each set is handcrafted from beech wood. The set also includes a blue plastic brush specifically to assist with cradle cap. This brush can be used to gently remove cradle cap scales. This is truly a comprehensive brush set.

Cost and Value
The cost for this set is below our median price. It is a great value for such high-quality brushes. You will be pleased with the quality and usefulness of these brushes.
Pros
Static-free
Handcrafted
Three brush set
Made from natural goat hair
Irritant-free
Cons
The brush sheds
Not good for thick hair
4. Safety 1st Deluxe 25-Piece
The Safety 1st Deluxe Grooming Kit has our number four spot. This grooming kit also includes a few much needed medical items.
Expand to see more
It has a handy carrying case with two pouches so you can separate the grooming and medical items for easy accessibility when you are in a hurry. You will find nine much-needed baby essentials in this deluxe grooming kit.

Benefits
This grooming kit has a three-way thermometer that can be used to take a rectal temperature, mouth temperature, and armpit temperature depending on your needs and the age of your baby. It includes a very handy miniature bottle medicine dispenser. There are three different combs, one for cradle cap, one for basic combing and one specifically for detangling fine baby hair.

What We Like About It
The handy clutch case with duo pockets makes it easy to find your baby's necessities. It also includes an emergency information card in case you need to call the doctor quickly or leave information in a convenient place for a caregiver.

Cost and Value
This baby grooming kit is just above our middle price point. It is a great clause, because of the handy carrying bag and multiple combs. Another valuable feature is the multiple combs that will work for all types of baby hair.

Pros
Dual compartment carrying case
Mini bottle medicine dispenser
Multiple combs for all types of hair
Emergency information card
3 in 1 thermometer with probe covers and alcohol wipes
Cons
Difficult bag clasp
Some cheaply made items
5. gLEE Baby 32 Pieces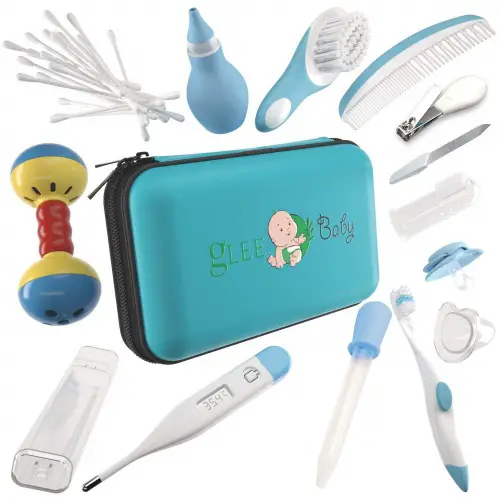 The gLEE Baby Grooming Kit is coming in at our number five spot. This is a truly convenient baby grooming kit.
Expand to see more
It has a lot of essential items that you will need for your baby. The
carrying case
will keep everything in its place. It also has a user guide to give you important information and tips on using each product provided in the kit.
Benefits
The carrying case has compartments to keep everything organized and easy to find. You get some nice bonus items in addition to the basic comb, brush and nail clippers. The medicine dropper is high capacity so you can use it as your little one grows. It also includes a sturdy rattle for distracting your baby while you take care of much needed grooming tasks.
What We Like About It
This kit includes a nail file with a handle so you won't have to worry about using or losing small emory boards. The toothbrush has a handle so you can help direct where it goes without being bitten. Our favorite part of this kit is that the nasal aspirator is easy to clean, you just pull the pieces apart and hans wash with warm soapy water.
Cost and Value
The price for this grooming kit is above our median price. It is a great value because you can clean the nasal aspirator and organize your items in the handy carrying case.
Pros
Actual nail file
Washable nasal aspirator
High-quality rattle
Convenient carrying case with storage areas
Instruction booklet
Cons
Sometimes items come smashed or missing upon receipt
6. Little Martin's Baby Nail Care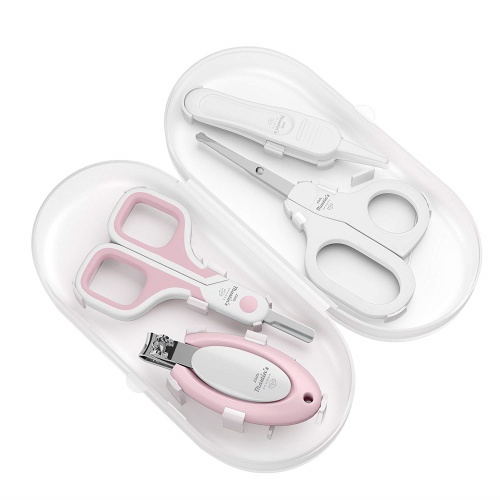 This is a super cute nail care kit. It comes in a convenient zippered case. The items included are all made of
baby-safe
materials.
Expand to see more
It even includes an item to help with nasal care and grooming. The nail scissors are super convenient for tiny hands and the nail clippers are ergonomically designed to assist with making nail clipping time easy.

Benefits
The two pairs of nail scissors are universal, so both left and right handed parents can use them easily. They also have rounded tips and edges to keep your baby safe. The included carrying case will hold your items in place with convenient clips so everything is held in place when you open the kit.

What We Like About It
It includes nasal tweezers for nose grooming. Babies have boogers. These tweezers are specifically designed to help you easily and safely remove boogers from your little one's nose. They may even come in handy as your baby grows into a toddler and tries sticking foreign objects up their nose.

Cost and Value
This nail care kit comes in under our median price. It is a great price for a high-quality nail care kit. The case that holds everything in place and the nasal tweezers make this a great purchase for busy parents.
Pros
Cute zippered carrying case
Baby safe nail scissors
Ergonomic handle on the nail clippers
Soft rounded tip on nasal tweezers
Nail scissors are universal for both left and right handed parents and caregivers
7. Fridababy Bitty Bundle of Joy
Our number seven pick is the Fridababy Bitty Bundle of Joy mom and baby kit. This is a great choice for parents it has
essential baby items
and some convenience items for mom to use on herself.
Expand to see more
This kit has items to help with baby gas, mom postnatal care, baby nail grooming, and baby nasal care. This is really a useful baby care kit.

Benefits
The award-winning Nosefrida is included in this kit. It is an alternative to the traditional bulb nasal aspirator. You use a filtered tube to hygienically suck snot out of your little one's nose. It also has the Windi to help your baby pass stubborn gas. This all comes in a convenient carrying case with a handle.

What We Like About It
The best thing about this kit is they did not forget to take care of the new mom. It includes the Fridet, a reusable peri bottle washer specifically made for mom's postnatal care needs. The nail emery board is made in an 's' shape for easy holding and maneuverability.

Cost and Value
This is the most expensive kit on our list. It has high-quality award winning items conveniently packaged together for mom and baby. The fact that this company thought of mom care makes it a great value!
Pros
Nasal care
Tummy care
Mommy care
Carrying case
Nail care
8. Mommy's Helper Nursery Essentials
Mommy's Helper Nursery Essentials is our number eight pick. This grooming kit has a well-organized carrying case that will keep everything neatly in its place.
Expand to see more
It includes many essential items and a few bonus items that will make parenting a baby easier. This is a great kit if you like to keep things neat and organized.

Benefits
The included nasal aspirator separates for easy cleaning. The comb has rounded longer tines to prevent you from accidentally scratching your baby's sensitive head when combing their hair. The brush has soft bristles and a longer handle for easy brushing.

What We Like About It
The boo-boo pack is our favorite item in this kit. It is a convenient cold pack in a small disk shape perfect for putting on little bumps and bruises that are inevitable when you have a little one discovering the world.

Cost and Value
This grooming kit is priced in the middle of our list. The carrying case with organizational features makes this a great value. The items included have special safety features that will make you feel comfortable using them on your new baby.

Pros
Rounded tips on the comb
Organizational carrying case
Boo-boo pack included
Soft bristle brush
Cleanable nasal aspirator
9. Solavae Newborn, Baby, Infant & Toddler
The Solave Newborn, Baby, and Toddler Grooming Kit is our number nine choice. This grooming kit has everything you need to keep your little one's nails in great shape.
Expand to see more
You can keep them short and smooth on the edges so your baby isn't scratching you or themselves. The kit includes a convenient carrying case and something to assist with nasal care.
Benefits
The egg-shaped carrying case keeps everything in one place and fits nicely in a diaper bag or near a
changing table
. It has a place for everything to fit in vertically so you do not have to waste time searching in a bag for your items.
What We Like About It
The nail scissors and nail clippers have ergonomic and universal handles that will work for both left and right-handed people. This kit includes nasal tweezers to hygienically assist with booger removal. This is a great small grooming kit to keep nearby for when your baby's nails need a quick trim.
Cost and Value
This kit is on the low end of our price point. It is a great value because the items are easily accessible and extremely useful. You will be using these items as your baby grows into a toddler. It also includes an emery board with a handle for easy maneuverability.
Pros
Compact carrying case
Vertical storage for easy accessibility
Universal ergonomic handles
Rounded tip on nasal tweezers
Emory board with handle
Cons
The nail clippers are big for newborn hands
10. Safety 1st Stock Up Full Circle
Our number ten pick is the Safety 1st Stock-Up Grooming Kit. This is truly an item that includes all of the little grooming items you will need for your baby.
Expand to see more
It also includes a few needed medical items as well. The two carrying cases will make it easy to take items on the go in your diaper bag as needed. This is a great grooming kit if you are looking for an all in one solution.

Benefits
This kit also included two carrying cases one is big and has three see-through zipper compartments, the other one is smaller for travel so you can place a few items in your diaper bag as needed.

What We Like About It
This kit has a very handy cradle cap comb with two different types of combs. One is a rubber tipped comb for listening flakes and the other is a small narrow toothed comb that will brush them out gently. It also has two nasal aspirators to assist you when your little guy or gal has a runny nose.

Cost and Value
The cost for this kit is near the top of our price point. It comes with many much-needed baby items that will make your life easier. It is a great value because you can pop the items you need while out of the house into the smaller carrying case as needed.
Pros
Two carrying cases
Two nasal aspirators
Cradle cap comb
Probe covers for thermometer included
Soft bristle brush
Conclusion
Grooming for a newborn baby isn't exactly on a new parent's mind. We know that this task tends to get lost sometimes or at least the most forgotten about when it comes to everything else a new parent has to worry about with their newest addition to their family. We also know how difficult it can be keeping them nice and tidy and out of reach for little hands. Some of these kids do contain medical items but most of them are for nail purposes. There's also a brush set on our list that will work perfectly for your little one's soft hairs and won't harm them during the brushing process. One thing we took into special consideration when researching these kits was making sure each kit passed a safety test. We also looked into customer reviews making sure that every customer was satisfied with their purchase. While some reviews, of course, weren't always positive we also looked at the negatives as well.
We wanted to make sure that the items on our list were the current highest rated grooming kits available in today's market. We know the last thing that a parent wants to do is spend hours doing research on which kit is the best, so we took it upon ourselves and did the tedious task for you. Please look at our top ten list above and we're sure you will find the perfect kit for your new bundle of joy.
Criteria Used in Evaluation of the Best Baby Grooming Kits
Durability
One factor that was important for us was making sure that these items wouldn't break. The last thing a parent would want is in the middle of grooming their baby is having whatever tool they're using break mid-process. Each of these kits are durable, long lasting and can be kept in a proper container so you won't have to wonder about where you put that fingernail clipper.
However, one thing that parents need to be reminded of is that you should eventually get new baby nail clippers and scissors as you won't want to use those ones forever. It's all about good hygiene. Eventually those will need replacing. Each of the kits on our list all have a high rating. We wanted nothing but the best of the best of these products and we made sure that we found them.
Convenience
We also took into consideration convenience. We wanted to make sure that we made your life a little bit easier by making sure that these kits were accessible whenever you needed them. Some of these kits are perfect size from newborn and will grow along until your child reaches that young toddler stage. It's important to know that most of these kits on our list will fit your needs until your child is about two years old.
Storage
With a new baby, comes new things and many, many accessories. New parents already have to figure out where everything is going to go in your baby's nursery and we wanted to make sure that these kits wouldn't take up a lot of room. We've stated before how this kit is the perfect size to use from a newborn baby all the way up to when your baby is a toddler. Most of these kits come in a variety of styles, cases, bags, and boxes. Some you'll even be able to carry on the road with you as they'll be able to fit right inside your diaper bag.
Comfort
Parent comfort and baby comfort are key when you are trying to clip tiny little nails. You need to make sure that the nail scissors you have fit well into your hand so that you can properly trim your little one's nails. You also need to have ergonomic nail clippers so you can comfortably use them. If your nail care items are not comfortable and do not fit into your hand easily it makes it easier mistakenly clip your little guy or gal's skin. We also made sure that the brushes in our selected grooming kits have baby safe bristles so you will not be able to injure your little one's scalp while you brush. The handles on the brushes and combs are made to fit the hand of an adult comfortably without being so big that you can't use it on a small baby. Comfort for mom and baby are always a priority for our lists.
FAQ
Frequently Asked Questions
Q: Are nail clippers safe for newborns?
A: We highly recommend using nail scissors for newborns. They are easier to mauver and it is easier to see what you are doing with a tool that is smaller. You can certainly use nail clippers, but you must be very careful to not clip your baby's fingertip. Make sure that your baby's nails are long enough to fit into the clipper, if the clipper cannot rest between the fingertip and the fingernail then you should not use them. This increases the risk of snipping your baby's fingertip. As your baby grows and their fingers get bigger it will be much easier to use traditional nail clippers. Many companies recommend exclusive use of nail scissors for the first 6 to 9 months.
Q: How do I use nail scissors?
A: Nail scissors are not a difficult item to use. You need to make sure you are relaxed and your baby is relaxed before starting any grooming activity. You may want to try doing this while your baby is sleeping at first so you can get more comfortable with the task, or make sure that you have another person nearby to assist with distracting your baby so you can fully focus on the task at hand. You will place the scissors in your hand properly and hold your little one's hand with the opposite hand. THen you bring the slightly open scissors near your baby's fingernail and snip off the end. You may have to do this multiple times per nail to ensure that you do not have any sharp edges. Repeat the same process with their toenails. When you are trimming fingernails you want to have a more rounded edge to the nail. When you are trimming toenails make sure that you cut straight across so your baby does not get ingrown toenails.
Q: How do I clean my nasal aspirator?
A: A nasal aspirator is used to suck snot out of your little one's nose. Little babies can not blow their own noses. It is a skill that is usually acquired around 3 or 4 years old. You have to have an alternative method of snot removal. The traditional bulb style aspirator is the hardest to clean and keep clean. They often hold onto the gunk you remove from your baby. The best way to clean them is to fill a coffee cup (or something of a similar size) with hot soapy water and suck the water up and blow it out of the aspirator multiple times. You then want to store it upright with the bulb at the top so any water can drain out. The bulb style aspirator should be replaced every four to six weeks depending on how often it is used. There are newer style aspirators that have a larger bulb and a removable tip. These aspirators are much easier to clean and only need to be replaced if they are damaged. To clean this style of aspirator you need to first pull apart the bulb and the tip. Once this is done rinse the aspirator parts in warm soapy water and allow to air dry. You can also find aspirators that use human suction to assist with snot removal. This style of aspirator usually has a bulb or syringe style piece that goes at the edge of the baby's nose. It also has a filter and a long tube with a mouthpiece. The bulb end is placed near the baby's nose and (with a filter in place) the mouthpiece is placed in a caregiver's mouth and they create suction by sucking on the mouthpiece. This is a great way to be in full control of the amount of suction you are using to remove snot. To clean this style of nasal aspirator you remove the syringe or bulb style end from the tube and take it apart. You then remove the mouthpiece and rinse all parts in warm soapy water. You will have to remember to change the filter with each use to prevent your baby's snot from going into the tube and possibly into your mouth.
Q: Are emery boards necessary?
A: Emery boards, nail files, whatever you call them, they are certainly very necessary for your baby. All styles of nail clippers will leave small sharp edges when they are used. An emery board or nail file will be able to easily file away any sharp edges you might have left after clipping your guy or gal's nails. They are also great in a pinch if you have one stray fingernail that got snagged. You can easily whip out an emery board or nail file and make the nail area smooth again so that you and your baby's skin is safe from scratches.
Q: Do I need a medicine dispenser?
A: You will most certainly need a medicine dispenser at some point during your child's infancy. They will need to have vitamins, teething medicine or possible an antibiotic at some point. The kits we have chosen have a variety of medicine dispensers. There is the typical syringe dispenser that is a tube with a narrow opening on one end and a plunger to create suction and push the medicine out. You can find these in over the counter baby medicines. This is the most common type of medicine dispenser. It is not always the most convenient. We also have a grooming kit that includes a pacifier medicine dispenser. This is great for younger babies. Sucking is a reflex, so they will probably get the most medicine this way. There are also small bottle style dispensers. These are great for older babies because they hold a bit more medicine than the pacifier style. You can also find medicine droppers with a bulb at one end of a plastic tube, these work much the same way that the syringe style dispensers work. You can also find spoon style dispensers that have a tube attached to hold the medicine and a spoon end for pouring the medicine into your little one's mouth. You will be able to figure out what works best for you and your baby quickly. Our recommendation is to try a few types of medicine dispenser so you can find exactly the style that works best for you. Also, remember that babies are constantly growing and changing, so your preference may change with time.
Q: Can I trust a grooming kit thermometer?
A: Many of the reviews that we read had negative things to say about the thermometers included in grooming kits. A thermometer is no the primary purpose of a grooming kit, it is an extra bonus item. Thermometers that must be placed in a baby's mouth or armpit are incredibly difficult to use correctly. Temperature strips that are placed on your infant's forehead are just for reference so you know if their temp has spiked. We highly recommend looking into getting a high-quality thermometer for your infant. Grooming kit thermometers are good for quick reference, but a higher quality thermometer will give you a more accurate reading.