One of the most comfortable activities for infants, besides sleeping, is swinging. For infants, the movement of swinging is very similar to the rocking motion babies are used to when they are in the womb, so they will just love one of these baby swings. These swings are perfect for those nights where all you'll want to do is just get a few minutes of sleep yourself as most of the swings on our list below rock themselves. The question you'll have to ask yourself is: which of these swings are you going to buy. This, of course, will depend on the room that you're going to put your baby's swing in and what features will suit you and your baby's needs.
All of these swings are so versatile whether it's positions or motions available for each model. It will certainly be hard to select just one that is best for your baby when they are all so wonderful to choose from. We feature a few swings that are also perfect for outdoors like a regular swing, but most on our list are designed for indoor use and stand on their own. Every product on our list has differences with design, added features, and mobility. However, all these swings are comfortable, soothing, easy to clean, simple to assemble and entertaining for your baby. All the indoor styles have mobiles with cute plush toys attached that your baby can stare at including, butterflies, bunnies, puppies, hearts, birds, balls or owls.
Some of the styles can double as gliders or cradles. These styles can also rock which will increase the comfort and soothing level for your baby. They are so relaxing that your baby will eventually fall asleep and potentially take many naps in it. Parents should also be reminded that while these swings will help get your baby to fall asleep, naps in your baby's swings should be limited because sleeping in a crib or baby bed is much better for them. We highlight so many options on our list below that have safety features including harnesses, shoulder straps, and T-bars to hold your baby in the swing so that they are safe and secure.
10 Best Baby Swings Reviewed
1. Little Tikes 2-in-1 Snug 'n Secure

Little Tikes products
are known for their superior quality, dependable, and enjoyment. The Snug 'n Secure Swing lives up to the fantastic brand. It includes a T-bar that is hinged and makes entry and exit of the swing simple and easy. Shoulder straps hold the baby in this swing that is suitable for babies and toddlers.
Expand to see more
The shoulder straps and T-bar can be removed when the child no longer needs them to be held in the swing. It can be used inside or outside, and even on a deck or porch. The anchors are not included to attach the swing; however, it is easy to install on a swing set, framework, or in a tree. It is durable and long-lasting and will provide years of fun for your child.

Benefits
The safety mechanisms in place for this item will hold your child securely in place. There is no need to worry about them slipping out or being ejected from the swing.

What We Like About It
Babies can use this swing well into their toddler years because of the ability to remove the T-bar and the shoulder straps. They should get plenty of use and fun as babies enjoy this durable swing.
Includes a T-bar and shoulder straps for security
Shoulder straps and T-bar can be removed
Can be used indoors or outdoors
Made in the USA
Perfect for babies and toddlers
Some parents disappointed with the rope quality
A few had trouble getting their babies in the swing
2. Step2 Infant To Toddler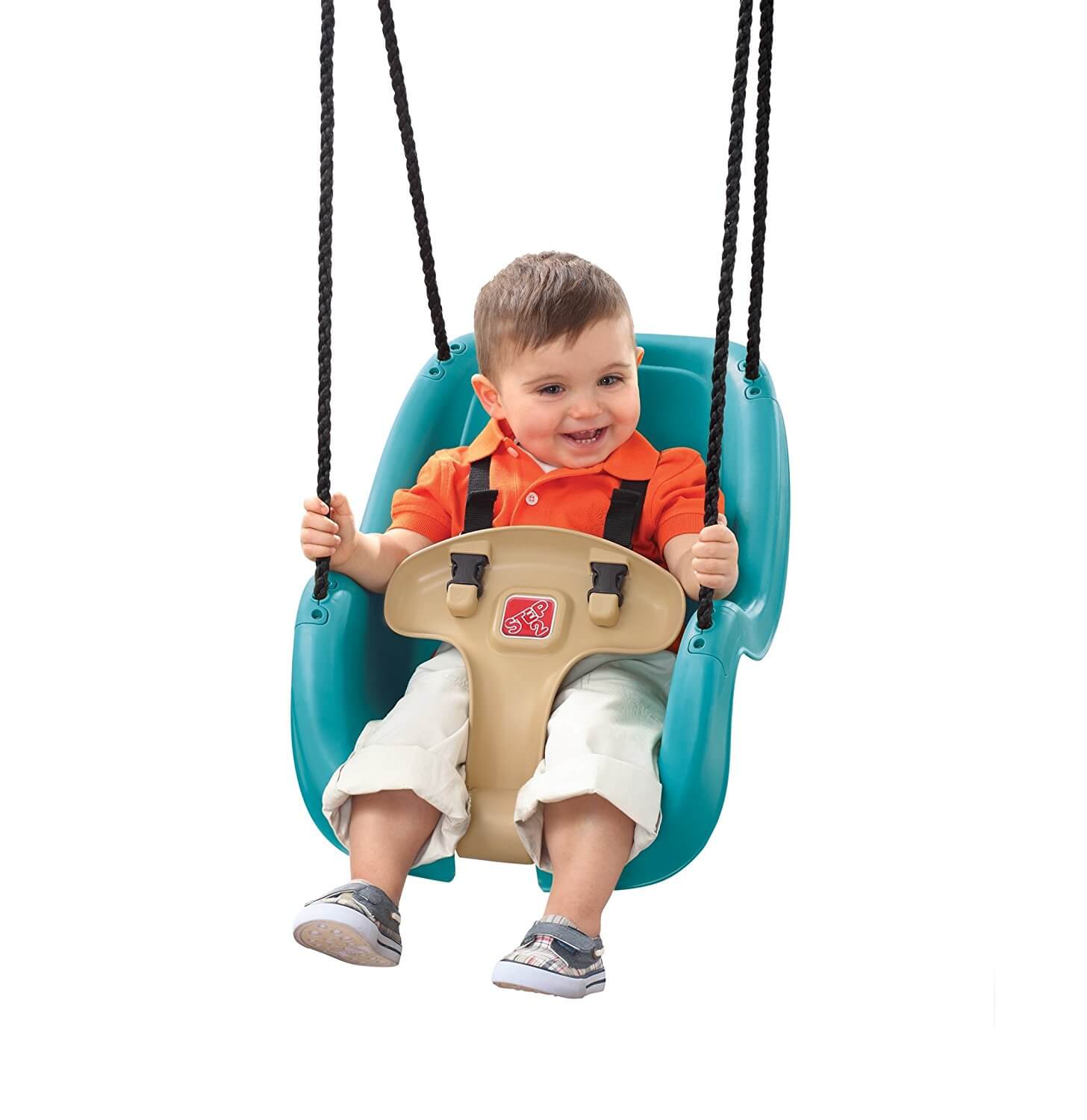 Children aged nine-months to three-years-old can use this versatile swing inside or outside. It can be hung outdoors or indoors in a great variety of situations with the strong, weather-resistant rope. A baby or toddler fits securely and snugly in the swing and can be easily loaded and unloaded into the item.
Expand to see more
It includes a restraining system of shoulder straps and a T-bar to ensure the child's safety while swinging. The swing is easy to care for, as it can be simply and easily cleaned by wiping it off. This product is made in the USA and makes a wonderful present or gift for the baby you know.

Benefits
A wide range of children can use this swing and for a good number of years. Infants to older toddlers can use this swing well and enjoy the fun motion it provides.

What We Like About It
Parents can put this swing a lot of places where the baby can swing freely. It can be attached to a swing set, tree limb, or A-frame in the yard. Other good places are porches, decks, and even indoors on a frame.
Provides easy loading and unloading
Includes shoulder straps and T-bar
Has a weather-resistant strong rope
Can be easily cleaned
Made in the USA
Rope can be a bit stretchy
Some did not think the rope was long enough
3. Fisher-Price Sweet Snugapuppy
We all know that Fisher-Price is known for supreme creations for children, so this high-quality swing from them is no a surprise. It has two motions of swinging for soothing the baby. Choose from head-to-toe or side-to-side. Six speeds are possible, as well as sixteen sounds and songs to lull baby.
Expand to see more
A motorized mobile that has animal toys and a globe with mirrors hangs from the top of the swing for the child to gaze at. For reclining, there are two positions and three seat positions. Babies can face left, or right, or in the center. The mechanism can sense the weight of the baby so as he or she grows, the swing will not slow down with the added weight. This swing can be powered by batteries or electric cord. The seat pad is machine-washable, plus there is a My Little Snugapuppy insert for the body and support for the head.

Benefits
This swing can be operated with batteries or electric current, making it usable almost anywhere you go. Where electricity is not available your baby can still swing comfortably.

What We Like About It
The many options to set the speed, motion direction, seat position, and sounds make this a wonderful swing for your infant. Try different combinations of these settings to find the most enjoyable for your little cutie.
Has two motions of swinging, two positions of reclining and three seat positions
Includes six speeds, sixteen sounds, and a motorized mobile
Seat pad is machine washable
Powered by batteries or electric cord
Can sense the weight of the baby
Some had issues with the motor operating
A few complaints about mold under the seat pad
4. Fisher-Price Papasan
What a beautiful swing this is for babies with the floating butterflies and light show! The mobile is motorized with a starlight show, music, and soft toys that hang. Parents can adjust the swing for six speeds and sixteen nature sounds and songs.
Expand to see more
Included are two motions for swinging of side-to-side and head-to-toe. Three seat positions and to selections for reclining are available. Positions are easily adjustable by the press of a button. The seat is cozy and deep Papasan-style, plus the seat pad and head support are removable and machine-washable. This swing comes in two color choices, and it is powered by electric cord or batteries. The steel frame is durable and strong, plus it can fold up easily for travel or storage. With the three-point harness feature, your baby will be secure and safe in this lovely swing.
Benefits
This Papasan-style seat
hugs the baby's body
more than the other swings and makes them feel like they are being held. The added support for the head will make them oh, so comfortable.
What We Like About It
The combination of the charming canopy and the delicate butterflies that project on it are so sweet! Babies will be enchanted with this magical light show for hours.
Positions are easily adjustable
Seat pad and head support are removable
Powered by electric cord or batteries
Steel frame is durable and strong
Swing can fold up easily
Canopy was a problem for some parents
Legs were troublesome if not placed perfectly
5. Fisher Price Snugabunny
The Snugabunny Swing from Fisher-Price is one of the most darling swings for babies we have seen. It includes a Snugabunny insert to cushion the body and a head support with bunny ears for the head. The overhead mobile is motorized and has a globe with mirrors and flying birds, plus a plush, tethered bunny toy is included to snuggle with.
Expand to see more
This swing includes two motions for swinging. Parents can adjust for front-to-back or side-to-side motions, plus six speeds and sixteen nature sounds and songs. It will operate on batteries or electric current, and babies can face left, right, or in the center. This item contains three seat positions and two reclining positions. The swing positions can be changed with a simple press of a button, and the seat cover is machine-washable. The swing can sense the weight of the baby, so the motion does not slow because of the extra weight as the baby grows. The legs of this product fold up for travel and storage.

Benefits
The operation is possible by electric current or batteries, making this a versatile swing that can be used almost anywhere. Battery power is saved while at home with the handy plug-in.

What We Like About It
This adorable swing will delight your baby with the flying, soft birds on the mobile and the plush bunny toy to hug. He or she will be lulled into a sweet dreamy state with all of this comfort.
Positions are easily adjustable
Seat pad and head support are removable
Powered by electric cord or batteries
Steel frame is durable and strong
Swing can fold up easily
Canopy was a problem for some parents
Legs were troublesome if not placed perfectly
6. Fisher-Price Deluxe Auto Rock 'n Play Sleeper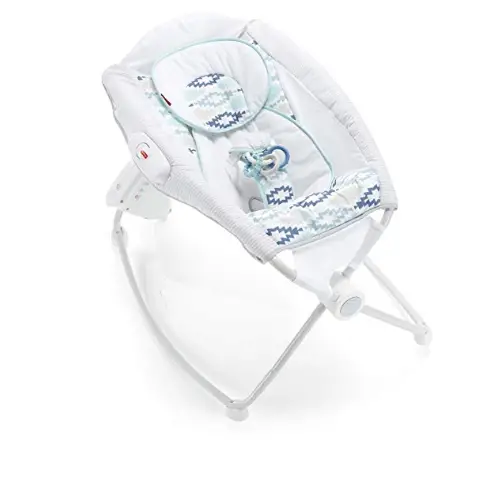 Summary
This seat is a two in one. It's perfect for putting your infant to sleep in or it can even be used during play. It's made of supportive, comfy, materials that will help your infant stay asleep throughout the night. This sleeper vibrates which will help keep your baby calm. Parents also won't have to stay up all hours of the night rocking your baby to sleep, this sleeper does it for you with one simple push.
Expand to see more
This sleeper is completely safe for your baby. It's soft cushioning and vibrations will help your baby fall asleep. This swing comes in three different versions but they all have relatively the same features.

Benefits
This sleeper comes with vibrations and the ability to rock on its own. It's lightweight which makes it easy for traveling or storing. It's also machine washable if your little one happens to make a mess.

What we like about this product:

We love this product because it's perfect as a bouncer for your baby. It's very light and easy to fold so it's also perfect if you need to travel or find a home for it at night if you don't plan to use it as a sleeper.
Has a gentle side-to-side motion
Includes two speeds of vibration
Has six speeds, five nature sounds, and 10 songs
Mobile includes three plush toys
Contains a five-point harness
May make a loud clicking sound
Legs possibly come off the floor when in motion
7. Graco DuetSoothe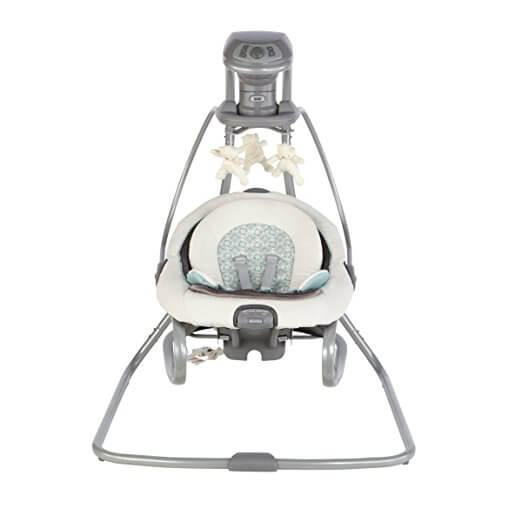 This Graco item is both a swing and a rocker that lets you choose easily the one to soothe your infant. The swing seat is quickly removable to be used as a rocker. The Winslet can be powered by batteries or electric current and has an easy-to-grip carrying handle.
Expand to see more
It has three seating positions and two swing motions, plus babies can move front-to-back or side-to-side. A two-speed vibrator will relax your infant, and the three adorable toys on the mobile will entertain them. The seat is roomy with body recline and support, plus the model comes in two color choices. A five-point harness is implemented for security and safety. The seat pad can be machine-washed, and the frame can be cleaned with just water and soap.

Benefits
Babies can be entertained for hours with the mobile toys and sounds of this swing. Three plush toys hang from the mobile and infants can listen to nature sounds and melodies as they rock or swing in this product.

What We Like About It
This charming swing from Graco also doubles as a rocker that can be easily moved by the nifty easy-grip handle. Sometimes your baby may just want to be rocked instead of swinging, and the change is just as easy as picking them up in the removable rocker.
Powered by batteries or electric current
Remove the swing seat to use as a rocker
Includes a two-speed vibrator
Has five nature sounds and ten melodies
Has a five-point harness
Makes a loud clicking noise when set to vibrate
Some buyers say the swing moves slow
8. Graco Lite LX Ripley
The Gliding Baby Swing by Graco has a gentle motion similar to you comforting and cuddling them yourself. It includes a portable, lightweight frame and can be
used in any room
of the house.
Expand to see more
The seat is soft and roomy with a comfortable head support, plus the swing includes six gliding speeds to fit baby's various moods. Five nature sounds and ten soft melodies will lull the baby into a dreamy state, and the toy bar over the top hold two plush toys to entertain them. Three color choices are available, and a five-point harness will keep the baby secure and safe. The built-in timer will help you save on battery life and time swinging sessions.

Benefits
This swing has a built-in timer to set a timed session to swing your baby. This helps save on battery power and ensures that your infant does not spend too much time in the swing.

What We Like About It
The toy bar over the swing is adjustable and hold two included soft toys. Other toys can be added to this bar to entertain your baby and give them plenty of objects to look at.
Seat is soft and roomy with head support
Includes six gliding speeds
Has five nature sounds and ten soft melodies
Comes in three color choices
Includes a five-point harness, toy bar, and timer
Did not work for a few people
Some did not like the positioning of the seat
9. Fisher Price Moonlight Meadow
Fisher-Price created this baby swing that can convert to a cradle too. Just simply lift out the body of the swing and it is a cradle. There is no need to interrupt the baby to change over. This swing features two motions for swinging, six speeds, two reclining positions, and three seat positions.
Expand to see more
It has a motorized mobile that has a mirrored globe with three plush animal toys. Included are sixteen songs and nature sounds, plus a rattle toy that can be taken off for play elsewhere. The toys on the mirror promote eye-tracking and provide entertainment. The fabrics are soft and cushiony, and the swing has a light canopy. The head support and body insert are removable and machine-washable. This is a Papasan-style swing, meaning that it holds the baby snugly much like a person would hold them. This swing operates with the push of a button and with electric current or batteries.

Benefits
Wherever you are your child can use this versatile swing. It can be powered by batteries for those places away from home or by electric current when at home or near an electric source.

What We Like About It
Comfort was the main focus of the manufacturer when this baby swing was made. It has a head support and a seat pad to cushion the body, plus the fabrics used as so very soft and plush. Your baby will not want to nap anywhere else but this luxurious swing.
Can be a swing or a cradle
Has a light canopy, head support, and body insert
Is a Papasan-style swing
Operates with the push of a button
Some complaints of the loud noise of the motor
The motor stopped working for a few people
10. Fisher Price SpaceSaver
The Luv U Zoo Swing can become just a seat by just lifting it out of the swing frame. Infants can still experience motion with the seat because it will vibrate to lull the baby into a calm state. The swing has seven tunes to soothe baby, plus sound effects and a toy bar with animal toys.
Expand to see more
Two colors are available for this item that
includes a five-point harness
for security and safety. The durable handles make this swing easy to transport and lift, plus the sturdy feet will not skid on smooth surfaces. This swing has a removable seat pad that is machine-washable. This Space Saver Swing and Seat is a great product for those that travel a lot or want to move the swing from room to room often.
Benefits
Even though this swing is smaller than some of the others, it still has plenty of qualities that make it so needed. Babies can listen to music and sound effects or be entertained by the animal toys that hand from the overhead toy bar.
What We Like About It
This is one of the more compact baby swings we feature here that is so charming. Not only can it be used almost anywhere you have even a tiny space,
but it also converts
simply to just a seat that can vibrate.
Features a compact design
Toy bar can swing away and has animal toys
Includes a five-point harness
Two colors are available
Removable seat pad is machine-washable
Material seems thin with little padding
Some say there is not much difference in the speeds
Criteria Used in Evaluation of the Best Baby Swings
Each item is suitable for babies
The stars of this page, of course, are babies, the products on our list are just for them exclusively. Each swing that we have listed fits only a baby and has only specific features that a baby will love. Some come with sweet toys, lights, sounds, melodies, songs, soft padding, head supports, and many different swinging options. Parents won't have to worry as much as protective measures have been met and will keep your baby safe in these swings. Some styles include shoulder straps, T-bars, and safety harnesses. Manufacturers took special measures into consideration, guaranteeing the enjoyment and the comfort for your baby in these charming swings just for them.
Only the best-rated, mostly purchased items are listed
For our top 10 list, we selected only the current, best-rated baby swings for your review. We want to make your shopping experience a little bit easier as the search for the best baby swing can be a bit tedious. Our list saves you from looking through many products that are just so-so and not the best that manufacturers have to offer in today's market. These are also the baby swings that buyers are always raving about which is why we considered the comments that they took time to write and post.
All products are comfortable, soothing, and relaxing for babies
A baby swing must be above all else comfortable. These are all very comfortable because of the many positions of motions parents can set, the extra padding and cushions for the head and body, and the extra features of music, sounds, and mobile toys. Babies should take to these swings right away and exhibit their pleasure with a peaceful look and relaxed demeanor.
Each swing is easy to clean, durable, simple to assemble, and easy to use
Most of these baby swings have detachable seat pads and head supports that can be easily machine-washed and dried. The other parts of the swings can be just wiped clean. Only high-quality materials went into the creation of these swings to ensure your infant's safety and comfort, as well as the product's long life. These are all very easy to use and assemble with the manufacturer's simple instructions included. Even the safety features of harnesses and shoulder straps are easy to manipulate and use.
FAQ
Frequently Asked Questions
Q: What is the weight limit for the swings that can be placed outside in trees or on frames for older babies?
A: The three that we highlight here, the Little Tikes swing and the Step2 Infant swing have a weight limit of 50 pounds. This information is from the manufacturer and is listed on the product sheet that comes with the swing.
Q: Can the swings that are for older babies be used indoors? It looks like they must be put in a tree or on a frame to attach them.
A: This depends on the height of the ceilings in the room, the space available for the swing to move, and what it will be attached to. A frame can be made out of wood or other strong substance like a tripod that could be used inside. A few people attached them to their decks or porches to provide a sheltered place to use the swings.
Q: How long can babies use these swings in terms of months?
A: Doctors recommend that infants only use these swings up to the age of about 6 months old. They will either be too big to fit in them at this time or may possibly be able to get out of them on their own. This would be a safety concern to use them longer than six months.
Q: The swings that have the dangling toys, can these be removed?
A: No, the added toys that are usually at the top of the swings for the baby to gaze at cannot be removed.
Q: How soon can you put a newborn in one of these swings?
A: Newborns can use these, especially the swings that are able to recline the most. Babies just a few days old will enjoy the swinging experience, the music that most of them play, and the colorful objects to look at in the top.
Q: Can these swings be washed? Do they have removable pieces that can be washed?
A: Most of the swings have removable seat pads and head supports that can be machine-washed. The hardware parts of the swings can be simply wiped down with soap and water.
Q: Do the swings make noise as they rock the baby?
A: There have been complaints of squeaky swings as they are operating or ones that make a clicking noise. None of the manufacturers state that the swings are quiet or noiseless. The motors do make some noise but should be soft enough to not disturb the solitude of the infant or anyone nearby.
Q: What is the power source for these swings, battery or plug-in?
A: Most of the baby items listed can be operated by both batteries and electric current. Only a few of them just use batteries for operation, but these are more portable than the other models. Because they are great for travel and moving from room to room, these models operate on batteries only.