If you're new to parenthood or perhaps just exploring your options as far as transportation for your baby, you've probably heard of a pram. It looks just like a stroller but most of us can't figure out why it has such a fancy name or why it's any better than a regular stroller. There is a distinct difference between the two, and prams aren't just fancy names for expensive strollers (because not all of them are pricey!); whereas strollers allow a baby to sit up while seated, prams allow your baby to lay down the entire time. Prams are great for newborns or babies who aren't comfortable sitting up yet because they allow that feeling of comfort and will make them feel secure in a stroller. Many times, regular strollers force a child to sit up which can be overwhelming while they're already taking in all the sights outside of their own home.
That's not the only benefit of this fancy baby carriage, but we'll get to more of that later on. For now, we'd just love to show you how truly affordable and helpful one of these can be for you and your baby, and how much more natural it can be than a regular stroller. If you're looking to find something different for your newborn that will make them feel at ease on daily walks, protect them throughout all kinds of weather, and provide all the support they need in just the right places, then continue reading!
10 Best Baby Prams Reviewed
1. Evenflo Pivot Modular
This is an excellent choice for new parents because it's not just a two-in-one, it's literally two incredible quality products that work together seamlessly. The Pivot Modular Travel system by Evenflo is really all you need to take your baby from a walk, to the car, and back again.
Expand to see more
The set comes with a car seat that easy to use and keeps your baby safe and protected, but what we really love is the stroller. The reclined position allows your newborn to lean back just like a pram would, while providing all the necessary comfort they need to avoid being restless and fussing whilst out on walks. It can be converted as your child grows as well, so when they're of age they'll be able to use this pram as a normal stroller as well. It's a great bargain for all that you get with it from a well-trusted brand like Evenflo.

Benefits
You're getting two products really for the price of one, including one that's actually a two-in-one pram and stroller. It's something that will grow as your baby does and allow you both to get all you can out of your walks.

What We Like About It
This stroller can be folded up when not in use and stored away to save room, but this also means that it travels extremely well. Rather than having to buy another stroller that's smaller and saves space, you have everything you need to save you time, space, and frustration.

Pros
Two products in one
Stroller/pram can be stored away easily
The pram can be converted as your baby gets older
Allows for various reclining angles
Includes a cover to protect babies from the elements
Cons
It's definitely a little expensive if all you need is a pram
2. Roan Rocco Classic
Having a pram that can be converted into a stroller as your child grows will save you both money and time. It's the most efficient way to have your child covered through all phases of their growth up until toddlerhood and the Roan Rocco Classic, in particular, is perfect for that.
Expand to see more
It's able to be folded completely flat to take up the least room possible so that you can store it in a closet, near the front door, next to a shelf, etc. It also features a basket underneath to store all the baby items you take with you on walks or even to store items for when you go shopping, which is a really nice bonus. The interior is completely covered when it's set up as a pram which takes away all the stress you'd normally have when it comes to taking your baby out in inclement weather. Overall, this pram is simple but efficient and built extremely well.

Benefits
When you go with the Roan pram, you're choosing a product that will last you for a solid three years. It has a relatively high weight limit and can be used for kids age three and under, making it a wise investment and saving you money in the long run.

What We Like About It
This pram comes in three different color options which might seem like nothing, but we think it's a nice gesture that Roan thought to include. It's little extras like this where the price point makes a difference because you can tell that plenty of thought went into the design process.

Pros
Can be used for three years
Convertible from a pram to a stroller
Comes in three different colors
Sturdy and durable
Features storage underneath
Cons
The wheels have an occasional "creak"
3. Cynebaby Convertible
The great thing about going with a pram rather than a general stroller is that most of them can be converted, which saves you the hassle of purchasing a normal stroller later on. The Cynebaby Convertible
Bassinet
is a great value for your money if you're not looking to spend anything more than you would on a normal stroller because it does convert and can be used as both.
Expand to see more
The design of this pram is stunning since it has been designed to be used as a pram first, stroller second, and it's chic, minimal, but has a nice elegance about it that you won't find in any other strollers. It features durable wheels, a full cover, front braking system, decent storage, a cup holder, and even a parking brake. It's truly a great pram for on-the-go parents who love taking their babies out and need something that will hold up to a lot of travel, while still providing flexibility with options.

Benefits
Why not both? This bassinet functions amazing as a pram, but the stroller function isn't bad, either. It has proper support for a growing baby as well as an additional safety bar, helping to slowly ease your child into their stroller phase.

What We Like About It
To be quite honest, the thing we love the most is the chic design of this pram. We already know it works well and goes above and beyond in serving its purpose, but it also looks like something straight out of a dream, which catches our attention.

Pros
Great design
Can be converted to a stroller easily
Has good safety features
Provides your baby with a ton of comfort
The braking system is excellent
Cons
The quality of the plastic pieces is not the best
4. Costzon Foldable Buggy
If having your baby fully-covered is your thing, then this stroller is absolutely perfect for you. It's a bit funny because when you first look at it, you'd think your baby was a tiny mummy wrapped up and tucked away in this pram when it's in its upright stroller position.
Expand to see more
However, in doing so, it offers incredible support for your baby's growing body, protects them from all the elements, and keeps them super warm during those colder months. The foot cover can be removed for the hot seasons, of course, but it's nice to know that you'll have a way to keep your baby comfortable in all types of weather. We'd go ahead and say that this is the type of pram you're looking for if you live in a place where you experience all four seasons and really need the versatility to go in between them. In addition, this pram can be converted to a full stroller but has various levels of reclining for every phase of your baby's growth as well. Versatility and flexibility is the main theme of this pram.

Benefits
The great thing about prams is that they're easily stored, and this one is no different. It has enough versatility to be what you need it to be and then when you're all done, simply fold it flat and store away.

What We Like About It
All of the options for covering, wrapping, and buckling your baby in really put this at the top of our list for comfort. No matter the weather or season, you and your baby will be able to tackle it head-on.

Pros
Full coverage for your baby
Designed to be all-weather
Can be stored easily
Unique design keeps your baby protected
5. Hot Mom Travel System
Despite the interesting name of this pram, it's really very well made and durable for the most active of babies. It's incredibly well-designed and would really suit any mom who refuses to sacrifice style even in the littlest things, such as a baby stroller. The sitting space for your baby is called an "egg seat", which is totally appropriately named based on the actual design of the seat -- It looks like your baby is sitting in an actual egg, especially if you get the white pram!
Expand to see more
Aside from that, its design makes it incredible ergonomic and just adds to your baby's comfort while sitting or laying down in it, as well as yours while you're pushing it. It looks like something that just hopped off a maternity fashion show line, but this pram is
fully convertible
, can be fully covered, and has various reclining positions for optimal use.
Benefits
This pram can be adjusted in three different ways to offer support for your baby from infancy all the way to two years of age. It's also been designed with a weather-resistant material, meaning you won't need to worry about a bit of rain or snow, either.
What We Like About It
Hot Mom has thought of everything in such upbeat and positive ways that even their color options have specific names dedicated to them. You have your choice from "Elegante White", "Stylish Black", and "Happy Brown". We'll take all three at the same time, please.
Pros
Extremely stylish design
The "Egg seat" helps your baby to feel comfortable and secure
Three fun color options
Can be adjusted three different ways
Easy to maneuver
Cons
The design might be a bit too bold for some parents
6. Cynebaby Compact
If you were a fan of the Cynebaby Convertible Bassinet, then chances are, you'll love this one too. It's the same model with a few subtle differences that make it great for an urban setting. Rather than having all of the reclining options that the aforementioned model has, this compact pram offers both a pram setting and a stroller setting with nothing in between.
Expand to see more
This helps to not overcomplicate things and makes it much easier to just whip your pram or stroller into the correct setting and go. For parents who aren't out to get all the extras and don't really need something that can be customized completely, this pram is a great option.

Benefits
Designed with any type of weather in mind, this pram features a canopy that can be customized and adjusted how you like. Your baby can have full coverage or none at all if it's a beautiful, sunny warm day out.

What We Like About It
The second option for this pram is great for low-maintenance parents who want something quick and easy. For the price, you're getting all the great features that Cynebaby has to offer, but you aren't paying for things that you'll never really need to use.

Pros
Simple conversion process
Features a full canopy
Designed for use in inclement weather
Will grow with your baby
Cons
It can't be adjusted to anything between a pram and stroller
7. Cynebaby Bassinet to Stroller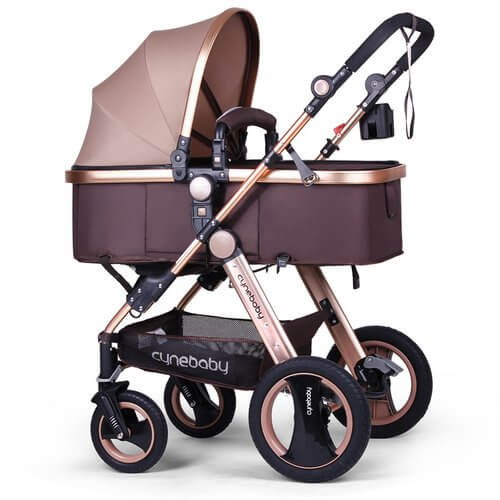 You'll notice immediately that this pram is a step above the first Cynebaby design we showed you, and what will probably tip you off almost immediately is the design of this one. The bassinet style of this stroller, in particular, is an Oxford, which is a bit fancier than most prams out there.
Expand to see more
The deep brown-burgundy color and brass detail only add to the elegance of this one of a kind pram. We'd be lying if we told you that this one is a bit more pricey because of all the extra fancy eye-catching features because it really is a stunning pram. It's worth the investment if you want something that will catch people's attention when you walk down the street, and you can put your mind at ease knowing it's held up to the same standards that all Cynebaby prams are.

Benefits
This pram does have a couple notable features that don't include its exterior appearance as well. It has an anti-shock system that will give your baby a super smooth ride experience, as well as an adjustable handlebar to add to your comfort while pushing it.

What We Like About It
The extra features of this pram are really about making parents feel proud and comfortable using it. Cynebaby has outdone themselves as far as designing this to be comfortable for your baby, but they've done an excellent job designing it to be fun for you to use, too.

Pros
Extremely elegant and flashy design
Adjustable handlebar for add comfort
Anti-shock system helps your baby to not feel a thing
Strong and solid wheels make for a smooth ride
Features a reversible bassinet
Cons
It does not fold up to be stored as easily as others
8. VEVOR Foldable Anti-Shock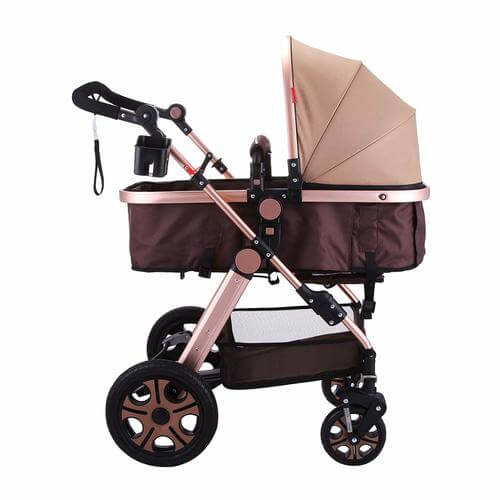 You might be looking at this stroller, a bit confused now, because of the previous stroller by Cynebaby -- They look almost identical. The difference is that this stroller is somewhat of a dupe for the Cynebaby one, and has similar features but is definitely a different animal altogether.
Expand to see more
This stroller is highly affordable which is awesome considering how stylish it appears to be on the outside, but it's also built for the comfort of your baby and ease of use for you. The
bassinet
itself can be converted into a stroller as your baby gets older and the process in doing so couldn't be easier. It also has anti-shock brakes that will ensure a smooth ride for your baby no matter what type of terrain you might be on. It can be folded to be easily stored away, so if you're looking for a pram/stroller that won't take up much room and is portable, this is a great option.
Benefits
Affordability is the greatest thing about this pram. You're spending even less than you would on a normal stroller and getting so much more with it.
What We Like About It
We love that you won't be sacrificing anything by going with a VEVOR pram, because it has every feature you'd need in a basic two-in-one pram. Not to mention, it's super stylish, which is a win-win in our book.
Pros
Anti-shock tires for a smooth ride
Can be folded and stored away
Beautiful exterior design
Full brass detailing for added elegance
Easy to convert
Cons
The instructions can be a little challenging to figure out
9. Hot Mom 360 Rotation Function System
Hot Mom makes the list again with their egg-shaped prams! In all seriousness, this pram stands alone in its uniqueness because it has the ability to be rotated 360-degrees. While it doesn't come in all the fun and "happy" colors that the other Hot Mom pram does, the rotation on this pram is amazing for walks to the park or when you're in some kind of waiting area with your baby.
Expand to see more
The top swivels easily, allowing your baby to face either you or the world. It'll provide you with so much more open access to your child while they're in their pram and won't make them feel so isolated if they're facing away from you. It has been designed and built to be a solid, durable way to get your baby around and is also incredibly easy to control.

Benefits
That rotation is pretty awesome and will make your life as a parent so much easy. It's great for feeding time as well as gentle rocking while napping too.

What We Like About It
We mentioned that this pram doesn't come in all the colors the previous one did, but there are options! This futuristic-looking product comes in a baby blue as well as light gray, making it both stylish and fun.
Pros
360-degree swivel capability
Durable and built to last
Comes in two fun colors
Features a full canopy
Can be converted easily
Cons
It might be a bit tall for some parents to be comfortable with
10. KID1st Elegant All-in-One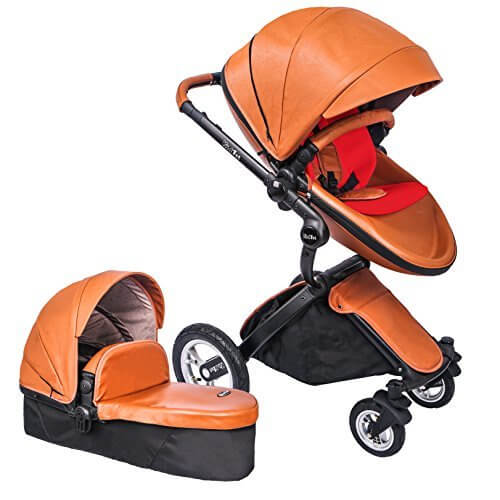 Last but certainly not least is this pram by KID1st. First and foremost, we present to you the detachable bassinet! Tah-Dah! That's the single most unique feature of this pram since it will save you so much time and hassle when it comes to
transporting your baby
to and from this pram.
Expand to see more
It's a pretty cool device because it's designed for travel -- When your baby isn't in it, you can simply fold it right up and pull it behind you like a piece of luggage. It's minimal, comes in a fancy leathered design, and is incredibly easy and simple to use. You even have a handy little storage space underneath the bassinet for add space because KID1st has truly thought of everything!

Benefits
One thing that none of the other prams have come with is an air pump for the tires. That also happens to be something that's included in your purchase of this one, putting it a slight step above.

What We Like About It
This pram was designed with a higher height in mind so that it will strategically keep your baby out of the way of possible fumes or exhaust in an urban setting. That makes it perfect for families who live in cities.
Pros
Higher design
Comes with a tire pump
Features a storage space
Can be folded and is completely compact
Provides full coverage for your baby
Cons
It's on the more expensive side
Criteria Used in Evaluation of the Best Baby Prams
You might be sitting there wondering, "but why a pram rather than just a good old stroller?" The benefits far outnumber anything else, and we feel that you'd be surprised to know that prams can help a myriad of developmental milestones for your newborn. For starters, babies have the chance to remain lying down which will help their overall spine and back health as they continue to grow and gain support in that area. Without forcing them to be propped up, they'll have the time they need to grow muscle and gain structure and balance. Proper back support is everything when it comes to your growing baby!
Secondly, there's the issue of bonding — Strollers allow your baby to face out and stare at the world, not be turned around and facing the person they love more than anyone else. If your baby is facing you, even if they're laying down, they'll constantly be reassured and comfortable and won't feel overwhelmed and anxious. Many of these prams have the option to reverse the bassinet as well, but initially, your baby should be facing you for optimal comfort both physically and mentally.
Third, your baby will be protected from the harsh fumes on the streets. The structure of a pram allows for full-body coverage with no openings that a stroller would normally have, and since your baby is not sitting up, they won't be at risk for inhaling any harmful fumes. This is key in safety for your baby and something that prams have been known for historically — Full protection is well worth the extra money you'd be spending on a pram if it means that your baby can breathe easy… Literally! If you look at a pram, it's easy to see in the overall design that your baby is tucked away in their own personal cave, if you will. They're completely covered and protected from the elements which allows them to feel much more comfortable when the outside world can be so overwhelming at times.
Fourth, while your baby is lying down, they'll be vulnerable to the motions that you provide. This means that when you're stationary, you'll be able to move the pram in such a way that it creates gentle rocking motions. These motions can help to soothe your baby and relax him or her enough that they easily fall asleep. Some parents find that car rides calm their baby down in much the same way, however, getting fresh air and exercise at the same time can be beneficial in a whole slew of ways for the two of you. As your child gets older, you'll be able to sit them upright and watch them fall asleep on their own; while your baby is still a newborn, though, rocking can have some pretty amazing sleep and calming benefits.
Fifth, they're so, so versatile! You can find prams in virtually any style, shape, and size. As we noted before, all the ones we have here can be converted into upright strollers, but you can find some pretty customizable prams out there as well. We have some stellar options on this list and in our opinion, these are the best of the best when it comes to flexibility and having options. You'll even find some with the ability to swivel a full 360 degrees, which is amazing in the way of feeding times and when you need to pick your baby up quickly. These are all designed with both parent and baby in mind, which is why they're such a great thing to invest in. You'll know your baby is as comfortable as possible while still having that chance to bond with them face-to-face that you wouldn't normally have with something like a stroller, which faces them outward rather than toward you.
FAQ
Frequently Asked Questions
Q: Why are prams so much more expensive than other strollers?
A: The price of the pram depends on the features you're looking for in it. We have some incredibly affordable products on here, and with them, you'll get the ability to convert to a stroller, full canopies, and easy storage. For a little extra money, you'll also get additional storage, unique designs, 360-rotation, and various canopy and/or foot cover options. It all depends on what you need!
Q: Can these be used when it's raining too?
A: Yes, most of these prams have been designed for use in inclement weather. You'll notice the umbrella-type canopy over the top, and normally that's water-resistant to allow for all-weather capability.
Q: How can I be sure that my baby will be comfortable in one of these?
A: Nothing is ever for sure, but we do know that based on previous performance, users had no issue getting their babies comfortable in these prams. We choose only the best, highest rated products, and each of these brands considers child safety and comfort number one on their list. There are obviously some options on here that are designed to be a bit more fancy and elegant but when it comes down to it, your baby's comfort will always be the first concern. You never know until you try, and prams have been proven more effective for newborns than any type of stroller.
Q: How will I know when it's time for my baby to be using the upright version?
A: When your baby begins trying to sit up by themselves and starts to develop noticeable back and neck muscles, you can try to have them sit upright in their pram. By this point, they're probably pretty comfortable on walks and should have no issues with sitting up for the first time!
Q: Does it make a difference if I go with a rotating bassinet or a stationary one?
A: That's a personal preference. Of course, a rotating bassinet can make a difference as far as feeding goes and if you're a fan of bringing your baby to parks, etc. When it comes down to it, the rotation is there for ease of use and so you can easily pivot your baby to be facing you rather than getting up to turn the entire pram around. You can imagine how helpful it would be during feeding time or when your baby is being a little fussy, which is why those will always be rated highly on our list.
Q: What's the difference between this and a stroller frame with the accompanying car seat?
A: The difference is the same as it would be when discussing a regular stroller and a pram. One forces your child to constantly sit up with maybe a slight reclining angle, while the other fully supports your baby lying down. A stroller frame allows you to set your car seat into the frame to create a stroller situation, as far as a detachable car seat goes, the stroller frame is great for that. With many prams, though, you'll be able to detach the bassinet, which can be of great use when your baby is sleeping or fussy and doesn't need to be taken out right away. Each of these will depend on what your needs are, whether you're looking for something that's car-friendly or simply just a travel device that will allow your baby the most comfort.