Babies on board? Don't stress. Buckle those little bugs up and hit the road!
Child safety seats were first introduced in the 1930s, but since then, a great deal of new technology and careful engineering have changed the shape and safety standard of car seats everywhere. The function of the very first children's car seats was not to protect little ones, but rather to elevate them to a level that adults could better see them. In the 1960s, this changed, given the increasingly fast and furious nature of modern cars. Two independent designs emerged around the same time, curated by Jean Ames and Leonard Rivkin. The British Ames opted for a rear-facing seat with a Y-shaped strapping mechanism, much like today's models, while American Rivkin's design was forward-facing and constructed of a metal perimeter meant to keep children in place.
Today, car seats are not only mandated by law but also designed first and foremost with your child's safety in mind. Some manufacturers work them into their vehicle's design, but the most common practice is for car owners to buy separate infant seats and install them themselves. As daunting as this may initially sound, most kids' car seats are easy to assemble and install, and many are made to grow with your infant so that they can be used through the toddler years and beyond. Below, we've gathered the current market's 10 best safety seats. They come in all sorts of shapes, styles, and colors, with a wide variety of extra features customized to suit the different needs of independent families.
Best Infant Car Seats Reviewed and Rated
Safety 1st Grow and Go 3-in-1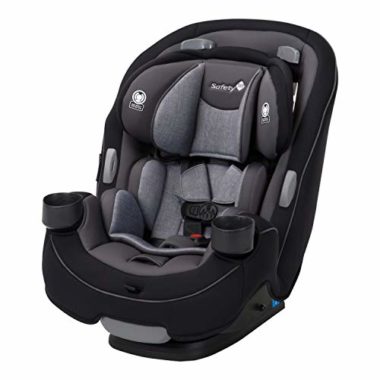 Evenflo Pivot Modular Sandstone
Peg Perego Primo Viaggio 4/35
Evenflo Symphony LX Crete
Graco SnugRide Click Connect 35 Gotham
Maxi-Cosi Mico AP Devoted Black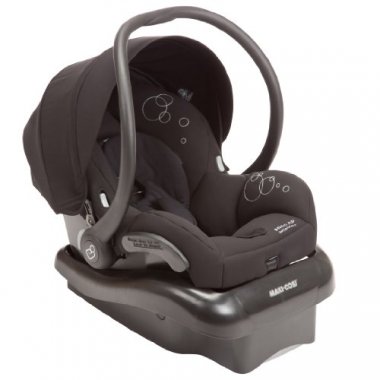 Baby Trend EZ Ride 5 Hounds Tooth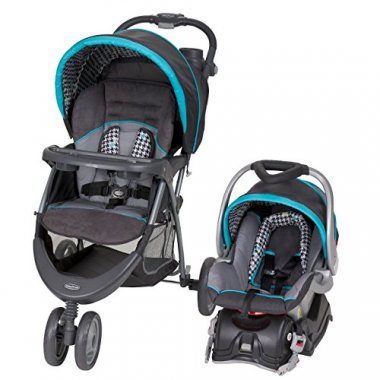 Evenflo Nurture Teal Confetti
Criteria Used in Evaluation of the Best Infant Car Seats
There are thousands to choose from. Some are built well, and others are terrible. There are so many options to choose from, it can be hard to find the right one for your growing family. But sit back and relax, because our list includes the best car seats for babies that will keep them safe and comfortable.
The seats on our list all have a few things in common. We choose chairs that are built tough and are designed for newborns. Some of the infant seats on our list are gender-focused, and others are gender-neutral.
Some of the seats that baby girls can use are pink and black with practical little girl designs like flowers and fun patterns. The bright colors and pretty flowers let people know that a particular newborn princess is relaxing in her chair. The other types of seats on our list are targeted for baby boys. They are the darker-colored seats and have bold, robust designs.
But this is 2019, and parents can put their kid in whichever pattern they want. All of them are well-made, strong, durable and have high ratings of approval. Anyone you pick is a winner.
Don't like shopping? Pick a convertible car seat system, which grows with your child, meaning the need to replace their seating arrangements will be fewer.
FAQ
Frequently Asked Questions
Q: Why are car seats important?
A: Car seats are essential for several reasons. One significant purpose is to keep your baby safe. They are made so that in case of a car accident, it gives them a higher chance of survival. Car seats never looked like a cool luxury item. But it's not about looks, it's about safety and what is best for babies.
Q: Are car seats only for infants?
A: They are only for infants. As they grow, they are required to sit in seats designed for their body size and age. When infants grow out of their seats, they still have a couple more years of sitting in a booster seat. They do this until they are old enough to sit in a car like an adult.
Q: What are some of the challenges associated with?
A: When car seats aren't installed properly in the car, it is an issue. If the seat is not fastened securely, it can put their child at risk. You should not drive with your child in the car until you are sure the infant car seat has been installed correctly. Luckily, many car seats have helpline numbers on them for assistance. The new generation are easy to set up and require minimal support. However, many hospitals are more than happy to help first-time parents install the car seat prior to leaving the hospital with a new baby.
Q: What are some mistakes parents make when dealing with this?
A: Not putting the car seat in the vehicle properly is a common mistake. There is plenty of online support to help parents figure out how to put their car seat in correctly. Parents also may try to keep their kid in a seat that doesn't fit them right, and that will cause issues down the road. Play it safe and put kids in a car seat that suits them best.
It's not recommended that babies sit in car seats for long periods of time. They can develop a bruise on their lower back if they're in there for longer than a few hours. It's best to take babies out of their car seats to let them stretch and relax, at least after every two hours when traveling long distances if possible.
Q: What are the things to look for when shopping for an infant car seat?
A: The best quality car seats are the way to go. Check out our list to find the best for your precious cargo.
Q: What is the difference between convertible car seats and infant car seats?
A: They don't transform or change into convertible car seats. Convertible car seats can change as kids grow, so parents don't have to buy another seat too often. Convertible car seats are safe, but they don't provide the same layer of protection. Because they don't transform, many feel more solid and sturdy.
Q: Which is best: infant car seats or convertible car seats?
A: It depends on how each family feels. For some families, convertible car seats are better because it saves a buck. Other families might feel that money is no object and they might opt for the more substantial infant car seat packages.
Q: Why are car seats a requirement in the United States?
A: The U.S. cares for their kids and wants them to be safe. So no matter what, each state has laws mandating that children are securely restrained in a seat, appropriate for the child's age and size. When it comes to kids, all fines tend to double when rules related to them are broken.