When you are expecting or your new bundle of joy has arrived into your family there are so many things to think about. The last thing that you want to do is add more things to your to-do list. Laundry seems like one of those to-do items on the list that never gets crossed off and with a new baby, it seems like the amount of laundry has just doubled. Between them blowing out diapers, spitting up on their clothes and yours, and all those super cute outfits that they are growing out of quickly, the laundry piles never seem to end. Then, if you are cloth diapering it may seem like you are never getting ahead.
Laundry is a task that you will never simply get done with when you have a newborn and when washing their clothes, the last thing you should have to worry about is the detergent being gentle on their skin. Laundry is just a part of life when you have little ones so swapping out your regular soap for a gentle, mild soap is a must. Deciding on which baby detergent to use can be hard, but using our list is easy. We have created a list of the best baby laundry detergents on the market. It has everything that you need to know.

10 Best Baby Laundry Detergents Reviewed
1. Molly's Suds Original 70 Loads
If you're looking for the ultimate in long-lasting detergents, Molly's Suds Original Laundry Powder is definitely up there as far as how many loads of laundry you'll get out of one purchase.
Expand to see more
The smallest amount you'll get out of their standard-sized bag is 70, which means if you do two loads a week, that's 35 weeks - Roughly eight months of laundry that you'll get out of one bag. You have the option to get bigger bags as well if you end up really loving this detergent, and we're about to tell you why you might. The soap itself is eco-friendly and "people safe", meaning it's been tested efficiently in being helpful for anyone suffering from eczema or sensitive skin. That's good news for babies since their skin is already sensitive and since this formula contains only five all-natural ingredients, it's a super safe bet. In addition, it's free of fragrances and dyes that could further cause irritation both via texture as well as scent.

Benefits
Molly's Suds works fantastic with high-efficiency washers which are what most people have in their homes nowadays. It's hard to believe that only five ingredients work so well to get your clothing clean, but combined with the power of an HE-certified washing machine, this formula is unstoppable.

What We Like About It
There's nothing artificial about Molly's and it's a great bargain for the amount of detergent powder that you're getting. When you have a new baby at home and are taking care of a family, the last thing you want to do is worry about when you need to restock on laundry soap... Buying in bulk matters!
Pros
Created with only five ingredients
All-natural and safe for every sensitive skin condition
Great for use with high-efficiency washers
It'll last an extremely long time
Good price
Cons
If you're not partial to powder then this might not be for you
2. Puracy Natural Liquid 192 Loads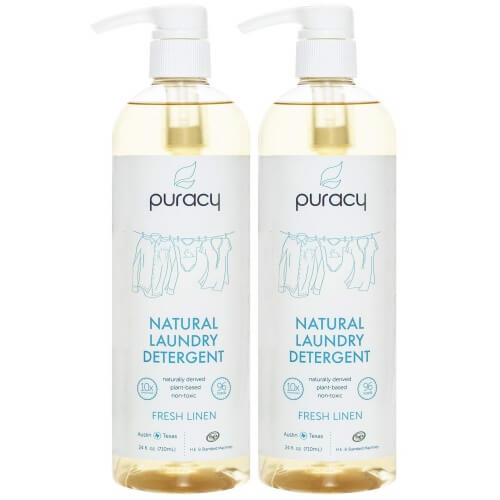 The word "hypoallergenic" is really key when it comes to looking for a laundry soap that won't irritate the skin. This detergent is plant-based which means it just about as natural as can be, leaving no room for harmful or harsh chemicals that could potentially irritate the skin.
Expand to see more
What's interesting is the formula of this soap; it contains enzymes that, when activated, do their due diligence in eliminating odors and clean clothes as gently as possible. You may have heard of these same enzymes in all-natural cleaners that are designed for use on pain stains and odors. The enzymes work together to bond to the odor and dirt molecules to neutralize them... Pretty neat stuff if you ask us. This scientific explanation is why you can count on a brand like Puracy to get your clothes as clean as possible without the use of more general, harsher detergents. This one, in particular, has been mentioned on several major news stations as well, so you know it's pretty legitimate.

Benefits
It's been created and tested by doctors to thoroughly clean clothing without causing any reactions. That's something that many brands of laundry soap can hold claim to, but when it comes to your baby, you should only use the best.

What We Like About It
This detergent just keeps getting better and we almost feel bad calling it a laundry soap, because it's so much more than that. We love that it hasn't been tested on animals and is cruelty-free as well!
Pros
Cleans via the use of enzymes
Doctor-designed and tested
Safe for all levels of sensitive skin
Plant-based formula
Cruelty-free and not tested on animals
Cons
It has a difficult time removing tough stains
3. Seventh Generation Baby Concentrated
Similar to Puracy, Seventh Generation Concentrated Baby Laundry Detergent uses the same enzyme-based odor and dirt fighting formula to make their soap so successful. It's designed specifically for babies and also designed to take care of all the potential stains that might come with them.
Expand to see more
For parents who are seeking a laundry soap that stands up to tough stains without being harmful or wrecking havoc on their baby's sensitive skin, this might be a great option for you. There are absolutely no fragrances, artificial dyes, or even brighteners in this detergent and any fragrance comes naturally from essential oils that have been added during the creation process. Seventh Generation has a reputable history for providing families with cleaning products they can trust, and we were pretty happy to see this could make our list because of its excellent results.

Benefits
The USDA has certified this detergent so even if you don't fully take our recommendation, you can trust that it's been evaluated by the health board to pass nationwide standards. They've also certified it 95% biobased, which means the enzymes and oils do most of the work.

What We Like About It
When you think of a plant-based or all-natural laundry soap, you don't often think of a detergent that's worthy of cleaning tough stains and tackling harsh odors. Seventh Generation is truly changing the game and finding the best way to take care of both, one enzyme at a time.
Pros
95% plant-based
The natural fragrance comes from essential oils
Trusted and well-known brand
You can get up to 106 loads out of it
Tough on stains
Cons
Sodium lauryl sulfate is present in the form of coconut or palm oil which might cause an allergy if allergic to either
4. Rockin' Green Platinum Series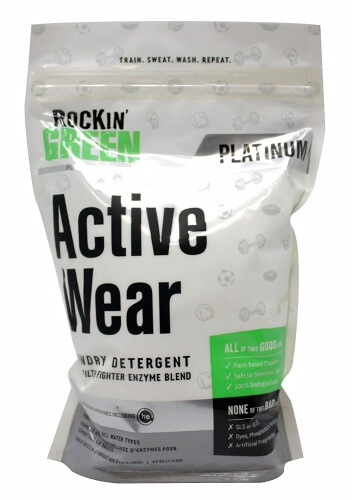 This laundry soap is so stunning as far as its features go that we were pretty shocked we didn't find it sooner. The Active Wear Powdered Laundry Detergent by Rockin' Green Platinum Series has everything you could ask for as far as cleaning goes for your entire family.
Expand to see more
It's designed to be used for active wear which means no matter what your family throws at your washing machine, this soap is built to tackle it head-on with no issues whatsoever. It's all-natural and safe for use with babies and younger children due to its gentle formula, which was created in mind for sensitive skin. The formula makes use of one main ingredient that we haven't yet talked about: Tea tree oil. You might have heard of this being used as a cure-all for all types of skin conditions and now, you can find it in your detergent as well. The conception of this was pretty brilliant; between natural plant enzymes and the antibacterial properties of tea tree oil, your clothes will never feel this clean and fresh. It's also biodegradable which just adds to the long list of reasons for why it's on this list.

Benefits
If you have a large family and your kids are heavy into sports, this laundry soap is a must-have for you. You have the option to soak with this detergent as well (it's just that gentle!) in order to remove tough stains and odors as efficiently as possible.

What We Like About It
This detergent is also cruelty-free which means it hasn't been tested on animals. We love that it's safe for you, your family, and your baby, but it also saves animals, too.
Pros
Great for big families
Cruelty-free
Formulated with tea tree oil
It holds up to an active family lifestyle
Biodegradable and gentle
Cons
Soaking can be a hassle with powder detergent
5. Dreft Stage 2 Active Hypoallergenic
Dreft is a brand that's been around for quite some time and is well-known in the baby world as being a reputable detergent that's gentle enough for use with infants. Their laundry soaps come in various stages depending on how old your baby is, and each soap comes with its own features specific to what you'll likely need at the time.
Expand to see more
This one, Stage 2, is gentle enough for newborns which means it's hypoallergenic and non-reactive. In particular, this soap was designed to tackle baby food stains which, anyone who has an infant knows this, you'll inevitably be dealing with a lot. You'll be able to add more of this to each load depending on the stain level of the clothes in it which adds a level of flexibility to this detergent as well.

Benefits
This brand has been recommended by Pampers which is obviously another very well-known brand that creates some of the best baby products out there. Between their recommendation and ours, we're sure you'll be satisfied if you decide to try this one out in your home.

What We Like About It
This is great if you're not looking to make a full-on transition to 100% plant-based products. Sometimes you just want something that's a little bit safer and actually designed for your baby, and that's okay.
Pros
Recommended by Pampers
Well-known brand
Hypoallergenic
Safe for infant and newborn clothing
Tackles tough baby food stains
Cons
It's safe for newborns but is intended for use in babies age one and up
6. Mrs. Meyer's Baby Blossom 64 fl oz
We are big fans of Meyer's cleaning products because they produce a line that's all-natural and
safe
for use in large family homes. This soap will not disappoint if you're also a fan of Meyer's product line!
Expand to see more
It's developed with the same enzyme formula that most all-natural detergents use but with the added bonus of a pleasant and comforting smell. It's concentrated so you won't need to use a lot of it which is great news for those who love a long-lasting detergent. It's gentle on all types of clothing, which makes it perfectly safe for you to use for your entire family -- Baby clothes included! The scent of it is also subtle but calming, with notes of honeysuckle, lavender, lemon verbena, and basil. All of these things will help to provide your baby with a soothing feeling that won't overwhelm them, and it will let you know that your laundry has been cleaned and is ready to go.

Benefits
This formula is completely plant-based which means it's as gentle as they come, but it's also biodegradable. Environmentally-Friendly families who love to have eco-friendly habits, give this one a try.

What We Like About It
That smell is positively delightful. Anyone who has ever had a garden or walked through one knows how amazing it can be to smell all of those scents, and this will make you feel like you're in the middle of an herb garden every day.
Pros
Gentle and soothing scent
All-natural and biodegradable formula
Plant-based
It uses enzymes to clean and sanitize
Meyer's is a reputable brand
Cons
It's pricey for a detergent
7. Mama Bear Gentle Baby 95% Biobased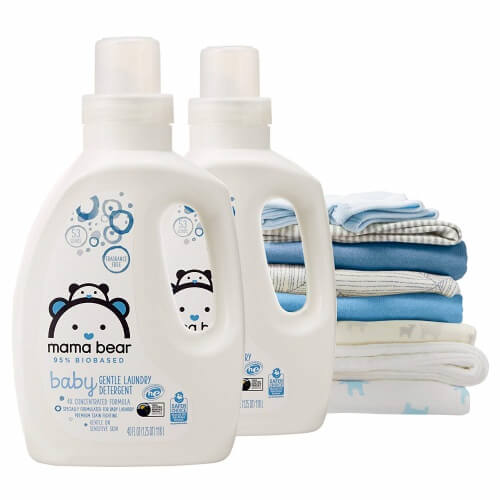 This Mama Bear Gentle Baby detergent has a surprising feature about it -- With only one capful of this soap, you're getting twice the cleaning power of an average detergent. That's makes it super efficient while you're using less product, thus saving you some significant money as the end result.
Expand to see more
Not to mention, this formula is free of 1.4 dioxanes, contains no phthalates, and no artificial dyes whatsoever. Anything that's potentially harmful has been eliminated in the creation of this laundry soap, making it safe for your baby as well as your entire family, no matter how sensitive they might be. It's been approved by the EPA as a safer choice than most other ingredients which really sets it apart, as well as being 95% biobased.

Benefits
If you have a high-efficiency washing machine, this detergent is a great go-to. It performs superbly with modern washers and has the same cleaning power no matter what the water temperature, so you don't have to worry over setting everything according to your detergent brand.

What We Like About It
This is what we like to call a no-stress laundry soap. It's super versatile, doesn't take much to figure out, and works in just about any type of washing machine, within any temperature zone.
Pros
No-fuss formula
Powered by enzymes
Contains no artificial products
Gentle on sensitive skin
EPA-certified safe
Cons
Doesn't do well on stubborn stains
8. Tide Free & Gentle HE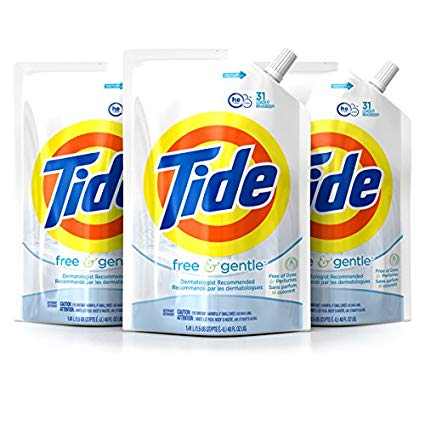 Powerful cleaning power, but still gentle on baby's skin. This laundry detergent is a powerful HE liquid that delivers a deep cleaning power to get out all those messes, but yet it is still super-gentle on a baby's sensitive skin.
Expand to see more
The detergent is free from dyes and any perfume. It will remove dirt, food, and stains, but is also hypoallergenic. It is a dependable laundry detergent that comes in a convenient smart pouch. The design of the pouch makes it easy to store and even easier to use. You simply pour right from the pouch into either an empty container or right into a measurable cup. This innovative packaging system is easy to store and easy to use, making this a powerful laundry detergent from one of the leading name brands in the market. With the dependable cleaning power, but gentle on the skin, it will become the go-to detergent you need for all your baby's washing needs.



Benefits

The packaging of products these days creates a mass amount of leftover waste. These new innovative packaging systems are truly revolutionary. They use 60 percent less packaging materials and are easier to store. The smart pouch pours directly from the pouch into an empty container or a measuring cup. The bonus also is the storing. It is much smaller, more efficient, and easy to use.



What We Like About It

The packaging is great. It is easy to pour into an empty container and creates so much less waste than using the containers each time. This is a great refill system that works well with all that laundry that baby's created.
Pros
Deep cleaning power, gentle on baby's sensitive skin
Comes in a convenient smart pouch
Features no dyes or perfumes
Designed to be paired with the cleaning power of an HE washing machine
Smart pouch uses 60 percent less packaging than other containers
Cons
Pouch can be punctured easily
Does not come with measuring cup
9. Dreft Stage 1 Newborn Hypoallergenic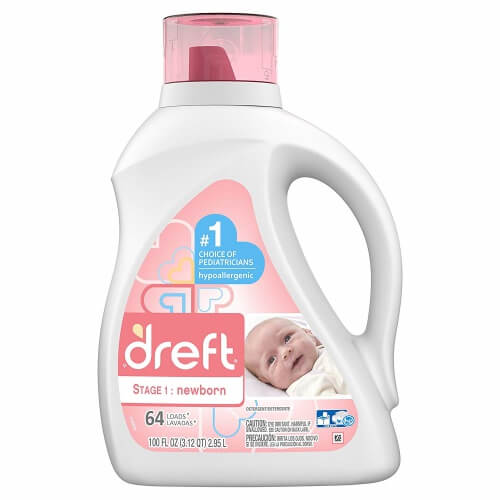 Babies come with a lot of little messes and figuring out exactly what will get everything the cleanest isn't something you want to spend time stressing over. Dreft knows the struggle that comes with having to wash all your baby's things, from clothes to burp towels and everything in between.
Expand to see more
That's why their Stage 1 laundry detergent has been formulated specifically in mind to get rid of those hard to eliminate stains as well as potential odors. It's gentle enough to use on clothing while still being tough enough to knock out entire loads of stained laundry. No one has time to mess around and rewash things that just won't get clean, and we're putting our trust in Dreft to handle all your newborn's laundry.

Benefits
This soap is hypoallergenic meaning it's gentle on clothing and won't irritate your baby's skin at all. It can be used for your entire family as well and can be increased in amount to handle tougher laundry loads.

What We Like About It
We love that Dreft has been recommended not only by families but by big brands such as Pampers as well. It says a lot in the way of their quality but also the work they put into creating a baby-friendly product.
Pros
Recommended by Pampers
Hypoallergenic
Does well with tough stains
Designed to clean more than just clothing
It's a trusted brand with a long-standing reputation
Cons
Clothes smell similar to baby powder which some find too strong
10. Biokleen Liquid
The special formula that has been created by this company is gentle and safe for baby's skin and features no fragrance or enzymes in their laundry detergent. The cleaning power is just as powerful but does not have those additives that can irritate their skin.
Expand to see more
This is a plant-based laundry detergent liquid that features extracts of grapefruit which has super-powerful cleaning power with no scent. It also rinses clean from materials and will leave no fumes or residue behind. It has been bottled in a recyclable or compostable bottle. The bottle has been created from 100 percent recycled materials like newspapers and cardboard. Created with a gentle approach to both the environment and the skin of our babies, this family-owned company is dedicated to making sure that all their products are "green" and work effectively in every aspect of our daily lives.



Benefits

Plant-based liquid laundry detergents are not only gentle on the skin, but are also gentle on the environment. Each time that you wash a load of laundry, the water that is washed away from the clothes contains laundry detergent. This detergent water is then added back into the water source at some point. The chemicals that other detergents use are harmful to the environment and animals, whereas this plant-based liquid is not.



What We Like About It

Gentle formula with powerful natural ingredients that is safe to use for baby and the whole family. The plant-based liquid is great for the environment and so is the recycled packaging. This is a total win for the family and environment.
Pros
Super cleaning power with no enzymes or fragrances added
Plant-based liquid detergent
Features gentle cleaning power of grapefruit seed with no scent
Bottle constructed from 100 percent recycled materials
Concentrated liquid that rinses clean
Cons
When not rinsed properly can leave a white residue on clothes
Packaging does not hold up well when shipped
Criteria Used in Evaluation of the Best Baby Laundry Detergents
It's not an uncommon fact that newborns have extremely sensitive skin. Within their first few months outside of the womb, their skin is still getting used to the outside world and all of the irritants that come with it. This means your baby might be more sensitive to a specific chemical, dye, or fragrance–and anyone who does laundry with a general brand knows how strong those scents can be. It's not just skin irritation that can be cause for concern, it's also the overwhelming smell that can come from soaps as well as dryer sheets. Our research revolved around what we could find that we'd be comfortable using, and a child's safety came as #1 in what we considered to be the most important factor. This isn't to scare you out of using regular laundry detergents, though–most of the time they're completely fine unless your baby has very sensitive skin. It's just something to consider, and possibly something you want to avoid at least for the first six months of your baby's life in order to reduce irritation as much as possible.
Additional Factors to Consider
Hypoallergenic vs. All-Natural vs. Organic
You'll hear a lot of terms being thrown around when it comes to products that claim to be safer for babies, and three of them are hypoallergenic, all-natural, and organic. While they're often used in conjunction with each other, they're not all created equal. Hypoallergenic means that's it's not likely to cause any type of reaction or cause irritation, and this is usually due to the fact that it is either all-natural or organic. The difference comes when the latter two descriptions are being used. All-natural means a product has been created with ingredients and a formula that excludes any type of harsh or man-made materials. Since there are so many things in regular detergent that aren't all-natural, this is a super-important term to look for. On the other hand, organic is descriptive in where an ingredient is derived from and whether or not it has been altered. So while they are very similar, they are fairly different. Each has a place and, of course, it's best to find a product that uses all three terms. We like to refer to this as the "holy grail" of baby trinities!
What Exactly Is Dangerous in Regular Detergent?
This is a great thing to inquire about because while we make it seem like regular detergents are a lesser quality than an all-natural baby-friendly product, they're really not. There are plenty of detergents out there that have a great reputation for a reason and this article isn't to say that you can't use them, it's just a way to offer you an alternative that might be a little more gentle for your baby. There are some things to watch out for in your laundry soap, though, that might be the cause for rashes, mild irritations, discomfort, etc. The important things to look out for are any type of sulfates, mainly sodium lauryl (SLS for short), phosphates, dioxane, and nonylphenol ethoxylate. These four can definitely cause some discomfort if you find them in your detergent, and you'd be surprised to know that some can even show up in your shampoos and body washes. The general rule of thumb is if you find anything that you can't really pronounce easily, chances are it's not great for you or your kids.
Protecting the Environment
You might not think of it immediately, but swapping out a general detergent for an all-natural one can do wonders as far as improving your impact on the environment. You're probably wondering how this correlates to your baby's safety and the answer is simple–by reducing your share of pollution and contaminants now, your child will have a better chance at growing up in a world that's preserved and isn't degrading nearly as quickly as it is now. With so much pollution that already exists, chemicals such as the ones we've previously listed only damage our waterways and soil even more, preventing natural detoxification. This can weigh heavily on your child's shoulders when they become an adult because it'll be up to their generation to eventually find a way to fix it. You'll also teach your child how to be mindful of the world they live in by making a switch like this as well! All it takes is one simple decision to prevent a lifetime of negative impacts, and your child will already be one step ahead when it comes to protecting the world we live in and ensuring a positive environment for generations to come.
Why Does Detergent Occasionally Irritate the Skin?
The culprit of itchy, red, or rash-covered skin is usually due to residue left on clothing after it's been washed. It's this residue, along with the chemicals in it, that isn't recommended safe for babies and children. It can cause mild reactions such as irritated skin, especially if you're already sensitive to things such as that. The trick to avoiding this is to find something that has been created in an all-natural way with ingredients that won't cling to clothing and leave that residue we're all too familiar with. Options for these include enzymes, plant-based products, and electrolytes. It's a good idea, in general, to make the switch if anyone in your family has sensitive skin because heavy, chemical-based detergents will only make the problem worse. The good news is that it's really not as complicated as it seems and during our research, we've managed to find products that truly do suit a variety of families and their individual needs. Whether you're partial to powdered or liquid detergents or even prefer to find a method that uses no soap whatsoever, we've got it covered. Doing your laundry doesn't need to be a scary thing and there are products out there made by companies that care just as much about your baby's comfort as you do.
FAQ
Frequently Asked Questions
Q: How severe can a reaction be to laundry detergent if I choose not to switch?
A: There's no law saying that baby detergent is necessary and in all likelihood, your baby will probably be fine having their clothes washed with the rest of your family's. Making the switch to something that's baby-friendly is more for their sake and to prevent any potential irritation, as well as avoiding exposing them to chemicals that might be in your soap already. If your baby is sensitive, reactions can include rashes, mild skin irritation, hives, or general discomfort over strong smells.
Q: Is this strong enough to wash adult clothing as well so that I can use it for my whole family?
A: Most of these soaps can be used for any type of laundry, yes. Occasionally, you'll get a brand that can't handle tough stains in which case a spot stain remover is a huge help. Roughly half of the soaps on this list are designed for heavily stained or soiled laundry, while the other half is designed to clean, but not so much remove tough stains.
Q: How can these actually clean clothes when there is no actual cleaning chemicals in them?
A: Soaps such as these use all-natural alternatives that have been proven just as effective when it comes to cleaning.
Q: How many loads of laundry would I be able to do with one bottle?
A: That depends solely on the type of detergent you're using and how big each load of laundry is. They vary but each should be stated clearly under the product information.
Q: Does it depend on what type of washer/dryer I have (high efficiency, etc.)?
A: Not at all! You'd use these just like you would a normal detergent, just be sure to follow the instructions based on the size of your laundry load.
Q: Where would I find the ingredient list?
A: It's usually always on the back of the bottle and should also be listed under the "product info" section. We've also tried to include a pretty thorough list of each soap's ingredients in the "Summary" section of each product, where we've summed up what it does, how it's created, and how it works.