10 Best Baby Hair Oils Reviewed in 2019
last updated
Feb 25, 2019
Babies are already super cuddly soft, so why on earth would you need to invest in hair oil? We'll tell you exactly why: Because no matter what age you are, hair oil can be incredibly beneficial to you overall scalp health. Using oils can be helpful to both boys and girls because it encourages healthy growth from the root all the way to the ends of a child's hair. Having natural oils in your hair means it's healthy, growing, and moisturized. We've put together a Top Ten for you so that both you and your baby can figure out what works best.
In a Hurry? The test winner after 15 hrs of research
Burt's Bees 100% Natural
Why is it better?
Gentle and soothing
All-natural oil blends
Can be used to soothe irritation
Gentle enough to use on the scalp
From a reputable brand
In a
Hurry? Editors choice:
Test Winner: Burt's Bees 100% Natural
17
Researched Sources
15
Hours Researching
10
Products Evaluated
Materials
Effectiveness
Ease of Use
By Default
In Depth Review Top 10
Burt's Bees 100% Natural
Elizabeth Parker Naturals
Johnson's Shea & Cocoa Butter
Coconut Essentials Organic
Island Fresh Superior
Viva Naturals Organic
InstaNatural Fractionated Coconut
Johnson's Pure Mineral
Cetaphil Moisturizing Organic Calendula
Mustela Gentle Cleansing
Table of contents
Criteria Used for Evaluation
Expert Interviews & Opinions
Other Factors to Consider
Frequently Asked Questions
Sources
10 Best Baby Hair Oils Reviewed
1

. Burt's Bees 100% Natural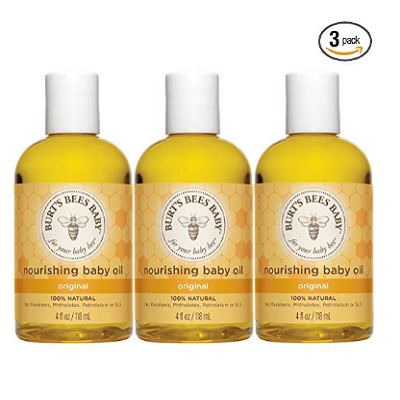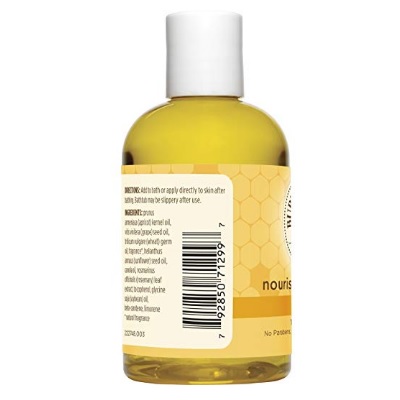 Gentle and soothing
All-natural oil blends
Can be used to soothe irritation
Gentle enough to use on the scalp
From a reputable brand
This oil is from a brand you recognize and probably love! Burt's Bees delivers all the gentle, soothing effects in their baby oil that you've grown to expect from all of their other products. If you try anything from their Burt's Bees Baby line, make it this star of a hair oil.
Read more
Materials
We're all familiar with Burt's Bees, if not from personal experience but from the word on the street about how gentle, calming, and natural their products are. Burt's Bees baby line is great in more ways than one, the main being that all the products are gentle, soothing, and effective -- All things that you'd definitely want when dealing with a newborn. As opposed to being made up of one oil, the Burt's Bees Baby Oil is an all-natural blend of apricot oil, grape seed oil, germ oil, sunflower seed oil, rosemary extract, soybean oil, and beta-carotene.
Effectiveness
This one of a kind blend is the Burt's Bees signature way to both soothe and calm your baby and prevent irritation while making their hair and skin super silky smooth and soft. It might sound like a wide array of oils but they all offer their own benefits in the way of moisturizing, softening, and keeping your baby's hair clean and free of anything unnatural.
Ease of Use
You can use this right after your baby comes out of the bath at night or in the mornings for a fresh, moisturized feeling all day long.
2

. Elizabeth Parker Naturals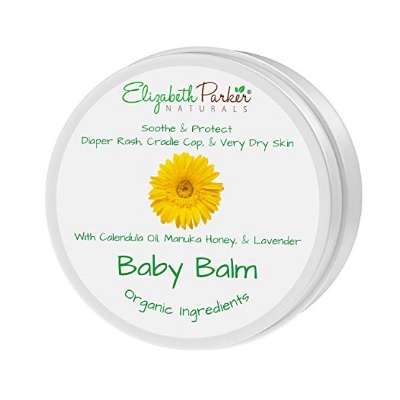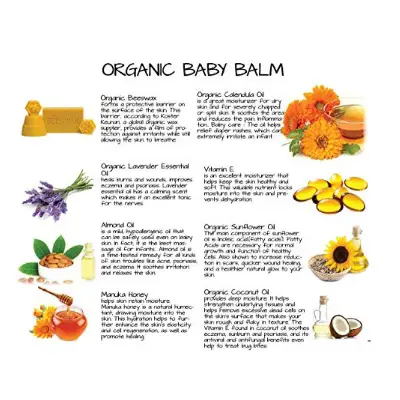 Created with a blend of eight moisturizing oils
Can be used anywhere
Balmy texture helps it to adhere
All-natural
Contains organic coconut oil
It won't wash off easily in the bath due to the beeswax in the formula
It might seem strange to be using a balm, but this is perfect for babies with a dry scalp. Conditions such as eczema and psoriasis need to be treated differently and in the event that either of these conditions affect your child's head and hair, this balm can deliver some truly magical soothing relief.
Read more
Materials
This balm, in particular, contains three essentials for treating dry areas: calendula oil, manuka honey, and lavender. All three of them have amazing benefits for the skin and can definitely help to smooth out your baby's head and hair situation. In addition to the super trio of ingredients previously mentioned this balm has a total of eight all-natural oils that help to deliver as much moisture as possible.
Effectiveness
Balms can be great in the treatment of dry skin because they're often thicker and cover a great radius, and their balmy, sticky nature allows them to adhere to the skin for maximum absorption and long-term healing. Calendula oil and manuka honey are the perfect blend for moisturizing and getting that moisture to the affected area quickly, while lavender is excellent for soothing and calming your baby and their dry patches that can often become irritated. Over time, this balm will eventually help to soften and ease their dryness.
Ease of Use
This balm is great for use after the bath since it's formulated with beeswax and will hold to the skin and hair follicles easily.
3

. Johnson's Shea & Cocoa Butter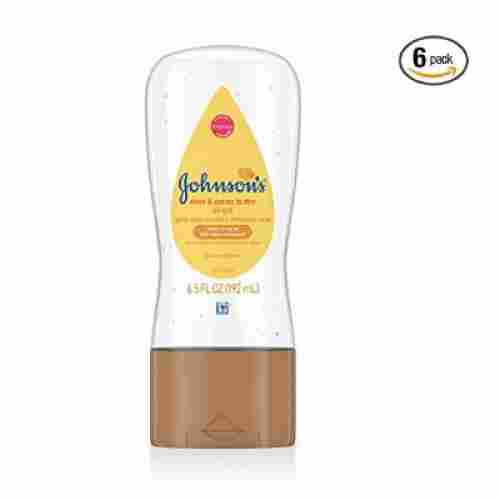 Pleasant smell that's not overwhelming
Moisturizes up to 10x more than others
Contains an essential blend of all-natural oils
Can be used anywhere
Can be used before or after the bath
The gel might not soak into hair follicles very well
This oil gel smells so good, we'd almost be tempted to use it for ourselves. Your baby will love the calming properties of this shea and cocoa butter-blended oil, if only because it's so gentle and smells amazing. It's a great way to get that extra-added moisture to where it needs to go with a little help from shea butter, which is known for promoting healthy hair.
Read more
Materials
Yet another brilliant creation from Johnson is their baby oil gel. We'd mentioned before how ingredients such as shea and cocoa butter can make all the difference when it comes to moisture, and this gel is the leading contender as far as that goes.
Effectiveness
This dynamic duo of a blend will definitely keep your baby hydrated and feeling fresh, clean, and, of course, protect and nourish their hair. Shea butter is incredibly well-known for providing hair moisture to both children and adults alike and there's a reason for it -- It works! Cocoa butter gently soothes and nourishes to provide both a layer of moisture lock as well as a pleasant, calming smell. Both of these working in tandem make for a combined moisture barrier that retains almost 10 times as much moisture as without it, which can really make a difference as far as your baby's scalp goes. If you're looking for a product that's versatile, soothing, and can be used just about anywhere on your baby, this Johnson's Baby Oil Gel is a wonderful option.
Ease of Use
The application is easy as you can squeeze a small amount on your baby and rub it on their skin.
4

. Coconut Essentials Organic
Organic
Completely all-natural
Contains a blend of three super moisturizing oils
Can be used for skin conditions
Also doubles as a home remedy for cradle cap
The smell can be a tad strong
Coconut oil is almost like a cure-all. Coconut Essentials has designed this formula specifically in mind with it being used for a variety of ailments, but most importantly, it'll work wonders on your baby's hair.
Read more
Materials
Here we go again with the coconut oil, but we promise you, it's worth it! Hear us out on this one, because all coconut oil is definitely not created equal. This coconut oil, in particular, made it to our list because it's not just your typical pure coconut oil. Coconut Essentials has added sunflower and vitamin E oil to their blend, making it not only unbelievably moisturizing but healing as well. Did we mention this oil is 100% organic and all-natural?
Effectiveness
Vitamin E has some seriously strong moisturizing properties but is known to work wonders on dry, flaky, and cracked skin to bring back nourishment as well as heal. Sunflower oil helps to lock in essential moisture, while coconut oil has its own natural blends of vitamins and antioxidants. If your baby has extremely dry skin, psoriasis, eczema, or anything else that has them itchy, dry, and irritated, this is the perfect go-to.
Ease of Use
Rub just a little bit of this on their scalp and work it through hair for added benefits and you'll start to notice a difference. It's a natural way to soothe irritation without causing too much discomfort to your baby, and trust us, they'll thank you for it.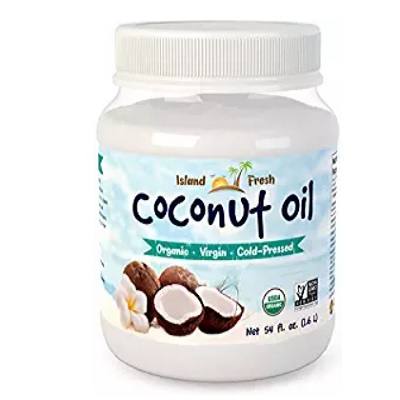 You get a ton of product in one jar
It's a great price
It can be used in other places besides hair
Perfect for overnight use
Gentle on a baby's skin
You might not need this much product and run the risk of spoiling it
In extreme cases, it can be challenging to pick the right all-natural product to use for your baby.
Read more
Materials
This coconut oil can be left on throughout the day or overnight, and since it's all-natural as well as organic, you know that you're only using the absolute best to combat your child's dryness. Or just gifting them with incredibly soft and shining hair!
Effectiveness
You'll notice softer, more nourished hair as well as a scalp that's clean, smells amazing and is completely moisturized. If your baby has any additional dryness, it's safe to use this oil on their dry skin patches as well since it's all-natural. This would be a great thing just to keep in your house in the event that you do run out of baby oil or even baby shampoo since coconut oil has been shown to increase the cleanliness of hair as well by essentially adhering to other oil and dirt molecules and neutralizing them.
Ease of Use
You can't deny that 54 fluid ounces are a whole lot of oil! This isn't a container you'll run down on very quickly and that's great news for families who use it for just about everything. Island Fresh recommends putting a tiny amount of coconut oil in hair and gently work it from the roots all the way to the ends and let it sit overnight.
Good for hair and skin
Extremely gentle
All-natural
Coconuts are harvested at the peak of freshness
You get a lot in one jar
The smell might be overwhelming
Coconut oil has been coined the "miracle oil" for a myriad of reasons, but one popular use that many people don't know about it for hair health. This works the same way in babies and can safely be used to deliver tons of moisture and nourishment to the scalp as well as the roots of the hair.
Read more
Materials
You probably recognize the term "coconut oil" from several recipes in your collection that calls for it, right? While it's true that coconut oil is a great, healthy oil to cook with, it also does incredible things for your hair. Viva Naturals harvests their coconuts at their peak which means that your baby is getting only the freshest and natural oils possible.
Effectiveness
A little-known fact about coconut oil is that it also helps the cleanse the skin which can, as you can imagine, do wonders for your scalp and all the things that can accumulate there. Babies aren't the biggest fans of bath time, which makes this oil a great household staple to keep your baby feeling, smelling, and actually being clean. Not only will they have moisturized hair, but their hair follicles will be healthy and feeling fresh. Not to mention, it smells amazing!
Ease of Use
his oil can also be used on the skin as well which makes it absolutely perfect for use on babies since it is so unbelievably gentle.
7

. InstaNatural Fractionated Coconut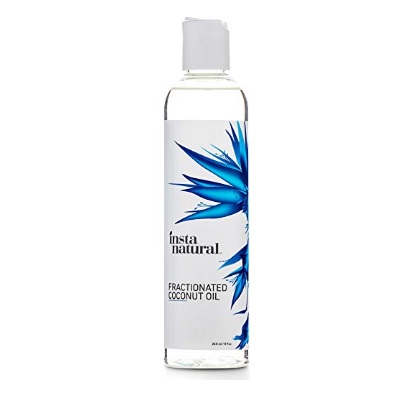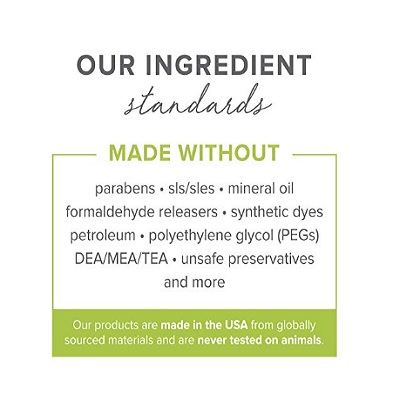 Remains in liquid form
Contains vitamin E and antioxidants
Easy to use on babies
100% pure coconut oil
Can help ease irritation
You only get eight fluid ounces
Fractionated is a big word that simply means distilled in a way that will prevent the liquid from becoming a solid. Anyone who has had coconut oil sitting around knows how great this can be, especially when using it on your baby's hair.
Read more
Materials
You'll be getting so much more than what you bargained for with this oil simply because it naturally contains vitamins that babies need on the regular. It'll protect their hair while lending support where they most need it.
Effectiveness
This particular oil is high in vitamin E as well as antioxidants so you can be sure that while it's moisturizing your baby's hair, it's also providing him or her with necessary nutrients and minerals that are being absorbed through the skin.
Ease of Use
In order to understand why this coconut oil is so great as well as different from the others, we must first understand what the term "fractionated" means. The simple definition is that it's been distilled in order to prevent the contents from solidifying. The technical definition is that it has had all of its fat solids removed by a process called hydrolysis with a bit of help from some steam. This just means that the oil is 100% pure and will always remain in its liquid state, which also means that the shelf-life has been pretty drastically lengthened. This is great news if you don't plan on going through it very quickly but, more importantly, coconut oil that stays in its liquid form will prove to be much easier to use on babies.
8

. Johnson's Pure Mineral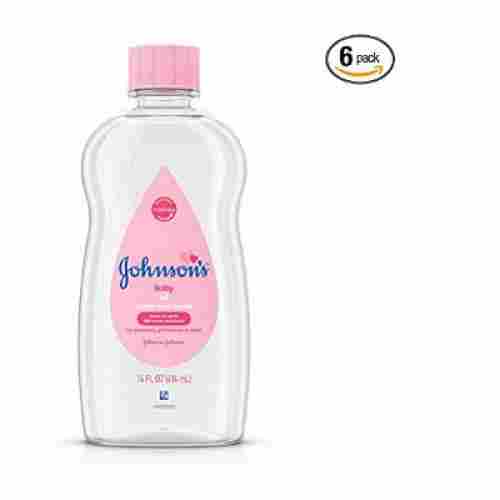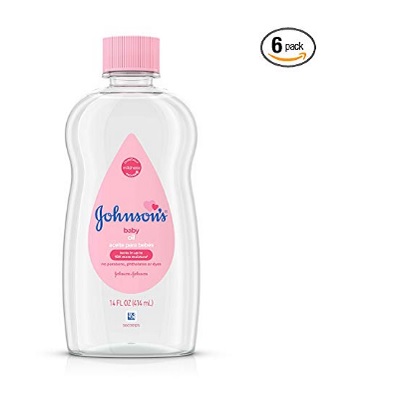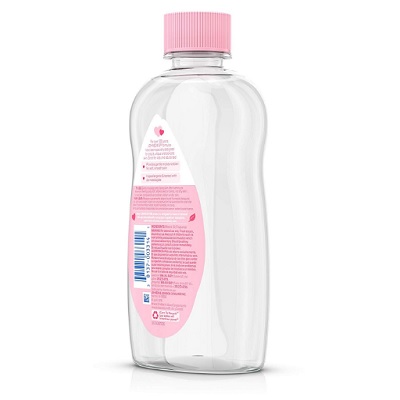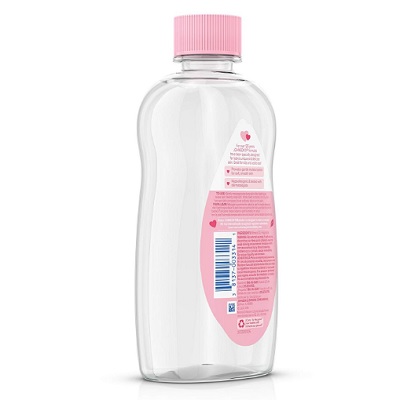 All-natural and organic
Can be used immediately after the bath
Made out of a gentle blend
Long-standing reputation
Great for locking in moisture
Can leave hair feeling a bit overly oily
From a brand you can trust, Johnson's, this mineral baby oil can be used in small amounts to soften and encourage healthy hair growth in your baby. A little goes a long way and this is one you're probably already familiar with, just repurposed!
Read more
Materials
You know that when researching the absolute best products for your baby, Johnson's just had to be on here. They have a long-standing reputation for excellence as far as baby products go and their baby mineral oil is no different.
Effectiveness
Formulated with essential vitamins and minerals, this oil isn't only helpful in the way of keeping your baby's hair and skin super soft, but it also delivers nutrients they need.
Ease of Use
This oil is best when it's used right after the bath so that your baby can absorb everything they need from it, and it'll keep their hair moisturized overnight for healthy growth and shine. Using a baby oil such as this can also help you and your baby bond since they'll love the attention as well as the way this oil feels on their skin.
9

. Cetaphil Moisturizing Organic Calendula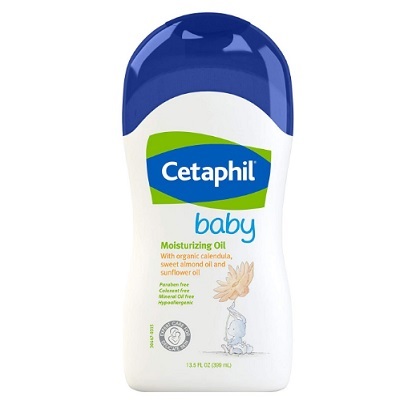 Contains calendula for soothing
Uses a blend of two highly moisturizing oils
Leaves your baby's scalp feeling clean and nourished
Gentle for use anywhere
Can be applied right after a bath
It takes some time to soak into the hair
his unique blend will provide your baby with as much moisture-lock power as you can fit into a bottle. Cetaphil is highly regarded as being one of the most gentle formulas out there and you'll definitely notice a difference with their moisturizing oil.
Read more
Materials
You might recognize Cetaphil from the popular face wash and moisturizer that many teens and adults use. It's so popular because Cetaphil is known for its gentle formulas and ability to clean skin while also keeping it extremely moisturized. They've managed to find the perfect balance between cleaning and nourishing, and they've brought that great blend to their moisturizing baby oil.
Effectiveness
The almond and sunflower oils in this baby oil are responsible for smoothing over and delivering a blast of moisture to your baby's skin. The calendula oil is truly the star of the show, though -- It comes from the marigold flower and contains properties that are well-known for being naturally soothing. The soft, subtle scent will help to ease your baby, while the natural formula will calm any irritation and sort out rough spots. This oil is perfect for babies with a drier scalp or hairline since it is so gentle. You'll notice results quickly and your baby will love how relaxing it is to them, especially after the bath!
Ease of Use
This unique blend consists of straight oils which aren't often the case. There's nothing harmful or harsh in this mix, which makes it a great addition to any medicine cabinet in the event of dry skin or hair.
10

. Mustela Gentle Cleansing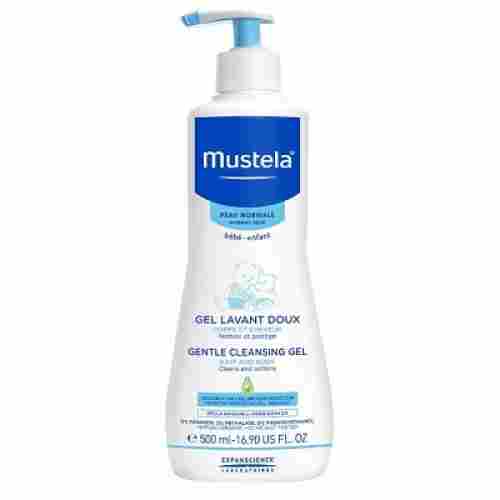 All in one cleanser
Contains avocado for extra moisture and nutrients
Contains B5 for vitamin absorption
It doesn't have to sit in your baby's hair overnight
Won't leave any oil residue
It's a cleanser so it must be washed out and doesn't deliver long-term moisture benefits
If you're not crazy about the whole leave-in oil process for your baby's hair, give this cleanser a try. It contains an essential oil from avocados that will help to moisturize your child's hair as it's being activated in the bath and will leave their hair and scalp feeling clean and healthy.
Read more
Materials
Okay okay, so this isn't a 100% baby hair oil, but it is, indeed, a cleanser with oils in it. Many people swear by using all-natural oils to clean their hair and body, and many people have even gone as far as replacing traditional shampoos with oils. The theory is that oil binds to oil and neutralizes it to leave your hair feeling refreshed, naturally clean, and completely moisturized. This cleanser is hypoallergenic which seems like it would be common sense for a baby bath product, but sadly, many cleansers easily cause irritation. This formula isn't likely to do that due to its extra help in the moisturizing department in the form of avocado per se.
Effectiveness
This cleanser for babies is no different and packs a ton of moisture in just one use. The magic to this formula is in the avocado -- Everyone knows that avocados are a superfood and the oils can help to drastically reduce dryness, and this cleanser operates under the same principle. With the addition of vitamin B5, your baby's scalp dryness has some serious competition during bath time.
Ease of Use
It's perfect for dry hair or scalp and can be used all over your baby's body as well, quickly making it the perfect go-to for bath time.
Criteria Used for Evaluation
Materials
Many people underestimate the benefits of hair oils because they think that adding more oils to hair, they'll end up with greasy or oily looking strands that appear to be "dirty". In reality, your hair produces oils as the body's natural response to dryness -- Therefore, by adding additional oils to hair, it causes a type of reset. Your body will recognize that your hair is moisturized enough and limit the production of natural oils, giving you a chance to provide some much-needed vitamins and minerals to your scalp region. This is the same idea in babies; after all, their hair follicles work the same way that ours do! By eliminating the need for their bodies to produce extra oil, you can use oils such as coconut and shea to provide healing, moisture, and nourishment. Your baby's hair needs the same shine and moisture content that yours does and they're never too young to start a healthy hair and skin regimen.

Effectiveness
Throughout our research, we've tried to do the best we could to provide you with solid reasoning for each and every oil listed. Depending on how dry your baby's skin and hair is, if they have dryness anywhere else, how they tolerate products on their skin, and what they need moisture for specifically, we've made it as easy as possible for you to determine what's right for them. Each oil offers different benefits but they're all equally as effective in promoting healthy hair and skin. We've provided you with several different options in an application as well as in the texture so that you won't be limited to just using a liquid or just using a balm or cream since we know every baby is comfortable with different things. It might be a bit of a trial and error process, but we know that you're sure to find a hair oil that works out perfectly for your baby.
Ease of Use
Hair oil, on its own, can provide solid benefits that help the growth of hair, cleanliness, and shine. In the event of a dry skin issue or irritation, hair oils can help to penetrate the skin to soothe and comfort your baby as well as heal dry, cracked, or flaking skin. If your baby doesn't have more serious dryness issues, you can go for option number two: Adding oils to shampoos, conditioners, and body washes. The benefits are all the same, you're just using a different method of getting them to your baby. This second method can be helpful as well to prevent your baby's hair from becoming over-oily, especially if you don't like the idea of leaving oils in your child's hair overnight or throughout the day. Either way, your baby is still getting all the benefits, just in a different way!
Most Important Criteria
(According to our experts opinion)
Experts Opinion
Editors Opinion
Users Opinion
By Default

Parents, Did You Know?
Coconut Oil is a Super nutrient to your child's scalp. Not only does it provide tons of benefits but it is also easily absorbed into your child's scalp.
Parents, Did You Know?
Be careful on how much you wash your child's hair. Overwashing can leave your child's hair dry, frizzy, and brittle.
Other Factors to Consider

Brand
When purchasing products for your child's skin, pay attention to the brand. While the ingredients are the most important factor, purchasing from a trusted brand is a great added safety measure.
Frequently Asked Questions
q:

Can these be used on my baby's skin as well

a:

Yes! All of these oils were created to be gentle and soft on your baby's scalp as well as skin. If your child has dryness elsewhere, feel free to use these oils as you need to soothe their dry skin.
q:

How strongly do these smell?

a:

That depends heavily on the types of oil used. Most of them, aside from Johnson's Baby products, only have natural scents. Oils such as the coconut can have a much stronger scent than the rest, which is definitely something to take into consideration. The calendula found in Cetaphil can be soothing, but at the same time might cause some sensitive babies to dislike the smell.
q:

Should I leave these in overnight or are the best applied in the morning, then washed out at night?

a:

These oils are safe for your baby to keep in their hair, however, it all depends on what your baby is ultimately comfortable with. It can be very easy to use too much, especially with oils, so to be on the safe side, start out using some in the morning and wash it out later in the day to prevent build-up.
q:

How can I test to see if my baby is sensitive to these before I go ahead and apply them?

a:

You can do what's referred to as a "test patch". Apply the smallest amount of oil to your baby's arm (the forearm is usually a fairly sensitive spot) and give it a minute. If there's no reaction, you should be good to go.
q:

Can these be stored on the shelf at room temperature or should they be stored cold?

a:

That's a great question that many people don't think to ask — Most of the time, oils should always be kept at room temperature, especially so they don't separate if they're blends. Things like the coconut oil and the balms can be placed in the refrigerator for short amounts of time to provide a cooling relief, but that's it.