For those out there who don't love the taste of raw vegetables, and perhaps don't have the time to prepare them–or for people looking for a little extra product in their diet in a variety of ways, juicing is a great option. It allows you to combine fruits and vegetables in different recipes that will suit your taste, while still giving you many of the benefits of good ol' healthy greens. If you've been considering buying a juicer, make sure you consider whether you'll be juicing for just yourself, or you and your family, as well as researching how easy each machine is to clean, and whether it will suit whatever recipes you're gearing up for. There are tons of recipes available online and in cookbooks, so get out there and drink up!
10 Best Juicers Reviewed
1. Breville Compact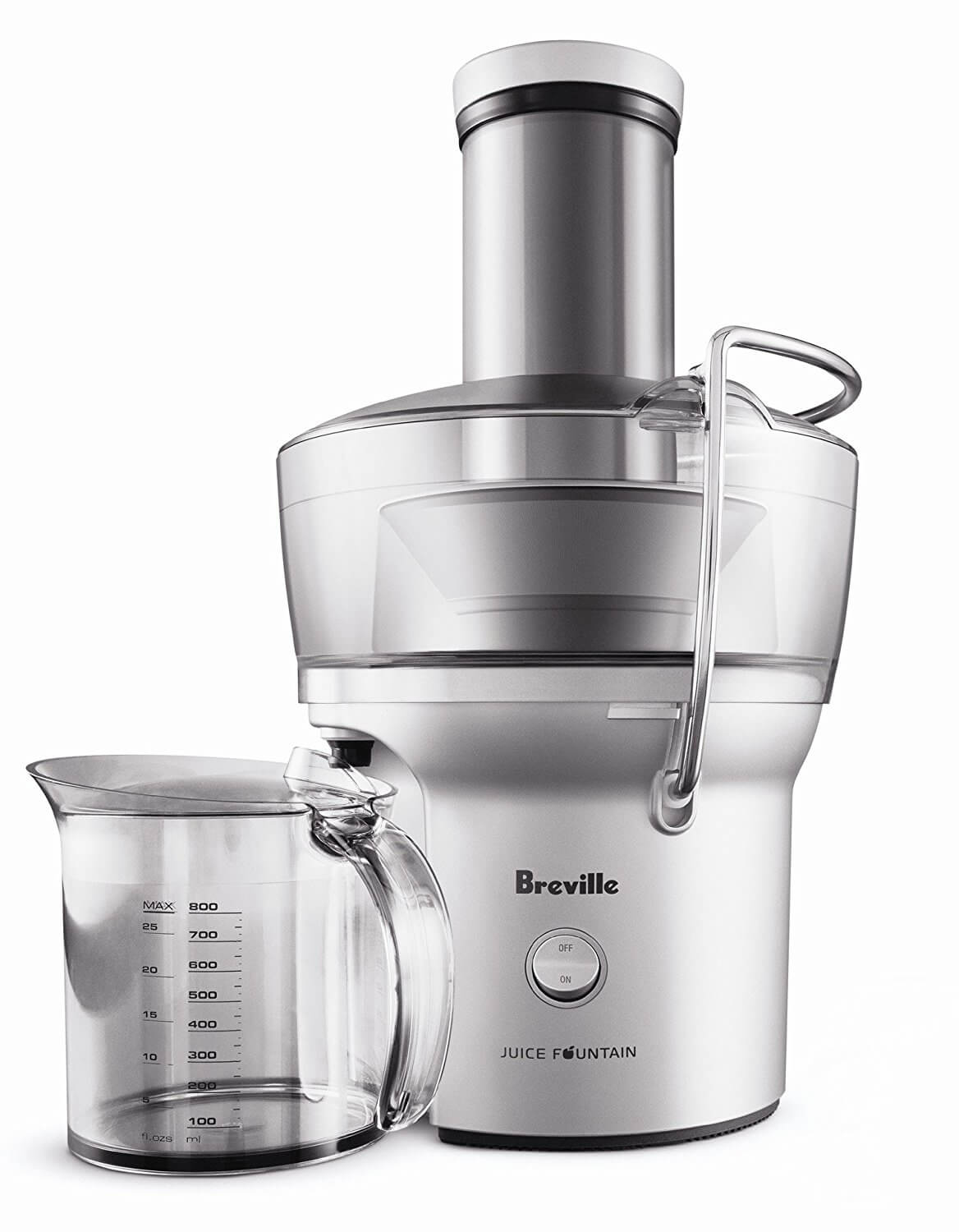 Our top pick is the Breville Compact Juice Fountain. This juice fountain is high powered. It can handle whole fruits and vegetables. The Breville Compact Juice Fountain will take up less space on your counter than the typical juice fountain. It has a unique juice extraction system designed to get the most amount of juice from your produce. This is a great juicer if you are just starting or you plan on making only a few glasses of juice at a time.
Expand to see more
Benefits
The cutting disk is made from steel with titanium reinforcement so it will last you years. The mesh basket that holds pulp and allows the juice to seep through is Italian made and stainless steel. The large three-inch feeder tube allows you to juice whole fruits and vegetables without having to pre-cut.

What We Like About It
This high powered juicer has a 700-watt motor that operates at 14,000 rotations per minute. Great power to make great juice! The system will not operate without the juicer cover and the locking arm in place. These safety features will keep your family safe and your kitchen clean.

Cost and Value
The price for this high powered compact juicer is less than our median price for the top ten juicers. This is a great value because it will take up less space than your typical juicer and it will create your juice from whole produce, so you don't have to spend your precious time chopping.

Easy to use
Italian made mesh basket
Safety locking arm
High powered motor
Titanium reinforced cutting disk
Won't juice greens
Chunks of food make it through to the pulp
Juice will fly out of the top If you forget to leave the stopper in place
2. Breville JE98XL
Our number two pick is Breville's non-compact juicer it is model number JE98XL. This juicer has a bigger footprint than it's compact counterpart, but it also has more benefits. It is a fountain style juicer that will make juice directly into your cup or a larger pitcher. It has built-in safety features so you don't have to worry about hurting yourself while using this juicer. This is a great tool to have in your kitchen if you plan to make fresh juice for your family frequently.
Expand to see more
Benefits
The feeder on this juicer is extra wide to accommodate whole fruits and vegetables. This means less chopping for you unless you buy giant produce. The 850-watt dual speed motor on this juicer will handle any produce you throw its way. The locking safety arm will not allow the machine to work unless it is properly locked into place. You don't have to worry about your children getting into this machine and getting hurt.

What We Like About It
This juicer is dishwasher safe. Just rinse any leftover pulp away and pop it in the dishwasher so it will be ready for use the next time you want to drink a fresh homemade juice. The stainless steel cutting disk gives fast and consistent results for a great juice every time.

Cost and Value
This model costs a bit more than the compact model. The cost of this product is just above our median price point for this list of juicers. It is a great value because it has a separate pulp compartment and a super powerful motor for juicing all types of produce.

Powerful motor
Safety arm lock
Dual speeds
Separate pulp container
Large 3-inch wide feeder tube
Not for juicing greens
Wet pulp
3. Omega NC900
You can't say that Omega is a company afraid of commitment. With a fifteen year warranty to cover parts and performance, when you buy an Omega, you're committing to a product that will be with your for the long haul. With a lower speed of 80 RPM, this motor sees less heat build-up, resulting in more healthy enzymes. It's designed to extract the maximum amount of nutrients and taste from fruits, veggies, leafy greens, and wheatgrass. The end cap has five settings, including pulp extraction, so you can juice smoothly and continuously. The motor is powerful but it's quiet, and the mouth of the food chute is wider, allowing you to do less chopping and prepping before you start juicing.
Expand to see more
Benefits

Juicing allows you to get lots of colorful produce and nutrients and to control the taste of what you're consuming. Not a fan of spinach? Mix in some apples for a little bit of tangy sweetness to counterbalance, and you'll be downing greens without even realizing it.

What We Like About It

This is a heavy duty model and it will last you a while. The wider chute opening is also a huge bonus, as one of the drawbacks of juicing is the extensive amount of prep time that can go into some of the recipes.

Cost and Value

It's definitely one of the more expensive models out there. But it also is the real deal, and comes with a fifteen year warranty, so if you have issues with performance or parts in that time, Omega will replace them for you. You'll get your money's worth.
Built-in handle
Wider chute for food
Five settings
Removes pulp
Quiet, powerful motor
Juice screen apparently needs replacing fairly often
4. Omega J8004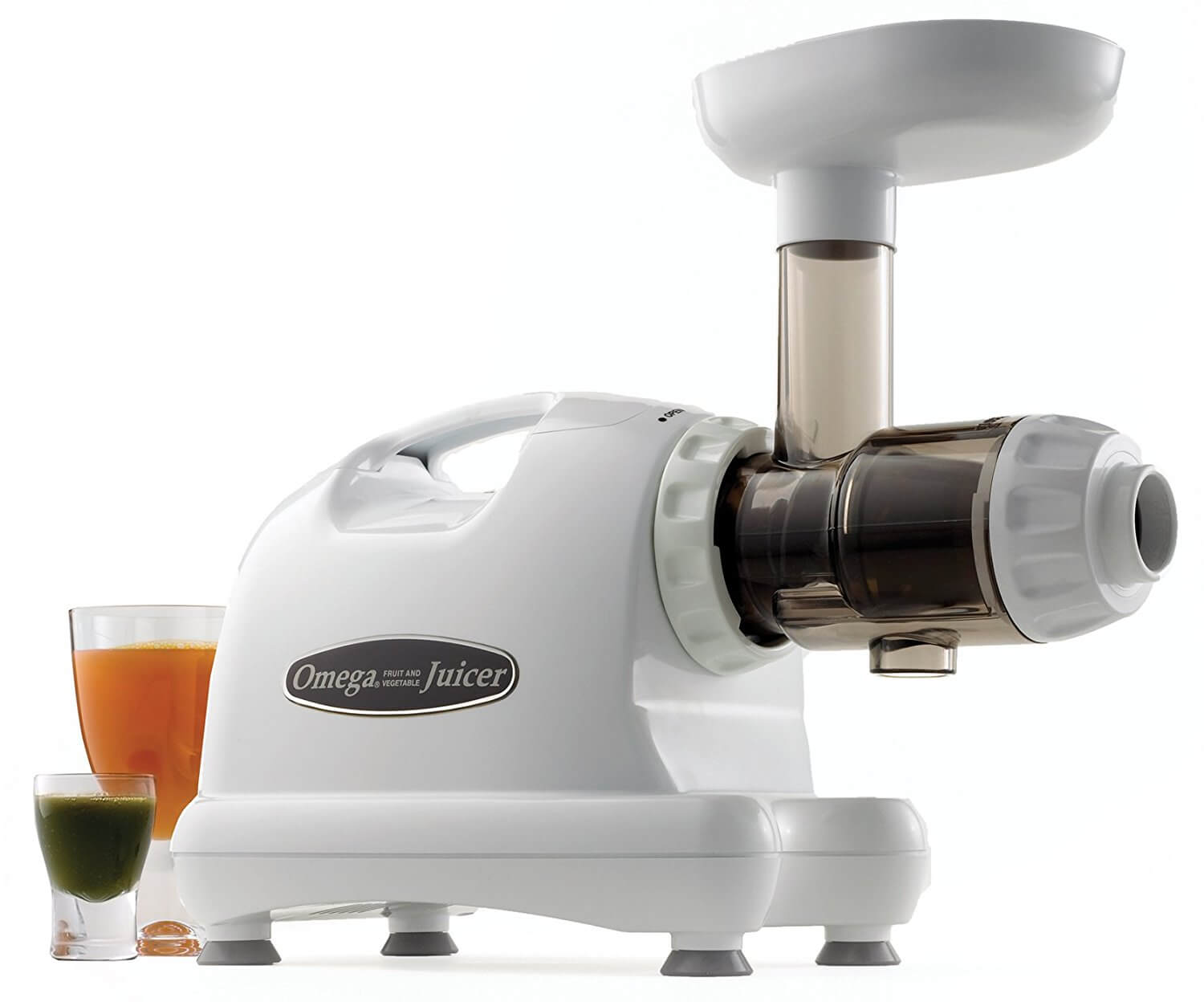 The Omega J8004 Nutrition Center Juicer is our number four pick. This juicer is very high powered and it has a traditional build. It is a very versatile appliance because it can do more than just juice. You will be able to juice greens and make pasta with this machine. This juicer will even juice citrus fruits! It is really a multi-use appliance.
Expand to see more
Benefits
This juicer uses the masticating method for juicing. It is slow, but it will not build up heat so your juice will not oxidize and it will last up to 72 hours with proper refrigeration. The pulp comes out very dry so you know that you got the most juice possible from your produce. It is effective at juicing both hard and soft fruits and vegetables so you can experiment and find the perfect juice recipes for your family.

What We Like About It
This system uses dual stage juicing. During the first stage, the produce is crushed to extract juice. During the second stage, the pulp is crushed to extract remaining juice. The versatility of this appliance is another great feature.

Cost and Value
This juicer comes in at the top end of our price list. You can do more than just juice when you have this on your counter, that alone makes it worth the higher price point. It is a great value if you are looking for a multifunctional appliance.

Slow crushing juicer
Dual masticating system for dryer pulp
Makes longer lasting juice
Good for all types of produce, even citrus
Multi-functional appliance
Large footprint
Slow working
5. Tribest CS-1000
The Tribest CS-1000 Citristar citrus juicer has our number five pick. This juicer has several anti-clog features for continuous juicing. This juicer has a universal ream so you can use all types of citrus fruit for juicing. It will allow you to have citrus juice at every meal and between meals as often as you would like.
Expand to see more
Benefits
The one-handed operation makes this easy to use and leaves most of the work to the machine. It will continue to work even if you press hard so you can get the most juice from your citrus fruit. You can juice directly into your glass for easy quick consumption.

What We Like About It
IT has two very useful anti-clog features. The spout of the juicer locks into place and has a grove in the bottom lip to prevent clogs. There is a mesh screen inside the machine that will prevent a large piece of fruit from clogging the machine and allow them to be juiced so you can get the most juice possible.

Cost and Value
This economically priced juicer is at the bottom of our price list. It is a great option for making citrus juice. The one handed operation and dual sized reamers make this a great value for a citrus juicer.

Dual reamers for all types of citrus fruit juicing
One-handed operation
Anti-clog spout
Stainless steel mesh screen holds the pulp
Durable construction
Lacks power
Must rinse both reamers after each use to prevent mold growth
6. Gourmia GCJ200
Keen on juice...but really just in it for the OJ? Maybe a cold, fresh glass of citrus juice in the morning or comforting or nostalgic for you. Or maybe you're looking to make mimosas from scratch. (We won't judge!) Whatever your reasoning, if you're looking for a sturdy, inexpensive citrus juicer, Gourmia is worth investigating. It features an integrated slicer so you can dice and then dump to juice easily and efficiently. There are two juicing heads with conic designs to maximize the juice extraction and cut back on time spent waiting around. A straining sleeve allows you to remove pulp but is optional. The parts detach easily, making clean up a cinch. With an ETL certification, you also know you're getting a safe, quality-tested appliance.
Expand to see more
Benefits

Citrus fruits often have high nutrient levels in them. Vitamin C especially can be found in abundance. This quaint littler juicer allows you to drink your OJ fresh squeezed every morning with hassle or a huge mess.

What We Like About It

It's compact, it's easy to use, and it gets the job done. You have some control over more customizable preferences, like pulp, and it's not a pain in the rear to try to clean the various pieces.

Cost and Value

It's a steal. This is a great little machine without a big, hefty price tag on it. Most users have been satisfied (and even thrilled) with their product's performance on top of the great deal.

PROS
Dual juicing heads
Conic design minimizes wait and maximizes extraction
Optional pulp sleeve
Easy to take apart and clean
ETL certified

CONS
It only does citrus, so don't grab this if you're looking to do veggies and other fruit

#7 Mueller Ultra 1100 W Power

SUMMARY

Sleek, modern, and constructed from stainless-steel, the Mueller Ultra packs a large punch of power at a fraction of the usual cost. This juicer can create up to sixteen ounces of juice in just eight seconds, with no clogging and less foaming than competitors. It offers dual speeds, with the first setting running at 12000 to 15000 RPM for softer fruits, while the second setting, meant for harder fruits, runs between 15000 and 18000 RPM. It's easy to disassemble, clean, and set back up, and all materials used are BPA-free. An extra large three inch feed chute means less slicing and dicing before you get to the fun part: the juicing. And with a two year warranty, you can buy confidently and contact the manufacturer with any problems you might face. Juicing doesn't need to be stressful.

Benefits

This juicer works quickly and is easy to operate. Just think of how much juice you can make in an hour, with a speed like sixteen ounces every eight seconds. More juice means more vitamins and nutrients, means healthier bodies and more fun.

What We Like About It

It has two speed settings, and each is specifically designed to accommodate the consistency/texture of certain vegetables and fruit. Choose between the settings for hard and soft produce based on what you're juicing.

Cost and Value

This is about middle-of-the-road so far as juicer pricing goes. It might even fall on the slightly less expensive side. But that doesn't make it mundane or cheap; by all accounts, this is a quality juicer.
Two speed settings
Stainless steel appliance
BPA-free
Easy to take apart and clean
Works fast; creates 16 oz of juice in 8 seconds
The pulp basin/screen doesn't sit especially firmly, meaning some juice leaks in between the pulp net and the machine
7. SKG SK2088A
SKG has created our number seven pick, the Vertical Cold Press Juicer. This juicer has a smaller footprint than its other cold press counterparts because it is designed vertically. It has a large chute so you can put in whole produce. This juicer is constructed with oxidation in kind, it has anti-oxidation materials throughout. It is easy to remove pulp and pour yourself a glass right away. This is a great cold press juicer if you want to take up less space on your countertop.
Expand to see more
Benefits
This juicer uses anti-oxidation TRITAN food grade materials for the juicing screw, silicone components, and all stainless steel parts. This means that your juice will last longer before it browns. The three-inch wide feeder spout means less chopping for you.

What We Like About It
It comes equipped with a pour spout so you can serve fresh juice right from the juicer. It has easy pulp removal so you can prevent clogs and keep juicing. The sixteen-pound base won't move around while juicing and it comes equipped with a handle for easy moving.

Cost and Value
The price of this product is near the top of our list. It is a great value for a juicer that takes up less space on your countertop. This is a great value for a cold press juicer.

Has a handle for easy movement
A vertical operation for a smaller footprint
Slow masticating juicer
Anti-oxidation construction
Large 3-inch diameter spout
Difficult to clean properly
Hard to remove top components
8. Hamilton Beach 67601A
The Hamilton Beach Big Mouth Juicer has earned the rank of number eight on our list. This juicer lives up to its name with a large chute that will handle whole produce. You can use this juicer to make a glass of OJ or to juice up some apples for a kids party. It is big enough to handle the big jobs and productive enough to save you money on expensive produce. You will enjoy having this economical juicer around your home.
Expand to see more
Benefits
There is a large pulp bin included so you can juice for longer periods of time. Once you are done juicing you can use the accumulated pulp to cook with or throw it in your compost bin. This juicer is easy to assemble and has a locking lid so you don't have to worry about it coming detached during juicing.

What We Like About It
The removable components are dishwasher safe for easy cleanup. When you use this juicer you will get yummy juice in seconds. Hamilton Beach has done scientific testing and discovered that there is a minimal nutrient loss with this juicer compared to cold press models.

Cost and Value
The cost of this juicer is near the bottom of our list. It has all of the qualities of a higher priced juicer at a lower cost. It is not a commercial grade juicer, but it will work well to make juice a few times a week for your family.

Economically priced
Large produce chute
Locking lid
Dishwasher safe
Large pulp bin
9. Omega VRT350 Heavy Duty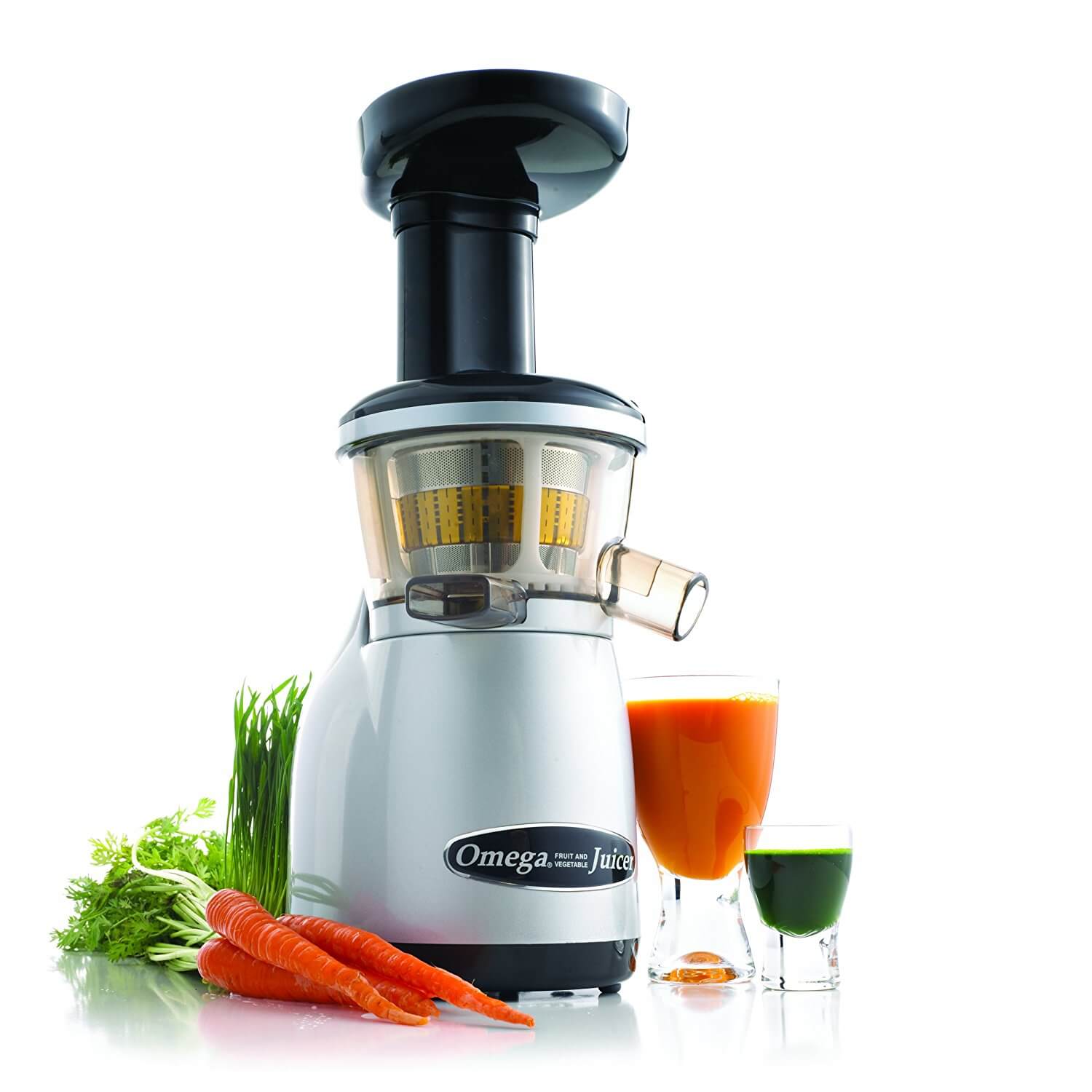 The Omega VRT350 Heavy Duty Juicer is our number nine pick. This is a low-speed juicer, also known as a cold press juicer or a masticating juicer. These types of juicers are known to retain more nutrients and oxidize the juice less so it will last longer. This juicer is no exception. It is a heavy duty versatile juicer that is perfect to keep on your countertop for frequent juicing.
Expand to see more
Benefits
This juicer has a reverse function. If anything gets stuck during the juicing process you can flip a switch to put it in reverse mode and the jam should easily clear. The vertical design takes up less space on your countertop. This model will automatically eject pulp out of a different spout after it has gone through the second juicing process.

What We Like About It
This juicer uses a dual juicing process. First, the produce is juiced and then the pulp is juiced. This means you get the most juice possible for your money. It comes with two containers one to hold juice and one to hold pulp.

Cost and Value
This juicer is near the top of our price range. It is a good value for a vertical cold press juicer. This will be a good addition to your kitchen if you will be juicing frequently and if you plan to reuse the pulp somehow.

Reverse function
Dual-stage juicing
Low speed juicing for optimal nutrient retention
Compact
Easy to clean
10. Cuisniart CJE-1000
The Cuisinart CJE-1000 Juice Extractor has nabbed our number ten spot. This is a great all-around juicer. It has a pulp bu=in and a pitcher so you have everything you need right out of the box except for the produce to juice. It has variable speeds so you can get the consistency you want without any issues. This quiet juicer is a great choice for your daily juicing needs.
Expand to see more
Benefits
The pulp container holds two liters and the juice pitcher holds one quart of liquid. It comes with an anti-drip adjustable flow spout to keep messes to a minimum. All of the removable parts are dishwasher safe.

What We Like About It
The foam management filter disk will work to keep your juice from oxidizing. This quiet juicer will work well and not cause any headaches.

Cost and Value
This juicer is priced just below our middle price point. You will get all of the features of a more expensive juicer for a smaller price. This is not a cold press juicer, but it does have a low-speed feature to assist in retaining nutrients if you choose. This juicing system is a great value for your dollar.

Quiet
Large feeding chute
Easy unlock and lift system
Foam management filter disk
Adjustable spout
Variable speeds
Criteria for Evaluation of the Best Juicers
Ease of Use
The juicers we have chosen all come with users guides to assist you in using them. Most of them come out of the box ready for cleaning and needing to be put together. Once your machine is put together you can chop up your fruit and feed it through the chute for some yummy juice. If you have chosen a citrus juicer you can cut your citrus in half and choose the correct size reamer then push your citrus against the reamer for yummy juice. All of these juicers are easy to use because they have comprehensive instruction guides that will lead you through the process of putting them together and using all of their features.
Durability
We never want to guide you to buy a product that will be a waste of your hard earned money. This is why durability is always a factor in any product that we choose. Each one of these juicers should last through regular juicing multiple times a week for years if used properly. The parts included with the juicers are well made and will last a long time with correct usage.
Easy to Clean
Finding a juicer that is fairly easy to clean is no easy feat. All of the juicers on this list can be rinsed immediately finishing a batch of juice for easy cleanup. they can be hand washed or placed in the dishwasher for the best possible cleaning. Some of them even come with cleaning brushes to make your job easier.
FAQ
Q: What can I juice with my juicer?
A: You can juice a variety of things with a juicer. If you have a citrus juicer then you can only juice citrus fruit such as oranges, lemons, limes, and grapefruits with your juicer. If you have a non-citrus juicer then you can juice almost any fruits and vegetables with your juicer. Some juicers will only work well with hard fruits and vegetables such as apples or carrots. If you plan to green' juice meaning you wish to juice leafy greens such as kale, basil, or lettuce make sure that is something your juicer can do well. Some juicers will not juice leafy greens and will just push them through to the pulp container. Check your manufacturer's directions to see what types of foods your juicer will work best with.
Q: How do I clean my juicer?
A: How your juicer is cleaned depends on your manufactured guidelines, these guidelines can be found inside your users manual. You should clean your juicer after each use to ensure that it is ready for its next use and that food does not get stuck or grow mold. Make sure to sipe the outside of your juicer down with a wet soapy rag regularly to keep it clean. Most juicer parts need to be hand washed. You can fill a sink with warm soapy water and disassemble your juicer and soak in warm soapy water then wipe clean and allow to dry fully before you reassemble your juicer.
Q: Where can I find juice recipes?
A: Many of the juicers we have chosen come with recipe guides. You can also find a variety of recipe books at your local library, bookstore, or for purchase online. If you would rather not purchase a book you can find several recipes online for your convenience. You can also check with your healthcare provider or local doctor's offices to receive recipes for juices. Another good resource for personalized juice recipes is a naturopath. A naturopath is usually a certified 'natural' health practitioner. They can help you find natural ways of healing common ailments. This is why they are a good resource for personalized juice recipes for you and or your family members.   

Q: What are the benefits of making my own juices?
A: You can avoid the high sugar and high-calorie juices of the grocery store. Making your own food allows you to monitor what ingredients are in your food. It is great if you have specific nutritional needs or are trying to make healthier choices. Increased vegetable and fruit intake have been linked to increased heth in a variety of scientific studies. The benefits of drinking whole food juices are widely known. HAving your children drink whole food homemade juices early and often will teach them what real juice tastes like and they will usually not like store-bought juices. This will help to lower your entire family's sugar intake and keep everyone healthier.
Q: What juicer is right for my family?
A: We have several types of juicers on our list. The juicer that is best for your family is a personal choice. If you will be making citrus juices regularly then you will want a citrus juicer. If you will be making fruit or vegetable juice then you will need a juicer that will handle the types of food you will be juicing. There are also combination juicers that can juice both citrus and other fruits and vegetables. You need to evaluate the needs of your family before deciding what juicer will be the correct choice.

Q: How did you choose the best juicers?
A: We looked for juicers that are highly rated with multiple positive reviews. The juicers we selected have the highest ratings and reviews of all juicers we could find. They all have very positive reviews from multiple customers who have used them frequently. We also check the negative reviews of anything that has made our top and best lists. We weigh the negative reviews against the positives of a specific product. If a product has more benefits for our readers than we will choose to highlight it on our top and best product lists.   
Conclusion
Juicing is a great way to add some extra vitamins and nutrients to your diet. Eating whole food can make your body healthy and help things to run more smoothly. Juicing fresh produce is one way to get all of the vitamins and nutrients that fruits and vegetables have to offer. The juicers highlighted on our list can help you in a variety of ways. They are very versatile. Even the citrus only juicers will juice multiple types of citrus. You can juice almost any product in the majority of these juicers. Juicing is a fantastic way to sneak some extra nutrients into your little one's diet. They won't know you are feeding them carrot juice if you disguise it with other sweet fruits. Juicing is a great way to disguise unliked food that is high in nutritional value.
You can also sneak the pulp from juicing into multiple other foods. If you made a vegetable juice you can use the pulp to create a vegetable broth as a soup base. If you just finished juicing some yummy fruits you can use the pulp in muffins, pancakes, or waffles for a nice morning treat. You can also use the pulp in your compost bin to help create a greener planet and a greener garden. Juicing is a great way to prevent unnecessary food waste.
Having a juicer around can save you money if you buy a lot of fresh produce. Many times you have to buy an ingredient in a larger quantity than a recipe calls for. This means that you need to figure out how to use these ingredients before they go bad. What better way to use a small amount of produce than to juice it? This is a great way to get your money's worth from that large amount of fresh basil you have leftover after making pesto or the extra carrots that you didn't get into your salad this week. You will be pleased with the results of making homemade juice for your family.