10 Best Cookbooks for Kids Reviewed in 2019
last updated
Jul 11, 2019
Your child doesn't need to be reality-show-ready to be a master chef. There are plenty of cookbooks out there specifically constructed and written to help facilitate culinary skills among our youth. These books compile recipes that kids can prepare on their own or with some mild to moderate supervision and guidance. Many cookbooks for kids also teach about kitchen safety, how to grocery shop and stock your kitchen, and what kinds of foods are best for our bodies. If you have a curious culinary enthusiast on your hands, invest in one of these fantastic children's cookbooks and share the joy of making (and eating!) all of these delicious dishes!
In a Hurry? The test winner after 23 hrs of research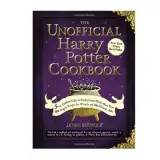 The Unofficial Harry Potter
Why is it better?
More than 150 Harry Potter-themed recipes
Pages are designed to look like they belong in a tattered spellbook
Fun snippets about the books and characters
Easy-to-follow recipe
sIncludes tips and techniques for cooking
In a
Hurry? Editors choice: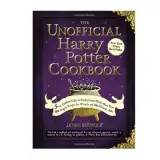 Test Winner: The Unofficial Harry Potter
36
Researched Sources
23
Hours Researching
25
Products Evaluated
Age Range
Entertainment Value
Logic
By Default
10 Best Cookbooks for Kids Reviewed
1

. The Unofficial Harry Potter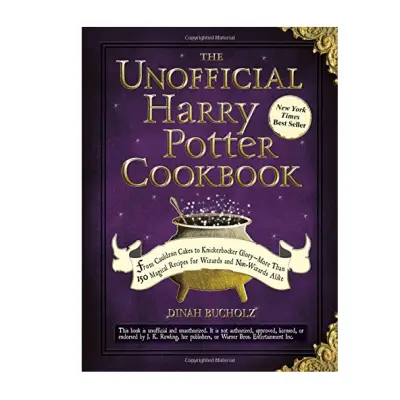 More than 150 Harry Potter-themed recipes
Pages are designed to look like they belong in a tattered spellbook
Fun snippets about the books and characters
Easy-to-follow recipe
sIncludes tips and techniques for cooking
Newer edition has images, older edition does not
Food is actually a pretty important part of wizarding culture. Rowling takes a significant amount of time to describe and name various dishes the characters eat throughout the books. This unofficial cookbook combines Rowling's ideas with traditional British dishes and talks about the history of each dish as well as its relation to the books.
Read more
Age Range
Kids and adults alike have been spellbound for years when it comes to J.K. Rowling's incredible magical world. The plot is riveting and intricate. The characters are lovable, flawed, funny, and human. The scenery is lush and magnificent--and let's not forget the food. Who among us hasn't daydreamed about Pumpkin Pasties, Treacle Tarts, Butterbeer, and Chocolate Frogs? With more than 150 simple recipes, the Unofficial Harry Potter Cookbook delivers a world of delicious food and creativity that would make any Hufflepuff proud. (Yeah, we know why your dormitories are next to the kitchens, Puffs.)
Entertainment Value
The book features illustrations, along with tips, techniques, and interesting real-world facts. (For example, a small blurb explains the difference between light and dark treacle syrups.) Dinners, desserts, snacks, and drinks: you'll have everything you need to leave the Muggle world behind and indulge in an enchanting experience for your taste buds. Little witches and wizards will love making recipes from this book, including Harry's favorite dessert, Kreacher's French Onion Soup, Molly Weasley's famous Meat Pies, and more!
Logic
Cooking teaches kids important skills such as responsibility, following directions, motor skills, cause and effect, categorizing, measuring, and more. Beyond the technical aspects, cooking is a fun, creative way to learn about your own tastes. Kids and adults can practice all kinds of cauldron culinary cuisines with this beautiful Harry Potter cookbook.
Created for ages 3 to 12 years old
Produced with American Girl brand
Features easy to follow and understand recipes
Included; 40 plus recipes for sweet treats
Promotes mathematical developmental skill set
Recipes can be hard to follow for younger chefs
Book construction is not durable
American Girl has spent the past few decades trying to create a franchise that empowers and educates young children, especially young girls. This adorable cookbook is full of sweet treats that the whole family will love and recipes that are easily accessible to children of various cooking levels. Most of these desserts even look as good as they taste!
Read more
Age Range
Two of the best things in a kid's world come together in this cookbook. The cookbook features over 40 baking recipes for that are perfect for all family occasions. Each of the recipes is easy to follow and understand making it the perfect book to help with their new cooking hobby. Measuring out the ingredients and forming it into the dough then placing it into an oven is a transformation that kids simply find so much fun in. Plus the whole family can benefit from their labor of love.
Entertainment Value
Featured are recipes for cookies, cupcakes, madeleines, and specialty baking favorites like; fudge, truffles, and turnovers. This is just the book to add to the shelf for your favorite little chef.
Logic
Learning to measure out and put ingredients together to form a wonderful sweet treat is a great way to develop math skills that will not only help in the kitchen but in the classroom as well. Whether the young chef is doubling a recipe or measuring out a teaspoon they will be practicing their math skills without them even knowing. This is a fun and exciting way to 'add' some math to their everyday lives.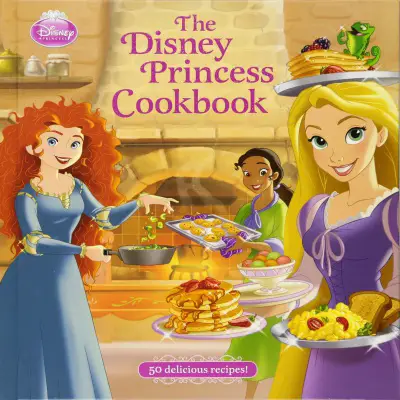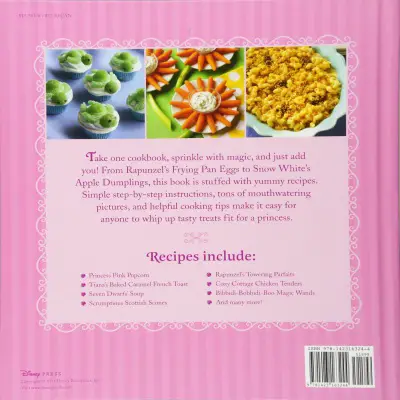 Beautiful artwork in the classic Disney style
Lots of colorful, creative recipes to choose from
Features all kinds of Disney characters cooking together
Step-by-step instructions and pictures
A variety of skill levels are accommodated in the various recipes
Some recipes will require adult supervision and help as they're slightly more complicated
This beautiful little book features famous Disney characters from classic princess movies, all tied to various easy, delicious recipes that tie in thematically with the movie they're from. The book is illustrated throughout, with lovely pictures of the princesses and their princes cooking. (We personally love that we see men and women cooking in this particular collection.)
Read more
Age Range
This book is great for younger children who have a parent handy to help them. The recipes are not complicated, but do require using various kitchenware and the stove and oven. The pictures are pretty, the recipes are creative, and little ones will feel like royalty when they take the first bite of the food they helped to make themselves.
Entertainment Value
Children can make recipes such as Rapunzel's Frying Pan Eggs, Ariel's Sea Turtle Cupcakes, Tiana's Baked Caramel French Toast, Rapunzel's Towering Parfaits, Cozy Cottage Chicken Tenders, Bibbidi-Bobbidi-Boo Magic Wands, Seven Dwarf Soup, Scrumptious Scottish Scones, and more. The book shows step-by-step instructions, as well as gorgeous photography of the finished dishes that will have children jumping at the chance to make their favorite royal dishes.
Logic
We love that this book shows all characters doing their fair share to help out in the kitchen. The recipes are pretty to look at as well as easy to make, so little ones will be excited to engage, but capable of handling the necessary steps with a little help from a parent or older sibling.
4

. Better Homes and Gardens New Junior
Filled 65 with healthy recipes
Covers cooking basics in the kitchen
Aimed at kids 5-12
Colorful stories that go along with the meal your creating
Encourages cooking with vegetables
Not for picky eaters
Some recipes include ingredients not readily available in the kitchen
The Better Homes and Garden New Junior Cookbook is equipped with 65 brand new recipes. This cookbook takes an interesting, narrative-driven approach to cooking. Fun, cartoonish characters help children to understand instructions and also tell a story to compliment each dish the book presents. The options included are pretty basic and don't require a lot of heat or grown-up prep so kids can learn to be a little more autonomous in the kitchen.
Read more
Age Range
Children love storytime. And you know what they don't love? Being told what to do. Unfortunately, recipes often boil down to basic instructions and some pretty pictures. This might be enough to excite avid cooking fans, but lots of kids will lose interest quickly and move onto other things. The genius of Better Homes' New Junior Cookbook is that all 65 recipes are presented as stories.
Entertainment Value
Characters provide background information such as why each dish is made, how its made, and interesting correlated facts about it. This book targets young children and understands that its readership may struggle with reading long passages so it relies heavily on pictures and graphics, and all text is written in a simple, straightforward style. It doesn't quite explain the nuance of consuming fats very well, but that's a conversation that might be better executed in person anyway.
Logic
The Better Homes New Junior Cookbook is our top pick for children's cookbooks. Aimed at ages 5-12, it is the number 1 cookbook for kids filled with healthy recipes and vivid, bright, and colorful illustrations. The recipes include fun stories with cute cartoon characters to go along with the dish you are creating. Because these recipes encourage healthy cooking, it is not for picky eaters. A lot of the recipes are veggie and fruit related along with tofu recipes so make sure these are food items your kids will enjoy before making this purchase.
5

. Kid Chef: The Foodie Kids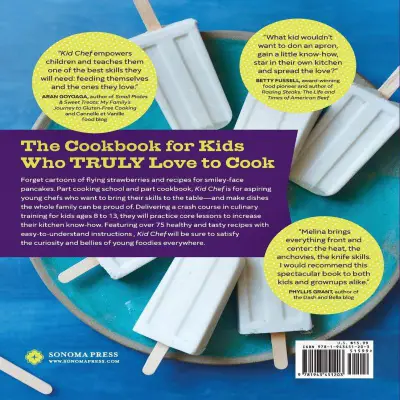 Teaches kitchen and knife safety
75 kid taste tested approved recipes
Challenges young chefs
Teaches proper food handling of fruit, veggies, and meat
Provides your child with real knowledge
May be a bit challenging to a novice chef
Not all recipes are healthy choices
The Kid Chef knows that when a challenge is issued, children love to rise to the occasion. This cookbook is meant for beginners; it comes with seventy-five delicious recipes as well as information about stocking your pantry and the tools you need in the kitchen. It doesn't, however, dumb down any of its recipes or instructions. It talks to children like responsible chefs, which helps to cultivate responsible chefs!
Read more
Age Range
This children's cookbook is a thoroughly thought out teaching tool that challenges children instead of oversimplifying recipes providing them with an extra confidence boost that every child needs. It provides 75+ recipes, teaching children to make everything from snacks and small bites to nibble on, main dishes, and desserts that are parent approved.
Entertainment Value
Striking a balance between a wide array of skill levels is a talent in itself and one that Kid Chef: The Foodie Kids Cookbook manages to execute flawlessly. This book is 202 pages and features over 75 recipes of different skill levels and cultural backgrounds. The book features full-color photography of all the finished recipes as well as the utensils chefs will need in the kitchen as they cook each and every delicious dish.
Logic
The book also provides detailed information on every step of cooking: stocking the pantry, list-making, choosing recipes, grocery shopping, handling sharp tools, working safely with the stove, and more.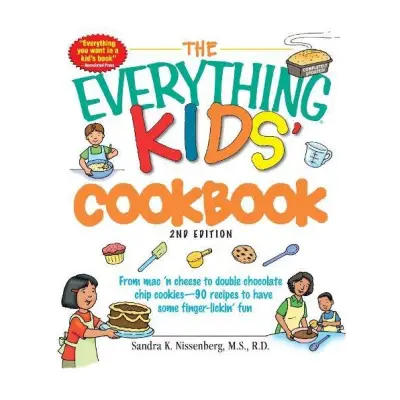 Provides recipes for a different holiday occasion
Provides difficulty rating for each recipe to make
Includes puzzles and games for extra entertainment
Teaches safety in the kitchen
Easy to follow instructions
Some recipes might be too difficult for your little one to make
Might not have too many healthy recipes
The Everything Kids Second Edition Cookbook is designed to make it easy for families to pick recipes to prepare, even with a variety of skill levels in the house. Each recipe tells you how difficult it is to complete, as well as listing the ingredients and tools needed so that you can skim through and find something that fits your children's moods and abilities. It includes over 90 recipes, as well as food-themed puzzles and nutritional information!
Read more
Age Range
The Everything Kids' Cookbook starts at the top and works from there: this book teaches children how to prepare even before they begin prepping ingredients and following the recipe. It's a book that relies very little on infographics, so if you have a child that does better with lots of pictures, this might not be for them. But if you have a little one who is comfortable with text, this cookbook was compiled by a registered dietician who has been working for years with families on creating fun, nutritious meals that all can prepare and enjoy.
Entertainment Value
The book also includes food-themed puzzles and fun facts to keep little minds sharp. It classifies each recipe by level of difficulty, so pay attention to that, and features over ninety delectable dishes.
Logic
This Cookbook is not only filled with 90+ delicious recipes, but it is also filled with fun trivia and silly games for your child to enjoy! From awesome and fun recipes you and your child can make together, to safety in the kitchen, this book has it all. What was especially unique for a kids cookbook is that it has seasonal holiday treats, as well as the difficulty level of each recipe. This allows you to help your child choose which recipes they can make depending on how novice a cook he or she is. The recipes have something for everyone covering breakfast, lunch, snack time, dinner, smoothies and beverages, delicious salads, and fun seasonal themed recipes for each holiday. From Halloween spider bites to graham cracker houses, it has adults covered for holiday kid parties they can enjoy making with their kids!
7

. Great Recipes for Kids Who Love to Cook
Simple meals
60 recipes
Teaches healthy eating basics
Has fun food trivia
Fun and easy to understand
Not for older, more advanced kids in the kitchen
Not all recipes are healthy
If you're feeling a little fancy, you can try the Williams-Sonoma Cookbook for Kids. The abundant recipes inside are easy to complete but they look lush and adult in their presentation. Most of the food is kid-approved (such as French Toast, Sloppy Joes, and Tortellini Alfredo) as well, so don't expect a lot of healthy choices but do expect that even picky eaters can find something they're excited to whip up with you!
Read more
Age Range
These recipes may well have been kid-tested, as the consensus across the board seems to be that each and every one of the sixty recipes included is a family favorite. The Cookbook for Kids features illustrations alongside the text to better help kids and adults alike absorb the information. Additionally, it offers knowledge and information about healthy eating that kids can carry with them for the rest of their lives. Cooking is about more than just following instructions, it's about understanding and respecting what you make and eat and Atwood recognizes that.
Entertainment Value
The Cookbook for Kids might just be your stop if you have a picky eater. What sets this cookbook apart from the others is Atwood's knowledge of what seems to be effective and what gets the ax when it comes to recipes that children not only enjoy making but also eating.
Logic
The Cookbook For Kids is a great beginner cookbook. It provides 60 mouth-watering recipes that are easy to understand and easy to make. It is filled with beautiful photographs and vivid illustrations, making it fun for the kids and easier for them to understand. It has simple, but delicious recipes that cover everything you need to make your meal. With meals to choose from like fish tacos to cinnamon swirl french toast, it has a wide variety of recipes that are sure to please everyone.
8

. Delicious Step-by-Step Recipes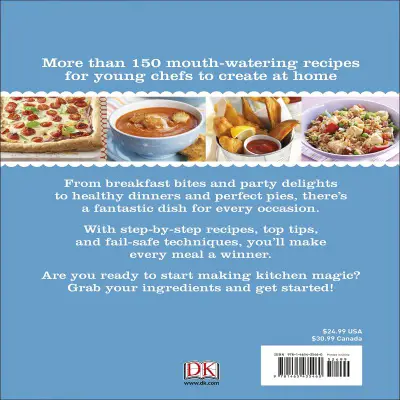 Features 150 recipes
Book divided into nine meal themed chapters
Great recipes for every occasion
Contains safety guides for good cooking practices
Encourages growth and self-esteem development
Ingredient and instruction list is fewer making leaving some items with a bland taste
Pages contain grammar errors that make recipes hard to follow
The Complete Children's Cookbooks offers one of the longest index lists on our guide. This book includes over 150 recipes in addition to information about healthy eating, cooking rules, and informative graphics about the different tools and resources kids will encounter and use in the kitchen. The recipes are divided in a way that makes sense when planning meals and snacks and the cookbook provides colorful photography as well as an emphasis on kitchen safety.
Read more
Age Range
Each recipe offers photographs that are in full color with simple to follow step by step instructions. The recipes even include safety precautions preparing your little chef of what it takes to become a great master in the kitchen. With basic cooking skills and great safety practices they will be cooking dinner for you in no time.
Entertainment Value
Finding recipes in this cookbook are quick and easy. It has been divided into nine chapters that each features a theme; breakfast, salads, soups, and more. This cookbook has a recipe for each and every occasion that the kids may need something for. Included is great recipes for items like French toast, tomato soup, ice cream, and muffins.
Logic
Cooking is a great activity to build self-esteem for kids. The instant feedback gives them a great experience that helps them learn and grow their cooking knowledge. With these skills, they develop healthy self-esteem and a love for being in the kitchen serving others.
9

. Cooking Class: 57 Fun Recipes Kids Will Love to Make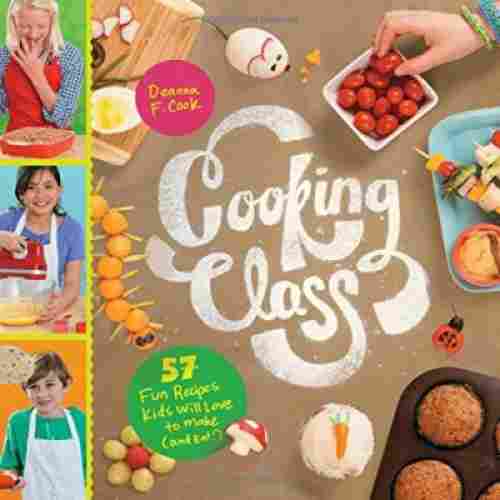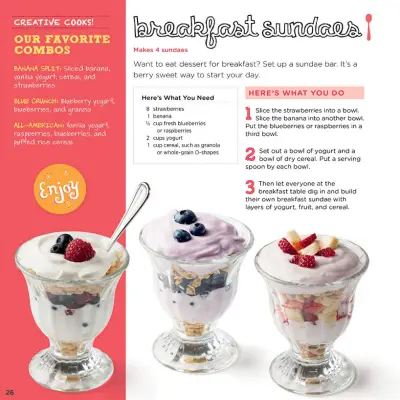 Covers 57 recipes
Rates difficulty of recipes
Your child can add their own recipes to the cookbook
Kid approved recipes
Teaches kitchen and stove safety
Recipes not very original
Not for novice young cooks
The Cooking Class is a culinary adventure that takes children on a journey from the basics all the way to the complicated stuff in kitchen management and the creation of culinary masterpieces. The book's content is organized in such a way the one progresses or "graduates" through levels of skills until such time he or she gains enough confidence to command the kitchen of his or her own.
Read more
Age Range
Cooking Class: 57 Fun Recipes Kids Will Love to Make (and Eat!) is the perfect guide for beginners. It begins with a segment called The Basics. This initial section teaches children all the important culinary skills that recipes don't cover: inventory, stocking, safety, how to smoothly run a kitchen, and more. Once children have mastered these important topics, they can move through 57 recipes that are all big hits.
Entertainment Value
A spoon graphic beside each recipe tells you how difficult it's going to be (the more spoons, the more skills necessary). This way, you'll always know exactly what you and your little one are getting into when you pick a meal to make together. This can help to avoid frustration, fits, and failed dinners.
Logic
The Cooking Class cookbook is a great teaching skill for any child in the kitchen. Chapter 1 is a great introduction to teaching your children important kitchen rules, good ingredients to use, knife safety, how to measure, cooking with heat, and clean up. There are wonderful kid-approved recipes to make covering breakfast, lunch, snacks, desserts, and main dishes. It also has a skill level and is rated with either a 1, 2 or 3 spoon rating letting you and your child know how difficult the meal is to make.
10

. Kids' Fun and Healthy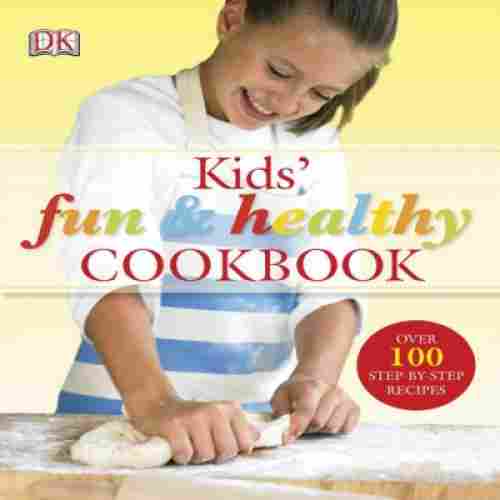 Step by step instructions for all recipes
Features 100 plus healthy recipes
Each recipe includes fun food facts
Highlights ingredients and how they are nutritious
Promotes healthy life skill
Recipes cut corners to make it easier for kids to learn
Grammar error found throughout the book
"Healthy" is the kind of buzz-word that sends most children running. Healthy food does not usually mean fun or yummy food in the minds of little ones. But The Kids' Fun and Healthy Cookbook proves that you can be conscious about what you put in your body while still enjoying it! This cookbook provides over 100 recipes with step-by-step instructions and photographs to help kids follow along.
Read more
Age Range
Cooking is a skill that everyone will need throughout their life, so why not start them young and show them how to do it the best way with healthy ingredients. Cooking is such a life skill, it is often left to the side, but it is just as important as learning to drive. Learning to cook and maintain a healthy lifestyle is much easier to learn at a young age and then just transition as they grow into adults.
Entertainment Value
Each of the recipes features full-color pictures and encourage healthy eating habits. This book even includes great recipes for salads, burgers, and even pizza. It is the perfect way to show them how to nourish their bodies but still satisfy their taste buds. As they work their way through each recipe the fun food facts and what makes each ingredient good for them is highlighted. What a better way to make cooking fun and teach your little one about maintaining a balanced diet than with this wonderful cookbook?
Logic
They are ready to prove to kids that learning to cook can be both healthy and fun. With more healthy 100 recipes in this cookbook with easy step by step directions, kids can develop a great understanding of cooking and how it affects their quality of life.
Criteria Used for Evaluation

Age Range
First on our list of priorities was the appropriateness of the reading material to the age of the reader. Younger readers will typically rely on a lot of illustrations or images to help in the understanding of the different steps and principles inherent in the preparation and cooking of a particular recipe. Older kids can already understand textual information but it should still be written in such a way as to facilitate easier understanding. Tweens and teens will also require a different writing style to appeal more to their highly individualistic nature. It was imperative that the manner in which the recipes or the topics in the cookbook were presented followed a very logical and systematic organization that is appropriate to the developmental level of the reader.
Entertainment Value
Cooking often feels like a chore, but truly it can and should be fun! Having helpful little chefs around sometimes helps to take the burden off of mom or dad, especially as children get older and thus more independent in the kitchen. You can instill a love of cooking in children from a young age and teach them not to be scared of or shy in the kitchen. These cookbooks are all designed to be appropriate for young cooks. Some include recipes with different difficulty ratings, some are a little broader in their descriptions, but all of them take into account that children want to be challenged without being constantly frustrated. These books are full of colorful pictures to help stimulate young eyes and keep children engaged, as well as to accessorize instructions so new readers have a little extra help along the way to delicious meals, snacks, and treats!

Logic
It was quite a challenge coming up with a list of the best cookbooks for kids partly because, like any other genre of literature, the choice is always a reflection of personal preferences. This was actually the case in our search as we read through the different feedback of parents and other consumers who have already bought the recipe book. We did strive for a minimum customer satisfaction rating for each of these cookbooks. However, major emphasis was on the pros and cons of the different products that we have initially listed. In cases where the cons far outweigh the pros, it was automatically scrapped off the list. There was simply no point including something that many people do not seriously think as worthy of their 5 stars. When the pros and cons were established and carefully analyzed, we then proceeded to dissect the book's qualities a bit further.
Most Important Criteria
(According to our experts opinion)
Experts Opinion
Editors Opinion
Users Opinion
By Default

Parents, did you know?
Cooking is a very important life skill. Your family may not always have access to instant food all the time and there will always be situations when personally cooked meals are called for.
Parents, did you know?
It teaches kids to appreciate real food. Only real foods have all the right nutrients that our bodies need. Compared to heavily processed foods, natural food items are healthier as they don't contain harmful artificial ingredients.
Parents, did you know?
It's a great way to manage picky eaters. Toddlers and preschoolers are known to be finicky. By giving them the power to cook their own food, they will be more than obliged to eat what they have prepared.
Parents, did you know?
It helps to enhance the motor skills of kids. Stirring, measuring, rolling, or even sprinkling spices over the cooked food requires motor skills and good control of muscle coordination.
Parents, did you know?
It encourages children to practice their reading skills. Reading through the various recipes becomes a training session for kids to hone their reading skills.
Other Factors to Consider

Effectiveness
Spending time in the kitchen together can be a fun and productive way to help strengthen bonds with your kids. But that only works if the recipes are things that children can handle (even if they need a little help along the way) and if the product is actually yummy enough that children will want to return to it or try other recipes. Thus, we've tried to pick cookbooks that come with high user ratings of the overall presentation, ease of use for children, and age-appropriate recipes that actually turn out the way you want them to!
Frequently Asked Questions
q:

What is the difference between simmering and boiling?

a:

Simmer is when the little bubbles on top start to surface of the water and boiling is when there are full big bubbles coming to the top of the pot.
q:

What are the most common mistakes made when it comes to food safety?

a:

The most common mistakes are not washing your hands frequently, improper food storage, cooking to proper temperatures, and storing food promptly after hitting 40 degrees F.
q:

Which kind of cutting board is best to use, plastic, or wood?

a:

It doesn't matter what material your cutting board is made of, as long as you wash it with hot and soapy water after you're done with it
q:

How do I make healthy choices when I shop at the grocery store?

a:

Check the labels and avoid center isles where all of the junk/temptation food is located.
q:

How do I know if my eggs are still fresh?

a:

Bad eggs float in water, fresh eggs won't