10 Best Fairly Tale Books to Read to your Kids at Bedtime in 2019
last updated
Jun 10, 2019
Who said your child's adventures and imagination has to stop when the sun goes down? Not us! In fact, reading your child a bedtime story will allow their imagination to run wild from the comfort of their own bed. Encourage your little one to experience a world of magic by reading them fairy tales. We created a list of the ten best fairy tale books for you to read to your child at bedtime. Whichever story you end up choosing, we are confident that your child will be so captivated by the plot and characters that they will dive into a world of pretend play. Get ready to be hit with a sense of nostalgia as you watch them enjoy the same fairy tales you grew up on. We are excited to highlight these best-rated and most-reviewed fairy tale books of 2019.
In a Hurry? The test winner after 36 hrs of research
Grimm's Complete Fairy Tales
Why is it better?
Complete collection of Grimm's work
Book itself is gorgeous
Leather helps to preserve the integrity
Includes additional legends
Perfect for any age with the short stories
In a
Hurry? Editors choice:
Test Winner: Grimm's Complete Fairy Tales
18
Researched Sources
36
Hours Researching
23
Products Evaluated
Age Range
Emotional Development
Educational Value
Entertainment Value
Creativity
By Default
In Depth Review Top 10
Grimm's Complete Fairy Tales
The Classic Treasury of Aesop's Fables
The Fairy-Tale Detectives (Sisters Grimm #1)
The Golden Book of Fairy Tales
The Original Folk and Fairy Tales of the Brothers Grimm: The Complete First Edition
Seriously, Cinderella is SO Annoying! (The Other Side of the Story)
Honestly, Little Red Riding Hood Was Rotten! (The Other Side of the Story)
Classic Fairy Tales Vol. 1
Hans Christian Anderson's Complete Fairy Tales
A First Book of Fairy Tales
Table of contents
Criteria Used for Evaluation
Other Factors to Consider
Frequently Asked Questions
Sources
10 Best Fairy Tale Books
1

. Grimm's Complete Fairy Tales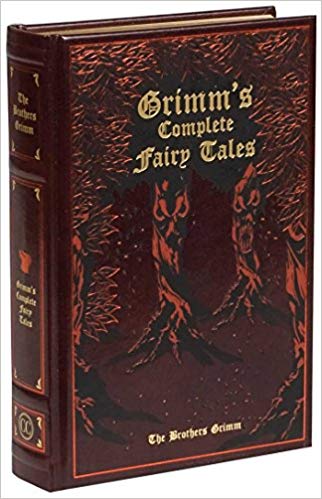 Complete collection of Grimm's work
Book itself is gorgeous
Leather helps to preserve the integrity
Includes additional legends
Perfect for any age with the short stories
English translation omits some of the humor
It's the original, and it's simply stunning. This leather-bound edition of some of the greatest fairy tales to grace libraries everywhere is both a treat and an adventure to read through.
Read more
There is no better starting place for fairy tales than the classic that inspired them all. Grimm's Fairy Tales were the original stories that brought to life the magic that is a fairy tale, and this book isn't just full of wonder and exciting adventure, but it's stunning from the outside as well. The book itself is leather-bound and features a beautiful gold emblazoned front, as well as over 200 original stories and an additional ten children's legends. The beautiful thing about this book is its introduction; along with a photo of the two authors who penned these stories is an inscription of what a fairy tale actually is. The way this type of story is described is simply beautiful and the authors claim it is, "... a traditional story that doesn't have a definite author but belongs to everyone equally." It brings home the notion that these tall tales have truly been passed down but remained the same in their original charm and content, if for nothing else but to bring joy to anyone who hears them. You'll find that this book is so much more than a collection of stories but is, in fact, a collection of history, culture, and exploration as well.
Age range
Grimm's Fairy Tales should be read to young kids at an early age by the parent or an adult. These are timeless classics that are enjoyed many times through a person's lifetime.
Emotional development
While these are not all highly pleasant stories for the youngest of kids, they do strike some emotion for children to enjoy. As kids look at the pictures, they can see the enthusiasm in the tales.
Educational value
There are just some books that deserve to be part of your child's collection. Grimm's complete collection should be on everyone's shelf simply because these stories are timeless and flawless in their writing and meaning.
Entertainment value
With so many stories in this lovely book, your child will have a new one for each night of the month. The classic prose and time-honored wording will get their imaginations flowing for wonderful dreams at bedtime.
Creativity
The design of this collection suits its purpose perfectly. The leather exterior and gold inscription on the front conveys just how powerful the stories inside are. Not to mention, it'll look amazing on any bookshelf!
2

. The Classic Treasury of Aesop's Fables
Each story has a valuable moral
The text is fairly easy to read
Often satisfies a reading requirement for school
Completely collection of fables
It's a classic and illustrated beautifully
Each fable has a different artist – not consistent
If learning the moral of the story is something your child really enjoys, Aesop's Fables must be on their bookshelf. These stories are filled with true-to-life lessons that are helping teachers.
Read more
Similar to fairy tales, fables are short stories that deliver a powerful message with one difference: Fables always have a moral to bring to the table, as well. Many of us remember reading some of these in grade school and having the intriguing job of figuring out what, exactly, the moral was from the particular story we were assigned. Aesop's Fables pulls the reader in with fascinating stories of various wild creatures in order to convey a message that will resonate and truly push the reader to think. Some of these fables are exercises in caution, some teach important life lessons, and others are simply a word of advice. They all represent some aspect of life that many can relate to and serve as a great piece of literature for any child's bookshelf. With so much literature that's intended to be read for pleasure only, Aesop's Fables still hold fast in their placement to deliver a powerful message; powerful enough to make kids truly ponder what it is they've learned from the text. If nothing else, many of these are entertaining stories of what not to do!
Age range
There is no age limit or minimum for these wonderful fables, as even infants will love to hear the sound of them being told aloud. Any age of child would be glad to have this book of these extraordinary stories.
Emotional development
Classics should always be read, at least once and often. Aesop's Fables is one of those collections that a child will commit to memory and can always look back on, which makes it a valuable part of anyone's book selection.
Educational value
We all need to learn the common lessons and morals of life to make it through with the wisdom needed for good common sense. These delightful stories give children these morals in small doses for lifetime learning.
Entertainment value
These stories are far from boring and serve as a fun guide in telling kids that not everything is as it seems, and even animals get themselves into some sticky situations.
Creativity
It's really the animals who are at the focus of each story that brings to life lessons that we still hold to be true today. With the use of the fancy characters, the morals are imparted on the child in a clever way.
3

. The Fairy-Tale Detectives (Sisters Grimm #1)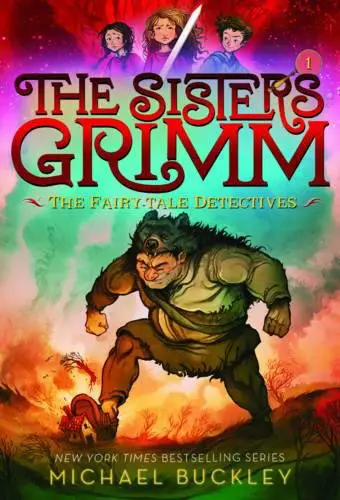 Good choice for older kids
Easy reading level
A brilliant re-telling of fairy tales
Fun and entertaining storyline
Reads like a mystery book
Needs a more thorough explanation behind the plot
This fun, playful take on the Grimm tales is perfect for teens. It's a great mystery series that was inspired by some of the most popular fairy tales we have the pleasure of knowing.
Read more
Now, here's a novel that has taken the idea of the Brothers Grimm and turned it into something entirely creative and imaginative. For preteens and teens, this book series is an excellent way for them to enjoy the Grimm stories they loved so much as children in a more mature, adult way. This story tackles the (imagined) Grimm family history from the point of view of descendants of the Grimm brothers, who find out their relation through their grandmother. The imagination and creativity that went into writing this book are not to be missed, as the plot follows the idea that each Grimm tale is actually a case file! The Sisters Grimm take on the wild adventure of investigating each story which lands them in some crazy situations, but, of course, they always figure a way out of them.
Age range
The level of added maturity to these mystery books will captivate any reader over the age of eight. It's an easy read with a plot that will keep them hooked and coming back for more.
Emotional development
Quite an emotional ride for the older child as they read through this collection of wild tales, this volume of fun is perfect to read alone or with an adult. It goes to show that fairy tales can be very adventurous.
Educational value
When kids read such descriptive and creative writing such as this lovely book contains, it can possibly bring out the writer, illustrator, and creator in them to influence their own artful style.
Entertainment value
The Fairy-Tale Detectives is fun, adventurous, and truly encapsulates what it means to modernize the idea of a fairy tale without going too far or straying from the classic theme that the Brothers Grimm worked so hard to create.
Creativity
This book series is perfect for preteens and gives them a chance to dive back into the fairy tale world without re-reading stories they've heard before. It's a classic reimagining that's truly profound and addicting.
4

. The Golden Book of Fairy Tales
Contains popular Disney movie fairy tales
Artwork is unparalleled
Reading style is unique and original
Great for new collectors of fairy tales
Includes stories from various cultures
Some illustrations are in black and white
This book contains the most popular fairy tales that your child is sure to love. Many of these have inspired popular Disney movies and still hold their entertainment value to this day.
Read more
For a bit of a more modern (and what inspired some of the most popular Disney movies) take on fairy tales, The Golden Book is one collection that absolutely must be on your child's shelf. With the Disney adaptions of these popular tales, we often forget that at one point, they were stories that have been retold for decades. This book was written in 1958 and contains some of the most beloved stories that kids will appreciate reading for the first time, especially if they've already fallen in love with the movie adaptations. In this book, your child will find Thumbelina, Cinderella, Puss in Boots, Beauty and the Beast, Sleeping Beauty, The Frog Prince, and even Little Red Riding Hood. All of these classic tales hold a place in our hearts, and we're not just talking about kids -- Adults love them, too! Stories such as these will set the tone for any type of bonding you and your child have over reading and make for excellent bedtime stories as well as rainy-day stories. They hold a magic that's truly incomparable to modern literature and are forever timeless. In addition to these most popular stories, this collection contains 28 in total, coming from places such as Japan, Germany, Russia, France, and Sweden.
Age range
Toddlers, kids, and adults will all love reading this collection of assorted favorite tales. They never go out of style as they have entertained and excited readers for generations.
Emotional development
All the excitement of such stories as Cinderella, Sleeping Beauty, and Beauty and the Beast are included in this wonderful book. Enjoy all the well-written tales with your child for reading together anytime.
Educational value
Your child will have a wide reach across the globe with all the literature found in this collection. Not only is it a classic collection, but it also reflects culture, history, and how each writing style was influenced during that time period.
Entertainment value
Some of the most well-loved classics are included in this popular volume of fairy tales. It will delight and enchant children to hear these treasures over and over again with parents and even alone.
Creativity
The illustration in this book is absolutely striking. Marie Ponsot has done an incredible job creating artwork that matches each story and paints a scene so that the reader can be fully immersed in what they're reading.
5

. The Original Folk and Fairy Tales of the Brothers Grimm: The Complete First Edition
Colorful illustrations are amazing
A direct translation with no censoring
Contains first editions of each tale
Forward is enlightening and informative
Includes the original German titles as well
Might be hard for young kids to understand
For those who are just looking for a taste of fairy tales and love history, this first edition is pure magic. It contains all the original Brothers Grimm stories from 1812, all perfectly translated to be made easy to understand. The Grimm tales can be traced back as far as 1812 during their conception, where two brothers had the idea of writing children's stories that were exciting, entertaining, and would push the limits of your average literature.
Read more
This is yet another collection with illustrations by Andrea Dezsö. This book has a slightly different translation and would be excellent for older kids, because the text has not been censored in any, shape, or form, and even contains the proper German titles in addition to the English translation. The forward by translator Zack Gripes is both thoughtful and informative and would be of great value to someone who thoroughly enjoys these tales. It's a mature collection for the preteen or teen who truly values the culture and history that comes with a collection such as this. This varies from the previous collection we've included because it contains only the very first stories -- Those that were penned in 1812 and were widely accepted as pieces of wonderful literature. This first edition is the key to what started the Brothers Grimm on their literary journey and is truly a gift.
Age range
From infants to adults, everyone will love to read or hear the original tales of the Brothers Grimm. These are well-liked by young kids for story time and bedtime when read by adults.
Emotional development
We understand human emotion at a very early age from watching our parents and others around us as they express themselves. Reading to a child is a great way to impart emotion, and these terrific fairy tales are an ideal learning tool.
Educational value
This forward not only includes an in-depth history of the Grimm Brothers and their writings but also a reason and explanation for why this book has been translated.
Entertainment value
You can be sure that your child will have a renewed appreciation for these stories which have been passed down for generations because of the lovely illustrations and perfect writing of the tales.
Creativity
Rather than being overwhelmed by a complete collection of the Grimm stories (over 200 in all), this is a great way to introduce both history and the stories themselves to your child. It's a beautiful book filled with fantastic illustrations to match.
6

. Seriously, Cinderella is SO Annoying! (The Other Side of the Story)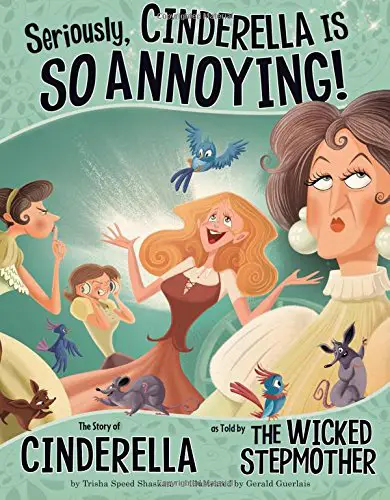 Funny and entertaining
Clever re-imagining
Colorful illustrations are fun and playful
Minimal text to make for easy reading
The story itself is short
Readers thought the book lacked originality
You know how terrible her stepfamily was, but did you know Cinderella wasn't exactly fun to be around? This hilarious story recounts the fairy tale from another side. This short story is ideal for young kids. Anyone under the age of ten will likely enjoy this story about Cinderella. However, it might not be what you quite expect.
Read more
The story goes that Cinderella was at the mercy of her stepsisters and wicked stepmother, however, no one has ever written from their perspective until now. This story dives into how Cinderella was the one who was a constant annoyance to her stepfamily, which has resulted in a hilarious re-imagining of a classic fairy tale and a popular Disney movie. Young readers will love the back and forth of this story and share a few laughs over the fact that Cinderella might not have been as innocent as she seemed to be. The accompanying illustrations by Gerald Claude Guerlais aid in the hilarity of the unique storytelling and help to paint the picture for readers.
Age range
Children ages six and over can enjoy reading this book independently as the words are easy to read and the storyline is simple enough for them to follow. The fun cartoon illustrations will make it hard for children to put the book down.
Emotional development
It's a cute way of re-writing the story from another point of view and adds a level of humor that young kids really enjoy and appreciate. Since it's such a short read, it's easy enough to get through and will help a child's literacy tremendously.
Educational value
With the story being from the stepmother's perspective it adds a sense of hilarity that the classic does not include. The end of the book includes questions that encourage your child to engage in a discussion about the story.
Entertainment value
Aside from the fact that this is just a fun story overall, it makes Cinderella a modernized piece of literature, in a sense. Many kids who have no interest in reading the original story can get a kick out of reading this version of the story.
Creativity
Stories such as this that use an original tale and give an opposing view of one of the characters makes kids think for themselves and have an opinionated view of the world. It teaches independent thinking which is beneficial to their mental growth.
7

. Honestly, Little Red Riding Hood Was Rotten! (The Other Side of the Story)
Hilariously funny
Offers a different point of view
Teaches kids that every story has multiple sides
Encourages kids to think outside the box
Easy to read
Some thought the story itself was a bit unusual
We all loved reading Little Red Riding Hood as little kids, but now you can hear the story from another point of view. From the mouth of the big, bad wolf, that is!
Read more
This is one short story that will definitely be appreciated by those who are fans of the original Little Red Riding Hood tale. In reality, we don't really know much about the wolf, therefore, this story could actually be very valid! It's a witty and clever way of viewing the original story from the point of the villain and gives a completely new impression of Little Red Riding Hood. Was she truly that innocent? Was she an annoying person to begin with? What she out to get this wolf from the get-go? You'll never know unless you pick up this book!
Age range
Kids will appreciate the humor and re-imagining of the characters that flips the story and creates something entirely new. Over a span of 24 pages, the author has managed to rewrite this story in such a way that makes it entertaining, thoughtful, and seriously funny.
Emotional development
As your little one enjoys this classic story from the perspective of the wolf, they will learn how important it is to hear each side of a story before forming an opinion. They will become more open-minded and considerate to others as they take into account the wolf's reasons for his actions.
Educational value
While bedtime is the perfect time to read a fairy tale, with the book available on Kindle or as a paperback your child can easily take their book and read it on the go.
Entertainment value
This storyline is a fun take on a classic fairy tale. Not only is it entertaining but it will encourage children of all ages to take into account everyone's perspective before forming an opinion.
Creativity
It's a great example of how every story has a separate point of view and will encourage kids to look at a situation from every side. Who knows, maybe the wolf really was the victim in the story!
8

. Classic Fairy Tales Vol. 1
Colorful illustrations are gorgeous
Translation in on-point
Each story is well-known
Kids can follow along with the pictures
Won the Chelsey Award for its artwork
Digital editions of the book caused some problems
The illustrations are what make this book sing, as they're all done in an oil painting style. It's just as beautiful to look at as it is to read.
Read more
Inside, kids will find all of their favorite classics with the most perfect pictures to accompany them. In 2003, this book won the Chelsey Award for its illustrations and it's a book that would look incredible on anyone's bookshelf. Your child doesn't necessarily need to be a fan of fairy tales in order to appreciate this and because of that, there's really no true age limit for it.
Age range
The story lines are well written and easy to follow for children of all ages. With each story, your child will easily be able to comprehend the moral that is lying inside the fairytale.
Emotional development
The pictures alone are enough to captivate a young audience and as your child gets older, they'll appreciate being able to read the stories themselves and relive each one through its illustration.
Educational value
This hardcover book is designed to be passed down through several generations of your family. The book is filled with classics such as Goldilocks & The Three Bears, Rumpelstiltskin, The Three Little Pigs, and many more.
Entertainment value
While the stories are wonderful, the beautifully crafted illustrations will captivate every reader's imagination and make them feel like a character in the story. The book is a tad heavy, which makes it the perfect book to remain on your child's shelf each day until it is time to enjoy it at bedtime.
Creativity
The oil painting-style art of this collection is what truly makes it a classic. Each story is brought to life through color, detail, and captivating artwork that simply can't be outdone.
9

. Hans Christian Anderson's Complete Fairy Tales
The forward is informative and contains valuable content
An original collection of the works
Great starter book for fairy tale-lovers
Perfect for bedtime
New and adventurous stories
Can be hard for kids under the age of ten to read
The Brothers Grimm weren't the only ones to pen children's stories in the early 1800s, and Anderson wrote many that are still very popular today. Your child might be familiar with The Ugly Duckling, The Princess and the Pea, Thumbelina, and The Emperor's New Clothes.
Read more
Many of these have already been turned into animated movies, but the original stories hold a sense of wonder and magic still to this day. While these stories aren't terribly long, they are incredibly entertaining and detailed. These would work well for older kids because the text isn't on a grade-school level, however, it would also be a great addition to any young child's bookshelf for when they are older. The book includes a forward that provides a detailed history of these stories and is interesting to read for those who are truly fans of Anderson's work.
Age range
This is a great alternative for those who find Grimm's fairy tales to be a bit too dark, mature, or challenging to understand. These stories are age-appropriate for everyone and will do a great job of entertaining all readers.
Emotional development
Each of them has been created with a sense of adventure and truly captivates the reader during every journey as they follow the main characters through each narrative.
Educational value
Your child will be holding a piece of history in their hands when they open this book. Each fairy tale has been passed down through the generations and contains imaginative scenarios filled with colorful characters that are truly brought to life on these pages.
Entertainment value
For a lighter edition of fairy tales, Hans Christian Anderson provides levity and lighthearted stories. These are a fun way to go on a literary adventure for any age.
Creativity
Full of short descriptive tales that exude adventure and excitement, your older child will be most appreciative of this superb collection of stories. It is a volume that can inspire the author or illustrator in your family.
10

. A First Book of Fairy Tales
Available in paperback or hardcover
Combination of classic and lesser-known fairy tales
Stories are shortened to keep children engaged
Beautiful illustrations bring each story to life
Some reviewers feel the stories are too short
Bedtime will become a little more magical when you introduce your child to fairytales. The A First Book of Fairy Tales is perfect for younger children. Fourteen classic fairy tales are retold and written for a younger audience.
Read more
Your little one can enjoy the classics you grew up with such as Cinderella and Jack and the Beanstalk, as well as a few stories that may not be as popular. Mary Hoffman has written each story with plenty of humor to entertain and excite children. The beautiful illustrations created by Julie Downing bring the story and characters to vivid life. When purchasing you can choose to order this book as a hardcover or paperback.
Age range
Some fairy tales can be a little too complicated for a young mind. However, that is not the case with this book each story has been shortened and rewritten specifically to keep a younger audience engaged.
Emotional development
As your child listens to the stories being read, they will learn about pride, greed, and vanity while also learning the importance of love. The magic of each story will stimulate their imagination and encourage them to delve into a world of make-believe.
Educational value
These fourteen classic tales are what inspired and motivates young readers to explore further into the more difficult stories we know and love. These teach them the basics of good prose and story writing as it is professionally done.
Entertainment value
We all love the famous stories that we grew up reading which were first read to us by our parents and siblings. These tales entertain us for bedtime and storytelling time to spark our own imaginations.
Creativity
Kids learn the art of reading and writing by exploring what has already been written by others. what better way to learn this correctly than to read the classic tales that we all come to love as older kids and adults.
Criteria Used for Evaluation

Age Range
It is said that if you want your kids to be intelligent, you should read fairy tales to them. This is something that we wholeheartedly believe to be true, which is what brought us to the creation of this list. Fairy tales view no age as relevant, but we've tried to incorporate stories that were easy to read for children of all ages. Adults can benefit from reading fairy tales as well, which is what makes their world of fiction so all-encompassing.

Emotional Development
There is no limit to what a child can imagine when they dive into one of these fairy tales. The brain is an amazing thing and can create images and visuals that are often unparalleled to what we can view in an illustration. While artwork helps tremendously, it's your child's own imagination that can transport them to a world that's entirely unique and new to them. Fairy tales are beautiful in the sense that they pave the way for kids to be creative while they read and introduce new lands, character, and scenarios that make the reader feel as though they've just embarked on the greatest adventure.
Educational Value
Since many of these stories have found their way around the globe, your child will be engaging in a high level of historical and cultural storytelling. This is a wonderful thing for a child because it allows them to view the world in a different way and exposes them to concepts and customs that they might not be familiar with. These fairy tales have a way of broadening horizons and encouraging kids to adapt their own explorative nature, which begins simply by turning the page.
Entertainment Value
You've probably heard before that reading to your child is one of the greatest activities you can engage in, in order to strengthen your bond and create. As a parent, you can't underestimate the power of a fairy tale, as simple as the story may seem. There's a reason that these tales have lasted entire lifetimes and continue to grow in popularity today, and that's because when we read them, we're all embarking on a literary adventure.
Creativity
The brilliance and creativity behind each one of these stories will help encourage them to read and read often. With so many tales to choose from, your child will have no limit to the stories they can read and if they find one to be boring or difficult, they can just choose another. Stories such as Aesop's Fables help to teach life lessons in addition to their educational and literary benefits, which really makes them much more than just writing on paper.
Most Important Criteria
(According to our experts opinion)
Experts Opinion
Editors Opinion
Users Opinion
By Default

Parents, Did you Know?
For toddlers, you will most likely have to read to them, but as you do, make sure they follow along in the book by looking at the illustrations and helping you with turning the pages. This gets them involved in the action and makes the story more interesting.
Parents, Did you Know?
Always make sure you are using books for reading enjoyment that are at the child's proper age level. Reading above their level will discourage them from reading while reading below their level will make them bored with the story.
Other Factors to Consider
Design
The criteria we've used when discerning what to use on our list and what not consisted of finding the best translations and the most stunning illustrations to go with them. Since many people are already familiar with fairy tales, it fell to us to decide which books were really at the top of our list for your child's bookshelf. It was quite obvious that the Brothers Grimm tales, as well as Hans Christian Anderson's famous works, needed to be included, but we've also included individual stories that have been rewritten or re-worked in order to represent the story in a different light. Basically, we left no stone unturned and have provided only the best, based on what was deserving of holding a place in your child's heart and in their hands.

Social Development
Fairy tales and the act of reading with your child enhance their social skills, as well as their verbal and language talents. This is your chance to engage with your child and create something beautiful that will be a lasting memory for them; after all, it's not every day that you get to explore a magical wood or a majestic with them! use their reading time to explore new worlds and possibilities to open up their minds to creative thoughts and expand their imaginations. Such books can also make the bond between parent and child stronger with the quality time of enjoyed reading.
Frequently Asked Questions
q:

Would these books be appropriate to bring to school?

a:

Of course! You'll find that many of these fairy tale books and fables are actually found in your child's classroom already, as they're part of many common reading lists.
q:

Which of these would be good for a toddler as a starter book?

a:

We'd recommend the lift-the-flap book, simply because your toddler will be interested and engaged in the story. It will give them something to do while they explore all eight stories.
q:

Is there any language that I should be aware of when reading this to my child?

a:

Some of the Grimm's fairy tales do contain situations and wording that can either be confusing and/or a bit mature for kids under the age of ten. While it is only a story, if this is something you're worried about, it's good to read the story yourself beforehand. Keep in mind that these stories have been translated and mark a point in time where censorship was not common, and children took stories for what they were - Just pretend.
q:

Would a child be able to understand these just by looking at the illustrations?

a:

While we have included several books that rely heavily on the illustration to get the point across, it's always helpful to read along with the story. Children of all ages will thoroughly enjoy flipping through these for the pictures, though, as nearly every book on this list contains.
q:

How hard are these to understand?

a:

Depending on your child's reading level, they're all relatively simple to comprehend. These stories were written for children, after all!
q:

Are the complete collection books terribly heavy?

a:

They're certainly not light, and the heaviest would probably be the Brothers Grimm Complete Collection - At over 600 pages, it's a doozy, but with its leather-bound exterior, it's a stunning addition to any.