While there are all types of artistic expression, one of the greatest means is watercolor paint. Both children and adults love to use the fun and often messy mixtures of colors to make sketches, portraits, and landscape images come alive. Mixing paint can be an entertaining and educational experience that can be enjoyed at any age. Manufacturers have created some excellent products that are at each end of the price range and size scale. We feature the best-rated and the most-reviewed of these items in this informative buying guide. There are basically two different forms of watercolor paint. One comes in individual metal tubes and the other is in a flat box or tin that is filled with small paint cakes or tablets. We list some of both for your enhanced shopping experience. We are excited to spotlight them in this list. Here are the best watercolor paints in 2019.
10 Best Watercolor Paints Reviewed
1. Sakura 24 Field Sketch Set with Brush
With over 2,000 reviews online from buyers who are mostly satisfied, the Sakura Assorted Watercolors Field Sketch Set is the most popular item of this category. Including twenty-four assorted colors, this design is sleek and small for enjoyment on the go. Containing a water brush, a plastic case, a built-in palette, a sponge, and the watercolor cakes, it is compact enough to fit easily in a jacket pocket or purse.
Expand to see more
The watercolors are half-pan to allow for easy creating and blending of colors, and the water is stored and transported in the water brush that is refillable. Affordable and lightweight, this terrific item is great for those
fourteen-years-old
and older. The palette has a pull-down ring in the back to place a finger to hold it better for mixing colors and using paint.
Benefits
This lovely product includes a water brush to paint with instead of using containers of water. It holds the water in the clear cylinder to be ready for you to squeeze the barrel to use the water with the paint.
What We Like About It
If you like to paint when traveling, then this is the watercolor set for you. The water brushes take away the mess of the water cleanup and the plastic case is small enough to fit in even a jacket pocket.
Watercolors are half-pan for blending
Water is stored in the water brush
Compact to fit into a jacket pocket or purse
Affordable and lightweight
Palette has a pull-down ring in the back
The plastic insert is not the best quality
Paints may stain the brush fibers
This Crafts 4 All Premium Quality Art Watercolors Painting Kit contains twenty-four watercolor paints and is made for beginners, students, and artists. Good for portraits or landscapes on canvas, it comes with three free brushes and shades that are attractive and vivid.
Expand to see more
Made to be diverse and delicate, these incredible paints have a blending capacity for making darker or lighter hues with just a single waterdrop. They will not become dull or fade and are great for all sizes of projects and paintings. The paints are permanent and lightfast with high-quality pigments, plus non-toxic with high coverage. Contained in metal squeezable tubes, the paint can be used right from the tube or as a wash mixed with water. Ideal for all levels of skill, this product is kid-friendly with a safe design.
Benefits
Plenty of paint comes in these wonderful metal tubes for you to experiment with and create. They are easy to use since they are marked well and have easy durable caps for the opening.
What We Like About It
You will not have to purchase the brushes separately to begin painting with this set. It comes with three brushes that are free. Once you have paper or cardstock, you can begin your
creative designs
.
Made for beginners, students, and artists
Comes with three free brushes
Made to be diverse, delicate, and permanent
Non-toxic with high coverage and attractive
Use right from the tube or as a wash
Might not mix well in water
Some people were not happy with the overall paint quality
3. Zig Kuretake Gansai Tambi 24-Color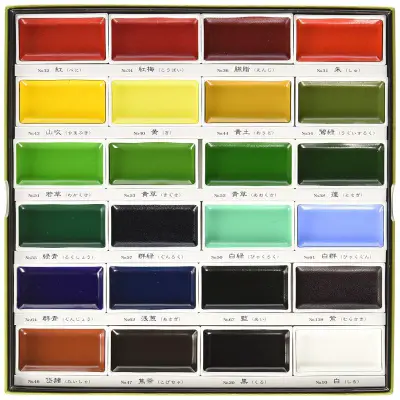 The Zig Kuretake Gansai Tanbi Painting Set contains twenty-four various colors of paint in Japanese traditional watercolors. Good for painting, illustrations, and sketching, this fantastic product is non-toxic and great for beginners and skilled artists.
Expand to see more
The paint consistency is smooth and blendable, and the colors are intense, gorgeous, and rich. This item has more opacity in the paint than American or European watercolors according to the maker, plus they mix with water well.
Benefits
Many online customers love the rich colors in this group. There are some other than basic colors present in this mixture that give you many possibilities with blending and shading.
What We Like About It
According to the manufacturer, these paints are more opaque than other international
brands
of the same type of product. They say they are of a higher quality and have a better performance.
Japanese traditional watercolors
For painting, illustrations, and sketching
Good for beginners and skilled artists
Consistency is smooth and blendable
Colors are intense, gorgeous, and rich
Some buyers did not like the color assortment
Does not come in a case or box for storage
4. MozArt Supplies 24 Vibrant Lightweight
Great for beginners and professional artists, the MozArt Supplies Watercolor Paint Set is
portable
, lightweight, and consists of twenty-four beautiful colors. The incredible paints blend easily to create colors in an endless range, and the colors are crisp, clear, pigmented, vibrant, and rich.
Expand to see more
It comes with a sturdy metal box with a removable lid, and the lovely paints are non-toxic. The sturdy lid has three divided sections that can be utilized for a palette to mix the paints. Included is a paintbrush to get you started right away creating with this highly portable product ideal for use at home while traveling, or away from home.
Benefits
Being compact in size, this paint set can fit into small spaces in backpacks and bags to take with you on the go. When you are
traveling
or away with friends and relatives, it is a good pastime to paint what you experience.
What We Like About It
The nice box for this product is a great thing to have. there is a slot in the middle of the paint cakes for the brush, and the lid doubles as a palette for mixing and blending the paints.
Set is portable and lightweight
Great for beginners and professional artists
Colors are clear, pigmented, vibrant, and rich
Comes with a metal box and a removable lid
Lid has three divided sections to use as a palette
A few people said these do not blend well
Has an odor when first opening
5. Shinhan Professional 7.5ml Tubes 30 Color Set
The Shinhan Professional Watercolor Paint Set includes thirty metal tubes of different paint colors that are easy to blend and mix. Good for artists and beginners, the colors are vibrant, rich, and strongly pigmented.
Expand to see more
The gum Arabic is high-grade and of pure pigment, and the entire set is
great for home or travel
. It comes in a sturdy box for storing the tubes of paint in an organized and neat manner. Some of the more interesting colors include ultramarine, Prussian blue, cerulean blue, Vandyke brown, Bordeaux, raw umber, and Jaune brilliant to spark your creative talents and curiosity.
Benefits
Made of gum Arabic and rich pigments, these colors are rich and vivid before and after using them. both seasoned artists and beginners will appreciate this great quality of paint.
What We Like About It
It would be difficult to keep this many metal tubes of paint organized without the
durable box
they come in for storage. It helps to sort them in color groups and make them handy for use.
Gum Arabic is high-grade and of pure pigment
Easy and quick to blend and mix
Colors are vibrant, rich, and strongly pigmented
Good for artists, beginners, home, and travel
Comes in a sturdy box for storing the tubes
Can leave a grainy appearance on paper
Might not be artist quality paint
6. Prang Oval 16 Pan 16 Assorted Refillable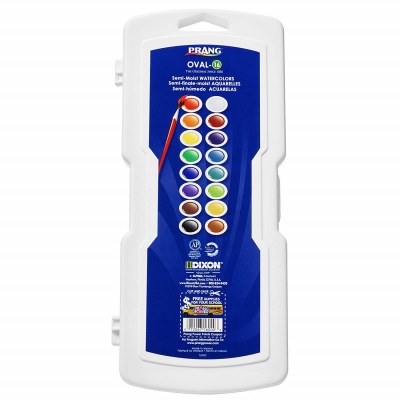 With sixteen various colors of paint cakes that are refillable, the Prang Oval Watercolor Set comes with a durable paintbrush and simple mixing tray. The bright colors are vivid with smooth laydown and contain no fillers of wax.
Expand to see more
With pure pigments, the striking watercolors are semi-moist and in oval pans that detach for easy use. The handy storage box opens easily and is reusable, plus the paints are certified AP
non-toxic and safe
.
Benefits
Sometimes watercolor paints in flat case sets like this one can be hard. These pretty, colorful cakes are semi-moist, so they are easy and ready to use when you receive them.
What We Like About It
The oval pans of paint are better than square or rectangle ones. You can remove all of the paint easier from oval pans because they do not have corners and crevices for the paint to hide.
Comes with a paintbrush and mixing tray
Colors are vivid with smooth laydown
Contains no fillers of wax
Handy storage box is reusable
Watercolors are semi-moist and non-toxic
The texture of the paint tends to be sticky
Bad packaging for some people made the paints mix in transit
7. Pelikan Opaque 24 Plus Chinese White Tube
Including a tube of Chinese White paint, the Pelikan Opaque Watercolor Paint Set has twenty-four
various colors
and is made in Germany. The lightfastness is excellent, and the colors are brilliant. The handy box operates with a push button, and the paint tablets are hollowed for faster solubility.
Expand to see more
It has large pans for mixing in the lid that doubles as a palette and contains the basic colors plus many more various hues. Some of the interesting colors include French green, cyan blue, silver, gold, Indian yellow, cobalt blue, and natural umber that will inspire the artist in you.

Benefits
The durable plastic box that comes with this marvelous item is almost as nice as the paint. It is highly-functional as it operates with a push button to open and has a usable lid for a palette.

What We Like About It
The paint tablets in this superb product are hollowed to help you with mixing the paints with water. It creates a little pool for the water to be as you gently blend it into the paint.
Includes a tube of Chinese White paint
Box operates with a push button
Paint tablets are hollowed for faster solubility
Has large pans for mixing in the lid
Contains the basic colors and more hues
Some buyers were missing the gold and the silver paint
Pigment quality is poor according to some people
8. Colore 24 Colors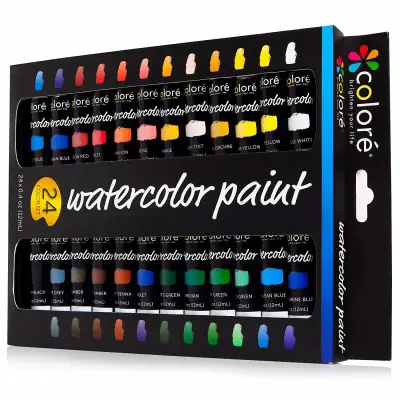 Containing twenty-four colors of paint, the Colore Watercolor Painting Kit is professional grade, non-toxic, and high-quality. It comes in a box with windows for viewing the many colors, and the
paint
is reliable and rewarding in performance.
Expand to see more
When you use watercolor paint from a metal tube, such as this set, you have the option to blend the colors with a bit of water to smooth them out or to use them straight from the tube as a rich texture for your work.

Benefits
It is important that paint for recreational use such as this set is non-toxic in nature. You will spend plenty of time breathing around these paints, so they should not be harmful to your health. This one is non-toxic and safe.

What We Like About It
Although the box this watercolor set comes in is not a closed case or container, it will keep the tubes organized and neat. You can see the various shades for identification through the window in the front.
Nice assortment of basic colors and other hues
Professional grade, non-toxic, and high-quality
Organized neatly in the box
Comes in a box with windows for viewing
Paint is reliable and rewarding
Some colors might be dry
Basic colors can be lacking in the set
9. Aem HI Arts 24 Tube Portable
Washable, small, and portable, The AEM HI Arts Watercolor Paint Artist Set is twenty-four tubes of watercolor paint that comes with a palette, paper, and brushes. Everything fits in the durable kit for storage to provide hours of painting enjoyment for both adults and kids.
Expand to see more
The excellent paint spreads smoothly, includes
vibrant rich colors
, and does not contain a chemical odor. This fabulous product is ideal for home, away from home, traveling, or when visiting with relatives and friends.
Benefits
As we all know, most types of paint give off a chemical odor that is not pleasant. This wonderful item contains paint that does not have such a smell to distract your attention or affect your skills.
What We Like About It
Everything you need to start painting with watercolors is in this nice kit. You get everything but the water, including the paint, brushes, a palette, and even the paper to start.
Comes with a palette, paper, and brushes
Washable, small, and portable set
Is in a durable kit for storage
Paint spreads smoothly
Does not contain a chemical odor
Some buyers were not impressed with the paint quality
A few people had missing brushes
10. Artistrove Umiko 20 Cold-Pressed
The Umiko Watercolors Set comes with twenty postcards that are cold-pressed and includes twenty-four different aquarelle colors. It has a detachable mixing palette and water brushes in two sets, plus a color chart for mixing colors. The water brushes have one round tip, and one tip that is flat.
Expand to see more
The barrel squeezes easily for water flow control, and the paints will not discolor or fade in sunlight. Cleanup and setup are simple and quick, plus the lovely paint dries quickly and is non-toxic. The postcards can be decorated and sent to family and friends as greetings or congratulations. The entire design is sleek and small to fit into bags and pockets easily, as it is great for use at home, traveling, or
hiking
.
Benefits
Made to fit into pockets and bags, this wonderful item is made for travel and away from home creativity. You can use it on the go and without any mess because the water brushes have the water you need to rejuvenate the paints.
What We Like About It
You get some extra accessories with this incredible set of paints. It comes with water brushes, postcards, a detachable palette, a nice case, and even a color charts for blending colors.
Has a mixing palette and water brushes
Paints will not discolor or fade in sunlight
Cleanup and setup are simple and quick
Palette detaches from the case
Includes a color chart for mixing colors
Some of the colors are very similar in hue
Paint may be a bit chalky
Criteria Used in Evaluation of the Best Watercolor Paints
Educational value
There is plenty to learn in having a set of watercolor paints no matter your age or skill level. We all learn at an early age that certain colors can be blended to create other colors that we like. For example, we know that blue and yellow make green, just as red and yellow make orange. When you have a kit of twenty or thirty different colors, you could fill a whole day with just mixing colors to see what you get. it is fun and educational to do this, and people of all ages love to experiment. Once we know our combination colors, then it is time to use them in a creative way to express our talents and gifts of imagination. Any type of craft or art is educational to us as we learn what we are capable of making and recreating in our chosen form of art. Watercolors give us a multitude of shades and hues to use in a fun and thrilling way.
Portability
Because these sets can be taken during travel or when away from home at other locations, they are highly portable for on the go fun. The smaller sets of the paints that are in cakes or tablets are the best for travel because they are all in one flat tray and do not have to be separately opened and closed. The best sets that are listed for portability are the ones with the water brushes. This is a genius item that was created for the intended purpose of making watercolor painting more flexible and travel-friendly. We explain in great detail how these brushes work in the question section, but we will briefly explain them here. They work like ballpoint pens, but instead of ink in the hollow barrel, you put water. these are refillable for the water you need to mix with the paints. The water comes out in drops through the paintbrush bristles. These are ideal for kids too, as they add another fun aspect to the joys of painting.
Entertainment value
Not only is the act of painting very entertaining for the artist, but the final creation is also an entertainment piece that can be enjoyed by everyone. Whether you are looking for a set to use for an adult or a child, watercolors can keep someone busy and intrigued for hours at a time. They are enjoyable to blend and mix in a wide array of hues. Then the next phase begins in drawing, sketching, and layering the colors on paper for the stunning end result and artistic expression.
Materials
Watercolor paints have pigments in them in varying degrees. Some have heavy pigments while others are just regular. This determines the richness and ability to blend well with other colors. We provided the information on pigment when it was given by the manufacturer. Other than the paint itself, these incredible sets come with a few extra items to help you enjoy the product. A good box, tin, or container with a lid is always a great thing to have for painting supplies. More than half of these kits include at least one paintbrush as well. all you need to add is water and paper to start your creative adventures.
Age range
Art has no age limit because we never stop creating or coming up with individual ideas of how to be creative. Watercolors can be messy for the younger child, but for older kids and adults, they are like the rainbow gone wild in an explosion of color. These featured sets all contain at least sixteen colors in each. This is the basic colors plus more blends of unique hues to intrigue us. With just the basic colors, we can whip up so many other color variations. So, you see that even the smallest kit listed will give anyone plenty of colors to work with and paint whatever comes to mind. The age minimum for these paints would have to be around twelve or fourteen-years-old because of the water responsibility that could get out of hand with a younger person. These paints are not washable as some others are that are on the market, so be careful in letting young kids use them.
Other Factors to Consider
Price range
As you can see, some of these wonderful paint sets can be quite costly. If you are just starting out with the craft, then you may want to begin with one of the more economical products to see if this is what you like to do. For children, it is best to start out with a smaller and less expensive item for them to explore. If you really have a budding artist in your family, then graduating to a more expensive set can come later. The ones that are least in cost are going to be the flat boxes of paint cakes. They usually come with a brush, making immediate painting possible. The metal tubes of watercolors are the higher-priced items for the artist that is a bit more serious about texture and color blends.
Comfort
Because painting is a form of creative expression and imagination, it is comforting to the person who is performing it. it is pleasing to us to put our feelings and thoughts on paper with color for others to see and enjoy. Whether you are young or old, painting can be comforting for the mind, body, and soul as the possibilities of color blending, shading, and layering evolve and expand. It makes us happy to create and be artistic. Watercolors are just one way that we can experience the joy and expansions of our own intelligence and individuality.
FAQ
Frequently Asked Questions
Q: What types of watercolors are there available?
A: basically, there are two types of watercolor paints featured in this buying guide. One type comes in small metal tubes that must be opened and closed individually. Each one contains one of the colors in the set. These paints can be used as they are without mixing in any water for a thick and rich texture, or they can be combined with a bit of water to use in a wash or thinner base. The other type is the one that comes in a flat box or tin container that is filled with round, square, oval, or rectangle cakes or tablets. These can range from semi-moist to hard when you receive them, as they need to be mixed with a little water to get them pliable and creamy for painting. Children will enjoy this latter kind better because it is easier to use and see the many colors all at once. The tubes of paint are marked for the color but are not as pleasing to the young artist just learning to appreciate painting. It is the more serious artist that prefers the tubes of paint for the ready to use textures and rich colors. Both types are great and suitable for beginners, artists, kids, and adults.
Q: What is the age range of people suitable for using these items?
A: There is a general age minimum for using watercolors because very young kids will only make a huge mess with the products. There are special washable watercolor paints for the youngsters to enjoy. These are not washable, so the age minimum is about twelve or fourteen-years-old. This is an age where the artist will begin to develop seriously in the young person and his or her talent will begin to blossom. There is no age maximum, as we all love to paint and create at any age. If you enjoy it, then do it and have fun.
Q: Are there any suggestions for keeping the mess down using these paints that are used with water?
A: If you want to avoid the little cups of water that are needed for blending the watercolors, then you may love some of the items we feature in this buying guide. There are several kits that have water brushes included. These are not like regular paintbrushes because they have a hollow core much like a ballpoint pen but only larger. This hollow core holds water for you to use instead of water that is loose in a cup. The tip has the brush bristles for painting. When you want water in the paint, just squeeze the barrel of the brush a bit to release some drops from the brush into the paint. These incredible brushes help you eliminate the cups of water and make watercolor painting something that can be enjoyed while traveling and on the go. The sets are in compact tins and containers as well to be very portable for the traveler.
Q: Are these for beginners or experienced artists to use?
A: They can be for both advanced and beginning users to the craft to have some fun and excitement with blending and mixing the colors. Even those with some experience will appreciate the unique colors in some of these sets and the fun accessories they come with. The durable boxes to store the paints in are nice as well to have.
Q: What is a common complaint from customers online about these products?
A: It seems that the quality of the paint is the main issue when purchasing this type of item. Not everyone is a beginner, so those that have some knowledge about paint and their consistency do not always see them as the best. None of these products claim to be of professional or expert quality, so the complaints are really unfounded. The price is a good indication of quality with anything you buy and not just paint. Someone that is experienced with watercolors should be able to tell that these kits are recreational quality for enjoyment purposes only. Advanced artists would need a much higher quality of product to get the exact result they desire for their artwork. These sets are perfect for kids and adults to enjoy painting in a leisurely pastime.
Q: Do any of these come with extra supplies such as brushes or paper?
A: Yes, one of the sets comes with postcards to decorate for mailing to family and friends. These can be greeting, get well, or birthday cards that you create yourself. Most of the kits come with a brush or two to get you started right away with enjoying your purchase. The ones that come in tin boxes or plastic cases have lids or trays that can be used as a palette for mixing the paint. Some of the brushes are water brushes that hold water in the clear cylinder to be used for travel and on the go painting.