Our Favorite Baby Subscription Boxes for 2023
We know we aren't alone when we admit our love for a baby subscription box. Not only do they make our lives easier (they come right to the door!) they serve so many different purposes. From more practical boxes to ones that are pure fun, there really is a subscription box these days for just about anything you can imagine. 
If you are a parent (or are a soon to be parent) there's even more good news – there are plenty of subscription boxes out there for you as well! If you want to learn more about what is out there and what our favorite picks are, keep reading for everything you should know about baby subscription boxes!
What is a Baby Subscription Box?
As the name suggests, these subscription boxes are all about baby! This can mean either products for babies themselves – like toys, clothing, and even food, to products that will help make life easier for you as a busy parent like diapers, wipes, and other essentials that you need all the time as a new parent. 
Many of these boxes are curated by fellow parents, ensuring that you get quality items that are safe, effective, and great for babies! There are so many products on the market today that it can be incredibly overwhelming for parents to sort through everything and figure out what is best. You already have plenty to do with raising your child, the last thing you need to waste time on is finding the right products!
Instead, these baby subscription boxes will take all the guesswork out of selecting products and do it for you. Because they come to your door it also makes your life just a little bit easier. Heading to the store to run a quick errand didn't use to be a big deal, but once you've got a little one with you, it is much more of an effort to go anywhere. These subscription boxes can also help you cut down on those little errands that take a lot of time and energy. All you have to do now is open your door! 
We have rounded up our top picks for baby subscription boxes that should give you a really great idea of what is out there for you. We've selected some of our favorite 'fun' boxes that have things like clothing and toys, as well as some practical boxes that will ensure you've always got those essential items on hand when you need them.  
Our Top Baby Subscription Boxes
Surprisly
Website: Surprisly
Items: Organic clothing 
Price: $69/month 
If you love dressing your little one up in adorable clothes, then Surprisly is a great baby subscription box to consider! Each month's box contains three outfits – one for sleeping, one for a day out, and one for playtime. Best of all, all of the clothing is either 100% cotton or other organic materials that are eco friendly and totally soft and comfortable for baby.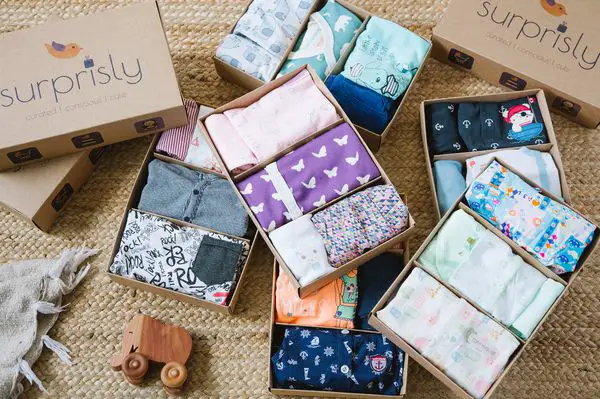 With their subscription box you gain access to a wide range of boutiques, but without having to travel all over the place or paying an inflated cost! Best of all, by providing them your baby's age and size, they will be sure to provide you the correct sized clothing as your baby grows! 
You already know how quickly your baby grows. If you want to always have nice outfits that fit and are safe materials and totally comfortable, Surprisingly is the perfect subscription box for you to consider. 
Honest Diapers and Wipes
Website: Honest Diapers and Wipes
Items: Diapers and wipes 
Price: $79.95 per month 
While diapers and wipes might not be the most exciting or fun items, they certainly top the list when it comes to items that you absolutely need. This is one of the most practical baby subscription box options out there, and it is one that will make your life so much easier. It also makes a great gift for other parents-to-be!
Each month you will receive 7 packs of diapers and 4 packs of wipes. While the price might seem high at first, it is a good value for what you are receiving. Diapers are expensive! This can help you to better budget for your diapers and also ensure that you are never without them. Best of all, Honest products are clean products that are safe for your baby and are free of fragrances and other chemicals that could irritate your baby's skin. 
Honest has diapers for baby's aged 0-3 years old, making this a great option to have from the very beginning with your baby right up until the time they are potty trained!  
Tiny Organics
Website: Tiny Organics
Items: Organic baby and toddler food 
Price: Depends on your plan, meals are around $5.49 each, or there is a starter plan for around $35/month 
Another item that is totally necessary for baby? Food! This subscription box is designed for babies starting at 8 months old and has options for toddlers who are 3 years old and up. If you have ever tried a meal subscription service before, you know how convenient it is to have meals prepped and delivered to your door. Why not do that for your baby as well?
Best of all, these meals are all organic and plant-based and are free from all major allergens. All you have to do is heat them up- the meals arrive frozen (and are frozen at the peak of their freshness). Heat it up and that's it! 
If you want your child to be comfortable eating a wide variety of foods, this is a great way to introduce them to new flavors. The earlier on that they try different foods, the more likely they will be to like them and to be comfortable eating a variety of things. This makes it easy for you to start them on the right, healthy path from early on in life!  
Bluum
Website: Bluum
Items: Toys, books, clothing, bath products (a little bit of everything!) 
Price: $34/month 
Bluum is one of the more popular baby subscription boxes, and it totally makes sense why! This is one of those boxes that is a bit more exciting because you get something new each month. Each box contains a mixture of items – from clothing, to toys, books, bath products, and more. Each box contains at least 4 items that have been expertly curated.
So, what does expertly curated mean? The items are selected based on a wide variety of factors, including reviews on Bluum and Amazon, as well as expert recommendations. You can be sure that every item in your box will be well-loved and recommended by plenty of fellow parents and experts! 
If you're worried that you will get items in your box that you don't really like or need, they have thought of that too! Each month you will get an email that gives you an overview of the current month's box and will highlight some products (while still leaving some a surprise which is part of the fun!) If you aren't happy with the products, you have the option of selecting another box.
Part of the curation process involves info about your baby so that you know you are getting relevant and usable products based on your baby's age and stage of life! You are sure to love each and every product you get each month. The products are full-sized as well they aren't sample sized! 
Moms + Babes
Website: Moms + Babes
Items: Gifts for mom and baby! 
Price: $59/quarter 
This one might just be our favorite box on this list because it is filled with items for both mom and baby! Moms + Babes is all about pampering, and that is exactly what you'll get from every single item in the box. Each box will have at least 6 full-sized products that are just for mom (think body scrubs, face masks, lotions, candles, and more!) as well as at least 4 items for baby that are all safe and fun to use.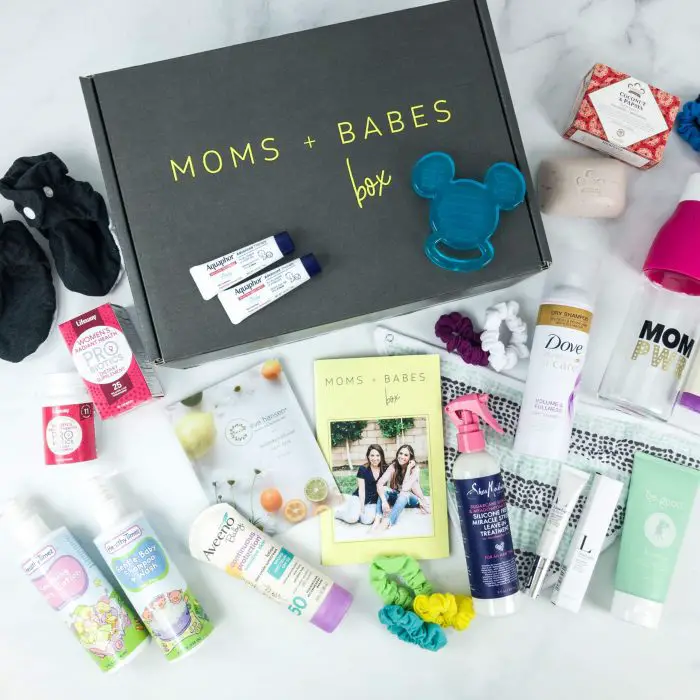 This is a great box to order either for yourself or for another busy mom. 4 times a year you'll get a nice little surprise that will hopefully remind you to take some time for yourself. We all know how busy life is with kids, but that doesn't mean you shouldn't take time to relax! This will help you recharge and be a better parent anyways, so carve out some time, even if it is just a 30-minute bath! 
Bonus: Bump Boxes
Website: Bump Boxes
Items: A variety of items for pregnancy and babies up to 1 year 
Price: Depends on the length of your subscription, can choose a 12-month plan, 9-month plan, 6-month plan, or go on a month to month plan. Prices range from $32-39.99/month 
The time before you become a parent is incredibly important, exciting, and let's face it, a little scary! Thankfully, there's an awesome subscription box for this wonderful phase of life that we wanted to include here as well.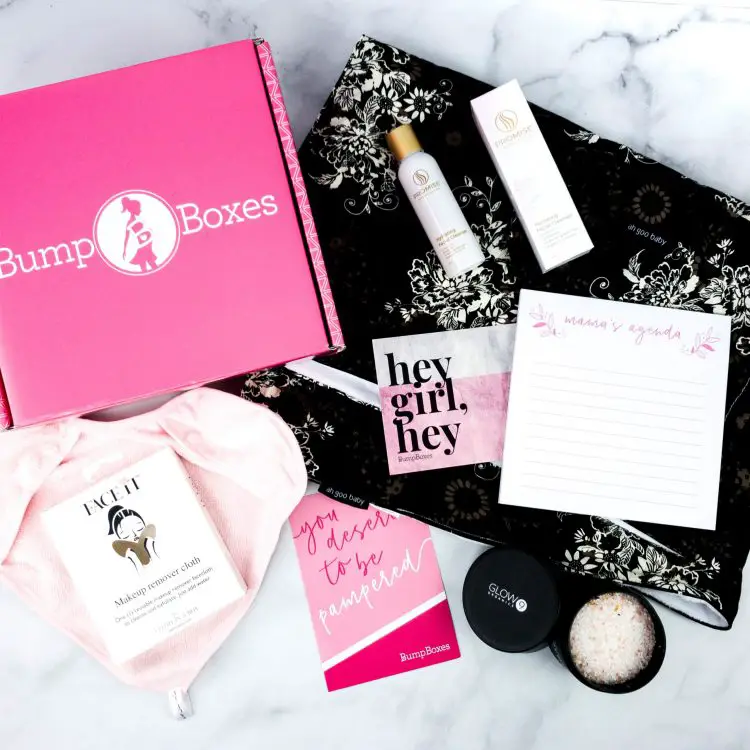 The Bump Box is your perfect pregnancy companion, delivering you wonderful, healthy, safe products that you can use all throughout your pregnancy. Best of all, your boxes will adjust accordingly once you input your due date so that you are getting just what you need as you progress through your pregnancy!
If you do happen to give birth early, no worries. Let Bump Box know and they will send you a box that is just for your newborn instead of more pregnancy products. 
Each box will contain 4-8 awesome products that will help to relax you, keep you healthy, and simply pamper you during your pregnancy. You don't get to choose products in these boxes or see in advance what they are, but we sort of love that with this box. Treat this like a present arriving at your door each month!  
Wrapping Up
Subscription boxes are incredibly popular these days, giving you the chance to get an assortment of items delivered right to your door. From fun surprises to practical necessities and everything in between, there really is a baby subscription box for every person, every interest, and every phase of life!
When it comes to baby subscription boxes, you have a lot of wonderful options to consider. Whether you start your boxes early when you are pregnant or wait to your little one to arrive, you can select the box that is perfect for you. We love that there is a great mix on the market today of practical boxes delivering items like diapers and food, to pure fun boxes that have toys, clothing, and of course, items to pamper mom as well!
We hope this list of top baby subscription boxes has helped you narrow down your list so that you can pick the box (or boxes) that are perfect for your situation. Good luck, and most importantly, congratulations on your new bundle of joy! 
Most Read