10 Best Scooby Doo Toys & Action Figures for Kids in 2019
last updated
Aug 15, 2019
Scooby-Doo! Where are you? One of the most nostalgic television shows beloved by not just parents but children even today is the wonderful Scooby Doo. Your children will love the gang: Daphne, Fred, Shaggy, Velma and of course Scooby. Whether you're planning on solving the mystery along with them or just collect collectibles from the hit show, this beloved series gives your child just more than funny plot twists.This show will teach your children about teamwork and more importantly show your children how everybody has a different personality and came come together to solve each mystery. Scooby Doo also will help your child's imagination and other skills along with it.
In a Hurry? The test winner after 47 hrs of research
Mystery Mates Figure 5 Pack
Why is it better?
Large size
Entire Mystery Crew included
Figures are poseable
Zoink Points (Rewards) code included
In a
Hurry? Editors choice:
Test Winner: Mystery Mates Figure 5 Pack
22
Researched Sources
47
Hours Researching
20
Products Evaluated
Educational Value
Materials
Entertainment Value
By Default
10 Best Scooby Doo Toys Reviewed
1

. Mystery Mates Figure 5 Pack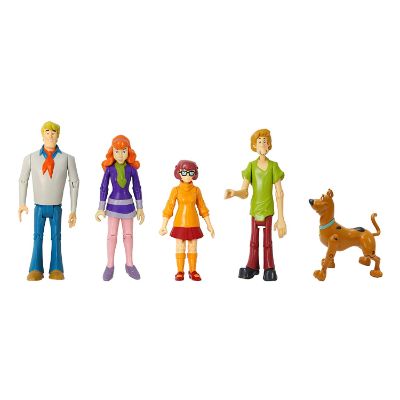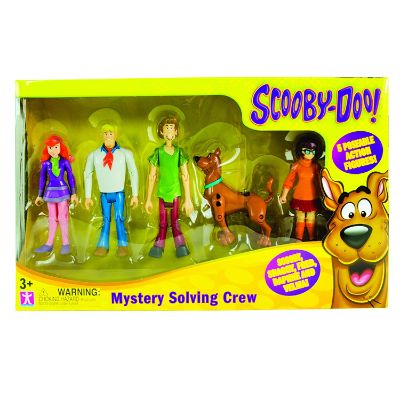 Large size
Entire Mystery Crew included
Figures are poseable
Zoink Points (Rewards) code included
Villain not included
Figures may be difficult to stand up
Watching a fun show like Scooby-Doo naturally leads to a child's desire for action figures. These miniature versions of the Mystery Crew allow for the kind of imagination filled play that both kids and parents appreciate.
Read more
Educational Value
Figures from a brand like Scooby's are a great way to jump-start your child's pretend play sessions. While it's true they are recognizable and have some pre-existing "rules" compared to open-ended toys, they're attractive to fans. Ultimately this set made it high up on our list and we hope will be the center of your child's mystery-solving play.
Materials
We appreciate that these figures include the features that make them versatile toys. They are not only large but completely posable. At the time this list was compiled there were a couple of figure sets available for purchase. This set was chosen as the best of the crew for a couple of reasons. It is large enough to increase the lifespan of the toy. The smaller figures are great for young children but historically those that are played with longer fall into the three to the five-inch range. This set also had great reviews from parents. We know that the experience of others is incredibly valuable.
Entertainment value
That fun factor grabs the attention of a kid and what follows is a play session filled with imagination. These figures are posable so can be played within a variety of ways.
2

. Fisher Price Haunted Ghost Town
Set and accessories are durable
Stimulates the imagination
Loaded with fun features
Miner is designed to be unmasked when caught
Only includes one member of the Mystery Gang
Help Scooby solve the mystery of the ghost town with this Fisher-Price playset.
Read more
Educational Value
The features of this play set will increase your child's fine motor skills and their knowledge of cause and effect. For instance, pressing the green ghost reveals a trap door and turning the power pad will unveil the projectile launcher. This is set is full of hidden compartments and things to enjoy. The entire set will stimulate your child's development by encouraging them to use their imagination and engage in pretend play.
Materials
The miner is designed with a removable helmet, thus your child and Scooby can unmask him when he is caught. The playset and the accessories are composed of high-quality plastic that grants them with a high level of durability.
Entertainment Value
Designed with numerous levels and fun features, the possibilities for fun and adventure are endless. Hidden traps, the old mine track, and the projectile launcher are sure to keep your little one entertained for hours. Put Scooby in the cart and send him zooming down the track. Children between the ages of 36 months and eight years will have a blast adventuring through the ghost town with their pal Scoob.
3

. Thermos Novelty Lunch Kit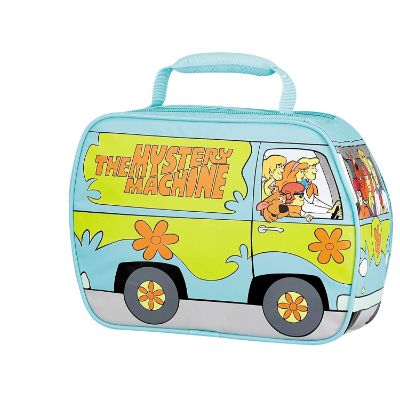 Lightweight
Food stays fresh
Makes sound
Large size
Variety of characters
The material is soft and shouldn't get wet.
What better way to remember your favorite gang than with this mystery lunch kit? Not only does it feature all the members of the gang – Daphne, Fred, Velma, Shaggy, and Scooby but it's the perfect size to carry around.
Read more
Educational Value
Kids will be able to be engaged in lunch again with this cute lunchbox. We love this product because like any Scooby Doo fan you'll love how vibrant this lunch box is. Not only will it be able to store all your favorite snacks on the go but you'll love showing off the characters that are on your box.
Materials
This lunch kit is made of Polyethylene foam insulation as well as nylon/polyester. With the foam like qualities to the bag it also will help keep your child's food stay nice and fresh for snack or lunch time.
Entertainment Value
Your child will love carrying around this lunch box and talking to their friends about the latest mysteries that the gang solved. It's perfect for any Scooby Doo lover out there.
4

. Imaginext Transforming Mystery Machine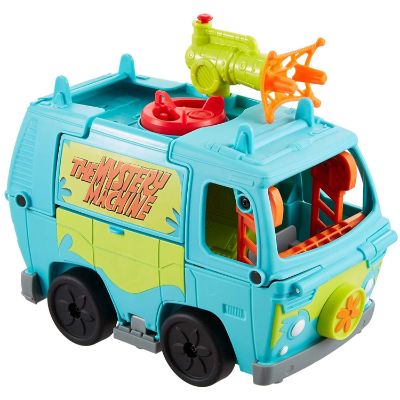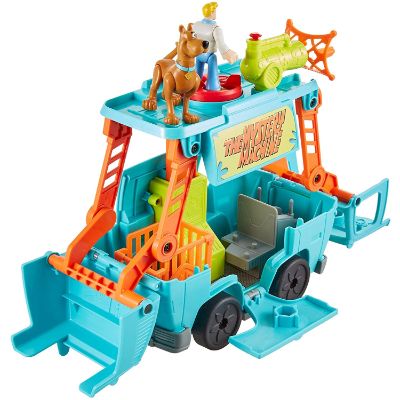 Van transforms into headquarters
Improves fine motor skills and hand-eye coordination
Can be enjoyed indoors or outdoors
Van is designed to hold the entire gang
No villain stands a chance when your child is behind the driver's seat of the Mystery Machine.
Read more
Educational Value
The bright vibrant colors of the mystery machine will stimulate your child's sensory development. Using the projectile launcher on top of the van will improve your child's fine motor skills and hand-eye coordination.
Materials
The van is designed with durable plastic, thus allowing it to withstand countless adventures with children between the ages of 36 months and eight years. The plastic wheels will allow your child to push the van over tile, grass, sand, dirt, or concrete.
Entertainment Value
Turning the power pad on top of The Mystery Machine transforms the entire van into the gang's headquarters. While this set only includes Fred, the rest of the gang can be purchased separately and will fit in the back. Once your child caches their villain they can lock them in the jail cell inside the van. Whether the machine is in van form or transformed into headquarters your child will be able to use their imagination to create fun and exciting adventures.
5

. LEGO Mystery Mansion Building Kit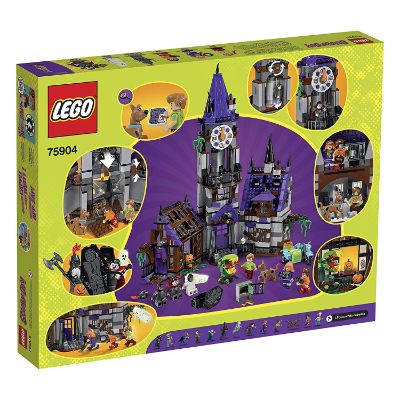 Features everyone's favorite characters
Comes with various recognizable monsters from the show
The mansion has several interactive features
Great project for families
Fun for kids to play within groups
Fred is missing from the set
There's not a kid on earth who doesn't love LEGOs. And even if they claim not to like them, once they see this Mystery Mansion up and running, we're pretty sure they'll change their mind!
Read more
Educational Value
Once this LEGO mansion is built, it becomes fully interactive. Kids can explore various landings and floors and along the way discover new features and booby traps. It also includes Velma, Daphne, Shaggy, and Scooby to increase the fun!
Materials
LEGO could have modernized this mansion and brought it up-to-date, but instead, they decided to keep it in the style of the old-school Scooby Doo cartoon. We're loving the retro feel and even more, loving the nostalgic vibes it brings back that you can share with your little one.
Entertainment Value
This LEGO kid allows your child to build their very own Mystery Mansion, complete with a scary ghost, creepy knight, spooky vampire, and even a man-eating plant! It'll take parents back to the days of weekend mornings filled with fun cartoon mystery, and will show kids a world that they've never been exposed to before. This mansion holds several surprises, though -- Watch out, or you might be the next one to end up in a mystery of your own!
6

. Fright at the Fun Park Game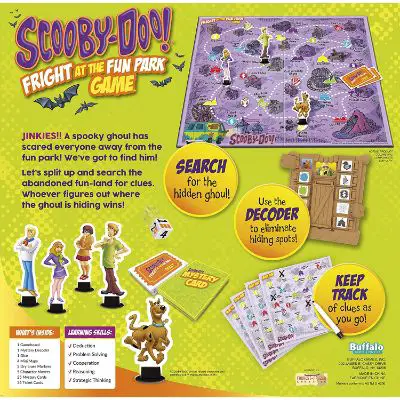 Ghoul is in a new hiding spot each game
Increases social skills and stimulates cognitive development
All pieces will be stored and organized in the box
Children of all ages can play
Cards could be laminated to make them more durable
With the Fright at the Fun Park game, your child will have to join forces with the mystery gang to save the park from a monster. Each player is tasked with discovering where the monster is hiding.
Read more
Educational Value
Players will use the ticket cards to move around the board and will decode clues along the way. The first person to discover where the ghoul is hiding wins. The five movable pieces give your child the opportunity to play as their favorite member of the mystery gang. The box will keep all of the pieces organized and stored in one place when the game is not being played. Children 4 years old and up will enjoy joining forces with Scooby Doo.
Materials
The game includes 25 different mystery cards, thus giving the ghoul a new hiding place each time your child plays. The game requires at least two players so your child can increase their social skills by playing with their friends.
Entertainment Value
The objective will stimulate your child's development as they are encouraged to keep track of their findings throughout the game to discover the monster's hiding spot.
7

. Monster Action Figure Set 10 Pack
A stunning likeness to the cartoon
The set comes with ten different characters
Kept in theme with the original cartoon
Nostalgic
Figures can be put in poses
Slightly smaller than pictured
Video games aren't everything and sometimes you need a little bit of imagination mixed in with your child's playtime. The Scooby Doo Monster Set Action Figure set is perfect to do just that and it's also an excellent collector's item for when kids eventually outgrow imaginative play.
Read more
Educational Value
When you're a kid and have a favorite television show that you love to watch, there's really nothing better than having your favorite characters right in front of you. Action figures are great to play with, but they're also a way for kids to feel like they have something tangible from their favorite comfort show.
Materials
This set comes with ten characters, the original cast along with five very well-known monsters from the original cartoon. This action figure set is literally all your child needs to bring their Mystery Inc. dreams to life, because they'll have all of their favorite characters, in stunning detail and likeness, right in front of them.
Entertainment Value
Each character from Mystery Inc. looks exactly like they should and it's hard to believe that you're getting such high-quality figurines from the price. They're flexible so that kids can put them in whichever poses they want -- And even perform some awesome karate chops to defeat those monsters!
8

. LEGO Dimensions Team Pack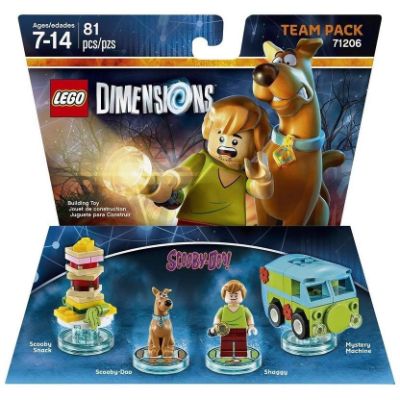 Can be added onto an existing Dimensions game
Cross-console compatible
Easy to use
Fun to put together
Can be confusing to kids under the age of ten
LEGO Dimensions was a brilliant cross-console game creation that was designed to bring together heroes and villains from all over pop-culture and drop them into one place.
Read more
Educational Value
The Dimensions games not only test a child's skills as far as building models go but also test their skills in the gaming world. They'll learn better hand-eye coordination and improve their ability to think on their feet without even realizing it.
Materials
You don't need to have any specific type of gaming console in order to play this game, which makes it a lot of fun and very stress-free for parents. Whatever existing system your child has, as long as it's up-to-date, will work just fine with this game.
Entertainment Value
With this Scooby Doo team pack, your child can add to their existing LEGO dimensions and create some of the most powerful characters out there. Simply build the mini-figures and watch as your kids take on different challenges and have a blast with their newly created characters.
9

. Hot Wheels Monster Jam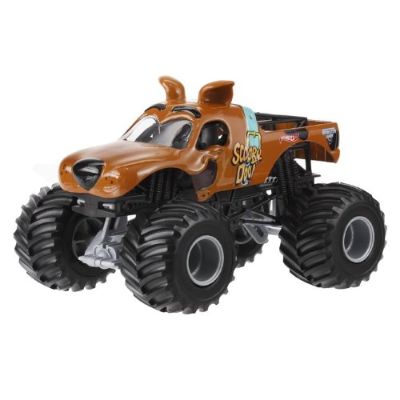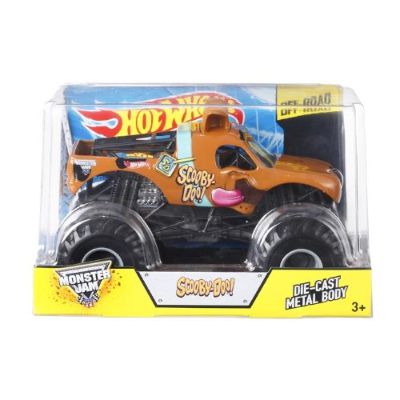 Stimulates imagination
Can easily be pushed indoors or outdoors
Highly durable
Increases fine-motor skills
Some reviewers find this toy to be expensive
Sure, the Mystery Machine is super cool but the Scooby-Doo Hot Wheels Monster truck is just a little bit cooler. The body of the truck is designed to look like everyone's famous crime-solving pup.
Read more
Educational Value
The giant rubber wheels make it easy for your child to push their car over any terrain. Your little one will increase their fine-motor skills as they push their car across the floor. Composed of plastic and die-cast metal, this monster truck is highly durable and designed to withstand countless mystery-solving adventures.
Materials
Not only is the truck a light brown, but there are also big ears on top and a pink floppy tongue painted on the outside to further enhance the look. The truck will stimulate your child's imagination and encourage them to engage in pretend play.
Entertainment Value
The giant rubber wheels make it easy for your child to play with their monster truck inside or outside. Designed with Scooby Doo's features, it will stimulate your child's imagination and unleash their creativity thus causing them to create fun adventures.
Teaches children how to manage money
Features artwork from the cartoon
Money, tokens, and locations are all Scooby themed
Allows up to six players
Can be viewed as expensive
Scooby Doo Monopoly combines a class board game with your child's favorite mystery-solving gang.
Read more
Educational Value
Children ages eight and up will learn how to manage their money as they play the game. They will buy, sell, and trade their monster locations. For those that have never played, the game includes easy to understand instructions.
Materials
The board is set up like the original Monopoly board game but is designed with a fun Scooby doo twist. All of the locations are monster themed and the pieces are the mystery gang. The artwork, collectible tokens, and pretend money, are all based on the cartoon. Both the board and the cards are highly durable thus allowing them to withstand the most competitive game nights. The solid pieces are sturdy, which will keep them in place no matter how many time outs you take.
Entertainment Value
The game allows two to six players, thus your child can enjoy playing with their friends and family. Your children will love playing as their favorite characters while you can enjoy the sense of nostalgia.
Criteria Used for Evaluation
Educational Value
One of the best ways to build children's brains is to encourage imaginative play. This can be done with open-ended toys, storytelling, role-playing, and other creative activities. Experts say when kids are playing pretend they are reenacting emotional and social situations. They use situations from their memories to create a new scenario. The benefits of that play are the same whether the child uses action figures or acts it out themselves.
Speaking of action figures, you'll notice that there are a couple of toys on this list that includes Scooby Doo action figures. Those types of toys are great catalysts for pretend play. Though they have a predetermined identity (i.e. Shaggy) kids can and will use them to act out the adventures of a whole different character.
Materials
While each of the toys DOES look like Scooby, they truly accomplish this through the accessories. Each toy on this list that comes with accessories, all fit into the Scooby brand. None of them are generic enough that you'd find them in another toy. Each comes from the Scooby universe which makes them fun for young fans. You'll notice that even the board games on this list have taken what is a specific format and added in solving the mystery of spooky monsters that we all know and love. This list includes toys that accomplish that goal. Each of them brings the fun of Scooby from the TV to the playroom.
Entertainment Value
When we first set out to create this list, a top priority was that the toys were fun. It's easy to just paint a figure with the likeness of a brand's character. It's much harder to create a toy that brings what kids love about a character to a new medium. What makes the Scooby-Doo shows exciting is the mystery and antics. Since the hijinks are tough to translate into a toy format, we searched for those that would allow a kid to make those storylines using their imagination.
Most Important Criteria
(According to our experts opinion)
Experts Opinion
Editors Opinion
Users Opinion
By Default

Parents, Did You Know?
Is this for a child who loves the show now? Someone who is collecting? Whatever the case was we wanted to make sure that we had an option for everyone. Parents also want to make sure that what they give their children has an educational bonus to them. Scooby Doo & his gang can be extremely beneficial to your children as when trying to solve the mystery along with them it will not only enhance your child's imaginative play, but it can also help their critical thinking and analysis skills.
Parents, Did You Know?
We wanted to save parents the overwhelming task of researching which product was the best, which is why we did the research for you. We wanted nothing but the best of the best on our list and we made sure that we got it. We're sure whatever product you're looking for whether it's for a gift, just because, or if you're collecting, we wanted to make sure that we had it covered for each age group no matter what the occasion is.
Parents, Did You Know?
Though the specific figure's appearance isn't important, using those that are recognized from a show like Scooby-Doo is a great way to kick-start the play session. Some of the toys also include accessories that fit into past adventures. This is a fun way to remind kids of fun episodes from past shows while also inviting them to continue the story. As a parent, you can encourage this by starting a play session as a character or asking your child questions about Scooby and the crew's latest adventure. While they're busy acting out the scenario, their imagination is hard at work.
Other Factors to Consider
Safety
Our entire site is dedicated to inspiring play. We know that playing is crucial for a child's development and search for ways to encourage that through our articles. We wouldn't be representing the interests of parents and children without considering safety. Our goal was to choose toys that can truly be played with by the ages designated by the manufacturer. As parents, we know that what is listed on the outside of a toy box is not necessarily true for every child.
During our search, we read through reviews from parents whose kids fit the official age of the toy. The experience of real-life kids is incredibly valuable when we pick which toys would be both fun and safe for kids. To make sure the toys are safe we also checked that every item on this list was researched for recalls, toxic materials, and applicable certifications. While parent supervision is still crucial, we wouldn't ever want to suggest a toy that was unsafe.
Frequently Asked Questions
q:

Does the Fright at the Fun Park game require batteries?
q:

Can the LEGO Mystery Plane Adventures Building Kit be built by a child independently?

a:

The manufacturer guidelines say that it is suitable for kids ages 5 to 12. Although there are 128 pieces, it is a pretty easy build and can be done without a parent's help. Even so, model-building is a great activity to do with your child.
q:

How can I tell which vehicles and figures are compatible?

a:

It's understandable that you'd want to purchase more than one of these great toys. If you look in each of the toy's Amazon product listing you'll notice the height of the figure is listed. You can use that height to determine which figures may also fit into vehicles you already own and vice versa.
q:

Are any of the monsters too scary for young children?

a:

If your child has watched any of the Scooby cartoons they'll know that monsters aren't real. Still, we understand that some may think a zombie disguise is scary. Since you know your child best we suggest that you use your best discretion when buying toys.
q:

Is the Monster Jam car motorized?

a:

No, it is not. Instead of being battery-powered it runs on a child's imagination.