As your little girl begins to grow up, you might find her digging through your makeup, jewelry box, and closet. She'll prance around in your high heels anxiously waiting for the day where she can own her own pair. She'll spend hours in front of your vanity trying on your jewelry and pretty soon she'll ask for her own. Necklaces and bracelets will be easy to purchase. But have you thought about earrings? Will you get her ears pierced or will you purchase clip-ons? If you go the piercing route, what size of earrings will you get? What type of metal will you look for? Starting to feel overwhelmed? It's true that a lot more thinking goes into purchasing earrings rather than necklaces or bracelets. We compiled a list of the best earrings for kids. Whether you're looking for studs, earrings for a boy or clip ons, this list has it all. The earrings vary in sizes, colors, and designs so there is a pair for everyone.
The Best Earrings for Kids Reviewed for Boys and Girls in 2018
Freshwater Pearl Stud Set of 12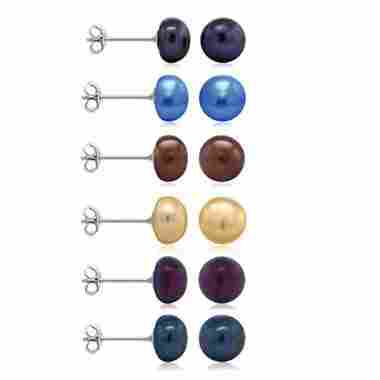 Buyless Fashion Surgical Owl Stud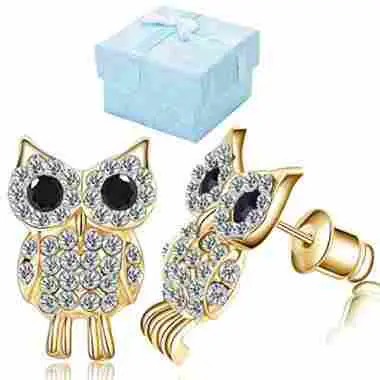 Skywisewin Hypoallergenic Unicorn
LOYALLOOK 12 Pairs Square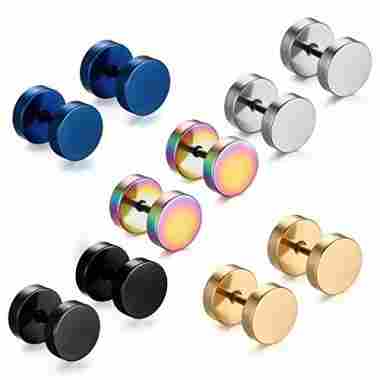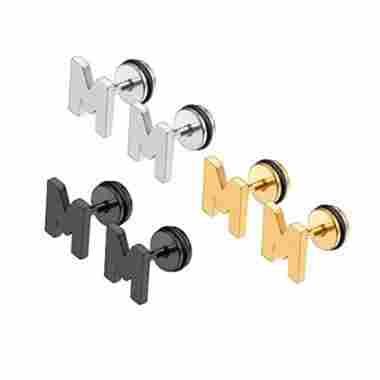 RongXing 925 Sterling Silver
Criteria Used in Evaluation of the Best Earrings for Kids
Seeing as how your child will be wearing the earrings from this list fairly often, we took our time when doing research. We made sure that the jewelry on this list is safe, trendy, and affordable.
Safety
Safety is always our top priority when making the "Best" lists. With earrings, there were a couple of safety factors to take into consideration. The first is the material of the earrings. It is not uncommon for children to have allergic reactions to the metal used in earrings.
If your child has metal allergies, they should look for earrings without nickel. We included a variety of hypoallergenic and nickel-free earrings on this list. 14k gold, surgical steel, and sterling silver are all good options for earrings that will leave your child's ears free of irritation.
Secondly, we also paid close attention to the backs of the earrings. For babies and toddlers, we strongly suggest using screw backs on every pair of earrings your child owns. Backs that screw on guarantee that the earring will stay on. Babies flail their arms and move their heads a lot. If they have push backs on their earrings, the backs could easily slide off and become a choking hazard.
Fashionable
When making this list we were dedicated to finding earrings that your children would love to wear and feel confident in. The list includes a wide variety of earrings but all are super trendy. We have several studs that can be worn with everyday outfits. We included dangly earrings that will make your child feel elegant. While they are super classy, we made sure the dangly earrings were an appropriate length as to not make your child look too mature. We also listed handcrafted earrings with a fun design that will have all of your child's friends begging their parents for a pair.
Affordable
Parenting is expensive, we know. Between expenses for daycare, clothes, and food, we're sure the last thing on your priority list for your child is a pair of earrings. There are plenty of earrings on this list that are under $15, which makes them very affordable. In fact, a lot of the listings include sets so your child will receive more than one pair. Yay, more bang for your buck! The earrings are also durable, which means you won't have to spend money on buying a new pair of earrings every week.
FAQ
Frequently Asked Questions
Q: What should my child's first set of earring be?
A: For babies, we recommend starting with 18k or 14k gold. Gold is best for sensitive ears.
Q: Should my child have screw-on backs or pushbacks?
A: For younger children, you should get screw-on backs. Push backs can easily be taken off and become a choking hazard.
Q: How long will it take for the piercing to heal?
A: Healing time is four to six weeks and the earrings must stay in the entire time.
Q: What is a good age for my child to get their ears pierced?
A: While this is a personal choice, doctors advise waiting until your child is at least 6 months old, as piercing the skin can risk infection. If you wait until the child is old enough to make this decision, they may be able to keep their ears and new piercings clean themselves.
Q: How will I know if my child's ears get infected?
A: Pain, itching, swelling, redness, and drainage are signs of infection. If you notice any of these signs you should contact your child's doctor. Your doctor will treat your child with antibiotics.
Q: After the infection is treated can I put the earrings back in my child's ears?
A: Doctors recommend waiting at least six months or longer before getting the ear repierced.
Q: Where should I get my child's ears pierced?
A: Some pediatricians offer ear-piercing services. If your mall has a Claire's, they are known for their ear-piercing services. Tattoo parlors are also an idea as they offer clean and safe equipment.