Snap circuits are some of the hottest hands-on toys currently for educating kids about electricity. These are simple colorful circuits that snap onto a plastic grid in certain ways to create projects that generate electrical currents. Batteries are used instead of plug-ins to make them easy to complete and entirely safe for children. Easy to follow directions complete with full-color illustrations are provided in the kits so kids can work on them by themselves. It is recommended that parents do the first projects with their kids to get them started and maybe explain a few basic concepts of why and how these work with the batteries. Each kit consists of many small parts and a grid to create numerous interesting projects. The instructions and the circuits are color-coded to make assembly easy. Schematic symbols are also on the parts so children can learn the proper names of them. By starting with the first experiments and moving through the instruction booklets in order, kids will grow their knowledge of electricity as they go.
Each experiment builds onto the next with the harder ones being last in the kit. There are various snap circuit sets on the market that make an assortment of experiments perfect for kids to try. They range from a few simple projects to ones that have over 750 in one kit. Children can even make up their own combination of parts using pieces from different kits, as they are all compatible with each other. In this way, they are very much like LEGO sets because children can mix-and-match pieces to craft their own masterpieces. The vast number of projects in these sets include among others, sirens, flying saucers, AM radios, doorbells, burglar alarms, and flashlights. Additional skills that kids take away from these experiments are the fine motor, concentration, hand-eye coordination, cognitive abilities, construction, precision, creative, and the ability to read and follow directions.
Schools that promote STEM-oriented (science, technology, engineering, and mathematics) curriculums can use snap circuit kits to teach the basics of electricity and possibly spark an interest in the field for kids. Many awards have been won for these fantastic imaginative toys because they are so practical and fun. Here are our picks of the best snap circuits and snap circuit kits for kids in 2018.
The Best Snap Circuits & Snap Kits for Kids Reviewed in 2018
Snap Circuits Jr. SC-100 Electronics Discovery Kit
Snap Circuits SC-300 Electronics Discovery Kit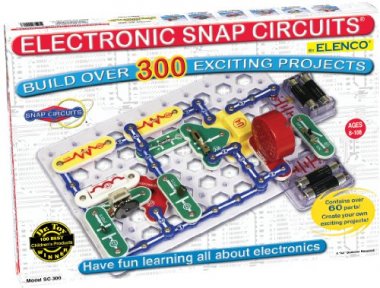 Snap Circuits Lights Electronics Discovery Kit
Snap Circuits Extreme SC-750 Electronics Discovery Kit
Snap Circuits Alternative Energy Green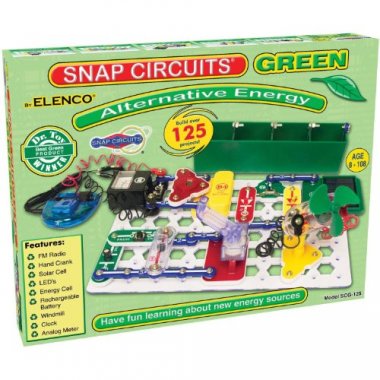 Snap Circuits UC-30 Upgrade Kit SC-100 to SC-300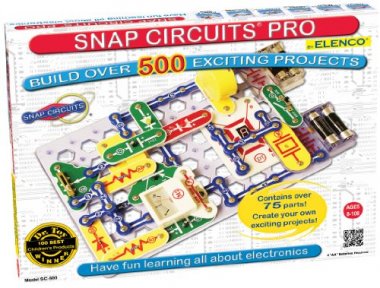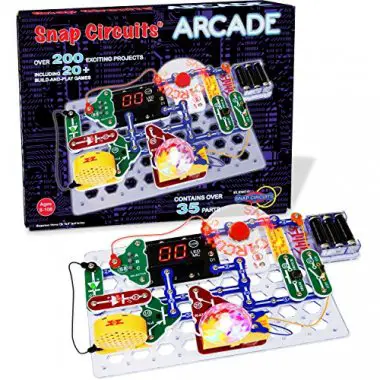 Snap Circuits FM Radio Kit
Snap Circuits Flying Saucer Kit Discovery Kit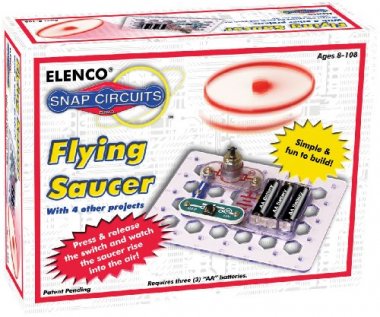 Snap Circuits Motion Electronics Discovery Kit
Snap Circuits Snaptricity
Snap Circuits 3D Illumination Electronics Discovery Kit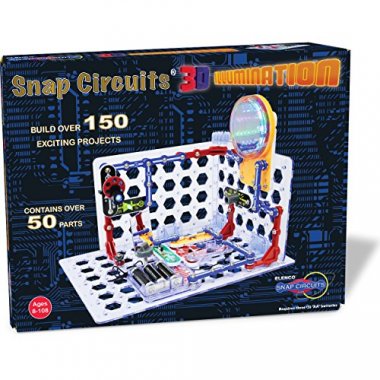 Snap Circuits Sound Electronics Discovery Kit
Snap Circuits Beginner Kit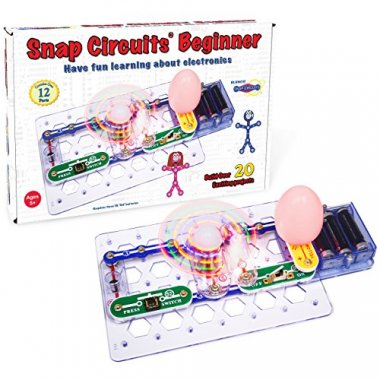 Criteria Used in Evaluation of the Best Snap Circuits and Kits
All Kits are Genuine Snap Circuits Products
Each item listed has the real snap circuits included. These are not just science toys that can resemble how electricity works. These really do work when assembled correctly. Some reviewers posted that the projects resulted in bad results and they did not work, but it is very possible that the directions were not followed precisely or all of the pieces were not used. These kits provide many simple projects to create a working electric grid so children can be a part of the power that makes most of our electronic devices function. It is important that they understand how and why things operate because they are the future environmentalists, scientists, electricians, and consumers.
Appropriate Age for Items
Manufacturers of snap circuits recommend the ages of eight and older for these toys. The main reason is that the kits contain many small parts that may pose a swallowing problem for very young kids that may try to put them in their mouths. If children younger than eight play with snap circuits, constant adult supervision is required.
Older kids will possibly enjoy the sets more because they will have a better understanding of the science concepts as they work with the parts. Kids at least eight years old will be able to read the instructions and construct the projects on their own, thus deriving the most use from the snap circuit models. Smaller children will like the pieces and the assembly of the experiments, but they may not get the full understanding of what they are doing or why.
Function and Purpose of Products
The main purpose of snap circuits and the projects are to make science and the learning of electricity fun for kids. It is hands-on participation in building something that closely resembles real electricity, plus the models actually work. The boards and the circuits make it possible for children to put the pieces together following precise directions and create a product that gives a predetermined result if correct. Kids can do all of the experiments on their own or with adults who can maybe explain why and how these projects work. Schools can use these kits to teach children in science classes and labs the fundamental of electricity in an exciting way that will make kids want to learn about electrical power. These projects are perfect for home, school, or travel.
Other Skills and Abilities Developed From Snap Circuits
Other than the education of electricity and building the models, snap circuits exercise the fine motor skills, eye-to-hand coordination, thought processes & problem-solving abilities, concentration, creativity, and the ability to follow directions. Just by putting these projects together using the instructions, kids gain all of these skills. It takes a lot of human functions to do even the simplest of tasks, such as these experiments. Being that children can use the parts to create their own projects makes snap circuit kits a vehicle for creativity too.
FAQ
Frequently Asked Questions
Q: How many kids can play with one of these Snap Circuit sets at a time? Could a group of children use it and learn together or would just a few kids be the maximum that could use it at one time?
A: The boards for the Snap Circuit sets are about as big as an iPad, so two or three kids can use it comfortably at one time. More kids that a few would only be watching and waiting for a turn to do some hands-on work with the set.
Q: Do the projects repeat in some of the sets? It is hard to decide which one to get based on how many projects to get and then later to upgrade for more projects.
A: The basic SC100 set repeats in the other sets with added projects. For example, the SC300 kit has the same 101 projects as the SC100, plus projects 102-305 also. Each kit expands the one before it, but also includes the same projects as the previous kit.
Q: Can these Snap Circuit sets be used as a travel toy in the car while on road trips?
A: Concern would be losing the very small pieces, but sure it is possible to do in a car. A child could possibly have the grid on their lap and maybe in a large tray to catch any small pieces that would fall off.
Q: What is the most appropriate age for these sets? The boxes and manufacturer recommend eight years old and older, but what about kids that are interested in assembly toys and science that are much younger, say four or five years old?
A: Any child, no matter the age, that shows an interest in such a toy should be allowed to play with a Snap Circuit set. Every child has their own mental and physical pace, so this will be a personal call of judgment for the parents to make. The only concern would be the small parts and swallowing issues. With proper parental supervision, this problem should be eliminated.
Q: Do these Snap Circuit kits require batteries, tools, or other supplies?
A: The kits do require two AA batteries that are not included with any of the sets. These must be bought separately. However, that will be all that needs to be bought in addition to the sets. No tools are required for assembly of any of the projects and no other supplies are needed.
Q: Are these kits suitable for an adult?
A: These were not intended for adults. The projects are more for kids because they purpose is for hands-on experience in learning about electricity. The projects are simple and easy things that would appeal to children. Parents love doing these with their kids though, as they learn together.
Q: Two packaging types are offered with the Snap Circuit kits. You can choose standard packaging or frustration-free packaging. What is the difference?
A: Standard packaging comes with all of the necessary things like Styrofoam peanuts, bubble wrap, and tape to help prevent damage, and thus makes the item harder to open. Frustration-free comes without all the extras that make the package hard to open. This is being offered because the item is geared more towards kids, presuming they will be opening the kit.
Q: Being that these are experiments with electricity, can kids be hurt in the process of doing the projects and learning?
A: No, because the power source is batteries for all of the projects. These are completely safe for all children and adults.
Q: If one were to use this as a science project, roughly how long would it take to complete?
A: Every child is different which means that they'll all learn how to build circuit boards differently than the next. It might come easier to some kids while others could be slightly thrown-off or initially confused, which is why parental supervision is always a good idea, at least to start. If you're looking to help your child build one in a decent amount of time, it's a good idea to go with one of the beginner sets. If you're looking for a challenge for both you and your child, and have the time to complete one, the intermediate sets are a lot of fun and allow you to take your time while completing them. Either way, it's a great addition to a science project about electricity and battery power!