10 Best Snap Circuits & Snap Kits for Kids Reviewed in 2019
last updated
Jul 15, 2019
Snap circuits are wonderful toys for any child who is interested in electricity. Every snap circuit kits, all come with easy to follow along instructions for your child to build their favorite projects with. Snap circuit kits can also be all added on to other kits to help create endless projects your child will get excited about. These kits help promote STEM oriented (science, technology, engineering and mathematics) curriculum and teach children the way certain electricity objects work. These toys have won numerous awards because they are safe, practical and educational for children. Below you will find our top ten list of the best snap circuits.
In a Hurry? The test winner after 26 hrs of research
Jr. SC-100 Electronics Exploration
Why is it better?
For ages 8 and older
No tools required – just two AA batteries
Compatible with other Snap Circuit products
Includes easy to follow instructions with colorful illustrations
Kit can be upgraded to gain more knowledge and obtain more projects
In a
Hurry? Editors choice:
Test Winner: Jr. SC-100 Electronics Exploration
21
Researched Sources
26
Hours Researching
14
Products Evaluated
Entertainment Value
Educational Value
Effectiveness
Design
By Default
10 Best Snap Circuits & Snap Kits Reviewed
1

. Jr. SC-100 Electronics Exploration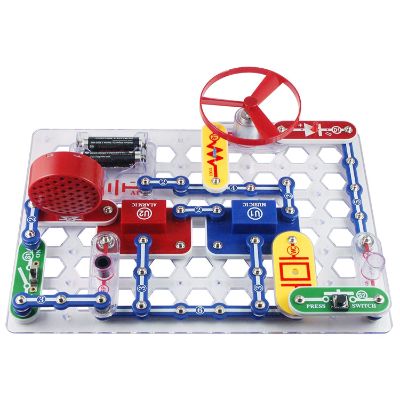 For ages 8 and older
No tools required – just two AA batteries
Compatible with other Snap Circuit products
Includes easy to follow instructions with colorful illustrations
Kit can be upgraded to gain more knowledge and obtain more projects
A few complaints of missing pieces in the kit
Some parents said a couple of the projects do not work
Starting off on our list is this basic beginner kit for those kids who are just starting out. If you're unsure if your child will stay interested, involved or like something like this then this is the best option for you to choose.
Read more
Entertainment Value
Each piece is compatible with other snap circuit models creating endless opportunities for electrical experiments your child can enjoy. Some of these projects like in this set are: a photo sensor, siren, and a flashlight
Educational Value
Kids can make a photo sensor, a flashlight, and a siren with adjustable volume, all with this handy little kit! It will help to spark (pun intended) inspiration in children interested in STEM fields and especially electricity. It requires no tools or soldering but does still challenge motor skills, dexterity, and hand-eye coordination while acquainting children with following directions.
Effectiveness
For teachers following the STEM curriculum, this kit will have a huge success in the classroom. This specific kit doesn't require extra tools or supplies, only two AA batteries and is recommended for children eight years old and up.
Design
Once you've established if your child has shown a steady interest there's even kits you can upgrade that are available if your child wants to explore more. This kit makes over 100 projects with only 32 parts and comes with easy, bright, colorful follow along instructions.
2

. Classic SC-300 Electronics Exploration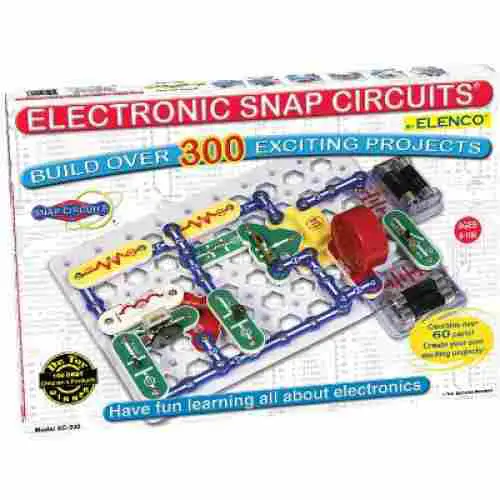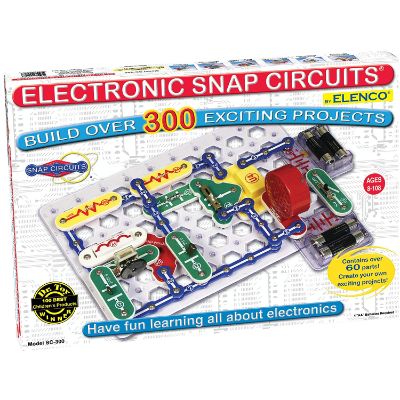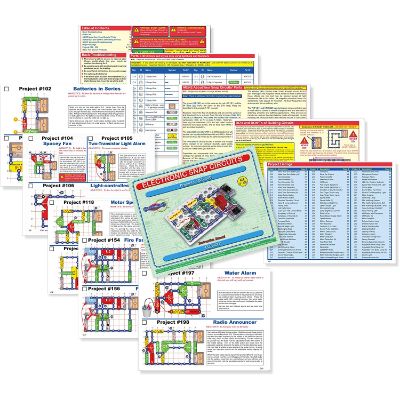 Requires 4 AA batteries
Color manual included and online
No tools required
Real electronic symbols and names used to reference parts
For 8 years and older
Remarks of defective pieces
Complaints of poor quality of product
For the next step in snap circuits or just a larger set with more parts and projects, this is the kit to buy. The SC300 has all of the projects and parts of the SC100, plus many more pieces and 204 more projects. There are over 300 experiments to do with this kit that requires four AA batteries to operate.
Read more
Entertainment Value
Like the other snap circuit sets, this one has real electronic symbols and names used to reference the parts, so kids can match them easily and learn their proper terms. Included is a color-illustrated manual for this kit that does not require any tool or other materials.
Educational Value
This kit is equipped to create over 300 different projects, all centered around the wonder of electricity. Hands-on building experience increases children's motor skills and dexterity--they can even make their own alarm! This set also sets a wonderful precedent for continued autonomy and creativity.
Effectiveness
So many skills and abilities are obtained and developed with snap circuit sets. However, the most utilized are cognitive, fine motor, and hand-eye coordination skills when completing the experiments.
Design
This set that has so many exciting experiments lets kids make their own doorbell, alarm, radio, and fan with just the assembly of the circuits on the grid board. Future Einsteins will love this experimental electricity set.
3

. Illumination Electronics Exploration Kit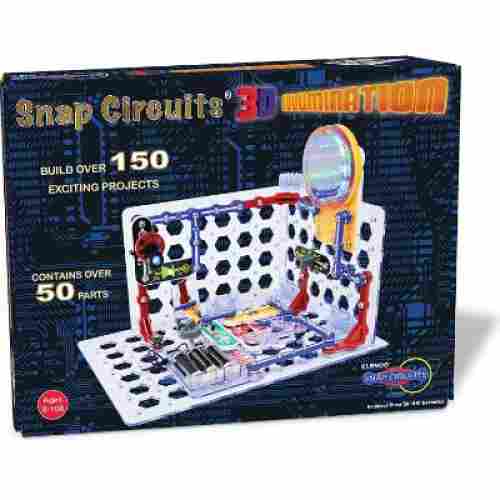 Perfect for children who have ADHD
Over 150 projects to build
Easy to follow instructions
Boosts STEM
Some customers had missing parts
This 3D rendition of a traditional Snap Circuit Kit includes 50 parts and well over 150 different projects to complete! It's also compatible with other Snap Circuit company sets so you can combine them for even more fun. With no tools or soldering necessary, it's a great experience and experiment for children ages eight and over. Create a Light Tunnel, Two-Mirror Circuit, Break the Beam, and more!
Read more
Entertainment Value
This kit comes with over 150 different projects. Some of these projects that this kit includes can even go vertical. What's nice is every kit that you have can be added onto another kit creating endless projects for your little enthusiast.
Educational Value
What kind doesn't want to do a science project upside down? The beauty of this particular set is its 3D model and thus a whole new world of options opens up for children as they build their snap circuit masterpieces. Kids will experience increased motor skills and hand-eye coordination, as well as gaining confidence in STEM fields and indulging their own creativity!
Effectiveness
We love these snap circuit kits because they are easy to add on to other kits. We love that it helps promote STEM learning and that these designs are easy to build. It is the perfect gift for any young scientist or engineer enthusiast who wants to see how an object is created or how electricity works.
Design
Snap circuit kits are incredibly beneficial for any child who is interested in science, engineering, technology or electricity. With these designs you can build some 3D structures.
4

. Alternative Energy Green Electronics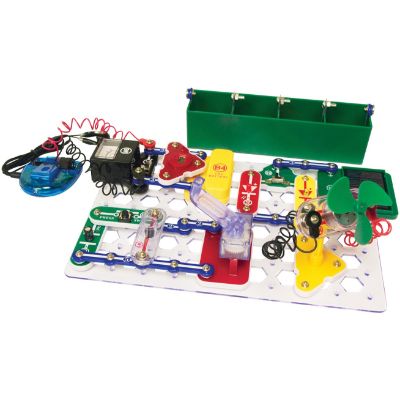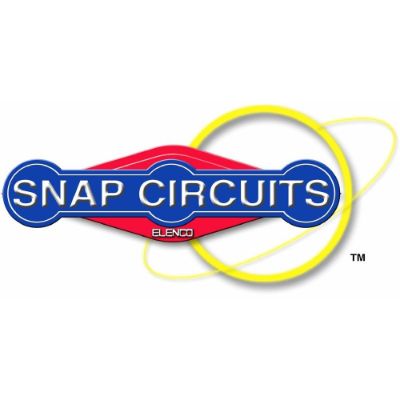 Has over 125 projects
Kids learn about green alternatives for energy
Includes one instruction manual for the projects and a separate booklet for education
Has over 40 parts
Compatible with other Snap Circuit sets
Some say their kids were bored quickly with the product
A few remarks of pieces breaking easily
Kids can discover many alternative, green modes of electricity with this unique snap circuits kit. There are over 125 projects that use more than 40 parts. Experiments, when completed in order, take the child from the easiest of tasks eventually to the harder ones. This allows the child to learn as they go and build on their experiences with the circuits and the board.
Read more
Entertainment Value
Different, safer ways to provide energy is always something great to learn about, even for adults. This wonderful circuit kit lets kids learn these concepts in such a fun and exciting way.
Educational Value
This is a fantastic beginning toy for our future environmentalists and engineers who will be the forerunners of new inventions and ideas. Kids interested in building sets and inquisitive about how things work will love this kit that teaches and explores electricity in better forms.
Effectiveness
Because this set is aimed towards teaching green energy alternatives, it has a separate manual for educational purposes, as well as the instructional booklet to complete the projects. If you want your child to start learning about other environmentally friendly ways of power, then this snap circuit set will get the spark started.
Design
Like other snap circuit kits, this one is also compatible with other such sets. Parts can be mixed and matched for new ideas and experiments the child can try on their own.
5

. PRO SC-500 Electronics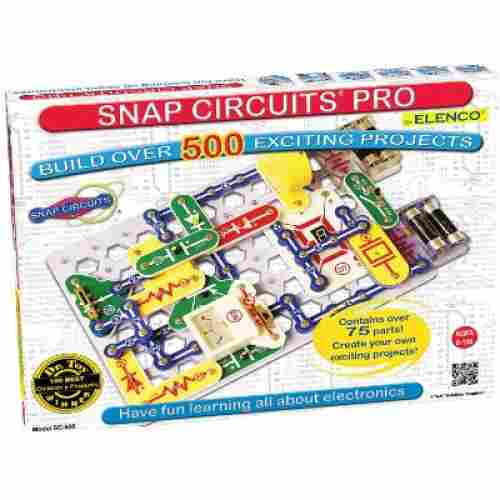 Comes with 75 different pieces
Up to 500 project options
Hours upon hours of fun
Great for school projects
Fun to put together with friends
It is an intermediate level set so it can be confusing to new circuit board users
This Snap Circuits PRO SC-500 Electronics kit has won three different awards for stellar completion, ease of use, and entertainment value. There are a whopping total of 500 experiments that your child can create with this kit which makes it well-worth the money! It's great for science experiments, projects, or just something to do on the weekends or rainy days. You can get the entire family involved with this one or, if your child is old enough, let them piece together this snap circuit on their own. It comes with a fully-comprehensive guide to help your child figure out exactly where and how to connect each piece to successfully create a full circuit, and this set also comes with the option for online instructions as well.
Read more
Entertainment Value
This snap circuit board is rated as intermediate, which means your child can add beginner boards or even expand to higher-level snap circuits to create extreme circuit boards and even further test themselves.
Educational Value
The numbers just keep climbing: with 75 parts and over 500 projects to complete, this set can truly test your child's skills. The instruction manual will help children to design their own circuit boards and bring their creations to life while challenging their dexterity and boosting their self-esteem.
Effectiveness
The amount you can do with this one circuit board is really unbelievable, and that makes it a great long-term project. This is something that kids can repeatedly return back to, start over, create something new, and then do it all over again.
Design
This set it completely hands-on and will provide them with a thorough understanding of electronics and how electricity works its way around a circuit board to power up multiple things.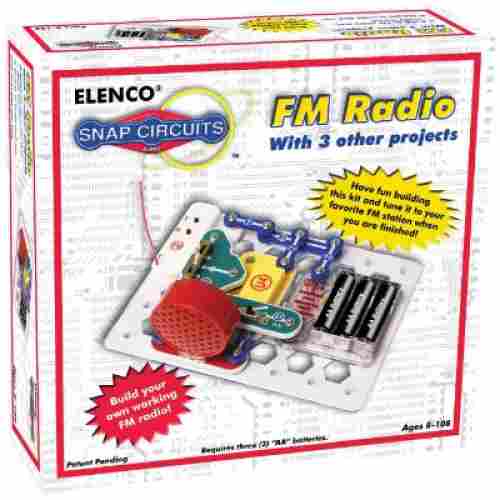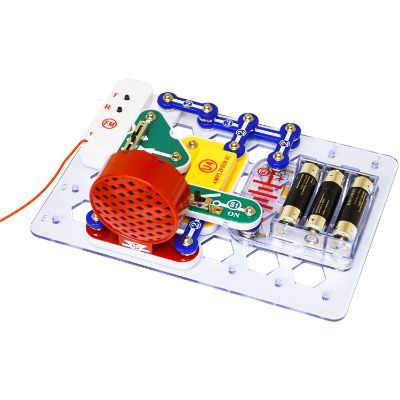 Full color graphic instructions and online instructions
Four projects in all
Makes a usable FM radio
No tools required
Requires AA batteries
Some say the radio did not work once assembled
One complaint about the child not learning anything about electricity from the kit
Children can make their own FM radio with this snap circuits kit. There are also three other projects included. Fully detailed instructions with simple color-coded graphics make it easy for kids to complete the experiments on their own.
Read more
Entertainment Value
Parents will love joining in the fun by helping with assembly and explaining how and why the batteries make these projects work. No tools are required and there is nothing else to purchase to complete the experiments, except AA batteries
Educational Value
Besides the fine motor skills that all of the snap circuit kits exercise, children can increase their speech and hearing abilities with this radio set. Listening to various frequencies will help them appreciate all that batteries, radios, and electricity can do.
Effectiveness
Being able to make your own radio is really great! This snap circuit kit makes it possible for youngsters to build something they can certainly use.
Design
The batteries are where the power comes from to operate the circuits. Like the other circuit sets, kids eight years old and older will gain the most benefit from this FM radio kit.
7

. Snap Circuits Extreme 750R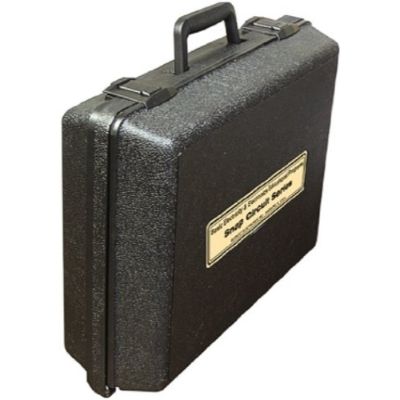 80 pieces
750+ designs to build
138-page guide with educational curriculum
Includes real-world electric/electronic applications and problem-solving quizzes
Easy to reuse over and over again
Sound chip only records up to 4 seconds, not 8
Pieces are not organized in an intuitive manner
The Snap Circuits Extreme 750R Exploration Kit allows children to create over 750 working experiments out of the 80 included parts. This set comes with all pieces neatly packages in a heavy-duty plastic briefcase to make storage and transportation easier. Awarded Specialty Toy of the Year and listed on Dr. Toy's 100 Best Children's Products, and Dr. Toy's 10 Best Educational Products, this set has some clout! It's appropriate for children at least eight years old and presents nearly endless opportunities for children to design and create working electric masterpieces, whether the ideas are their own or they're following the handy instructional guide.
Read more
Entertainment Value
Children will enjoy making a Photoresistor, Power Amplifier, Analog Meter, Computer Interface, Variable Capacitor, and Computer Interface. Full-color manuals help to guide them along and if they grow tired of making other people's creations, they have all the tools they need to start brainstorming and testing their own designs.
Educational Value
This set has one of the most expansive lists of parts and builds. The developmental benefits of so much time spent hovering around these little boards include increased motor skills, refined dexterity, greater hand-eye coordination, and boosted confidence.
Effectiveness
By all accounts, this set will keep children busy for years to come! The nice thing about it is that it never loses its appeal, as there are always new and undiscovered creations for children to dream up and test out. It's a handy tool in grasping the basic tools of electricity as well.
Design
This snap circuit board is flat and comes with 80 total pieces. There are over 750 builds to create, many of which are detailed in the full-color manual. Children can follow along or create their own works. And when it's time to move onto a different activity, everything stores easily back inside the plastic case.
8

. UC-30 Electronics Exploration Upgrade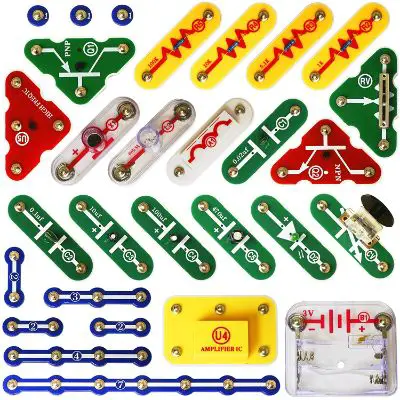 Includes 30 more new parts
Has 200 more projects
Converts the SC100 to the SC300
Great for ages 8 and older
Is compatible with other snap circuit sets
Complaints that new projects were not that great
Missing parts and broken parts upon arrival of shipment
If your child has the SC100 snap circuit kit, then this converter set will add to the enjoyment. It has 200 more projects and 30 new parts that provides all of the projects of the SC300 kit. This is beneficial because if you purchase the SC300 when you already have the SC100, all of the SC100 projects will be duplicated.
Read more
Entertainment Value
This way, you only purchase more parts for new experiments. Kids eight years old and older are best suited for these snap circuit sets, but younger children can enjoy them too with proper adult supervision. Young kids are attracted to building and putting things together, so snap circuits will appeal to them.
Educational Value
Level up with this kit: the 30 new parts consist of AM radio components, transistors, capacitors, resistors, and more. Kids can learn all about electricity, create their own designs, have their first short circuit, and more!
Effectiveness
Parents must watch that kids do not swallow the small pieces. As with other sets, school science labs make a wonderful place to introduce kids to the fabulous world of electricity with snap circuits.
Design
The manufacturers of these sets made it possible for kids to simply upgrade the SC100 set they may already have instead of purchasing the duplicating SC300 set. This is beneficial to the name brand and the user.
9

. Arcade Electronics 4-Color
Includes 30 snap modules
Has over 200 projects
Great for STEM curriculums
Clear, fully-illustrated instructions for concepts and explanations
Requires 3 AA batteries not included
Some parents said that a few of the parts did not work as stated
A few kids were bored with the kit
If your child loves building things, science, and arcade games, then this toy will be a big hit. Geared towards the functions of computer games, this set includes an internal microcontroller that is programmed with several games, a word fan, a three-color light orb, and LED display to construct this snap circuit toy.
Read more
Entertainment Value
With coded parts and instructions, kids can assemble the circuits on the board to make their own mini arcade. This snap circuits kit would make a wonderful addition to any STEM program because the instructions are so well-written with color graphics and the electrical concepts are quite basic.
Educational Value
Kids' fine motor skills and concentration will really get a fantastic work out with this kit. The building of the circuits is the first step and then actually playing the games is the second. Each takes plenty of precise judgment and finger dexterity to manage the parts successfully.
Effectiveness
Combining arcade games and snap circuits is a terrific idea to get kids to learn about electricity. Being able to construct the games themselves and then play them is a great learning tool.
Design
There are 30 parts in the set that are used to generate over 200 experiments. Three AA batteries are required to make the toy functional, and they must be bought separately. For arcade fun with snap circuits, this kit makes an exceptional toy for kids that enjoy discovery.
10

. SCL-175 Lights Electronics Exploration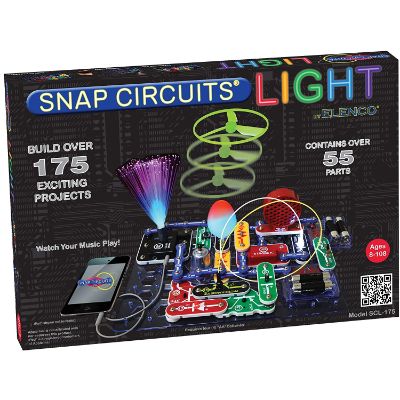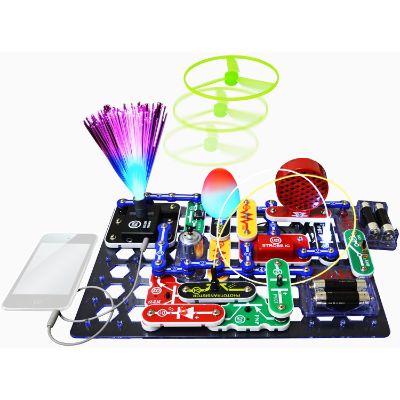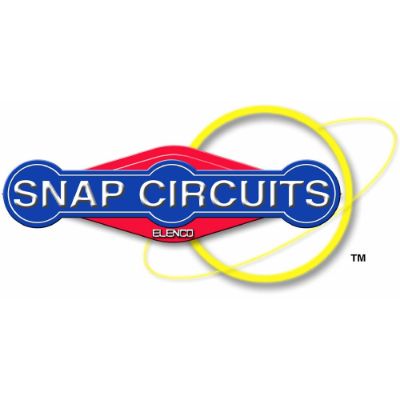 Includes 55 pieces - has 175 projects
Is compatible with other sets
No tools required
Requires 4 AA batteries
Teaches kids about electricity and lights
Pieces missing
Some buyers received defective parts or parts that break easily
With lights, this snap circuit kit teaches kids with projects that all contain lights in some way. They can make a color organ, a flying fan that glows in the dark, an infrared detector, and a color-changing LED light, plus other light-featured experiments. To see the circuits react, children can plug the circuit board into a smart phone or MP3 player.
Read more
Entertainment Value
Full-color graphics and instructions are given, as well as 55 parts to build all of the projects. For snap circuit fun with projects of light, this is the kit to buy for your child.
Educational Value
With this set, kids can learn about lights and how they work, as well as the electricity that generates their power. Snap circuits in this set make projects of color, LED lights, infrared, and glow-in-the-dark objects. Kids that love things that light up, will get really excited about having this snap circuit kit.
Effectiveness
All of these experiments have a light component to them. Snap circuits are great, but when combined with lights, they become something super!
Design
This light set is compatible with all other snap circuit kits and like the others, no tools or extra materials are necessary. Four AA batteries are needed for the over 175 projects.
Criteria Used for Evaluation
Entertainment Value
Every item on our list are licensed with Snap Circuits. Not only are these science toys for your little enthusiast but they are helpful with how electricity works. These kits can work as complete circuits when they are correctly assembled. Some customers who have purchased these did have negative feedback claiming that certain projects didn't work but keep in mind that it is quite possible that they did not follow the building instructions properly.
Educational Value
Other than the education about electricity and building the models, Snap Circuits exercise the fine-motor skills, eye-to-hand coordination, thought processes and problem-solving abilities, concentration, creativity, and the ability to follow directions. Just by putting these projects together using the instructions, kids gain all of these skills. It takes a lot of human functions to do even the simplest of tasks, including these experiments. Since children can use the parts to create their own projects, Snap Circuit kits also tap into a child's creativity.

Effectiveness
These kits are wonderful to help your child increase their fine motor skills as well as their problem solving and critical thinking skills. They are extremely beneficial for your children. It's also recommended that parents pay attention to the age that each kit requires for some building projects may not be appropriate to build on their own for younger children without assistance.
Design
When coming up with our top ten list for the best snap circuits we made sure that we followed a specific methods of criteria to narrow down our list. We looked at everything from highest ratings, to reviews, to how beneficial these toys can be for children. Research showed that snap circuits are extremely educational for children to have because they promote STEM learning. Stem meaning science, technology, engineering and mathematics curriculum.
Most Important Criteria
(According to our experts opinion)
Experts Opinion
Editors Opinion
Users Opinion
By Default

Parents, Did You Know?
Kids can do all of the experiments on their own or with adults who can possibly explain why and how these projects work. Schools can use these kits to teach children in science classes and labs, the fundamental concepts of electricity in an exciting way that will make kids want to learn about electrical power. These projects are perfect for home, school, or travel.
Parents, Did You Know?
Snap circuits are also great for children with ADHD because they can always be moving and building hands on projects. What even better is if you have one snap circuit kit your children are able to add on to other kits as well making sure it so that they can have endless hours of fun with different projects and seeing how electricity works.
Other Factors to Consider
Age Range
Parents often forget that it's extremely important to make sure that their children are given age appropriate toys. Several items on our list are made for children who are 8 and older. The reason for this is because there are some smaller pieces that each snap circuit kit may include which can be a choking hazard for younger children. Parents are advised that if they are purchasing these kits for a child who is younger then the age of 8 that adult supervision is required when projects are being built.
Frequently Asked Questions
q:

How many kids can play with one of these Snap Circuit sets at a time? Could a group of children use it and learn together or would just a few kids be the maximum that could use it at one time?

a:

The boards for the Snap Circuit sets are about as big as an iPad, so two or three kids can use it comfortably at one time. More than that and some kids would have to only watch and wait for a turn to do some hands-on work with the set.
q:

Do the projects repeat in some of the sets? It is hard to decide which one to get based on how many projects come in a kit and then later to upgrade for more projects.

a:

The basic SC100 set repeats in the other sets with added projects. For example, the SC300 kit has the same 101 projects as the SC100, plus projects 102 to 305 also. Each kit expands the one before it, but also includes the same projects as the previous kit.
q:

Can these Snap Circuit sets be used as a travel toy in the car while on road trips?

a:

Concern would be losing the very small pieces, but sure it is possible to do in a car. A child could possibly have the grid on their lap and maybe in a large tray to catch any small pieces that might fall off.
q:

What is the most appropriate age for these sets? The boxes and manufacturer recommend 8 years old and older, but what about kids who are interested in assembly toys and science who are much younger, say 4 or 5 years old?

a:

Any child, no matter the age, who shows an interest in such a toy should be allowed to play with a Snap Circuit set. Every child has their own mental and physical pace, so this will be a personal judgment call for the parents to make. The only concern would be the small parts and choking hazards. With proper parental supervision, this problem should be eliminated.
q:

Do these Snap Circuit kits require batteries, tools, or other supplies?

a:

The kits do require two AA batteries that are not included with any of the sets. These must be bought separately. No tools are required for assembly of any of the projects and no other supplies are needed.
q:

Are these kits suitable for an adult?

a:

These are not intended for adults. The projects are more for kids because the purpose is for hands-on experience to learn about electricity. The projects are simple and easy things that would appeal to children. Parents love doing these with their kids though, as they learn together
q:

Two packaging types are offered with the Snap Circuit kits. You can choose standard packaging or frustration-free packaging. What is the difference?

a:

Standard packaging comes with all of the necessary things like Styrofoam peanuts, bubble wrap, and tape to help prevent damage, and thus makes the item harder to open. Frustration-free comes without all the extras that make the package hard to open. This is being offered because the item is geared more towards kids, presuming they will be opening the kit.
q:

Being that these are experiments with electricity, can kids be hurt in the process of doing the projects and learning?

a:

No, because the power source is batteries for all of the projects. These are completely safe for all children and adults.
q:

If one were to use this as a science project, roughly how long would it take to complete?

a:

Every child is different which means that they'll all learn how to build circuit boards differently than the next. It might come easier to some kids while others could be slightly thrown off or initially confused, which is why parental supervision is always a good idea, at least to start. If you're looking to help your child build one in a decent amount of time, it's a good idea to go with one of the beginner sets. If you're looking for a challenge for both you and your child, and have the time to complete one, the intermediate sets are a lot of fun and allow you to take your time while completing them. Either way, it's a great addition to a science project about electricity and battery power!