Thomas and Friends is a popular television show for kids. The first airing was in Britain in 1984. Later, the show aired in the U.S. on Shining Time Station in 1989. The show is about the adventures of Thomas the Tank Engine and all of his friends. A few of Thomas' friends are Edward, Henry, Gordon, James, Percy, Toby and Emily.
Thomas has many other friends, but these are the ones he sees the most. On the show, Thomas and his friends accomplish tasks and go on adventures in and out of their island of Sodor. They work through group dynamics and problem solving skills as kids are following along the storyline by watching the show or reading the books.
Best Thomas and Friends Toys & Trains Reviewed in 2018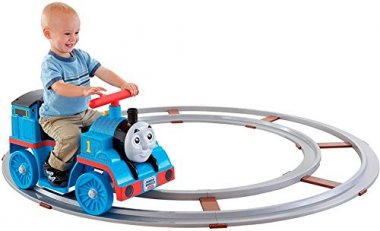 Mattel Thomas The Tank Engine Cuddle Pillow Pal
Thomas the Train Wooden Railway Rosie
Thomas the Train Reward Stickers – 200 Stickers!
Thomas and Friends: My Red Railway Book Box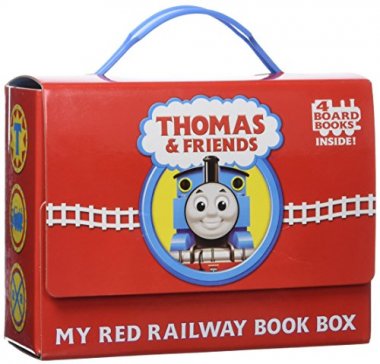 Wooden Railway – Happy Birthday Thomas Cake Train
My First Thomas & Friends My First Thomas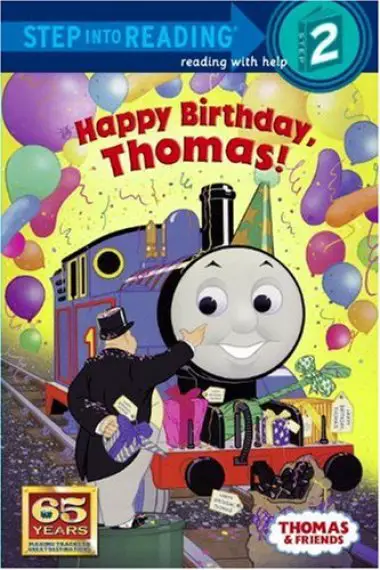 Thomas & Friends Wooden Railway, Aquarium Cars
Thomas & Friends Wooden Railway Thomas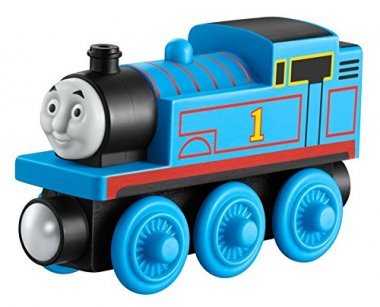 Thomas the Train Wooden Railway Stephen
Bendon Thomas and Friends Imagine Ink Picture Book
Thomas & Friends Wooden Railway Rocky
Playhut Thomas the Train Play Vehicle
Criteria Used in Evaluation of the Best Thomas and Friends Toys and Trains on Our List
The Thomas and Friends franchise is currently a successful show that airs on many stations on cable television and online. The company that owns the franchise also creates and successfully sell the series' merchandise. But with so many Thomas replica's out there, it can be confusing swimming through a sea of choices. Our list includes some of the best Thomas and Friends merchandise. We includes more than toy engines, we've added books, a rideable train and a conductor's hat.
The #1 toy on our list is one of our favorite because little kids can ride their train on a track. It melts our hearts to hear kids laugh out loud as they are so excited to ride their train. It's also cute when kids start passing items around the house between parents and siblings. Imagine telling a kid on their train to go tell their dad dinner is ready. And then they drive their train to where their dad is to tell them the news.
The wooden engine toy line is a great toy because parents can create or obtain a tabletop specifically to hold their kids wooden tracks. Then they can add more trains that their parents gift to them. This is the type of toy that more than one kid can play with and it will create memories for years to come.
Kids don't always need to play with toys to have fun, coloring is fun too. The imagine ink book on our list is a great toy because its small size makes it easier for parents to stick into their purse. When kids are needing to stay quiet in an office, parents can take out their popular Thomas and Friends mess-free coloring book to help keep them behaving well.
FAQ
Frequently Asked Questions
Q: Why do kids like Thomas and Friends?
A: All kids love trains. It is a wonderful sight to see kids put together their train set they received from Santa and let it run around the xmas tree. The show is so popular that it became a multi-million dollar franchise worldwide. The franchise sell millions of Thomas and Friends merchandise every year. The engines can be found in blankets, food items, clothes, etc.
Q: Who invented Thomas the Tank Engine?
A: The t.v show is based on The Railway Series novels. Reverend Wilbert Awdry and his son created the beloved stories about trains and vehicles that talk and travel around, and away from their home island of Sodor. The Reverend created many stories that he used to entertain his son while he was recovering from the measles. Many events in the story were taken from their personal life. Awdry continued writing his adventures until he retired from writing in 1972.
Q: Why do kids love trains?
A: No one really knows why trains become an obsession among young kids. The obsession can start as early as 2-years-old. They get introduced to a great book like Thomas and Friends and then their hooked. When their 3-years-old they get their first train and then they start wondering why the rest of his buddies aren't around. Soon the kid's room is filled with trains of all sorts, with train tracks running all over their room and around the house if parents allow.
It's not all bad when kids go through their obsession stages. Kids do outgrow their obsessions eventually, and in the meanwhile they learn so much. But in order to save a buck and not by all the trains in the world, parents come up with different strategies. One thing they come up with is why Thomas' friends aren't around. One father says to his kid that they're busy finishing their tasks at their home island of Sodor.
Q: How does Thomas and Friends help kids with autism?
A: Kids with autism enjoy the series because of the bold colors and the clear facial expressions the trains give. It's easy for them to interpret what the trains are trying to say and mean. The trains make consistent faces that are easy to identify. Studies show that kids with autism and Asperger's cling to Thomas the engine more than any other character. His relatability helps Thomas be a positive role-model. Which is something that is hard to come by with children with certain disabilities.
Q: What does the franchise hold in store for Thomas in 2018?
A: Thomas and his friends will travel to foreign lands and meet new friends. There's new music, jokes, and more action-packed adventures. There are also two new engines that joined the crew, Nia and Rebecca.
Q: What is the premise of the new 2018 storyline for Thomas' new journey?
A: Thomas and his friends leave their island of Sodor and travel the world. They discover new cultures and visit countries like China and Australia. Half the episodes take place in Sodor, and the other half take place halfway around the world.
Q: Who own the Thomas and Friends franchise?
A: Viacom's Nick Jr. bought the multi-billion franchise in January of 2018. The new owners have big plans for their new engine family. They plan on changing their franchise to go into a different direction and deepen their engagement with their fans.
Q: What do kids learn from playing as a conductor?
A: It encourages the love of machinery and segways well into S.T.E.M. courses. It stimulates their imagination to play as someone who can repair and operate their own engine. It reinforces positive self image to be in a leadership position.