10 Best Playmobil Toys Reviewed in 2019
last updated
Aug 07, 2019
Playmobil toys have been popular with kids in the toddler to little kid range for many years. They are wonderfully detailed, include the necessary characters for the props, and include many miniature accessories to enhance play. The characters are poseable with movable heads, legs, and arms that can sit, stand, and bend to fit in the vehicles and buildings that are included. Many hours can be spent in productive and happy play by children who have great imaginations and are creative with scenes and storytelling. We highlight in this beneficial buying guide the best of these highly popular toys that both parents and kids love and cherish. They have gained the high approval of parents because of their excellence. Playmobil toys will stimulate the senses of your child and keep them entertained. Kids will gain physical and mental abilities in the simple play with these portable, colorful playthings.
In a Hurry? The test winner after 19 hrs of research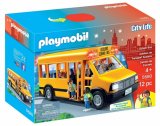 School Bus
Why is it better?
Figures are bendable into poses
Figures can sit in the seats
Includes twelve parts with accessories
Lights really work on the vehicle
Is easy to put together
In a
Hurry? Editors choice: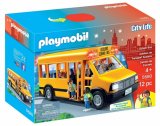 Test Winner: School Bus
28
Researched Sources
19
Hours Researching
25
Products Evaluated
Sensory Stimulation
Physical Development
Entertainment Value
Design
By Default
10 Best Playmobil Toys
Figures are bendable into poses
Figures can sit in the seats
Includes twelve parts with accessories
Lights really work on the vehicle
Is easy to put together
Has small pieces – choking hazard for infants
Doors may not stay closed and figures come out of the seats easily
The Playmobil School Bus is tremendously popular with little kids for pretend play and storytelling. It is ideal for kids aged four and older with its twelve pieces and bright attractive colors.
Read more
The included parts feature the school bus, four figures for the people on the bus, and several accessories. The figures have ample seating on the bus and can be placed in numerous seating arrangements. The lights in the rear and on the front really work for enhanced playtime excitement. Figures have the ability to stand, sit, and bend, plus their heads turn for various poses. The bright yellow bus that is realistically painted and decorated comes partially assembled but is easy to finish when you receive it.
Sensory stimulation
Seeing the lights on the bus and being able to handle the figures and other parts will exercise the senses for children during their regular play time. Discovery of these abilities is vital in child growth and understanding.
Physical development
With the grasping and moving of the figures to put them on and off the bus, kids will be developing their fine motor abilities and finger dexterity. These pieces are small so hand-eye coordination will get a workout too.
Entertainment value
The imagination can run wild with this Playmobil school bus as children can be very creative in their play scenes with it. it represents a true activity in their lives of going to school and riding the bus.
Design
For kids who like to play school in their leisure time, this adorable little school bus is realistic and functional. The four included figures fit in the bus and can be posed in different positions.
Vehicle sirens and lights are functional
Figures can turn heads, stand, sit, and bend
Doors and top of the vehicle come off
Hands of the figures fit on the door handles
Lights and sirens are controlled with a button
Has really small accessory parts
Doors might not stay closed when in use
Including twenty pieces for medical fun, the Rescue Ambulance is perfect for kids aged four-years-old and older. Children can transport the patient in the ambulance to a make-believe hospital with this wonderful toy.
Read more
The play experience is more realistic with the vehicle sirens and lights that are functional. Promoting exploration in learning, the doors and the top of the vehicle come off for enhanced play. It comes pre-assembled and includes three figures that are posable to turn heads, stand, sit, and bend. A stretcher for the patient is one of the several accessories that kids get with this incredibly realistic-looking play ambulance. The hands of the figures can really fit on the steering wheel of the vehicle and the door handles to open them.
Sensory stimulation
Kids love to experience toys that they can appreciate on several levels. They can feel the various parts as they touch and move them, plus hear and see the lights and sirens of the vehicle.
Physical development
Fine motor abilities are exercised after the child has mastered the gross motor talents. Along with finger dexterity and muscle control of the hands, they are crucial to playing with small items such as the figures and accessories of this set.
Entertainment value
Kids can make their own hospital with other objects or another toy in order to use the ambulance for bringing patients. Even without a hospital toy, this cute ambulance is functional to keep kids entertained for hours.
Design
With the bright coloration and realistic decals, the Playmobil Ambulance is a real treat for kids to use in their pretend play. It has functioning doors, lights, and sirens to make any play session terrific.
The pop-up tent is foldable and simple to operate
Comes with three figures and many accessories
Has functional folding chairs and a table
Small items fit easily in the hands of the figures
People are bendable and poseable
A few buyers were missing parts
Small pieces can be hard to keep up with
Kids can go camping every day with this lovely toy. It is a family camping scene complete with all the details and small accessories needed for a wonderful family outing.
Read more
It recreates the play scene of a camping trip for the figure family that includes three figures. The pop-up tent is foldable and simple to operate, plus it can fit four Playmobil people in it. The many accessories include a cooler, plates, pans, pots, a lantern, cups, food cans, towels, clothes pins and hanger, and a cat. Those small items fit easily in the hands of the figures for them to hold. The people are bendable and can stand, sit, and move their heads.
Sensory stimulation
While there are no flashing lights or audible sounds featured in this item, kids can still gain valuable sensory skills with it. they can view the many colorful details and feel the movements in positioning the tent, furniture, and figure body parts.
Physical development
Playmobil toys are perfect for promoting fine motor skills, muscle movement, and dexterity of the fingers. This is because of the small objects included and many ways toys like this one can be manipulated and posed.
Entertainment value
Many hours will be spent by children in setting this play scene up and organizing the many items. Then the playing really begins with storytelling and scene acting for the utmost pleasure.
Design
Nothing could be cuter than this family camping trip in miniature. Both kids and parents will appreciate the detailed work completed for this set that includes all the tiny extras.
Comes with two passengers and a pilot
Wheels of the plane fold underneath
Spacious plane interior fits all three figures
Small details and parts for interesting play
Countless possibilities for scenes and stories
Some parents said the wheels do not fold
Some pieces fall off easily
Ideal for ages four to ten, this private jet for flying pretend fun and enjoyment will be one of your child's favorites. Private Jet provides countless possibilities for various scenes and stories during productive play.
Read more
This wonderful set has 41 pieces included to give kids every type of item that is needed for a flight scene with passengers. It comes with three figures, cups, a briefcase, and many other decorative accessories. These small details make an imaginative play so interesting such as the cup holders, table, and traveling bags. The interior of the plane is spacious to fit all three figures of the pilot and two passengers. Kids must assemble the jet when it is received, but it is easy for the recommended age group to do. For landing and takeoff, the wheels of the plane fold underneath just like a real plane.
Sensory stimulation
While some of the Playmobil toys have lights and sounds, this one does not. It does, however, affect the senses with its visual details and plenty of items for the child to handle and manipulate.
Physical development
Finger dexterity and fine motor skills will surely be used well in playing with this lovely jet toy. The small parts need just the right precision to move and place them for the figures to use them in play scenes.
Entertainment value
Storytelling can be enjoyed by one or many kids as they use the jet and people to invent all sorts of scenes. What makes Playmobil toys like this one so terrific are not only the movable parts but also the many detailed accessories.
Design
A functional plane with plenty of accessories, working wheels and doors, and places for the included figures inside is an incredible toy for creative playtime. Kids will love the many scenes they can create and act out with ease.
5

. Ghostbusters Firehouse
Comes with four The Real Ghostbusters episodes
Features Spengler, Stantz, and Janine figures
Compatible with other Ghostbuster-themed sets
Includes many accessories and extra details
Slime splatters for decorating the walls of the firehouse
Many small parts do not stay in place well
Firehouse must be assembled – instructions not that helpful
Perfect for movie scene recreation and reenactment, the Ghostbuster Firehouse is a detailed miniature replica of the firehouse scene in the well-known movie.
Read more
It comes with Spengler who creates mixtures for ghost fighting in the lab and a Stantz figure who monitors the Library Ghost. There is also Janine who takes the calls for ghostbusting in this fabulous combination product. The figures can jump into action when a call is taken and slide the fire pole to the bottom garage in action. This amazing plaything is great for one child but has plenty of features and accessories for several kids to enjoy together.
Sensory stimulation
There is just so much to look at when a child plays with this fantastic toy. Kids will be thrilled with the small details and usable parts to experience with their eyes and hands of the many pieces.
Physical development
Good for ages six and older because of the theme and the many miniature parts, this Playmobil item is very interesting and fun for Ghostbuster fans. The fine and gross motor skills will be developed with assembly and play.
Entertainment value
The many accessories for fun include ghost traps, lasers, the proton wand, PKE meter, and proton packs. There are also slime splatters that can stick to surfaces that are smooth for decorating the walls of the firehouse.
Design
This 228-piece set comes with four The Real Ghostbusters episodes when purchased and can be combined with other Playmobil sets of the Ghostbuster theme for enhanced play.
Enforces the green idea and practice of recycling
Two included people are poseable and bendable
Many accessories make play exciting and fun
Hand-operated mechanism to lift the recycling bin
Wheels roll on the vehicle for realistic play
Only comes partly assembled
Doors do not open – figures must be put in when the truck top comes off
Enforcing the green idea and practice of recycling for children in a fun and interactive way, the Green Recycling Truck has many accessories to make play exciting and fun.
Read more
It is ideal for ages four and older with wheels that really roll on the vehicle for encouraging play and two cute worker figures. They can sit in the front seats of the truck and hang on the back during working and collecting hours. Play recyclable items are collected and emptied into the truck using the mechanisms of the play vehicle and the figures. The truck has a hand-operated device to pick up the recycling container and dump it into the back of the truck.
Sensory stimulation
Operating the hand crank to pick up and empty the container of recycling products will make children visibly and audibly aware of the working of the vehicle. They can physically move the pieces and work the device themselves.
Physical development
Not only will the hands and fingers get a good workout playing with his recycling truck and its workers, but also the arms and legs when kids drive the truck around. They will want to take it out for a spin as the wheels are quite functional.
Entertainment value
The two included people are poseable with turning heads, and bodies that can bend, stand, and sit for endless scenes and storytelling possibilities. This gives children great material to work with for amazing imaginative play.
Design
With 27 pieces in total, this superb product has features that are quite realistic and appropriately colored (green truck, yellow safety vests, etc.). it is good to teach kids about recycling at an early age.
7

. Stay Puft Marshmallow Man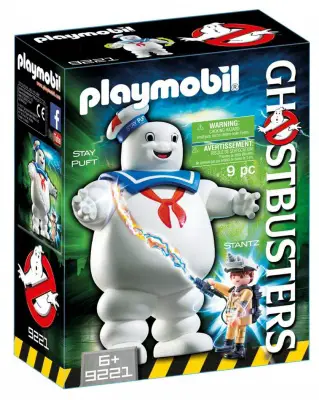 Comes with four Ghostbuster episodes free
Arms are movable for play scenes
Has Ecto-Goggles plus several other accessories
Flexible head and body to stand, sit, and bend
Compatible with the other four Ghostbuster sets
Not in direct size scale with other sets
Some buyers did not receive all parts
The Stay Puft Marshmallow Man in the Ghostbuster movie has the job of scaring the city folks. Cute and fluffy he may be, Stay Puft has arms that are movable and the tasks of stomping along the city streets.
Read more
Ray Stantz, one of the Ghostbusters, will zap Stay Puft with his proton pack and make marshmallow go everywhere. Designed for kids aged six and older, this wonderful Playmobil product has nine parts in the set and comes with four Ghostbuster episodes free with the purchase. Compatible with the other four Ghostbuster sets from Playmobil, this figure has the flexibility for the head to move and the body to stand, sit, and bend. It comes with Ecto-Goggles plus several other fascinating accessories for fun play.
Sensory stimulation
Stay Puft has a different texture or feel to his body that the rest of the Ghostbuster pieces. Because of his marshmallow body, he is very interesting to touch and play with during scenes and storytelling.
Physical development
Children can enjoy moving the arms, legs, and head of this vital Ghostbuster creature during play. It will improve their dexterity, motor abilities, and coordination that are important for their development.
Entertainment value
What could be more entertaining for kids that having the characters and props to reenact their favorite movie and story scenes? Toys such as this one makes that creative and imaginative play possible for kids of many ages.
Design
As one of the characters in the Ghostbuster scenes, Stay Puft is an important part of the activities of the Ghostbuster gang. This combination set includes the large puffy figure along with several accessories needed for a productive and fun playtime.
8

. 1.2.3 My Take-Along Noah's Ark
Portable for play on the go or during travel
Pieces are rounded and large for little hands
Deck is removable to store all loose pieces in the hull
Handle to carry the product easily by little ones
Boat can float so it makes a good bathtub toy
Noah is wearing regular modern clothes
Animals take on water if used as bath toys
My Take Along Noah's Ark is portable for play on the go or during travel in a vehicle. The adorable design is colorful and bright, and the pieces are rounded and large for little hands to easily hold and grasp.
Read more
The ark deck is removable to store all loose pieces in the hull of the boat when kids are on the move or for storing the toy. There is a nice handle to carry the product easily by little ones. The boat can float so it makes a good bathtub toy when kids must bathe. The ark comes with two people figures and animal pairs of lions, birds, elephants, zebras, and giraffes. It has a plank with traction supports for the animals and people to walk into the ark to make play as realistic as possible for small children.
Sensory stimulation
Visual stimulation will be alive in your child as they play with this splendid item. The colors are bright and vivid for a rainbow of hues that kids will love. They can practice recognition of colors, numbers, and animal names for productive play.
Physical development
Little hands will get much exercise in moving the many pieces around and using the ark as storage or boat for the animals and people to enjoy. The motor skills are important for a good functioning, which is what this toy will promote.
Entertainment value
There are plenty of stories and scenes that kids can act out with this wonderful item. They can load in the animals and get them settled in, then take them all out again via the sturdy plank.
Design
Made to be a good replica of the ark, Noah and a companion, and some of the animals taken on the journey, this cute toy will delight small children and keep them busy on the go.
9

. Slimer with Hot Dog Stand
Four Ghostbuster episodes free with purchase
Head turns and his body bends for poseable play
Works well with other Ghostbuster Playmobil sets
Parts include a vendor, hot dog stand, and food items
Has splatters of slime that will stick to surfaces
Was smaller than some people expected
Came damaged or missing instructions
Including 53 pieces in total, the Slimer with Hot Dog Stand product is great for kids six-years-old and older. Children can reenact one of Slimer's outings for a food treat at the hot dog stand.
Read more
Four Ghostbuster episodes are free with the purchase of this toy that works well with other Ghostbuster Playmobil sets for more intricate scenes and additional characters. It is a hot dog stand that will get slimed by the Ghostbuster Slimer character as he uses the included splatters of slime that will stick to surfaces that are smooth. His head turns and his body bends, stands, and sits for poseable play. The accessories include a vendor for the hot dog stand, an umbrella, a bike, drinks, condiments, a burger, and hot dogs.
Sensory stimulation
Slime is one thing that kids all over the world are wildly attracted to because of its gooey texture and cool feeling on the hands. They will love handling the pieces of this set and looking at all the details of the pieces.
Physical development
Sticking the slime on the cart and assembling all the hot dog cart pieces will give children plenty of opportunities to use their dexterity, motor talents, and coordination of hands and eyes in progressive fun.
Entertainment value
The Ghostbuster stories are so interesting that children will want to use the props and characters in this toy to act them out over and over for fun. Storytelling is a part of the creativity and imagination abilities that kids need to use.
Design
Made to look exactly like the hot dog scenes in the movies with Slimer attacking the cart with slime, this incredibly detailed toy has all the accessories kids need to make their own amazing scenes and stories.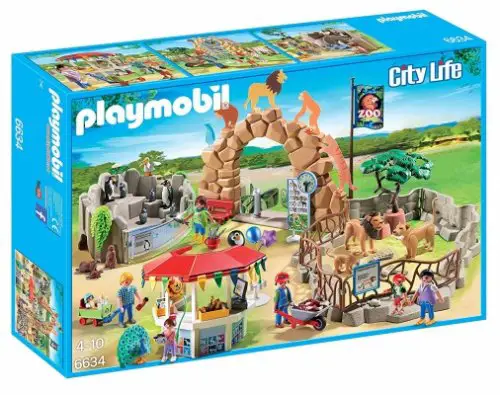 Helps kids discover and recognize animal species
Animal habitats are beautiful with different bird types
Easy to put together with pieces snapping together
Includes a turnstile, archway, giftshop, and animal enclosures
Has a multitude of small items, people, props, and animals
Included too much assembly for some people
Plenty of miniature pieces not good for infants
Intricate in thousands of details, the Large City Zoo is a big zoo scene for many pretend stories and possible scenes that could occur in this magical setting. It includes seven people figures, three lions, four penguins, and much more.
Read more
The animal habitats are interesting and beautifully complete with different bird types. This wonderful toy even has a play souvenir shop for the zoo visitors to purchase items to take home. The many pieces include fencing, a camera, a cash register, postcards, a mouse, a child stroller, a wheelbarrow full of meat, a bucket of fish, and a peacock. It is good for kids in the age range of four to ten-years-old that are not prone to swallowing the miniature pieces.
Sensory stimulation
Such a backdrop and accessories help children discover common animal species and recognize them by sight. The explosion of colors, shapes, and objects is great for parents and children to explore together.
Physical development
The big pieces and tiny parts all come together to provide children a toy zoo experience unlike any other. Just picking up the accessories and placing them about the zoo scene will take coordination, motor skills, and dexterity.
Entertainment value
Kids will be super busy just putting the many pieces of this playset where they want them. when the actual play begins, they will be at it for hours and hours, so it makes a terrific rainy-day toy.
Design
It is easy to put together as the simple pieces just snap together. Included is an entrance archway for the visitors that is rocky with animal cutouts and turnstiles to make the zoo experience realistic.
Criteria Used for Evaluation
Sensory Stimulation
The senses come alive with Playmobil toys as some of them have lights, sounds, and strange textures such as slime splatters (the Ghostbuster toys). Even the ones that do not have these audible effects are effective in enhancing the senses of young kids with easy play. You will notice that all Playmobil sets are colored appropriately with bright hues and important details to make the pieces seem real. As the child handles the pieces, they are physically learning and recognizing the colors, details, and specifics of the parts that make up the whole toy for good sensory stimulation.
Physical Development
Motor skills, dexterity, muscle development, and hand-eye coordination are vital abilities that kids must develop quickly in playing with toys. Playmobil toys do much to improve these talents in children without them even knowing it. Just regular playtime fun can promote these skills and make the child ready for the next stages of their physical development quicker.
Entertainment Value
Toys give kids the opportunity to put into practice what they are thinking in their heads. Using such toys, they build on these abilities and develop mentally and socially in their early years. Playmobil toys do much to encourage such play with the detailed items in each set. Even something as simple as a school bus or an airplane has appropriate coloring, characters included, and many accessories to use for the scenes and stories.
Design
Playmobil toys are designed to replicate a particular scene or backdrop for kids to use the characters, props, and accessories in their storytelling and make-believe scenes. They each come with many detailed accessories to enhance the play and make it more realistic for the child. Playtime is better when you have brightly colored toys that actually look like the real thing it is supposed to represent. In this way, kids can be their most creative and let their imaginations run wild with great scenes.
Most Important Criteria
(According to our experts opinion)
Experts Opinion
Editors Opinion
Users Opinion
By Default

Parents, Did you Know?
Toys that spark the imagination of the child are great playthings that benefit the child. these promote pretend play, logical order sequencing, problem-solving, and literacy and language. Examples are blocks, action figures, trucks and trains, dolls, and dress-up clothing.
Parents, Did you Know?
Try to find playthings that will still be relevant for play as your child ages and grows. These would offer something different for development at various stages. Good examples of these would be dolls, stuffed animals, action figures, toy animals, vehicles such as dump trucks, trains, and dollhouses for toddlers.
Other Factors to Consider
Age Range
The best ages for playing with Playmobil toys in the toddler to little kid range. This would be from about four to ten-years-old for most children. The reason that infants do not do well with these products is because of the many miniature and detailed pieces that are in most of these sets. They could present a choking hazard for infants, especially if they like putting things in their mouths as most babies do. Parents should supervise any young kids with these toys because of this concern.

Portability
While some of these sets do have many small pieces to them, a couple of them make terrific portable toys that are great for travel. Kids can play with some of the models that have fewer pieces in a vehicle while riding or when they are away from home. Look for the ones with the least number of parts for the best portable ones, as we do tell you the number count for each of the listed toys. Any of the items compact into a small form for storage so kids can play with them at other times.
Frequently Asked Questions
q:

Are any of these toys specially geared toward one sex or the other?

a:

No, the good thing about these Playmobil toys is that they are equally attractive and useable for both boys and girls. Kids can play with them together or separately as they choose, but none of them favor one sex or the other. There is not a choice for color selection either to be more appropriate for boys or girls.
q:

Does a child need anything else to go with these sets for playing?

a:

No, nothing else is required to play with these sets, but it is a good idea to combine the products for enhanced play. For instance, there are five Ghostbuster products that combine really well for a complete movie setup. Many scenes and stories can be acted out with such a large play area of props, characters, and accessories.
q:

Do any of these sets require tools or other parts for assembly?

a:

No. You will not need any tools or hardware to put these toys together. Older kids will be able to help you with this task or do it themselves with the included instructions.
q:

Would any of these toys make a good traveling item for kids to do away from home or in a vehicle while riding?

a:

The school bus, the private jet, or Noah's ark would all make wonderful traveling toys since they have the least number of parts in the set. The Noah's ark is designed for travel as the several pieces store in the hull, has a handle for carrying, and closes with the deck for security.
q:

Which listed toys are best for infants to use safely?

a:

The school bus and Noah's ark would be our suggested favorites for a child of a young age to use. these have larger than normal parts that small hands can handle and grasp well. They also pose less of a choking hazard risk because the pieces are not as small as some of the other sets.
q:

Do all of these have to be put together when they are received?

a:

Yes, all of these Playmobil sets require some amount of assembly when you get them. The pieces come apart easily and go back together simply for transport and storage. By having the pieces come apart, it gives the child an added element of something to do with the toy and also makes it easier to store and ship to you.