Is there something strange in your neighborhood? Is there something weird, that don't look good? If you answered yes to both of those questions, it sounds like you should call the Ghostbusters. If you answered no to those questions, but you do have a child who is a huge fan of the ghostbusting gang then keep reading. We compiled a list of the best ghostbuster toys for your child. Many of the toys on this list will stimulate your child's imagination. As they engage in pretend play they will join forces with Egon, Peter, and Ray to catch whatever paranormal creature comes their way. Get ready to experience a sense of nostalgia, as you watch your child enjoy numerous ghostbusting adventures.
Our Top 3 Picks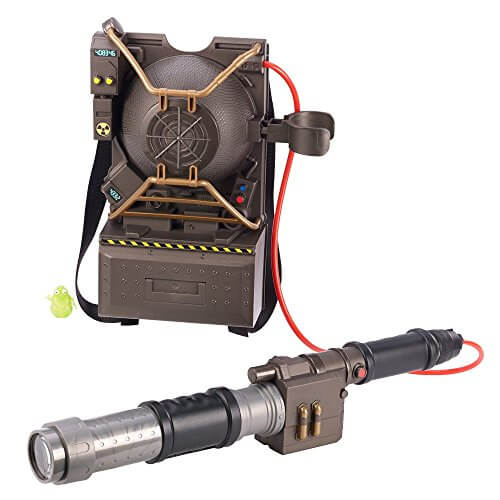 Ghostbusters Electronic Proton Pack

Our rating
Ghost Projector
Price:

See Here
Ghostbusters Sidearm Proton Blaster

Our rating
Authentic Details
Price:

See Here
UNO Ghostbusters Edition

Our rating
Themed Ghostbusters Deck
Price:

See Here
Whether it is for stimulating their creativity or serving as props for their role playing activities, these Ghostbuster toys, gadgets, and gizmos are sure to be a big hit to younger fans of the franchise.
Electronic Proton Pack Projector
Age Range: At least 4 years old
BOOMco. Sidearm Proton Blaster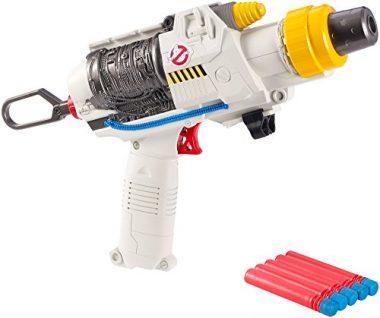 Age Range: At least 6 years old
UNO Ghostbusters Card Game
Age Range: At least 7 years old
Egon Spengler Select Action Figure
Age Range: 5 to 17 years old
Age Range: 4 to 8 years old
Slimer Pop! Figure by Funko
Age Range: 8 to 15 years old
Age Range: 5 to 16 years old
Stay Puft Fun Pack for PlayStation 3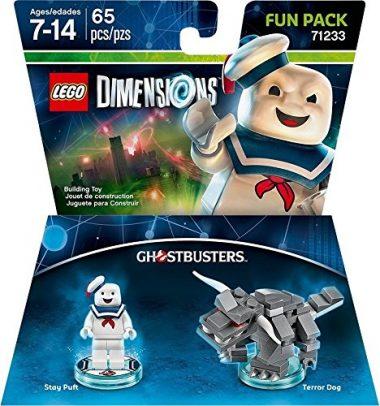 Age Range: 7 to 14 years old
Ghostbusters Ecto-1 by LEGO
Age Range: At least 10 years old
Criteria Used in Evaluation of the Best Ghostbusters Toys
Versatility
From action figures to LEGOs and ghost busting gear, each of these toys can be used in a variety of ways. Your kid will enjoy recreating scenes and making up their own creative scenes with the toys and gadgets listed above. This will keep your kid coming back to their Ghostbuster toy over and over without growing bored of it.
Ease of Use
A few of these toys on our list above are complex such as the LEGO sets, however they are not too difficult for a kid to assemble. These toys promote confidence as kids can play with them and assemble them without having a hard time or having to ask for help which could be frustrating. For the fact that these toys are easy for kids to play with and use they will play with them often, which will keep them occupied in enhancing their social and imaginative skills.
Durability
If you get a new toy for your kid, you want it to last for a lengthy amount of time. Each of the toys and gadgets on our list are made from durable materials to stand up against rough play and the test of time. Even the Ghostbusters edition of UNO cards are made from high quality, thick paper to stay intact after frequent use.
Visual appeal
Toys that are visually stimulating plays a huge part in a kid's overall experience with it. The gadgets on our list are visually appealing and will keep your child enticed for the fact that they are realistically built and vibrantly colored. Realistic colors are very important when it comes to choosing a toy for a kid, however, so is the shape. The riveting outlines of our Ghostbusters action figures and toys encourage hands on play as they are built on a scale size that's easy to handle and play with.
What Determined the Ten Amazing Ghostbuster Toys and Gadgets in Our List
Creating a representative list of Ghostbuster toys, gadgets, and gizmos that fit well into our Top 10 proved to be quite a challenge. We found out that a great number of the best-selling toys of this character were the Ecto-1 car of the ghost-busting quartet. It would simply be foolish to include 4 or more toys of the same kind in a list. As such, we had to consider other types or forms of toys and gadgets that we're sure children will love and have tons of fun playing with.
And since we're talking about playthings for children, we had to consider the developmental appropriateness of these products as well. It was crucial that we were able to identify the developmental benefits of these products so you can feel much more confident about what you're giving to your kids.
Company reputation was also considered as this can help establish the quality of the product as well as the safety and integrity of its construction. This is especially true for younger children such as those who are below 3 years of age. Small detachable components can pose as significant choke hazards for these young kids so it was imperative for us to ascertain that these are safe.
As we have already said earlier, we had to consider the best-selling ones in our list. So, while there were products that really deserved to be in this list, we had to think really hard about including them as it would not be a representative mix anymore. For the most part we set our cutoff product rating at 4.0 stars so any product that failed to meet this minimum was instantly written off our list.
Benefits of Role Playing among Children
Everyone knows that children love to play as it is their primary means of learning about themselves and their world. If play were to be set with rules, then it becomes a game. While there is a very thin line between play and game, children can nonetheless, benefit from both. One of the most valuable types of play activities among children is role playing. Here are some of the surprising benefits of pretend play or role play.
When kids role play, they don't just simply follow the script from the movie or the animated film that they saw. They will be the ones to create their own storylines including the creation of a character that they think is best suited for the role. All of these will require a bit of imagination as some of the supposed "roles" may not really work in the real world.
For role plays to be effective, different characters must be brought to life. And because different characters will have different roles to play, kids will have to learn to communicate with other players. Communication is vital in the development of one's social interaction skills.
Encourages cooperation and teamwork. 
One of the more obvious benefits of roleplaying is the use of cooperation and teamwork to get the job done. This is closely related to the development of social skills since communication and interpersonal relationships can become the foundation for effective teamwork.
Refines problem solving skills. 
There will always be certain situations in a role play where kids will be confronted with a problem as a result of their creativity. The good thing is that, the roleplaying activity itself will provide the means upon which kids will use their cognitive abilities to work around or through the problem. Their logical and divergent thinking skills will also be greatly enhanced.
The Bottom Line
The Ghostbusters film franchise has had a great following in the 1980s. When the 21stcentury version was released in 2018, kids were introduced to the characters that we once adored. You can cultivate this fascination in the same way as our parents cultivated ours way back in the 80s by choosing any of the 10 best Ghostbuster toys we have shared with you.
You May Also Like
10 Cool Spiderman Toys For Kids
10 Best Batman Toys for Kids In 2018
10 Best Transformers Toys for Kids in 2018
10 Best Pokemon Toys in 2018
10 Best PAW Patrol Trucks in 2018
12 Best Minecraft Toys for Kids in 2018
FAQ
Frequently Asked Questions
Q: Could I put the completed set of the Ghostbusters Ecto -1 by LEGO inside an aquarium?
A: Yes, you could put the completed set of the Ghostbusters Ecto -1 by LEGO inside of an aquarium. This is a wonderful and safe way to display your kid's hard work. LEGO pieces are safe in aquarium for both the inhabitants and the LEGO pieces themselves. LEGOs are made of durable, hard plastic and it does not consist any toxicity. The pieces will not breakdown due to being submerged in water. However, it is important to clean the pieces as an entire aquarium should be cleaned regularly to prevent build up.
Q: Does the Ghostbusters BOOMco. Sidearm Proton Blaster by Mattel make any noise or have lights?
A: No, the Ghostbusters BOOMco. Sidearm Proton Blaster by Mattel does not make any noise with the exception of the trigger popping. This is an excellent feature so that your kid can enjoy this toy not only outdoors, but indoors too. Having quiet indoor toys is a great benefit to parents, as noisy toys can be bothersome. The plastic nerfs don't make much noise whenever they hit their intended target. This Sidearm Proton Blaster does not come equipped with any lights, however, your kid will still have an enjoyable time with it as it is easy to operate.
Q: How can my kid benefit from play with action figures as most are prone to a life in a box or on a shelf?
A: Your kid can benefit from playing action figures in several ways. In addition to adding to their collection, these action figures are so fun and detailed that you will find your kid constantly removing them from the shelf to play with them. Kids can engage in role play, physical play and imaginative play as they reenact Ghostbusters scenes. Moreover, kids can create their own scenes and even put together their very own version of the Ghostbusters movie as they play with these detailed, realistic action figures on our list above.
Q: Does the Ghostbusters Slimer POP! Action Figure by Funko glow in the dark?
A: No, the Ghostbusters Slimer POP! Action Figure by Funko does not glow in the dark. If this news is viewed as unfortunate news to you, be assured that your kid can still have fun with this detailed action figure. With his translucent slime he is cleverly depicted as floating, and his vibrant green coating pops against all backgrounds, making up for the fact that Slimer does not glow in the dark.
Q: What is the 1:64 scale?
A: The 1:64 scale is the standard scale for die cast miniatures and models of many brands, including Hot Wheels. This scale is perfect as the objects within this scale fits well into all hands, especially small hands. The 1:64 scale or three-sixteenths scale is most commonly used for ships, automobiles, ships and fantasy figures making this scale popular for tabletop gaming and play.
Q: LEGO Dimensions Ghostbusters Stay Puft Fun Pack for PlayStation 3 by LEGO be used with the XBox One?
A: Yes, in addition to the PlayStation 3, this particular LEGO Dimensions Ghostbusters Stay Puft Fun Pack by LEGO can be used on any console. Such as the Nintendo, PlayStation 4, Xbox One and many others. It is very important to make sure that you are not purchasing a console specific Fun Pack if you want to use this toy with any type of console.