Playing with dolls and dollhouses can be a very exciting way to recreate a world that is less threatening and more manageable for young children. This is one of the true values of miniature figures and houses where kids can act out different roles in ways that they see fit.
Among the countless mini dolls, houses, and structures today, nothing can compare to the worldwide appeal of Shopkins. These collectible toys have consistently performed exceptionally well through the years since its introduction in 2014. They now have their own YouTube channel and have expanded to include books and trading cards. If you're looking for the best Shopkins gift items to give to your little princesses, then our 10 best Shopkins toys for kids in 2018 should give you an excellent head start.
Season 5 12-Pack by Moose Toys
Age Range: 5 to 15 years old
Season 6 Chef Club 12-Pack by Moose Toys
Age Range: 3 to 15 years old
Season 5 Mega Pack by Moose Toys

Age Range: 5 to 15 years old
Season 4 12-Pack by Moose Toys
Age Range: 5 to 15 years old
Sweet Heart Collection by Moose Toys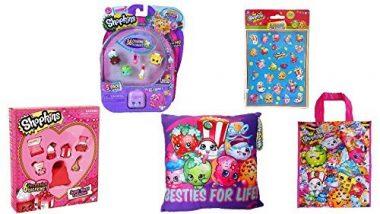 Age Range: 5 to 9 years old
Shoppies Season 2 W2 Dolls by Moose Toys
Age Range: At least 5 years old
Season 3 Scoops Ice Cream Truck by Moose Toys
Age Range: 4 to 15 years old
Pop 'N' Race Classic Game with Shopkins Theme by Moose Toys
Age Range: 5 to 15 years old
Supermarket Playset by Moose Toys
Age Range: 5 to 15 years old
Make Up Spot Mid Price Playset by Moose Toys
Age Range: 5 to 15 years old
How We Chose the Best Shopkins Toys in Our List
At first, we were not quite sure how to approach the project since most of the products we've seen so far are performing exceptionally well. Customers are very willing to provide their invaluable feedback on the usefulness of these toys especially in terms of what these can do for their respective children. The satisfaction ratings were also quite tight such that relying on this alone will not result in the top 10 but maybe even a top 100 Shopkins toys. It is for this reason that we decided to focus on the different seasons of the toy line since it is now on its 7th season. Each season actually has its unique theme which may appeal to certain kids. At any rate, by taking a representative product for the different seasons, we can serve the needs of more kids.
One of the major issues that have plagued the brand about a year after its inception was the growing incidence of fake products. It was thus, important for us to establish the reliability of where can you buy Shopkins without having to fret whether it's legitimate or not. You can bet that the links we have provided in each of these toys are only from the official manufacturer of the toy itself and not from anybody else. This way, you'll feel more confident about the quality and safety of these products as they are played with by your kids.
We also took into consideration the design of the toy whether it can provide a particular developmental benefit or not. The appropriateness of the product to the developmental age of target kids was also evaluated for congruence. This is a must in any toy that we buy for our kids.
Benefits of Pretend and Make-Believe Play in Kids' Development
It is a well-established fact that pretend play is important in child development. Both education and child psychology experts agree that there are a lot of things going on every time kids engage in make-believe or pretend play. For kids, it is more than just play. It is their way of expressing their understanding of their environment and their world. It is for this reason that parents must also learn to appreciate the importance of pretend play for kids, especially the young ones. Here are the benefits of pretend and make-believe play in kids' development.
It boosts the development of their cognitive abilities.
It enhances their critical thinking skills.
It improves their capacity for understanding a variety of factors that can impact the goal of the play.
It helps develop their social interaction skills.
It aids in the understanding of the importance of cooperation and teamwork.
It introduces the very abstract concept of empathy as opposed to sympathy.
It helps in the continuing development of kids' language, vocabulary, speech, and communication skills.
It fosters creativity which leads to an improvement in self-esteem and self-worth.
It allows kids to express their thoughts and emotions in a safer and more constructive way.
The Bottom Line
Playing with miniature objects like Shopkins and other toys like it may not seem like much. However, these have all been proven by science to be especially beneficial in children's development. So, get your kid started on collecting Shopkins characters today. Start with our 10 best Shopkins toys for kids and they'll be on their way to a happier, more productive childhood.
You May Also Like
10 Best Minion Toys For Kids
10 Cool Spiderman Gifts
10 Top Rated Ghostbuster Gifts
10 Cool Batman Products
10 Best Pokemon Products For Kids