There are many benefits to educational toys. Most parents turn to items such as books, interactive learning pads or stations, or tablets to encourage children to learn about various things and help them improve certain skills. One option many don't consider is a coding toy which can be beneficial in so many ways but is often overlooked due to preconceived notions that they're complicated, outdated, or just too much confusion. We've got good news for you, though, coding toys are just the opposite nowadays, and the toys you played with as a child can't hold a candle to what we've found for you on this top ten list. These types of toys are new, inventive, educational and, most importantly, fun! If you break down what these toys do, the process is fairly simple. They normally involve some kind of pattern that will help kids achieve a bigger, rewarding goal by the end of their coding practice; some involve actual robots that will follow commands as a finished result, while others actually encourage kids to build things like a computer system or complete a master program. Each one has something different to offer.
The skills a child will gain from playing with these engineering-forward toys is virtually unmatched because of the fact that they're not only hands-on, but encourage strong reasoning, logic, problem-solving, and critical thinking skills. Every area of the brain is being challenged and if your child is one for solving mysteries and learning how things work, consider this the perfect option for their next gift. These toys have been proven frustration-free and won't become something that just sits in your house, getting no use whatsoever… We're sure you have enough of those already!
10 Best Coding Toys Reviewed
1. Anki Cosmo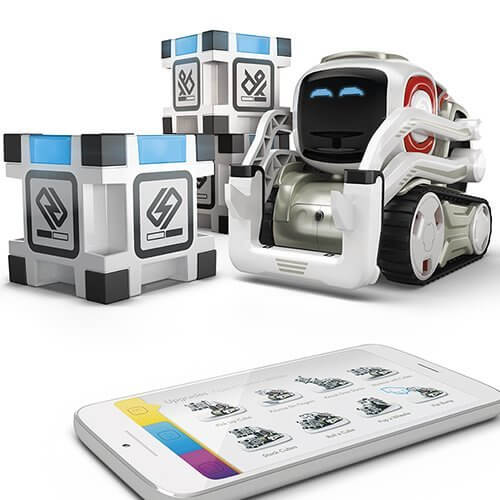 Cosmo
is a cute little bot that will encourage kids to brush up on and learn new coding skills. He's easy to use, super friendly, and will quickly become the newest member of your family. With a little practice, the use of a smartphone or tablet, and some patience, kids will be able to successfully customize all of this robot's reactions, expressions, and fun tricks.
Expand to see more
Cosmo is the cute little droid that you didn't know you needed for your child. He's everyone's soon-to-be best friend and although he makes them work for his affection, your child will have a blast learning how to program him. To interact is simple, just use the coding lab accompanying Cosmo and set it up via a smartphone or tablet. Using the code lab is as easy as plugging in various colors and watching this tiny bot set out on his course! By dragging various colored blocks along the screen, you can watch this AI come to life in a fascinating display that seems almost human-like. He also comes with blocks that can be lifted or moved, so you can train it to a super builder as well. If your kids are on their smartphones or tablets as it is, this is a great way to encourage them to be productive while playing -- They'll learn a little about how to build code while also having a great time.

Benefits
Cosmo isn't just built for following directions and making great entertainment. This robot is fully-interactive and while you're learning about him, he actually learns about you, too!

What We Like About It
Cosmo can do so much more than what meets the eye; with a little coding practice, your child will eventually be able to give Cosmo voice commands in addition to having him follow certain visual patterns. You can even see life from his point of view (literally!) with the addition of a front "Discovery" camera feature.

No assembly required
Cosmo comes with everything you need to get started
Easy to operate
The coding system is simple and uncomplicated
Built for durability
Switching between devices can be frustrating
2. Fisher-Price Think & Learn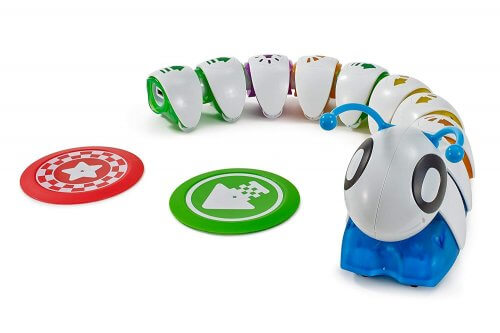 Code-A-Pillar is the cute bug that will have your child coding in no time. For just the very basics, kids will learn how to connect this caterpillar piece-by-piece in order to direct it on where to go, when to turn, and stop. Each color and shape corresponds to a specific command, making it easy to comprehend the basics of programming a specific code.
Expand to see more
Coding isn't just a word straight out of a sci-fi movie that only has to do with computers and data input. Sometimes, coding can just mean simply "matching". The Fisher-Price Code-A-Pillar will teach kids to do exactly that, with a neat little caterpillar that comes in multiple colors and must be assembled piece by piece. Each section of the caterpillar is color-coded to instruct kids on how to connect them, and each piece is connected in a different way. This drastically helps to improve problem-solving skills and it's a great project for them to complete on a rainy day or even with friends, thus boosting their social skills as well. That's not all this cute little bug does, though -- Each segment controls a specific movement this caterpillar makes. Therefore, your child can experiment and switch around the pieces to make the toy move whichever way they want! It's a neat little way to boost their confidence and allow them to have some creative freedom and fun.

Benefits
Along with the tremendous number of problem-solving skills it takes to control this caterpillar, kids will also learn how to use logic to plan the course of their toy. It interacts and makes noises to gain their interest while teaching them valuable skills about order, direction, and paying attention.

What We Like About It
This is simple coding at its best. When you get down to the nitty-gritty, all coding is being able to order things in such a certain way that they make sense and are conducive to a result -- This caterpillar will teach kids this on a simple level that they can understand and comprehend.

It takes a lot of critical thinking
Simple enough for a toddler
The replayability is high
Interactive lights and sounds
Easy to put together and take apart
You need a decent amount of space to use this toy
3. Kano Computer Kit
Does your child dream of having their very own computer someday? Even more so, do they dream of building one? Now they actually can! In the process, they'll also be able to code their own fun games and apps -- Including one for how to hack the popular game Minecraft.
Expand to see more
The only thing that makes this toy seem complicated is the addition of the word "computer", which, in reality, is simply just an electronic machine that's run by none other than coding! So why not teach kids the basics of how to create their very own? This kit is incredibly simple to use without being boring and has a major payoff when it's been completed. Putting a computer together isn't really as complicated as it seems, and with this one, kids will have full access to things such as YouTube, Minecraft (which they can also learn how to hack!), and several other games and features that make this totally worth the money you'll invest in it. It's great for kids ages six and up and teaches them, step-by-step, how to put together their very own computer system and code it to the correct specifications. Any other kit would be complicated and frustrating, but Kano has found a way to take kids through the coding process in the most fun and creative way… They won't even realize they're learning code!

Benefits
It's true that this kit has a lot to offer in the way of logic and critical thinking in general, but what's really great about it is the confidence your child will have once they've completed their project. Building a computer is something to be proud of and will definitely be something they'll take pride in when they show it off to their family and friends.

What We Like About It
This isn't the type of toy your child will get bored of quickly, which we know can be a big concern when it comes to anything science or engineer-related. Having their own computer will give kids a sense of freedom along with accomplishment knowing that they're the ones who actually built it.

Very easy to use
Teaches kids code in a creative way
Allows them access to the internet
Includes a fun Minecraft hack
The graphics and equipment are all excellent quality
It needs to be hooked up to a television or computer screen and does not come with one
4. Wonder Workshop Dash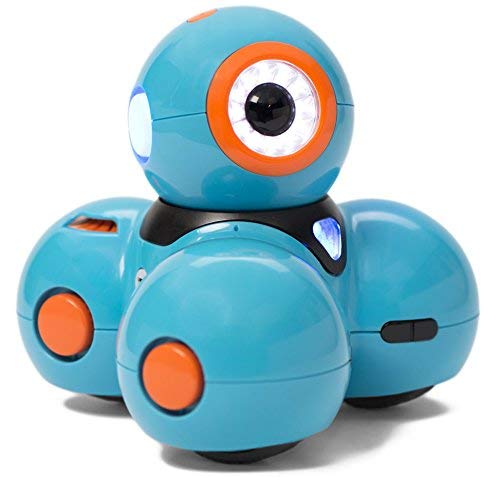 The Wonder Workshop Dash is similar to Cosmo by Anki, but much simpler. This is a great option for younger kids and older toddlers who are fascinated with the world of robotics but don't necessarily have an introduction to it. The great thing about Dash is that the only purchase that needs to be made is the bot itself, and all of the apps that control him are completely free
Expand to see more
There's no additional software, accessories, or tools that your child needs to start programming him -- Just it up with the app and you're good to go. This little guy can learn a plethora of commands that are all relatively simple to program in and will keep kids busy and have them laughing for hours. It's also compatible with LEGO Bricks Connectors which can be a blast if your child is playing with a group of friends!

Benefits
Each programming option comes with a tutorial to teach your child exactly how to use it and what to input to get the result that they want. Dash is about as customizable as any little droid can be which makes him a great pal to have around the house -- Or a good replacement for getting a real pet (and way less dog or cat hair)!

What We Like About It
This is one smart little bot and your kids will quickly find out exactly how intelligent Dash is. We like that it's simple to use and doesn't take much effort on a child's part.

Tutorials come with each programming guide
The app is free to use
Dash is completely customizable and realistic
It can be used in conjunction with LEGO products
Includes everything you need with no need for extra purchases
The Bluetooth updating process can be a little glitchy
5. LEGO Boost Creative Toolbox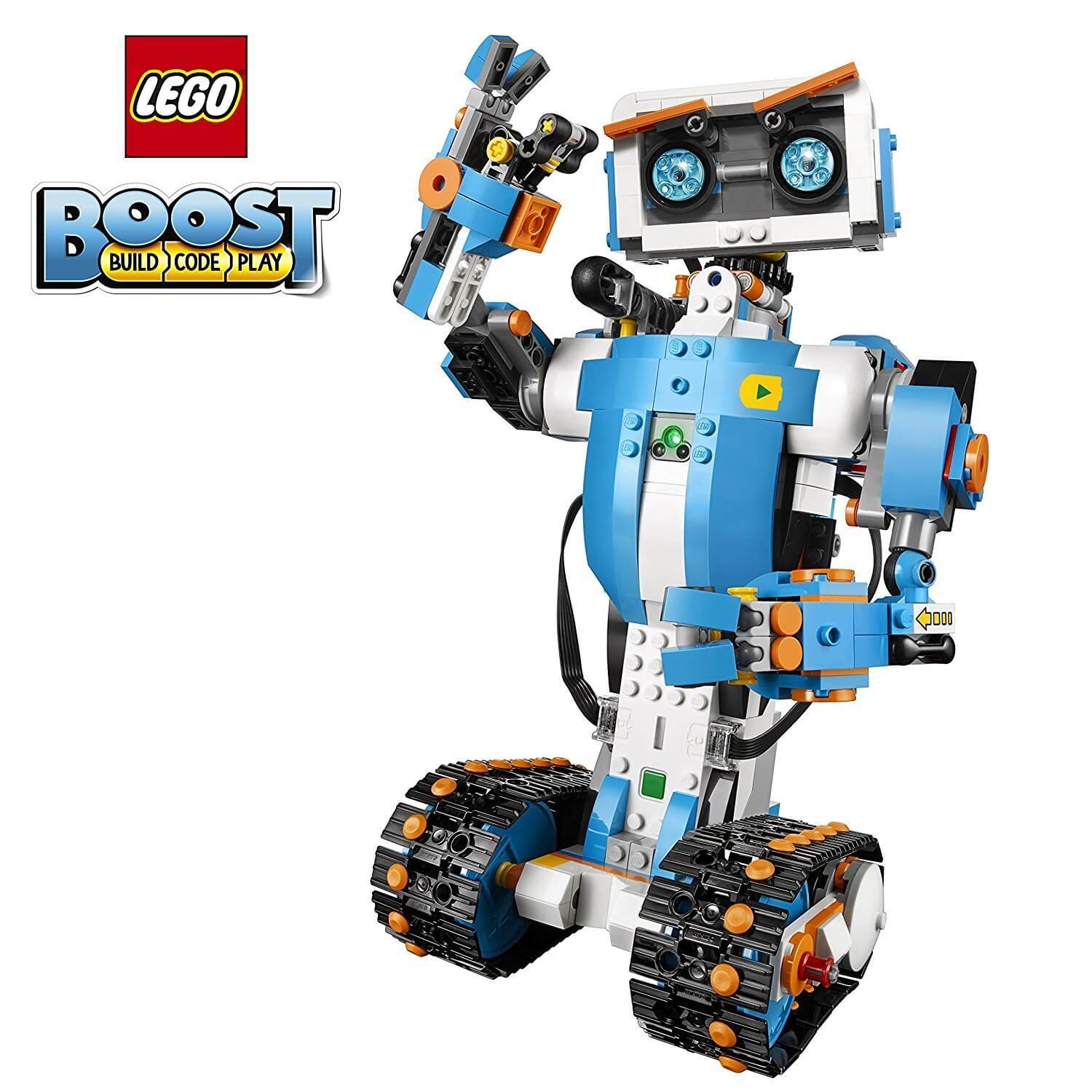 Everyone loves
LEGOs
, but did you know they come in the form of robots too? This kit allows kids to choose from five different bots that they can control via coding or even with a remote control, boosting play time from a few minutes to a few hours. They'll love building and being able to command this LEGO-bot.
Expand to see more
When it comes to coding, you know that LEGO has to have a hand in that since most kits are designed with engineering in mind! The
LEGO Boost Creative Toolbox
Building and Coding Kit allows kids to construct a bot that towers over ten inches high -- That's a pretty hefty bot! The cool aspect of this LEGO kit, though, is not only will it run on batteries, but it can be controlled via smartphone or tablet app as well. This gives kids a chance to not only build their very own robotic creature but also control it and learn some super simple coding in the process. The app allows kids to control their creation in very much the same way a remote control would be used for a race car; each option on the screen can be dragged into a specific order, then giving direction via Bluetooth to the droid awaiting a command. It's a huge step for LEGO, who started with simple building blocks and now puts out full-on controllable bots. Technology certainly is amazing sometimes!
Benefits
This is a pretty smart toy that comes with a pretty significant surprise as well. Not only can you build one large robot, but your child will have the option to pick from five different robotic designs and build -- and control -- each one!
What We Like About It
The options are endless for this not-so-subtle bot, and the best part is that there's no specific equipment your child will need to download the app to use it. It'll work with virtually any device that allows for Bluetooth communication which can save you frustration as well as money.
There are many options that come with this toy
Coding is simple with the use of a smartphone
Relatively easy to build
High replayability value
Well-worth the price
So many little pieces make it a poor choice for kids
6. Piper Computer Kit
This kit is perfect in showcasing how easy and simple it can be to actually build your own computer system. It embodies the essence of coding and uses real-life equipment, such as a circuit board, special wiring, etc., to instruct kids on how they can build they very own.
Expand to see more
This is a coding computer kit that's really intended for older kids who are either looking to learn code or already have an interest in the digital world. It's not overly complicated but can be frustrating for some younger ages, but that also means it can be a fun bonding project for the entire family. This computer kit comes with literally everything you need to create a computer capable of processing video game and tons of various apps that will be super rewarding to your child once they've completed it. It's recommended for kids ages eight and up, which will give them a solid background in the coding process and what it takes to create a form of artificial intelligence. The instructions are simple but make piecing this computer together a lot of fun, and your child will find even more fun in it when completing it with friends. When they're finished, they'll have full access to games like Minecraft and fun apps that will keep them surfing their new technology addition for hours.

Benefits
All of those wires and the addition of a circuit board may create the illusion that this coding toy isn't easy to put together but that's quite on the contrary. The guide is descriptive and simple to follow and won't just instruct kids, but will teach them how and why to put everything together in order for the process of coding to make complete sense.

What We Like About It
This computer kit introduces real-life computer parts to kids in a friendly way without overwhelming them or making them feel like they can't actually accomplish this project. Studies have shown that technologically-forward projects such as this have been shown to drastically increase a child's confidence level and improve their thinking skills overall.

It's a bit more mature of a coding kit
Great for a science fair or school project
The computer has many games and apps to keep kids hooked
It's fun to complete with friends
The instructions are simple and easy to understand
Kids under ten might struggle a bit
7. Ozobot Bit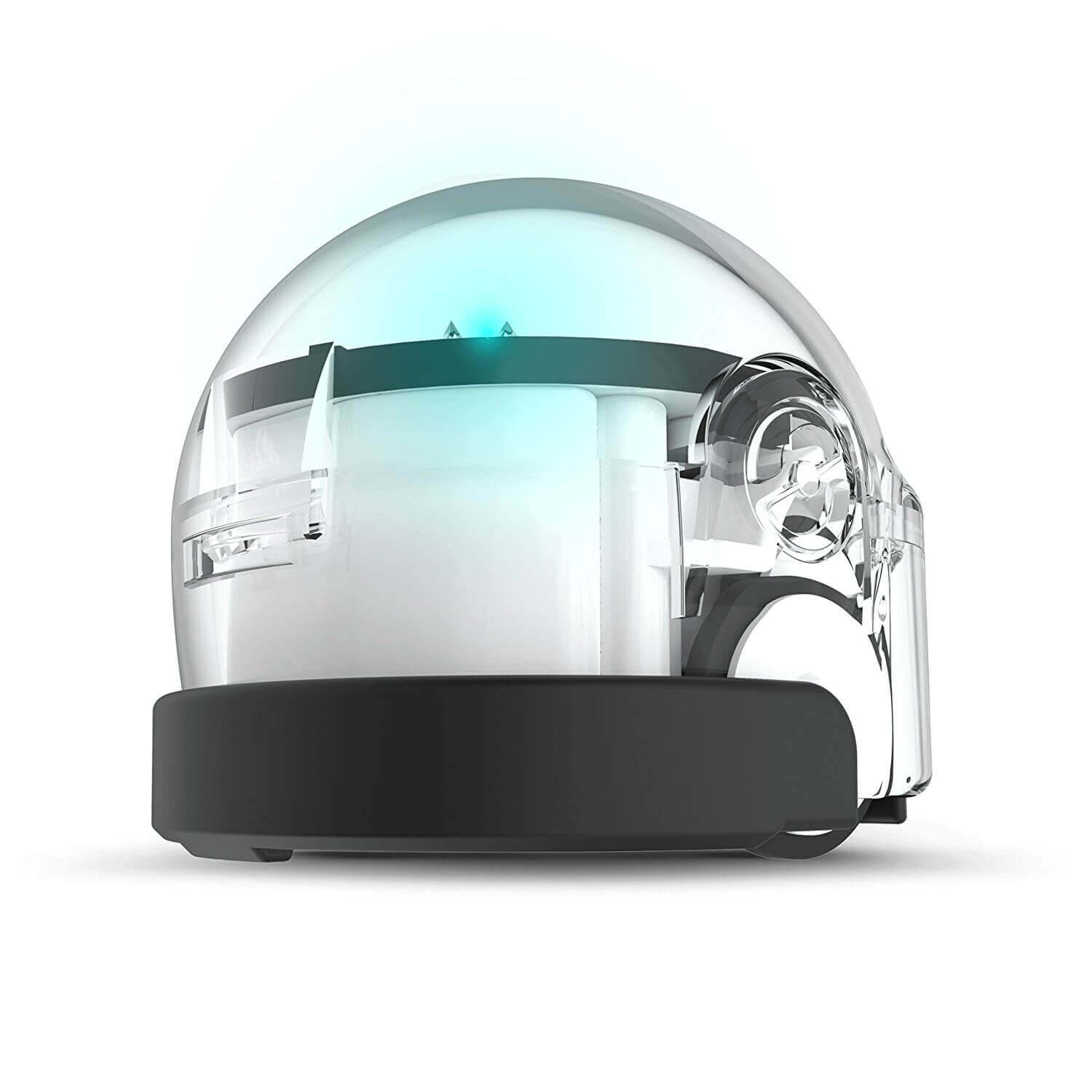 You'd be surprised to learn that this tiny bot is capable of reading code and doing exactly what you tell it to -- Through programming, that is! The Ozobot takes commands from color-coordinated codes that can be written on paper or set up on a tablet screen. The great thing about it is that kids will learn how to write code manually as well as input it digitally, making it a two-in-one learning process.
Expand to see more
We've got coding toys for all kinds of different ages and this little Ozobot can be used by kids as young as six! It doesn't take much to learn how to code with this little guy; if your kids can draw, then they've already gotten the first step down! The Ozobot follows commands according to color and, similar to a secret message decoder, he comes with his own color-coded chain of command that kids can use to create their own obstacle course for their very first bot. Ozo will follow the colors to a T and do whatever they instruct him to do, so all your kids need are some brightly-colored markers a piece of white paper. As they get older, they can use Ozo in conjunction with a tablet to conduct more complex coding courses. This is truly a toy that will grow with them and encourage them to keep learning and expanding their computer coding knowledge.

Benefits
The Ozobot kit teaches kids how to code in steps, beginning with manual coding first. Once they've learned how to successfully color out codes on paper, they can then move onto coding digitally on a screen, helping them gain confidence along the way.

What We Like About It
This little bot is flashy without being too overwhelming for a little kid. He can follow directions easily but this kit doesn't come with complicated options or a droid that's full of speech, bright colors, or endless movement -- It's simple so that kids can get the most of it while learning in the process.

Very easy to figure out
Comes with a two-step process for easy coding
Everything is color-coordinated
Using a tablet isn't necessary
It's great for younger kids
It's not as interactive as some other bots
8. Learning Resources Botley
Botley isn't just adorable, he'll also quickly become your child's new best friend. Watch as they race him, put him through obstacle courses, and learn coding right along with him! With so many different and versatile options, this is one toy that your child will love for years, making it well worth the investment.
Expand to see more
Botley the Coding Bot is the perfect investment if you're looking for a toy that will grow with your child. They won't soon get bored of this one because of how versatile Botley is in the commands he follows and what he's capable of doing, and with a 77-piece activity set, there's no limit to the number of fun kids can have with this toy. Botley can be controlled via a special remote control or the coding patterns that come in the kit. He responds to both equally as well and in this kit, kids will even find accessories to create their very own robot obstacle course. Kids will have a blast racing him, making him climb over various obstacles that can be placed in his way, and switching up each course with the coding pads included. Botley is a smart bot with some features that can even be unlocked later on, which only adds to the long list of things kids will discover while playing with him.

Benefits
This coding kit will challenge kids in a way that they've probably never been challenged, by encouraging them to be creative while using their problem-solving skills to create the best version possible. They'll learn how to control Botley in various ways, which will only increase their capacity for learning when it comes to inputting codes and watching a machine make sense of them.

What We Like About It
Botley is cute and adorable, yet it's built to withstand typical kid play. It's a toy that will last and can handle the wear and tear that often comes with remote-controlled toys.

There are many different options for Botley
It comes with 77 accessories
It's a toy that will grow with kids
Easy for use at any age
No need for a tablet or smartphone
The coding pads can be a bit tricky to lay out
9. ThinkFun Master Programming
Who says board games are going out of style? Not if you're talking about one that's based on coding! In addition to all the skills kids can get from playing a hands-on game, a coding board games offers benefits such as heavy critical thinking, reasoning, and problem-solving. These are all valuable skills that kids can use throughout their entire lives.
Expand to see more
Perhaps board games are more your child's style? We've got a coding option for that, too! Board games have been around for centuries and there's a reason for it. Not only are they hands-on and encourage problem-solving and critical thinking skills, but they teach kids how to think out their next move and help them understand things in a visual way. A board game can teach a child so much depending on what it's based on, and this coding game by ThinkFun will have kids falling in love with digital processes in no time. It operates under a simple concept with many fun levels that gradually increase in difficulty, and will provide your child with a solid challenge that will boost their confidence as well as their reasoning skills.

Benefits
This game is simple to set up and even easier to play. It's great for groups and will hold a child's interest, if only so that they can solve the challenge at hand and move onto the next game!

What We Like About It
There's no rush when it comes to this game and there's no screen to look at or smartphone to use to make it work. This is pure, classic board game fun that challenges kids via the coding process to advance in levels.

Each game slowly increases in difficulty
Provides a fun challenge
Great for groups
Teaches coding in a hands-on way
Supports STEM learning
The later levels can be challenging and kids might require assistance
10. Coding Games in Scratch
Granted this isn't a coding toy per say, it is a book that will unlock coding magic for your child. Filled within the pages of this book, you'll find projects that use codes for various games and apps, and all you need is a working computer and access to Adobe. It's the perfect way for kids to have fun while also being a bit creative.
Expand to see more
If you're looking for a way to get your child interested in coding without overwhelming them with a toy that they might not know how to play with initially, why not try a coding book? If you already have a computer that has Adobe 10.2 or a later version on it, then your child is already halfway to starting their own coding computer projects. This book will provide plenty of fun and creative ways to get starting on their own coding adventure and it also makes for a great way to bond with them. It's super fun to watch them create their own games and art and learn about the digital world, and this book allows them the freedom to do it at their own pace. They'll be able to choose from a number of options and be able to stand back and say, "I created that!" Which, of course, makes it all worth it.

Benefits
Kids will have all the freedom they need to figure coding out on their own with this Scratch book. It teaches them the basics without restricting them too much and is great for older kids who love computer projects.

What We Like About It
These coding projects can be done on any computer, and done just about anywhere, period. This book has the key to unlocking all the fun coding projects they want and it's easy to travel with and take with them from place to place, computer to computer.

Allows kids to code on their own time
Comes with a variety of options
You only need a computer
Good pastime for older kids
Simple concepts with big rewards
Adobe can be expensive if you don't already own it
Criteria Used In The Evaluation of the Best Coding Toys
Some people will tell you, including school science and technology teachers and anyone who works in the digital technology field, that they know what the future looks like — And coding is in it! Not only are your kids learning a skill that may very well help them get an incredible job one day, but they're learning something about the world around them as well. You'd be amazed to find out that many of the appliances and apps we use today are all put in place via a method of coding, and things you'd never even think of were designed by a programmer. It's a big job with a lot of rewards and it really does make the world go 'round. Coding might seem intimidating at first, but all your child really needs to learn are the basics to grant him or her an understanding of how certain technology works the way it does. It's also a really fantastic way of showing and explaining to them how their smartphones, tablets, and computers work, especially during this day and age where it seems like almost every kid is involved in some sort of digital app or site. They'll begin to have a newfound appreciation for the technology they use and the people who develop it and who knows, maybe someday they'll be the ones sitting behind a computer programming codes!
Additional Factors to Consider
What Can Coding Teach Us?
It's definitely not the easiest thing to get an immediate handle on, but coding can teach kids quite a lot in the way of skills. For starters, it'll teach them how to be persistent in their pursuit to solve a problem. Because of the fact that coding isn't something that can be done half-way, it motivates kids to learn it in order to complete a project with it or advance the next step. This process is clearly evident in things such as the computer building kits or even the coding board game that allows kids to move onto the next challenge; each harder than the last. There's no way for a child to not understand simple code before progressing, which is why it teaches them how to persist with learning and completion as the motivating factor. These toys are great for that because they redirect focus to the final goal and encourage kids to continue learning, building, and creating in order to achieve a rewarding finished project.
Coding is breaking modern barriers as well; it was once seen as a career path that was dominated by people who were once referred to as "nerds" or "geeks" in school, but now that we're in a digital age that's run by technology, coding is just seen as a necessary process. We're seeing more and more women in the field as well as people who come from all backgrounds with all kinds of programming interests, turning it into a career field full of diversity, experience, knowledge, and opportunity. It's a place where anyone is welcome to bring in their creativity and wisdom in order to create, fix, or update a process, which is why it's so appealing to kids of all age, gender, and skill level.
At one point, confidence used to stem from being good at athletics or winning the school spelling bee. Every once in a while, winning the school science fair would be cool, but you'd quickly be overshadowed by which team won the football game the weekend following. Nowadays, confidence comes from virtually any area of learning, including computer science! Kids who have always been interested in technology now have a place to devote their time as well as the recognition they deserve for wanting to and actually learning and developing a coding skill. It's viewed as something that's highly regarded because of the determination, persistence, and critical thinking skills it takes to successfully learn how to code and program something. Whether you're building a computer, designing a program, or even fixing a bug, coding offers success in many ways. You could even go into video game design or graphic design with it — The options for creativity are truly endless!
FAQ
Frequently Asked Questions
Q: What if my child finds this to be too difficult?
A: That leaves a great opening for you to bond with them and help them along with whatever project they're having trouble with. Don't get us wrong, coding may not be for everyone. However, chances are that if a child has a little bit of help and encouragement, they'll quickly regain interest once they have a thorough understanding of the task at hand. Any single one of these toys offer a chance for parent or family bonding through the completion process and in the end, you'll both be rewarded for the time spent on it!
Q: What age is appropriate to consider purchasing a coding toy?
A: The youngest a child can use any of the toys mentioned on this list is five. That's roughly the age we would start any child off with a coding toy, simply because it can be a little overwhelming if they've never played with anything like it before. For younger ages, things like coding kits can make for the perfect educational gift.
Q: Are these really worth the money I'll be investing in them?
A: The answer to that lies within knowing your child's capacity for sitting down with a project and completing it. We'd like to think that all of these toys are well-worth their prices, simply because of the design, payoff, and benefits far outway the costs. Things such as the computer building kits are definitely worth it because, in the end, your child will have their very own computer system to use and play with. When purchasing a coding toy, you're really purchasing an all-in-one type of product.
Q: Can my child take these to school for use in a science fair, for a school project, etc.?
A: Yes! Any of these would make a great technology-based project. The Scratch coding book also offers a myriad of various projects that might be helpful as well and offer quite the coding variety.
Q: Are these compatible with any other products or add-ons?
A: Toys such as the LEGO Boost and the Dash are compatible with other toy products. We wouldn't say that any of the others are, though, unless it's been otherwise stated by the manufacturer. Since many of these toys need their own apps in order to work, there really are no expansion packs.
Q: Are any of these good to travel with?
A: Many of these are small enough to be packed away in a backpack or a separate bag. Things such as the LEGOs, though, might have a more difficult time holding together when traveled with.