Kids have different needs at all ages. Sometimes it may seem easier to meet those needs when they're really young because the needs are so basic, but as the child grows, the needs get more complex. We often think of educational needs, but how do we inspire our kids? What can we do to help them thrive? One answer is through STEM toys.
If you have school-age children, you've undoubtedly heard the term STEM–as in STEM classes, STEM-based learning, STEM careers, etc. But what is STEM? STEM is an acronym for science, technology, engineering, and math. STEM careers are the careers of the future. As this area of society is changing so rapidly, it requires a new generation with innovative ideas and curiosities to continue to advance these progress in these fields. You may wonder how to teach your kids some powerful lessons about STEM so that they not only understand but also enjoy these career-building and world-changing interests. One of the answers is to play. These toys below were designed to teach concepts varying from Earth sciences, to physics, and almost all can teach some sort of engineering. So whether your child is struggling to put down the screens and go outside or has the toaster fully dismantled for the second time this week, we have just the thing for you to inspire them into learning and productivity.
Best STEM Toys for Kids and Toddlers Reviewed in 2018
Snap Circuits Jr. SC-100 Electronics Discovery Kit
VIAHART Brain Flakes 500 Piece Interlocking Plastic Disc Set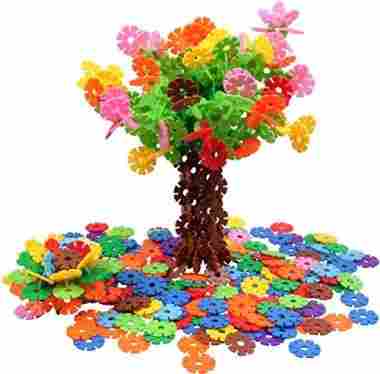 ETI Toys | Original 101 Piece Building Blocks Set
ROCK ON! Geology Game with Rock & Mineral Collection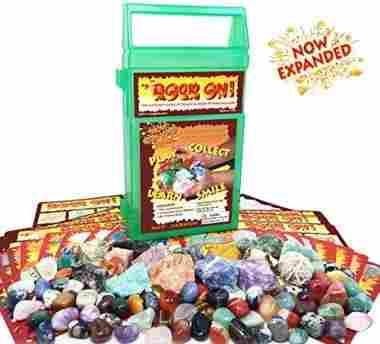 Dinosaur Toys With Tools – Pack of 6 Dinosaurs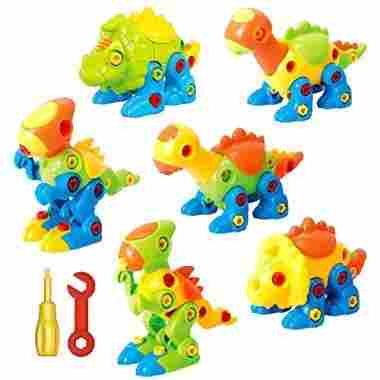 ThinkFun Gravity Maze Marble Run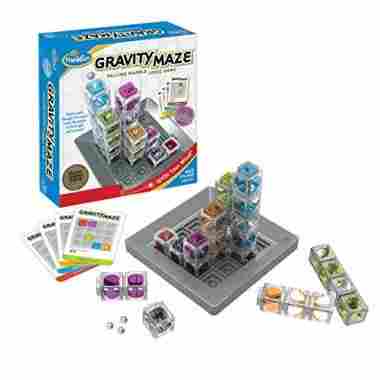 Klutz LEGO Chain Reactions
IQ BUILDER | STEM Fun Educational Building Set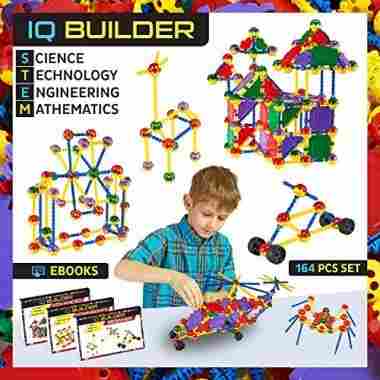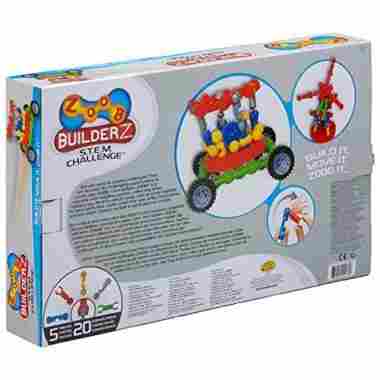 Criteria Used in Evaluation of the Best STEM Toys for Kids and Toddlers
It is very important for us at Borncute to make sure we have something for everyone, which is why we made sure that the toys selected above would not only teach, but appeal to all children. We made sure to incorporate a variety of products to cover almost any age, interest, or type of activity (individual or group). STEM toys can bring kids together around concepts that are extremely valuable to the world today; the world will need your little expert! A major component of our selection process for the STEM toys above was to make sure that they were multifaceted in what they offered children. We made sure to look for toys that would not only teach STEM concepts, but also grow fine-motor skills, hand-eye coordination, give the ability to sort through colors and pieces, and of course offer various kinds of experimentation. We didn't want any toy to only offer one thing, and if a toy did, it didn't make this list. That's because we know that anything that deserves to be in your home or classroom needs to offer more than just what is advertised. The above toys all offer multiple ways to grow kids deliberately and cognitively, that their new knowledge may become tangible tools for their futures.
Another major component of criteria for us is to ensure that these toys offer almost nearly what they do creatively as they do intellectually. Maybe your daughter identifies more as an artist than a scientist or your son a musician more than a mathematician. That's ok. We wanted toys that unlock the same creativity in them that fuels their art, and funnels it into science because we don't want your kids to put themselves in a box, and we know you don't either. Many of the above toys were selected because of their all-ages nature. All-ages toys are our most creative and broad purposed offerings. That's great for little ones with big ideas who can grow motor skills, but its also great for your much older child needing something durable to practice building a bridge, tower, anything that speaks to them to get them exploring how and why things work as they do.
That's where STEM interests started for the world's most brilliant minds…curiosity. And that's how we found these toys to inspire such curiosity. We know because even we as adults had our interests piqued, just further testifying to the all-age nature of curiosity and creativity that these toys tapped into. We hope your family will enjoy exploring them just as much as we did.
FAQs
Frequently Asked Questions
Q: What is STEM?
A: STEM is science, technology, engineering, and math. STEM toys are toys that inspire play that explores those concepts at age-appropriate levels. They are meant to be educational but also meant to be fun.
Q: Will STEM toys be good for my 3 year old?
A: Yes! Though we'd never expect a 3 year old to parrot back to us words like inertia or thermodynamics, 3 year olds absolutely can learn concepts that are central to STEM-related fields like design, balance, sorting, and more! Plus, many of these toys are great for 3 year olds not only in the concepts they teach but in the practice it gives kids using their hands and eyes.
Q: If my kid doesn't like STEM fields, is it worth buying STEM toys?
A: We would say absolutely! Kids can seem put off by things that don't seem inviting or familiar (Brussels sprouts, anyone?). That's why it's important to familiarize them with STEM using toys. Let learning be fun and the two of you can be amazed at where your interests lead you!
Q: Aren't STEM toys really expensive?
A: This is a common misconception. STEM toys can get very expensive, but they really cost in the same range (often cheaper) than any other toys. Plus there are so many educational benefits that just aren't present with other kinds of toys. If everything costs the same anyway, why not do something that will have long-lasting benefits for the kid in your life?
Q: I don't know much about science myself, how can I help my kid?
A: STEM toys are great for this! This is something the two of you can learn together. Any toys that require instructions we selected because they are user-friendly. Also, they are for kids, which is another way of saying that you don't have to be a scientist to have fun and love using them!
Q: Will STEM toys be a good addition to my classroom?
A: Absolutely! I know when people think of STEM toys they often think of some very techy or fragile, but so many toys above are durable and would have a lot to offer many children at once! We encourage these in classroom settings because as they are toys they can take the edge off learning something totally new. Good luck!