There was a time in man's history when we thought our world was actually the center of the known universe. And then somebody came along and disproved this theory and said that our world is just but a big chunk of rock that is revolving around the sun, the center of our universe. Then many more years and we began to understand that our so-called heliocentric existence is actually just a drop of water in the ocean known as a universe. It is thus, very difficult to imagine just how big the real universe is. Can you imagine a tiny water droplet in the middle of the Pacific, Atlantic, Antarctic or Southern, Arctic, and Indian Oceans combined? Well, that tiny speck is our Solar System. Astronomers and other scientists have been studying our relationship with the universe and we haven't even covered 0.000001 percent of it. That is why the school curriculum would like us to teach our kids about the Solar System to help define who among our brightest young minds will finally hold the key to unlocking the secrets of the Milky Way and the Universe. Let us start with the 10 cool Solar System toys in 2018 to help our kids have a better understanding of the system in which our planet is located.
Our Top 3 Picks
Great Explorations 3-D Solar System

Our rating
240 Pieces 3D set
Price:

See Here
Educational Insights GeoSafari

Our rating
Motorized Solar System Model
Price:

See Here
4M Solar System Planetarium

Our rating
Paint, Assemble & Learn
Price:

See Here
Great Explorations 3-D Solar System by University Games
Age Range: At least 5 years old
GeoSafari Motorized Solar System by Educational Insights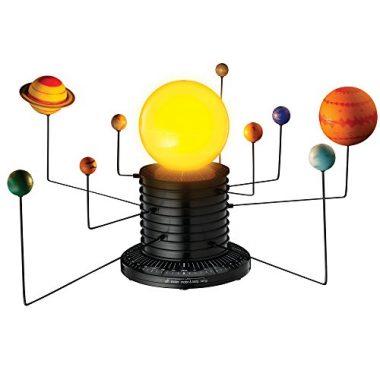 Age Range: 8 to 10 years old
Solar System Planetarium by 4M
Age Range: 7 to 15 years old
Giant Magnetic Solar System by Learning Resources
Age Range: At least 5 years old
Learning Resources Inflatable Solar System
Age Range: At least 14 years old
Glow-in-the-Dark Solar System Mobile Making Kit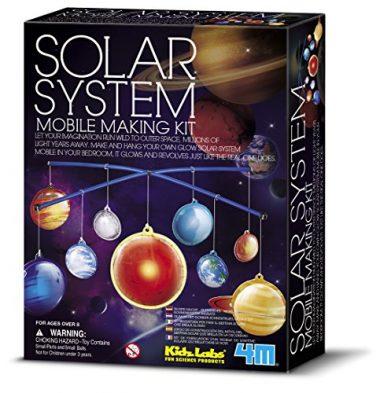 Age Range: 8 to 15 years old
Solar System in My Room Light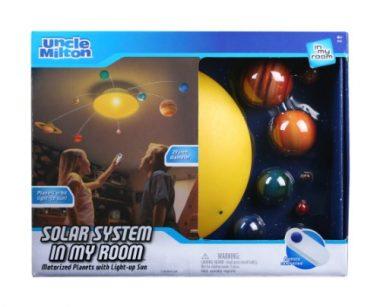 Age Range: 6 to 15 years old
Melissa & Doug Solar System Floor Puzzle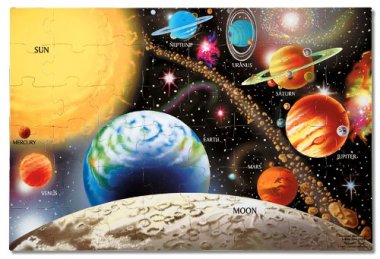 Age Range: 8 to 15 years old
Discovery Kids 2-in-1 Stars & Planet Space Projector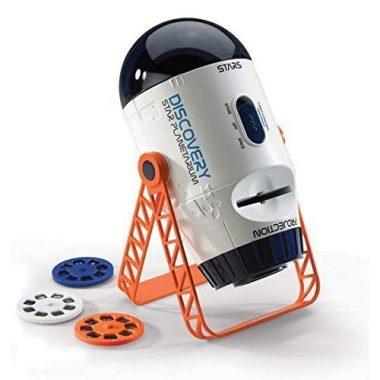 Age Range: At least 6 years old
The Solar System 100 Piece Jigsaw Puzzle by EuroGraphics
Age Range: 6 to 15 years old
Criteria Used in Evaluation of The Best Solar System Toys
Educational Toys:
Not only are all the toys in this review considered "cool," they are also all educational toys. Educational toys are toys that promote learning through a variety of different methods. When children play with educational toys, they experience learning while enjoying themselves. The use of educational toys can assist in the development of a wide spectrum of skills and benefits such as critical thinking skills, fine and gross motor skills, creativity, and a positive self-concept. All of the toys on this list combine fun with learning. This is important as it helps a child develop excitement and interest in education. A child is more likely to succeed and progress through school, and even further their education in college or vocational school if they truly enjoy learning.
Science-Based Learning Has Many Real-Life Applications:
As the toys included in this list all involve learning about the solar system, they are science-based educational toys. Specifically, these toys teach children about astronomy. Even though astronomy is a relatively small field when it comes to a professional career, it is an important subject for kids to learn about. Astronomy, the scientific study of celestial objects, space, and the universe, helps to incite imagination, humility, connection, and curiosity. By pondering all the potential phenomena that might exist out there in space, children's imaginations expand beyond the limitations of what we experience on Earth. In learning about the solar system and the relative sizes of its celestial bodies, children learn humility as they realize how small we- and our planet- really are in the big scheme of things. This is a beneficial trait that helps to establish a sense of connection with humanity as a whole.
Science-based learning has a wide range of real-life applications and benefits for kids. Learning science helps children gain an informed perspective of our world and beyond, to better understand how things work. For example, in playing with the solar system models included in this toy review, kids can begin to understand how planetary rotation and orbit creates the sunrises and sunsets we experience every day. When children look up at the moon, sun, and stars, they see small circles and bright little dots. As they learn about how massive all of these celestial bodies actually are, they develop a better understanding of spatial phenomena.
Science is a broad field with many potential career paths. Especially today and as we progress towards the future, science professions will continue to grow in numbers and impact. Playing with toys that facilitate scientific concepts can help children begin to identify passions and can plant seeds for future endeavors. It may seem extreme to think about a young child's future career, but every experience a child has shapes who they will become.
Educational toys such as these solar system toys can help students succeed in school, especially in their science classes. Some kids learn better with a hands-on experience-based approach rather than the traditional lecture-based method of the educational system. Playing with toys that facilitate learning can help them to grasp concepts introduced in school.
Creativity Learning:
A few of the do-it-yourself models of the solar system in this review involve creative aspects such as painting planets and assembling pieces together. Whether or not a child will become an artist, creativity is an important skill to have for a variety of reasons. Creativity helps students succeed in school, as many projects and writing assignments involve being able to create unique ideas. Creativity is an essential component in a wide spectrum of careers and fields, such as marketing and public relations, film, publishing, education, business, and more. When a child develops creativity skills, they learn to be patient in the process and then gain self-confidence once the project is completed.
Variety of learning techniques involved:
The toys included in this review involve a variety of learning styles that promote diverse approaches to learning the same concept. Visual learning, auditory learning, and kinesthetic learning are just a few broad ways we learn. Studies have shown that it is not beneficial to identify a child's strongest technique for learning and then to focus on strengthening that one style. Instead, developmental psychologists suggest that teaching kids through a variety of different learning techniques is ideal for helping them develop creative and adaptable approaches to finding solutions to questions presented.
What Determined the Solar System Toys in Our List
Studying the Solar System is largely theoretical simply because it is quite difficult to imagine planets and stellar bodies aside from Earth unlike the way we can study plants and animals and other objects up close. This is where the value of educational toys comes in. And this formed the basis of our choice of the cool Solar System toys in 2017. First and foremost, it was imperative that these Solar System toys for kids can make it really easy for children of a particular age group to learn and understand the fundamentals of this cluster of stellar bodies. It was crucial, then, that these products – especially planet toys – can also be used as a teaching aid in astronomy classes.
We also considered what other people are saying about a particular toy Solar System. We would have opted for a higher cutoff score; however, knowing the rather complicated and quite technical nature of this heavenly body, we lowered it down a bit to 3.5 stars. Come to think of it, it is still more than the average so we're quite confident about the products that we have just shared with you. Additionally, we had to evaluate the score in relation to both the negative and positive comments about it, especially the criticisms as these can significantly affect the overall score. Unfortunately, not all criticisms have intrinsic value that can substantially impact the real value of the product.
Lastly, since we're still technically talking about children's playthings, it was crucial for us to look at the usual parameters we factor in our choice of stuff for kids. These included developmental appropriateness, safety of the product, and the product's overall quality and integrity or soundness of construction, design, or manufacturing. These cemented our first two parameters together to form a really objective assessment of the items just presented.
Do We Need to Teach Astronomy to Kids?
Compared to biology where kids can experiment with a lot of living things and chemistry where they could just as easily identify a chemical, learning astronomy is quite difficult to grasp. This is perhaps because of the "inaccessibility" of such stellar bodies as the sun and other planets. Many parents are often faced with the question, "Do I have to teach my kid astronomy?" While the answer to this question can be as varied as the number of stars on a cloudless night, there are many reasons why teaching astronomy to kids is important. Here are some of them.
It is considered as an integral part of classical education. We have already said earlier that man has always looked to the stars to make sense of his life and his existence.
It helps introduce the concept of navigation by the stars. Many of ancient navigators don't have GPS technology to tell them where they are. Instead, they relied on the stars and the position of their ship in relation to these stars.
It may be a great way to encourage self-discovery and creative thought. Astronomy is considered by many as largely dependent on one's cognitive abilities. Since the "bodies of evidence" are not at hand but, instead up in the skies, one must have a certain level of cognition to turn these "metaphysical" truths into something workable. This fosters creative thinking.
The Bottom Line
The Solar System is that part of the Milky Way where humans exist. This is something that kids need to understand. Giving them one of the 10 cool Solar System toys in 2018 can help you pave the way for a much clearer understanding of this and other facts.
FAQ
Frequently Asked Questions
Q: What is an educational toy? Are these toys educational toys?
A: All the toys included in this solar system toy review are considered educational toys. An educational toy is a toy that assists a child in learning something by using the toy. As all of these toys involve the solar system, children will at the very least learn about the solar system and the planets that compose it. Most likely, your child will learn way more than just fun facts about the solar system. Many of these toys involve enhancing creativity skills, critical thinking skills, and other developmental abilities.
Q: What age should I start buying educational toys for my child?
A: Educational toys are available for children as young as 0 to 2 months old. Educational toys are created based on developmental psychology findings that denote the major developmental milestones children are expected to surpass at different ages. In the first three months of a baby's life, they tend to develop in terms of sensorimotor skills. Children over 2 years begin to develop skills such as critical thinking, understanding cause and effect, and other more logic-based abilities. Ultimately, you should begin to buy educational toys for your child at birth. The toys relevant for your child will change over time.
Q: How do I pick the best toy for kid off this list?
A: Overall, it is best to review this list with your child in mind. Does your child enjoy arts and crafts? Perhaps the solar system toys that include a build-it-yourself model or paint to decorate the model are better options for your child. If your child enjoys screen time and visual stimulation, it seems like the planetarium toys or projector would be good options to consider. There is no way for us to know exactly what toy off this list will best entertain and educate your child, so we made sure to include detailed reviews for each toy to help in your decision.
Q: Are these toys safe for my young child?
A: Some of these toys are safe for young kids, others are not recommended due to small-piece related choking hazards. When browsing these toys online or in a store, it is important to check the packaging for any age-related cautions and/or concerns.
Q: Where can I buy a toy featured on this list?
A: All the toys featured on the '10 Cool Solar System Toys in 2018' list have links to shop for each toy online through Amazon. Many of these toys will be available for purchase in toy stores, depending on inventory. We suggest calling your local toy store to check if they carry a certain toy if you are trying to buy one in person.
Q: Can the toys on this list be used in group play?
A: Yes. Most, if not all, the toys featured on this solar system toy review can be enjoyed by multiple children together. Playing and learning socially is beneficial for kids of all ages, and we encourage group play whenever possible.