10 Best Solar System & Planet Toys Reviewed in 2019
last updated
Jun 26, 2019
It's a great, wide world out there. And little ones, who you might expect to feel overwhelmed by this fact, are actually usually excited by it. Space is an exhilarating topic for most children. If you have a budding astronaut, astrologer, engineer or otherwise explorer, help facilitate their love for our universe by giving them tools to play and learn about it. Below, we've collected ten of the top-rated toys, games, and activities on the market, all of which revolve around that beautiful mystery that's also ever-revolving: the solar system.
In a Hurry? The test winner after 31 hrs of research
LeapFrog LeapReader Interactive Discovery
Why is it better?
Interactive learning adventure
240+ audio clips
40+ activities for the whole family
Includes Solar System Passport and glow-in-the-dark stickers
Teaches basic scientific facts about our solar system and space
In a
Hurry? Editors choice:
Test Winner: LeapFrog LeapReader Interactive Discovery
34
Researched Sources
31
Hours Researching
14
Products Evaluated
Educational Value
Creativity
Entertainment Value
Effectiveness
By Default
10 Best Solar System & Planet Toys Reviewed
1

. LeapFrog LeapReader Interactive Discovery
Interactive learning adventure
240+ audio clips
40+ activities for the whole family
Includes Solar System Passport and glow-in-the-dark stickers
Teaches basic scientific facts about our solar system and space
Some of the objects take some effort to activate
Two-sided and more than three feet long when unfolded, the LeapFrog LeapReader Interactive Solar System Discovery Set helps to teach astronomy, basic science principles, and earth science. It includes glow-in-the-dark space stickers to light up the way and is most suitable for children ages four to eight years old
Read more
Educational Value
This interactive map allows children to learn about and explore our solar system right from the kitchen table. It has a lot of great and informative blurbs, all boiled down in such a way that children will comprehend the lesson still.
Creativity
It's meant for kids but adults can learn from it, too. It's easy for children to interact with on their own as well, so you're not constantly having to divide your attention between supervising their play and the infinite to-do list all parents have. Kids and adults could learn a thing or two from this fun set!
Entertainment Value
here are over 40 family-friendly activities related to our solar system, as well as more than 240 audio responses. Learn about planets, moon phases, and how stars form constellations.
Effectiveness
It's compatible with Tag and the LeapReader Reading and Writing System as well.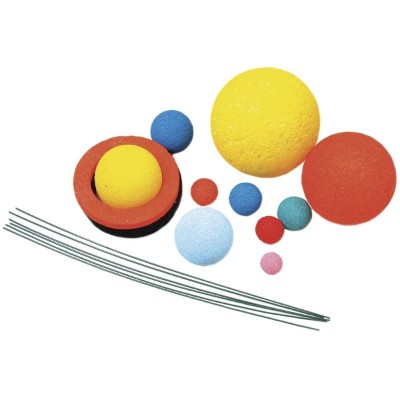 Nine styrofoam planets
Pre-painted
Easy to assemble
Can be constructed quickly
Great for ordering planets and discussing their size
Not the right colors
You'll need to cut the rods to the proper length yourself
Looking for a solar system kit that isn't going to break the bank or create a huge mess? The FloraCraft Styrofoam Kit comes with nine pre-painted planets representing our solar system. You won't need to buy individual pieces or paint each and every one of them Kids love hands-on learning, so give them the chance to make their own model of the great big world we live in!
Read more
Educational Value
This is a great kit for teaching children about the planets using hands-on props. It's especially helpful when it comes to order, as well as to understanding size.
Creativity
A few of the colors are off, and all of the planets are solid, but if you're just looking for something fun to display in a room around the house, this is pretty hassle-free, and if you are worried about accuracy, you can easily repaint and add on to the design of this set quickly and cheaply.
Entertainment Value
This kit is probably going to be the most popular with younger children, who are still learning to categorize the world in those ways.
Effectiveness
Making a model from scratch is admirable but sometimes budget and schedule don't allow for that. If you're looking for a shortcut to a pretty cool solar system setup, this is the kit for you.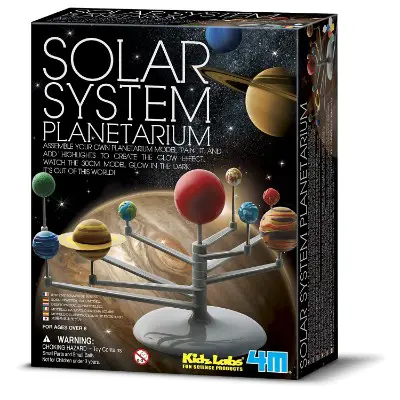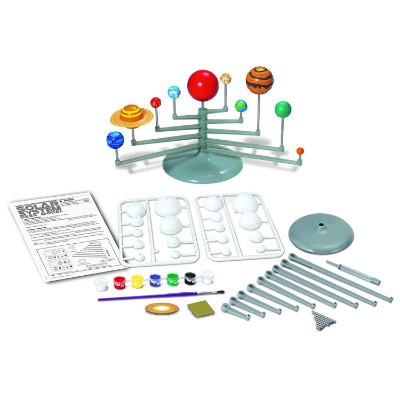 Solar system model moves without the need for batteries
Builds scientific knowledge and artistic abilities
The planetarium is easily assembled
Includes all art supplies needed to create the model
Doubles as a decorative item once completed
Glow-in-the-dark paint included does not glow very brightly
The sun and planet pieces are small
Kids love craft kits. The chance to build something is superbly appealing especially to kids whose imagination can literally fly through the roof. This provides an excellent foundation for the continuing development of their cognition, particularly in their ability to solve complex problems. While the 4M Solar System Planetarium is less than what we can consider as a true intelligence-building craft kit, it is one of those Solar System toys for kids that are greatly favored by a lot of parents. It is quite small enough to be turned into a desktop décor once completed. In fact, it is more like the hobby models that we are very familiar with.
Read more
Educational Value
The set comes with a wall poster with interesting facts about the solar system and quiz questions so your child can truly integrate the scientific knowledge. This craft kit will enhance your child's creative skills and knowledge, inspiring them to imagine and discover the stellar spectacles of the cosmos
Creativity
It includes stencils, rods, pens for squeeze glow paints, and even a wall chart that contains many interesting and fascinating facts. There are also Kidz Quiz questions that come in 10 sets to help enhance your kid's understanding of the Solar System. It may be small but the 4M Planetarium can surely provide the punch.
Entertainment Value
This do-it-yourself model of the solar system is an awesome art project that also serves as an educational science tool. With all the supplies included, you and your child will be able to assemble the moving model and paint the planets with glow-in-the-dark paint.
Effectiveness
They can then place each of these globular creations into their respective planetary "axes" as they make their way around the sun. The 4M Planetarium already includes in its packaging everything that children will need to complete this galactic system we are in. The 4M Planetarium comes with all the different pieces which children will have to combine to form the different planets of our galactic cloud. Upon assembly, kids can then paint each of these planets according to their knowledge of the stellar bodies' unique geographical features. They can paint Mars red and Earth blue and white. Or, they can also choose to be as creative as they wish.
4

. Learning Resources Giant Inflatable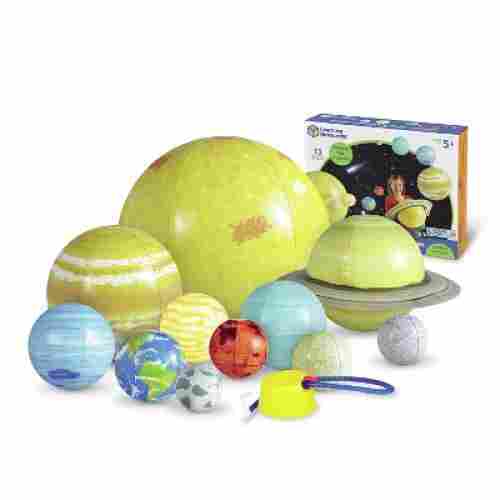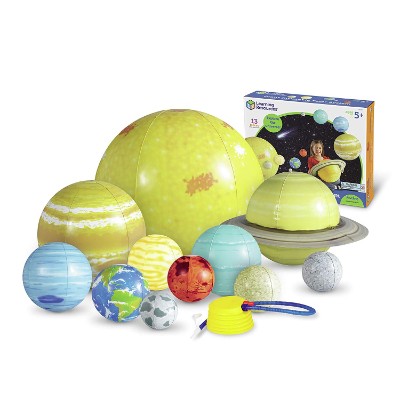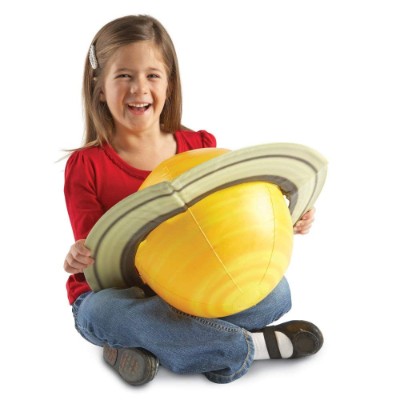 A foot pump is included, which makes inflating is easy
A repair kit is included
Encourages learning
The models are equipped with loops for hanging
They can easily be wiped clean and folded flat for easy storage
The repair patches could be made to stick to the hole better.
The Learning Resources Inflatable Solar System set lets you bring the solar system to your child's bedroom or to any classroom. The kit includes eight planets, the sun, Pluto, and Earth's moon. Each of the inflatables can easily be filled with air using the foot pump that is included. The included loops make it easy for you to hang the inflatables from the ceiling to turn any classroom or bedroom into outer space.
Read more
Educational Value
The models will foster a love of astronomy and science in your child. The set encourages learning as your child can learn about each planet and how they orbit. Since all of the planets orbit around the sun, the designers made the sun the largest model of the set.
Creativity
While they are durable, accidents happen. A repair kit is included in case one of them pops. The material of the models can easily be wiped clean and folded for easy storage.
Entertainment Value
The models are easy to inflate with the foot pump. When they are not in use, you can easily deflate them, fold them flat and store them away.
Effectiveness
The other planets are proportionally sized with Jupiter being the next largest as it is the largest planet in the solar system. The set gives you the opportunity to get creative in teaching your child or multiple children about the solar system. For instance when teaching how the planets orbit, have each child hold a planet and move around the child holding the sun.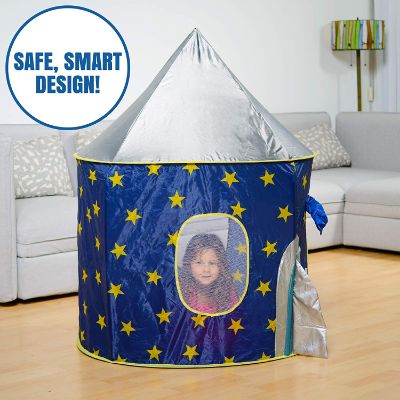 Easy to assemble, store, and transport
Tent can be cleaned with a damp cloth
Stimulates creativity and imagination
Projector torch displays space images
Tent fabric could be more durable
With the Rocket Ship Play Tent, your child can take a trip to outer space from the comfort of their room.
Read more
Educational Value
Along with the tent, your child will receive a space projector torch. The torch looks just like a flashlight and can be used to project 24 breathtaking space exploration images. Your little one can project the images inside the tent or onto any flat surface.
Creativity
Measuring in at 41" x 41" x 53", this large play tent will give your child plenty of space to play or relax. The roll-up door allows children to easily get in and out of the tent. Both boys and girls will love pretending to be astronauts.
Entertainment Value
Designed with rocket fins and vibrant stars, this tent will allow your child to create tons of exciting space adventures as they immerse themselves into pretend play.
Effectiveness
While assembly is required it is super easy. Simply unfold the tent and slide in the durable pools. No tools are needed, which also makes this tent easy to take down and store when not in use. With the travel tote, your child can take their tent to a friends house and enjoy a space adventure with their buddies. After everyone is done playing, use a damp cloth to wipe down the tent to keep it clean.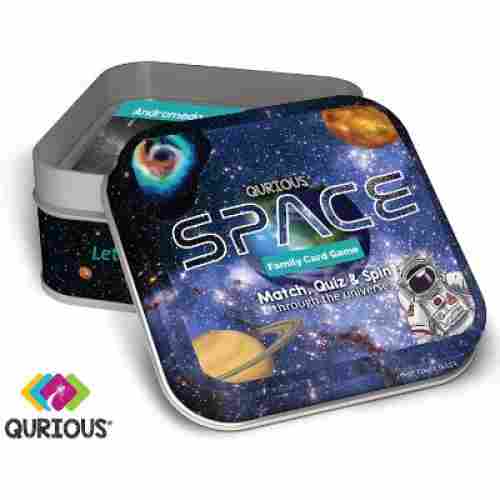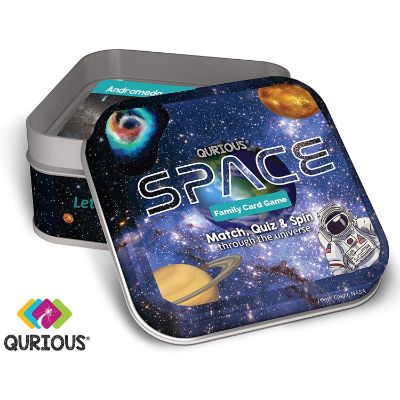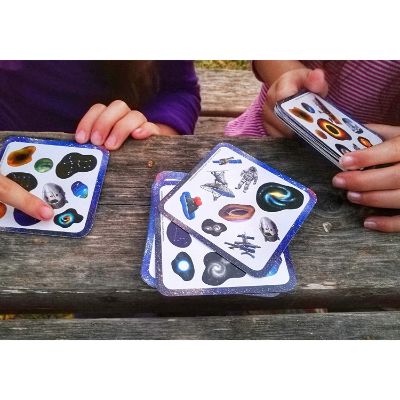 Allows eighteen different players to enjoy the game at one time
Offers four different ways to play
Tin makes the game easy to transport
Cards are laminated, thus making them highly durable
Stimulates several areas of development
Some reviewers felt the quiz questions were difficult
Aspiring astronauts and fans of astronomy will have a blast with the Quirous Space Card Game.
Read more
Educational Value
This educational game offers four different ways to play. Your child can use the cards to explore, match, quiz, or spin. Whichever version they decide to play, they will be increasing their STEM skills. Each of the four games includes an instruction card, thus making it easy for everyone to learn how to play.
Creativity
The quiz cards will not only test and improve your child's knowledge of space but they will also appeal to your child's sensory skills as they are designed with realistic space images. Your child can increase their object recognition skills when playing in either the explore or match version.
Entertainment Value
The game allows up to eighteen players at a time, thus your child can enjoy this game with all of their friends while also increasing their social skills. Children as young as four can begin playing any of the games in this set.
Effectiveness
With all 90 cards fitting inside the included tent, your child can easily take this set on the go and play anywhere. The double-sided cards are laminated, which gives them a high level of durability. The large cards can easily be grasped by tiny hands. In fact, with the cards being so large, everyone will have no trouble making out the images and words displayed.
7

. The Learning Journey Doubles Puzzle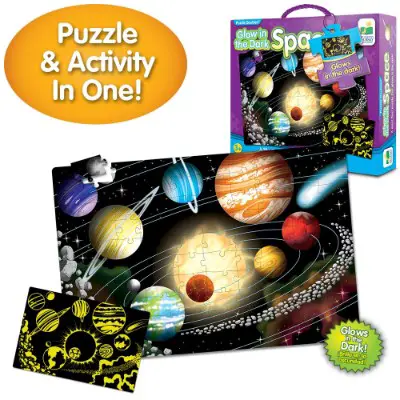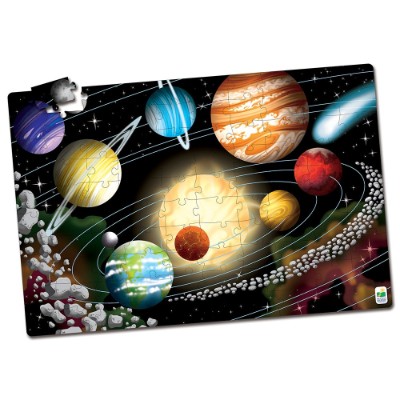 One hundred piece puzzle
Measures three feet by two feet when finished
Glow in the dark
Beautiful illustration of our solar system
Promotes a wide array of developmental skills
Some customers received defective puzzles that did not glow in the dark
This isn't just any puzzle. First of all, it's three feet by two feet, so it's jumbo-sized. The bright space illustrations allow talking points for families to discuss the solar system and its many facets
Read more
Educational Value
Puzzles can be completed in groups to develop collaborative and social skills, or individually. Figuring out the picture and the fit of the many pieces helps children with deductive reasoning, problem-solving, motor skills, and hand-eye coordination as well.
Creativity
With the vibrant colors of the different planets all on display, this one hundred piece puzzle is sure to be a hit with any budding astrologers or space enthusiasts ages three and up.
Entertainment Value
. And if that isn't enough, when you're finished turn off the lights for a special treat: this puzzle glows in the dark. Put the pieces together as a family, or let your children work through it on their own.
Effectiveness
Finishing puzzles is a great self-esteem boost in addition to being fun. With the vibrant colors of the different planets all on display, this one hundred piece puzzle is sure to be a hit with any budding astrologers or space enthusiasts ages three and up.
8

. Learning Resources Shining Stars Projector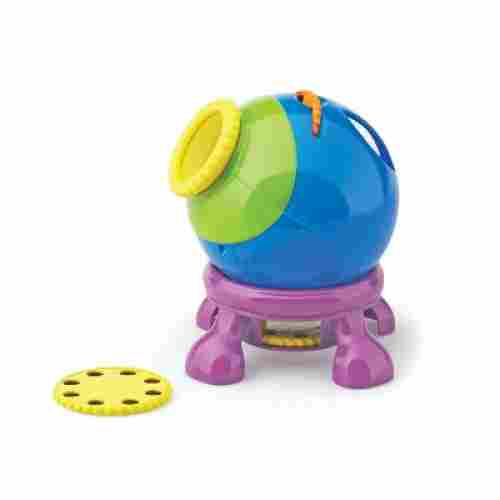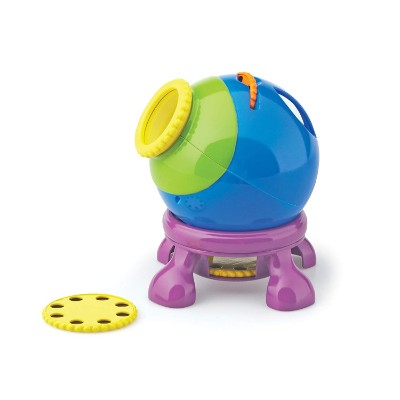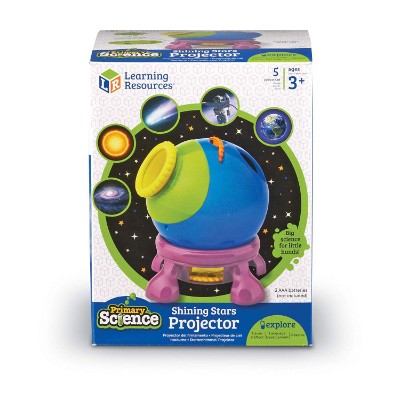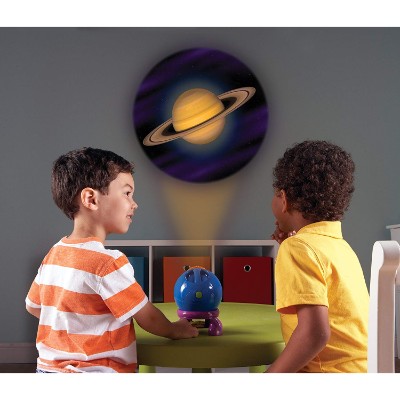 Projects across the entire room
Includes three discs and 24 total images
Comes with its own stand for display and use
Activity guide walks children through facts and real-life space stories
Portable; features a handle for easy travel
The color quality of slides may be inconsistent
With the Learning Resources Shining Stars Projector, your child can fall asleep under the starry night sky without actually having to leave the comfort of their cozy bed. This innovative night light projects stars, planets, and spacewalks all across the ceiling and walls.
Read more
Educational Value
Kids can doze off while looking up at their favorite planets and stars with this neat projector. The activity guide helps them follow along and learn about our adventures out into space, as well as what we know about the planets, stars, and other anomalies of our universe.
Creativity
Tuck your little astrologer in and send them off to sleep with sweet dreams of space. This projector is a great little night light that has the added bonus of an activity guide to help them learn about and understand what they're seeing.
Entertainment Value
An activity guide helps little learners to follow along with facts about our solar system and mankind's thus-far documented journeys out into it. It requires three AAA batteries, measures about 7 inches high, and is ideal for children ages 3 and up.
Effectiveness
It's round, allowing for full coverage of the entire room, and comes with its own stand, and three discs that present a total of 24 images.
9

. Learning Resources Giant Magnetic
Captivates your child with large-sized magnetic pieces
Educational- with accurate imagery of the celestial bodies
Extremely easy to use with no assembly required
Comes with suggested activities for grasping scientific ideas
Magnetic pieces are durable, withstanding frequent removal from and attachment to magnetic surfaces
Large pieces require a relatively large magnetic surface to display the complete model
Set does not include a magnetic surface
Sometimes you really have to think "BIG" if you want to teach your child something. For instance, while smaller sticker-type or even 3D model versions of the Solar System is quite adequate for learning about the different heavenly bodies on a more personal level, there are situations when bigger or larger representations can help drive the concept home. If you have several children trying to learn about astronomy, using small planet toys may not really be appropriate since those who are at the back may not be able to see the planets being represented. A better approach is to get a ref magnet-type of toy Solar System to help provide a very visual presentation. The Learning Resources' Giant Magnetic Solar System is one great example of such a tool. We can always look at it as the ref magnets we have at home but with planetary designs of varying sizes relative to the actual sizes of the planets.
Read more
Educational Value
This magnetic model of the solar system is captivating, fun to use, and an excellent science-based educational tool. The large-sized magnetic pieces are accurately colored and detailed, helping your child learn to visually identify and differentiate the planets and other astral bodies. The set includes a guide for different activities that help to facilitate a variety of lessons about the solar system.
Creativity
The magnetic model is a great classroom tool as it can be assembled across a large whiteboard for an expansive display of the entire solar system. As your child begins to familiarize themselves with our planetary neighbors, they begin to understand the vast expanse of the solar system and beyond. With this blossoming cosmic perspective of the infinite, your child will be inspired to dream big and realize that anything is possible.
Entertainment Value
Of course, the heavenly creation comes with an activity guide to help direct the learning of children should they choose to learn by themselves. Each planet and other stellar bodies come in full color and pattern detail, giving realism to the magnetic learning tools.
Effectiveness
This package from Learning Resources comes with 13 duly magnetized and elegantly detailed pieces that include the 8 planets, the sun, Pluto, our moon, and even the asteroid belt that's sitting right between Mars and Jupiter, separating the inner from the outer planets.
10

. Smoothfoam Styrofoam Model
Smooth and easy to paint or color (with permanent marker)
Doesn't feel porous and rough like some other models
Allows you to decorate the planets yourself
Includes rods and rings
Good sizes
Included styrofoam base isn't very sturdy; grab one from the dollar or crafts store
Equipped with multiple sizes of styrofoam balls, rods, and rings, this kit is ready to make a solar system right out of the box. Just color it and set the planets up in the correct order and at the right distances from each other. These styrofoam balls are less rough and porous than many of their contemporaries, making them a solid choice for kids.
Read more
Educational Value
Kids will love getting to paint and construct their own model of the solar system. The styrofoam balls are smooth and take color well, and are all different sizes to help simulate the actual dynamics of our solar system.
Creativity
No need to scour for individual pieces, this kit includes everything necessary, even styrofoam stand for the model once it's complete.
Entertainment Value
They take paint and permanent marker well, so pick whichever is easiest and best suited to the needs of your project.
Effectivness
If you have the time and means to make a model from scratch, there's nothing quite like it. Kids take pride in their creativity and autonomy, and this kit is the perfect place for them to practice both in conjunction with learning about our universe.
Criteria Used for Evaluation
Most Important Criteria
(According to our experts opinion)
Experts Opinion
Editors Opinion
Users Opinion
By Default

Parents, Did You Know?
The toys included in this review involve a variety of learning styles that promote diverse approaches to learning the same concept. Visual learning, auditory learning, and kinesthetic learning are just a few broad ways we learn.
Parents, Did You Know?
Studies have shown that it is not beneficial to identify a child's strongest technique for learning and then to focus on strengthening that one style. Instead, developmental psychologists suggest that teaching kids through a variety of different learning techniques is ideal for helping them develop creative and adaptable approaches to finding solutions to questions presented.
Other Factors to Consider

Value
Studying the solar system is largely theoretical simply because it is quite difficult to imagine planets and stellar bodies aside from Earth unlike the way we can study plants and animals and other objects up close. This is where the value of educational toys comes in. And this formed the basis of our choice of the cool solar system toys in 2019. First and foremost, it was imperative that these solar system toys for kids can make it really easy for children of a particular age group to learn and understand the fundamentals of this cluster of stellar bodies. It was crucial, then, that this products-–especially planet toys–-can also be used as a teaching aid in astronomy classes.
Design
We also considered what other people are saying about a particular solar system toy. We would have opted for a higher cut-off score, however, knowing the rather complicated and quite technical nature of the subject matter, we lowered it down a bit to 3.5 stars. Come to think of it, it is still more than the average so we're quite confident about the products that we have just shared with you. Additionally, we had to evaluate the score in relation to both the negative and positive comments about it, especially the criticisms as these can significantly affect the overall score.
Unfortunately, not all criticisms have intrinsic value that can substantially impact the real value of the product.
Lastly, since we're still technically talking about children's playthings, it was crucial for us to look at the usual parameters we factor in our choice of stuff for kids. These included developmental appropriateness, the safety of the product, and the product's overall quality and integrity or soundness of construction, design, or manufacturing. These cemented our first two parameters together to form a really objective assessment of the items just presented.
Support
Compared to biology where kids can experiment with a lot of living things and chemistry where they could just as easily identify a chemical, learning astronomy is quite difficult to grasp. This is perhaps because of the "inaccessibility" of such stellar bodies as the sun and other planets. Many parents are often faced with the question, "Do I have to teach my kid astronomy?" While the answer to this question can be as varied as the number of stars on a cloudless night, there are many reasons why teaching astronomy to kids is important. Here are some of them.
It is considered an integral part of classical education. We have already said earlier that man has always looked to the stars to make sense of his life and his existence.
It helps introduce the concept of navigation by the stars. Ancient navigators didn't have GPS technology to tell them where they were. Instead, they relied on the stars and the position of their ship in relation to these stars.
It may be a great way to encourage self-discovery and creative thought. Astronomy is considered by many as largely dependent on one's cognitive abilities. Since the "bodies of evidence" are not at hand but, instead up in the skies, one must have a certain level of cognition to turn these "metaphysical" truths into something workable. This fosters creative thinking.
Frequently Asked Questions
q:

What is an educational toy? Are these toys educational toys?

a:

All the toys included in this solar system toy review are considered educational toys. An educational toy is a toy that assists a child in learning something by using the toy. As all of these toys involve the solar system, children will at the very least learn about the solar system and the planets that compose it. Most likely, your child will learn way more than just fun facts about the solar system. Many of these toys involve enhancing creativity skills, critical-thinking skills, and other developmental abilities.
q:

What age should I start buying educational toys for my child?

a:

Educational toys are available for children as young as 0 to 2 months old. Educational toys are created based on developmental psychology findings that denote the major developmental milestones children are expected to surpass at different ages. In the first three months of a baby's life, they tend to develop in terms of sensorimotor skills.

Children over 2 years begin to develop skills such as critical thinking, understanding cause and effect, and other more logic-based abilities. Ultimately, you should begin to buy educational toys for your child at birth. The toys relevant for your child will change over time.
q:

How do I pick the best toy for a kid off this list?

a:

Overall, it is best to review this list with your child in mind. Does your child enjoy arts and crafts? Perhaps the solar system toys that include a build-it-yourself model or paint to decorate the model are better options for your child. If your child enjoys screen time and visual stimulation, it seems like the planetarium toys or projector would be good options to consider. There is no way for us to know exactly what toy off this list will best entertain and educate your child, so we made sure to include detailed reviews for each toy to help in your decision.
q:

Are these toys safe for my young child?

a:

Some of these toys are safe for young kids, others are not recommended due to small-piece related choking hazards. When browsing these toys online or in a store, it is important to check the packaging for any age-related cautions and/or concerns.
q:

Where can I buy a toy featured on this list?

a:

All the toys featured on the 10 Cool Solar System Toys in 2019 list have links to shop for each toy online through Amazon. Many of these toys will be available for purchase in toy stores, depending on inventory. We suggest calling your local toy store to check if they carry a certain toy if you are trying to buy one in person.
q:

Can the toys on this list be used in group play?

a:

Yes. Most, if not all, the toys featured on this solar system toy review can be enjoyed by multiple children together. Playing and learning socially is beneficial for kids of all ages, and we encourage group play whenever possible.