If your little one is itching to get their hands on a building set but LEGOs are just too small for their hands, motor skills, and understanding of safety regulations (yeah, we see you trying to put the brick up your nose and then in your mouth, little Timmy), Mega Bloks are a solid alternative. These building sets are designed with children ages 1 to 5 in mind. Shipped out in bold, bright colors, they appeal to young eyes. Large and easy to snap together, they're perfect for small hands still trying to work through hand-eye coordination. Small enough to still be graspable, but far too big to choke on, Mega Bloks are a great starting point for little ones who love creating their own buildings, towns, and various structures.
Mega Bloks has developed into a multi-faceted company over the years. While their more classic lines continue, they've also implemented something called Mega Construx, which allows children to build the worlds they already know and love. From Pokemon to Despicable Me to Halo to American Girl, these sets read more like themed LEGOs. The parts are smaller, which means they're not ideal for toddlers, but the complexity of the builds (and, honestly, the franchises they're modeled after) are great for older kids.
Below, we've collected 10 of the most popular Mega Blok sets for your little one to get creative with. From nondescript bags of blocks to community sets with little people in them, we think you'll be able to find just the right fit for your family.
Best Mega Bloks for Kids and Toddlers Reviewed
Big Building Bag Pink 80 Piece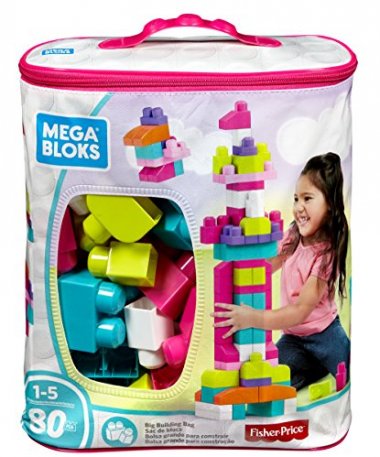 Purple School Bus Building Set
Deluxe Building Bag 150-Piece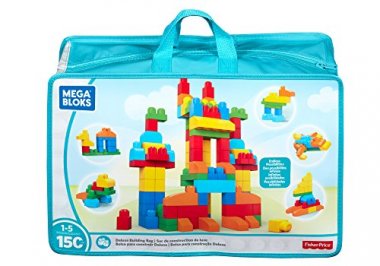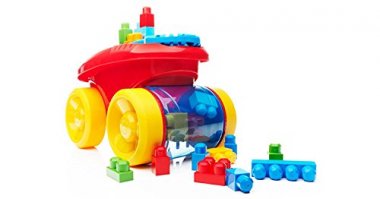 Build 'N Learn Table Building
First Builders 123 Learning Train
Mega Bloks Star Trek U.S.S. Enterprise NCC-1701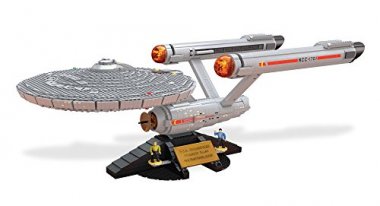 First Builders Cozy Cottage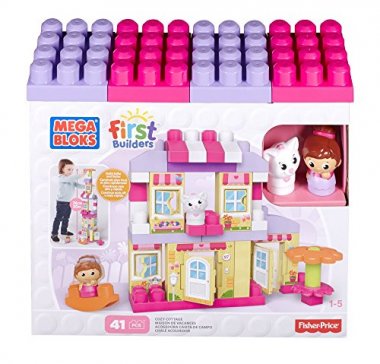 Criteria Used in Evaluation of the Best Mega Bloks for Kids and Toddlers
Mega Bloks is a great activity that provides some really incredible benefits for children. They can provide hours of fun in addition to helping children gain an understanding of the physics and spatial awareness that is required to create the incredible churches, bridges, and buildings we are surrounded by. These beautiful structures require precision and care in order to ensure our safety and well-being while we inhabit these places. Building and creating structures from a very early age can help to form a solid understanding of these concepts in the most fun and basic manner possible.
Mathematics, physics, mechanics, spatial understanding and a small dip into chemistry are just some examples of the skills necessary to create safe and beautiful structures with intricate designs added for aesthetics. By building with these blocks, children can heighten their understanding of spatial awareness and improve hand-eye coordination to properly understand the dimensions of what they are building. In addition to being designed for building, these plastic blocks can be categorized by color, shape or size and counted by the section. This provides parents with a fun activity to do with their children in order to help them gain a basic understanding of numbers, colors, and shapes.
Sensory development is essential for healthy brain function. Sight and touch are examples of the sensory experiences offered by these blocks. The textured bumps on top and bright colors are meant to stimulate these senses. For children who suffer from hypersensitivity, a set like this is far more ideal than other toys that feature lights and sounds. There is, however, a really cool ride-on toy that does make noise and a set for older children that lights up.
While these toys can be great for children, children who suffer from developmental roadblocks can become easily overstimulated. In turn, this can cause them to become easily frustrated or overwhelmed. Large holiday parties or family functions can cause a lot of anxiety but these sets can provide children with a quiet activity that will give them a break from too much stimulation and help them to focus their attention. This allows their brains to recharge and give them better control over their senses and emotions.
Our brains are one of the hardest-working organs in our body. In them is a surplus of tiny links known as neurological pathways, which are developed and strengthened through repetition. There are several daily activities from holding groceries to unlocking our front doors that utilize these links. For children, finger dexterity and motor skills, both fine and gross, are simple and necessary skills to build. The blocks in these sets do wonders for children's spatial awareness and problem-solving skills. The large pieces are designed to easily be manipulated by little hands and fingers so Mega Bloks makes a perfect starter toy to prepare children for other building sets with smaller pieces. Snapping the large pieces into place and creating intricate masterpieces, children can stimulate their brains and help strengthen neural pathways and fine-motor skills.
Children have an enviable amount of energy and while there is no adequate replacement for physical activity, sometimes utilizing and stimulating the brain excessively can offer a temporary solution. By exercising their brain power, children can release some pent-up energy and focus their attention to calm down. Mega Bloks are a great aid as they allow children to tap into their creative sides and stretch their imagination to stimulate their brains.
All ages can reap the benefits and partake in the fun of these sets. The pieces are intended to be large enough for toddlers to safely play without the risk of a choking hazard. They are all recommended for ages 1 through 5 but can be fun for children who really enjoy building, no matter the age. If you notice your child is highly determined and often manages to achieve the impossible, you may want to seriously consider adult supervision to avoid any mishaps that may occur.
There are a few sets on this list that are geared more toward children ages 5 and up. These can be great for bonding with children who may feel a little ignored since the arrival of a younger sibling. Smaller children can play with the bigger piece sets meanwhile you and your first baby can reconnect over your own intricate and fun creations. Family time spent laughing and playing together is essential not only for healthy brain function but also a happy life.
The colorful building pieces and wild imaginations of children combine to provide hours of fun and stimulation that will inspire a passion for learning and create long-lasting memories. The sets promote an afternoon building as a family to promote quality time spent among children, parents, and siblings. Children are provided with an outlet to expand the mind and help keep them occupied no matter where you are.
FAQ
Frequently Asked Questions
Q: How do these compare to other plastic block sets?
A: These are larger in size fit together with less force making them perfect for smaller children.
Q: Are these blocks BPA-free?
A: These blocks are made of a plastic composition known as polypropylene plastic, it is BPA- and PVC-free.
Q: Where are these sets manufactured?
A: These sets are manufactured and distributed from Canada.
Q: Are these sets compatible with LEGOs?
A: No they are not of the same size or materials. They can, however, be used with other Mega Bloks sets or LEGO Duplo sets.
Q: Do these sets come with instruction manuals or idea booklets?
A: Yes, some sets do provide a list of ideas to help get your little one's creative juices flowing.
Q: Do some sets come with wheels?
A: Each set is themed so wheels may not apply to all sets, there are a couple on this list that are designed to inspire cars and other motorized vehicles.