Erector building play sets have a very specific role in the development of young children. One can think of these playsets as highly revved up puzzles that are designed specifically to enhance children's problem-solving skills and their understanding of engineering, technology, science, and architectural principles. Unfortunately, choosing an erector set that is just right for your child can be very challenging since the market is flooded with these kinds of playthings. We've scoured the online markets in search of the 10 best erector sets for kids so you'll have a better understanding of the kind of toy you'd want to give to your child. We hope they have as much fun putting them together as we did researching them!
70 Model Building Set by K'NEX
Age Range: 7 to 15 years old
Zeliku Building Block Set
Age Range: 5 to 7 years old
IQ BUILDER STEM Learning Toys | Creative Construction
Age Range: 8 to 15 years old
K'NEX Swing Ride Building Set
Age Range: 8 to 10 years old
TINKERTOY – 100 Piece Essentials Value Set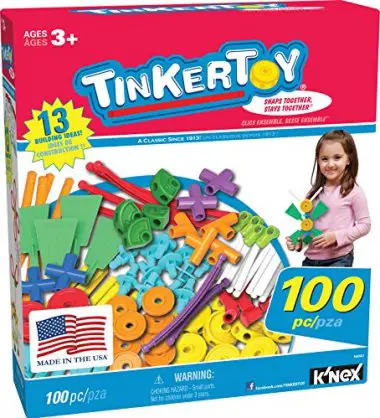 Age Range: 10 to 15 years old
K'nex 35 Model Building Set
Age Range: 7 to 15 years old
Kids First Robot Engineer Kit and Storybook
Age Range: 9 to 15 years old
Super Construction 25 Motorized Model
Age Range: 8 to 10 years old
Meccano Micronoid – Green Switch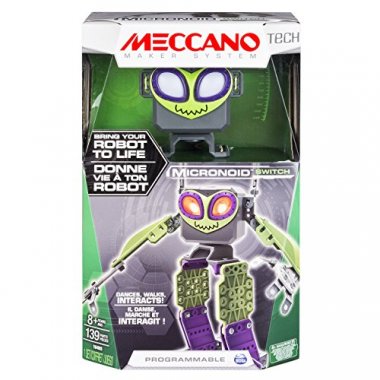 Age Range: 8 to 10 years old
Criteria Used to Evaluate the Best Building Toys
It is a priority to keep in mind the age of the child and the skill level when choosing toys for him or her. Safety for babies or young children is also another vital consideration and this entails not having their own or play with sharp-edged toys or those that are too tiny to fit in their nostrils or mouths. Sometime when they are building sets with advanced or complicated toys, young children may easily get frustrated, tire or lose interest and possibly not complete the desired projects. Contrary to older children, they get bored easily when they play with building sets that are simpler and not well competitive.
Birth to 2 Years
Babies in this range are expected to have an enjoyment having building toys that are soft and brightly colored. Some of these playing sets are created from cloth and are designed in a variety of sizes, colors, patterns, and textures.
Contrast to them, older babies may seem to have an enjoyment to build towers from larger vinyl blocks and stacking cups made from plastic. The versatility of nesting and stacking cups can be useful in playing with both sand and water. In the stage, it is easy for toddlers to play and build towers and even other structures that are simple to create out of the interlocking bricks and large plastic blocks.
3 to 5 years
This is the age range where most children are preschoolers. They are old enough to be safe while playing with alphabet blocks that are made from wood and learn the sounds, the colors and the letters all at the same time. This age is also appropriate for them to take directions from adults and even build structures with the wooden blocks that are in various sizes and shapes.
A lot of preschoolers are creative and imaginative and use these skills to come up with unique self-made simple structures and hence the ideal toys for them are bricks and blocks. The market has brands like K'NEX, Rokenbok, and LEGO that contain different varieties of building sets which are specially and specifically created to suit children in this age range.
In addition to that, it is this age range that is ideal for parents and children to have some bonding time while creating and building together. Some building sets are designed for both girls and boys while some of the brands are designed to be gender-specific.
5 to 7 years
The very moment any child learns how to read, he or she is ready to begin building and creating structures by themselves, but still, they do require a little assistance in the creation of advanced designs. Children in this age find buildings sets from logs and buckets of bricks enjoyable because it gives them the opportunity to create an imagination of their own structures.
Though they will still need to have an instructor when they are creating model vehicles or even buildings, they are able to unify, support and collaborate with each other in working collaboratively.
Some of these children even get inspiration for their building sets from their favorite TV shows or movies while others enjoy more having playing sets that can be useful in building a variety of different structures or those that can give a transformation to many different objects.
8 Years and Older
Older children have multiple options when it comes to building sets. This age range contains older children, perhaps teenagers, and they really like to be challenged. Many will prefer having building sets that are a bit more complicated and those that can take some time for the child to complete.
The most-appropriate products for the children these ages should be motorized and requiring one to be fairly skilled to complete the construction. Some of them include choices like robots, mechanical structures, Ferris wheels, spacecraft, and roller coasters. LEGO and K'NEX brands have playing sets that are suited to fulfilling the playing needs of these older children and teenagers.
Matching The Toys with Your Child's Interests
The type of building sets and blocks go hand-in-hand with a variety of interests the child might have. It is important to consider not only the suitability of the child's age when choosing the appropriate building set or block, but also toys that are appealing and the types of games the child has fun playing. Some children who enjoy pretend play are likely to get have more fun with themed building blocks and sets.
Plenty of brands on the market today have kits that are either prone to tie in with the pop culture or those that revolve around themes that recur such as pirates, legendary superpowers or space exploration. Other building sets can include the parts that are used for making flying or vehicle machines and can move in some type of way to be used to populate pretend worlds.
Children who are mechanically minded enjoy more to learn about how these pieces work together as they put the kits together. Creative and imaginative children at most times prefer loose bricks or traditional brick sets that give them allowance to create whatever they want to create.
Conclusion
There is so much more to building sets than just having playtime fun. The age-appropriate sets are useful to a child in relation to improving his or her hand-eye coordination, manual dexterity, and spatial recognition. They are also important in helping a child enhance his or her social skills while they are working together in the construction projects. The child's interest, age and skill level are the priorities to check while looking for the appropriate building set for a child.
As much as a motorized roller coaster might seem like a good gift for a child, it may be too advanced for a child who is too young. At the same time, an older child or teenager will be more likely to be adept at building something like that. Generally, adhering to the age recommendations listed on the product is one of the best consideration when choosing the right building set for a child.
Why You Should Buy Your Child an Erector Set
Erector sets are revved-up building play sets that take their roots from playing with puzzles and building blocks and bricks. You can say that these play sets are specially built for the child who has clearly outgrown his or her building bricks but continues to be fascinated by the idea of being able to build or construct something. That is why it is important to provide our kids with erector sets to help them continue with their optimum development. Here are some of the reasons why you should get your child an erector playset.
Improves their motor skills 
Erector toys are not that different from playing with building blocks. However, as the building pieces are more complex and come with more details, a child's hand-eye coordination is further enhanced. Moreover, their fine-motor skills are also improved as they try to piece different parts together. Playing constantly with these types of playthings can also help improve their hand-eye coordination as well as the fine motor control so that they will become more adept at certain activities that require the mastery of such skills.
Enhances their problem-solving skills 
It's true that erector play sets come with instructions on how to build a certain model. However, there's more to it than simply following instructions. Determining which among the hundreds of building parts goes to a particular slot will require some amount of critical thinking which is an essential component of problem-solving. Kids will have to examine closely the different pieces so they will know which ones to choose for a particular section of the model. This comprises assessment and analysis which are also integral components of scientific problem-solving. The more building pieces kids have to work with, the more opportunities they have for enhancing their cognitive abilities, especially their problem-solving skills.
Sharpens their spatial awareness 
By definition, spatial awareness is one's understanding of the placement of an object relative to its immediate surroundings. Studies have shown that the development of spatial intelligence can play a huge role in a kid's math, numeracy, and reading skills. By giving kids building pieces which they have to put together, they are essentially putting each piece relative to the location or placement of other pieces. This is how they sharpen their spatial intelligence.
An erector set may come as a five-, 10- or even 100-piece model set, but these are just blueprints to get children on a path of discovery. Once they realize that the building pieces actually facilitate open-ended play, they can start imagining newer, better, and more-engaging models that they can build. This can further fuel their growing cognitive abilities.
Erector sets are excellent developmental instruments that help kids sharpen their cognitive abilities and improve their psychomotor skills. While there are plenty of erector sets in the market, you can trust our 10 best erector sets for kids to help you narrow down your choice for your own child.
FAQ
Frequently Asked Questions
Q: What is the appropriate procedure for removing the building set from its packaging?
A: Most of the building sets have a stand that is made from plastic that holds the toys in place while in the packaging. When removing the building sets from the stands, you simply remove the two screws that hold the stand. A Philips-head screwdriver can be of good help in doing that. The stands easily detach and after that, you can safely get your sets to the field and have fun with your child.
Q: Apart from improving my child's creativity, what are the other reasons why I should get my kid a building set?
A: Building sets have a lot of functions and are equally useful for a kid. It makes any parent very happy to see the child having fun playing with the toys and even a bonding moment for both the parent and the kid can be enhanced. The more the child uses the building sets, the better his or her motor skills improve and the more creative the kid gets and hence mastering the basic engineering and technological skills become faster and easier for the child. The spatial awareness of the child sharpens and their imagination is fueled.
Q: In the case of the building sets fail to function properly, what should I do?
A: Below are the steps you can take whenever the building sets are not working normally.
Ensure that the batteries, in case the set uses any, are fresh, and if not, replace them with fresh ones.
The battery contacts should be matched correctly as (+ and -) with the inserted batteries.
The metal contact tabs should be touching. Any rust among them would cause the set not to function properly
If the set does not still work after considering the above options, then it could be a technical problem and one must contact the manufacturers of the brand of the building set.