Marbles have been around since the 1950's. Of course, now, it's fun to shot marbles across the floor and try and knock your opponent's out of a circle drawn on the blacktop in chalk, but it's even more fun to watch them travel down a chute that you've created and built. Not only are marble runs these days a great source of fun for kids of any age but it's also a wonderful way to teach your children about gravity and the laws of physics.
Each of these toys has something different to offer based on what you think that your child will love but they are also a fantastic option adding a variety and a new skill to your kid's toy collection. It's a great way for them to construct their own forms of entertainment and they can gain a basic knowledge of how gravitational pull works in addition to other laws of force when acted on with a bit of kinetic energy.
Our Top 3 Picks
Marble Genius Marble Run Super Set

Our rating
85 Marble Run Pieces
Price:

See Here
MindWare Marble Run Set

Our rating
123 Pieces
Price:

See Here
Marble Genius Marble Run Starter Set

Our rating
60 Pieces
Price:

See Here
Our Picks For The Best Marble Runs For Kids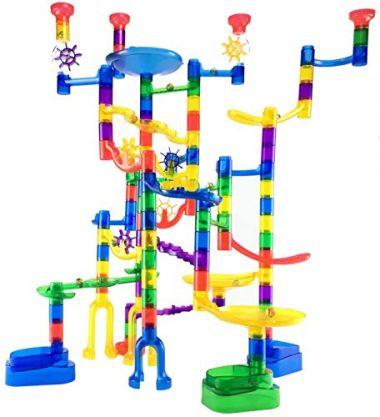 Age Range: At least 4 years old
Age Range: At least 4 years old
MindWare KEVA Contraptions 400 Plank Set
Age Range: 7 Years and Up
Tumble Trax Magnetic Marble Run
Age Range: 3 to 12 years old
Learning Resources Tumble Trax
Age Range: 5 Years and Up
Quadrilla Wooden Marble Run
Age Range: 4 to 15 years old
MARBLEWORKS Marble Run Starter Set by Discovery Toys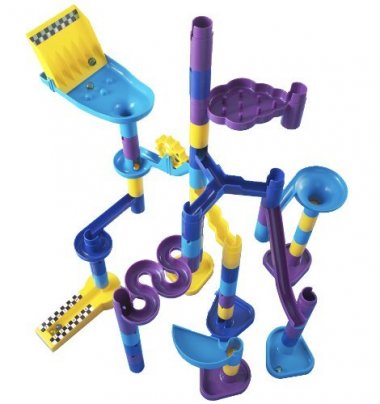 Think Fun Gravity Maze Marble Run
MindWare Q-BA-MAZE 2.0 Zoom Stunt Set
Age Range: 6 Years and Up
Criteria Used To Evaluate The Best Marble Runs for Kids
Educational
These unique built marble runs offers children a variety of educational exploration. Each of the sets on our list encourage STEM related thinking: science, technology, engineering, math and even art. In addition to those skills, children will also learn about action-reaction, problem solving skills and sequential, spatial and logical thinking. With marble runs children are free to be as creative as they want as these toys promote imaginative, physical and social play.
Just by these sets being educational they can be used at home, in a classroom or even at childcare centers. These marble runs encourage patience, hand-eye coordination, following directions and perseverance. Overall, the intelligence of your child could be enhanced as they learn through play while also having endless hours of fun with these sets.
Practicality
Each of the marble runs on our list are practical as they come with everything that your child will need to enjoy this toy. How many times has a parent purchased a toy, but your kid couldn't properly use it because it didn't include batteries or a specific part? It's very frustrating when you don't have everything that you need. Similar to batteries, which thankfully none of these sets require, each manufacturer provides marbles in the package so that your child will have everything that they need to begin playing. In addition to marbles, the marble run sets also have a plethora of accessories that your child will be able to build captivating structures with. Your kid will never run out of creative ideas and ways with these spectacular toys.
Cleanliness
Marble runs are easy to clean and sanitize. The last thing a parent wants to do is to have another object around the house to clean. After frequent play, dirt and debris are likely to build up around the pieces that interlock. In order to clean these plastic pieces all, you have to do is spray them down with an eco-friendly cleaner and wipe them off. To sanitize the plastic pieces, simply soak the toys in a warm, soapy solution and scrub them. Afterwards, rinse them with fresh water and allow them to air dry.
For wooden toys, we don't particularly recommend submerging them into water as large amounts of water could cause damage to them. To properly clean wooden toys, spray them down and wash them off as you would do to plastic. To sanitize wooden toy parts, fill your sink or small bucket with warm soapy water. Dip a wash cloth into the solution, wring it out so that it's slightly damp. You're going to want to lightly scrub the wooden piece and then use a separate wash cloth to ensure that any remaining soapy spots are gone. Allow to air dry, and it's just that simple.
How We Chose the Top Marble Runs in Our List
Coming up with our list of the best marble runs was not an easy task to do as there are hundreds of them in today's market. We looked at product reviews and ratings and considered to come up with a much shorter pool of products that will be easier for parents to look through. Each of the listed marble runs was then put through a lengthy test of evaluation using a variety of methods. Mainly we also considered developmental appropriateness as well. We also had to look at the manufacturer's recommended age and determine whether the complexity of the play set was appropriate for the child's developmental age. Carefully, we also evaluated other features of each product to determine how they would fit in a child's need to develop his or her true potential.
Safety was also a concern. Since most of the products we evaluated are made of plastic we needed to make sure that none of the materials that each product was made from or finished with a variety of chemicals that could undermine the health of any child.
The company's trustworthiness was also taken into consideration into our list as this can help customers give the peace of mind that they need regarding the quality and safety of the products we have listed above. We know for a fact that each manufacturer on our list is a high reputable organization and will never do anything that would tarnish their good image.
Marble Runs and Your Child's Cognitive Development
One of the most important benefits of playing with marble runs by children is the development of their cognitive abilities. There is simply a lot of cognitive processes going on every time a child plays with these kinds of toys.
For the most part, their logical thinking will be enhanced as they attempt to piece the different building blocks to create a continuous pathway for the marbles to reach their destination. This requires logic and critical thinking that largely depends on their understanding of cause and effect relationships. By looking at the different pieces, they are able to mentally paint a possible outcome if they are going to position a piece in one particular way. Changing the position or configuration of this building or construction piece can also lead to another "effect." It is this mental processing of many causes-and-effects that children are able to develop their logic and critical thinking.
This can also have a significant implication in their problem solving abilities. By thinking logically and critically, they are able to develop an understanding of the essence of a scientific process. This can help them process other more complex problems in the future as they now have a very rudimentary yet effective understanding of such concepts.
Children's spatial intelligence can also be enhanced by these types of toys. This gives them the opportunity to define the relationship of an object with the space around it. Dropping marbles into the holes of these playsets simply mean kids will have a good spatial sense, not to mention good hand-eye coordination as well as superb control of fine motor skills.
The Bottom Line
Marble runs, like building and construction playsets, are beneficial to your child's development. We hope you have found something from our top 15 marble runs that you think your kid, or even the rest of your family, will love.
FAQ
Frequently Asked Questions
Q: Are marbles included in the sets?
A: Yes, each set that we listed comes with marbles included. Some sets only do well with the marbles that are provided, so if you need more you may have to contact the manufacturer. Many of the sets fair well will any kind of marbles, which will keep the cost of buying more marbles down to a minimum. Or even better, if your kid already has marbles, they could use those.
Q: Can the marble runs be used in a classroom setting?
A: Yes. The marble runs can be used at home and in classrooms. All of these sets promotes educational subjects such as science, technology, engineering, art and math, and could easily go along with daily lesson plans or free time at the end of class.
Q: What is STEM?
A: Simply put, STEM in an acronym for science, technology, engineering and mathematics. Marble runs are great for cultivating a great interest in these subject areas, as the educational aspects are very hands on and promote logical and spatial thinking, as well as problem solving skills.
Q: Does these toys present any hazards?
A: Yes. Each toy contains marbles. Marbles are very small and could easily be mistaken as food for children who are 3 years and younger, which presents a choking hazard as the marble could become lodged in your kid's throat and restrict breathing. These sets should not be played with by kids who are 3 and younger. Additionally, even if your kid is older than 3, depending on their individual development, parental supervision may be needed to prevent any mishaps.
Q: Are instructions included with each set?
A: The Ideal Amaze 'N' Marbles 60 Piece Classic Wood Construction Set and the
Hape Quadrilla Wooden Marble Run Construction set includes instructions. The Marble Genius Marble Run Super Set also includes instructions, but they are only accessible online. The other marble runs listed above do not. This could be a positive thing for the fact that of instructions aren't included, or gives kids the freedom to be wholly creative, by building their own designs. In contrast, this could be a negative aspect for kids who enjoy and work best when following a guideline.