Driving a car can be a really great experience especially for those who love to feel the rush of wind across their faces. But flying can be more exhilarating provided you are not afraid of heights. If you are acrophobic but have always dreamed of flying your very own aircraft, now you can with our 15 best remote control helicopters in 2017. You don't need to leave the comfort and safety of solid ground to experience the thrill of sending a craft soaring up in the skies. While you can choose an RC airplane instead, helicopters offer an entirely different set of skills that will leave you ecstatic once you've mastered. So, grab your flight suit, wear your pilot's helmet, and be ready to fly one of these marvelous pieces of toy engineering.
Our Top 3 Picks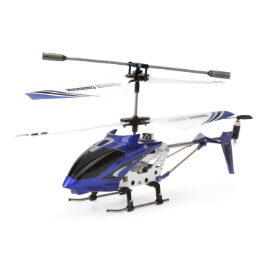 Syma S107G 3

Our rating
Suitable for Beginners
Price:

See Here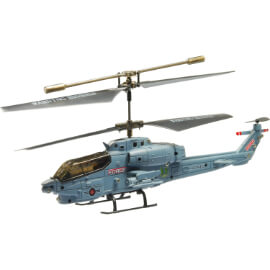 Syma S108G 3.5

Our rating
Sturdy & Durable
Price:

See Here

GPTOYS G610 11

Our rating
Great Maneuverability
Price:

See Here

Syma S107G 3 Channel RC Helicopter with Gyro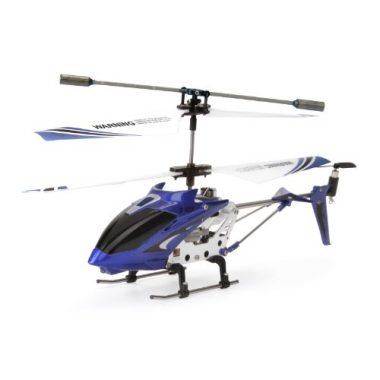 Age Range: At least 14 years old
Syma S108G 3.5 Channel RC Helicopter with Gyro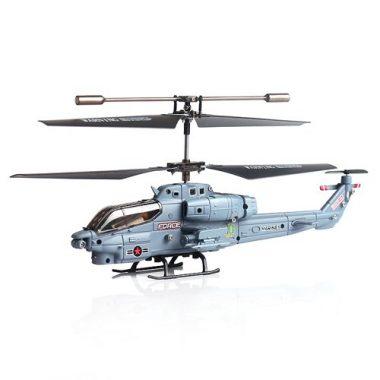 Durant 3.5 Channel Helicopter with Built-in Gyro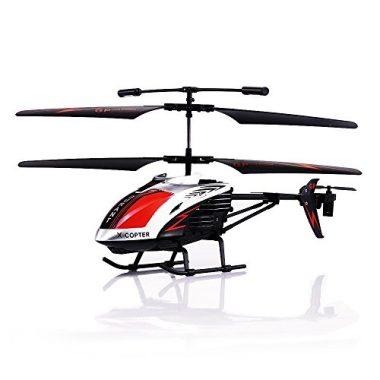 Age Range: At least 14 years old
Single Blade RC Helicopter With Gyro RTF
Hitron U.S Coast Guard RC Helicopter GYRO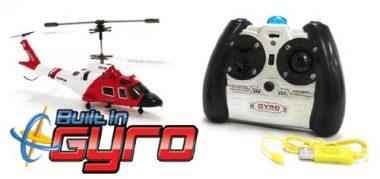 Age Range: At least 14 years old
4-Channel Gyroscope RTF RC Helicopter
Age Range: At least 14 years old
Syma Mini Chinook 3.5 Channel RC Helicopter
Age Range: At least 3 years old
Protocol Predator SB 3.5 Channel RC Outdoor Helicopter
Age Range: At least 14 years old
Syma S102G Army Force 7.5
Age Range: At least 8 years old
Hero iRocket 4 Channel Fixed Pitch Helicopter
Age Range: At least 14 years old
Lutema Avatar Hovercraft 4CH Remote Control Helicopter
Age Range: At least 14 years old
Lutema Mid-Sized 3.5CH Remote Control Helicopter
Age Range: At least 14 years old
Helizone RC Firebird Mini Remote Control Helicopter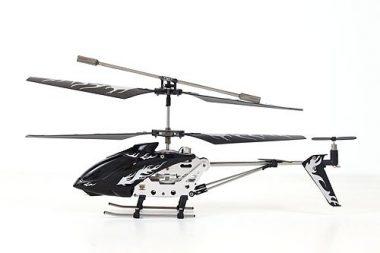 Age Range: At least 14 years old
Syma 3.5 Channel RC Helicopter with Gyro
Age Range: At least 8 years old
Syma Channel RC Helicopter with Gyro
Age Range: At least 8 years old
Criteria Used in Evaluation of The Best RC Helicopters
The holidays and here and you're putting the finishing touches on your christmas list. How do you find something that will be fun and attention grabbing? Here is a list compiled of fiffteen of the best helicopters available on the market today. These helicopters will provide a fun and engaging activity to keep your dude occupied for hours. The majority of these toys are made for older children. Roughly nine to fourteen and up. They are suitable for mature children, even if they may be a bit younger. It is vital these toys be operated with adult supervision and caution regardless of age.
While playing with electric transport objects is typically considered a fun activity for boys, it can be a great selection for a girl too! They feature aesthetically pleasing and sleek designs. They have a sophisticated style that will appeal to all genders and ages. With it's educational benefits and introduction to the STEM studies, there is  no reason for your little engineer or scientist not to love the items one this list regardless of gender.
Providing your child with a fun way to learn can be challenging but is so important for keeping their attention. These toys will introduce your child to so many concepts associated with STEM studies, giving your child a head start in understanding basic math and science concepts. The concept of gravity is a tricky one to get, despite the fact that it works against us everyday. These helicopters are a great way to introduce and explain the concept of gravity. They are great for enhancing the function of fine motor skills as well as hand eye coordination.
These toys are a great way to promote family time and sibling bonding. While it is highly recommended small children never be left unsupervised with these toys, they can enhance moments spent among siblings and inspires them to work together to accomplish secret missions. Which brings up another great reason why these are an amazing gift option. They will inspire imagination. As we get older our imagination and our ability to play gets replaced by reality and rational thinking. These provide an activity that will inspire your growing children to tap into their imagination and hang onto their inner child for just a bit longer.
These helicopters are designed to provide you with a durable product. This means they are meant to survive a number of crashes, some are capable of withstanding slight winds. They are great for inspiring imagination and adventure. Some that are suited for outdoor use are a great way to get your little one outside and even sneak in some physical activity. To help instill family quality time these toys are fun for adults as well.
There are options for both indoor and outdoor use so matter what climate you live in there is something on this list perfect for you. They make a great indoor activity during a rainy day, the lights provide ample fun during night use. There are both large and small options giving you a range of choices for use at home or on the go. There is something for everyone!
What Determined the Best RC Helicopters in Our List
There were quite a number of parameters we had to consider in this endeavor owing to the unique characteristics of vertical takeoff and landing aircrafts. Because they need to take off and land in an almost vertical fashion and stay afloat in the air for an indefinite period of time, the ease of control is a must. It's all about controlling the pitch and yaw and other flight characteristics of these aircrafts that need to be considered. Too sensitive the controls and one strong twitch of the fingers can send it spiraling towards the ground. Nonresponsive controls can have almost the same effect as you'd have to really muscle your way to establish control of the aircraft. As such, the ease of operation is a major consideration.
Related to the operation of the craft is its relative freedom from radio interference. Most hobbyists will fly in groups. As such, it is imperative that the product operates on a multi-channel platform so that it will not interfere with other units within the vicinity or, at least, will not also be affected by other radio controllers in the area. Otherwise, you'd have carnage in the skies.
In addition to radio transmission non-interference, it was crucial for us to check the sturdiness and structural integrity of the product. Loss of flight controls almost always lead to a crash. Unlike airplanes that can somehow be glided to minimize the impact of the crash, a helicopter losing control in flight is like dropping a hot potato from a certain height. As such, structural flexibility was a major consideration. It should be able to withstand impact forces that may be generated with sudden loss of flight.
Speaking of flight control, the control transmission radius was also deemed important. While we do recognize that this is inherently affected by terrain and obstacles, at the very minimum, the products we have listed should be able to provide you with ample control distance to really enjoy flying these vehicles. These are not your ordinary flying toys that are attached to a cord and made to fly in circles from its pivot point on the ceiling. At any rate, our choices reflected this consideration.
Benefits of Flying RC Helicopters
There are many advantages of flying RC helicopters compared to other types of remote controlled vehicles. For the most part, these advantages are inherently tied to the benefits of flying RC helicopters. To understand these advantages, it is crucial that we understand the different benefits provided by playing with these kinds of toys.
It fosters camaraderie as RC copter hobbyists are a unique group of people that share the same passion and interest for the art of flying mini helicopters.
It enhances hand eye coordination as you need to keep your eye glued on the flying chopper while your fingers will have to focus making minute adjustments on the controls.
It helps enhance your spatial intelligence as you will be controlling the aircraft from a distance. This means you need to have a fair sense of space and the relationship between your aircraft, you, and the environment or space you are in.
It's a great way to get your mind off stressful situations or events by making you stay focused on controlling the flight performance of the helicopter. By narrowing your focus to this one task, your mind will not have the chance to think about what's giving you stress.
The Bottom Line
Remote control helicopter pilots are a special breed of men and women. There are a lot of factors that need to be considered when flying any of these aircrafts. With our top 15 remote control helicopters, we can guarantee that you will be more empowered to fly one of these aerial vehicles.
You May Also Like
15 Top Rated Kid's Remote Control Cars
10 Best Remote Control Rock Crawlers
FAQ
Frequently Asked Questions
Q: Do these helicopters come with a transmitter?
A: Another word for the transmitter is a control panel so to speak. All of these include a multi channel remote control providing you with multiple channels to sync to.
Q: How long do they require for charge time?
A: They range in time, from twenty minutes to around an hour.
Q: What is the fly time between charges?
A: Most of these toys have a flight life from anywhere between seven and twelve minutes.
Q: Are they suitable for indoor or outdoor use?
A: There are some helicopters that are capable of withstanding mild winds, in turn making them appropriate for outdoor use. There are a few one here that are not as durable and require a bit more care, these are recommended for indoor use only.
Q: What is the age range for these toys?
A: The majority one this list are suited for older children. There is a few options that are meant for children a bit younger. Every gift one this list should be used with care and adult supervision. With proper caution these can be used to play with younger children as well. Because they are aesthetically pleasing they can even be used by adults.
Q: Are they available in different colors?
A: There are some products that come in a range of colors, while others feature more than one color in its design.