10 Best Robot Dogs Kids Will Love in 2019
last updated
Sep 15, 2019
Hot dog! It's robot dogs as playtime fun pets for kids of all ages! If you have never seen a robot pup, then you are in for a treat. These amazing playthings are so different from each other, but they have two things in common. They are pooches first and robotic second. Operating on regular batteries, these excellent puppies will dance, sing, walk, move, bark, and talk their way into your child's heart. Everyone else in the family will be enchanted as well.
They have much to teach the child about movement powered by battery and controllers and will give them a glimpse of the workings of physics. We analyze each robot dog for you according to their connectivity, design, entertainment value, and materials. They all have the most and the best reviews from buyers online, so they are the most outstanding choices that kids already love. Ruff! Ruff!
In a Hurry? The test winner after 51 hrs of research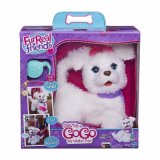 FurReal Friends Get Up & GoGo
Why is it better?
When spoken to the toy barks
Comes with easy instructions
Leash and controller are attached
Play is interactive, exciting, and engaging
Will encourage caregiving in youngsters
In a
Hurry? Editors choice: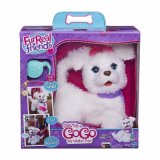 Test Winner: FurReal Friends Get Up & GoGo
23
Researched Sources
51
Hours Researching
20
Products Evaluated
Entertainment Value
Design
Connectivity
Materials
By Default
10 Best Robot Dogs Reviewed
1

. FurReal Friends Get Up & GoGo
When spoken to the toy barks
Comes with easy instructions
Leash and controller are attached
Play is interactive, exciting, and engaging
Will encourage caregiving in youngsters
Cord may be too short to actually walk the pet
Did not respond with barks to some kids
Encouraging caregiving in youngsters, the FurReal Friends Get Up & GoGo Pup Pet provides a life-like rich experience for kids. This electronic plush puppy behaves much like a pup that is real.
Read more
Control the furry animal how you like with the leash controller, as the actions include tilting the head, sitting, walking, and wagging the tail. When spoken to the toy answers with barks. The leash and controller are attached for functioning for ongoing entertainment that never ends. This adorable pup has white fur with a purple collar and a pink bow on the head. It has a sweet face that is bright and cheery to engage in play with your child that is interactive, exciting, and engaging.
Entertainment value
Children will love to interact with this beautiful little dog that is ready for a walk or a stroll anytime. It is entertaining with its several playful antics and will make a wonderful cuddly friend for both boys and girls.
Design
Looking like a true doggie, this FurReal Friends product react to human speech and has a few actions of its own. It will tilt its head, sit, walk, and wag its tail in an attempt to play.
Connectivity
Four C batteries are needed to operate this cute puppy for ongoing excitement. They are used to operate the controller on the leash that is permanently attached for simple functioning.
Materials
The soft plush fur of the GoGo Pup makes it a very lovable plaything that kids can use for pretend play of owning a real pet. The added bow, collar, and leash are comprised of a durable plastic material.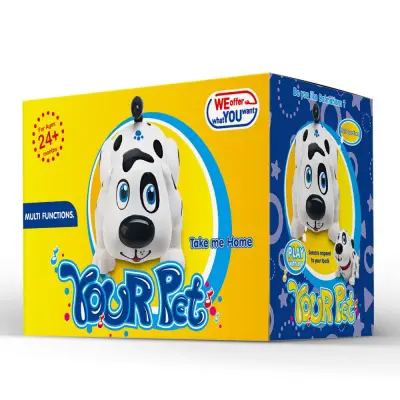 Includes the three AA batteries
Makes dog sounds plus talks, barks, and walks
When touched the sensor responds
Chases, sings, dances, and plays
Made of a sturdy plastic material
Smaller than some people expected
Overall quality disappointed a few buyers
The Electronic Pet Dog Robot Harry is a very good size for little kids at six inches in height and more than seven inches in length. Made of a sturdy plastic material with large playful eyes of blue, he is perfect for kids aged two to seven years.
Read more
Including three AA batteries for functioning, Harry is a Dalmatian type pup for the whole family to enjoy. When the plaything is touched, the sensor responds, so on surfaces that are smooth, it will chase and play. Utilizing the Bump 'n Go feature Harry will keep on walking, and when his backside is touched you get a surprise. This sweet pup is pure white with large and small black spots covering his face and body. He reacts to pulling his tail and pressing the blue spot on the back and also has music that plays for singing and dancing. (Please see the female counterpart to this item – Robot Helen in pink listed separately below.)
Entertainment value
The amazing toy makes dog sounds plus talks, barks, and walks, plus he will sing and dance when his head is touched. The blue footprint image on his back is a button for a delightful surprise.
Design
With just the touch of a human hand, little Harry will go into his entertaining routine of interacting with your child and family. He is not only pleasing to look at but very fun to play with too.
Connectivity
Harry comes with the batteries he needs for operation. Three AA batteries are all he needs to perform and play for many hours of continuous fun and antics with your child.
Materials
Not being the furry type of animal friend for children, Harry is comprised of a hard, plastic material that is easy to keep clean. This surface area is also easier for small hands to grasp and hold.
3

. Westminster Chi-Chi Chihuahua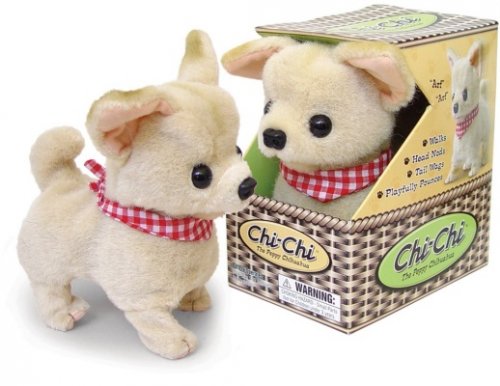 Is a Chihuahua type pup
Pounces, wags its tail, nods, and walks
Ideal for those three-years-old and above
Comes in a cute box like a small house
Sounds like a real dog when it yaps
No volume control – can be loud
Might not move very fast
The Westminster Chi-Chi robot dog is a Chihuahua type pup that playfully pounces, wags its tail, nods its head, and walks joyfully. It even barks a cute little yelp to be your little one's best new friend.
Read more
Ideal for those three-years-old and above, this charming pooch has a calico bandana around its neck in red and fur that is soft and light tan. It has a black button nose and eyes along with big plush ears and a small pointy tail. Buyers say that this darling pup sounds like a real Chihuahua dog when it yaps. Requiring two AA batteries for operation, this amazing puppy comes in a cute box like a small house.
Entertainment value
Your child will not want to put this toy down ever because of the small size and ultimate cuteness. This attractive hound walks, nods, pounces, and barks to get children excited about having a dog.
Design
Created in the image of a Chihuahua dog, this lovable miniature pet has plenty of moves to entertain kids. It is also dressed for any occasion with its sporty red bandana around the neck.
Connectivity
This lovely product operates on two AA batteries to perform all of its tricks and entertainment stunts. Since these are small lightweight batteries, the toy does not weigh much when in use.
Materials
Made to look like a real pet, this robot plaything is covered in a short tan fur resembling a true Chihuahua dog. With its small size and soft hair, it will be the perfect snuggling friend for either a boy or a girl.
Makes sounds and movements
Features BarkBack Technology
Fun for both the young and old
Has won friendly caregiver awards
Face is endearing and realistic
Batteries did not last long for some buyers
The fur came out easily said a couple of people
Featuring BarkBack Technology that permits the toy to react to human voices, this Ageless Innovation product is made to look just like a Golden Retriever pooch.
Read more
Manufacturer by a global company that is devoted to creating engaging products and developing fun, this appealing hound has won friendly caregiver awards for its excellent design. Including a red bandana around the neck, the Golden Pup is in a sitting position to be the most poseable for all situations. Offering love and warmth of a pet without the responsibility and mess of a real one, it is a good friend for those with memory loss and also ideal for those with allergies to pets.
Entertainment value
Good for five-year-olds and up, it reacts to touching with sounds and movements of a lifelike animal. Whether the intended user is a child or adult, this delightful pooch will enchant all who sees it.
Design
Created to give fun, companionship, and comfort to both the young and old, it seems like a genuine puppy that makes sounds and movements as a real animal would do.
Connectivity
This product comes with the necessary four C batteries needed for functioning. With the batteries loaded in, the toy can be a bit heavy for toddlers to carry and hold, but the seated position of the pup helps with that.
Materials
The soft fur and endearing facial features are realistic with black button eyes and a nose plus an open mouth with a red tongue. It is plush for petting and hugging no matter the age of the person.
5

. Meva PawPals Walking and Barking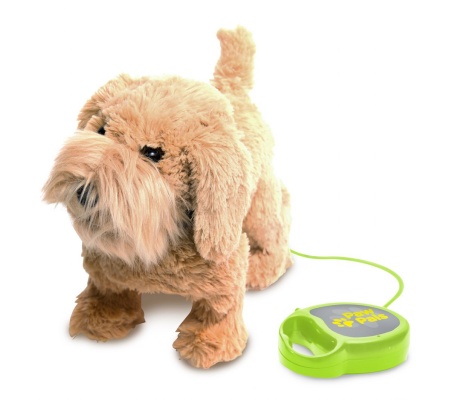 Will wag its tail, yap, and walk like a real pup
Three AA batteries are required and included
Fur choices are dark brown, light brown, or white
Fur is plush and soft with an extra furry snout
Leash and handle are bright for ease in locating
Some said it does not move much
The face seemed scary to a few buyers
Toby is an endearing dog of medium size at eleven inches in length and nine inches tall that will wag its tail, yap, and walk like a real pup. This cute furry friend is perfect to cuddle with or take for a walk on its leash.
Read more
The remote controller is on the leash handle, which along with the leash are a bright neon green color for ease in locating them. The best ages for this wonderful toy are three years and older. The luxurious fur is plush and soft with an extra furry snout, and the color choices are dark brown, light brown, and white. This cute animal is a dream pet for kids without the hassle of owning a real dog. The black beady eyes and nose have a friendly expression to charm any little one.
Entertainment value
With his remote controller and leash, children can take Toby anywhere they want to go. He wags, yaps, and walks along to be a best buddy for all ages of kids and family members.
Design
While he is a bit plain in appearance, Toby invites creative minds to dress him or place a bandana around his neck. Unlike some of the other products listed, this pup is a medium size for realistic play.
Connectivity
Three AA batteries are required for operation and included with the purchase of this item. These lightweight batteries go in the stomach of the puppy and not in the leash handle.
Materials
As one of the furriest pups we feature in this buying guide, this remote-control pet is covered in a fur color of your choice that kids will like to snuggle, carry, and sleep with for nap and bedtime.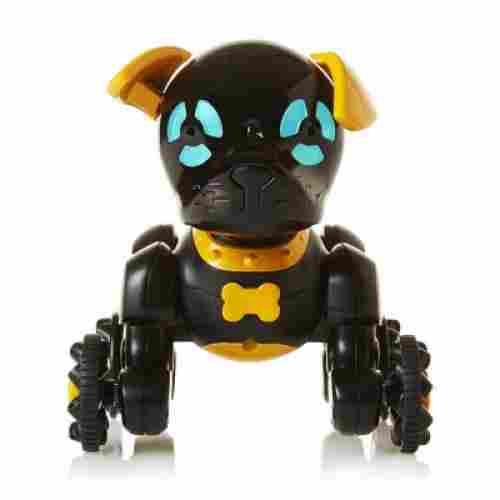 Available in the colors of black, pink, or blue
Pup kisses, sneezes, barks, and sniffs
Can roll, chase, sing, or dance
Has a modern and trendy look
Features WowWee Smart Technology
A few claim the interactions are not special
Dogs could be on the same frequency and not interact
Available in the colors of black, pink, or blue, the WowWee Chippies Robot Toy Dog called Chippo has a gold collar of a doggy bone and comes with a remote control that matches.
Read more
If there is more than one of these robot dogs, they will interact with each other and with CHiP as they sing together in pack formation. Featuring WowWee Smart Technology, it has a modern and trendy look unlike all the other robot dogs listed. The eyes of the pooch really stand out with the bold blue coloration around the pupils. The feet of the pup have wheels on them, so it rolls instead of actually walking. The ages that would enjoy this toy the most are from four to fifteen-years-old.
Entertainment value
The pup kisses, sneezes, barks, and sniffs plus has a personality bigger than life. Using the controls, kids can make Chippo roll one way or another, chase around its tail, sing, or dance.
Design
Made of hard, plastic material in a main and contrasting color and the WowWee Technology, this adorable puppy has a remote with several button options of the controls.
Connectivity
It takes two LR44 batteries for operation. With the embedded sensors, it can pretend guard the bedroom or explore it. the WowWee aspect permits the toy to do many activity things that the others do not.
Materials
It likes to have its face and head petted, and the ears and tail are short and cute to match the robust muscular body of the animal. It is made of hard plastic material to be easy to clean.
7

. Gamzoo Pet Veterinarian Doctor Kit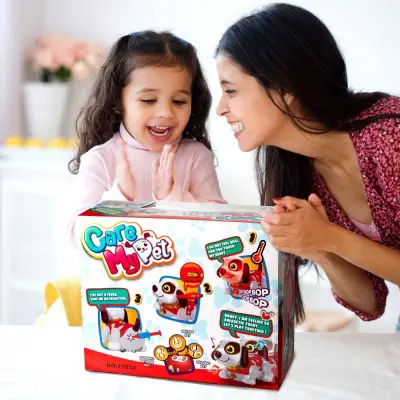 Includes a veterinarian kit
Makes an ideal gift for a birthday
Responds to touch
Plays music and dances
Is a large size play pet
Can be too loud – no volume control
Some parents did not like the quality
This Interactive Electronic Robot Dog is a toy pup with a veterinarian kit to care for it that is best for children of the ages of two to four.
Read more
The appealing pup is white with a brown eye patch, nose, ears, and tail and wears a red painted-on sweater and a gold collar with a gold tag. It has a sweet smile on its happy face and would make an ideal gift for a birthday or special occasion. This special item includes an interactive dialogue, touch mode, move and woof, and dance and music. The lovable pooch responds to touch plus plays music and dances. It includes vet health cards, a stethoscope, a play needle for shots, and a thermometer for temperature.
Entertainment value
Not only can kids medically treat this lovely little animal but it will interact with them too. This darling dog plays music that it dances to plus responds when someone touches it.
Design
This terrific item is not just a robot dog, but a robot dog with medical accessories. Children can pretend to care the pup as a veterinarian with the three extra pieces included.
Connectivity
To operate this sweet hound, three AA batteries are necessary, but they are not included with the purchase of the pet pooch. These go in the belly of the toy, which add some weight and stability.
Materials
This delightful little dog is made of hard plastic along with its accessories to be most durable and long-lasting. Robot dogs with fur can be hard to keep clean, especially around little ones.
8

. Electronic Pet Interactive Helen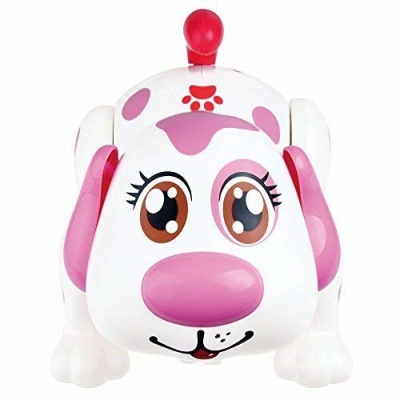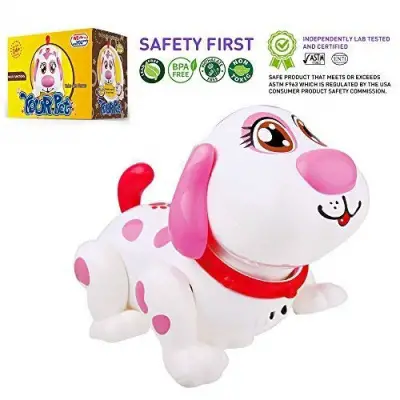 Responds to your touch
Female counterpart of Robot Harry
Makes a fabulous companion
Makes sounds that are fun, barks, and walks
Has the Bump 'N Go technology for walking
Might not always move when you touch it
Was too small for several folks
Responding to your touch is this girlfriend counterpart of Robot Harry. Her name is Robot Helen, and she makes a fabulous companion.
Read more
Helen looks just like Harry but with pink spots, ears, and nose. She has a red tail and back spot of a paw print. Kids two-years-old and up are best suited for this playful pup that has eyes that are large and brown to complete a very happy and friendly face. She will chase and play on surfaces that are smooth and is the same size as Harry of six inches high and seven inches in length.
Entertainment value
Robot Helen with her pretty pink features can play, chase, and walk plus bark when kids join in on the fun. Responding to touch, it is just like having a real pet that you do not need to physically care for.
Design
Just as Robot Harry has spots, a friendly face, and a functioning paw print button on his back, so does Robot Helen. The Bump 'N Go feature makes them terrific at being mobile and interactive.
Connectivity
This electronic pet dog has the Bump 'N Go technology for walking, plus it makes sounds that are fun, barks, and walks. Included are the required three AA batteries for functioning.
Materials
Made of hard plastic material, she is engaging and exciting to be quite entertaining for kids. It is believed that these plastic pups keep their pristine condition longer than the ones with fur.
9

. Liberty Imports Walking & Dancing
Dances and walks with lights
Has the Bump 'N Go aspect of movement
Will wag tail, move its legs, and turn its head
Makes it own music and animal noises
Paws and head lights up during the fun
Was too loud for some people
Might not do as much as expected
The Bump and Go Electronic Pet Puppy dances and walks with lights for interaction and entertainment and is good for kids aged three and up.
Read more
This sweet dog has the Bump and Go aspect of movement meaning that it will alter its direction when it bumps into a wall or other object. It has several moving parts that are put into motion with play, such as it will wag its tail, move its legs, and turn its head. This pup even makes its own music and animal noises. The paws and head light up during the fun too. This attractive solid white hound with medium blue contrasting color has a face like a robot toy. Three batteries of the AA size are needed but not included.
Entertainment value
With music, animal noises, and movements of all limbs and head, this pooch will entertain kids for hours at a time. Even adults will get in on the fun and watch this wonderful dog perform.
Design
What makes this toy so special is that it has the feature of Bump and Go. It is extra thrilling for kids to watch the animal bump into something and then change direction on its own to keep going.
Connectivity
To make the lights work on the feet and the head and to get the limbs of the animal moving, batteries are required of the AA size. Three of them will do to get this puppy up to speed in active play.
Materials
This is another hard, plastic robot dog that is easier to manage and maintain without the fur on it. This pet is a larger size than some of the others we feature here, but kids can still handle it well.
10

. JoyABit Walking Electronic PIush
Has a simple switch to turn the toy on
Designed just for toddlers to enjoy
Has a tiny white bone in its mouth
Walks, wags its tail, and barks
Perfect to snuggle with and carry along
Was smaller than a few people expected
Did not work properly as stated said a couple of buyers
Available in blue, pink, orange, and tan solid colors, the JoyABit Walking Toy Puppy dog robot is designed just for toddlers to enjoy. Kids as young as three-months-old can play with this item that is so sweet.
Read more
Is easy for very young ones to hold as it only weighs eight ounces. It has a simple switch to turn the toy on for it to walk, wag its tail, and bark. The adorable pup is covered in shaggy plush material with a nose and eyes of black button-shaped dots. Perfect to snuggle with and carry along for fun, this darling hound is simple in form with a tiny white bone in its mouth.
Entertainment value
Whether your little one is into snuggling with a plush animal, carrying it around everywhere, or watching it perform, this item has something to offer everyone who sees it.
Design
With a choice of four solid colors that children will like, this walking pup is made for the younger crowd of toddlers. They will like the bone in the mouth and the button features that make it so adorable.
Connectivity
Two AA batteries are what gives this fun little puppy its energy and power for its tricks. They go inside the belly and are not so heavy that little kids cannot tote the animal where they go.
Materials
Whichever color of shag fur you like from the choices listed will be perfect for your child. it is a soft plush fur that toddlers will love to hold and grasp for the feeling of the texture and cute shape.
Criteria Used for Evaluation
Entertainment Value
Robot pups are entertaining in several ways. First, the antics that they perform for their human friends are amazing and comical. These little pooches can sing, dance, bark, talk, walk, move their heads, and wag their tails. Not all of them do all of these things, but they all do at least a few of these each.
Besides their physical attributes to please, they also serve as personal friends and buddies to kids that need the extra security and safety of having a special someone of their very own. They can cuddle with these pups for naps and bedtime plus bring them along wherever they decide to travel.
Design
Each one of these items is so different from the others that it is hard to find anything they have in common except that they all move with the power of batteries and they are all designed to look like dogs. Even their features and facial expressions are wildly varied.
One has wheels for feet, while another has a face like a toy robot for kids. Two of the pups are boyfriend and girlfriend if your child wants to have a lovely couple of robotic dogs. The sizes, colors, and textures are different too. There is certainly one for every child preference possible.
Connectivity
Even though the battery types differ with each puppy listed, they all take regular batteries for power. None of them need electricity or use USB cords for power. All of them have moving parts since they are robotic. For most, the batteries are inserted in the animal body, even the ones that have leashes with the controller at the end of the leash.
For one pup, the batteries even control the light on its head and feet. All of the others only have movements and sounds that function with battery power.
Materials
The two types of robot dogs highlighted on this page are the furry ones that are covered in a plush shag of soft fur or the hard, plastic ones that are easier to keep clean and new looking.
Children may be more attracted to the ones with the fur because they are cuddly and soft. However, the plastic ones can be easier to handle since you can actually see their bodies better. The plastic pups seem to have more moving pieces to them too, such as their legs and heads than the fur doggies do.
Most Important Criteria
(According to our experts opinion)
Experts Opinion
Editors Opinion
Users Opinion
By Default

Parents, Did You Know?
Robots can teach children in an engaging way the principles of science and math. These are also a great tool or stepping-stone to interest a kid in the subjects of STEM (Science, Technology, Engineering, and Mathematics) that may someday lead them to a wonderful career.
Parents, Did You Know?
At the heart of robotics is the subject of science. As kids learn how these creations are powered, their understanding of solar power and electricity becomes greater. Tension and force are observed and displayed when robots move or shift objects for a basis of physics.
Other Factors to Consider

Ease of Use
With simple buttons or remote controls, each of these items featured is so simple to use, control, and understand. The smallest of kids will be able to pick up on how these toys work and how to operate them quickly with the controls. Other than getting them to function, children will be able to use the products as snuggle buddies or napping and sleeping friends. They will take them along wherever they go to bring their best bud along.

Social Development
These robot puppies can help a child explore the social talents of interaction with others and a talking or moving object. All of these toys either play music, vocalize, walk, dance, or all of these. The child will play along or sing with the plaything to expand their skill set in speaking, singing, and talking to the toy. Vocabulary and audible abilities are enhanced through such type of play easily.
Frequently Asked Questions
q:

Do all of these pups run on regular batteries?

a:

Yes, they do. They either go in the animal or in the controller for the animal on the leash it comes with. However, for most of them, it is in the belly or body of the pup.
q:

Do any of them have small parts or extra pieces that would be a problem for toddlers and infants?

a:

The only toy robot listed that has extra parts is the veterinarian pet dog. It has three plastic medical instruments to pretend caring for the pup, but do not pose any risks of swallowing or danger for little kids.
q:

What negative things are buyers saying about these toys?

a:

The functioning of the animals is not always up to par of what the parents are expecting for their purchase. Sometimes it is the size too that can disappoint or just how the animal moves or doesn't move that is disappointing for buyers. The sizes of the products are given in the descriptions, but not everyone looks at that before ordering.
q:

Are any of these products gender specific (colors or clothing types)?

a:

No, not really. Kids love animals, period. It does not matter if they are a certain color or have different colors for the leashes and controllers. One or two of these pooches have a bow on them that might be more suitable for a girl, but this will not matter much to kids who just want to cuddle and interact with the robot dogs.
q:

What are the advantages of having a pup without the fur (the ones of plastic material)?

a:

The ones without the fur, or the hard, plastic bodies, are much easier to clean. This is the biggest benefit of having the plastic type. They could be easier for kids to grab and hold also since they can actually see the body much better this way.
q:

Why do some come with a leash and others do not?

a:

Having a leash does not diminish the functioning or appeal of the toy. It is just the particular design of the toy that the manufacturer decided to make. Kids can make a leash for any of the dogs, but they will not have the controller that operates them on there. The ones without the leashes are operated on the body of the animal with functioning buttons.