Stethoscopes specifically pediatric stethoscopes are a necessity for families who have asthmatic children or children with heart problems. By having these trusty, handy, devices at home, problems can often be detected and tended to in the comfort of your own home before they become urgent. Asthma must be monitored and cared for with medications and the detection of breathing obstructions for the person to remain healthy and at their best every day.
When looking for the right stethoscope for your family, you have two choices when it comes to the chest piece. It can have a single or a dual head, which mainly has to do with the frequencies that are heard in the ear part. Some of these tools come in a wide range of colors which can suit the user of the stethoscope or child and some even come with little detachable animal heads on it to make the situation a little more delightful for children.
10 Best Pediatric Stethoscopes Reviewed
1. 3M Littman Classic III Monitoring
With over 4,000 customer reviews and the highest rating of all stethoscopes sold online, the 3M Littman Classic III is refined and sturdy. It will isolate minute sounds, so changes in breathing can be heard well. This product can help with sounds that are hard to hear and includes a non-chill rim to give the best comfort.
Expand to see more
For low-frequency sounds, use light contact, and for high-frequency sounds, firm pressure is used. The tension of the headset is adjusted easily with the flexible ear tubes, and high-frequency sounds can be heard much better than with some other models on the market currently. This stethoscope is available in nine vivid colors and seven modern finishes. It keeps its shape and flexibility, even if tightly folded in small spaces. You can hear breathing sounds with less interference because of the dual tubes. When worn in the ears, these give a comfortable fit and an acoustical seal. The tension of the headset is adjusted easily with the flexible ear tubes.

Benefits
There is a choice of colors and finishes with this item. Choose from seven finishes and nine colors to get the one that is your favorite or your child's best color.

What We Like About It
For a high-quality instrument, this is the one to get. Littman has been making these stethoscopes for over fifty years, so the craftsmanship is exquisite and professional.

Cost and Value
We feature several 3M products on this page because of their high-quality and rave reviews. This is the highest-priced item that is more than twice the average cost. The sound quality and company's long reputation in crafting these instruments makes it very much worth the price.
Refined, adjustable, and sturdy
Will isolate minute sounds
Can help with sounds that are hard to hear
Gives a comfortable fit and acoustic seal
Keeps its shape and flexibility
Was too long for some people to wear
The heaviness was an issue
2. MDF Acoustica Deluxe Lightweight Dual Head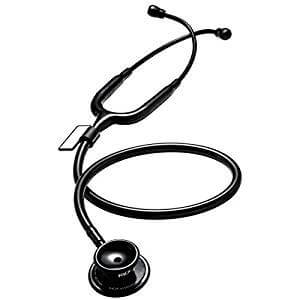 The MDF Acoustica Stethoscope has dual heads and is latex-free and handcrafted. It is offered in twenty-one colors and comes with a lifetime warranty. This great item is lightweight, convenient, and durable, plus includes ear tip SafetyLock Adaptors to prevent eardrum punctures.
Expand to see more
Three pairs of ear tips of large, regular, and small come with this item of the MDF ComfortSeal brand. This product is hand-polished and precisely machined for durability and high performance. The chest piece is dual-head, aluminum, and super-duty, and the tubing is longer than the average length. You can hear heart and lungs sounds with terrific clarity. This terrific stethoscope has an indicator dot for identifying the sound channel that is active, low frequency isolation, and wonderful sound amplification. It features an ultrasensitive diaphragm on the chest piece that is sealed, and ear tips made of silicone that are soft, hygienic, and phthalate-free. The tubing is made of latex-free, dense, thick PVC for long life and great wear and tear.

Benefits
This company has been making these stethoscopes since 1971. They are a well-known brand that is popular for high-sound performance and a quality product.

What We Like About It
This instrument comes with three extra pairs of ear tips. They are different sizes, so you can get the perfect fit for your ears and be comfortable.

Cost and Value
This is one of the less than average costing instruments on this page. The quality comes from the huge amount of available colors and the fantastic sound clarity.
Hand-polished and precisely machined
Includes Eartip SafetyLock Adaptors
Features an ultrasensitive diaphragm
Tubing is thick PVC for long life
Tube is longer than the average length
May not be an advanced model
Some were disappointed with the quality
3. 3M Littmann Classic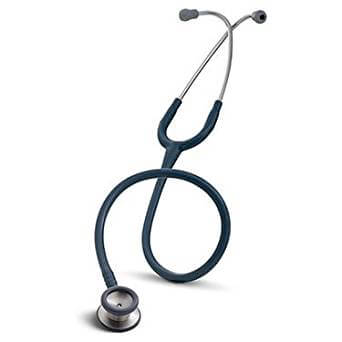 3M Littman makes plenty of stethoscopes in the high-quality fashion that they function. This one is the Classic Pediatric and will conform to the shape of infant bodies with the small diaphragm. Choose from a large variety of colors such as royal blue, raspberry, pink pearl, peach, Caribbean blue, orange, and navy and pick you or your child's favorite hue.
Expand to see more
The ear tube extension can be adjusted because of the internal spring, and it has a long life because of the double-leaf internal binaural spring. This wonderful stethoscope made of stainless steel will increase the comfort level for the parent and the child because it was designed with kids in mind. It is perfectly sized for infants as it features a ¾-inch bell for a better seal of the chest wall. Included is a pair of 3M ear tips that are soft-sealing and snap-tight to maximize comfort and make a terrific seal.

Benefits
An extra set of ear tips comes with this great instrument in case you need them. More can be purchased separately and in varying sizes.

What We Like About It
The many colors to choose from is wonderful! Being especially for children, the colors will make them want to comply with a parent listening for breathing problems in the chest and back.

Cost and Value
Having an average price, this terrific instrument is worth it because of the color selection and special fitness for the bodies of children.


Offered in a large variety of colors
Ear tube tension can be adjusted
Includes an extra pair of 3M ear tips
Perfectly sized and designed for children
Will increase the comfort for parent and child
Tubing cracked for a few buyers
Some did not receive the extra ear tips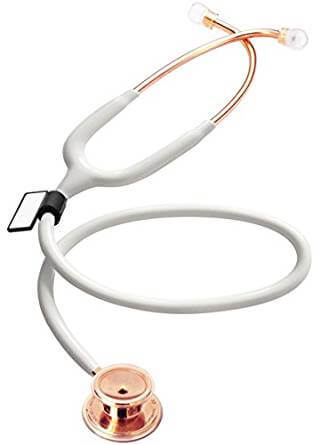 The Rose Gold Stethoscope has white tubing and rose gold metal sections and is made of stainless steel. It has high-quality performance that is dependable and gives clear crisp acoustics for the lungs, heart, and bowels.
Expand to see more
Included is a headset that is latex-free PVC tubing that is extra-thick, anatomically angled, has a very sensitive diaphragm, and includes Comfort Seal ear tips of silicone that are very soft. You can listen with the wider diaphragm for valve closures and clicks that make high frequencies or hear low frequencies with the smaller bell side. This amazing stethoscope not only works extremely well but is very pleasing to the eye too.

Benefits
Like many stethoscopes on the market, this one has the dual head to listen to different frequencies in the body. It can detect problems in the heart, lungs, or bowels with ease.

What We Like About It
This is a very eye-catching instrument that will look great and keep the kids excited and interested in monitoring their lungs and heart. It is a beautiful instrument that works splendidly.

Cost and Value
This fabulous instrument has an average price and has the great qualities of the fantastic coloring of the stainless steel and tubing and the inclusion of the dual head.

Includes white tubing and rose gold metal sections
Has high-quality performance
Gives clear crisp acoustics
Includes a very sensitive diaphragm
Comes with Comfort Seal ear tips
Rose color seemed more like copper to some people
The white tubing may show dirt quickly
5. ADC Adscope Adminals 618 with Tunable AFD Technology
Including seven snap on animal faces that are interchangeable of a bear, monkey, koala, panda, tiger, deer, and frog, the Adscope Adminals Pediatric Stethoscope is a delightful instrument. The tubing is a stunning seafoam color that is almost clear, and the product is perfectly sized for the body of children.
Expand to see more
This is wonderful for pediatrics because of the superb design and features AFD technology. By altering the pressure, you can switch from the high-frequency performance of the diaphragm to the low frequency bell. It has a non-chill bell and retaining rim for the comfort of the child. The binaural is aluminum and lightweight with a matching finish of satin. This great manufacturer of high-quality stethoscopes is known for rugged durability, top performance, value, and comfort worldwide. Included is a five-year warranty for your guaranteed satisfaction.

Benefits
Because this stethoscope does not have the dual head, the pressure applied to the patient determines the frequencies you hear. It has the capabilities of both the bell and the diaphragm.

What We Like About It
The design of the interchangeable animal faces makes this instrument a perfect item for listening to the lungs, hearts, and bowels of children. Kids will love all seven of the adorable faces.

Cost and Value
This terrific pediatric stethoscope cost only half of the average of these products. The fabulous value comes from the interchangeable animal faces and the dual frequency capabilities.

Is perfectly sized for the body of children
Includes animal faces that are detachable
Features AFD technology
Has a non-chill bell and retaining rim
Known for durability, top performance, and comfort
Animals face tend to fall off sometimes
The sound could be better
6. Classic Single Head Cardiology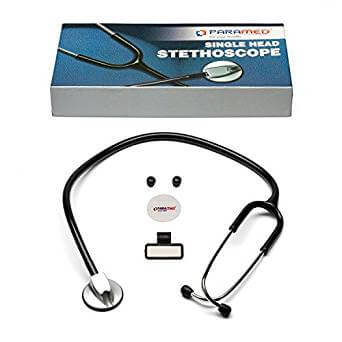 Being the most economical item on this list of great medical instruments, this Classic Single Head Stethoscope is made to be used on children and has a single head. It is
great for home use
and also for nurses and doctors, plus has a head of stainless steel and a rim that is non-chill.
Expand to see more
It comes with two extra sets of ear tips, a replacement diaphragm, a name tag holder, and a carrying case. This terrific stethoscope features ear covers that are soft and binaural tubing and an angled headset that directly channels sounds to the ear canal. Included is a thirty-day guarantee for this exciting instrument that is durable, lightweight, and captures both high and low-frequency sounds.

Benefits
Having a non-chill head may seem like a small feature, but when an all-metal stethoscope head is placed on a bare chest or back, it can be very uncomfortably cold.

What We Like About It
You get a lot for your money with this great stethoscope set. It comes with extra ear tips and another diaphragm, plus a fabulous carry case. This makes it perfect for home use for children.

Cost and Value
Being perfect for home use on children makes this lowest-costing item worth the value. The extra pieces of the set and the carrying case certainly make this a treasured product.


Includes a single head and a rim that its non-chill
Comes with extra pieces and a carrying case
Includes a thirty-day guarantee
Durable and lightweight
Captures high and low frequency sounds
Did not work well for a few people
The overall quality may be an issue
7. MDF Instruments Acoustica Deluxe Lightweight Dual Head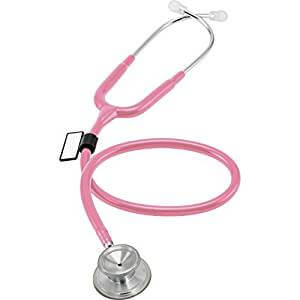 MDF is one of the foremost leaders in the manufacturing of stethoscopes, so it is only fitting that our list contains several of their terrific products such as this one. The Acoustica Deluxe Lightweight Dual Head Stethoscope has high-quality sound performance and comes in twenty-one colors of tubing for your exciting selection.
Expand to see more
It is lightweight, convenient, and durable, plus gives great clear auscultation of the lungs and heart. The durability is enhanced because of the spring dual-leaf construction, and this instrument features eardrum safety with the ear tip adaptors that are non-invasive. This is an economical instrument from MDF that has a dual head with bell and diaphragm and is hand-polished and precisely machined for precise readings. It offers full rotation with an indicator dot for activating sound channels and is a marvelous item from this great company.

Benefits
This fabulous company has a great reputation for high-quality performance and excellent craftsmanship. They have been making these fantastic stethoscopes for professionals and parents since 1971.

What We Like About It
You can choose your favorite color from this assortment of wonderful colors. There are twenty-one various colors for the flexible durable tubing on this amazing stethoscope.

Cost and Value
Priced in the lower end of the price range for these stethoscopes, this product of MDF gets its quality from the dual head and the superb selection of tubing colors.

Features eardrum safety with the ear tip adaptors
An economical instrument from MDF
Gives great clear auscultation of the lungs and heart
Has a dual head with bell and diaphragm
Offers full rotation with an indicator dot
Can be bulky at the neck
Was too light for some buyers
8. 3M Littman Classic II Infant
This is another excellent product from #m Littman that is made just for listening to the body sounds of infant patients. It comes in seven vivid colors for the durable tubing and features a floating diaphragm and a dual head chest piece. This terrific instrument helps diagnose and access small children and fits the design of the ear canal with the angled anatomical headset design.
Expand to see more
It is perfect for those sensitive with allergies because of the latex-free substances, and the diaphragm is non-chill for the child's comfort. This amazing stethoscope has a three-year warranty and is wonderful for diagnosing, monitoring, and assessing the smallest of patients. It has high sensitivity to acoustic sounds of the body and includes ear tips that are soft-sealing and large. This product is used by professionals all over the world, plus the quality tubing will keep its shape even when folded into tight spaces. The tubing is resistant to alcohol, stains, and skin oils and is not made from rubber latex. It does not include phthalate plastics either. The tension of the headset is easily adjustable to comfort, and head size and the ear tips are snug on the instrument and require effort to take them off.

Benefits
Made just for monitoring and checking the body sounds of infants, this stethoscope can pick up minute sounds and has a user-friendly rim on the chest piece, so it is not cold to the touch.

What We Like About It
This great instrument boasts that the ear tips fit quite snug on the piece. This is important especially if they are used quite often because with wear these might have a tendency to become loose.

Cost and Value
Average in price among similar instruments, the quality of this stethoscope is outstanding. Its value comes from its professional construction and excellent durable features.


Used by professionals all over the world
Tubing is resistant to alcohol, stains, and skin oils
Tubing in not made from rubber latex
The tension of the headset is easily adjustable
Ear tips are snug on the instrument
Tubing may have a sticky feel to it
Some experienced discoloration of the tubing material
9. MDF Sprague Rappaport Dual Head
The Sprague Rappaport Dual Head Stethoscope from MDF has a design of five-in-one that includes infant, pediatric, and adult attachments. It is offered in four colors and includes an accufit headset with dual lumen tubes.
Expand to see more
The tubing gives two sound channels with each ear having one. This item comes with an accessory kit for changing the diaphragm and bells for various patients. It can be changed to suit the size and age of the patient anytime.

Benefits
This product has a listening tube for each ear, unlike most other stethoscopes that have just one. Sounds should be clearer because each ear gets its own channel to the body.

What We Like About It
This wonderful instrument comes with an accessory kit to make it as versatile as a stethoscope can the be. Use it for any age or size of patient by changing the bell and diaphragm.

Cost and Value
Costing about half of the average price of online stethoscopes, this item has the features of an accessory kit and the ability to hear sounds from all sizes and ages of patients.
Has a 5-in-1 design for infants, kids, and adults
Includes an accufit headset and duel tubes
The tubing gives two sound channels
Comes with an accessory kit
Can be changed to suit person size and age
May get caught in hair when worn on the neck
Dual tubing may make extra noise
10. 3M Littman Cardiology IV Diagnostic
This Cardiology Diagnostic Stethoscope from 3M has a single-sided chest piece and is designed for detecting hard to hear body sounds. Hear low frequencies with a light contact press and high frequencies with a firm press.
Expand to see more
It is professionally used by doctors and nurses and has the dependability and high-quality that you can trust. This company has over fifty years of experience in crafting these top-quality instruments. It includes a non-chill rim on the chest piece for patient comfort and an easily adjustable headset for the best comfort on the head. The ear tips are soft-sealing and snap-tight for a fantastic listening seal and great fit.

Benefits
The listening frequency can be controlled with this device by the amount of pressure on the body. This makes it easier to use because it does not have to be rotated for the various sounds.

What We Like About It
This instrument is professionally used by nurses and doctors and it comes from a manufacturer with over fifty years of quality experience in making these stethoscopes.

Cost and Value
This is one of the highest-priced items here and has the wonderful features of a single-sided chest piece and the excellent craftsmanship of a longtime manufacturer.


Has a single-sided chest piece
Design for hard to hear body sounds
Professionally used by doctors and nurses
Company has fifty years of experience
Includes a non-chill rim on the chest piece
Tubing was too long for great sounds for a few buyers
Kept falling off of the neck for some people
Criteria Used in Evaluation of the Best Pediatric Stethoscopes
Top-rated and most-purchased items
The stethoscopes on our list are all made the best quality and highest rated. Customers overwhelmingly chose these as the top items for this category and were happy with the results upon purchase. These are the best of the best that you can trust, and we ensure that you will find one that will best suit you and your family. We searched through the feedback, comments, and product descriptions from manufacturers to customers to bring you every important detail that each item listed. We wanted to help make your shopping experience a little bit more enjoyable where all you have to do is decide on which color to get.
Capable of hearing low and high-frequency sounds
Every one of these instruments are perfect for hearing the usual sounds of the heart, lungs, and bowels that doctors and nurses use to judge the body functions. Whether they have a dual head or not, each one will be able to detect the high and low frequency sounds of the human organs. For the single-headed stethoscopes, the pressure of the chest piece on the body determines the frequency sounds of these devices. The dual chest pieces have a diaphragm or a bell to hear the different sounds. Even the more economical instruments should give you clear audible sounds of the chest, heart and lung easily.
Great for listening to the bodies of children
Most of these are pediatric stethoscopes meaning that the chest piece is smaller for the smaller frame of a child or infant. There is usually a rim around the piece to make it not so cold to the skin and uncomfortable for the child which will make the task of listening to their body a little bit easier for parents. The frequencies may be clearer with a pediatric instrument when monitoring an infant or child, but all of these will work great even if it does not specifically say that it is used for pediatric purposes. One product on our list even has interchangeable parts for listening to any age and size of the person to make it very flexible and versatile, especially for larger families or medical professionals.
Long-lasting, durable, and well-made
The flexible tubing on every one of these instruments is durable and long lasting. Meaning here that they will not crack or become brittle like some of the lesser-quality products might do. The chest pieces are made of durable stainless steel and the ear tips are sturdy to withstand many years of usage for your family. Each manufacturer on our list have great reputations of their long-term duration of operations and speak about these high-quality products as well. The companies of 3M Littman and MDF have the majority of the top items in this category and are highly recommended as they both have decades of experience in making and selling of these wonderful instruments.
Asthma Facts and Monitoring
Stethoscopes are almost essential devices to have at home when it comes to children who have asthma or any type of breathing problem. Airways need to be monitored frequently to prevent major problems that could go undetected without one of these fabulous instruments. Parents can also monitor their little ones or children can learn how to monitor themselves especially when they feel ill.
Because asthma is a common disease of childhood, nearly 95 of all children in the U.S. suffer with it. With asthma, the little tubes in the lungs narrow and become irritated from triggers such as cold air, allergies, stress, the common cold, exercise and airborne chemicals. The symptoms of asthma can go away and come back so often that proper monitoring of the airways is best.
You do not have to have a wheeze to have asthma either. Sometimes this noise is not heard even though the person is having trouble with their breathing. Treating asthma is possible with the correct medications and frequent monitoring, so that kids can stay as healthy as they possibly can be.
FAQ
Frequently Asked Questions
Q: Why do some stethoscopes have a dual head?
A: the two heads on the chest piece of a stethoscope are for hearing the two possible frequency types of the body. Low frequencies and high frequencies are heard from listening to the lungs, heart, and bowels, so therefore the two sides are needed. The bell or curved side detects low frequencies and the flatter side, or diaphragm can detect the higher frequencies of the body. The instruments that have only the single flat side can be manipulated with the pressure of the instrument on the body. Press lightly for low frequencies and press firmly to hear the higher frequencies.
Q: What body parts can be listened to with these?
A: Any internal body noise can be detected with a stethoscope. The sounds most detected are from the heart, lungs, and bowels. The sounds of the lungs are listened to on the chest and the back where the lungs are located. The heart can be heard on the left side of the chest of the person.
Q: When would you want to use a stethoscope for a child?
A: If the child has asthma, any other breathing problems, or heart issues, you would want to monitor the internal body sounds frequently. Proper monitoring can catch a problem before it becomes severe, and it can also prevent many types of issues from happening at all.
Q: Does it matter which ear the two ear tips go into, left or right?
A: No, there is no left or right side for the ear tips of stethoscopes. Any way they are put on is fine. Both sides work equally well.
Q: What makes these instrument work to hear body sounds?
A: A stethoscope is specially created to hear the vibrations of internal sounds the body makes. These sounds are in either high or low frequency and can be detected by either the bell or the diaphragm of the stethoscope. Low frequencies are found with the bell, and high ones are detected with the diaphragm.
Q: Is it a good idea to buy one of these stethoscopes for a child to play with?
A: Sure, children with asthma especially need to know how to monitor themselves for breathing problems. Even kids without issues can benefit from learning how a stethoscope works. You just never know when you can spark the needed interest in that future doctor or nurse you may have in your family.