Best Gripe Water Reviewed and Rated in 2019
last updated
May 13, 2019
As parents learning to take care of your newborn is difficult enough and as you learn to take care of them the struggle doesn't seem to get any easier, you only learn how to effectively manage their screams and cries. Tummy pains, gas, and bloating are one of the main causes of those screams and cries. Parents encounter this issue often with babies. Relieving their pain is a must. Many parents and even Pediatricians recommend Gripe Water. It is an alternative medicine that is given to babies that contains natural or organic herbs that help soothe the pain and break up the gas bubbles. Now that you understand what Gripe Water is, it is now time to help you choose from the Best Gripe Waters on the market.
In a Hurry? The test winner after 21 hrs of research
Little Remedies Pack of 3
Why is it better?
Gluten free
Paraben-free
Affordable
Natural remedy
Fast acting
In a
Hurry? Editors choice:
Test Winner: Little Remedies Pack of 3
26
Researched Sources
21
Hours Researching
17
Products Evaluated
Ingredients
Effectiveness
Ease of Use
Value
By Default
In Depth Review Top 10
Little Remedies Pack of 3
Mommy's Bliss 4 oz
Colic Calm Homeopathic
Wellements Organic Probiotic
Mommy's Bliss 1 Ounce
Good Start Gerber Soothe
Boiron Cocyntal 30 Doses
Colic-Ease 7 Ounces
Zarabee's Naturals 4 Ounce
Mommy's Bliss Flavorless
Table of contents
Criteria Used for Evaluation
Expert Interviews & Opinions
Other Factors to Consider
Frequently Asked Questions
10 Best Gripe Water Reviewed
1

. Little Remedies Pack of 3
Gluten free
Paraben-free
Affordable
Natural remedy
Fast acting
White liquid and white dropper
Little Remedies Gripe Water has snagged our top spot! The Little Remedies company is a trusted resource for parents, they make all types of remedies to help with any kind of discomfort your baby might feel.
Read more
Colic is not fun to deal with, neither is gas or baby hiccups. Your little one will not understand what is happening and it may lead to lots of crying if their discomfort cannot be eased. You can rest assured that the Little Remedies gripe water will be just what the tired parent ordered.
Ingredients
This amazing little liquid is free from artificial dyes, artificial flavors, parabens, and alcohol. You also will not find sodium bicarbonate or gluten in this product. You can rest easy knowing your baby is getting only the most needed ingredients to relieve their discomfort.
Effectiveness
You will want to keep this gripe water on hand for the first year or two of your little one's life. Little Remedies Gripe Water can help to relieve discomfort caused by gas, colic, and hiccups. Tummy troubles will be eased away gently when you use this gripe water.
Ease of Use
This product comes in a three pack so you don't have to worry about running out in the middle of a crying jag. It uses ginger and fennel to ease your baby's stomach discomfort. The included dropper is easy to read and easy to use when administering the medicine.
Value
This product is on the lower end of the price point on our list. The natural ingredients found in this gripe water will keep you comfortable using it as needed for your baby. The price per ounce of this product will have you going back for more to keep your baby's fussiness at bay.
Gentle
Organic
Fast acting
Doctor recommended
No alcohol or parabens
Results are sometimes inconsistent
Number two on our list is Mommy's Bliss Gripe Water. This gripe water is perfect for health-conscious families. The herbal remedies in this gripe water will make your baby comfortable quickly.
Read more
It comes highly recommended by both doctors and parents. The only thing this gripe water is missing is nasty chemicals that can harm your bundle of joy. From 2 ½ weeks and older you can use this gripe water to keep your baby comfortable.
Ingredients
Mommy's Bliss is free from artificial colors and flavors. It is vegan, gluten-free, and contains organic ginger to ease tummy troubles. This product is dairy and soy free so you don't have to worry about allergic reactions in your baby.
Effectiveness
This product is one of the best selling gripe waters in the United States. You know that it works because your baby will be comfortable quickly after use. It will keep you and your baby both happy because you will not have to worry about adverse reactions from harsh chemicals.
Ease of Use
Each package contains a dropper for measuring the proper dose of medicine for your baby. It is very well designed in order to help out parents during their midnight struggles.
Value
This product is near the lower end of prices for this product list. You will be pleased to have a natural product available for your baby at this price point. This gripe water is a superb value for your money.
3

. Colic Calm Homeopathic
Scientifically proven
All natural
FDA listed medicine
Award-winning
Calming and soothing
Turns the baby's poop black
Can turn the baby's mouth black for a few minutes
Coming in at our number three spot is Colic Calm Gripe Water. The Colic Calm Gripe Water does exactly what its name states, it calms colicky babies.
Read more
This product is safe for health-conscious families and for families that are avoiding early exposure to potential allergens. It will help to calm and soothe your uncomfortable baby. This fast-acting gripe water will have you and baby sleeping or playing again in no time.
Ingredients
This product is free from gluten, animal products, soy, dairy, herbal oils, and added sugar. You will not have to worry that you are introducing problematic substances into your baby's diet when you pick this gripe water.
Effectiveness
This is an FDA listed medicine. This means that the manufacturer has to use safety tested ingredients. It also means that the factory where this product is made has to pass rigorous safety testing. The claims this medicine makes are all scientifically proven.
Ease of Use
This is a great choice if you have a family history of food allergies or have a plant based lifestyle. Choosing the right gripe water formula have never been easier and the instructions are pretty simple as well.
Value
This gripe water falls into the middle price range for our list. It is a great value because you know that you are getting a product that is backed by science. Add some to your baby comfort arsenal today!
4

. Wellements Organic Probiotic
Organic ingredients
Preservative-free
Affordable
Fast acting
All natural
Must refrigerate after opening
Must discard within four weeks after opening
Wellements Organic Gripe Water is our number four choice. This all natural and preservative free gripe water will keep your baby away from unnecessary chemicals.
Read more
It will safely and effectively ease your baby's stomach discomfort. It can also help your baby through the unpleasantness of teething and colic. This is a great addition to your baby's medicine cabinet.
Ingredients
This gripe water is USDA certified organic. This natural gripe water can put your mind at ease because you know your little one is getting the finest quality organic ingredients available.
Effectiveness
The combination of organic ginger, fennel and chamomile will naturally help your little one pass gas and ease discomfort from teething and other common baby ailments. You will want to have one of these gripe waters for your diaper bag and one for the nursery.
Ease of Use
You can use this gripe water to help ease your little peanut's tummy ailments as soon as they are born. It is a fantastic choice if you are concerned about what your baby will ingest. This gripe water is all natural and can be used up to six times in one twenty four hour period.
Value
This gripe water is on the lower end of prices for our list. You will be pleased that you are able to provide your new addition with this organic natural remedy to ease their discomfort. This is a great value for your pocketbook. Get one for your nursery and your diaper bag today!
Travel size gas drops that ease the pain
Safe and effective solution recommended by pediatricians nationwide
Contain ginger extract for flavor
Can be used on babies as young as a newborn
Contains no artificial coloring or any type of flavoring
Dropper included with the package is hard to read
Taste of the drops can be disliked
Babies all cry for a variety of reasons. In those first few months when you are getting to know your baby's screams and cry it can be hard to determine why they are upset. Often the screams and cries are from gas pains.
Read more
If your baby is pulling their legs up toward their tummy, crying when you are feeding them, has a hard belly, has their fists clenched, their face is red, or is spitting up more than usual they may have gas. Gas is caused by the two things; their immature digestive tract and air that they swallowed when eating or crying. One of the most difficult times during your baby's life is between the 4 to 12 week marks. This is when gas affects most babies the most. Gas Relief drops help ease the discomfort caused by the gas bubbles. Just a small dose will do the trick. It is safe and gentle enough to use on newborns and passes right through the digestive tract and is not absorbed into their system. If you have endless nights of crying these drops maybe your answer to a few hours a restful sleep.
Ingredients
Babies that have gas are no fun. The gas bubbles inside their digestive tract cause a lot of pain. These drops are safe and gentle and contain no artificial coloring or any type of flavoring. They are gluten, dairy, and soy free.
Effectiveness
The magic formula in these drops decreases the tension on the surface of the gas bubbles allowing them to be passed more easily. Helping them pass the gas may give them instant relief and also help them feel less bloated.
Ease of Use
When you have a screaming baby it is hard to tell what is wrong with them. These 'go to' gas drops are effective and safe, so we always start with them to see what the issue could be.
Value
The price per ounce of this gripe water falls into the middle price range for our list. The price point is affordable and you can rest easy that your baby's discomfort will be eased.
6

. Good Start Gerber Soothe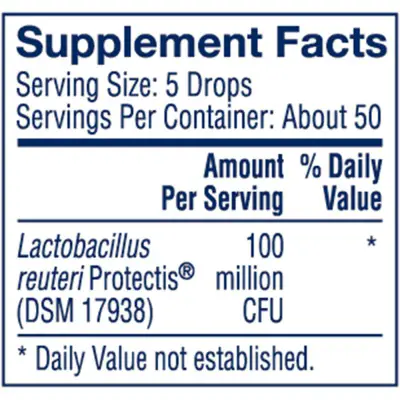 Clinically proven
Contains probiotics
Easy to dispense
Helps develop healthy gut bacteria
Doctor recommended
Expensive
Daily medicine
May take up to a week to get full results
Our number six pick is Gerber Soothe. These probiotic drops are clinically proven to ease your little one's digestive discomforts.
Read more
They are a daily use product that will work to maintain healthy gut bacteria in your baby. Parents and pediatricians highly recommend this product. It is known to change the demeanor of fussy babies.
Ingredients
The probiotics in these drops will work with your baby's natural gut bacteria and stomach acid to ease and gastrointestinal discomfort. If you have a colicky newborn these drops are the right choice for you!
Effectiveness
In right around a week most parents saw a significant difference in their baby's demeanor. These drops have helped to save the sanity of many a newborn parent. This is a great product to keep in your nursery for daily use.
Ease of Use
These drops have been clinically tested and proven to work at easing tummy discomfort associated with colic. Just give your little love bug five drops a day and keep the fussiness away!
Value
This product is at the tip-top of our price range for this list. It is a clinically proven formula that will give your little peanut relief from the ailments of baby tummy troubles and colic. Clinically proven relief and comfort for your little one are worth the cost.
7

. Boiron Cocyntal 30 Doses
Serile
Single-use vials
Benzocaine free
Preservative free
Easy to dispense
Easy to lose the individual vials in the bottom of the diaper bag
Cocyntal had nabbed our number seven spot. These drops do a fantastic job of relieving colic type symptoms in your little bundle of joy.
Read more
They will have your baby back to a happy disposition in no time. You will no longer have to fumble around with a medicine bottle in the dark! No more worrying if you correctly washed the medicine dropper or searching for one while your baby is crying. These drops are super convenient and very easy to use. Just twist off the top and squeeze slowly into your baby's mouth. These drops will be a sleep deprived parents best friend! Always remember to keep these drops available in your diaper bag.
Ingredients
These Cocyntal drops are fast acting, so your little one will settle down quickly. They come in single-use vials for ease of use. The ingredients don't include preservatives or benzocaine.
Effectiveness
The grab and go aspect of these drops will allow new parents to get out of the house and show their little one the world. You can go to a friend's house or visit family and not have to worry about a long screaming session from gas pains.
Ease of Use
The portability of these drops makes them a very convenient choice for families on the go. You will not have to worry about dispensing the correct amount of medicine during the late night crying sessions you are bound to endure.
Value
These drops fall into the higher price range for our list. The portability and ease of use make them well worth the extra cost. You can throw a few in your diaper bag and head off on an adventure with your baby and not worry about tummy issues or accidental medicine spills.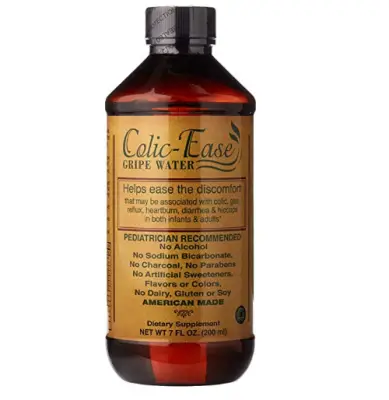 Contains five essential oils (not extracts)
Long shelf life
Fast acting
Good taste
Can be used by both infants and adults
Does not come with a dropper
Our number eight pick is Colic-Ease Gripe Water. This is a mom made a product that uses only herbal ingredients.
Read more
No extracts are used, it contains only full strength herbal oils to help soothe your baby's discomfort. These essential oils work together to help your child properly digest their food. It also has a few different active ingredients so if other gripe waters haven't worked for your baby try this one and hopefully you will get lasting relief. This product is great for a family with a history of allergies or a family this is trying to keep your baby on a natural whole foods diet to limit chemical exposure. It contains no chemical preservatives, only naturally derived ones. This means that your baby is getting top-notch ingredients when you use this product.
Ingredients
The main ingredients are essential oils, not essential oil extracts. The five essential oils are dill weed seed oil, caraway seed oil, cinnamon bark oil, clove bud oil, and cardamom seed oil. The product is dairy, gluten, and tree nut free.
Effectiveness
These drops are fast acting and long lasting. They will ease away your baby's pains and fussiness. They have been proven to help ease the symptoms commonly associated with irritation from colic when used in the proper combination.
Ease of Use
Your mind will be at peace knowing you are giving your baby a natural product to ease discomfort. You will want to keep several bottles of this product around the house. It has the longest shelf life of any grip water on our list.
Value
This product falls into the middle price point for our list. It is a fast-acting product that many parents swear by. You will not be disappointed to have this product available when your little one is having tummy troubles.
9

. Zarabee's Naturals 4 Ounce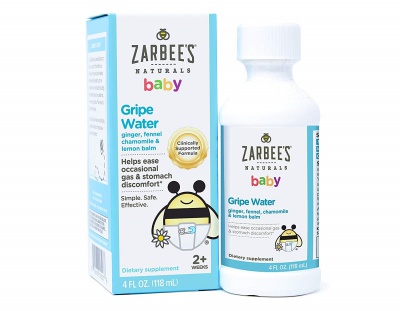 Created by a doctor
All natural
Mess-free dosing
Clinically supported
Fast acting
The brown liquid can stain clothing and linens
Our number nine product is Zarabee's Gripe Water. This product contains only the best ingredients for your baby and is free of unnecessary additives.
Read more
A doctor saw that the children's medicine market lacked safe natural alternatives that actually work well and took the time to create a large line of products specifically for babies and children. Zarabee's Gripe Water was intentionally created to offer parents a safe natural alternative for colic relief.
Ingredients
Most products on our list contain only ginger and fennel as the main ingredients. Zarabee's also includes chamomile to calm your baby and lemon balm to calm stomach acid. This product does not contain any dyes, parabens, alcohol, artificial flavors or gluten.
Effectiveness
It is safe for your little on to consume as early as two weeks old. It is doctor recommended and parent tested. You can trust Zarabee's Gripe Water to help your little one with tummy unease and colic distress.
Ease of Use
The all natural approach is nice. Our favorite thing about Zarabee's Gripe Water is that it comes with its own mess-free bottle adapter plug. You won't have to worry about spilling and making a sticky mess when administering this gripe water to your baby.
Value
This product falls into the lower end of pricing for this list. It is a great value because of the natural ingredients and the mess-free dosing. You will want to have a few of these around the house for when your little one is experiencing the symptoms of colic.
10

. Mommy's Bliss Flavorless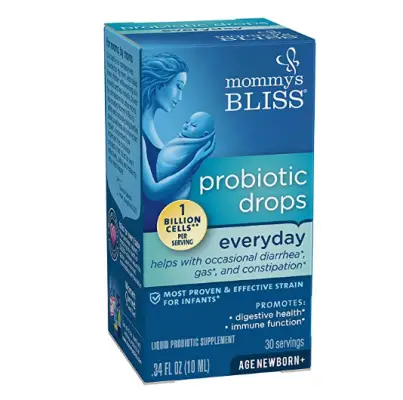 Liquid probiotic supplement for babies to prevent gas and bloating
Daily dose supplement
Contain live "good" bacteria in each dose
Recommended by pediatricians nationwide
Safe and effective supplement for newborns and up
Dispenser does not work well
Dispenser made from glass material
Taking probiotics on a regular basis is proven to be an effective way to maintain and support healthy immune functions within the body. The drops are not a way to bring instant relief to a baby that is fussy, but over time if the drops are given on a regular basis is a great way to prevent gas and bouts of bloating.
Read more
These drops contain live cultures that have been widely studied in the scientific world. They are safe and effective bacteria that is healthy. Helping little ones rebalance their immune and digestive tract helps set them up for a lifetime of good health while also helping to prevent a lot of sleepless nights when they are babies.
Ingredients
Each of the drops contains bacteria that help them build that natural immunity while also helping their tummies process the introduction of new foods, help prevent gas, and lessen bloating.
Effectiveness
This is a daily dose that is given to babies to help rebalance and rebuild the "friendly" bacteria in their digestive tract. It is not a supplement that provides an instant type of relief, rather it is meant to be given on a daily basis to help prevent the issues with gas and bloating to occur.
Ease of Use
Pretty easy to use and works well as a supplement to help prevent gas for the little ones. The drops have no smell or dyes which is nice in a world filled with flavored and colored medicines.
Value
It is a fantastic buy because you are getting organic herbal extracts that are formulated by a certified herbalist. You know that your baby deserves the best, and this is one of the best. Buy one today!
Criteria Used for Evaluation
Ingredients
We are well aware that babies are very gentle and sensitive so they should be provided with the most natural and organic supplements and pain relievers. After these are the crucial months of their development and they should be nurtured properly and effectively. We want your baby to be safe and healthy just like you. The medicines on this list all have natural main ingredients, meaning that you can find them in nature. Parents now know that specially formulated natural gripe water is best for their baby's health and well-being. We want parents to trust our choices so we made sure that all of the gripe water that has made our list follows the rule of having natural ingredients.

Effectiveness
Fast acting gripe water is key when trying to help your colicky little peanut. No one wants their baby to be uncomfortable for any longer than necessary. It is important that medicine that you give to your baby work in a timely manner so you can relieve your little one's discomfort. Each medicine on our list is known to be fast acting, except for the Gerber Soothe drops. The Gerber Soothe drops are a daily use medicine that can take up to a week to reach its full effectiveness. Once the full effectiveness is reached this product will continue working for as long as you use it daily. The other gripe water we evaluated can take effect immediately or they may take up to thirty minutes to relieve your baby's fussiness. This is not a long time when you consider that a colicky baby has been known to cry in stretches of over two hours daily.
Ease of Use
When you have a screaming infant you are often distracted and rushed. It can be quite exhausting to look at the product container each time when you get up in the middle of the night to calm down your little one and relieve his pain. Some of us are single parents so every additional help is welcomed. That is why it is so important to have a container of gripe water that is easy to open and dispense. All of the bottles have dosing information right on the label. You can choose to place the formulas into your baby's regular bottle or use a medicine dispenser of your choice. We have even found gripe water that comes in packets that are premeasured for super easy use. Easy to use products are very important when you are a sleep-deprived parent dealing with your screaming infant.
Value
These products are meant for the most sensitive members of the family, therefore, they have to be safe, tested and made by responsible brands. When purchasing pain relievers for the little one you want to get the best one out there, made out of organic and high-quality materials. However, being a parent of a newborn also means that your budget is already tight by investing in so many baby products so price comparison is equally important. We wanted to make sure that you will be getting a product of value for the price that you'll be paying. Although we haven't put the actual number on our website, since manufacturers can often change their prices, we have provided you the links for the products so you can check them out by yourself and decide which one in the most convenient for bank account status.
Most Important Criteria
(According to our experts opinion)
Experts Opinion
Editors Opinion
Users Opinion
By Default

Parents, Did You Know?
Gripe water dates back from the 1850s when moms and nannies in England used to give their children the original gripe water which contained alcohol since people thought it calmed the babies and relieved their pain. Luckily, we are now well aware that giving alcohol to babies is, in fact, toxic for their metabolism, so the gripe water formulas are made of natural ingredients such as dill, fennel, licorice, and ginger.
Parents, Did You Know?
While the gripe water made with sucrose will soothe your crying infant with its sweet taste, you should avoid using it frequently since you don't want your baby to get used to being calmed down with sugar. Even though it is not dangerous, there are still better options out there, so make sure you read the ingredients before buying the product in order to provide your little one with the safest alternative.
Other Factors to Consider
Safety
Alternative medicine is known to be a more natural solution when It comes to healing your body however many parents may be concerned when purchasing a homeopathic pain reliever since not all of them have been tested by the FDA. This doesn't mean that the product isn't safe. In fact, each gripe water has been made of organic and natural ingredients that come directly from nature and provide many calming benefits for your little one. While we do not claim that alternative medicine or homeopathic remedies are always the solutions when it comes to pain relievers, organic gripe water products that are safe and effective are indeed a healthy solution for comforting your baby during its struggles.
Approved by Pediatricians
When purchasing baby medicine, It is important to break down into specific detailing all the accurate information about the ingredients, the packaging and the overall effects it has on the baby's development. While we strongly recommend you read the instruction that comes with it and follow the guidelines precisely for responsible usage of the product, we also wanted to make sure that you have an accurate picture of the item before you decide to purchase it. We made sure the gripe waters on our list are properly reviewed and analyzing before putting them on our website for your shopping pleasure. We hope you can find the perfect product for your child and have peace of mind during the first months of the baby's arrival.
Frequently Asked Questions
q:

What is colic?

a:

Colic is when otherwise healthy babies cry for seemingly unknown reasons. Babies with colicky behavior will cry for hours with no end in sight. They are otherwise well and comfortable. This can be extremely difficult for parents, especially if this is your first child. Pediatricians do not agree about what exactly causes colic. Something that crying actually causes gas issues because your baby is swallowing air. Other doctors think it is just an adjustment period to life outside of mom. Babies are difficult to study because they grow so fast and cannot tell us what is wrong.
q:

Is homeopathic medicine safe?

a:

Homeopathic medicine refers to medicine that is derived from all natural materials. Several of the gripe waters on our list are considered homeopathic remedies. Homeopathic medicines are not evaluated by the FDA and therefore do not have to follow the FDA's strict quality control standards. All of the homeopathic companies that make the gripe waters featured on our list have their own quality control standards in place. These companies are working hard to bring you safe ingredients from a safe environment. You can feel safe giving your baby the homeopathic gripe waters on our list. Be advised that this is not an endorsement for all homeopathic medicines or remedies. It is always best to use your personal judgment in regards to giving your infant anything to ingest.
q:

Do I have to use the dispenser that is provided?

a:

Most of the medicines on our list come with a convenient dropper for dispensing the liquid. You do not have to use the provided dropper. There are many commercially available medicine dispensers for infants. You may choose to use one of those when medicating your child. The most important part of dispensing any medication is to make sure that you are giving your baby the correct dose. Make sure that your dispenser has the correct measurements and that you can get the medicine out of the bottle without spilling. Your preferred medicine dispenser should work perfectly with these gripe waters.
q:

Can I mix this medicine in my baby's bottle with formula or breast milk?
q:

What if the gripe water doesn't work?

a:

If you give your baby the proper dose of gripe water wait fifteen to thirty minutes before determining if it is working. The Gerber Soothe product can take up to one week to work at its full potential. If you have waited and your baby is still very fussy it could be something other than tummy issues bothering them. Check their temperature and make sure they are comfortable. Get the baby a clean diaper. If this is a lasting issue and you feel like it could be more than minor tummy troubles or typical colic symptoms visit your doctor.
q:

What should I do if my baby's crying is overwhelming?

a:

If your baby is crying incessantly and you are not coping well with the situation try using the five S's to help calm your little one. The first S is swaddling, to swaddle a baby is to wrap a blanket around them in a special way to help mimic the womb. If you do not know how to swaddle check out some videos online. Swing is another one of the S's, you can use a baby swing or you can swing baby gently while in your arms. It is not recommended to place the baby in a swing while swaddled, the baby must be properly restrained in the swing by using the provided seat buckles. Shushing is done by holding a baby near to your face and making gentle shhh sounds. THe shhh sounds mimic the wounds of the womb and help to comfort baby. Also, try laying baby on their side or stomach to help ease discomfort. If you lay baby down on their side or stomach you should stay with them and check on them frequently. Sucking is extremely helpful you can give your baby a pacifier, a bottle, or breastfeed them.