10 Best Baby Bottles Reviewed in 2019
last updated
Jul 15, 2019
Glass, silicone, plastic, wide-necked, anti-colic; there are dozens of things to consider when deciding on the best baby bottles for your family. Glass bottles are the heaviest, don't show wear and tear quickly, are easiest to clean, and aren't in danger of lingering chemicals. Silicone is likewise free from chemicals, but lighter then glass options. Plastic is the most cost-effective, but the least "safe". After you've considered materials, you have to consider things like built-in ventilation systems, the shape of the nipple, and the flow and speed (always best to start slow if your little one is new to bottle-feeding).
Luckily, we've taken the guess work out of it for you and compiled this list of our 10 favorite baby bottles, each backed by ample users and raving reviews. Happy Feeding!
In a Hurry? The test winner after 42 hrs of research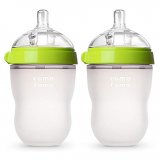 Comotomo Green 8 Ounce
Why is it better?
Dual Air Vents
Easy to Clean
Microwave Safe
Easy for little hands to grip
In a
Hurry? Editors choice: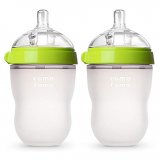 Test Winner: Comotomo Green 8 Ounce
32
Researched Sources
42
Hours Researching
15
Products Evaluated
Safety
Ease of Use
Design
By Default
10 Best Baby Bottles Reviewed
1

. Comotomo Green 8 Ounce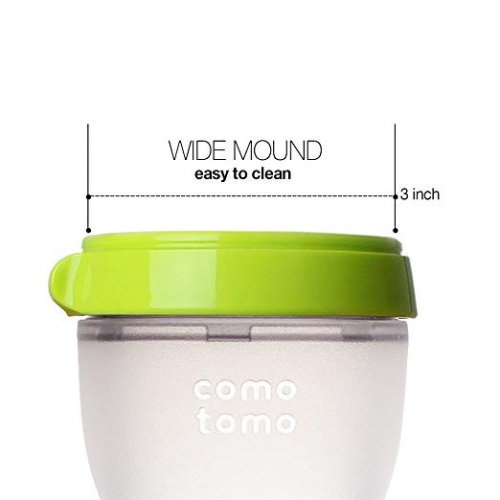 Dual Air Vents
Easy to Clean
Microwave Safe
Easy for little hands to grip
Lids can be a little difficult to screw on and off
The Comotomo design makes life easier for both you and your baby. The top is shaped to closely mimic the look and feel of a breast, thus reducing bottle rejection and nipple confusion. Wide-necked, it's easy to clean, even sans fancy kitchen scrubbing brushes. It withstands microwaves, dishwashers, sterilizers, and the traditional boiling water method. It's available in green or pink, with five- and eight-ounce designs.
Read more
Safety
The Comotomo Baby Bottle is a set of two BPA free bottles. The top is a wide mound which makes it easier for the baby to transition from breast to mound. The wide design of the bottle makes it easy to clean. Along with being BPA free, these bottles are free from PVC and phthalate.
Ease of Use
They're microwave safe and can withstand boiling water, which makes feeding time worry-free. The lid of the bottle is equipped with dual vents which reduces colic, spit-up, and gas. The soft silicone body is easy for little hands to grip. Also, the silicone prevents odors. The lid screws on tightly guareenting no leaks.
Design
The silicone nipple can be suitable for newborns and babies up to six months old as the number of holes on the nipple change. Newborns and children up to three months will benefit from the slow flow nipple. The one hole will help develop your child's suckling. The medium flow nipple has two holes and is geared towards children who are three to five months old. Children who are six months and over will use the fast flow nipple with three holes. You can choose between green or pink colored lids and five or eight-ounce bottles.
2

. Lansinoh mOmma NaturalWave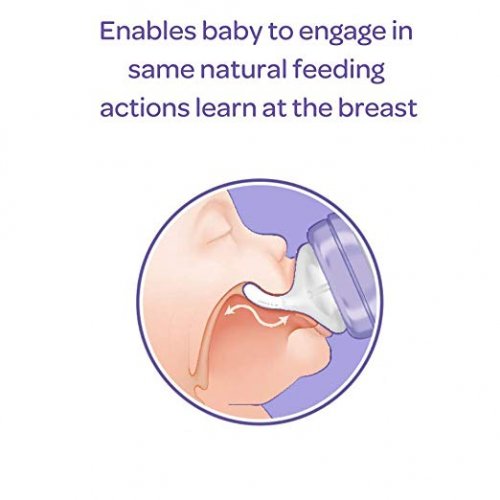 Affordable
Comes in a set of 3 bottles
Easy to clean
BPA free
Flow can be seen as to fast.
Being that these bottles were designed for breastfeeding babies, we love how easy the natural wave nipple makes the transition. The built in air vents are a huge plus as they require no extra parts and reduce colic.
Read more
Safety
All Lansinoh bottles are BPA and BPS free. The company is responsible for 35 years of safe, quality products and their bottles are designed with 50 years of research in mind.
Ease of Use
These bottles come in a set of three, which make it convenient for you while your breastfeeding. You can use one bottle to pump milk, one to store milk, and one to feed your baby. These bottles are equipped with a great air ventilation system. It requires no extra parts and reduces colic. The matte finish of the nipple will guarantee a secure latch for your baby.
Design
These bottles come in a set of three, which make it convenient for you while your breastfeeding. You can use one bottle to pump milk, one to store milk, and one to feed your baby. Designed specifically for breastfeeding babies, you can choose between two sizes to best suit your little one. Five and eight-ounce bottles are available to choose from.
3

. Dr. Brown's Original Wide-Neck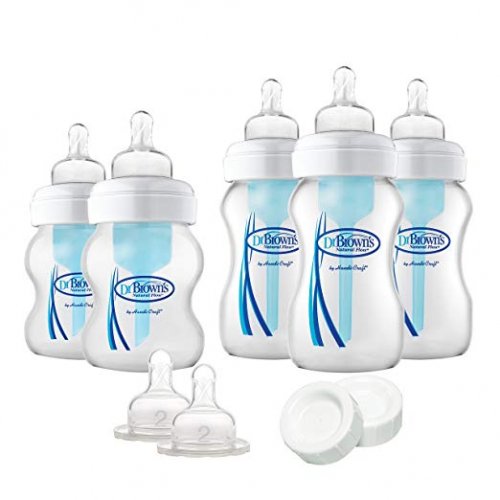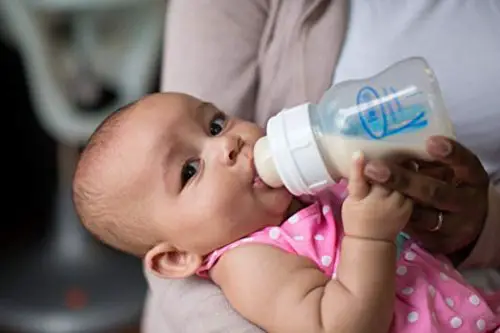 An internal vent system.
Comes with multiple bottles and nipples
Reduces Colic
Nipple won't collapse
The many pieces can be viewed as too much of a hassle.
Dr. Brown's Natural Bottles preserve the nutrients in your baby's milk and make digestion smooth and easy. A vacuum free feeding design helps to reduce common tummy issues such as burping, gas, spit-up, and colic. The bottle is microwave safe and the vented system works to control liquid flow so baby can eat at their own pace.
Read more
Safety
Dr. Brown's Natural Bottles are free of BPA, PVC, phthalates, and lead. The silicone nipple is soft but durable and the set comes with a scrubbing brush to help you get all the nooks and crannies and keep bacteria from hiding out in your baby's bottle.
Ease of Use
Dr. Brown's original feeding set has everything you need to start feeding your baby. This set includes three eight ounce bottles and two four ounce bottles. Five level one silicone nipples and two level two silicone nipples are also included.
Design
This bottle has something no other bottle does, an internal vent system. Similar to breastfeeding the vent system allows babies to drink milk at their own pace. It helps preserve nutrients and vitamins while the baby feeds. The nipple won't collapse because as the baby sucks to retrieve the milk, air flows to other ends of the bottle.
4

. Tommee Tippee Closer to Nature
Measurements on bottle
Bottles come in different colors.
Microwave & Dishwasher safe
Easy to Clean
Nipples may discolor & bottle may cloud after being in the dishwasher
Tommee Tippee's Closer to Natura Fiesta Fun bottle set is a great way to pep up the boring ol' baby-ware. These cups come in six different colors with smooth, silicone slow-flow nipples to mimic the feel of skin and help control the pace at which baby feeds. A venting valve reduces air intake and, by proxy, discomfort in sensitive little stomachs.
Read more
Safety
Feeding time is doubling as party time with the Tommee Tippee Fiesta Bottles. These award-winning BPA free bottles come in a package of 6 and are offered in a variety of colors.
Ease of Use
The bottles are 9 ounces and include the measurements on the outside of the bottle. They are microwave and dishwasher safe. The hygiene seal cap eliminates leaks and germs from entering the bottle. The slow flow nipple is partnered with a vent valve to eliminate excessive air. With less air coming into the bottle, your little one can ingest more milk
Design
The shape of the bottle allows parents to hold it in three different ways. You can cradle the bottle in your hand, grip it the old fashioned way, or even hold it from the base. The variety of ways the bottle can be held to allow the baby to feed in a comfortable and natural position. The colors of the bottles will help stimulate your child's sensory development. The nipple is made of soft silicone and gently flexes during feeding, thus allowing the baby to latch on easily. The skin-like nipple also eases the transition from breast to bottle.
5

. Medela Set with Wide Base & Collars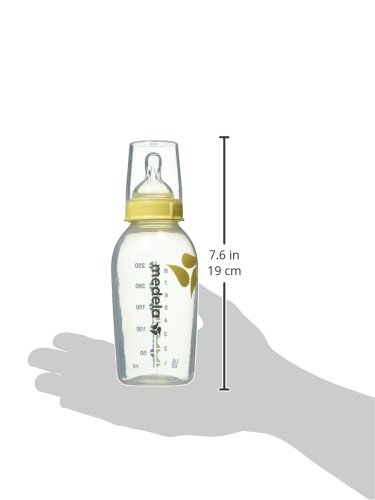 Comes with a travel cap
Can store breast milk safely for long periods
Easy to read measurement markings
Compatible with a breast pump
Looking for a bottle backed by science? Medela is the #1 Physician Recommended Breastmilk Storage Product in the United States. This set comes with storage lids as well as silicone nipples and accompanying plastic tops to make sure there's never any wasted milk due to leaks or spills. Each set of three is dishwasher and microwave safe and all products are compatible with other Medela bottle accessories such as the breast pumps and Quick Clean Microsteam Bags.
Read more
Safety
The bottles are made of plastic and are BPA free. The screw on lids and travel caps enhance their portability. With only four pieces, the bottles can easily be thrown into the dishwasher to be cleaned.
Ease of Use
Calling all breastfeeding moms! The Medela Breastmilk Bottle Set makes pumping and storing easy and worry-free. The design of the bottle allows you to store breast milk safely without losing any of the vitamins or nutrients. These bottles are compatible with the Medela Breast pump. If you have one, you're able to pump, store, and feed using one container.
Design
This set includes three 8 ounce bottles and lids, three medium flow nipples, and three travel caps. These bottles are also available in a five-ounce set. The colorful measurement marks on the bottle make measuring super easy.
6

. Philips Avent Natural Starter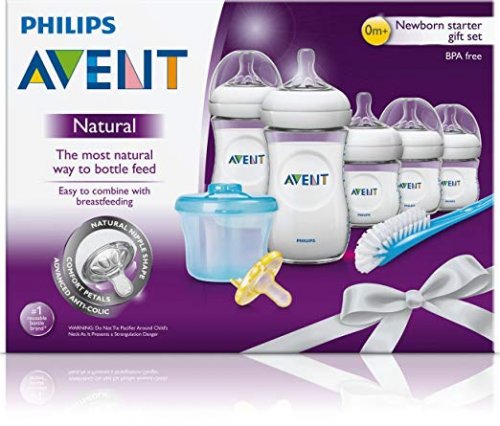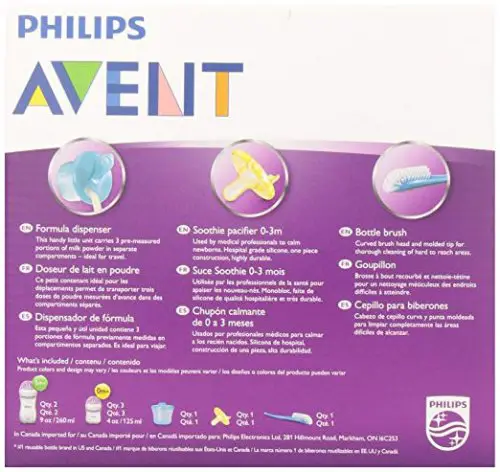 Brush design
Comfort petals
Formula Dispenser and pacifier included.
Vent system reduces colic
May have to adjust the position of the bottle to ensure the baby gets every last drop of milk
Phiips Avent Natural Bottles top the list of many parents. Each polypropylene bottle's design features a wide neck for easy cleaning as well as a flexible silicone nipple for easy latching. An anti-colic valve alleviates discomfort and a variety of nipple sizes allows you to choose the flow-rate that is most appropriate for your baby. Philips Avent has a whole line of products for feeding babies and toddlers and most of the parts are compatible so you can mix and match as your family grows without having to constantly buy new age-appropriate products.
Read more
Safety
The pacifiers are made of silicone and have been used by medical professionals. The brush is designed with a curved head and molded tip that allow it to get in tough to reach places while cleaning. The lids are made with air vents to help reduce colic.
Ease of Use
If you're a brand new mom the Philips Avent Natural Baby Bottle starter set is perfect for you. The set includes a total of five bottles; two 9 ounce bottles with slow flow nipples and three 4 ounce bottles with natural newborn nipples. All of the bottles are BPA free as they are made from polypropylene
Design
A formula dispenser, pacifier, and cleaning brush are also included. The formula dispenser is designed to hold three pre-measured portions of milk powder. The inside of the nipple has comfort petals that encourage the transition from breast to bottle. The petals also enhance softness and flexibility but will not collapse.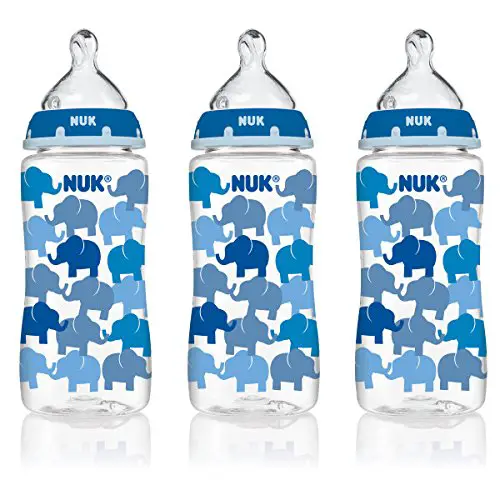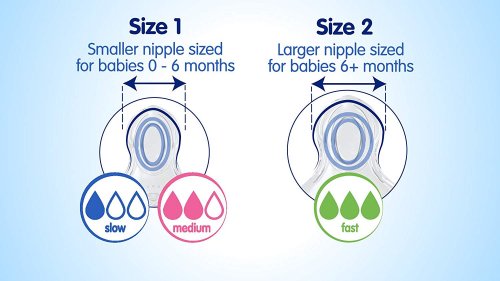 Anti-Colic Air System
Easy to clean and dishwasher-safe
Cute elephant design
Comes in packs of three
Soft, perfect fit nipple in two sizes and three flow speeds
People who aren't used to the bottle may not know which way to position it and give the baby an upset stomach; always provide clear instructions if a friend or family member is doing the feeding for you
This set of three is adorable, sustainable, and even fussy babies seem to like them. The bottle tops are soft and satiny and shaped to feel like a real nipple, and the one-piece ventilation system is easy to clean while also being highly effective.
Read more
Safety
These bottles come in a three-pack, are covered in a cute little blue elephant design and are BPA-free. The nipples are leak-proof thanks to their sealing hood. Simply position the Anti-Colic Air System is carefully under the baby's nose, with the drinking hole facing up, and let the baby have at it.
Ease of Use
NUK's Perfect Fit Nipple is the same shape as mom's, providing a smooth and seamless transition for babies from breast to bottle. The single-piece Anti-Colic Air System is built into the nipple itself and helps to reduce the risk of colic, spit-up, and gassy tummies. There are no extra parts to clean, and the bottle's set is wide enough that cleaning by hand is a cinch, but not necessary--the whole system is dishwasher safe.
Design
The silicone nipples are available in two sizes and three flow speeds and come in a soft, satiny finish that babies will love. In the first six months, stick with Size 1 in the slow or medium flow. When the baby is ready (around the six-month mark, usually), switch over to Size 2, which is a larger nipple with a faster flow. These bottles are shaped just like mom's breast, with satiny bottle tops in two sizes and three flows, so your baby can feed at exactly at their own pace. The anti-colic ventilating system will help keep tummies happy and appetites healthy!
8

. Evenflo Classic Glass Twist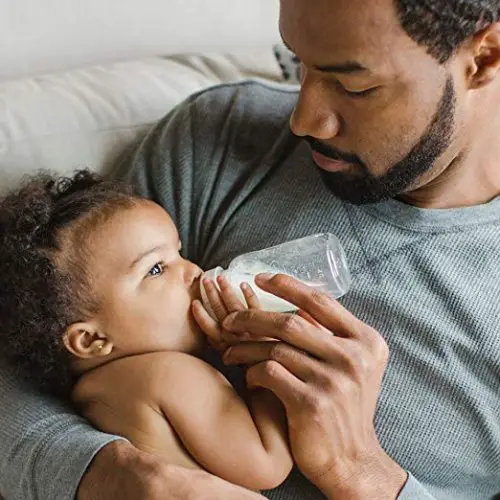 Long lasting
Doesn't contain chemicals
Eliminates residual tastes & odors.
Affordable
Will easily break if dropped
Maybe you need something a little bit slimmer and taller for Diaper Bag Tetris purposes? Evenflo's Feeding Classic Glass Twist Bottles come in a set of six, with four-ounce and eight-ounce capacity options. The glass is recyclable, sustainable, and more eco-friendly than many plastic counterparts. The ergonomic shape is easy for mom to hold and each bottle is marked with measurements to help take the estimation out of eating. The soft silicone nipples feature micro air vents to guard against colic and fussy stomachs.
Read more
Safety
Glass won't degrade over time, thus ensuring a long lasting life for these bottles. Glass is easy to clean, and it is easy to tell when it is truly clean. The material is safe as it does not include chemicals. Furthermore, glass cannot be affected by what is held inside the bottle. No residual tastes or odors.
Ease of Use
Evenflo has produced a glass bottle with a twist on the classic slim shape. The twist in the shape makes the bottle fit comfortably to the hand. The nipple is made of silicone and includes micro air vents. The vents will reduce gas and keep the nipple from collapsing.
Design
These bottles are dishwasher safe and can be thoroughly sanitized. The six-pack of bottles includes measurement markings. When purchasing you can choose between a pack of 4-ounce or 8-ounce bottles.
9

. Playtex Drop-Ins Disposable Liners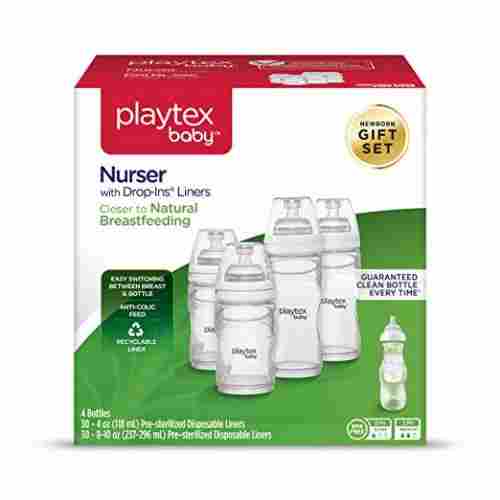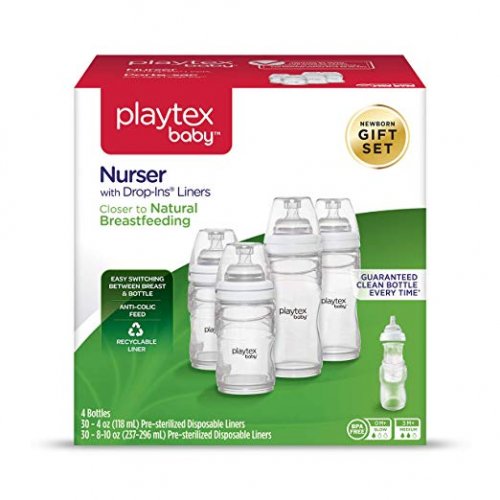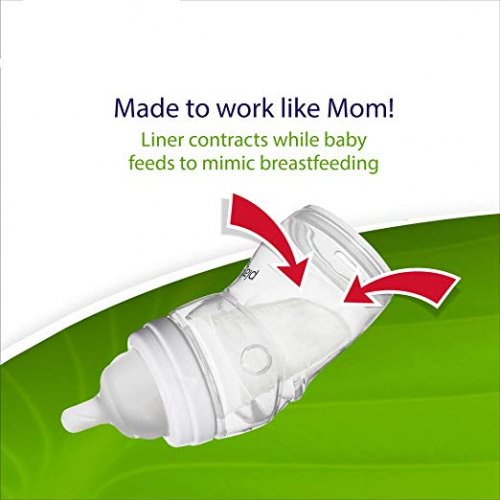 Angled Design
Easy assembly & disassembly
Bottom vent
Raised textured nipple, wide mound shape
Does not include a 4 oz bottle for younger babies
The Playtex Baby Nurser Bottles come with 15 recyclable, disposable liners. These liners live inside the bottle during feeding time and gentle contract to mimic the sensation of breastfeeding and also to fight air bubbles and reduce the risk of colic. The liners are also pre-sterilized to take some of the hassle of bottle maintenance away. Each set also includes three bottles equipped for easy, one-handed assembly.
Read more
Safety
The bottles include measurement markings and are composed of BPA free plastic. The Angled design of the bottle makes baby feed in a semi-upright position to prevent ear infections.
Ease of Use
The top and bottom of the bottle can easily be removed, which makes cleaning extremely easy. Inside the bottle on the bottom, there is a vent that will keep air from getting into your child's stomach. The raised texture and wide shape of the naturalatch nipple make the transition to the bottle much more smooth.
Design
The Playtex Baby Bottle set is not only great for your baby but it'll be a great baby shower gift. The set includes 5 wide bottles, three 6 ounce bottles and two 9 ounce bottles. Slow and fast nipples, bottle caps, and extra vent disks are also included.
10

. Tinukim Hands Free Anti-Colic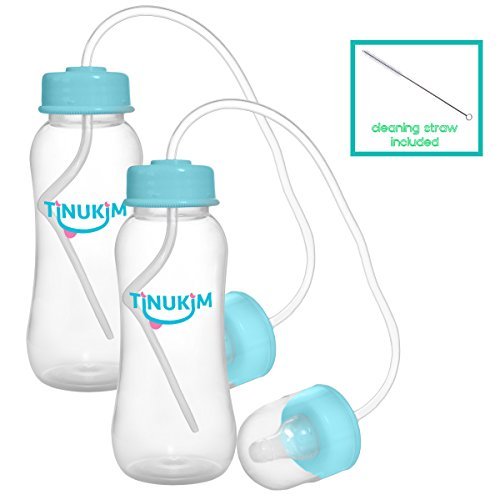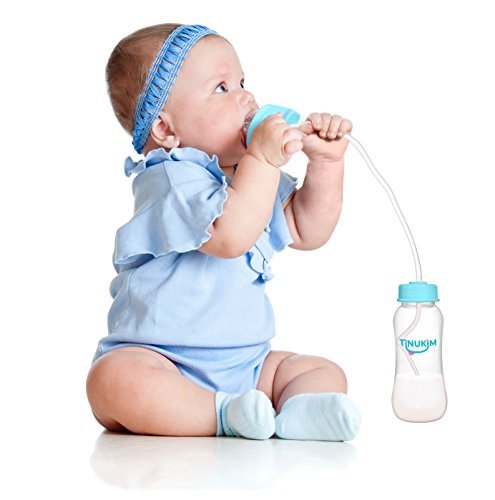 Removable handles
Available in two colors
Hands-Free System
Measurement Markings
Some may find it hard keeping up with all of the pieces
The Tinukim Hands-Free Baby Bottle is a unique design. The hands-free system involves a tube that connects the upright bottle to the silicone nipple, giving you a little more freedom while you keep an eye on baby at mealtime. These bottles have controlled air flow and removable handles for when your little one is old enough to hold the bottle themselves!
Read more
Safety
These bottles promote motor skills as they are equipped with removable handles that encourage your baby to feed themselves. They are completely safe as they are free from all chemicals. They can withstand the microwave, boiling water, and freezer.
Ease of Use
We know being a parent can be extremely busy! Tinukim thought of a way to make feeding a little easier with their hands-free bottle! If you're feeding twins or trying to feed the baby on the go this bottle will help you tremendously. The wide neck bottle comes with a cap, nipple, and straw. A straw runs through the bottle and has the nipple attached to the end. You can easily remove the straw and attach the nipple directly on the bottle if you choose
Design
This set of two is available in pink or blue and 4 or 9 ounces. Measurement markings are included on the bottle for both ounces and milliliters. These bottles are great for babies who are three months or older. They are leak free and will reduce gas as they have double vented nipple.
Criteria Used for Evaluation
Safety
Safety is always our top priority. When making this list, we made sure all of the bottles were free of chemicals. One of the top chemicals we watched out for was Bisphenol A, commonly known as BPA. Typically, this chemical is used in plastics to keep bacteria out. However, recent studies have linked the chemical to cancer.
Ease of Use
The transition from breast to bottle was another extremely important factor we took into consideration when composing this list. We know the transition may be difficult for your baby, so we wanted to provide you with plenty of options to help make it easier. Bottle-feeding will help give mom a break as well as allow the baby to bond with the father or another caregiver. It is also extremely convenient when you are on the go or in a place where you cannot breastfeed.
Design
Consider the weight, price, and sustainability of your bottles. You're going to be using these frequently to feed your infant, so you want something that will work with your lifestyle. Glass bottles are the heaviest, but don't show wear and tear quickly, are the easiest to clean, and aren't in danger of lingering chemicals. Silicone is likewise free from chemicals, but lighter than the glass options. And plastic is the most cost-effective of the three. To reduce colic and gassy babies, look for bottles with built-in ventilation systems. But removable ventilating systems tend to have multiple parts you'll have to dismantle and individually clean.
Most Important Criteria
(According to our experts opinion)
Experts Opinion
Editors Opinion
Users Opinion
By Default

Parents, did you know?
The importance of baby bottles is no mystery. They're a tool to help feed your baby and they're portable. When we undertook this research, we took a lot of factors into consideration. Most importantly, we wanted you to have a bottle that is free from harmful chemicals, will make the transition from breast to bottle easier and will help reduce colic.
Parents, did you know?
Start with a slow-flow nipple. Medium- or fast-paced nipples may cause your baby to gag as they are taking in too much milk at one time. Bottles with wide mound-shaped lids mimic a breast and help ease the transition. Many mothers put a small drop of breastmilk on the bottle's nipple to encourage the baby to suck more after tasting that first drop. For some, this may be a difficult and frustrating process. Be patient, take it slow and enjoy the journey with your baby.
Parents, did you know?
Colic is defined as severe, sometimes fluctuating pain in the abdomen caused by intestinal gas. Babies especially are prone to this. Symptoms of colic include long bouts of intense crying, persistent fussiness even after the episodes of crying are finished, and bodily tension such as in the arms or legs.
Parents, did you know?
Undeveloped digestive systems are still very sensitive, and overfeeding, underfeeding, or infrequent burping can all cause a flare-up of colic. Babies aren't in any real danger of lasting damage, but it's hard to see them in so much discomfort all the same, and if you can avoid it, why not take the extra steps and precautions?
Parents, did you know?
Anti-colic bottles offer ventilation systems built into the bottles, to ensure that the baby gets the smoothest, healthiest meals possible by reducing air bubbles. Happy tummies mean happy babies, mean happy parents!
Other Factors to Consider
Materials
If you already have a bottle that contains BPA, we recommend discarding it, especially if it has turned cloudy or worn down. Choosing a bottle from our list will allow you to rest easy as all of the plastic bottles are BPA-free. Of course, you can't go wrong with our glass or silicone options as those are chemical-free as well.
Age Range
The slow-flow nipples are geared towards newborns to 3 months. The medium-flow nipples are for babies between 3 and 6 months. The fast-flow nipples are for babies 6 months and older.
Frequently Asked Questions
q:

My baby is having a hard time transitioning from breast to bottle. What can I do to ease the transition?

a:

We recommend using a breast-like a nipple to help ease the transition. Breast-like nipples are wider and mound shaped. Not only are they easy to clean but their shape mimics a breast. Some nipples are textured to make it even easier for the baby.
q:

Am I required to heat the bottle up first?
q:

How many bottles should I own?

a:

We recommend owning four to 12 bottles as parenting can keep you busy.
q:

What size bottle do I need?

a:

We recommend starting off with a 4-ounce bottle. Once your baby outgrows that bottle, 8 ounces are generally next in line.
q:

What level nipple should I use?

a:

You should start out with the lowest flow, as it will give the baby control. With the baby in control, it reduces the risk of a dribble and upsetting their stomach. As your baby gets older, they can move on to medium or fast flow.
q:

Does the bottle I purchase need to have measurement markings?

a:

Measurement markings are not a necessity. However, they serve to be very beneficial as they eliminate the extra step of portioning everything out.
q:

I want to breastfeed and use bottles. When do I start my child on bottles?

a:

Try allowing your baby to get the hang of breastfeeding first. We recommend introducing your child to the bottle around week four and no later than week six.