10 Best Breast Pumps for Mums in 2019
last updated
Mar 10, 2019
If you are considering or already breastfeeding then you have probably thought about the idea of a breast pump. It is a great way to be able to give your family members a chance to feed the baby and also get some of that great bonding time. Plus, let's face it. It would be nice to take a warm shower and relax. They also help regulate supply, give you an opportunity to stock up on some milk for other times, and give your body a break. It can seem scary, but pumping breastmilk is pretty easy these days. There are great pumps on the market that make it really simple. We have created this list of Best Breast Pumps to break down the features and making it easier for you.
In a Hurry? The test winner after 145 hrs of research
Lansinoh Signature Pro Double Electric
Why is it better?
BPA & BPS Free
Soft-rimmed for comfort
Easily transportable and fits in a diaper bag
Closed system means no bacteria and mold build up
Two pumps included that can work simultaneously and pump straight into compatible bags
In a
Hurry? Editors choice:
Test Winner: Lansinoh Signature Pro Double Electric
24
Researched Sources
1475
Reviews Considered
145
Hours Researching
10
Products Evaluated
Design
Ease of Use
Effectiveness
By Default
In depth review top 10
Lansinoh Signature Pro Double Electric
NatureBond Silicone Manual Air-Tight
Spectra Baby USA S2 Plus Premier
Medela Harmony Manual 2-Phase Expression
Bellababy Double Electric Strong Suction
Medela Advanced 2-Phase Expression
Haakaa Suction Base 100% Food Grade
Philips Avent Manual Comfort
Spectra Baby S1 Plus Premier Rechargeable
Lansinoh Stimulation and Expression Modes
Table of contents
Criteria Used for Evaluation
Other Factors to Consider
Frequently Asked Questions
Sources
10 Best Breast Pumps Reviewed
1

. Lansinoh Signature Pro Double Electric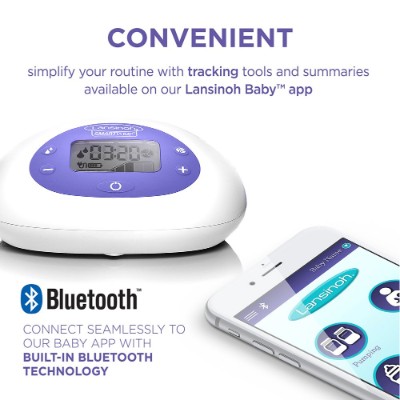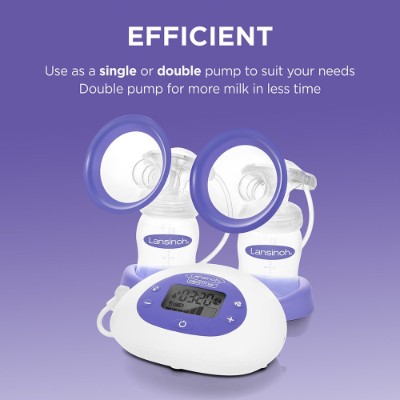 BPA & BPS Free
Soft-rimmed for comfort
Easily transportable and fits in a diaper bag
Closed system means no bacteria and mold build up
Two pumps included that can work simultaneously and pump straight into compatible bags
Short battery life; you'll have to replace often or get rechargeable batteries
The Lansinoh Signature Electric Portable Pump comes equipped with three pumping styles, eight suction levels, and two pumps. Pump one at a time, or both at once, directly into Lansinoh milk bags, and put them in the fridge for later.
Read more
Design
The pump features a hygienic closed system that prevents backups in the tubing and motor, so no bacteria or mold will buildup and slip into baby's meal. The cups have soft rims for comfortable and easy pumping and fits easily into a diaper bag. It's compatible with breast pump bras. Given that the company was started by a nursing mother, it's no surprise that Lansinoh knows just what you need.
Ease of Use
A mother's milk helps to ensure children grow up with decreased risks of diseases and disabilities, while also recalibrating the mother's body back to pre-pregnancy stasis. This double electric pump makes it easy to store and save milk for little ones so you don't have to stop what you're doing every time they get hungry.
Effectiveness
Lansinoh has been in business for more than 30 years and is one of the most trusted companies on the market when it comes to baby products and products for mothers. Given that the company was founded by a new mother, its focus really is on providing for parents and their precious little ones.
2

. NatureBond Silicone Manual Air-Tight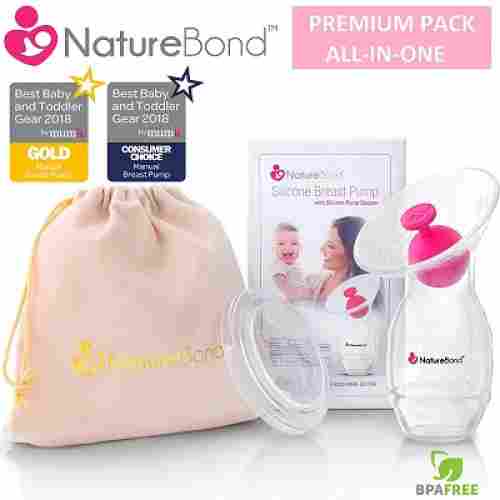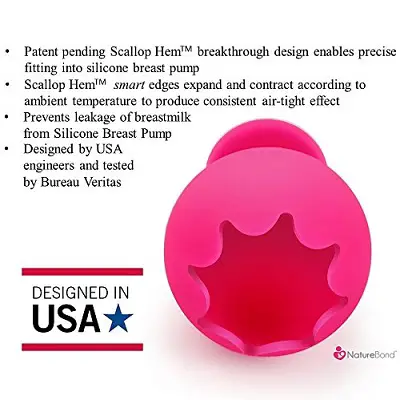 Lightweight
Completely safe and tested by several sources
Easy to pump
Made of quality silicone
It comes with a stopper
The suction is not as strong as other pumps
Sometimes, on-the-go is one of the things you have to look for when searching for the right breast pump. Just because you're breastfeeding doesn't mean you never leave the house, and a manual pump has the advantage of being travel-friendly. In particular, the NatureBond Silicone Breast Pump makes it incredibly easy to whip out and pump while you're out somewhere, whether it's a friend's house, family gathering, road trip, etc. It's in full compliance with FDA standards and completely safe in every way for you and your baby and lab-tested by scientists and real nurses.
Read more
Design
The pump itself is entirely lightweight which leaves you free-handed to breastfeed your baby without wasting any potential leakage. Not only can you use this pump to store excess breast milk, but as of February 2018, NatureBond began including and complementary silicone stopper with all purchases. It's soft, comfortable, and convenient -- For the price, you're getting so much more than just an ordinary breast pump, you're getting a product made by people who truly care.
Ease of Use
The best feature of this manual pump is how lightweight and durable it is. It's made from top-quality silicone that's been repeatedly tested for quality, and since it's so lightweight, it's easy to travel with and throw in a diaper bag as well as pump during breastfeeding.
Effectiveness
The ease of use with this breast pump is what caught our attention and it's something that most moms look for as well. Manual pumping can often be a bit of an inconvenience compared to automatic pumps, but this one holds its own as far as expressing milk and storing it.
3

. Spectra Baby USA S2 Plus Premier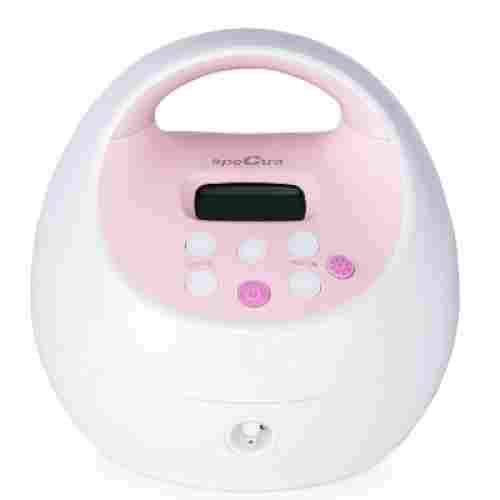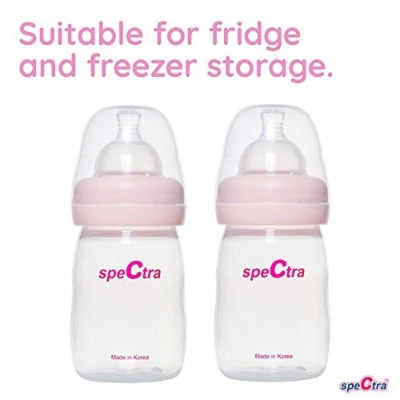 Contains a backflow filter that protects the integrity of expressed milk
The product includes 2 bottles, 2 breast shields, and 2 suction tubes
Flanges have a silicone insert
Convenient for working moms who need to pump multiple times during the workday
Registered nurse owned and operated the company
Bottles have a hard time staying attached
The charger can malfunction in some models
One of the most talked about nursing devices in internet forums is the Spectra S2. This hospital-grade breast pump provides the power that modern moms need to supply their babies with only the highest quality of expressed breast milk but at a fraction of the cost of real hospital-grade equipment. It was primarily designed to rival the Symphony from Medela but does so well in even surpassing it in some areas. The Spectra S2 is a truly closed system helping ensure that the expressed breast milk will not get contaminated by the moving parts of the machine. To accomplish this, there is a physical barrier that prevents the breastmilk from ever getting in contact with other surfaces so you can be sure that the breastmilk you are giving your baby is the same breast milk that was expressed from your mammary glands, no more no less. While it boasts of a 300 mmHg powerful suction, it's super-quiet so it won't disturb your baby while he or she is suckling on one breast and the Spectra S2 is expressing the milk from the other breast. And if the baby is not nursing and you want to provide your little one with ample supply of milk, then you can use the Spectra S2's double system.
Read more
Design
The S2 is very easy to use. It has a full LED display to notify you that it has initiated the "massage mode" at the touch of a button. This helps stimulate the mammary ducts and glands to start contracting. Within a few moments, just as the letdown reflex has been fully initiated, the Spectra S2 automatically switches to its "expression mode" where you can also easily control the level of milk expression. Normally, it produces slow but deep suction to mimic the way your baby nurses. You can actually program the rhythm and speed of the Spectra S2's expression according to your personal preferences. It also comes with a night light so you can continue expressing milk even during the night without having to switch the lights on. It also has a timer feature so that your breasts won't also get sore.
Ease of Use
The most important part of this product is how much it protects the integrity of the breast milk that is expressed! Thereby, enabling moms to keep their baby healthy. The closed system makes cleaning the tubing unnecessary. It stays dry and prevents air flow between the milk and the tubes. Not only are the settings customizable to the body of each mom expressing, the company has the credibility of being owned by Registered Nurses and Certified Lactation Consultants. -- experienced moms that also happen to be top professionals!
Effectiveness
The Spectra S2 is one of the best breast pump we have in our list. We have seen a lot of parents who have tried using Mendela parts and accessories like flanges and tubing on the Spectra S2. While we don't really recommend doing so, if you have a variety of Mendela products, it is comforting to know that you can use these on the S2 as well. What really impressed us about the S2 is its closed system design and its unique massage and expression modes. This helps ensure maximum supply of nutritious milk every time, all the time.
4

. Medela Harmony Manual 2-Phase Expression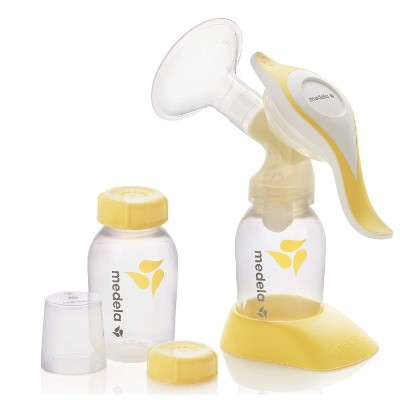 Opens to an array of other compatible Medela accessories
Can interchangeably use bottles and shields from other product lines
Low and discreet quiet suction for privacy
A less expensive option for an electric pump
Expresses double the milk in less time with 2-phase technology
Might come with a faulty rubber O-ring that loses suction after a short period
Suction can be too hard and become uncomfortable
We can understand the apprehension of some mothers about using electronic devices in the expression of their breastmilk. As such, many still consider manual nursing devices to be a lot more sensible, not to mention more practical considering you are only going to use it for a few months. When it comes to manual breastmilk expression, Medela's Harmony is a true best-seller. It's lightweight and very portable that you can literally put it inside your bag for those once-a-week travel with a baby. You can even express milk wherever you may be as long as you don't expose yourself too much. At least, you won't have to think about carrying rechargeable batteries or even bulky AC adaptors and then worry where you're going to plug it into.
Read more
Design
The Harmony features a unique and patented 2-phase breastmilk expression technology. The 1st phase is almost similar to the Massage Mode of the Spectra S2 wherein the breast is stimulated into initiating the milk letdown reflex. The 2nd phase is the actual expression or ejection of the milk from the mammary glands. The breast shield measures about 24 mm and we have seen some parents recommending using another breast shield of the same size. The breastmilk bottle also comes with both lids and a unique bottle stand so there's no worry about the bottle tumbling. The suction is delivered through an ergonomic swivel handle, the forward part is for the 1st phase while the rear part is for the expression phase. Oh, we forgot to mention that it is BPA-free.
Ease of Use
A great complement to an extensive line of Medela accessories! It can be used in conjunction with the double electric breast pump and compatible with PersonalFit breast shields! It's very portable for on the go and expressed more milk in less time with 2-phase technology. This manual pump has been consistently rated a 9 out 10 by moms who've used it!
Effectiveness
If cost matters to you (not that it's expensive as the Harmony is a fraction of the cost of electric nursing devices) and you have a flexible spending account, you can actually reimburse your expenses incurred on buying this product. Now, won't that be great? The 2-phase expression technology is what really is amazing for a manual device like this. Cleanup is a breeze as well.
5

. Bellababy Double Electric Strong Suction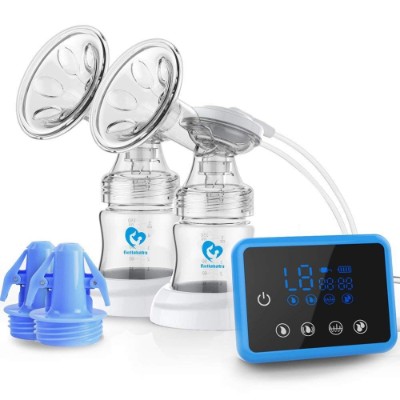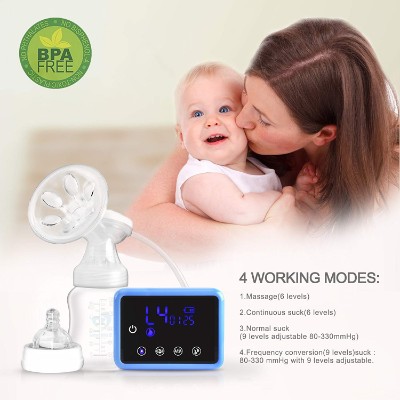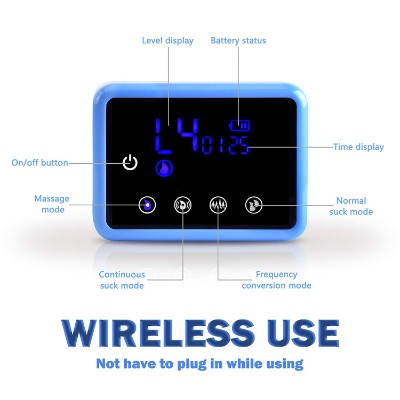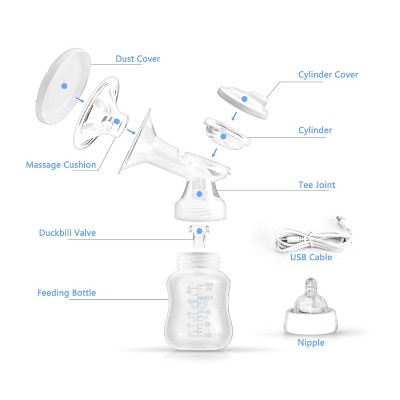 Breast pump design for on the go moms
Features four modes and 9 levels of suction
Includes adapters for milk storage bags
LED display for easy operation
Uses power bank to pump, can be charged with anything that has a USB
The system does not offer different flange sizes
Bottles included do not stand up on their own with flanges attached
Being able to pump on the go is very important to some moms and this breast pump makes it easy and convenient. The pump has been designed to be used on a daily basis, but it is great for when on the go and needing to pump anywhere. The breast pump comes with everything needed to get started. It features adapters that work with milk storage bags making it easy to pump on the go even when your baby is not ready for a feeding. The pump has 4 different modes with 9 levels of suction. It is battery powered and the battery is built into the breast pumping system plus is charged via a USB cable. It is great for when you are in the car, at a park, or even at work.
Read more
Design
The system offers a pain-free and comfortable suction system that has an anti-backflow guard design. For those times when you need it most, the set has an included emergency power bank. When traveling or pumping breast milk on the go the last thing you want is for everyone to know that you are pumping or when pumping near your sleeping baby you don't want it to wake them. This pump has a low noise pump. It is so quiet it nearly whispers. It is easy to operate and has a LED display screen. The screen makes it easy to change the suction level and pattern along with turning on and off. No more messing around with those hand pumps when on the go. This breast pump is strong, easy to operate, quiet, and convenient to use.
Ease of Use
Pumping on the go is always awkward for moms. You either have to find somewhere private with an outlet plug or try and pump in the car with power that is sub-par. This breast pumping system takes care of all that. It is super powerful yet comfortable plus it is cordless for when you need it most.
Effectiveness
Pumping on the go is made easy with this system. The display is easy to see, easy use and can be seen very easily. The power bank and being able to be charged via USB is an awesome feature.
6

. Medela Advanced 2-Phase Expression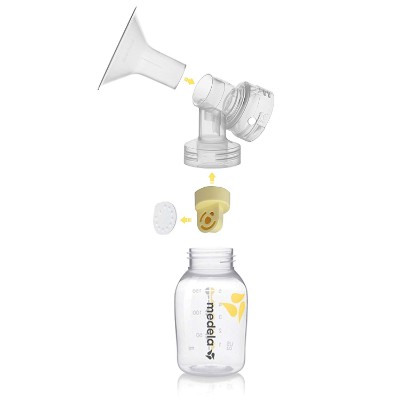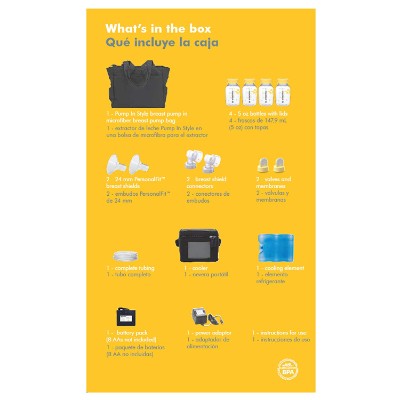 Cooler bag can hold up to 4 handy milk bottles
Side pocket could snugly fit an I-Phone or other accessories
Built-in bottles with air-tight lids that prevent unnecessary spills or contamination
A suitable pump for working moms that need to express several times a day
Protective front flap can act as a placemat while expressing
The product can incur air leaks that weaken suction
The freezer bag is small and the pump motor can wear out after moderate use
Many nursing units in hospitals have Medela units as a means of expressing breastmilk from their nursing patients. Now, you can have your very own Medela unit complete with a convenient carry-all tote bag that has been designed primarily to store and serve as a functional nursing unit. The Pump in Style Advanced with On the Go Tote is something that modern nursing mums should definitely have. The powerful pump is already built into the On the Go Tote bag so there's no need to carry a separate case just for the pump alone. It also has built-in bottle holders so you don't have to fret about the milk bottles ever tumbling or spilling.
Read more
Design
The Pump in Style also features a storage pocket specially designed for the flexible tubing and which also allows for a more systematic organization of all the expressed breastmilk (EBM) essentials. The double pumping kit comes with patented PersonalFit breast shields. Inside the bag is a removable cooler bag complete with a contoured ice pack to keep your EBM fresh and free from spoilage. The whole system also comes with 4 milk bottles complete with air-tight lids. Like the Harmony, the Pump in Style Advanced also comes with the very useful 2-phase breastmilk expression technology. Phase 1 is initiated with a single touch of a button while Phase 2 requires adjusting a control knob for managing the speed or rate of the pumping action as well as the force of the vacuum or suction. The unit is powered by a 9-volt AC adaptor and when you don't have any electrical outlets around, you can also use the accompanying battery pack attachment which you must fill with 8 pieces of AA-sized batteries. The On the Go Tote is made of microfiber and has been designed to be as fashionable as it is functional. You may be strutting your style to the office and no one will ever think that you are carrying a nursing unit slung on your shoulders.
Ease of Use
The convenience that comes out of this is not having to do a lot of set-ups! It's hospital grade, but it's probably fairly likely that most of the moms using this have little-to-no experience being a hospital tech! All you have to do is open the case and -- Voila! The dashboard is ready with the attachable pumps! Unassuming and stylish enough for the unassuming mom; and the side pocket could even be used as a temporary holder for your I-Phone!
Effectiveness
It's easy to see why moms prefer the Medela over other brands, especially with the Pump in Style Advanced. You can now have a piece of hospital-grade equipment you can carry anywhere.
7

. Haakaa Suction Base 100% Food Grade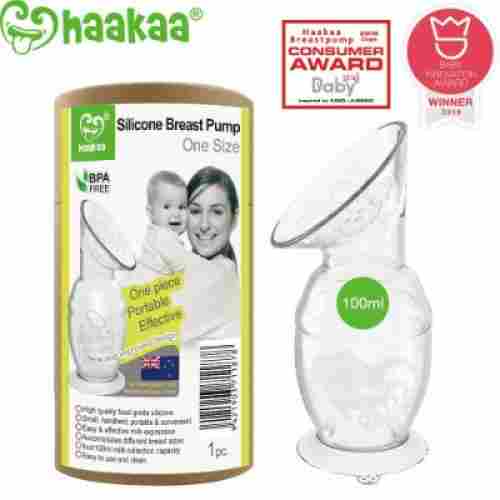 Created by award-winning brand, easy to use a manual breast pump
Constructed from 100% safe food grade silicone
Lightweight and easy to use on the go
Manual pump or use suction to release milk
Suction cup bottom, no more spilling the milk
Suction cup base makes it hard to squeeze to manually extract milk
Measurements are not accurate
Just a simple design for the green-friendly family. This breast pump has been designed using soft and comfortable silicone. The silicone is 100% safe and has been constructed with food grade materials. The silicone is also BPA, PVC, and Phthalate free materials ensuring that it is not only safe for mom but safe for baby as well. The pump is easy to use and is a suction-based system. No batteries, no cords, no cables, but hand powered pumping. The base features a suction cup that ensures that it will not fall over. This means no more crying over spilled milk. It is designed to give you an airtight seal making sure everything is hygienic and kept clean.
Read more
Design
It is easy to use and requires no assembly. The design is super lightweight and portable. Just suction the pump to the breast and let the suction do all the work. It draws out the milk for you or you can pump to produce a letdown. It is perfect for pumping at night, when traveling, or anywhere that you can't plug something in. From an environmentally friendly and award-winning company, this breast pump is one of the bestselling hand pumps on the material. The design, the size, and the suction cup bottom make a tough job easier with this silicone breast pump.
Ease of Use
Constructed from 100% safe materials the design of this breast pump is very unique. It has been constructed from materials that are of the highest quality and food grade materials. Every mom wants to make sure that their baby has the best and this breast pump is safe and FDA approved.
Effectiveness
The design is so simple and it is so easy to use. It is easy to place in your bag and no your way you go. No cords, charging, power outlets or anything. Just need the pump and you are all set.
8

. Philips Avent Manual Comfort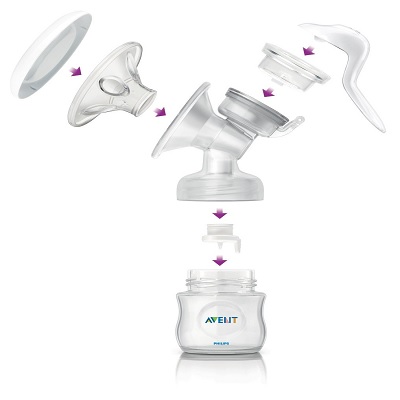 Comfortable 25mm massage cushion for an easy let-down
Body and handle all of a piece for minimal assembly
Includes 1 bottle with a newborn nipple attachment
Downloadable uGrow app for tracking feedings
Angled neck allows for expression while seated upright
The valve may need replacement after 3 months or longer
Suction is not as strong as electric pumps
If you love the AVENT Comfort but just don't think that it's worth parting with that much dollars for a few months of nursing use or that you prefer a more portable and more convenient yet equally effective system of expressing breastmilk, then we suggest taking a look at the AVENT Manual Comfort Breast Pump.
Read more
Design
It's technically like the electric version of the AVENT Comfort except that it is not attached to any other device. All you need is good old hand power to express the milk into the beautifully designed clear milk bottle. Like the AVENT Comfort, the Manual comes with the same signature angled design of its pumping unit. This makes for a really comfortable BM expression. Unlike other units where you have to reposition yourself to match the correct angle of the breast shield, the AVENT Manual Comfort is already engineered for optimum position.
Ease of Use
The benefit of most manual pumps is that you never have to worry about the suction being too hard! The beauty of it is that you get the same massaging cushion as the electric version of this product -- and, for half the cost! It only comes in one piece, so absolutely minimal assembly required; one natural bottle with a newborn nipple attachment. And, it has the same comfortably angled neck! Although with the manual model, it's not much of an option to use while resting on a table top!
Effectiveness
It's lightweight, portable, and has the same unique angled design of the AVENT Comfort. At least, you can easily put the Manual in your shoulder bag.
9

. Spectra Baby S1 Plus Premier Rechargeable
Closed system with backflow protector to prevent contamination
The rechargeable battery is built-in to the device for convenience
Suction adjusts at both let-down and expression mode
Pump compatible with other brand name storage bottles
Convenient timer shuts the pump off after 30 minutes of use
12 hour charge time of battery after the initial purchase
Low quality plastic bottles come with the kit
If you are seriously considering buying the Spectra S2 but are put off by its electricity-only power supply, then you might want to get the Spectra S1 instead. This closed system has technically all the same features of the Spectra S2 but with a more powerful suction at 350 mmHg (the Spectra S2 can only manage 300 mmHg; still powerful though) and, of course, the addition of a rechargeable battery pack that runs a full 60 minutes after a full charge.
Read more
Design
The Spectra S1 features the same closed system, the same 2-mode settings equivalent to the 2-phase milk expression system of Medela, the same timer and night light, and the same hospital-grade equipment you will find. Oh, the other difference is that the S1 comes in blue while the S2 is in pink.
Ease of Use
We expect the convenience of an on-the-go option will all of our accessories and gadgets! It's one of the reasons we now have cell phones instead of landlines! Why not have it be the same with something as essential as a breast pump when it comes to being a nursing mom?! With a cell phone you automatically expect to have a rechargeable battery, so thank goodness Spectra gives the option of a rechargeable system as well! In fact, moms can get at least 3 ½ -4 full EBM sessions on one charge! Also, included is a timer function that wasn't part of the S2 series.
Effectiveness
It's the addition of the rechargeable battery that makes the S1 better than the S2. It has a more powerful suction, too. Unfortunately, ramping the suction to higher than what is necessary may not really be a good idea.
10

. Lansinoh Stimulation and Expression Modes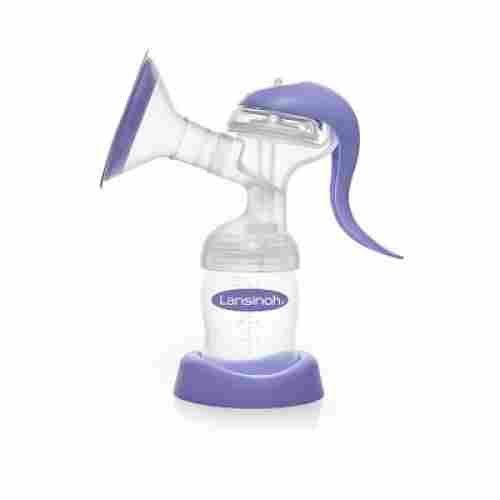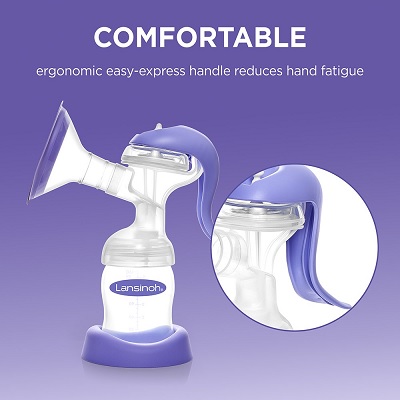 It's the perfect travel pumps
Easy-to-use handle lessen stress on breastfeeding moms
Can be used with other Lansinoh products
Designed ergonomically to fit securely
Great for pumping extra milk
The flanges might be uncomfortable for some moms
Lansinoh Manual Breast Pump is great for expelling excess breast milk to store. The comprehensive two-in-one manual pump offers two modes: Stimulation/let-down and expression mode. This is one thing most manual pumps don't have which leaves stimulation up to moms as they work breast milk out before they can begin pumping fully.
Read more
Design
With the use of the stimulation/let-down mode, this is made much easier for moms with virtually no extra work since the pump does it for them. Once they've completed step one with that mode they can easily transition to expression mode and work on slowly letting the pump do its job and pump breast milk out for storage later on. The suction piece is carefully designed for a comfortable fit and makes sense with the natural contours of the body, making it an excellent option for moms who often have trouble using manual pumps. The Lansinoh pump is also usable with other breast pump products and can be used together with the same standard sizing for all breast pump equipment. For ease of use, quickness, and a travel-worthy pump that provides optimal comfort, Lansinoh will quickly become your favorite go-to.
Ease of Use
One of the best features about this manual breast pump is the easy-express handle that allows for convenient manual pumping and just makes sense. Moms will love the fact that this handle allows for simple pumping without the need to sit uncomfortably or at an awkward angle to do so.
Effectiveness
The unique design of this pump leaves nothing to be desired as it sits comfortably where it should and just simply lets nature do most of the work. The two-in-one feature helps take some stress off of moms to get situated and secure suction, which can be half the battle of breastfeeding.
Criteria Used for Evaluation
Design
With the technology we now have on hand, the options are endless! When weighing in all of the research it all boiled down to comfort and convenience. Luckily, this is what we're all about! When it comes to the issue of sore nipples from too much suction to the opposite effect of not expressing enough from very little pressure, the research became far-ranging! Ultimately -- ideally -- we want to mimic the same effects as a baby nursing. The health benefits that result from this range from avoiding a subsequent pregnancy to lowering the risk of breast or reproductive cancers.
Then, there's been the debate between manual pumping vs. electric pumping! There are too many out there to give an exhaustive study; and, most moms have neither the time nor the energy to do a lot of trial and error when it comes to these issues! We did the best we could, based on reviews and company credibility in this area. This is why there is so much variety, especially since every woman's body is different and has different responses! It can be from multiple suction settings to having the right sized pad that conforms to the breast properly.
Ease of Use
We had to factor in the busy lifestyle of a modern-day mom, too, when it came to our selection! Most women these days have opted to balance work and family life, so a breast pump is actually a vital accessory for a family in 2019! Even stay-at-home moms have a tendency to be more on the go than women were 40 or 50 years ago! So, our pumps had to have all the attributes of a product that speaks to timeliness and convenience! This is why some of the pumps come with timers, to gauge the amount of milk needed per session and what is an adequate amount. This is why some might have an automatic shut-off. As earlier stated, we want no milk to be wasted, since it is a precious nutrient for your baby's health! When your infant is nursing on one breast and you're using the pump on the other, you don't want the noise disturbing -- but you also don't want the suction to be relentless, either!

Effectiveness
First, we had to make sure that the design of the pump is one continuous system. Human breast milk is a very sterile fluid that contains all the right nutrients including maternal antibodies that kids will need to help them ward off infections in the crucial first 6 months of life while they are still in the process of building their immune system. It is very important that the sterility of the breastmilk is maintained from the time it leaves the mammary glands until they reach your baby. This is very important because breast milk contamination is a very serious issue. As such, we had to look for nursing devices that are designed to be a closed system. If there are additional ports, we had to make sure that these do not introduce unnecessary microorganisms or even unwanted substances into the milk. What we want is breastmilk that is as fresh and as sterile as if the baby will be suckling directly from mum's breasts.
Secondly, we had to look at the different features of the device. Many moms experience the milk letdown reflex while babies are nursing on one breast. This means that one breast is being suckled on the baby while the other breast is dripping with milk. That is why devices have to be ultra-quiet so they don't disturb baby while he or she is nursing. This helps ensure that no breast milk is ever wasted.
Third, some companies really do provide excellent products. Their reputation is largely at stake. So, we had to make sure that only manufacturers with unparalleled credibility will be included in our list. To help us determine whether a manufacturer is worthy of inclusion, we had to consider the feedback, reports, or reviews of countless customers especially moms who have already tried and used the product. If the company has been recognized for its design, then we'd factor this as well.
We never thought that we'd be able to come up with the 10 best breast pumps for mums. But, with the dedication of our research team, we were able to create a very definitive list of the world's top 10 breast milk pumps for today's modern moms.
Most Important Criteria
(According to our experts opinion)
Experts Opinion
Editors Opinion
Users Opinion
By Default

Parents, Did you Know?
When nursing a baby you will spend alot of time holding them while they nurse. It is best to make sure you are in a well supported position and are sitting. Make sure you are very comfortable when you start. The more comfortable you are the better the experience for both you and baby.
Parents, Did you Know?
That you can increase your milk supply by applying warm compresses and massaging your breast while pumping. It will enhance the let down and increase your milk flow.
Other Factors to Consider

Compatibility
The inclusion of discreet carrying cases and small on-the-go sizes that can be tossed in a tote was also on our minds! We know women still need to upon as more than just moms hanging out in sweats and forgetting completely what life was like before kids! We know that you're proud of your Little Ones! But there doesn't always have to be the "Hey, look at me, I'm a Mom and I want you to know it!" type of vibe always hanging around like a cloud wherever you go!

Logic
If you are still wondering why a lot of modern women are preferring to give their babies breast milk even if they don't breastfeed them themselves, then you just have to take a look at the following benefits of breast milk.
It provides the most complete nutrition for babies. Breast milk contains all the right and important nutrients in the correct composition and in the right amounts. In the first 6 months of your baby's life, he or she will never need anything else other than breastmilk.
It contains a lot of healthy and highly beneficial fatty acids that will help in your infant's brain development. This provides the foundation for your baby's cognitive development and helps define how well he or she will think, learn, and solve problems as well as other cognitive processes.
The nutrient molecules found in breast milk are already in their simplest forms. This means that these are easily digested so your baby will not have any issues about food intolerances or even malabsorption syndromes that can produce stomach upsets and other physiologic complaints.
Breast milk has an abundant supply of antibodies which help protect your little one from infections especially those that develop in the respiratory passages, the gastrointestinal tract, and the ears. These antibodies, as well as other protective substances, can also guard your child against the development of type 1 diabetes mellitus. This is especially true for the first breast milk known as colostrum.
Breast milk is very beneficial in our babies' overall health and development. That is why even if we are too busy with our careers, we can still provide them with breast milk by expressing these into bottles which they can feed on at a later time. Of course, if we can breastfeed them ourselves, then it will be a lot better.

Value
Breast pumps are very important tools in helping our babies obtain the best nutrition without sacrificing our careers and our modern lifestyle. With our list of 10 of the best breast pumps for mums, you can now be assured of a healthier baby regardless of how busy you may be.
Frequently Asked Questions
q:
Is it better to buy a manual or an electric pump?
a:
That all depends on your needs and comfort level! A manual pump might be best for on the go! When you just wanna run out the door quickly and you know that you will need to express later because you will become engorged in a public setting! Manual is also good if you don't want too much pressure that can come with an electric pump. On the downside, a manual may not give you enough pressure to express adequately! An electric pump is probably better to be used for expressing larger quantities of milk that will be stored and used later, hence all of the concern over keeping the milk pure and avoiding contamination. Our advice is to mix and match trying both, depending on the situation!
q:
Is pumping better than breastfeeding?
a:
Short answer is, No! That being said, life can get complicated as we all know! There are many factors as to why it's not convenient to breastfeed. Some women don't lactate as heavily or as often, and need some help in that regard. Some babies refuse the breast. Some women don't have time due to work. And some women have had subsequent pregnancies that don't allow the time or directed attention that a session requires. Of course, directly nursing strengthens the bond between mother and baby. Also, there is less risk of contaminated milk. If possible, it's best to tag team between EBM bottle feedings and direct nursing for convenience.
q:
What should I do if my breasts don't fit the standard cups?
a:
We believe that a few of these companies offer a smaller sized pad for women who are smaller! A company like Avent -- and, I believe a few others -- have developed an angled neck that allows for most breast sizes to express properly. Often times, it is the angle more than the size of the device. Also, the position you can sit in, which also addressed through this. We're sure that through Lactation Consultants, there is an option for customizable pads that will conform specifically to your breast, as well. Be sure to maintain adequate pressure on the pump when it is attached to avoid slippage or leaking.
q:
Are nine setting really necessary for a breast pump and are they all accurate?
a:
Unfortunately, the jury is out on this one! There are so many mixed reviews, it is often best to be safe than sorry when it comes to the design of a product like this! All women's bodies are different -- some might need more or less pressure than others to express! Of course, no one is going to be satisfied with all nine settings. One mom might only need one or two. Others may need to try many to get it right, or to express more milk when engorged. Over time, quite a few companies have finessed there settings to give the pressure a more naturalistic feel of real nursing; or, with 2-phase technology that differentiates between let-down and expression.
q:
How does the closed system work on electric pumps?
a:
Closed system is the best for avoiding contamination! It literally shoots the milk through a pressurized tube! The force is so great that it leaves behind no liquid or residue. It goes directly from breast to bottle with no in between! Also, it has a backflow filter that prevents jamming or the milk stagnating in a "holding area". This is important because breastmilk is a very sterile substance that is purely nutrient rich. It's made to build a healthy immune system. Any bacteria getting into it can lead to any variety of infections.
q:
Can any of these pump carrying cases ever double as accessory bags?
a:
For the most part, there isn't too much room in them for anything else, other than the pump and accessories they come with. Now, this doesn't mean that you can't get creative! The Medela go tote comes with a cooler bag. If you want, that bag can be used for other things. For instance, if you know that you will be going someplace where refrigeration is available and you know that you won't need to bring along your ice pack. The same bag has a handy little side pocket that can be used for storage. You can mix and match with accessories. Or, ultimately, write to the company itself asking for a roomier, more stylish, option