Congratulations! You are pregnant! Your body is starting to prepare to be the host for an entirely new human being that will slowly grow and change over the next nine months. This can be a beautiful and heartwarming experience but it also fraught with health changes. From the moment your pregnancy is confirmed, doctor's recommend that you start taking iron supplements. These pills can help stave off anemia but can also make you sick. When you are already struggling with the morning sickness that often accompanies the first trimester, many women are left wondering if iron supplements are really all that important.
The short answer to that question is definitely yes! Over the next 40 weeks, your body will need to produce more than double the amount of blood that it currently possesses. All of these extra blood cells require iron to form. Iron is also an essential part of transporting oxygen from your lungs to your baby. Iron continues to play an important role even after your little one's birth, transferring to them during breastfeeding, helping you and your newborn stave off anemia. What exactly is anemia? Anemia is a condition that occurs when your body cannot form enough red blood cells. This can occur for a number of reasons but is most often related to a lack of iron, especially during pregnancy. Anemic women can experience excessive tiredness, leg cramps, and insomnia. In infants, anemia can cause low birth weight and even pre-term labor.
Iron supplements can have several unpleasant side effects such as nausea and stomach cramps. One way to assuage these effects is to take your supplements with a small amount of food. Iron is best absorbed on an empty stomach so taking them 1-2 hours before or after a meal can help your body get the most out of each pill. It is also important to avoid drinking milk or coffee with your iron pills as they can prevent your body from properly digesting the iron.
We have gathered a selection of iron supplement options from across the internet. While similar or identical in quality level, each option on our list has been chosen to represent a variety of dosage options. Some also include other vitamins and minerals such as vitamin C which is also important during pregnancy. We recommend consulting with your doctor prior to purchasing any of these supplements to determine the best dosage levels for you and to avoid accidentally taking too much. We hope that one of our 10 Best Iron Supplement options will keep you and your little one in peak health until their very first "birth" day!
10 Best Iron Supplements for Pregnancy
1. MegaFood Blood Builder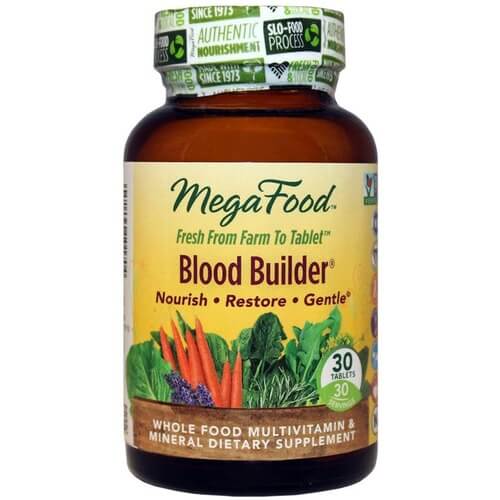 First up on our list is one that's absolutely perfect for pregnancy because not only does it contain iron, but it also contains folate, vitamin B12, and vitamin C. These are all essential and crucial to your pregnancy, since they all
help your baby
to develop and support significant immune
health
for both of you.
Expand to see more
These pills contain 26 mg of daily iron which is just under the recommended dose for women while they're pregnant, and since it does contain other vitamins, this is a great daily pill to take. This pill could also be taken continuously after you give birth and especially while you're still bleeding postpartum because it'll keep your natural iron levels up and steady throughout. The Blood Builder pill makes good use of beets, oranges, and broccoli in order to provide one full dose per day which makes it a great natural option as well.

Benefits
The oranges and beets used in this formula help to aid in iron absorption which is key while you're pregnant. It's gentle, effective, and safe for women, teens, and anyone who's vegetarian or vegan.

What We Like About It
The look of this pill is less clinical and more all-natural and user-friendly. It looks like something that's derived from all the fruits and veggies that are in it which is very reassuring to someone who has never taken iron supplements before.

Formulated with real fruits and veggies
Aids in absorption
Designed to be one daily pill
Has vitamin C, vitamin B12, and folate as well
It has a natural look to it
The pill might leave a strange taste
2. Solgar 180 Vegetable Capsules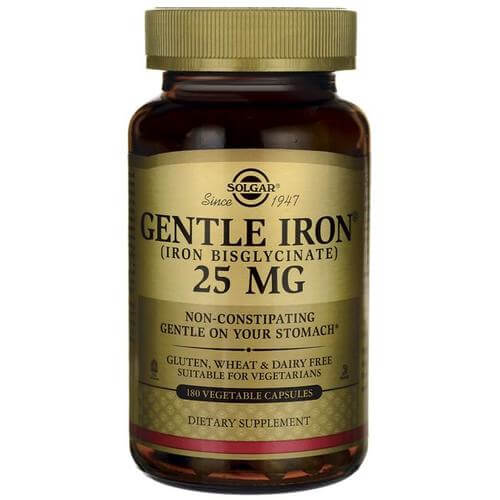 Another vegetarian and vegan-friendly option for iron are the Solgar Gentle Iron pills. These pills don't contain anything but iron which can be a good thing if you're also taking prenatal pills or a multivitamin, but if you are looking for an all in one pill, this one doesn't fit that category.
Expand to see more
However, it does have a bunch of other benefits including the fact that there are 180 pills in one jar which, for the price, is a ridiculously great deal. That allows you to continue taking this pills after pregnancy and eliminates the need for you to constantly refill your medicine cabinet. Solgar iron is also extremely gentle on your stomach because, as you can probably imagine, taking iron supplements can sometimes cause discomfort. These pills have been designed to be gentle and won't upset your stomach… A definite plus if you're taking them while you're pregnant!

Benefits
The iron in these pills is derived directly from vegetables so it's safe for use if you don't eat meat. As an added bonus, it won't cause an upset stomach, which can help tremendously if you're struggling with morning sickness.

What We Like About It
The amount in direct relation to the price you pay is totally something we can get behind. Sometimes the cost does make a difference, and when you're pregnant it's just one less thing to stress over.


You get 180 pills in on a jar
Vegetable-based
Gentle on your stomach
Great price
Won't cause constipation
It's less than the recommended daily dose
3. Vitron-C High Potency
This iron supplement is called "high potency" for a reason. It's designed to be taken by those who do have vitamin deficiencies and since that's a very common occurrence during pregnancy, it made the list as a good option for moms-to-be who need a little extra.
Expand to see more
The daily dose for this iron pill is 65 mg which is roughly three times the recommended amount for women who aren't pregnant, and two and a half times the amount for women who are. The Vitron-C supplements also include an extra dose of vitamin C which will work hand in hand with iron to aid in absorption and keep your immune system strong. This is the perfect pill for those who need a higher than average dose of iron and want to ensure that they have a strong immune system throughout their pregnancy as well.

Benefits
These pills are easy on your stomach which is a great plus, but they also help to give you a much-needed boost of energy while you're pregnant. Energy can often be in short supply when you're feeling off, but the powerful combination of iron and vitamin C can be extremely helpful to ward that off.

What We Like About It
We love that this pill was tailor-made for iron-deficient women. Not only did Vitron create a gentle iron pill, but the addition of vitamin C really helps to knock it out of the park and rid you of extra fatigue.

Contains vitamin C
Provides a nice energy boost
Great for women who are deficient in iron
Gentle on your stomach
Pills are coated to prevent any bad taste
Women looking for a normal dose won't be able to take this
4. Zahlers with Ferrochel
For just under ten dollars, you can have access to a wonder pill. Zahlers Iron Complex gives you a great boost of iron but that's not all this pill contains -- You'll also find folic acid which is something many women simply don't get enough of during their pregnancy.
Expand to see more
In addition, this pill contains vitamins B12 and C as well, rounding it out to be a great daily pill. It's formulated to have the highest absorption rate possible and is also super gentle on your stomach, which we know is music to the ears of pregnant women everywhere. These iron pills also won't make you constipated which is another common grip with iron supplements, and due to the extra-added vitamins, you'll feel much more energized.

Benefits
Did we mention these pills are certified kosher? When we say we've done our research to find the best, we meant it! If you keep a kosher diet, these pills are perfectly fine for you to take.

What We Like About It<
These supplements have a relatively high dose of vitamin C and folic acid which make them a really great option to take while pregnant. For women who are deficient in iron, you might notice a significant difference when all these vitamins are working together.

Contains folic acid which is a necessity
Also includes vitamins B12 and C
Super affordable
Contains the appropriate daily dose of each
Gentle on your stomach and won't cause constipation
Some still experience gas from taking the pills every day
5. Garden of Life 30 Capsules
Every supplement has to have something added to it, right? This iron supplement is formulated with folate, vitamin C and vitamin B12 (we're noticing a common trend here) to increase absorption, but it has a lot more than that. Garden of Life uses a vegan formula that makes these supplements "raw".
Expand to see more
In short, that means nothing has been altered before going into the pills and they also contain live probiotics and enzymes that can help your overall digestive health. Before consuming anything raw you should always consult your physician first, but these pills are super gentle on your stomach due to those probiotics and may even help temper some of those sick days.

Benefits
These pills are all-natural and contain probiotics that are similar to what you'd find in yogurt and other dairy products. This keeps your stomach and digestive tract happy and healthy!

What We Like About It
On the back of each of these pill bottles is the comprehensive list of each fruit and veggie that has been processed to provide you with the raw benefits of each one. We love the transparency with this brand and the fact that you know exactly what you're ingesting.

All-natural formula
Contains added probiotics and enzymes
Easy on your stomach and helps digestion
Contains additional vitamins and folate
Increased iron absorption
Your doctor might not recommend it depending on your medical history
It only contains 25 mg of iron
6. EZ Melts Sublingual Vitamins
Swallowing supplements aren't everyone's thing and we totally get that. Thankfully, there are iron supplements out there that don't require you to force something down that feels uncomfortable and they even come in a nice orange flavor -- Like these from EZ Melts.
Expand to see more
These tables are designed to melt as quickly as possible, leaving you with no weird flavor or taste in your mouth. They also contain vitamin C to help aid in absorption and are certified gluten-free and non-GMO. For those who look for all-natural supplements from a brand that you can trust, EZ Melts is definitely a great option. You can take them on the go or after a meal easily and won't have to worry about having water on hand or dry swallowing an awkward pill.

Benefits
Despite its "zesty orange" flavor, these meltable supplements are sugar-free. Since sugar can cause its own problems, the fact that these are flavored and go down easily is truly remarkable.

What We Like About It
Taking iron doesn't get any simpler than this and you can take more than one (as directed by a professional) if you are deficient or pregnant and in need of twice the daily dose. They're great to have on hand and a good way to get your iron if you're just not about that supplement life.

No swallowing or chewing required
Orange flavor makes them bearable
You can take more than one (as directed)
They dissolve quickly
Formulated with vitamin C to aid in absorption
Each tablet only contains 18 mg of iron so you'll go through them quickly
7. Feosol Original 120 Count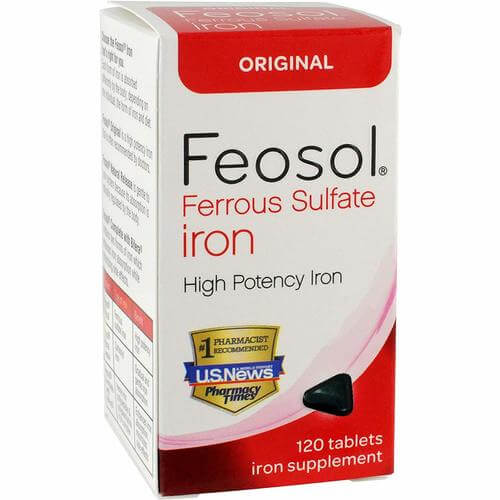 There's a bit of confusion that happens here because of the fact that these pills use ferrous sulfate, which appears to be a ton of iron in one pill. This isn't the case, as the amount in each dose of ferrous sulfate is equivalent to 65 mg of elemental (natural) iron.
Expand to see more
So don't worry, you're not taking a massive influx of daily iron -- You're just taking it in a different form that equates to two and a half times the normal amount during pregnancy. These pills are designed for women who are anemic and need that extra dose daily. Since there's nothing in this supplement besides iron, you could potentially take it in addition to your prenatal vitamins if your doctor approves it. This is pure iron, plain and simple, for when you need more of it than usual.

Benefits
Feosol iron is specifically recommended by physicians which is a huge relief to women who might be a little wary of taking it for the first time. It's great to keep your iron levels up and does so quickly and efficiently.

What We Like About It
If it's a brand that doctors trust, then it's a brand that we trust. There are no frills when it comes to Feosol and their supplements and this is ranking number one for those with anemia.

Good for people who are anemic
Contains double the recommended dose for an extra iron boost
It doesn't contain anything extra so it won't interfere
Doctor-recommended brand
Can be used after pregnancy as well
8. Pure Micronutrients 120 Count
Surprise! Not only does this supplement contain iron, folic acid, vitamin C, and vitamin B12, but it also has vitamin B6 as well. Vitamin B6 is another B-complex
vitamin
that can very easily go missed under the radar while you're pregnant, so the fact that these supplements contain it put it pretty high on our "to recommend" list for pregnancy.
Expand to see more
These pills are super easy on your stomach and won't cause constipation or stomach aches. They come in a capsule form which makes them much easier to take for those who can't stand the idea of swallowing regular coated pills. These capsules slide right down and before you know it, you've provided your body and your baby will some very necessary vitamins. It's perfect for getting your daily iron dose in during pregnancy with high levels of both B12 and folic acid, two things you need constantly.

Benefits
You can purchase these pills in bulk which is a great option to have once you find out that you're pregnant. Since they only contain 25 mg of iron, they're perfectly safe to continue taking after pregnancy if you're not anemic and don't have an iron deficiency.

What We Like About It
The easy to swallow design of these pills might not seem like a big deal, but it really is for people who have trouble with it. It's a small thing but we love that Pure Micronutrients thought of it.


Specifically made for use during pregnancy and menstruation
Good for a daily dose
Contains vitamin B6
Has high amounts of B12 and folic acid
Can be taken postpartum as well
9. Thorne Research NSF Certified
There are some big words being thrown around here but don't worry, it's our job to understand what they mean and explain it to you in a non-stressful way. Thorne Research has designed these supplements to be incredibly gentle on your stomach and gastrointestinal tract, which is essentially what all of those words mean.
Expand to see more
The use of ferrous iron helps to prevent an upset stomach while still containing all the necessary iron that you need in one daily dose. Every single supplement they put out is tested in the laboratory and certified by their own high standards before making its way to the shelves, so you can rest easy that it's been tried and truly tested before completion. They use high-quality ingredients to bring you only the best of iron supplements.

Benefits
There are no unnecessary additives or added colorings that go into these supplements. When Thorne Research says their supplements are all-natural and the highest-quality, they mean it.

What We Like About It<
These supplements are tested before they're even finished which really makes a difference as far as quality. They conduct midway batch tests to ensure that the quality they're seeing halfway through the process is the same that you're getting when it reaches your door.

Thoroughly tested in the lab
Gentle on your stomach
No extra additives
Can be taken daily
Designed to be absorbed quickly
They're pricey for only 60 doses
10. Nature Made 365 Tablets
This is a brand that we're sure you've heard of before because you've probably seen it in your local pharmacy. If you have, and you're wondering if it's really that good, we've got great news for you -- It is! If you haven't tried Nature Made for your all-natural supplements yet, then it's worth a shot to give them a try during your pregnancy.
Expand to see more
These contain 65 mg of iron and are designed for women who are anemic or deficient during pregnancy, which often happens because you're sharing a vitamin and nutrient supply with the baby growing inside of you. The nice thing about going with Nature Made supplements is that the bottles and pills are always tiny and easily traveled with or put into a pocketbook so that you'll never forget to take them. They're just a good, basic supplement that will do the job in increasing your iron intake if your levels are lower than average.

Benefits
Nature Made has a long-standing reputation for providing excellent quality supplements and vitamins at a super affordable price. These are perfect to get for travel or to keep on you in case you miss a dose one morning.

What We Like About It
We love that this is a brand that has been around for some time now. They're trusted and well-known, which is sometimes all you need when you're looking for a supplement brand that you're comfortable buying from.

They have a good reputation
Great for traveling with
Helpful for those suffering from anemia or an iron deficiency
Doesn't contain anything extra
Small pill sizes
Might cause stomach upset
Criteria Used in Evaluating the Best Iron Supplements for Pregnancy
We can't stress how important it is that you're in tune with your body and what it truly needs while you're pregnant. Something as simple as a daily iron supplement could mean the difference between a healthy and happy pregnancy, or one that requires a little extra work and won't have you feeling your absolute best. The CDC recommends taking iron by the time of your first prenatal appointment, at least the lowest dose you can to start–this is roughly 30 mg. Throughout your pregnancy, you need at least 27 mg every single day in order to keep your iron levels up to a sufficient amount for you and your baby. This is why iron supplements are such a great investment because they'll last the entirety of your pregnancy and for some time after, which we'll get to in just a minute.
It can be a bit intimidating initially trying to figure out your recommended dose and how much will do you, especially while you're pregnant. The good thing about iron supplements is that they can continuously be taken postpartum as well since you'll likely be losing blood for six to eight weeks afterward. Your pregnancy as a whole is a time when you need to increase all of your vitamin and mineral intakes, but many people don't realize that it's important after you give birth as well. That's why half of this list contains iron supplements that are great for average daily doses as well (18-26 mg) since you'll need it while you're breastfeeding and, overall, recovering from your pregnancy. We created this list to be as comprehensive as possible when it comes to knowing exactly what you need, what works, and what doesn't. As always, you should consult a doctor before you start any type of permanent iron supplement routine, but all the options that made our list have been certified, tested, and have a reputation for effectiveness.
Additional Factors to Consider
Can You Take More Than Your Recommended Amount?
It's never a good idea to take more supplements than what's considered to be "average" unless otherwise directed by your doctor. In some cases, he or she might go ahead and give you the green light to increase your dosage based on your eating habits and current or future iron levels. On the other hand, you might be perfectly fine as far as existing levels go and might just need that extra supplement. Either way, talking to your doctor is always your best bet as far as how much to take and when. Many of the supplements on here are sufficient for women who are anemic as well as suffering from an iron deficiency while pregnant; we'd say roughly half our list is dedicated to those in those circumstances. This simply means that different pills have various levels of iron in them and you'll just need to speak to your doctor to figure out the appropriate daily dose for you depending on your iron levels.
How Does Your Diet Affect Iron Levels?
Your diet and eating habits while pregnant are extremely important when it comes to vitamin levels. Women are mostly deficient in iron and magnesium because they're just not something many of us get regularly. While you're pregnant, you're in need of these even more, which can lead to deficiencies. It's a scary word but can be fixed relatively easily with the addition of supplements to your diet. If you're vegetarian or vegan, you might notice that you need a bit more iron simply because you don't eat iron-rich meats. This is perfectly fine, though…that's why these iron pills exist! Some of the supplements on our list even contain additional vitamins that can be helpful in the way of immune support, which is a great addition to your daily prenatal regimen.
How Do You Know If You're Deficient?
While some women may not even realize that their iron levels are low, others can sense it almost immediately. The depletion of iron can leave you feeling extremely tired and fatigued, which can sometimes be challenging to differentiate when it comes to common pregnancy symptoms, especially in the first trimester. In addition to fatigue, you might get random dizzy spells and feel faint, which is a definite sign that something isn't right. Pregnancy might drain you a bit and leave you feeling much more tired than usual, but if you ever feel on the verge of passing out, contact your doctor ASAP. Another symptom of an iron deficiency or anemia can include insomnia which is sudden in onset, which you should also consult your doctor about. Iron deficiencies are simple to fix and your doctor will be able to prescribe you a recommended dosage, which can then be used when finding one from our list.
How and When Should You Take Iron Supplements?
This is a big one, and it's also very important to make note of and be aware. Similar to eating or drinking anything after taking any type of zinc supplements, iron supplements need to be spaced out in your diet. It's recommended to not take anything within two hours or so of taking iron supplements due to their absorption and the way they're processed in your body. So while it's a good idea to take them in the morning so you don't forget accidentally, you could also take them at night before you go to sleep if your space your meal out appropriately. The tricky thing about iron is that it can sometimes cause an upset stomach as well. This is obviously not something that you want to deal with while pregnant and already possibly dealing with morning sickness, so for the sake of that, we've included as many supplements as we could that prevent that "sick" feeling from taking them. It can be extremely helpful to take these supplements as well after you eat since you'll have something in your stomach to aid with absorption and help pad the incoming iron a bit but, of course, you should always consult your doctor for additional information.
Who Is At the Greatest Risk?
Any mom-to-be can suffer from an iron deficiency, it's just all dependent on her diet and natural iron levels. However, you might be at a much greater risk if you are carrying twins or multiples, as this will take much more away from your natural vitamin intake. While you might feel the effects of too little iron, it's very possible for your baby to as well. Iron is essential and crucial to their development due to the fact that it's responsible for producing hemoglobin, encouraging healthy blood cells, and it's highly beneficial to overall immune health. For nine months, you and your baby are essentially one person which is why it's so important to ensure that you're both getting exactly what you need.
Iron After Pregnancy
Yes, it's important to continue keeping your iron levels up after you give birth. This is important for a multitude of reasons, the first being how much blood is lost during pregnancy. It's perfectly normal for you to feel faint and lightheaded right after, but your iron levels need to stay up in order for you to recover quickly. Once you're home and in full recovery and mom mode, iron still serves a purpose: breastfeeding. The CDC recommends a constant level of at least 18 mg/day while you're breastfeeding because not only will you need it, but your baby is still getting their nutrients from you. It might seem like a lot, but in the end, it's all worth it in order for you and your baby to be super-healthy.
FAQ
Frequently Asked Questions
Q: Is it possible to take too much iron?
A: Yes, it is absolutely possible to increase your intake by too much. While you do need a high dose while pregnant, always check with your doctor before upping your daily intake on your own.
Q: Can these be taken in addition to prenatal vitamins?
A: That's another thing you'll want to check with your doctor on. Many prenatal vitamins will already have a certain amount of iron in them, however, if you are deficient, additional supplements will most likely be required.
Q: Is it safe to take these before I have my prenatal appointment?
A: If your pregnancy has been confirmed, then yes–the CDC recommends that every woman should be taking iron by her first official prenatal appointment. When you get there, discuss a future course of action for supplements.
Q: Do I need to take vitamins that have extras such as vitamin C in them?
A: While this is not necessary, it can really be helpful to keep both yours and your baby's immune system healthy and working well. Vitamin C is one of the essential vitamins needed during pregnancy, so it can't hurt any.
Q: What is the best time to take iron supplements?
A: Whether you choose to take iron supplements in the morning or at night is up to you, however, making yourself a schedule can help prevent you from accidentally skipping a dose. Despite past recommendations to take iron pills with food, recent studies suggest that several types of foods such as coffee and milk can actually interfere with your bodies ability to absorb iron. For this reason, doctors now recommend taking iron pills on an empty stomach with water, usually an hour or so before or after a meal.
Q: Is any one of these better than the other in terms of quality?
A: No. Each one of these iron supplements has been chosen because of dosage (we've tried to have varying levels for different situations), additional added vitamins, and how helpful it is throughout pregnancy.
Q: Will iron supplements make me sick?
A: The short answer is, maybe. Iron supplements are well-known for their uncomfortable side effects such as nausea, stomach cramps, and diarrhea. While iron is best absorbed on an empty stomach, you may need to accompany your dosage with a small amount of food if you are affected by any of these issues. Consult your doctor if these side effects continue or worsen as you may need to have your specific iron dosages adjusted.