10 Best Nursing & Breastfeeding Pads Reviewed in 2019
last updated
Jul 13, 2019
If you've begun breastfeeding, you probably already know what a multi-faceted experience it can be. You have to be aware of the baby's feeding schedule and know when you'll have time to pump or feed. You'll need to be able to store milk if you'll be away from baby for an extended period of time. And then there's the leaking. How many good bras have been lost to the nursing phase? (RIP plenty of women's favorite t-shirt bras.) If you want to protect your clothes and keep yourself dry and comfortable, weigh your nursing pad options!
Below, we've included various options in each category. All of these products have been tested and approved by moms just like you. Whether reusable, disposable, or silicone nursing pads are right for you, we're bringing you the best!
In a Hurry? The test winner after 29 hrs of research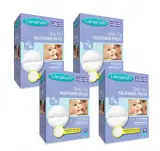 Lansinoh Stay Dry Disposable
Why is it better?
Disposable nursing pads
Each pad is individually wrapped
Leaking protection provided by honeycomb lining design
Fit comfortably and are discrete
Each pad has two adhesive strips to keep them in place
In a
Hurry? Editors choice: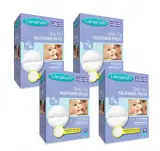 Test Winner: Lansinoh Stay Dry Disposable
18
Researched Sources
29
Hours Researching
22
Products Evaluated
Materials
Comfort
Value
By Default
10 Best Nursing & Breastfeeding Pads Reviewed
1

. Lansinoh Stay Dry Disposable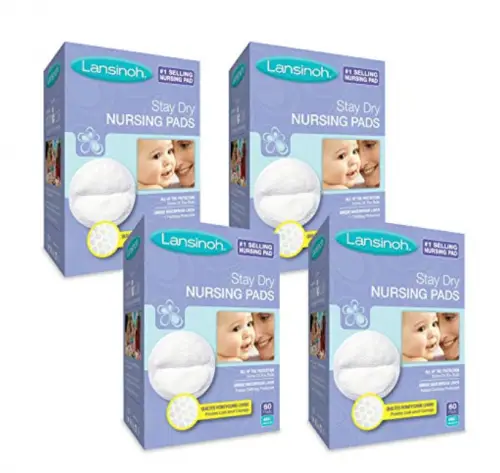 Disposable nursing pads
Each pad is individually wrapped
Leaking protection provided by honeycomb lining design
Fit comfortably and are discrete
Each pad has two adhesive strips to keep them in place
Not constructed from soft materials, can irritate sensitive skin
The adhesive is not very strong
Being able to stay dry when breastfeeding is very important. These nursing pads have been created with a quilted lining in a honeycomb pattern that offers the ultimate protection. Each of the pads also has a blue InvisiLock core that will capture the moisture and disperse it evenly throughout the core.
Read more
Materials
Designed with comfort and discretion for nursing mothers. These pads will ease your mind when it comes to leaking protection. They are easy to place and provide the ultimate protection. When on the go or busy with life these disposable nursing pads are the best solution for nursing moms that need to keep their clothes protected.
Comfort
The shape of the pad has been made to contour to the shape of the breast making them comfortable to wear. On the outside of the pad, it features two strips of adhesive strips to help them stay in place within your bra. Each nursing pad is individually wrapped in a soft plastic. This keeps them safe and clean when transporting in diaper bags and purses.
Value
When breastfeeding the flow can be an issue when you are out and about without baby or have not had a feeding at a scheduled time. These disposable nursing pads make changing them frequently easy and convenient. The pads can be placed in the diaper bag or even your bag. They are simple to open, remove, and replace. Changing your nursing pads frequently keeps the nipples dry and protects your clothing. Plus it is the best way to keep a nursing mom healthy and comfortable.
2

. BabyBliss Bamboo Rayon Washable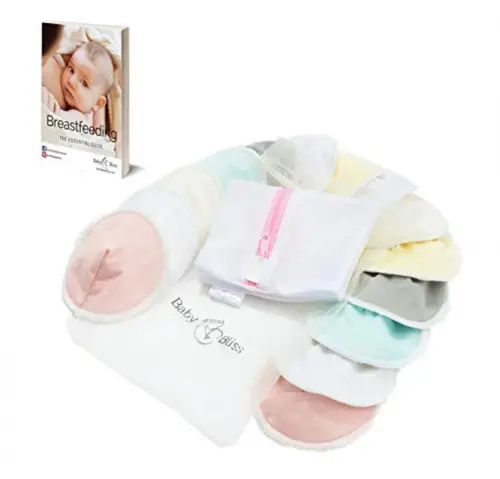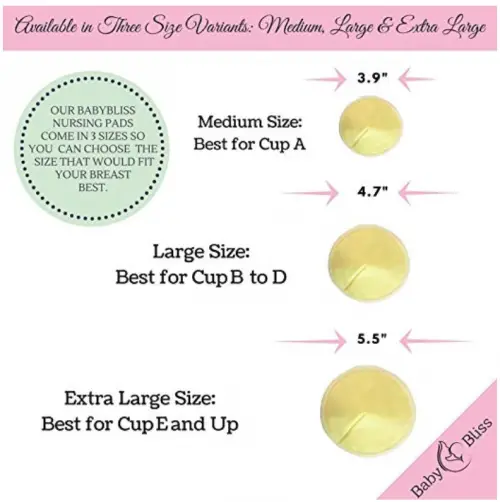 Reusable
Machine washable
14 pack
Contoured to breast shape for discretion
Absorbent leak guard
Not well suited for smaller breasts
A wonderful starter set that is great for new mommies or a mom that has recently had another baby and is nursing for the first time. This amazing set includes 14 pads that are washable and reusable. They take the place of the disposable nursing pads and are super soft and ultra-absorbent. This means that it keeps the milk away from the breast skin and helps protect mom and baby from any fungus that could grow. They are easy to wash and dry. Plus with this many in one set, it will almost get a nursing mommy through a whole week.
Read more
Materials
These pads come in three sizes (medium to extra large for cup sizes A-E) and are a combination of rayon (81.8%) and polyester (18.2%). They arrive packed in a pretty organza bag, in a variety of five pastel colors, with an included laundry bag and ebook breastfeeding guide.
Comfort
The BabyBliss Washable Nursing Pads are now contoured to the shape of your breast to prevent them sliding around, bunching, or peeping over the top of your bra. They are absorbent so you won't have to sweat embarrassing leaks. To wash them, simply put them in the included laundry bag on a cool water setting, and then throw them into the dryer on low heat.
Value
The company offers a satisfaction guarantee, so contact them if there are any issues for a return or refund. Washable pads mean no more having to buy disposables every time you're running low. The pack includes 14 reusable pads to get your through the week, so you also won't be having to worry about throwing them in the wash every three days.
3

. Kindred Bravely Washable Organic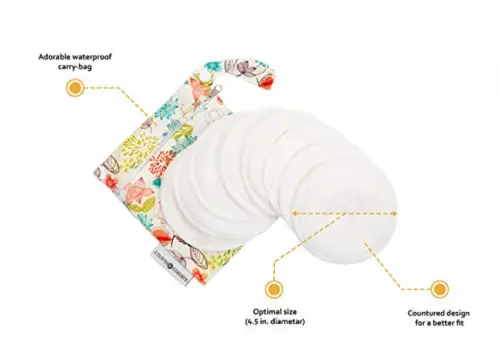 Soft bamboo underside
Moisture-wicking technology
Absorbent waterproof layer
Machine washable
Contoured design
Not entirely slip proof; some users complain of bunching when they move
With so many nursing pads on the market, it is hard to tell the difference between each one. This one stands out because it has been constructed from an ultra-soft and hypoallergenic bamboo material. The ultra-soft bamboo material sits next to your skin and on the outside is a waterproof layer that keeps your clothes dry. These are a high quality reusable nursing pad that is super absorbent and super durable. Once you wear them one time you will really be able to tell the difference between these and cotton material nursing pads.
Read more
Materials
The pad's design features three different strips of fabric and technology. The first is a waterproof PUL layer to keep your bra dry. The middle layer is made of ultra-absorbent microfiber to wick moisture. And the third layer is a soft bamboo meant to sit against your skin and provide comfort. Kindred Bravely also offers a money-back guarantee if you are for any reason dissatisfied with your order.
Comfort
Simply place the waterproof layer closest to your bra, with the bamboo against your skin, slip into your bra and go about your day. These washable pads will take care of both pain relief and leak resistance.
Value
This multipack includes four pairs or eight washable pads in total. It comes in a chic, colorful little carrying case so you can tote your goods around with you wherever you go. The company assures that you are welcome to use them in combination with nipple balm or cream if your breasts are feeling sensitive or chafed.
4

. Bamboobies Washable 8 Count
Hyper absorbent
Washable/reusable
Larger in size to cover the full nipple
Guaranteed protection for around 6-8 hours
Soft, soothing bamboo cotton
Leaves fuzzies that need to be cleaned away before feeding
After feeding, fabric follicles sometimes stick to breast and are painful to remove
Bamboobies is one of the top-rated lines for nursing mothers. If you enjoy their other products, consider these overnight pads, meant to help you make it through the night without any messy leaks to clean up come morning.
Read more
Materials
They can absorb and hold liquid without feeling clammy or wet. The bamboo rayon velour sits against your skin and soothes tired, chafing nipples. The mid layer is hyper-absorbent and absorbs your milk, then disperses it evenly across the pad so that no one section is overloaded.
Comfort
They are intended for heavy leaking and especially useful for newborn breastfeeding, so they are comforting for mothers of newborns. The milk-proof outer layer stops leaks in their tracks to save your nighttime apparel and bedding. This pack comes with four pairs or eight total washable nursing pads.
Value
These reusable nursing pads are much larger than standard sets and can hold milk for at least 6-8 hours. This allows you a full night's sleep without having to wake up and change out several times before morning.
5

. EcoNursingPads Washable Reusable

Improved custom designed day nursing pads
Constructed from organic materials
Velvety soft flower shaped day nursing pads
Organic bamboo round shaped pads for heavy times or nights
Provide maximum protection from leaks
Pads feel damp with little moisture
The thin profile can allow leaks with heavy downpours
These nursing pads have been constructed from the best materials and have been created to fit the best for nursing moms everywhere. They have a discrete shape that gives nursing mothers the confidence that they are looking for and makes them feel secure about their clothes stay dry. Each of the pads has been designed, constructed, and created by a family owned business that operates to create nothing but the best nursing pads on the market. They are reusable and washable nursing pads that have been constructed from organic bamboo materials.
Read more
Materials
The design also promotes a discrete look with the shape. The flower-shaped pads are not only ultra-soft but are washable and reusable. Between the shape, reusability, and level of security that provide nursing mothers with you will not want to use anything else.
Comfort
The company that has created these nursing pads is a family owned and operated establishment that is able to design and create products that have been produced with love and care. They're soft and velvety so it is extremely comfortable for mothers to use. The unique design with the flower shaped day nursing pads are super soft and fit nicely against the breast. They leave you feeling secure that you won't leak without that bulky feeling that other pads have.
Value
New and improved nursing pads that provide the ultimate protection without losing their style. Yes, you read that right. These nursing pads have a unique flower-shaped style that provides nursing moms with great protection from leaks plus has an ultra-soft velvety feel of their daytime use pads. You won't find anything else on the market quite like these nursing pads.
6

. Baby Zelis Organic Bamboo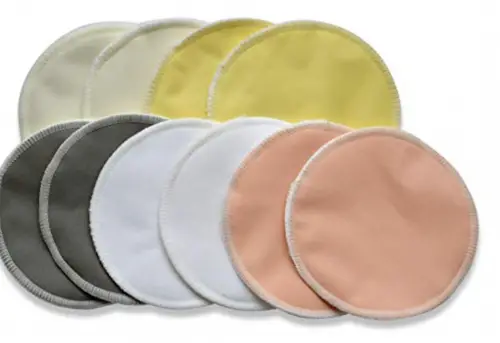 Hypoallergenic materials for sensitive skin
Waterproof layer to prevent leaks
Washable and reusable
Created from super absorbent materials
Bamboo constructed materials create super soft pads
Leaking milk, if left dry can cause the pad to stick
Pads are rough at first, need several washes to become soft
Hypoallergenic and washable is two great things that these nursing pads offer to breastfeed mom plus more. They are constructed of durable organic bamboo that offers a super level of absorbency and can be washed and reused.
Read more
Materials
Bamboo and organic, what more could you ask for? Another great thing about bamboo is each time that it is washed it becomes softer and softer making them only gets better with time. The constructed of the pad also includes a waterproof layer that works with the bamboo to create the best leak-proof system.
Comfort
Super protection with ultra-soft materials is where these pads enter the nursing pad game. No more worrying about soggy disposable pads or leaking onto shirts with these pads. They offer super absorbency without all the cloth layers.
Value
Wow, a waterproofing layer that prevents embarrassing leaks? Yes, these organic bamboo nursing pads include a waterproof layer that will prevent soaking through and causing an embarrassing situation for moms. Together the super absorbent bamboo pad and waterproof materials create a nursing pad that will make you happy to wear knowing that you are protected and go through your day without worry.
7

. Organic Bamboo 12-Pack with Laundry and Travel Bag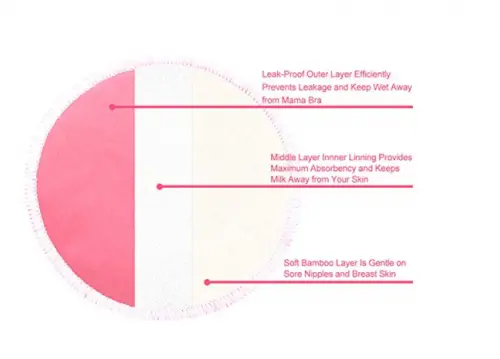 14 bamboo pads in the pack
Soft, natural, and antibacterial
Triple-layer protection
Hyper-absorbent
Includes laundry and travel bags
Slide around in bra, not super thick
No larger ones in the pack for overnight leaks
These bamboo breastfeeding pads are an eco-friendly, natural, and antibacterial way to experience soft, dry comfort for hours at a time. They're absorbent, with a middle layer microfiber that helps prevent leaking, especially at night.
Read more
Materials
The outer layer is equipped with TPU lamination to prevent leakage and keep wetness away from bras and clothes. They're reusable, and machine-washable, to bring you maximum confidence and comfort. This pack comes with 14 recyclable pads, a laundry bag, and a travel-friendly storage bag, to make every step of your process as streamlined and simple as possible.
Comfort
These bamboo nursing pads will keep your skin soft, comfortable, and dry, and your clothes free from stains and leaks. They're more environmentally friendly than disposable alternatives, and they'll likely be more cost-effective in the long run.
Value
Users have attested that Wegreeco's bamboo nursing pads are among the softest, strongest, and most hygienic on the market. These are a greener option, and they're soft and absorbent. Women with larger breasts seem very happy with them, and they hold up incredibly well in the washer.
8

. Medela Disposable 120 Count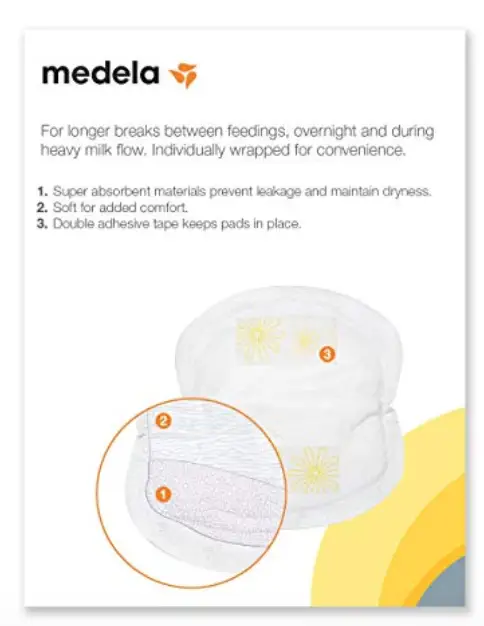 Each pad is individually wrapped
Super discreet design
Features adhesive strips to keep the pad in place
Created with superabsorbent materials
Allows nursing moms to feel confident and dry
Adhesive strips can be really strong and hard to remove from materials
Wrapping around pads is hard to open and get the nursing pad out
Disposable pads with the ultimate protection and value. These pads provide the best protection against leaks that a disposable pad can offer. They allow you to use fewer pads over the course of the day while still keeping you comfortable, dry, and confident.
Read more
Materials
Being a confident mom while nursing your baby can be tough. You always feel damp and not sure if you are leaking or not. These disposable pads have been created to keep you confident and dry throughout the day and night. The bonus is they are disposable and convenient to use. They are easy to carry, replace, and dispose of.
Comfort
Staying dry for a nursing mom is always a concern. It is not only uncomfortable, but it creates an environment that is not healthy for the nursing mother or the baby. These pads have been created to help nursing moms stay dry all day and night long. The pads are easy to open, easy to place in the bra with double adhesive tape keeping them firmly in place, and simple to dispose of. They feature an additional soft layer of absorbent materials that is able to keep the moisture away from the skin for a superior dry feeling.
Value
Providing protection against leaks both day and night these pads are the best value on the market. They are also discreet and individually wrapped for your convenience.
9

. M&Y Organic Bamboo 14 Pack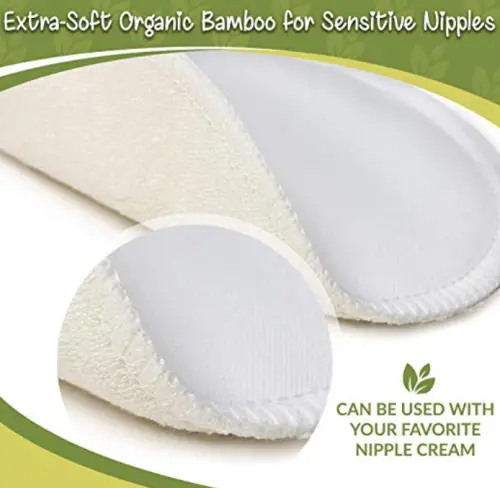 Hypoallergenic, silky bamboo
Moisture-wicking
Milk-absorbing
Washable/reusable
Laundry bag, carrying bag, and instructional ebook included
Will occasionally leak if left unchanged overnight
Organic, breathable, and hypoallergenic, the M&Y Washable Nursing Pads are bamboo-soft and moisture-wicking. This set comes with seven total pairs to get you through the week, in a mixture of beige and white.
Read more
Materials
With an included laundry bag, organza bag, and breastfeeding e-book, this makes a great gift for new moms and veteran breastfeeders alike. M&Y offers two different sizes (A-C cup and C cup & up), both contoured to the shape of your breast for discretion. The smaller size is 3.9 inches in diameter, and the larger size is 4.7 inches.
Comfort
These soft, breathable pads are reusable and discrete. Simply wash and reuse, luxuriating in the comfort of that soothing, gentle bamboo. Bamboo really is a wonderful feeling on the skin and is especially helpful when dealing with sensitive, chafing nipples. These pads are convenient and comfy.
Value
Measure your areola if you are debating about which size will best suit you. The pads will show under especially thin clothing, but if you're tucking into a bra and a shirt on top, you shouldn't see any lines. The company's money-back guarantee means you can buy risk-free.
10

. Lansinoh Ultimate Protection
Super absorbent for both night and day use
Features InvisiLock blue core holds 20 times weight in liquid
Discreet and contoured shape for comfort
Waterproof layer on the outside keeps clothes dry
Constructed from non-toxic and latex free materials
Adhesive tape on the nursing pad does not stick well to clothing, does not keep in place well
Nursing pad feels wet when against the skin
Created for both day time use and night time use these nursing pads are the most absorbent pads that have ever been created. The nursing pads are able to hold up to 20 times their weight in liquid. They feature a Blue InvisiLock Core that is able to instantly capture the liquid and then disperse the moisture throughout the pad. This technology is used to be able to keep a nursing mom dry day or night.
Read more
Materials
The nursing pad has been constructed from a super soft material that is nontoxic and contains no latex materials. Each pad contains layers that are waterproof that keep both mom and mom's clothes dry during the night or during a long day. The waterproof layer combined with the InvisiLock blue core technology ensures that mom is comfortable and dry.
Comfort
Nursing pads are one of those things that no one is excited to wear, but everyone loves the protection that they provide. These pads not only provide the protection that nursing mother want, but they are also comfortable and discreet at the same time. They feature a contoured shape that is able to conform to the nipple and breast. This makes the fit and being able to wear the pad for long periods of time comfortable. The pads also have adhesive strips to keep them in place and from moving around as you do.
Value
With these pads, nursing moms will not have to change the pads nearly as many times as the standard nursing pads would have to be changed. The InvisiLock blue core technology that is used in the core of the nursing pad stores up to 20 times its own weight. This means it will hold more, stay drier, and last longer than most other nursing pads on the market.
Criteria Used for Evaluation
Materials
After selecting nursing pads that had the best quality construction and materials, we then selected and created the list by reviewing the consumer reviews. This is important to us because it ensures that the users who are currently using these products are happy customers and completely satisfied with their choice of that product. Each of the different nursing pads offers something different or unique to the brand. Selecting the best nursing pad for you from the list should be easy by reviewing the information.
Comfort
When selecting breastfeeding and nursing pads, there are a few features to review. Something to look for in all pads is to make sure that they are made of cotton. The best kind is the ones that are made from 100 percent cotton. Cotton allows for greater airflow, helping keep everything drier for longer. Many pads have a lace or decorative overlay. This is fine as long as the pad itself is constructed from cotton.
Value
Washable nursing pads are more expensive for the initial purchase, but over time they will become less expensive as you reuse them. The only drawback from using washable nursing pads is the schedule of keeping up with the washing and drying of the pads. The most important thing about wearing nursing pads is ensuring that you do not wear wet or damp pads for any length of time.
Most Important Criteria
(According to our experts opinion)
Experts Opinion
Editors Opinion
Users Opinion
By Default

Parents, did you know?
Creating the list of the 10 Best Nursing and Breastfeeding Pads was one of the more complex lists that we have created. We wanted to ensure that the products listed on the page were made with great quality materials and offered super protection, while also having the consumer reviews that supported the "best" product designation. Each of the nursing pads that were selected for the list has been created by quality companies that create quality products. We have reviewed each of the items to ensure the materials and construction of each of the nursing pads are nothing but the best.
Parents, did you know?
No matter what type of nursing pads you select, always remember that there are several makers on the market. They each make their own style with different absorbency layers. If you find that your current nursing pad is not working well for you, try others. Don't ever be afraid to explore other types of pads.
Other Factors to Consider
Environment Friendliness
Using washable or disposable breastfeeding and nursing pads usually come down to what you find is the best match for you. Some mothers may even find that they use both depending on the day or situation. Disposable pads are super-convenient and work well for a busy day, when traveling, or taking along when out with the baby for the day. They are overall a less green alternative and can be cheaper on the initial purchase, but over time they can cost more.
Protection
Usually, the larger the nursing pad, the more volume that it holds, but that does not necessarily mean the longer that you can wear them. You have to remember that nursing pads are meant to be changed often and prevent you from leaking onto your shirt while also keeping you dry. Changing your nursing pads is a vital step that you will have to do throughout the day.
Frequently Asked Questions
q:

Do nursing and breastfeeding pads show through your shirt?

a:

Nursing pads are made to be absorbent and save you from leaking onto your shirt. They can sometimes be visible through your shirt. Even though they are not invisible, they serve an important purpose so don't forgo them just because they might be detected.
q:

What is the difference between regular nursing pads and overnight nursing pads?

a:

Regular nursing pads are usually thinner and have a plastic layer to protect your bra and clothing from getting wet. They are less visible which is great for wearing under clothing. The overnight nursing pads are usually very thick and super-soft. They are typically also larger in size and absorb much more. This helps keep you drier during the night.
q:

How do you know what type of nursing pads to buy?

a:

The type of nursing pad that you select is based on what you prefer. If you prefer to have pads that need to be washed and dried, then selecting the reusable pads is a good choice for you. If you like the idea of disposing of the pads after each use and starting with a new set, then disposable pads are your best choice. It basically comes down to your life schedule. Often when you have a very busy and hectic schedule it may be easier to use the disposable nursing pads.
q:

How many nursing pads will I use?

a:

Everyone is different, but a good number to have on hand are two sets of nursing pads for the daytime and one set for each night. So, basically make sure that you keep three pairs of nursing pads on hand for each day.
q:

How do I wash and care for the reusable nursing pads?

a:

It is recommended that reusable nursing pads be washed in a washing machine on a cold-water setting. Once washed, it is very important that you dry the pads completely on a low setting in the dryer. This ensures that they do not have any leftover moisture on the pads that could cause any issues.
q:

Can you reuse a disposable nursing pad?

a:

No, you cannot reuse a disposable pad or wash them. They are made to use one time and be disposed of.