10 Best Nursing Pajamas Reviewed in 2019
last updated
Sep 17, 2019
When it is time to turn out the lights, turn down the sheets, and slip in for a good night's sleep, you want to be as comfortable as you can be. If you know there is a decent chance that you will have to wake up at some point to feed the baby in the middle of the night, you will also want to go to bed in something that will allow you to breastfeed comfortably and quickly when the time comes. In this beneficial buying guide, we highlight the best-rated and the most-reviewed nursing pajamas for you that online customers love and highly recommend to others. These PJs are all comfy, cozy, and equipped for easy breastfeeding. The models and designs are all different, but they do have comfort, adjustability, fit, and soft materials in common along with easy access for breastfeeding that regular clothes do not. Sweet dreams!
In a Hurry? The test winner after 36 hrs of research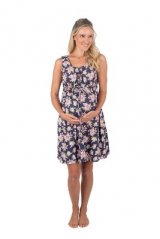 Baby Be Mine 3 in 1 Labor
Why is it better?
Adjustable waist and hidden front panel
For nursing, delivery and labor, and maternity
Easy and quick epidural access
Both sides have shoulder snaps and the back
Front flap is discreet for breastfeeding
In a
Hurry? Editors choice: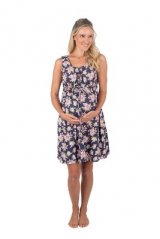 Test Winner: Baby Be Mine 3 in 1 Labor
15
Researched Sources
36
Hours Researching
25
Products Evaluated
Comfort
Design
Materials
Ease of Use
Fit
By Default
10 Best Nursing Pajamas Reviewed
1

. Baby Be Mine 3 in 1 Labor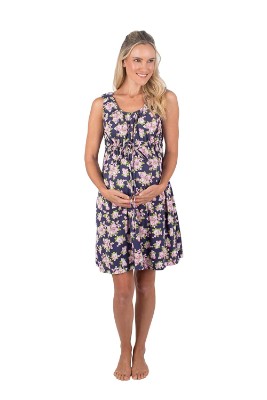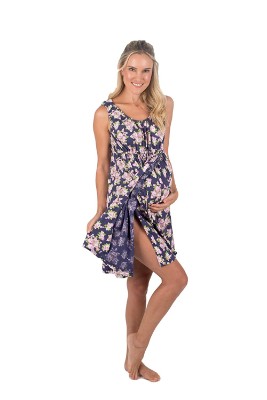 Adjustable waist and hidden front panel
For nursing, delivery and labor, and maternity
Easy and quick epidural access
Both sides have shoulder snaps and the back
Front flap is discreet for breastfeeding
Was too large for some buyers with the correct size
Elastic in the arms can be tight for some women
The Baby Be Mine 3 in 1 Labor Gown is machine washable and 100% cotton for complete comfort. This ideal gown can also be reversed, so you have snaps at the front. Comfortable and stylish, it has a front hidden panel for fetal monitoring and medical examinations and secures in the rear with snap closures. Easy and quick epidural access is possible, and both sides have shoulder snaps for medical exams and contact with the baby.
Read more
Comfort
You can wear the Baby Be Mine 3-in-1 Labor Gown in three ways of a nursing nightgown, delivery and labor gown, and a maternity nightgown. It has an adjustable waist, so it will fit your changing body, plus a front flap that is discreet for breastfeeding.
Materials
Wearing a hospital gown after you have just given birth may be one of the most uncomfortable pieces of clothing that you can wear. You always want to make sure that you have clothing that makes you feel comfortable and relaxed so you can enjoy the time with your new bundle of joy. This nursing gown has been created from super soft 100 % cotton. It can easily be washed and keeps it soft to the touch. The materials allow for easy moving and no strings are attached.
Design
Made to give the new mom or soon-to-be mom plenty of access for medical exams, baby care, and breastfeeding, this wonderful item has plenty of access points to give the comfort and versatility you need and desire.
Ease of use
The nursing flaps are at your shoulder. Each shoulder has a simple snap closure that will detach the front from the back of the gown when opened. This is very convenient for new moms because it allows for discrete skin to skin nursing. You can open the shoulder and then tuck your baby inside the gown for complete discretion.
Fit
The fit of this lovely garment is loose but not so much that it is bulky and unshapely on the body. It is flexible for body size and shape of the pregnant woman and the breastfeeding mom.
2

. Kindred Bravely Davy Ultra Soft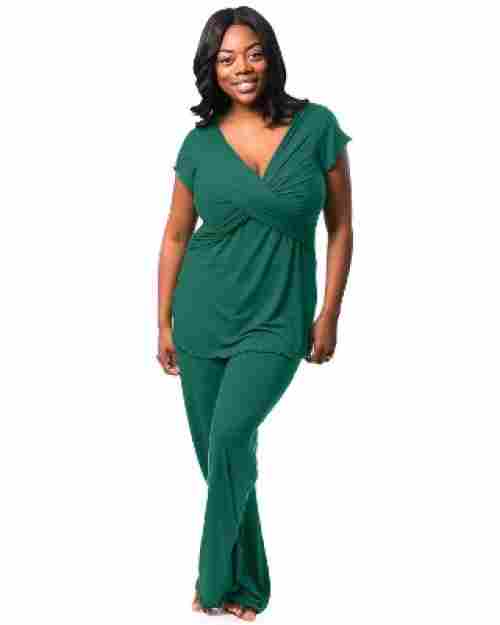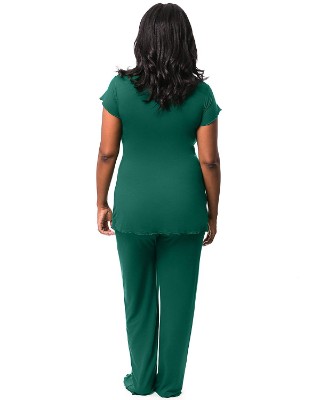 Great for before and after pregnancy
Bust is elastic-free to prevent skin chafing
Has an elastic comfortable waistband
Has a cut that is flattering to the shape
Top has a crisscross design for breastfeeding
Pants can be too long for shorter women
Openings may be too small for large-breasted women for breastfeeding
The Kindred Bravely Davy Ultra Soft Pajama Set consists of a shirt and a pair of pants that is offered in eight solid basic colors. It is great for before and after pregnancy and makes a terrific gift for new mothers. The top piece is double layered for easy breastfeeding that can be done even when company is present, as this combination is made of spandex and viscose materials. The bust is elastic-free underneath to prevent digging and chafing of the skin, and the entire product has a cut that is flattering to the shape. Machine-washable, this wonderful item has an elastic comfortable waistband to make the transition from pregnancy to new mom easy and comfy. The waistband will not irritate the incision of a c-section or be tight on the belly, plus the top has a crisscross design for simple pumping and breastfeeding. Each piece can be mixed with other clothing pieces for a change of outfits.
Read more
Comfort
This pajama set has a comfortable elastic waistband that will not irritate c-section incisions and will be gently against your changing stomach. You will be able to wear these pajamas when guests come by to meet your baby.
Design
Designed to give you the freedom you desire when pregnant or breastfeeding, this two-piece set is made for style and comfort in the home and even out of the house. It has a wonderful top for easy breastfeeding that is discreet.
Materials
The viscose and spandex fabrics that this item is comprised of ensure that the pajamas are soft and stretchy to your needs. The fantastic material on your skin will relax you and make you feel so comfortable.
Ease of use
The nursing area is easy to access. You just pull up on the bottom of the chest rucking and it reveals a second layer of material with a slit. This allows you to feed while still remaining covered.
Fit
Because this is a two-piece set of pajamas, you will have the best fit for the top and bottom of the body. While not being baggy, each part is loose-fitting to allow you plenty of room for breastfeeding and lounging at home or at the hospital.
3

. Kindred Bravely Angelina Ultra Soft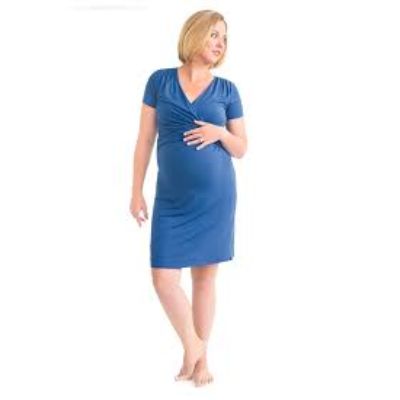 Can be worn like a dress out of the home
Used for nursing when others are around
Top is double-layered for easy access
No elastic, snaps, or clips under bust
Flattering cut with a V-neck and short sleeves
Solid colors do not hide milk leaks and spit-up stains
Design could be more flexible with fabric in the bust area
The Kindred Bravely Angelina Ultra Soft Gown has a flattering design intended to make you feel nice while your body is changing. The ideal mix of Modal and spandex materials is extremely soft and comfortable against both mom and baby's skin. Stylish and soft, it can be worn like a dress out of the home and also for nursing when others are around. The top is double-layered for easy access, and the garment has a flattering cut with a V-neck and short sleeves. The area under the bust has no itchy constricting elastic, snaps, or clips to be uncomfortable. Use for a postpartum dress or nightgown or as a hospital gown, as it is perfect for sleeping in the springtime weather. It can be machine washed and is available is several solid bold colors.
Read more
Comfort
The soft materials, length, style, and fit of this lovely garment make it so comfortable for everyday wear. Because it can be worn even outside the home, you will probably not want to wear anything else. It is that comforting to the body.
Design
The amazing cut of the gown will be flattering as your body changes shape and gets used to not having a baby inside. It is fabulous for breastfeeding even when company is near because of the fabric layers in the top.
Materials
Nursing is a full time job and clothes can make it feel like you are always on overtime. This nursing dress has been created from a blend of perfect materials. It has been constructed with 94 % modal and 6 % of spandex. Together this blend creates an easy flowing nursing gown that honestly you may never want to take off. It has no snaps, clasps, or strings to get in the way. It is designed with soft stretchy materials that allow you to easily nurse from the two layer top.
Ease of use
This gown can be worn around town to run errands and no one will know that it is a nightgown because the styling is so flattering. The nursing slits are easy to access and discrete. This is a great choice if you are in the market for clothing that has multiple uses.
Fit
The rucked design of the top allows for room for enlarged breasts while still remaining flattering when not enlarged. It is the perfect length for bending and moving around after older kids or as your little one grows.
4

. The Bravely Labor and Delivery Gown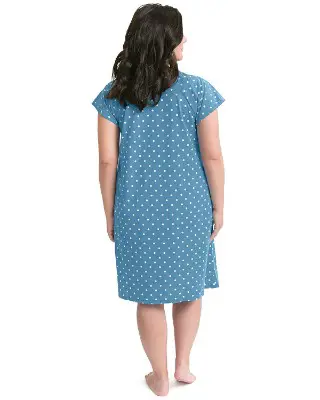 Offered in four lovely prints and pastel colors
Front is secured with Velcro strips
Shoulders have snaps for breastfeeding
Two large hand pockets on the front
Match with the maternity robe in the same design
Velcro can be itchy at the shoulders
Color fades in a hot wash; some are see-through
The Bravely Labor and Delivery Gown is intended to be worn during labor, delivery, and after the baby is born. The material is super-soft, and the excellent garment has several convenient openings for easy accessibility. Offered in four lovely prints of floral, polka dots, and diagonal lines in pretty pastel colors, it is the winner of the PTPA Award and the Mom's Choice Award. Use this amazing item instead of the drab hospital gowns provided for labor, since it allows you to walk in the hospital with confidence.
Read more
It is void of the annoying strings in the rear, flashing from behind, and drafts in the back. The front is secured with Velcro allowing great contact with the baby, access for ultrasounds and epidural, and fetal monitoring. This fabulous gown provides complete body coverage and has a round neck and wide, open short sleeves. Both shoulders have easy snaps for baby bonding and breastfeeding. Enjoy two large hand pockets on the front to carry small accessories. This knee-length product can be matched with the company's maternity robe in the same design and is made of a knit material that is very soft like a comfy t-shirt.
Comfort
If you prefer a full-coverage gown for the delivery room instead of the ones the hospital provides, you will appreciate the full and loose design of this garment made of a soft fabric with a full front Velcro closure.
Design
Made for easy access in the hospital and at home, you will love this gown design that has snaps and Velcro closures on the front, a loose fit, and pockets in the front for your small items.
Materials
Those first few moments after your little one is born are some of the best moments of their lives and yours. It is suggested that you spend as much skin on skin time as possible. This gown makes it easy with materials and design that built just for the job. It opens in the front and allows you to completely access your chest with no issues. The soft knit materials are super smooth and feel just like your favorite shirt.
Ease of use
This gown has shoulder openings so that you can have convenient and modest skin contact with your new baby while breastfeeding. It also opens down the front for easy medical and breastfeeding access.
Fit
The style of this wonderful gown is loose but still flattering to the shape of the pregnant or new mom shape. It is not tight in the bust area, hips or arms to give you the freedom of movement needed during this special time.
5

. Motherhood Maternity Women's Goddess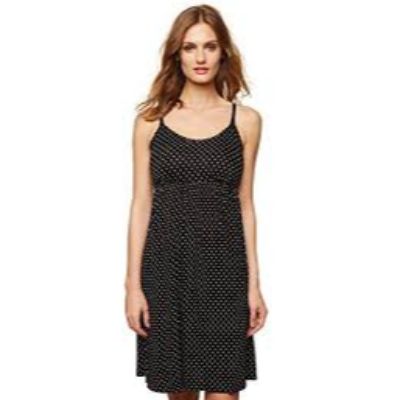 Stylish to wear before, during, and after labor
For house lounging, hospital stays, and nursing
Has a clip-down function for breastfeeding
Neckline has pretty scalloped lace
Is sleeveless with thin straps to be comfortable
Top can run a bit small for some women
Fabric may pill after washing in a machine
Roomy enough for your belly to grow and change, the Motherhood Maternity Women's Goddess Nightgown is super cozy and has beautiful and fashionable detailing. Made of rayon, polyester, and spandex materials, it simply pulls on without any snaps, buttons, or Velcro to bother the skin.
Read more
Machine-washable and stylish enough to wear before, during, and after labor, this terrific garment has a neckline with pretty scalloped lace. Great for house lounging, hospital stays, and nursing, it features a nursing clip-down function for the breastfeeding mom. It is sleeveless with thin straps to be the most comfortable, comes just above the knee, and has cups in the breast area.
Comfort
You will love the soft feel of this wonderful fabric on your skin since it is cozy polyester and rayon with just enough spandex for flexibility. It will give with your body where you need it most to flatter your ever-changing shape.
Design
The fashionable details of this lovely garment will have you feeling beautiful and not frumpy. Beautiful patterns are available to help hide infant spit-up and leaky breast milk stains. The feminine lace detailing will make you forget that you are wearing a nursing gown at all.
Materials
The spandex in this garment will give with your curves and allow you free movement when breastfeeding or just relaxing at home. It is soft with the polyester and rayon that gets softer each time it is washed.
Ease of use
This chemise-style product hits right above the knee for the perfect mommy length gown. The nursing area is accessed by unclipping a latch where the strap and top meet for easy and quick breastfeeding.
Fit
It is probably true that all pregnant women and new moms want clothing that fits loose on their bodies because they are changing so fast. This amazing item will flatter your shape and give where you need it to for an ideal fit.
6

. Baby Be Mine Nightgown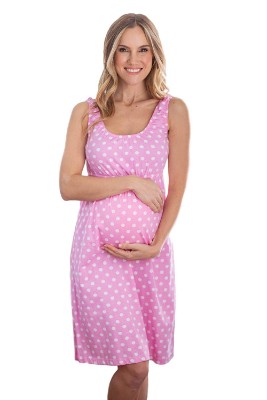 Easy one-handed access for feeding
Great for pregnancy and breastfeeding
Many colorful pastel prints to choose from
Made of soft cotton and spandex fabrics
Ideal for home or the hospital
Can run small for large-breasted women
Elastic in the arms was uncomfortable for a few buyers
Go to sleep looking and feeling great in this Baby Be Mine 2-in-1 Nightgown. It is comfortable, soft, and versatile, so you can wear it during pregnancy as well as while breastfeeding. A matching baby romper, pillowcase, pajama set, robe, and gownie are also available from the maker to complete your outfit. The round neckline on this nightgown is elastic, allowing for easy access during breastfeeding. This fabulous dress is machine-washable and constructed of 100% cotton and spandex fabrics. It is designed by moms for mom, so you know you are getting something that is not just frilly, but functional too. It is available in twenty-six various printed patterns from florals to polka dots in pretty pastels and bold colors. This superb product makes an excellent gown to pack for the hospital, so you can look like the star you are in your first pictures with the baby.
Read more
Comfort
Nighttime is a time that you want to be able to be as comfortable as possible and this is especially important when you are caring for a newborn. This beautifully designed nursing gown has been created to offer a versatile way of making you feel comfortable when nursing and resting. The pull down neckline makes night nursing easier and with no clips or snaps to get in the way of nursing for either you or the baby.
Design
There are no fasteners or slips to complicate feeding. Simply pull the elastic neckline down as far as you need for feeding the baby. The colorful designs are all delicate and pretty and the nightgown is ultra-plush, making it a sweet dream to sleep in.
Materials
Cotton is always a great choice for sleepwear anytime. This lovely garment has the right amount of spandex mixed in to give you the versatility in feeding the baby and for hospital tests and procedures.
Ease of use
Used at home or at the hospital, you will find this marvelous gown very easy to wear, enjoy, and use. breastfeeding is simple with the quick access, and this item can be worn with other clothing pieces around the home or out of the house.
Fit
This is one of the looser-fitting gowns we feature in this buying guide. It is for those women who do not want something constricting or tight on the belly, hips, and bust area.
7

. Zexxxy Women Ultra Soft Pajama Set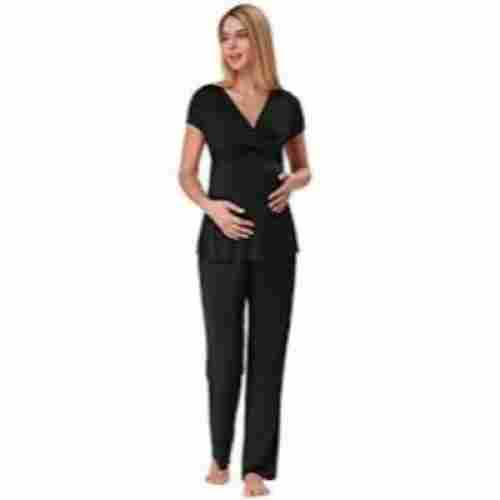 Matching set of pajamas with top and bottom
Created from a blend of 5 % spandex and 95 % rayon
Features a two layer top for discreet and easy nursing
Bottoms offer adjustable waist great for during and after pregnancy
Simple relaxed style with a cozy and lightweight feel
Tops and bottoms cannot be ordered in different sizes
Shirts are designed with a shorter than expected style
Nursing pajamas can be the answer to a lot of issues when you first have a baby. You need to feel comfortable, confident, and not in any clothing that makes you feel like you cannot move around freely. This pajama set offers a two piece set that includes a top and a pair of bottoms. Both pieces have awesome features that just make life just that much easier. They are also a cozy style that you may feel like you never want to take them off.
Read more
Comfort
These are a set of pajamas, but you may just think they are so comfortable that you wear them as loungewear as well. The set has been designed to give a relaxed feeling, but are stylish enough that you can wear them around the house. These pajamas even make nursing easy with an extendable pull down neckline that make maneuvering the baby and breast more comfortable for all.
Design
The top of the set of pajamas features a two layer design that has a ruched look. This allows the neckline to be easily pulled down and makes for discreet nursing. Accessing each breast is just as easy making switching sides and working with a newborn more comfortable for all. The pants are super comfortable and offer a simple design. One of the best things about the design of the pants is the adjustable waistline. Giving birth changes the body is so many ways, having comfortable pajamas that always fit comfortably and securely gives you confidence when you need it most.
Materials
Soft, smooth, and flowing the materials that these pajamas have been created from are all that and more. It is a premium blend of materials that come together to create a highly breathable, stretchable, and lightweight pajamas that have been designed just for new mothers. The blend of fabric has been created from a blend of 95 % rayon and 5 % spandex for the perfect blend to create the best material.
Ease of Use
No matter the stage of pregnancy or maternity these will be your go to set of pajamas. They are easy to care for with machine washable and dry fabric plus the relaxed cozy fit is hard to pass up. Plus the functional design of the top and pants make it the perfect matched set ideal for all kinds of moms.
Fit
When you are pregnant or just had a baby comfort is the most important feature for all your clothes. The fit of the matching set of pajamas is super relaxed and just that cozy feel that you will just love. It is a simple style that has a lot of functionality, but yet still offers some style.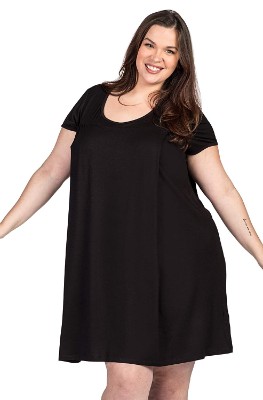 Nursing slits are well hidden and easy to use
Rayon blend fabric that is breathable and soft
Has a rounded neck and flexible short sleeves
Hip, waist, tummy, and bust are very loose
Perfect for before, during, and after birth
Was too short for some buyers
Arms were too tight according to a few women
Flowing over your changing body nicely with the nursing slits well hidden, the Savi Mom Nightgown is easy to breastfeed in since it fits like a large t-shirt. The terrific fabric is a rayon blend that is breathable, soft, and can be machine washed. This superb item has a rounded neck, flexible short sleeves, and comes just above the knee. With a relaxed fit that does not confine the body, the hip, waist, tummy, and bust sections are very loose. It comes in five solid basic colors and is perfect for before, during, and after the birth of the child.
Read more
Comfort
This gown comes to you super soft and gets softer with each subsequent wash. It truly gets more comfortable with wear. You and your baby will enjoy snuggling up with this nursing gown.
Design
It is large, roomy, and perfect for flowing right over all of those postpartum body changes. The nursing slits are well hidden in the breast area, and it has a super cozy cut.
Materials
Rayon is a soft material that is great for maternity and nursing clothing. The dark colors that this garment is offered in will not show stains as much as lighter hues, so you can wear it inside and outside of the home.
Ease of use
It is very easy to nurse your little one in this gown. The front has two box pleats on the left and right sides. If you shift the fabric towards the middle, you will reveal conveniently hidden nursing slits.
Fit
Being one of the loosest gowns featured here, the fit is not tight in any part of this product. Pregnant women and new moms do not want to be constricted in their clothes, and this item does not do that.
9

. Everly Grey Roxanne 5 Piece
The top is easy to nurse in
Waistline is not tight on the belly
Shirt is loose for easy breastfeeding
Is warm without being too hot
Matching baby outfit is cute
Stitching comes loose if it is stretched too much
The top was too big for some women
The Everly Grey Roxanne 5-Piece Set includes a robe, pants, matching top, light shirt, and a matching baby gown. According to buyers, the pants are a good length, and the top is easy to nurse in. Available in several color combinations. The fabric is really stretchy and soft jersey knit material with a look that is trendy and modern. The waistline is not tight on the belly, plus the flexible shirt is big and loose for easy breastfeeding. This nice garment is warm without making the mother too hot. This marvelous set would make a wonderful gift for a new or soon-to-be mom because it has the mixture of pieces needed for comfort.
Read more
Comfort
The soft material and loose fit make this combination of pregnancy and birthing pieces so pleasant. You can match the pieces you want for the most comfort around the home or at the hospital.
Design
This is a fantastic set to have when you love to wrap up in a light robe. You get a shirt, pants, a light robe, and a baby gown. It also comes with a convenient carrying tote bag. All of these items come in a fashionable and stylish pattern.
Materials
Feeling like a soft jersey knit material, this complete set will be one of your favorites for wearing around the house. The fabric is soothing on the skin just like a t-shirt because of its softness.
Ease of use
You and your little one will coordinate well if you purchase this set. It will be perfect for those cute arrival photos or going home from the hospital pictures. The top is easy for nursing. It is a deep V-neck that will move for convenient access.
Fit
Each of these pieces should fit the user quite loosely. The light shirt especially will have a loose fit that is ideal for breastfeeding purposes and to make the woman feel less confined.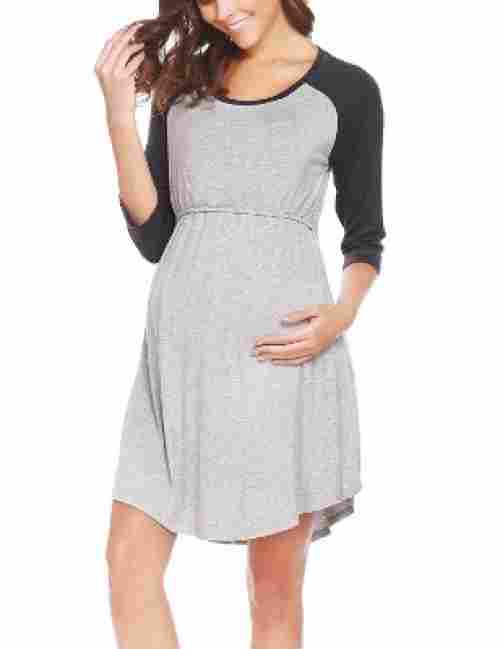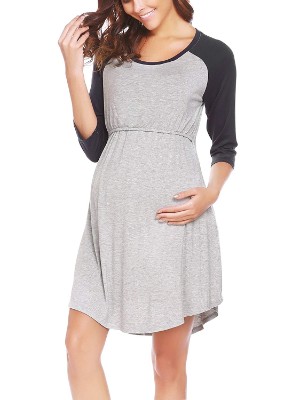 For pregnancy, breastfeeding, and maternity
Elastic design with layers for breastfeeding
Has a round neck and raglan sleeves
Hem design is irregular and loose
Looks like a large knee-length t-shirt
Overall quality disappointed some women
Company suggest hand-washing only
Roomy, comfortable, and easy for breastfeeding, the Ekouaer Nightgown is made of soft polyester and cotton materials. Great for pregnancy, breastfeeding, and maternity, it is offered in fifteen different color options of fabric that is stretchy and soft for the growing belly. Breastfeeding is discreet and easy with this design since it has a rucked-trimmed elastic design that has double front layers to expose the breast. It has a round neck, raglan sleeves, and a contrasting color for the sleeves and top of the gown. Looking much like a large t-shirt that is ideal for spring and autumn wear, this knee-length gown has a hem design that is irregular and loose.
Read more
Comfort
Go to sleep in something that just screams comfort and happiness. This nightgown drops all the frills and foliage for a classic, simple design that is extra soft and luxurious.
Design
The front features double layers with rucked trim and a design that is easy and discreet for breastfeeding. The collar features a loose, round neckline for extra comfort, and the gown is about knee-length to keep you warm without being hot.
Materials
Made of cotton and polyester materials, this gown is soft and stretchy. It allows for growing bellies, so you can wear this during pregnancy and for a long time after the baby is born.
Ease of Use
There are no tricky clasps or clips with this item. Simply separate the two layers of material when it is time to feed the baby. Hand-washing is recommended, but some have been successful with machine-washing.
Fit
This nightgown is casual, comfy, and classic. It is thin, but a little warmer than other nightgowns of its kind thanks to the three-quarter sleeves and knee-length design. This just looks and feels like something you would want to lounge around the house in.
Criteria Used for Evaluation
Comfort
One thing that is super important when you are choosing pajamas is comfort. No one wants to sleep in clothing that is itchy or restrictive. The pajama sets on our list are all made of soft material that will feel great against your skin and your baby's skin. You will not have to worry about rough material scratching you or your little one. these sets are perfect for sleeping and lounging. We made sure that all of the pants provide comfort features to keep you feeling cozy as your belly changes and/or your c-section incision heals. Comfort is key for new moms, as your body and lifestyle are changing rapidly.
Materials
Some of the softest materials were chosen by the manufacturers of these maternity and nursing pajamas and gowns. They include cotton, rayon, polyester, Modal, and spandex to be comfortable and soothing to the skin. The closures consist of Velcro, snaps, clips, lace, and elastic for closing and opening the gowns or pajamas and for access for breastfeeding. Knowing that pregnant and nursing moms are always hot for the most part, lighter fabrics were used to keep women cool and cozy.
Design
Each of these designs and styles is different of course, but all the garments are meant for sleeping and lounging for the woman who is pregnant, birthing, or has just given birth. Of course, these items can be worn long after the baby is bigger because they are long-lasting and durable for years of use. you will see that most of these products are gowns, while some others are pajama sets of two pieces or more. There is even one item of five pieces that would make an ideal gift for a new mother. the general theme of these garments is to be loose-fitting for the changing body of the woman who is pregnant or who has given birth. They are made to be used at home, at the hospital, or even outside of the home for the more stylish options.
Ease of Use
The pajamas we have chosen can all be put in the washing machine for easy cleaning. it is recommended that you wash them on a delicate cycle to preserve the fibers and softness of the articles of clothing. All of these garments make breastfeeding easy and with quick access built into the layers of the clothing. Included in this list are tops that pull down, have folding flaps with a hidden slot, or have the nursing slit hidden behind fabric pleats. You should be able to find a top style that will meet your personal needs.
Fit
The fit of any maternity or postpartum clothes should be loose and not constricting in the areas of the bust, waist, hips, and tummy. Being pregnant is uncomfortable enough at times, so having clothing that will cover you and still be flattering to your shape is important. The fit of these items is flattering to your expanding size and for your breastfeeding needs. All of them have slits in the fabric or pull-down areas in the bust to allow quick and easy breastfeeding capabilities. They fit and wear like soft t-shirts and gowns but are quite flexible to your needs as a new or soon-to-be mom.
Most Important Criteria
(According to our experts opinion)
Experts Opinion
Editors Opinion
Users Opinion
By Default

Parents, Did you Know?
Be sure that the clothing you pick out for nightwear when breastfeeding a baby is comfortable and not tight. The bust area should be loose with some room for comfort as it supports the bust but does not make the area tight like a regular bra.
Parents, Did you Know?
Choose clothing that you can wear long after the baby is not breastfeeding any longer as most nursing pajamas are stylish enough to wear even when not breastfeeding any longer. Get something you will feel comfortable in when you have regained the shape you had before the pregnancy for ultimate comfort.
Other Factors to Consider

Value
The ideal value of these wonderful garments is that they afford the new mom comfortable sleeping clothes that are easy to access for breastfeeding. Each one of these designs varies in the available sizes, colors, capabilities, materials used, patterns, and style. However, they are all easy to use before and after pregnancy and even during birth at the hospital. the value is great because of their special opening for feeding the infant and the built-in comfort factors to make lounging at home so much more relaxing and cozy.
Adjustability
Versatility is key when you are a new mother. you will not have a ton of time to pick out a new outfit or think about being fashionable. You will want to have a stock of comfortable interchangeable separates that you can wear out of the house. You are in luck as the majority of the items on this list can be worn as separates or by themselves to run errands or greet a house guest. You will feel the comfort of your pajamas but look like you are well put-together for fashion. Other moms will be asking your secret!
Frequently Asked Questions
q:

Are nursing pajamas necessary?

a:

If you plan to nurse your little one at night, nursing pajamas are an absolute necessity. Mom's produce the most breastmilk at night, so this is why our babies will wake frequently to feed in the wee hours. During this time, we are used to sleeping. this means that we are exhausted, and our babies are naturally going to want to have their mothers near, especially during growth spurts. You will need something easy and comfortable to wear that you will be able to breastfeed your child while wearing. This is why nursing pajamas are so important. Exhausted moms need comfort and ease, which are qualities that nursing pajamas have. you can easily breastfeed your baby, put them to sleep and hop back in bed yourself to get some more sleep when you have cozy nursing pajamas.
q:

How do I breastfeed in nursing pajamas?

a:

There are a variety of different types of openings that make your breasts accessible for breastfeeding in nursing pajamas. Some of the sets we have chosen have a pull-down top. To use this style for breastfeeding, you will just pull down the top at the neckline on the side you plan to feed on. There are also tops that you must lift up and possibly encounter an opening that might need adjusting. You will also find shirts and dresses that have rucking on an outside panel and a large slit inside. You can just pull the rucked part down and then adjust the opening for optimal feeding. The most important thing to remember when you are nursing your baby in nursing pajamas is to move the excess material away and line up the opening so your baby can get a good latch.
q:

Does the type of material really matter?

a:

The material that you wear when you are nursing a baby really does matter. You want to make sure that your baby will not be able to snag the material with grabbing hands or misguided attempts at suckling. You also want to make sure that the material will not scratch or otherwise irritate the infant's sensitive skin. The material should also be able to retain its shape after being moved around for nursing. You do not want to have a droopy top because your material has no elasticity. These are all things you should think about when you plan to purchase nursing wear.
q:

Can I wear nursing pajamas in the hospital after birth?

a:

You can wear whatever fits your body in the hospital after you give birth. Comfort is key during this time of your life. We have a few nursing gowns that double as labor and delivery gowns. They are specifically designed to be worn during and after the birthing process. These gowns are designed so that your doctor and nurses can access the areas of your body that they need to keep you safe during delivery and you can stay mostly covered. They are also designed so that you can do skin to skin contact with your baby as soon as they are born and remain modest.
q:

Will the extra material hurt my baby?

a:

As with anything you wear while nursing your baby, there will always be some material that you will have to move out of the way. nursing pajamas are specifically designed to have less material to move than typical clothing. This is why you often find pull or clip down styles with a slit underneath. Your baby will not be hurt by the extra material being moved aside when they are nursing. You do need to ensure that you are keeping excess material away from their nose just to be on the safe side.
q:

How did you choose the best nursing pajamas for this list?

a:

The best nursing pajamas were chosen based on the above-listed characteristics of adjustability, ease of use, comfort, design, and fit. We also looked at customer ratings online to ensure that we were selecting products that other consumers thought were worthy of their hard=earned money. Another factor in choosing the top and best nursing pajamas is persona reviews. We make sure to comb through the good and the bad reviews of a product before we choose it for our best list. We pride ourselves in our ability to create trusted lists of the best products for you and your family.