When it's time to turn out the lights, turn down the sheets, and slip in for a good night's sleep, you want to be as comfortable as you can be. And if you know there's a decent chance that you'll have to wake up at some point to feed baby in the middle of the night, you'll also want to go to bed in something that will allow you to breastfeed comfortably and quickly when the time comes. That's why we're bringing you our ten favorite nursing pajamas. These PJs are all comfy, cozy, and equipped for easy breastfeeding. Sweet dreams!
10 Best Nursing Pajamas Reviewed
1. Baby Be Mine 3 in 1 Labor
Our number one pick is the Baby Be Mine 3 in 1 Labor/ Delivery/ Nursing Gown. This is truly a three in one piece you will enjoy having in your wardrobe.
Expand to see more
It is flowy enough to fit over your 9-month pregnant belly and still fit comfortably after your baby is born. It comes in a ton of great patterns and is very convenient for nursing your little one.
Benefits
You can wear this gown
through labor and delivery
and then at home as a nightgown or around the house with your new addition. It has an adjustable waist so it will fit your changing body. It is machine washable and 100% cotton for complete comfort. This gown can also be reversed so you have snaps in the front.
What We Like About It
The nursing flaps are at your shoulder. Each shoulder has a simple snap closure that will detach the from and the back of the gown when opened. This is very convenient for new moms because it allows for discrete skin to skin nursing. You can open the shoulder and then tuck your baby inside the gown for complete discretion.
Cost and Value
This versatile gown is just over our middle price point. It is great for wearing in the hospital and once you arrive home with your baby. This is a great choice if you plan to do skin to skin, but want to remain discrete.
Pros
Shoulder snaps
Adjustable Waist
Several patterns
100% cotton
Machine washable
Cons
Very large
Tight arm elastic
2. Kindred Bravely Davy Ultra Soft
Kindred Braverly created our number two choice the Davey style pajamas. The Davey is a two-piece set that will work for moms who are pregnant and those who are nursing a newborn.
Expand to see more
This a set consisting of a shirt and a pair of pants. It is extremely comfortable and offers easy access for nursing your baby.

Benefits
This pajama set has a comfortable elastic waistband that will not irritate c-section incisions and will be gentle against your changing stomach. This PJ set has a ruched top that is flattering to all body types. You will be able to wear these pajamas when guests come by to meet your baby.

What We Like About It
The nursing area is easy to access. You just pull up on the bottom of the chest ruching and it reveals a second layer of material with a slit. This allows you to get your nipple out for easy feeding while still remaining covered.

Cost and Value
This set is priced near the top of our price list. It comes in a variety of colors so you can get a few sets and mix and match. This is a fantastic value for new moms.
Pros
Flattering style
Easy access breastfeeding
Soft cozy fabric
Elastic comfort waistband
Great to wear for company
Cons
Long pants
Small breastfeeding openings
3. Kindred Bravely Angelina Ultra Soft
The Kindred Braverly Angelina is our number three pick. This is a soft and cozy nightgown created especially for nursing mothers.
Expand to see more
It has a flattering design intended to make you feel nice while your body is changing. The material is extremely soft and comfortable against both mom and baby's skin.

Benefits
The ruched design of the top allows for room for engorged breasts while still remaining flattering when not engorged. It is the perfect length for bending and moving around after older kids or as your little one grows. The cut of this gown will be flattering as your body changes shape and gets used to not having a baby inside.

What We Like About It
This gown can be worn around town to run errands and no one will know it is a nightgown because the styling is so flattering. The nursing slits are easy to access and discrete. This is a great choice if you are in the market for clothing that has multiple uses.

Cost and Value
The cost of this nursing gown is just above our median price. It is a great value for a gown that can be worn as a dress for errands or hanging out with your baby. This gown is comfortable and versatile making it a great purchase.
Pros
Soft material
Discrete nursing slits
Flattering cut
Ruched top
Knee length
Cons
Solid colors do not hide milk leaks and spit-up stains
4. The Bravely Labor and Delivery Gown
The Braverly Labor and Delivery Gown has our number four spot. This is a fantastic gown for nursing. It is incredibly versatile. The design allows for skin to skin contact with your baby.
Expand to see more
It is intended to be worn during labor, delivery and after the baby is born. The material is super soft and the gown has several convenient openings for easy accessibility. This is the perfect choice if you are planning to buy a gown for labor, delivery, and nursing.

Benefits
This gown has shoulder openings so that you can have convenient and modest skin to skin contact with your new baby while breastfeeding. It also opens down the front for easy breastfeeding access.

What We Like About It
The material is t-shirt like and super soft. It will feel great on your skin and on your new baby's skin. The length is modest and the closures are secure. This is a great choice if you want modesty and convenience.

Cost and Value
This gown is right in the middle of our cost list. It is a great value because you can use it during labor and delivery and afterward for nursing your baby at home. The ability to have skin to skin contact modestly in this gown is a great value.
Pros
Versatile
Modest design
Multiple patterns
Soft material
Easy for skin to skin
Cons
Velcro can be a bit itchy at your shoulders
Color fades in a hot wash
5. Motherhood Maternity Women's Goddess
The Motherhood Maternity Goddess Lace Trim Chemise Gown is our number five choice. This is one nursing gown that looks like something you would buy before getting pregnant and having a baby to nurse.
Expand to see more
It is roomy enough for your belly to grow and change. This gown is super cozy and has beautiful and fashionable detailing.

Benefits
The fashionable details will have you feeling beautiful and not frumpy. The material is cozy and soft.There are beautiful patterns available to help hide spit up and leaky breastmilk stains. The lace detailing will make you forget you are wearing a nursing gown.

What We Like About It
This chemise style gown hits right above the knee for the perfect mommy length gown. The nursing area is accessed by unclipping a latch where the strap and top meet for easy and quick breastfeeding access.

Cost and Value
This beautiful gown is near our middle price point. You will feel fashionable and not frumpy in this gown. It can be worn with a cardigan when you want to run a quick errand. The versatility and fashion of this gown make it a great buy.
Pros
Cute design
Easy access for nursing
Good for pre and postpartum periods
Modest length
Soft material
6. Baby Be Mine Nightgown
Go to sleep looking and feeling great in this Baby Be Mine 2-in-1 nightgown. It's comfortable, soft, and versatile. You can wear it during pregnancy as well as breastfeeding.
Expand to see more
A matching gownie, robe, pajama set, pillowcase, and baby romper are also available. The neckline on this nightgown is elastic, allowing for easy access during breastfeeding. Waking up in the middle of the night to calm baby is enough of a hassle; don't make it any harder on yourself by wearing pajamas that you'll have to fiddle and fuss with in order to get to the feeding. This dress is 100% cotton and machine washable. It's designed by moms for moms, so you know you're getting something that's not just frilly--it's functional, too. It comes in US sizes Small to X-Large, and is available in twenty six different patterns ranging from floral to polka dot. This makes an excellent gown to pack for the hospital so you can look like the star you are in your first pictures with baby.

BENEFITS

This nightgown is plus and flowy, allowing you to sleep comfortably. The elastic neckline is easy to pull down when you need to feed baby.

What We Like About It
There are no fasteners or clips to complicate this. Simply pull the elastic neckline down as far as you need and have a happy feeding with baby. The designs are all delicate and pretty and the nightgown is ultra plush, making it a sweet dream to sleep in.

Cost and Value
With over a dozen unique and stylish designs available, this dress is a real bargain. Sliding nicely into our middle price range, this flowy nightwear will have you feeling just sexy and confident at 33 weeks as you did at 3 weeks.

Pros
Easy one-handed access (no clips to fiddle with)
Great for pregnancy and breastfeeding
Lots of pretty design options
100% soft, comfy cotton
Machine washable
Cons
If you're busty, you'll want to order a size up for comfort's sake, especially during pregnancy
7. Kindred Bravely Lucille Nightgown
The Lucille style by Kindred Braverly is our number seven choice. This beautiful gown is made for the mom who wants to look nice when she heads off to bed.
Expand to see more
It is a good length and comes in a variety of color combinations to meet your personal style.

Benefits
This gown is soft and comfortable and it has lace! The lace detailing will make you feel like it's not a nursing gown. The variety of colors will have you looking fashionable. The cups unclip for easy nursing access.

What We Like About It
This romantic nursing gown will help your post-baby confidence grow. It is a flattering cut for your changing body. You can feel beautiful and have functionality with this beautiful gown. This gown has a built-in bra that offers the light support that is much needed when you are nursing a baby.

Cost and Value
This gown is near the top of our price point. It is not easy to find a nursing gown that is not frumpy or too big. This gown fits the bill. It will keep you covered in beautiful fabrics an allow you to feed your baby as needed.
Pros
Lace detailing on the cups
Clip down cups for nursing
Soft material
Built-in bra
Many color combinations
Cons
Built-in bra offers little support
The top runs big
8. Savi Mom Nightgown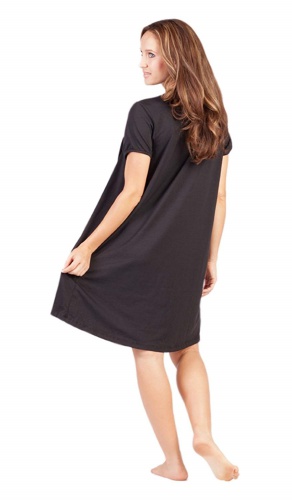 Our number eight pick the Savi Nursing Nightgown. This gown is like a cozy t-shirt that you love to wear.
Expand to see more
It is large and flowy, perfect for flowing right over all of those postpartum body changes. The nursing slits are well hidden and it is a super cozy cut.
Benefits
It is very easy to nurse your little one in this gown. The front has two box pleats on the left and right sides. If you shift the fabric towards the middle you will reveal conveniently hidden nursing slits.
What We Like About It
This gown comes to you super soft and gets softer with each subsequent wash. It truly gets more comfortable with wear. You and your baby will enjoy snuggling up with this nursing gown.
Cost and Value
This is the lowest priced nursing nightgown on our list. It is a great value because you are getting something that is
soft and functional
.
Pros
The material is super soft
It flows over your changing body nicely
The nursing slits are well hidden
It is easy to breastfeed in
Fits like a large t-shirt
Cons
Nursing slits sometimes open during casual wear
9. Everly Grey Roxanne 5 Piece
The Everly Grey 5 piece nursing and maternity pajama set is our number nine pick. This pants set comes with a variety of pieces to wear
Expand to see more
It is very comfortable and easy to wear while breastfeeding. It also comes with a cute item for your new addition.

Benefits
This is a fantastic set to have when you love to wrap up in a light robe. You will get a shirt, pants, a light robe, and a baby gown. It also comes with a convenient carrying tote bag. All of these items come in a complementary pattern.

What We Like About It
You and your new little one will coordinate if you purchase this set. It will be perfect for those cute arrival photos or going home from the hospital pictures. The top is easy for nursing. It is a deep v neck that will move for convenient access.

Cost and Value
This set is at the top of our price list. It comes with five items that re coordinating. This is a great value for the five items you will receive.
Pros
Includes a robe
Pants are a good length
The top is easy to nurse in
Soft material
Includes a baby gown
Cons
Stitching comes lose if it is stretched too much
10. Ekouaer Nightgown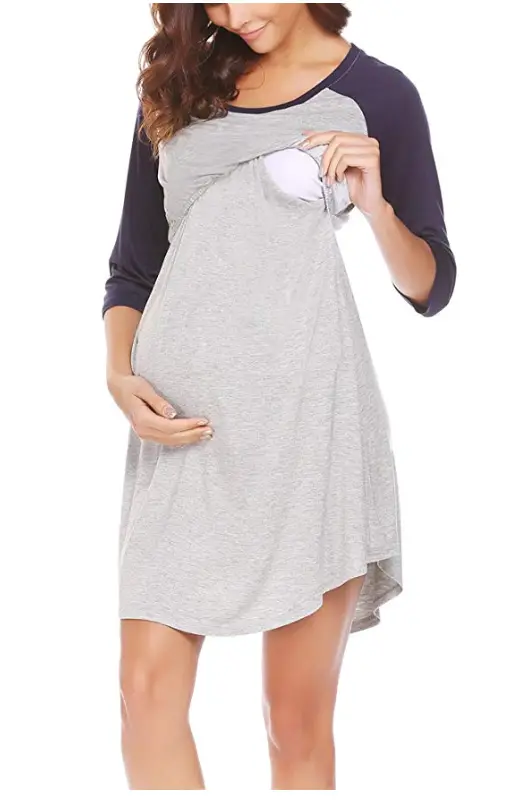 Made of 65% cotton and 35% polyester, this Ekouaer nightgown is soft and stretchy. It allows space for growing bellies so you can wear this during pregnancy and after.
Expand to see more
The roomy feel is completed with a loose, irregular hem design. The front features double layers with ruched trim and a design that's easy and discreet for breastfeeding. There's no tricky clasps or clips with this one, simply separate the two layers when it's time to feed baby. It's available in fifteen different color schemes and runs in women's US sizes small to extra large. The collar features a loose, round neckline for extra comfort, and the nightgown is about knee-length to keep you warm without being stifling. The garment tag recommends hand wash only, but some moms have put it in the machine on delicate cycles and it seems to hold up just fine.

BENEFITS

Go to sleep in something that just screams comfortable. This nightgown drops all the frills and foliage for a classic, simple design that is extra soft and luxurious.

What We Like About It
This nightgown is casual, comfy, and classic. It's thin, but a little warmer than other nightgowns of its kind thanks to the three-quarter sleeves and knee-length design. This just looks (and feels!) like something you'd want to lie around the house in.

Cost and Value
Form and function don't take a backseat to affordability with this comfortable option. Stretchy and soft fabric will embrace your post-natal body in a gentle hug with lower-end cost. Bonus points for being easy to clean!
Pros
Roomy, comfortably design
Extra soft material
Easy breastfeeding access
Great for pregnancy, breastfeeding, and maternity
Fifteen different color options
Cons
Wrinkles easily
Company suggests hand wash only
Criteria Used in Evaluation of the Best Nursing Pajamas
Easy to care for
The pajamas we have chosen can all be put in the washing machine. It is recommended that you wash them on a delicate cycle to preserve the fibers and softness of the articles of clothing. Having clothing that is simple to clean is very important when you have a tiny human who poos, pees and spits up. It is also important when you are breastfeeding because of the inevitable milk leaks that will soil the front of your shirt.
Breastfeeding accessibility
The whole point of purchasing a set of nursing pajamas is to be able to easily feed your baby. We would totally be missing the point of our list if we chose any tops that did not make breastfeeding easy. The tops on this list have a variety of styles of breastfeeding accessibility. You will want to look over our reviews and choose one that is right for you. We have tops that pull down, tops that have folding flap tops that have a hidden slot, and tops that hide the nursing slit behind pleats. You will easily be able to find a top style that will meet your personal needs.
Comfortable to wear
One thing that is super important when you are choosing pajamas is the comfort. No one wants to sleep in clothing that is itchy or restrictive. The pajama sets on our list are all made of soft material that will feel great against your skin and your baby's skin. You will not have to worry about rough material scratching you or your little one. These sets are perfect for sleeping and lounging. We made sure that all of the pants provide comfort features to keep you feeling cozy as your belly changes and/or your c-section incision heals. Comfort is key for new moms, your body and lifestyle are changing rapidly. We've got you covered in the comfort department.
Versatile
Versatility is key when you are a new mother. You will not have a ton of time to pick out a new outfit or think about being fashionable. You will want to have a stock of comfortable interchangeable separates that you can wear out of the house. You are in luck the majority of items on this list can be worn as separates or by themselves to run errands or greet a house guest. You will feel the comfort of your pajamas but look like you a put together new mom. Other moms will be asking you your secret!
FAQ
Frequently Asked Questions
Q: Are nursing pajamas necessary?
A: If you plan to nurse your little one at night nursing pajamas are an absolute necessity. Mom's produce the most breastmilk at night this is why our little ones will wake frequently to feed in the wee hours. During this time we are used to sleeping. This means that we are exhausted and out babies are naturally going to want to have their mother near, especially during growth spurts. You will need something easy and comfortable to wear that you will be able to breastfeed your child while wearing. This is why nursing pajamas are so important. Exhausted mom's need comfort and ease, these are qualities that nursing pajamas have in spades. You can easily breastfeed your baby, put them to sleep and hop back in bed yourself to get some more sleep when you have cozy nursing pajamas.
Q: How do I breastfeed in nursing pajamas?
A: There are a variety of different types of openings that make your breast accessible for breastfeeding in nursing pajamas. Some of the sets we have chosen have a pull-down top. To use this style for breastfeeding you will just pull down the top at the neckline on the side you plan to feed your baby from. Once you have pulled down the top you might be done and ready to feed or there may be a second layer of material with a hole or slit stitched in. If you have a hole or slit you will need to adjust the opening to the proper area so that your baby will be able to nurse correctly. There are also tops that you must lift up, usually, you lift them from an empire waistband, the same applies once you have lifted the outside panel. You will again encounter an opening that must be adjusted. You will also find shirts and dresses that have ruching on an outside panel and a large slit inside. You can just pull the ruched part down and then adjust the opening for optimal feeding. There are also clip down styles of nursing tops. This type of top is usually spaghetti strapped. It will have a hook on the strap and a loop on the cup of your top. To feed your baby you will unhook the side you wish to use and fold the side panel down for easy access. Once you have folded the cup down you will find a variety of openings, the most common is a hole or slit that allows you to feed your baby. You may also find a rectangle of fabric to the outside for more coverage. The most important thing to remember when you are nursing your baby in nursing pajamas is to move the access material away and line up the opening so your baby can get a good latch.
Q: Does the material really matter?
A: The material that you wear when you are nursing a baby really does matter. You want to make sure that your baby will not be able to snag the material with cute grabbing hands or misguided attempts at suckling. You also want to ensure that the material will not scratch or otherwise irritate your bundle of joy's ultra-sensitive skin. The material should also be able to retain its shape after being moved around for nursing. You do not want to have a droopy top because your material has no elasticity. These are all things you should think about when you plan to purchase and nursing wear.
Q: Can I wear nursing pajamas in the hospital after birth?
A: You can wear whatever fits your body in the hospital after you give birth. Comfort is key during this time of your life. We have a few nursing gowns that double as labor and delivery gowns. They are specifically designed to be worn during and after the birthing process. These gowns are designed so that your doctor and nurses can access the areas of your body that they need to keep you safe during delivery and you can stay mostly covered. They are also designed so that you can do skin to skin contact with your baby as soon as they are born and remain modest.
Q: Will the extra material hurt my baby?
A: As with anything you wear while you are nursing your baby there will be some material you will have to move out of the way. Nursing pajamas are specifically designed to have less material to move that typical clothing. This is why you often find pull or clip down styles with a slit underneath. Your baby will not be hurt by the extra material being moved aside when they are nursing. You do need to ensure that you are keeping excess material away from their nose just to be on the safe side.
Q: How did you choose the best nursing pajamas?
A: The best nursing pajamas were chosen based on the above-listed characteristics of versatility, ease of wear, comfort, and breastfeeding accessibility. We also looked at customer ratings to ensure that we were selecting products that other customers thought were worthy of their hard earned money. Another factor in choosing the top and best nursing pajamas is personal reviews. We make sure to comb through the good and bad reviews of a product before we choose it for our list. We pride ourselves in our ability to curate trusted best of lists for you and your family.