10 Best Maternity Dresses Reviewed in 2019
last updated
Sep 07, 2019
While pregnancy is a beautiful thing, we get that nausea, swollen feet, and a growing belly may make it hard for some women to feel pretty during their journey. Finding cute clothes in the later stages of your pregnancy may even seem like an impossible task. Don't worry ladies, we're here to help. We've created a list of the ten best maternity dresses that are soft, comfortable, and most importantly flexible. Our list is composed of both casual and formal dresses that will make you feel stunning no matter what pregnancy symptom you're battling. Go ahead scroll down and see for yourself!
In a Hurry? The test winner after 17 hrs of research
Mother Bee Wrapped Ruched Maxi
Why is it better?
Stretchy and comfortable
Can be worn to lots of events
Flattering fit
Lots of color choices
Can be machine washed on gentle
In a
Hurry? Editors choice:
Test Winner: Mother Bee Wrapped Ruched Maxi
45
Researched Sources
17
Hours Researching
19
Products Evaluated
Design
Comfort
Value
By Default
10 Best Maternity Dresses Reviewed
1

. Mother Bee Wrapped Ruched Maxi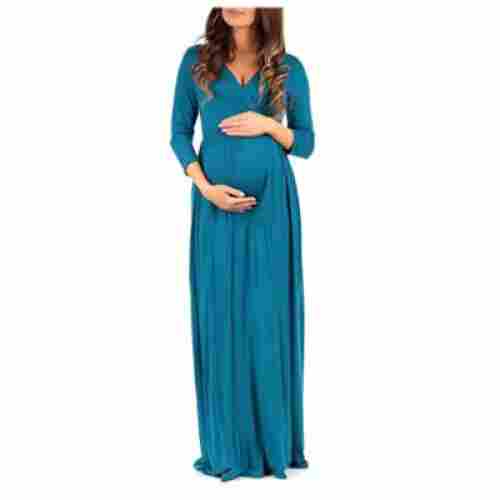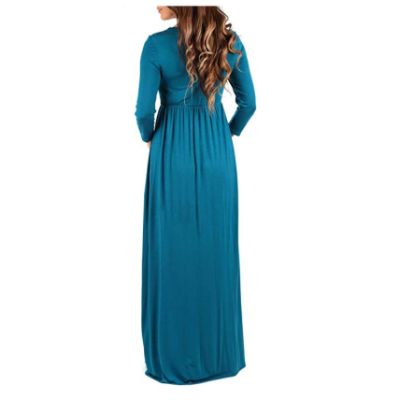 Stretchy and comfortable
Can be worn to lots of events
Flattering fit
Lots of color choices
Can be machine washed on gentle
Some women felt it was shorter than advertised
Whether you're lounging around the house, stepping out onto the town, or getting ready for a photoshoot, Motherbee's Wrapped Ruched Maxi Dress will have you looking and feeling your best. This stretchy, soft maternity dress is available in 36 different patterns (both solid and floral). If you're on the prowl for that staple piece in your wardrobe, look no further.
Read more
Design
This maxi maternity dress features a flattering v-neck and fitted three-quarter sleeves. It's available in solid colors ranging from black to vintage purple to topaz. With such a wide selection, you can find something just right for your closet no matter if you're searching for bright or muted tones. It's also available in fourteen different floral patterns if you want something a little tropical.
Comfort
Made from 97% Rayon and 3% Spandex, this dress does exactly what you want it to: it stretches. It's soft, it gives you some breathing room around your belly, and it still cuts a sleek figure. It can be washed on a gentle cycle too, making it a low maintenance option.
Value
This dress falls right around the average price for our guide. You can get lots of use out of it and it's appropriate to wear in all kinds of situations so you know you're not just buying something to wear to one event and then stare at as it collects dust in the back of your closet.
2

. Viishow Short Sleeve Maxi
Choose from over fifteen gorgeous solid colors
The fabric is lightweight, stretchy, and very soft
Is floor-length and has elastic at the waist
Has side pockets
Is an online best seller product
Can be short on tall women
The waistline was awkward and tight for some
Every woman needs a good maxi dress in their wardrobe, whether they are pregnant or not. The Viishow Short Sleeve Maxi is short sleeved and perfect for summer outings. Add a few accessories and you can even wear the dress to special events. Designed with a round neck, it is even appropriate for work. When purchasing you can choose between twenty different colors, thus making it easy for you to pick out a dress for any occasion. In fact, some of the colors are even available with long sleeves so you can enjoy wearing your favorite dress when the weather grows cold.
Read more
Design
This dress is composed of 95 percent Rayon and 5 percent Spandex. The blend of fabrics allows it to be lightweight, super soft, and stretchy. You can continue to wear it as your belly grows without feeling constricted. Maxi's are designed to be flowy, thus the fabric will drape over your body. If you're feeling self-conscious about your swollen feet, throw on this dress. The hem touches the floor so you can walk confidently. To top it all off, this practical maternity dress is designed with a pocket on each side.
Comfort
It may seem like a simple thing, but pockets in a dress while pregnant is a wonderful thing. Customers claimed that heavy little items like cellphones fit well in the pockets and did not pull down on the dress, making it not only comfortable but convenient.
Value
Having an average price, this item is valued for its versatility, simplicity, and terrific pockets on the sides.
3

. Saslax Elegant Fitted Gown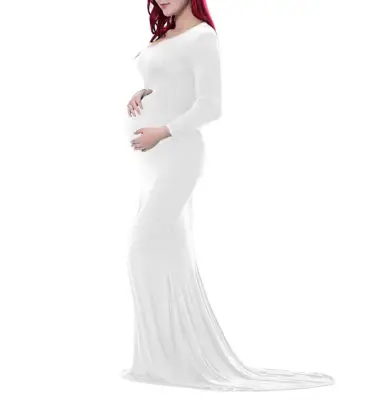 Can be worn by pregnant and non-pregnant women
Is stretchy, soft, and comfortable
The design is floor-length, fitted, and romantic
Shows the pregnant body in elegance
Use for photo ops, weddings, special events, or evenings out
Side seams are noticeable in photoshoots
Being see-through was a problem for some women
The elegant style of the Saslax fitted gown will leave you red carpet ready for any special event, romantic dinner, or even your maternity photo shoot. The hem of the dress touches the floor and even is designed with a small train. The fitted fabric will show off your beautiful pregnant belly at each stage. The off the shoulder long sleeves and sweetheart neckline will leave onlookers breathless. If you're not a fan of the sweetheart neckline, this dress is also available with a scoop neck. In fact, you can choose between a variety of different colors in both styles to best suit your taste.
Read more
Design
For professional photos, this is an outstanding dress to wear while you are pregnant. It shows the pregnant body in elegance and style for a lasting beautiful memory.
Comfort
While this pregnancy dress is designed to hug your body and show off your figure, you will not feel constricted while wearing it. Composed of a blend of rayon and spandex, the dress will easily stretch to your body and will not limit your movement. The super soft fabric will have you feeling comfortable at all times. There's no need to donate this dress after you have your baby because this is a great dress for women who aren't pregnant as well.
Value
This is one of the three dresses we feature that is priced above the average cost. Its fabulous qualities are its elegance, long length, and use for special occasions and photo opportunities.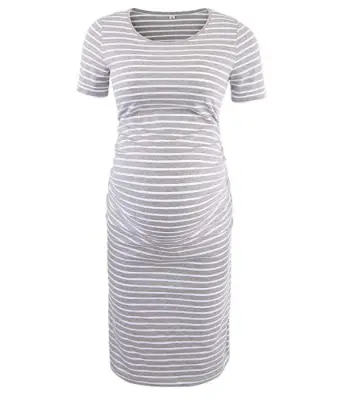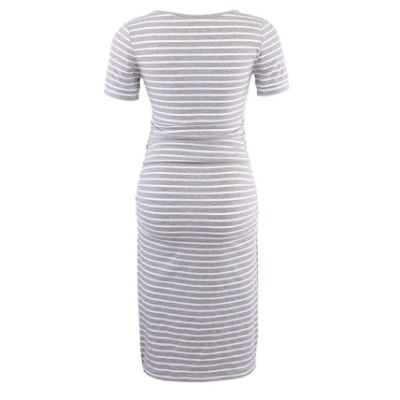 Has t-shirt sleeves and ruched side seams
Is tailored to accentuate and slim the waist
Wear for everyday wear and casual events
Will stretch as your pregnancy advances
Gives a comfortable loose fit in the lower tummy
The sleeves and bottom may be too long
The material may be slightly different for the various colors
If you're looking for a short casual maternity dress, look no further. The Liu & Qu bodycon is the perfect dress for you. The t-shirt sleeves, round neckline and the variety of available color choices will have you looking cute wherever you decide to wear it. If the weather is starting to get cooler, many of the colors are also designed with long sleeves.
Read more
Design
Designed with ruched side seams, this dress will accentuate your waist. The dress is made of 5% spandex, and 95% viscose, which gives it a lightweight and stretchy feel. When wearing it out, you can fully enjoy the day instead of worrying about keeping it clean. This dress is machine wash safe, so cleaning is easy and stress-free.
Comfort
The side seams have great expandability to give with each month of the pregnancy. This makes even the last month comfortable in this dress that will stretch with your every move.
Value
Being average in cost among the other maternity dresses in this list, the wonderful qualities of this lovely dress are the giving side seams and the cute t-shirt style.
5

. BlackCherry Off Shoulder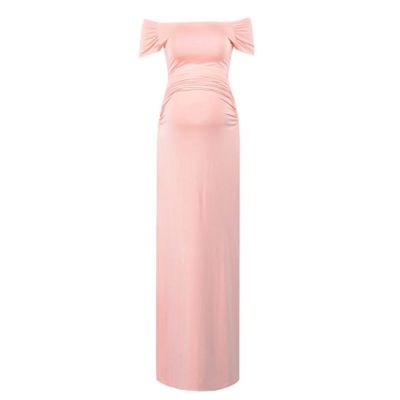 Has ruched side seams and arm seams
Can be worn for formal or casual wear
Gives you the extra room needed
The material is stretchable, comfortable, and soft
Great for professional photos
Some had issues with the length
Was too open at the top for a few women
This remarkable maternity dress is perfect for evening events, dinner out, or special occasions. It is also great for professional photoshoots too. Both pregnant and non-pregnant women look terrific in this fabulous dress made of a modal material that is stretchable, comfortable, and soft.
Read more
Design
Pick from twelve bold vibrant solid colors in this off-the-shoulder elegant floor-length dress with short sleeves. It has ruched side seams and arm seams and gives you the extra room and stretchiness needed as the pregnancy advances. It has a split on the side of the bottom for added flair, and it will complement the feminine body shape. Handwash this item for the best long-term care.
Comfort
The side seams and arm seams are ruched to give you the freedom you need for a growing tummy and arm movements. The bunched fabric style adds elegance to your look nicely. Sometimes pregnant women have trouble finding something elegant to wear for special occasions that it is actually comfortable too. This wonderful dress is both – perfect for formal events and very comfortable.
Value
Right at the average cost of these maternity dresses, this item gets its great value from its versatility to wear as a casual or formal garment and the ruched sides that give with the expanding tummy.
6

. Hello Miz Faux Wrap Maxi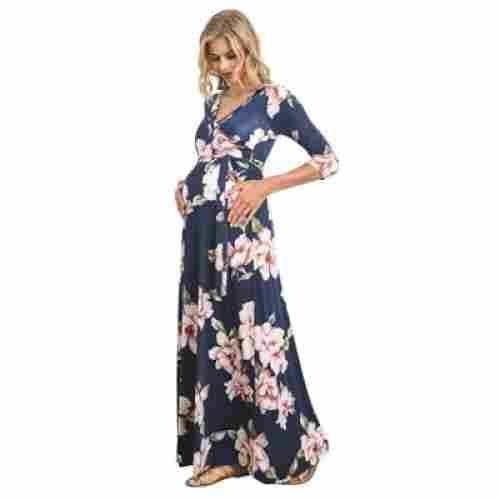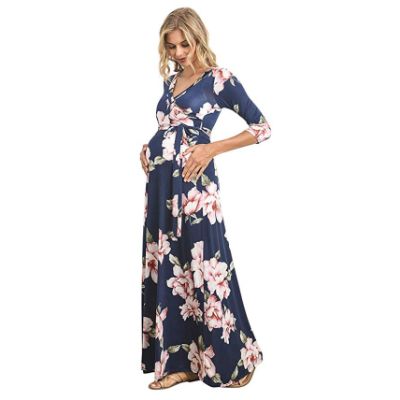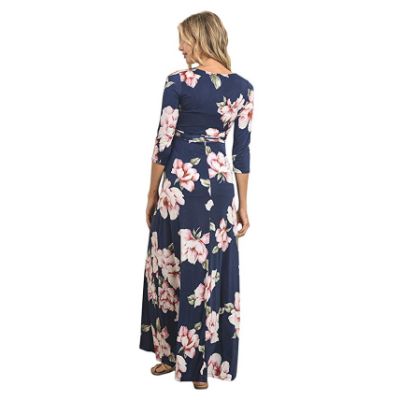 Fifty two different colors and designs
Loose, comfortable fit
Great for postpartum
Can be dressed up or down
Machine washable on gentle
Runs small
Some patterns are shorter than others
Dress it up, dress it down, wear it all around! The Hello Miz Wrap Dress is a beautiful, comfortable, and versatile wardrobe piece. It comes in fifty-two different colors and patterns (yes, you read that right), is breathable, lightweight, flattering, and goes well with all kinds of shoes and accessories. It's so comfy, you might just want to lounge around the house in it, though!
Read more
Design
Hello Miz has floral patterns, they have bright colors, they have dark colors, they have neutral colors; you name it, it's probably available in that design. With ¾ sleeves and a deep v-neck cut, it's light without being too thin and flatters all kinds of figures. It also comes with a fake fabric belt you can opt to wear or leave off.
Comfort
This dress is great for pregnancy but it's also a useful piece to keep around even after Baby's arrival. It's easy to breastfeed while wearing this dress and fits loosely so you can comfortably heal. Made from 95% Polyester and 5% Spandex, it's stretchy but also soft.
Value
This dress covers a pretty broad spectrum when it comes to price. At its cheapest, it's below our average, but at its most expensive, it's above it. The price is dependent upon the size and style chosen, so make sure you're aware of what you're selecting as you check out!
7

. YnimioAOX Off Shoulder
Perfect for professional photoshoots
Is soft and breathable material
Design is over-the-shoulder
Has a split hemline to expose the baby bump
Bottom of dress is see-through
Some did not like the overall quality of the material
The sizing was off for a few women in the top part
Perfect for professional photoshoots, this fabulous dress has a split hemline that exposes the baby bump in style. Made of chiffon on the bottom and cotton on the top, it stretches well because it is one-size-fits-all.
Read more
Design
This amazing pregnancy dress can be worn for professional or informal photoshoots, baby showers, or casually at the beach. The bottom of the dress is see-through making it sexy and romantic. The design is over-the-shoulder, and the material is soft and breathable. Choose from fourteen gorgeous colors in this lovely elegant dress that shows off the pregnant woman's body in grace.
Comfort
Being one-size-fits-all tells you how accommodating this dress is for size. Whether you are small or large in frame size, this wonderful dress will fit well and be very comfortable.
Value
The elegant design of this dress makes it perfect for photoshoots, thereby giving it terrific value at an average price. Showing off your baby bump has never been done so eloquently as with this gorgeous long-flowing dress of chiffon. Combined with a flower tiara, this dress will make up the perfect look for your pregnancy photos.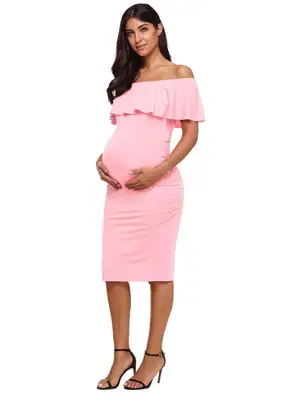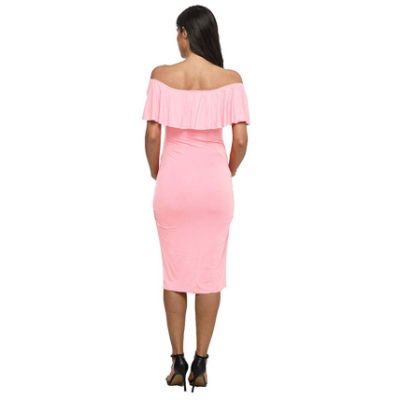 Available in twenty solid colors and print designs
Great for casual or formal wear
Is an off-the-shoulder sleeveless style
Knee-length with ruched side seams
Breathable, stretchy, and comfortable fabric
Material may be thinner than expected
Some of the colors may be see-through
With a ruffle off-the-shoulder sleeveless top, ruched sides, and a length just below the knees, this amazing dress is available in twenty solid colors and floral print designs. It is made of spandex and rayon materials, so it is super stretchy, comfortable, and soft.
Read more
Design
This lovely pregnancy dress can be machine washed and is perfect for casual or formal wear. The fabric is breathable and will give in the areas you need it to most, such as the hips, tummy, and waist because of the ruched side seams. The ruffle adds a touch of elegance to the design thus making it easy for you to wear this dress to a variety of occasions. With the hem coming below the knee, you won't have to worry about it riding up. The highly affordable price makes it easy for you to stock your closet with this dress in a couple of different colors. Composed of high-quality fabrics the colors will survive several washes without fading.
Comfort
Whether you are going to a wedding, baby shower, party, fancy dinner, or a simple night out, this is the perfect dress for the pregnant woman. It's also comfortable enough to be used for everyday wear or work.
Value
Being average in cost, this maternity dress has the features of plenty of color and pattern choices and a lovely design that is great for many occasions.
9

. Mother Bee Maxi Bodycon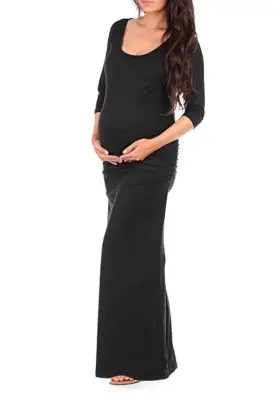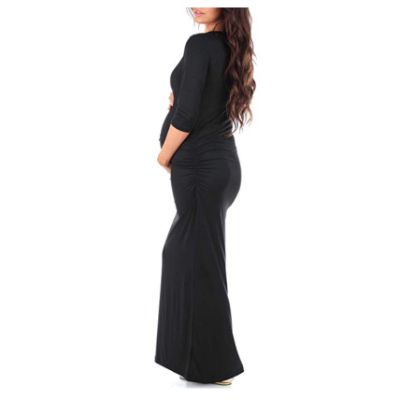 Features ruched hips and a sleek design
Is soft, comfortable, and stretchy
Has long sleeves, scoop neck, and a full length
Will complement the pregnant form
Fashionable, trendy, and modern in design
Was too short for some women
Bust area may be too big
The simple design of the Bodycon Maternity Dress features ruched hips and sleek design. Made of spandex and rayon materials, it is soft, comfortable, and stretchy. This amazing dress features a scoop neck, long sleeves, and a full length.
Read more
Design
It will complement the pregnant body form throughout the months while being fashionable, trendy, and modern in design. It is offered in several bold solid colors for you to find your favorite, and this item can be machine washed easily.
Comfort
This excellent dress has ruched sides to give it that extra stretch for the whole term of the pregnancy. As the months go by, the hips and tummy will need this added stretch to feel comfortable. Perfect for casual or formal wear, this simple maternity dress can be adorned with accessories to fit almost any occasion. Drape it with a shawl or cardigan for a night out or formal dinner.
Value
The terrific value of this great dress comes from its full coverage of the body with the full length and the long sleeves plus the stretchiness of the fabric.
10

. CoolMe Off-The-Shoulder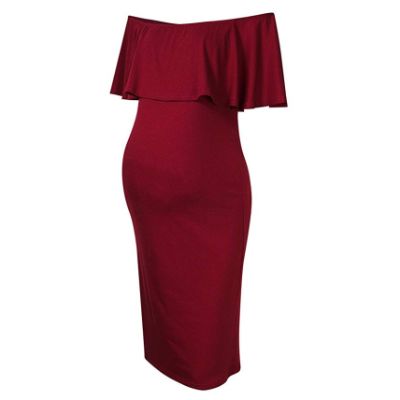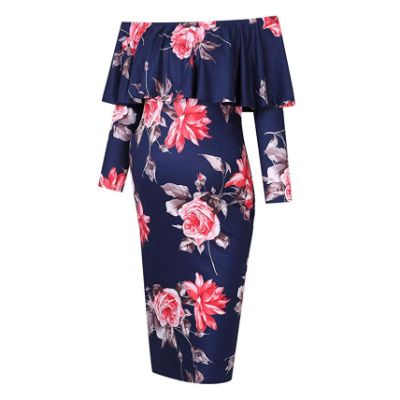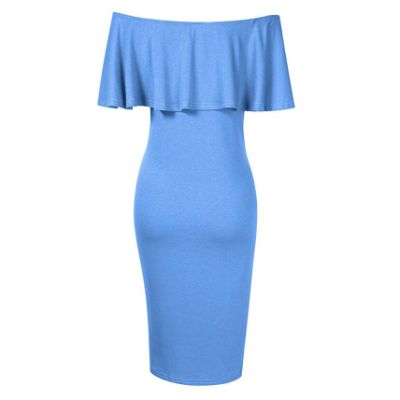 Lots of beautiful colors to choose from
Stretchy and soft
Sleeveless and long sleeve options
Can be worn after pregnancy
Great choice for lots of different occasions
Runs a little large, check charts and possibly order a size down
Off-the-shoulder part rides up often
If you're looking for a maternity dress that's appropriate to wear out to finer occasions, check out the CoolMee Off-the-Shoulder Maxi. This dress is form-fitting while still being highly flattering. It comes in thirty-five different colors and styles, with a long-sleeve option as well as a sleeveless/fully off-the-shoulder option.
Read more
Design
This dress falls just past the knees on most women. It has a ruched off-the-shoulder top and the option to order it with or without long sleeves. The colors and patterns range from jewel tones to pastels with several floral options.
Comfort
Made with 60% Rayon, 35% Polyester, and 5% Spa, this dress is firm while still allowing some stretch and flexibility. It's thin but not super see-through and it's breathable and lightweight.
Value
This dress is one of the least expensive options on our list. Even at its priciest selling point, it's still lower than our calculated average. You can continue to wear it post-pregnancy as well so you won't have to chuck it with all the other maternity clothes once Baby arrives.
Criteria Used for Evaluation
Design
You can wear these dresses before, during, and after pregnancy with style and comfort. Because of the stretchy material and the ruched material in the sides, these dresses will fit well in the first month or last month of your pregnancy. Even though they are made for the expanding tummy, hip, and thigh area because of pregnancy, they are not exclusively for pregnant women. Many women in plus sizes or regular sizes love to wear maternity clothes because of their high comfort level. The fabrics are so soft and giving to the individual body shape that they can be worn by almost any woman with style.
Comfort
Made with spandex, polyester, rayon, and cotton materials, the fabrics of these wonderful dresses are so soft, stretchy and comfortable. You will enjoy your pregnancy more because of the fabulous clothes that actually fit your body shape and are not tight and problematic. The ruched side seams on some of these dresses will allow the expansion needed to stretch with your growing tummy, thighs, and hips. These styles are more form-fitting and desirable than just purchasing a larger dress size. With this design, the dress always fits in the top and bottom because those sections of the body rarely change with pregnancy. It is the middle that expands and needs extra room in the clothing. These carefully selected maternity dresses allow that expansion comfortably.
Value
These fabulous dresses are the best of the best online offerings from manufacturers. They have the highest ratings and the most reviews from online customers that overwhelmingly are satisfied with their purchases and would buy these same items again. We search through all of the available products to bring you only the ten best maternity dresses for our buying guides to enhance your shopping experience. In this way, your time is not wasted by looking at products that did not please the majority of previous consumers.
Most Important Criteria
(According to our experts opinion)
Experts Opinion
Editors Opinion
Users Opinion
By Default

Parents, Did you Know?
When the proper size is purchased, it is important that you should not feel any pressure from the dress being too tight. Some of the dresses are form-fitting meaning they will be snug on the tummy area, but none should be tight. The common material in all of these dresses is spandex, which gives it the stretch needed to grow with the pregnancy.
Other Factors to Consider

Style
Each dress on this page is a modern design in fashion created especially for the pregnant body shape. They are stylish and beautiful and can be worn with confidence anywhere. The colors, patterns, and prints in solids, florals, and stripes are all exciting, fun, and enjoyable in the months of and after pregnancy. You will love the amazing choices that manufacturers are offering to make you look your very best at any type of function, gathering, occasion, event, or for everyday wear.
Frequently Asked Questions
q:

I see that a lot of these dresses mention "ruched." What does that mean exactly?

a:

Ruched means gathered. The sides of some of these pregnancy dressed are ruched, meaning that the material at the side seams has been gathered, like pleating, to allow for the expanding pregnant belly, thighs, waist, and hips. This looks much better than just a simply larger dress.
q:

Are these dresses for any time during the pregnancy or just in the later months?

a:

You can wear these dresses any time during and after your pregnancy. If you will be wearing them in the last months of pregnancy, be sure to order a size that would allow you to wear them comfortably. Maybe ordering a size up would be best for longer wear.
q:

Can these be worn before or after pregnancy? Or by women who are not even pregnant?

a:

Yes, these dresses can be worn before, during, and after the pregnancy, as well as by women who are not pregnant at all. Many women who are not pregnant feel more comfortable in these dresses because of the stretchy material that flatters their particular body shape.
q:

Which dress or dresses have the highest satisfaction rating? Which has the most reviews?

a:

The dress with the highest rating is the Hello MIZ Floral Ruffle Dress and the second-highest rating is for the Off Shoulder Long Sleeve Dress. The item with the most reviews is the first dress on this page, the Women's Ruched Maternity Dress.
q:

Do any of these dresses have pockets in them?

a:

Yes, one of them has side pockets. The Viishow Short Sleeve Maxi Dress has pockets on both sides to use for small items.
q:

Are these stretchy enough to not put pressure on the tummy area?

a:

Yes, when the proper size is purchased, you should not feel any pressure from the dress being too tight. Some of these maternity dresses are form-fitting meaning they will be snug on the tummy area, but none should be tight. The common material in all of these dresses is spandex, which gives it the stretch needed to grow with the pregnancy